DISCLOSURE: Some of the links below are affiliate links. This means that, at zero cost to you, I will earn an affiliate commission if you click through the link and finalize a purchase. All opinions are my own, and I only recommend products that will add value for my readers.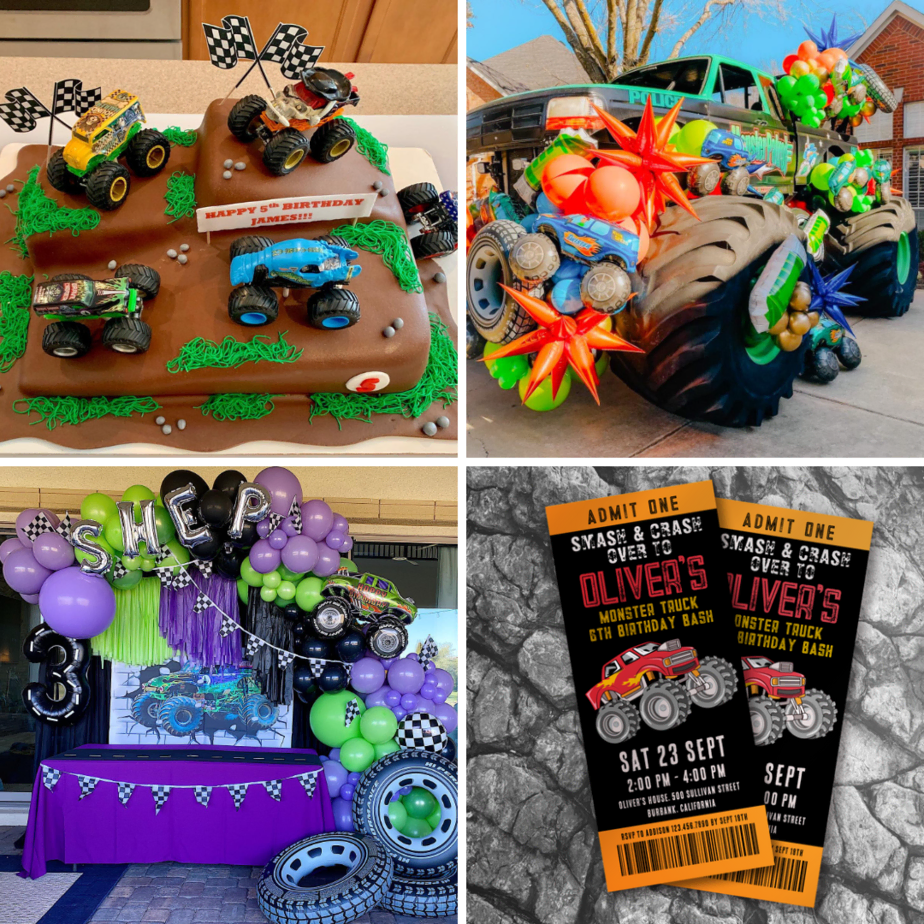 Looking for ideas for a Monster Truck Birthday Party? Look no further! Today's guide is jam-packed with creative and practical tips for throwing an unforgettable celebration, including invitations, decorations, party games, food ideas, cake designs, party favors, and more.
Read on now for all the details on this exciting birthday theme!
Contents
How to Throw an Awesome Monster Truck Birthday Party
Planning a birthday party can be exciting but stressful, especially when your child has a specific theme in mind.
One popular birthday party theme among young boys is monster trucks!
The thrill of watching giant trucks crush cars and jump over obstacles excites many children, making it the perfect theme for a birthday party.
Today we will guide you through every aspect of throwing a monster truck-themed birthday party that your child and their guests will love.
🏁 Looking for Monster Truck party supplies?
The Best Place to Hold a Monster Truck Birthday Bash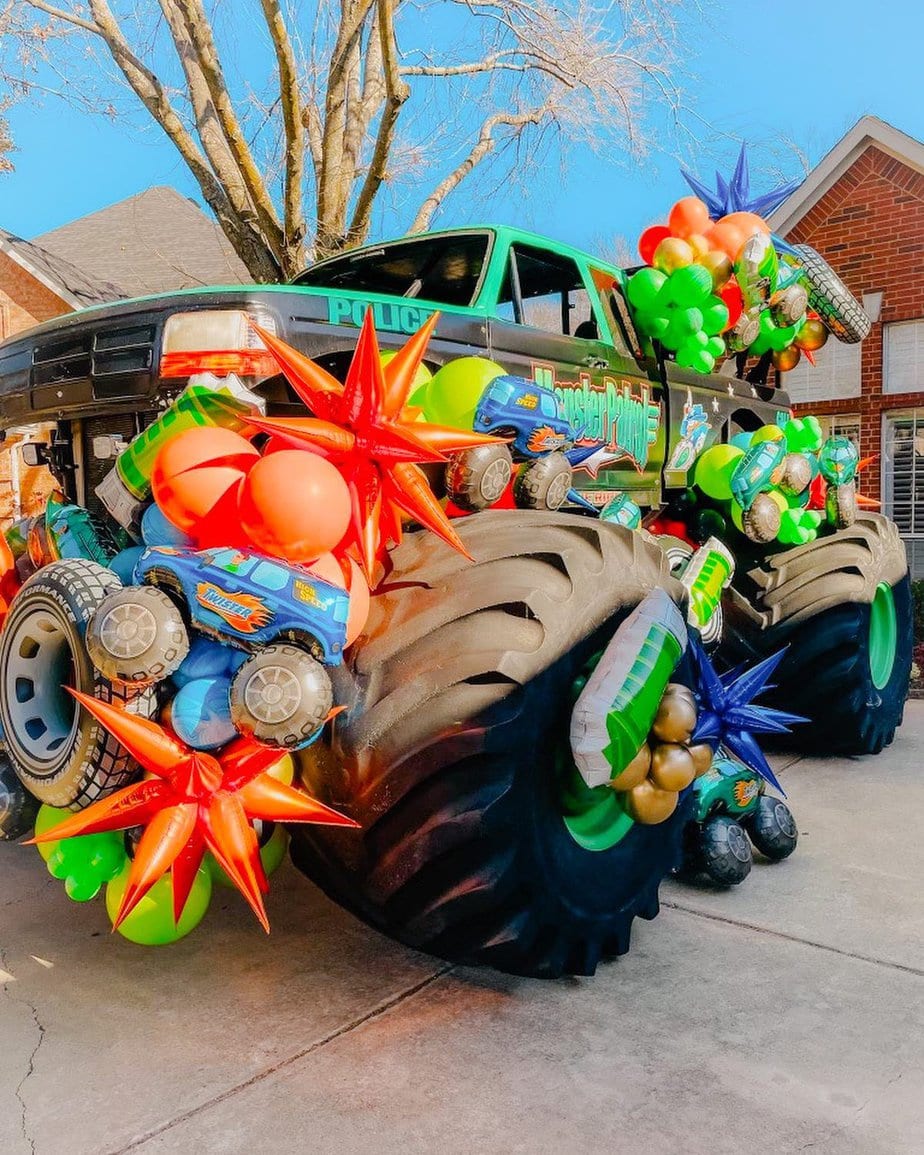 If you have enough space and don't mind getting a little dirty, hosting the party in your backyard can be a great option. Set up a track with hills, ramps, and obstacles for the kids to race their toy trucks and create a mud pit for some messy fun.
Alternatively, you could rent a local park or community center with a large field or open space to host the party. This is a great option if you want to accommodate a larger group of kids or want to have access to amenities like restrooms, picnic tables, and shaded areas.
Another option is to look for a venue that specializes in hosting kids' birthday parties, like a trampoline park or an indoor play center. These venues often have dedicated party rooms or areas you can hire.
Monster Truck Invitations
Using cardboard and paint, you can get creative and make invitations that look like monster trucks.
Or you can take the easier route and choose from our collection of cool Monster Truck birthday party invitations.
Our templates are easy to edit and have all the essential details, including the date, time, location, and RSVP information, so you don't have to worry about forgetting something.
You can have them professionally printed by Zazzle and shipped to your door, ready to send to guests. Or, if you prefer, you can order a digital download to print the invitations at home or send them via social media.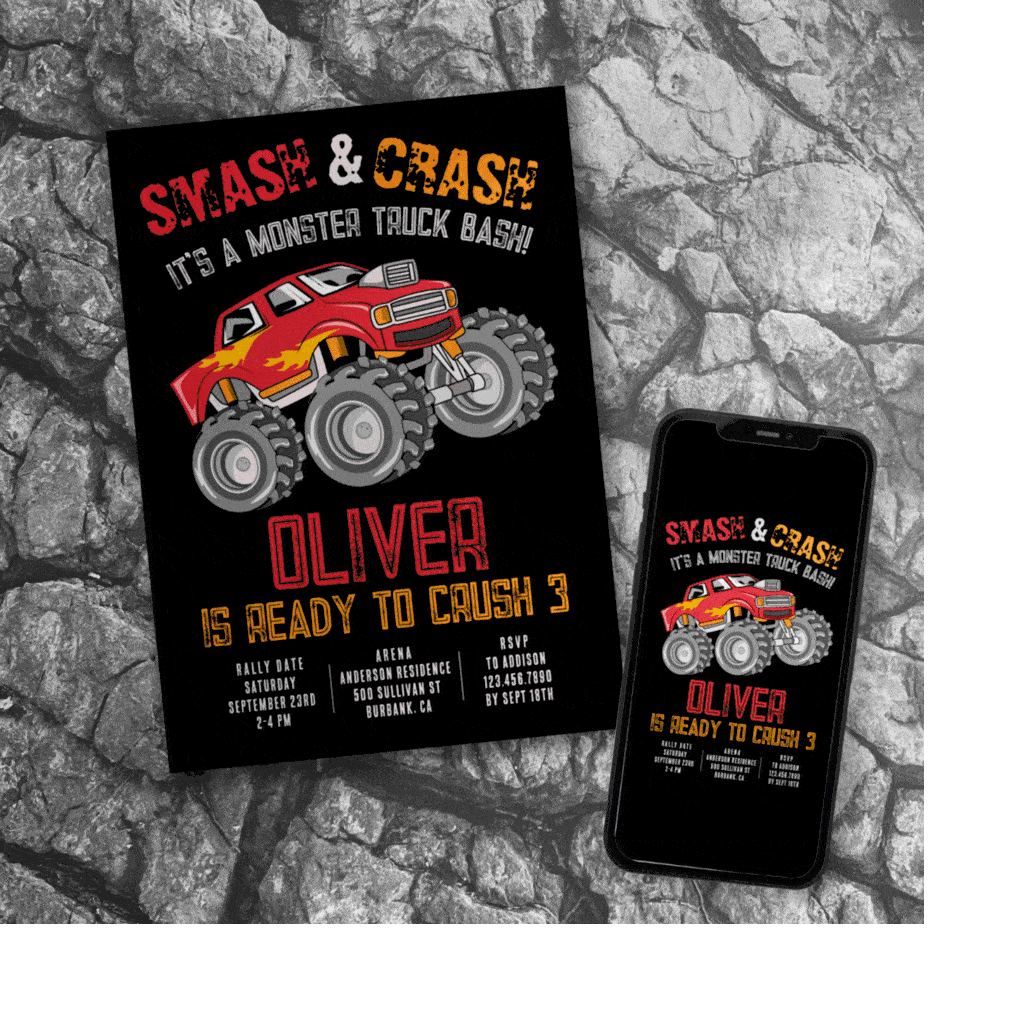 🏁 Visit our Zazzle store to customize your invitations!
Monster Truck Decorations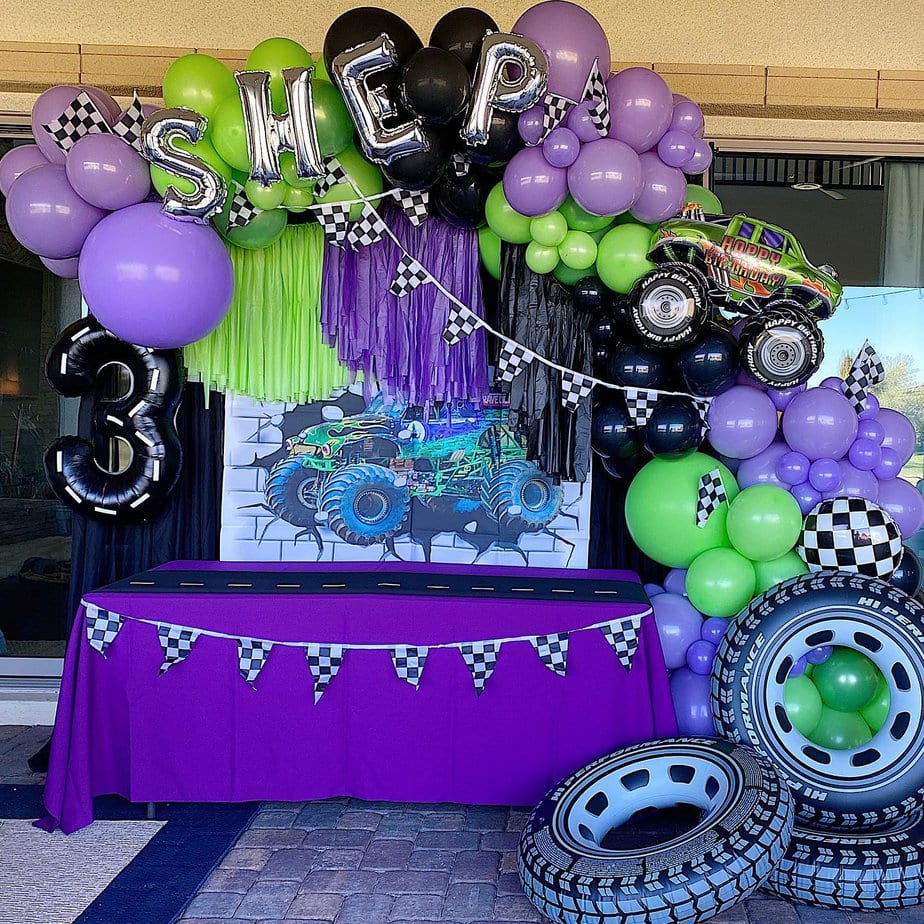 Embrace the Grave Digger theme with purple and green balloons, checkered flag bunting and inflatable tires.
The possibilities are endless when decorating a Monster Truck Birthday Party venue! Here are some ideas to help you create a memorable and exciting atmosphere:
Set the scene with checkered flags, traffic cones, and caution tape to create a race track-inspired backdrop.
Use black and white streamers, balloons, and tablecloths to create a bold and contrasting color scheme that resembles the checkered flag.
Use toy monster trucks as centerpieces. You can also use them to create a display on the cake table or to decorate the food and drink stations.
Hang posters or banners with images of monster trucks, mud, and other racing-related themes to add excitement.
Create a DIY photo booth with a large cardboard cutout of a monster truck or a backdrop with a mud puddle design, and provide props like racing helmets and checkered flags for kids to take photos with.
Use monster truck-themed plates, cups, and napkins to add a fun and coordinated touch to the table settings.
Create a mini race track with cardboard, paint, and toy cars for the kids to play with during the party.
Remember, the key to creating an exciting and memorable party atmosphere is to incorporate the theme throughout the venue, from the decorations to the activities and food. With these ideas, you'll have a monster of a party that your guests won't soon forget!
Monster Truck Party Games and Activities
No Monster Truck Birthday Party would be complete without exciting games and activities! Here are some ideas to keep your little racers entertained:
Monster Truck Races: Set up a race track in your backyard or at the party venue using obstacles like ramps and tires. Have the kids race their toy monster trucks and award prizes for the fastest times.
Monster Truck Rally: Have the kids decorate cardboard monster trucks and create a rally course for them to race through. You can use cones, tires, and other obstacles to make it more challenging.
Mud Pit Challenge: Fill up a large kiddie pool or a plastic container with mud (or chocolate pudding) and have the kids race toy monster trucks through it. Make sure to provide towels or a water hose for clean-up afterward!
Pin the Wheel on the Monster Truck: Similar to Pin the Tail on the Donkey, this game involves blindfolding the players and asking them to try to pin a paper wheel onto a picture of a monster truck. The player who pins the wheel closest to the correct spot wins a prize.
Car Painting Station: Set up a station with toy monster trucks and washable paints. Kids can decorate and take home a monster truck as a party favor.
Monster Truck Movie Screening: Set up a screen and projector outside or inside the party venue and have the kids watch a movie like Monster Jam or Blaze and the Monster Machines.
These activities will keep your little racers entertained and engaged throughout the party. Provide plenty of prizes and snacks to keep their energy and spirits high!
Monster Truck Birthday Party Food Ideas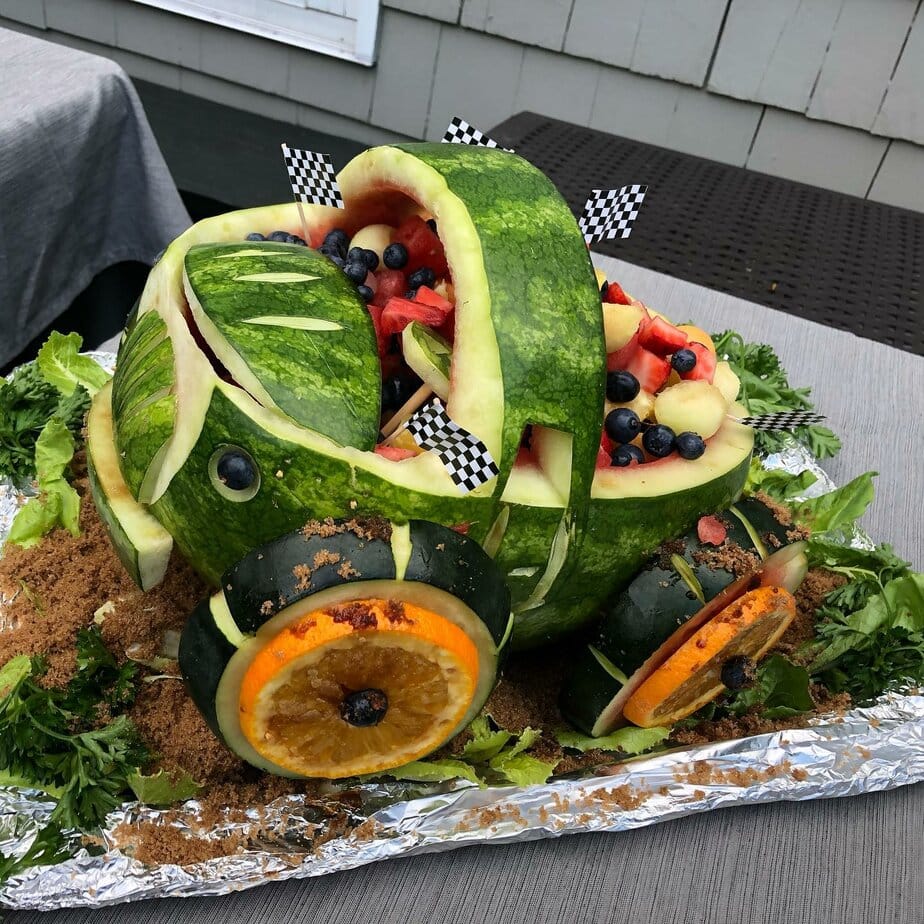 Try carving a watermelon monster truck for a show-stopping centerpiece for the dessert table!
No birthday party is complete without delicious snacks and treats to fuel the festivities! Here are some ideas for Monster Truck-themed party foods that are sure to delight your little racers:
Dirt Cups: Fill small cups with chocolate pudding and top with crushed Oreo cookies to create a delicious and realistic "dirt" treat. Add gummy worms or other candy insects for a fun touch.
Tires: Make tire-shaped snacks by stacking Oreos and sticking a pretzel stick through the center to create a "spoke." You can also use mini donuts or black licorice wheels.
Monster Truck Sandwiches: Use cookie cutters or a knife to cut sandwiches into the shape of monster trucks. Use cheese, cucumber, and other vegetables to decorate the sandwich and add details.
Veggie Dip Cups: Fill small cups with ranch or hummus dip and place carrot sticks, celery, and other vegetables "standing up" in the dip to create a "vegetable garden" look. Top with a toy monster truck for a fun touch.
Mud Pie: Make a mud pie using a brownie mix for the crust and fill it with chocolate pudding and whipped cream. Top with crushed Oreos and gummy worms for a fun touch.
Race Track Fruit Skewers: Create skewers with strawberries, blueberries, and other fruits in the colors of a race track (red, white, and blue). Add a checkered flag or a toy monster truck to the top for a fun touch.
With these fun and creative food ideas, your little racers will have a blast at the party. Don't forget to provide plenty of water and other non-sugary drinks to balance out the sweet treats!
Monster Truck Birthday Cake Ideas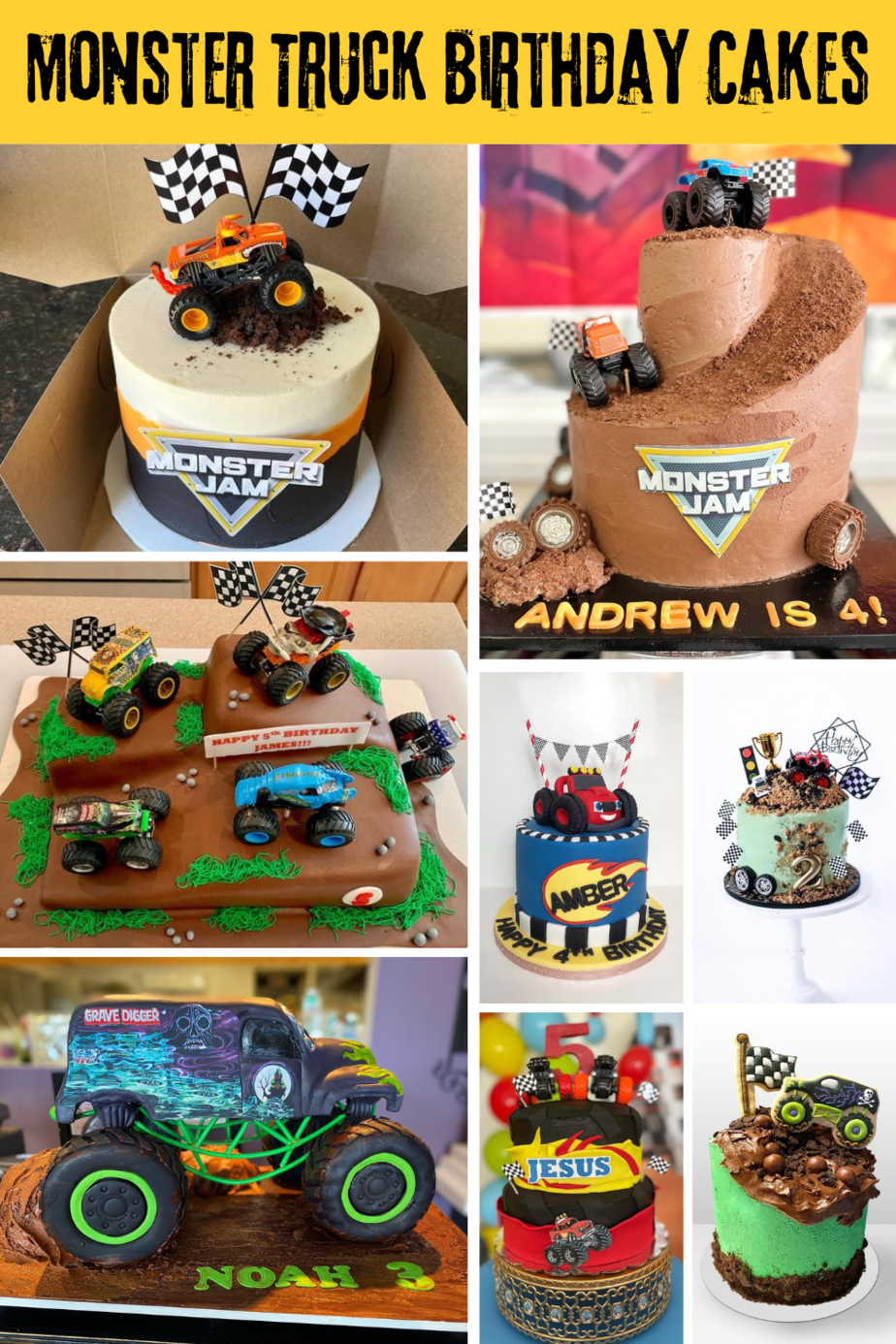 Inspiration by: @eandssweets // @srodalicious // @michellescakes // @live_for_cake_ // @rubythecakeartist // @yoursweetkravings // @bovas_bakery // @sugarllamabakery
The birthday cake is the centerpiece of any birthday party, and a Monster Truck-themed party is no exception. Here are some ideas to inspire you when it comes to creating the perfect Monster Truck Birthday cake:
Monster Truck Cake with Crushed Oreo Dirt: Start with a basic rectangular cake and cover it with green-tinted frosting. Crush some Oreo cookies to create "dirt" and sprinkle it around the edges of the cake. Use small toy monster trucks to create a "dirt track" on top of the cake.
3D Monster Truck Cake: Create a 3D Monster Truck cake if you feel ambitious! Use a specialty cake pan like a monster truck, or sculpt the truck out of cake and frosting. Decorate with colored frosting, candy rocks, and other decorations to bring the truck to life.
Simple Monster Truck Cake: If you're short on time or baking skills, a simple Monster Truck cake can be just as impressive. Bake two round cakes and stack them on each other, using frosting to glue them together. Cut the top cake into the shape of a truck and use frosting to create details and decorations.
Cupcake Monster Trucks: If you prefer individual servings, create Monster Truck cupcakes! Bake cupcakes in green liners and top them with green-tinted frosting. Use chocolate rocks and candy tires to create a Monster Truck on top of each cupcake.
Dirt Track Cake: Create a cake that looks like a dirt track with ramps and jumps for the monster trucks. Use crushed Oreo cookies to make the "dirt," and add toy monster trucks on top. Use green frosting to make grassy areas and blue frosting to create puddles.
No matter which cake you choose, your little Monster Truck fans will be thrilled to see their favorite trucks come to life in cake form.
Don't forget to snap a photo of the cake before it gets devoured by your little racers!
Party Favors
Sending guests home with a party favor is a great way to thank them for attending.
Monster Truck Temporary Tattoos: Kids love temporary tattoos, and monster truck-themed ones are a great way to continue the party theme long after the event has ended.
Monster Truck Crayons: These shaped crayons are adorable and younger kids will love coloring with them!
Monster Truck Tote Bags: Pop the tattoos and crayons into one of these cute tote bags with a small monster truck toy and some candy for a birthday grab bag the guests will love!
It's Fun to Throw a Monster Truck Birthday Party!
A monster truck birthday party is a fun and exciting way to celebrate your child's special day.
From the invitations to the party favors, every detail can be tailored to the monster truck theme, creating an immersive experience for all who attend.
So get ready to rev up the engines and have a fantastic party!
Follow these tips to throw a memorable party that the birthday boy and his guests will love.