DISCLOSURE: Some of the links below are affiliate links. This means that, at zero cost to you, I will earn an affiliate commission if you click through the link and finalize a purchase. All opinions are my own, and I only recommend products that will add value for my readers.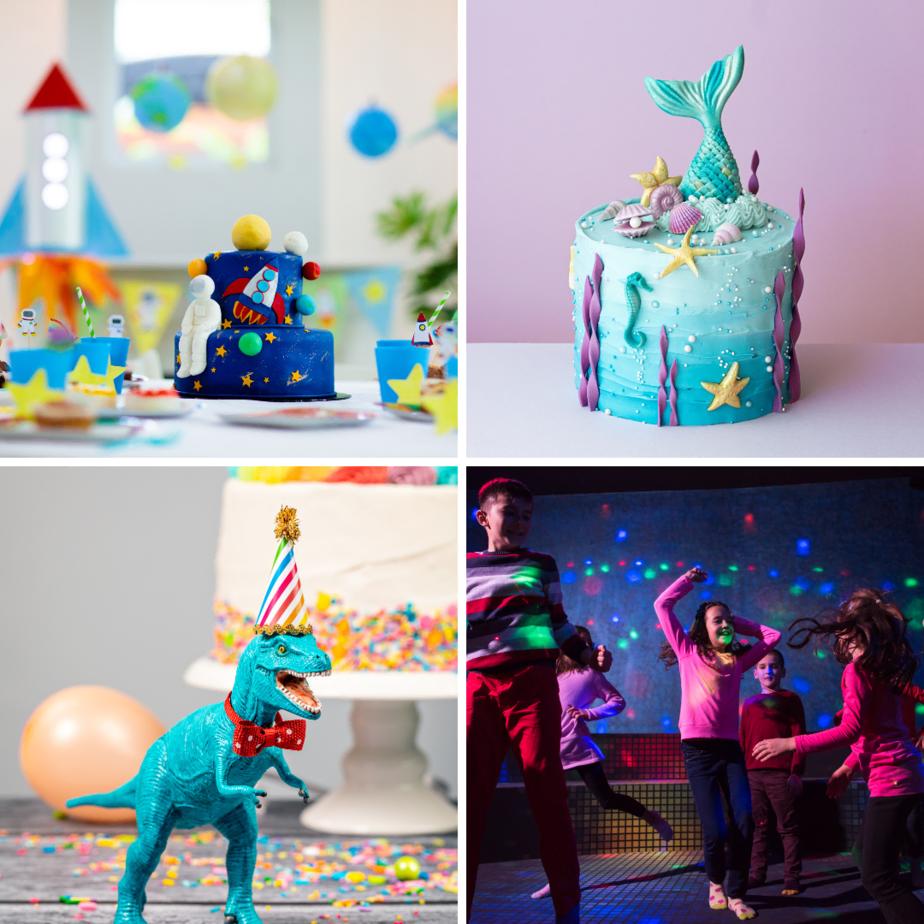 Are you planning your child's birthday party and looking for inspiration?
From mystical creatures to interactive experiences, the birthday party trends for 2023 are sure to delight both kids and parents alike.
We're sharing the top birthday party trends for 2023 so you can plan an unforgettable celebration for your child and their friends to enjoy!
🥳 Looking for invitations and party supplies?
Birthday Party Trends for Kids 2023
In no particular order, here are the top party themes for 2023 to inspire you!
Race Car Party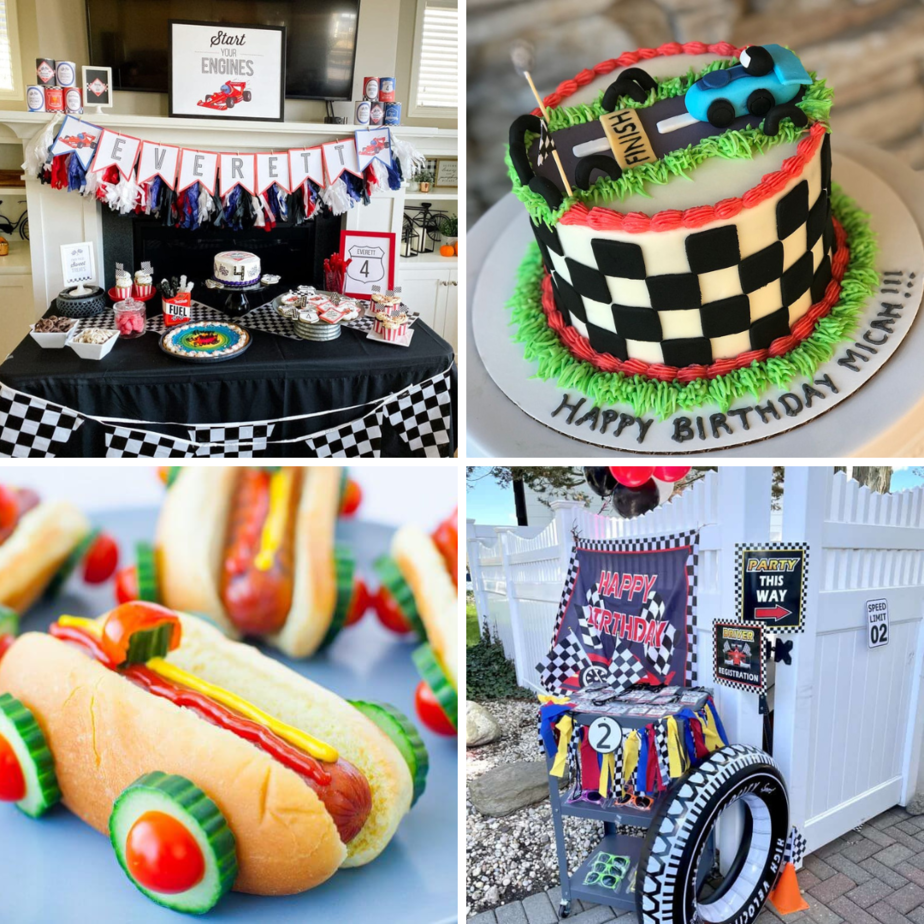 A race car party is perfect for kids who love fast cars and Hot Wheels.
Decorate with checkered flags, road signs, and tire balloons.
Serve some pit-stop-themed snacks like "fuel" drinks and "tire" donuts.
You can create a mini speedway and have guests race remote control cars or create cardboard box cars for a race.
You could even hold the party at the local go-kart track or a race car museum.
The race car party will rev up the excitement and leave guests feeling like champions!
🏁 We have all the inspiration you need to throw a race car birthday party this year!
Monster Truck Party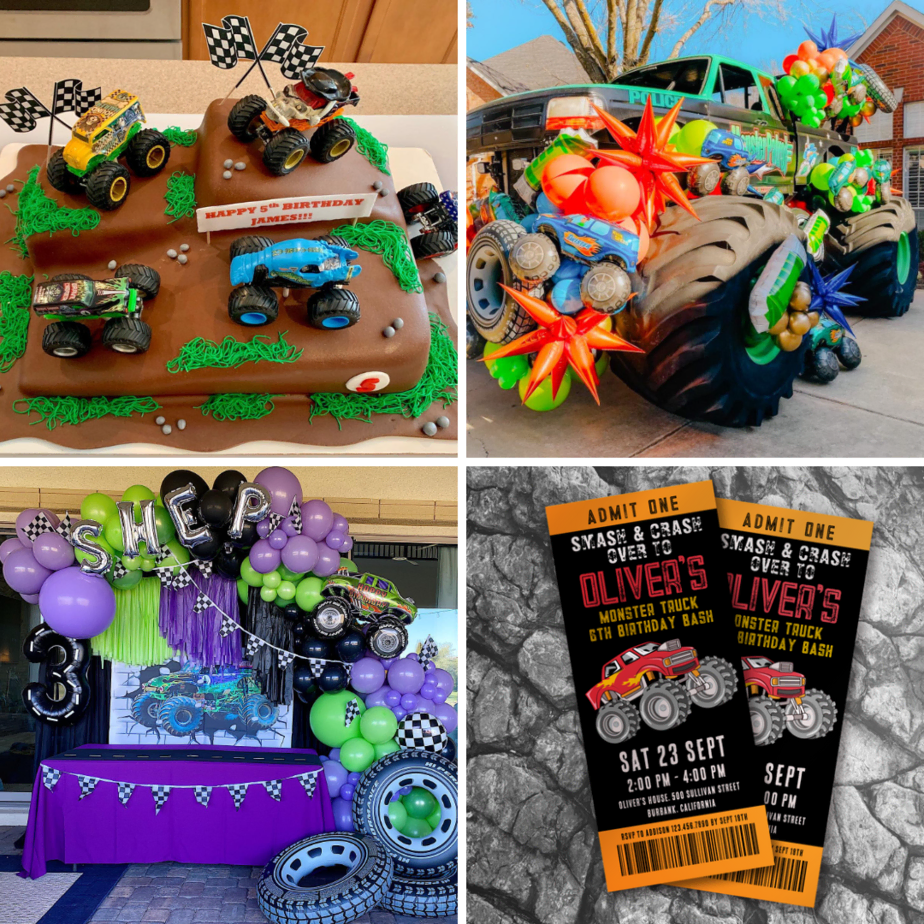 A Monster Truck party is perfect for kids who love all things loud and exciting.
Set the scene with checkered flags, tire tracks, and bright colors.
Serve up some truck-themed snacks like "dirt" cups with crushed Oreos and gummy worms, or decorate cupcakes to look like tires.
Get the party started with a ramp jump competition or a remote control monster truck race.
For a craft activity, provide foam monster truck kits for the kids to assemble and decorate.
You can even create a DIY photo booth with a cardboard cutout of a monster truck and some racing gear for props.
🏁 Find out how to throw a Monster Truck Birthday Party that the kids will go crazy for!
Mermaid Themed Party
Make a splash with a Mermaid Party! This party theme is perfect for little ones who love everything under the sea.
Guests can dress up in mermaid tails and decorate with shells, starfish, and pearls.
You can serve sea-inspired treats like goldfish crackers, blue Jell-O cups, and shell-shaped cookies for food.
Set up a treasure hunt for seashells or a water balloon toss.
You can also set up a craft station for kids to make mermaid crowns or decorate seashell picture frames.
With these ideas, your little ones are sure to have a magical time at their under-the-sea celebration.
Unicorn Party
The unicorn party theme continues to be a popular choice among kids. This magical and whimsical theme is perfect for little ones who love sparkly and colorful things.
Decorate the party space with pastel colors, glitter, and unicorn-themed decor.
Create a DIY unicorn photo booth with a unicorn horn and colorful backdrops.
Serve unicorn-themed desserts like cupcakes with edible unicorn horns or a colorful candy buffet.
You can incorporate games like "Pin the horn on the unicorn" or a unicorn piñata.
A unicorn party will surely delight and enchant guests of all ages, making it a timeless trend for 2023.
Rainbow Party
The Rainbow party is all about celebrating colors and happiness. This party will make everyone smile with rainbow-themed decorations, colorful treats, and vibrant activities.
Decorate the venue with rainbow-colored streamers, balloons, and tablecloths.
Serve colorful snacks like fruit skewers, veggie trays, and rainbow cupcakes.
You can also have a candy bar with treats in every color of the rainbow.
Set up a rainbow scavenger hunt or a rainbow piñata.
You can also have a rainbow art station where kids can get creative with rainbow crafts like painted rainbows or beaded rainbow necklaces.
This party theme is perfect for all ages and can be easily customized to suit any budget or venue.
Spa Birthday Party
A spa party is popular for young girls who love being pampered. This theme is about relaxation and indulgence, focusing on spa treatments and self-care.
To create the perfect atmosphere, transform your space into a luxurious spa with soft lighting, scented candles, and soothing music.
Serve healthy snacks such as fresh fruit skewers and veggie dips, and offer refreshing drinks like infused water and herbal tea.
Set up a DIY nail polish station or have a facial mask-making contest.
Don't forget to give each guest a goody bag filled with mini spa essentials like bath bombs and face masks as a party favor.
Safari Animal Party
A safari animal party is perfect for bringing the wild side to your child's birthday celebration. Take your little adventurers on a wild ride with a safari animal party. From tigers to zebras, this party will have it all!
Transform your party space with jungle-inspired balloons, stuffed animals, and safari hats.
Set up a grazing table with animal crackers, fruit kabobs, and jungle juice.
Get the party started with a scavenger hunt to find hidden animal toys, followed by a game of "pin the tail on the zebra."
You can also set up a photo booth with animal masks and safari hats for the perfect Instagram moment.
Don't forget to hand out animal-themed party favors like safari hats or binoculars for your little explorers to take home.
Farm Animal Party
A farm animal party is a classic theme that never goes out of style. From cows and horses to chickens and pigs, this theme offers endless opportunities for fun and creativity.
Decorate the venue with hay bales, cow print tablecloths, and farm animal balloons.
Serve farm-fresh snacks like apple slices and popcorn.
Kids can enjoy animal-themed activities such as pin-the-tail-on-the-donkey and a stuffed farm animal petting zoo.
This party theme is perfect for animal-loving kids who want to experience life on the farm.
Dinosaur Party
The Dinosaur Party theme is perfect for little ones who love everything prehistoric!
Guests can dress up as paleontologists, while the venue is decorated with dino footprints and bones.
Activities include excavating "fossils" in a sandpit, creating dinosaur crafts, and playing "Pin the Tail on the Dino."
Don't forget to serve dino-themed treats like "dinosaur egg" cake pops and "fossil" cookies.
It's a roaring good time for everyone!
Pirate Party
Ahoy, mateys! The pirate party theme is a classic that never goes out of style.
Transform your party venue into a pirate ship with pirate flags, treasure chests, and cutlasses.
Guests can dress up in eye patches, bandanas, and pirate hats.
Set up a treasure hunt, and offer pirate-themed snacks such as goldfish crackers and chocolate coins.
Don't forget the pirate-inspired music to keep the party going!
A pirate party is perfect for kids who love adventure and treasure hunting.
Space Themed Party
A space-themed party will transport guests to a galaxy far, far away.
Decorate the party space with planets, stars, and spaceships for an out-of-this-world experience.
Serve astronaut-inspired treats like freeze-dried ice cream and cosmic cocktails.
Dress up as aliens, astronauts or robots and play games such as a moon rock scavenger hunt or alien invasion tag.
Construction Party
A construction party is perfect for your little builder's big day.
Decorate with caution tape, cones, and hard hats for a fun construction site vibe.
Serve up snacks like "dirt" pudding cups and "tool" sugar cookies. You can even have construction trucks filled with sandwiches and chips!
Set up a "build your own city" station with blocks and mini construction vehicles, and have a "paint your own hard hat" activity.
Kids can have fun with a "construction site scavenger hunt," searching for toy tools and materials hidden around the party area.
This party will be a hit with all the little builders in attendance.
Disco Party
Get your guests grooving with a retro disco party theme that is making a comeback in 2023.
Guests can expect funky disco balls, neon lights, and classic 70s music.
Dress up in bell bottoms, afros, and platform shoes to complete the look.
A disco party is perfect for all ages and can be hosted indoors or outdoors.
Get ready to dance the night away and relive the nostalgia of the disco era!
Shark party
Dive into a fin-tastic celebration with a Shark Party! This party theme is perfect for kids who love the ocean and its creatures.
Decorate with shades of blue and white streamers to create an underwater atmosphere, and add a few shark-themed decorations like balloons or cutouts.
Serve fish-shaped sandwiches or shark fin cupcakes.
Play "pin the fin on the shark" or a fishing game using magnetic fishing poles and toy sharks.
A "shark attack" obstacle course is also a fun option for active partygoers.
It's sure to be a jaws-ome time for everyone!
Video Game Truck Party
A video game truck party is a dream come true for young gamers. This party theme brings a mobile gaming arcade right to your doorstep.
The video game truck has state-of-the-art gaming technology, allowing kids to play the latest games in a comfortable, air-conditioned space.
The truck is also stocked with various games suitable for different age groups and interests.
With neon lights, plush seating, and surround sound, the video game truck party promises an unforgettable experience for the birthday child and their guests.
Which of these Trending Birthday Party Ideas will you choose?
The birthday party trends for kids in 2023 are all about immersive experiences and imaginative play.
There are so many exciting options, from magical unicorn parties to retro discos and mobile game trucks.
Whether you opt for a spa day or a space adventure, the key is to create an unforgettable experience for your child and their friends.
With these trends in mind, you can plan a celebration that will be the talk of the town for years to come!