This post may contain affiliate links, which means I may receive a commission if you click on a link and purchase something. As an Etsy and Zazzle Affiliate I earn commissions from qualifying purchases.
Looking for a fun and easy way to spook your guests this Halloween? Look no further than these 31 Halloween charcuterie boards! With a variety of creepy, crawly, and spooky snacks, these boards will be the perfect addition to your Halloween party. So what are you waiting for? Get started on your Halloween party planning today!
Savory Halloween Charcuterie Boards You Need to Try!
These healthy Halloween charcuterie boards will look stunning at your party this October!
In case you're wondering "charcuterie" is the art of preparing cured meats like bacon, ham, sausage and pates.
But you don't have to stop there. Add in some cheeses, fresh fruit, dried fruit, artisan breads and even honey or preserves and you can fill a serving tray full of tasty ingredients that are just perfect for a party!
Think about grapes, blackberries and cranberries alongside slices of pepperoni, add in some cheddar, gouda and even cream cheese alongside some walnuts and almonds.
You're taking your Halloween cheese board to a whole new level!
Technically when you combine all of those delicious ingredients together you're making a grazing board, rather than a charcuterie board in the traditional sense.
But whatever you want to call it… charcuterie board, grazing board, serving platter… the end result is the same…
Tasty food that looks amazing that your guests will love to eat!
If you're wondering "how do you make a charcuterie board for Halloween?" keep scrolling because we've gathered up some wonderful inspiration from some very talented charcutiers to share with you!
And be sure to check out our collection of show-stopping Halloween cakes to serve alongside your grazing board at your party!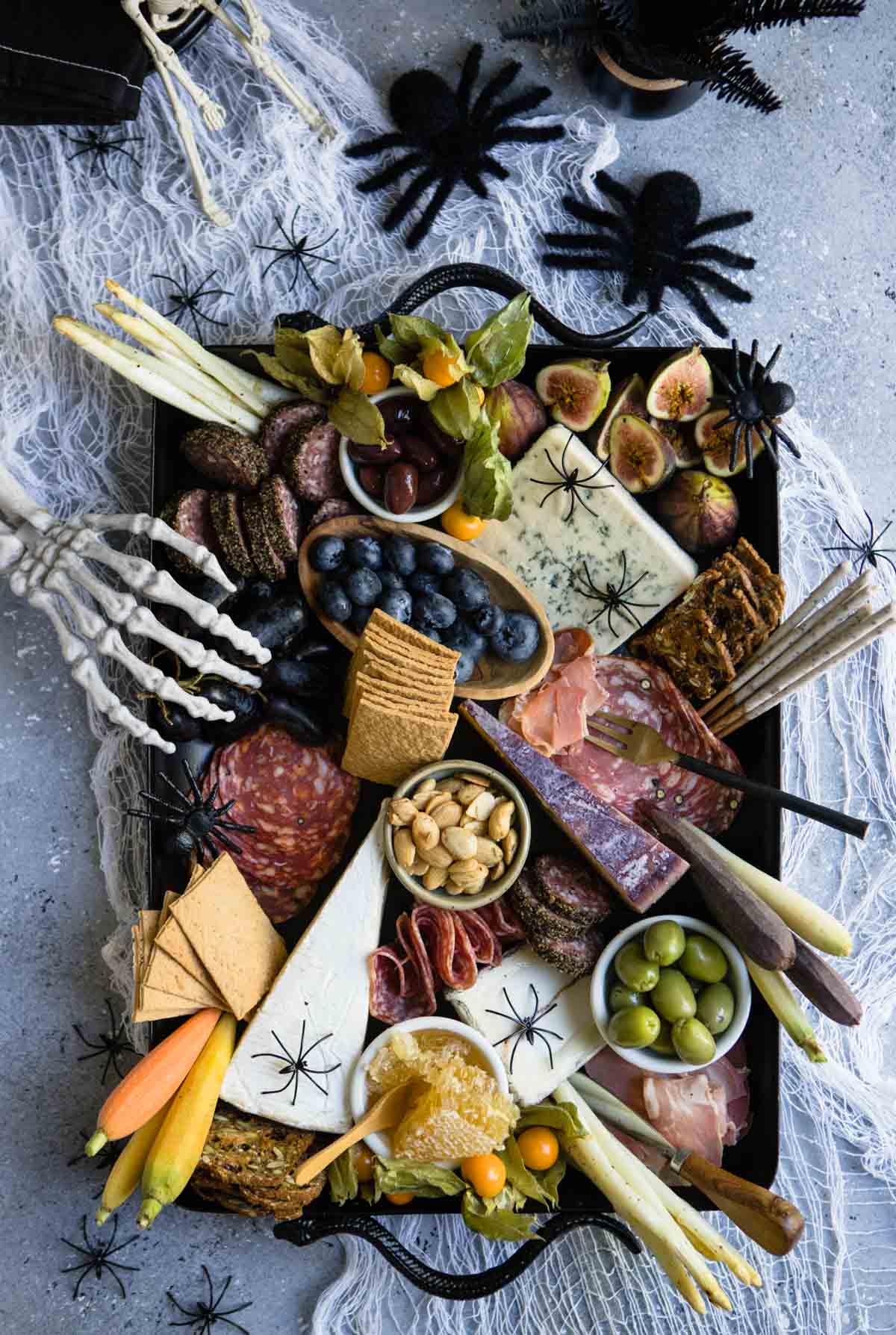 This Halloween charcuterie board is filled with delicious cured meats, cheeses, crackers, and festive seasonal favorites. Dark purple figs, olives, peppery and spicy salami make this grazing board perfect for your Halloween party or spooky night at home!
Watch this video if you need help planning which ingredients to place where on your Halloween charcuterie board.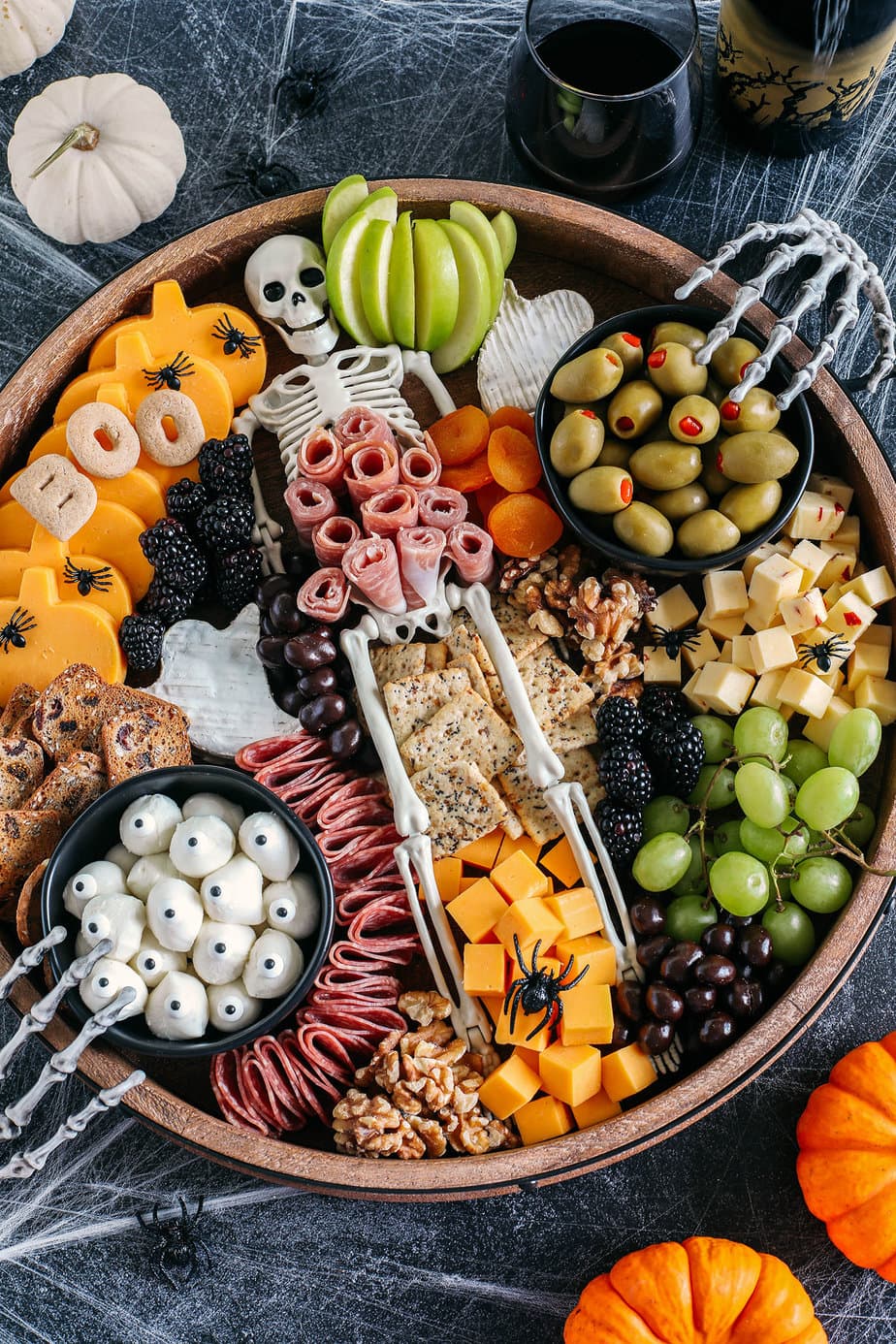 Get your Halloween party started with the perfect spooky charcuterie board! Filled with an assortment of your favorite cheeses, meats, crackers, fresh fruits, grapes, nuts and other ghoulish treats, this board will be the hit of the party!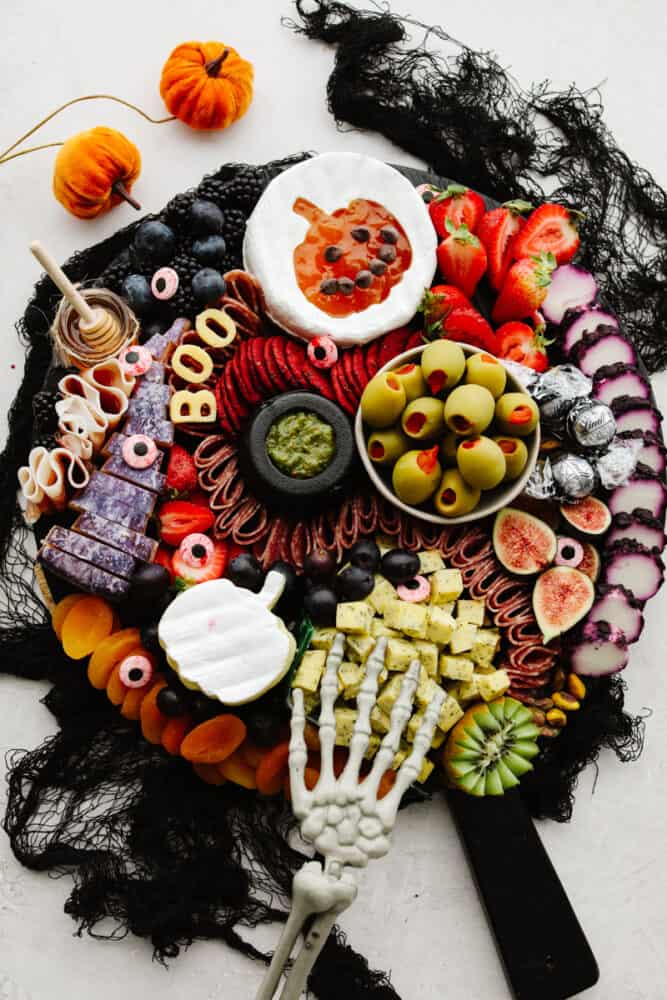 This Halloween charcuterie board will be a hit at any party! A spooky twist on the classic cheese board, it's filled with fruit, crackers, and meat.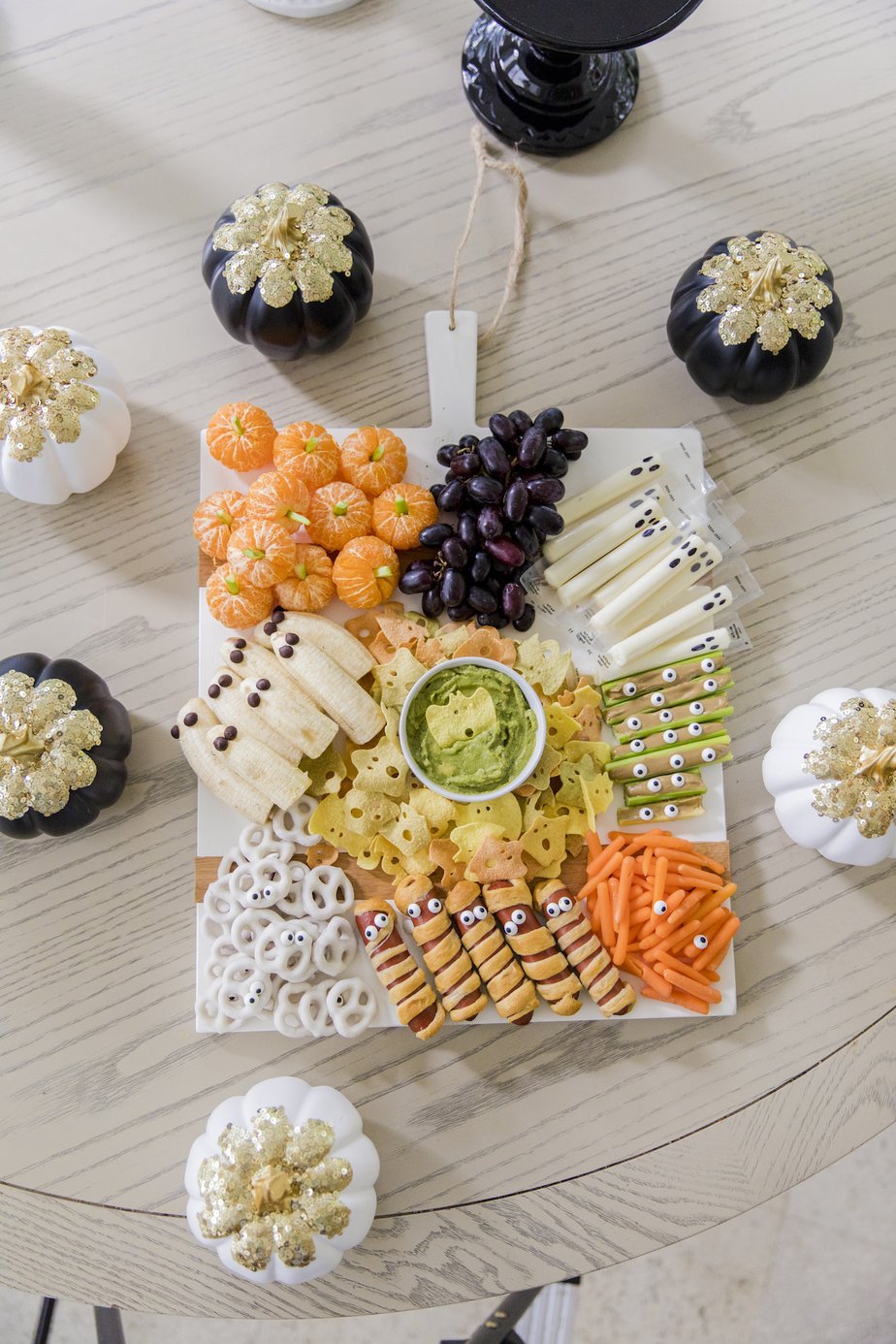 This Halloween snack board is perfect for a kid's party or a spooky afternoon treat. Stock up on clementines to turn into mini pumpkins and transform bananas into ghosts!
Here's another video to show you how to make a Halloween charcuterie board to impress your party guests!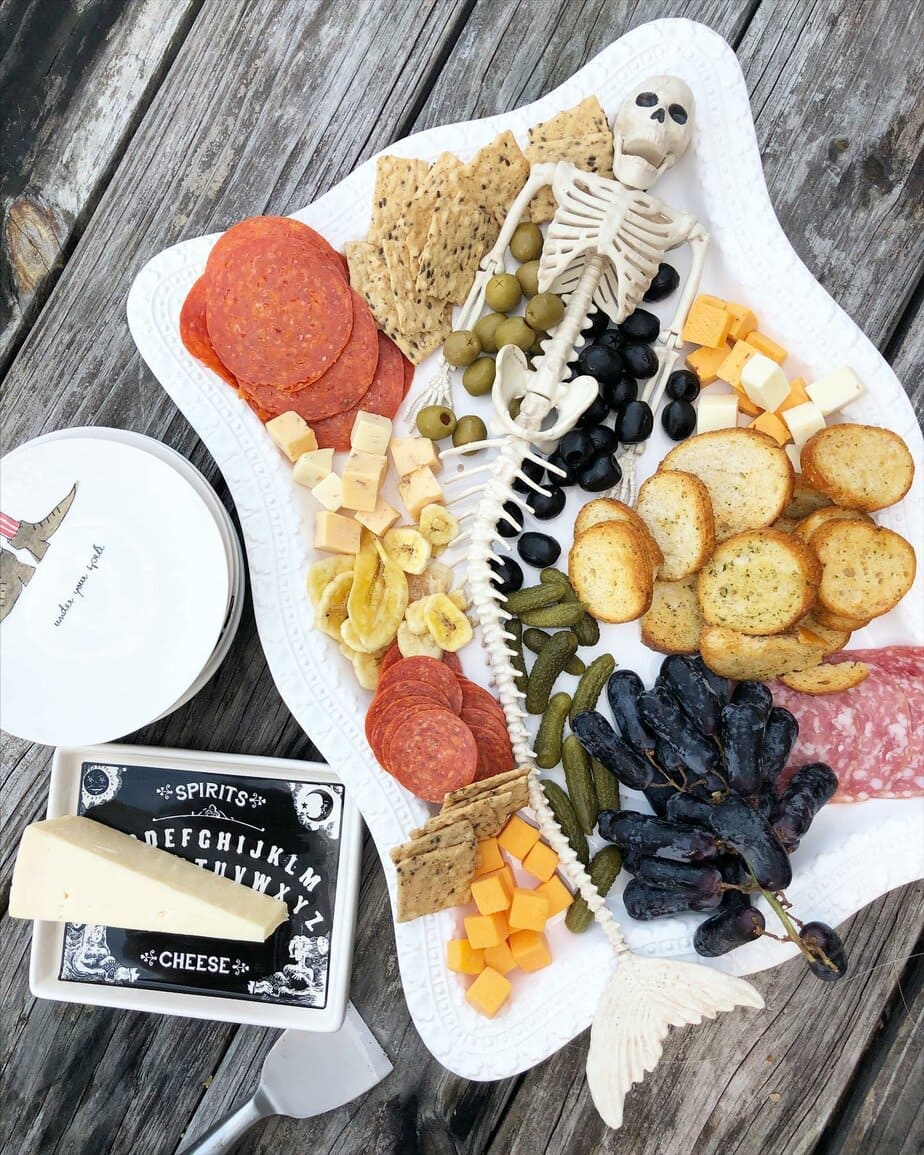 So many Halloween charcuterie boards use a skeleton as part of the display, but this was the only one I found where the skeleton appeared to belong to a mermaid!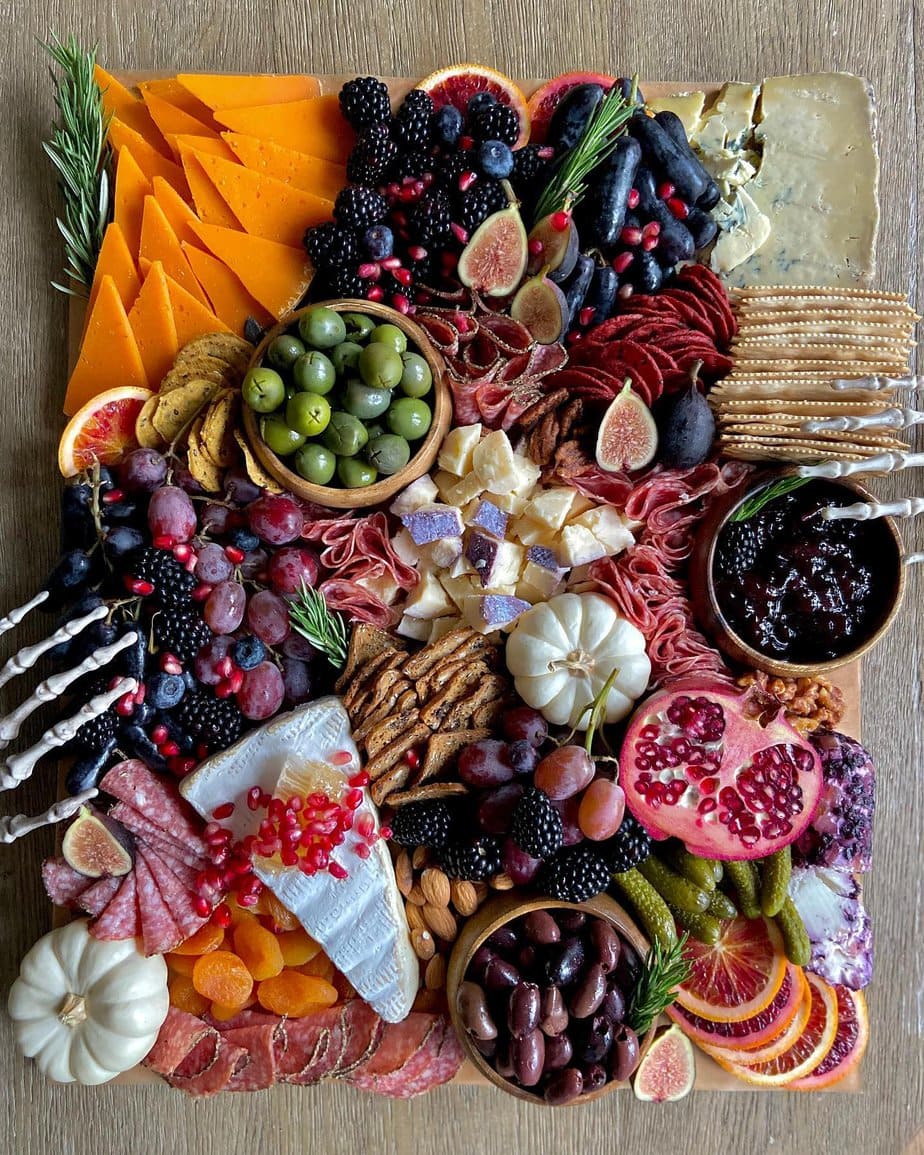 Don't forget the little bowls of dips to accompany the fresh berries, meats and cheeses.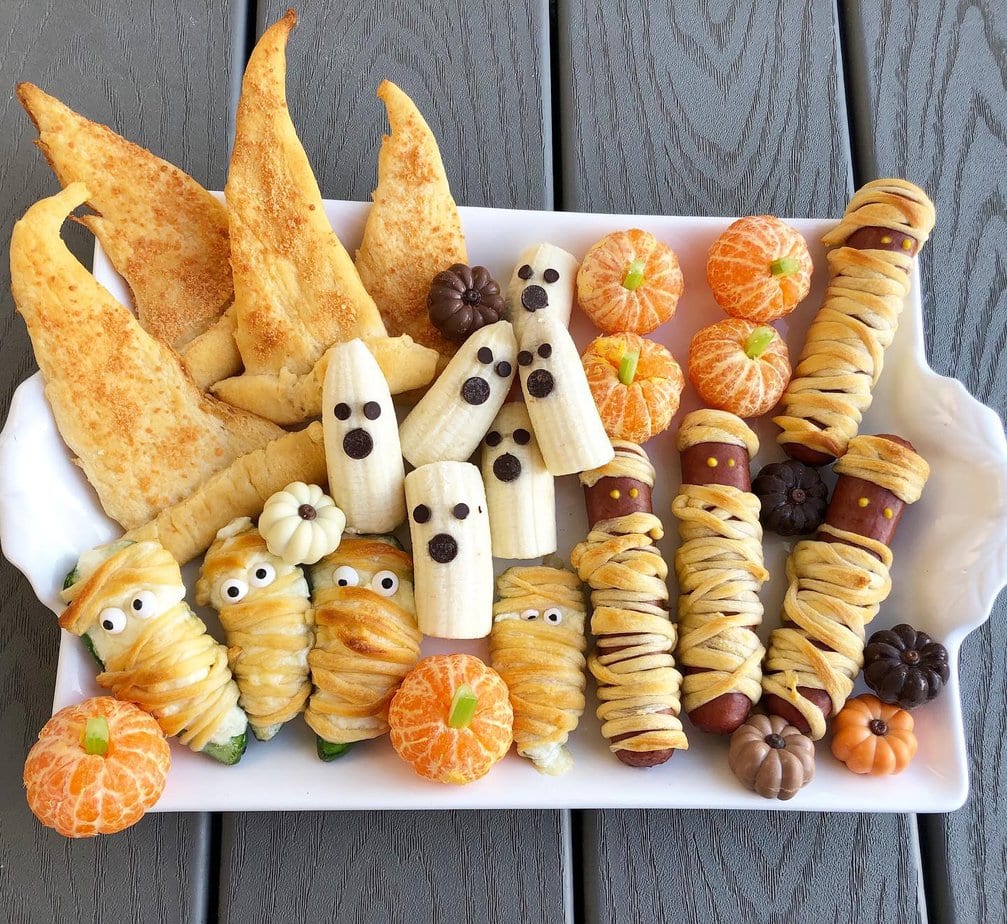 The great thing about making up a Halloween-themed board for kids is that they can eat it for dinner! Get their costumes on and give them a savory treat before they go out trick or treating for candy!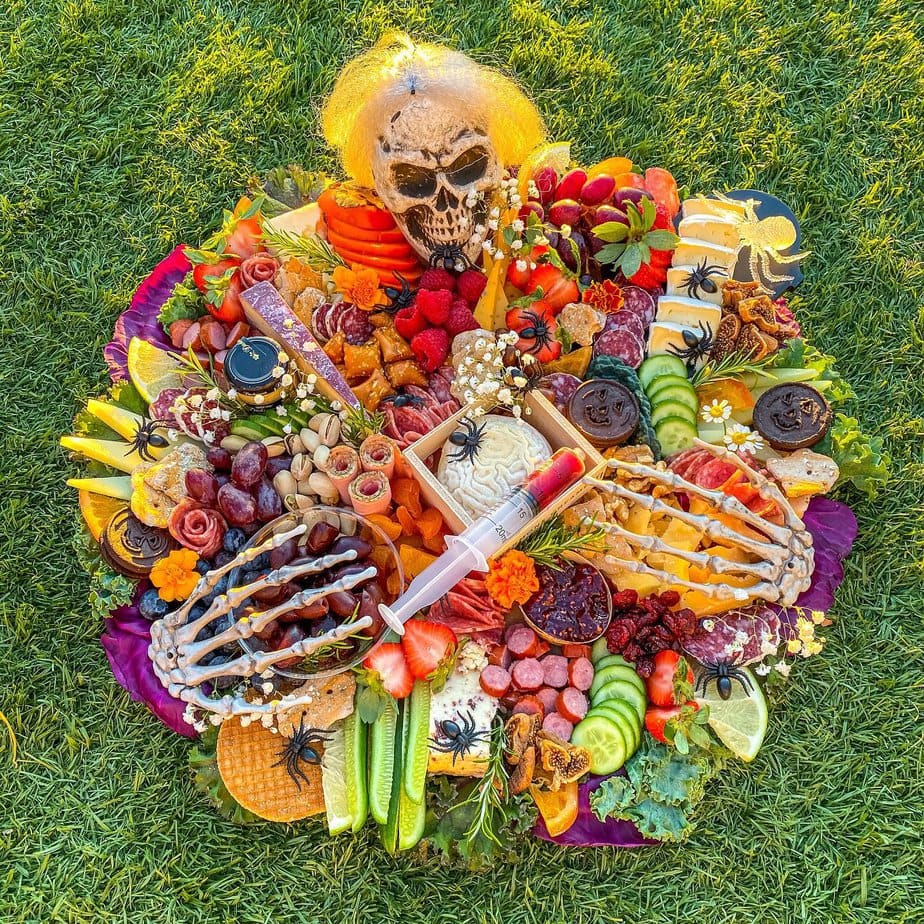 And this is how the pros do it when catering for a large party or even a Halloween wedding! The position of the skull and hands makes it looks like this feast has been laid out on his body! And I love the addition of the syringe filled with some tasty dip or condiment!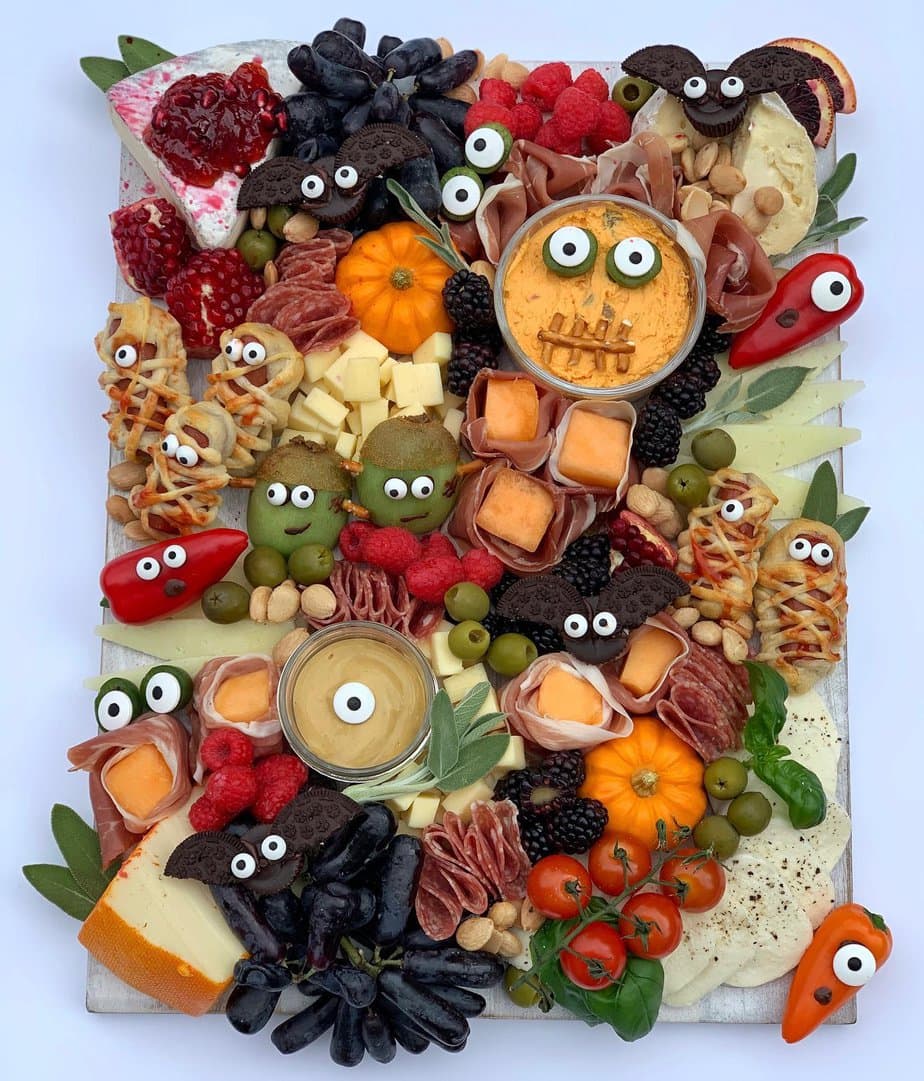 If you happen to be in the New York area and you have a large Halloween party to cater be sure to get in touch with the super-talented team at Berry and the Boards. This serving platter is a great reminder to have fun with the candy eyeballs!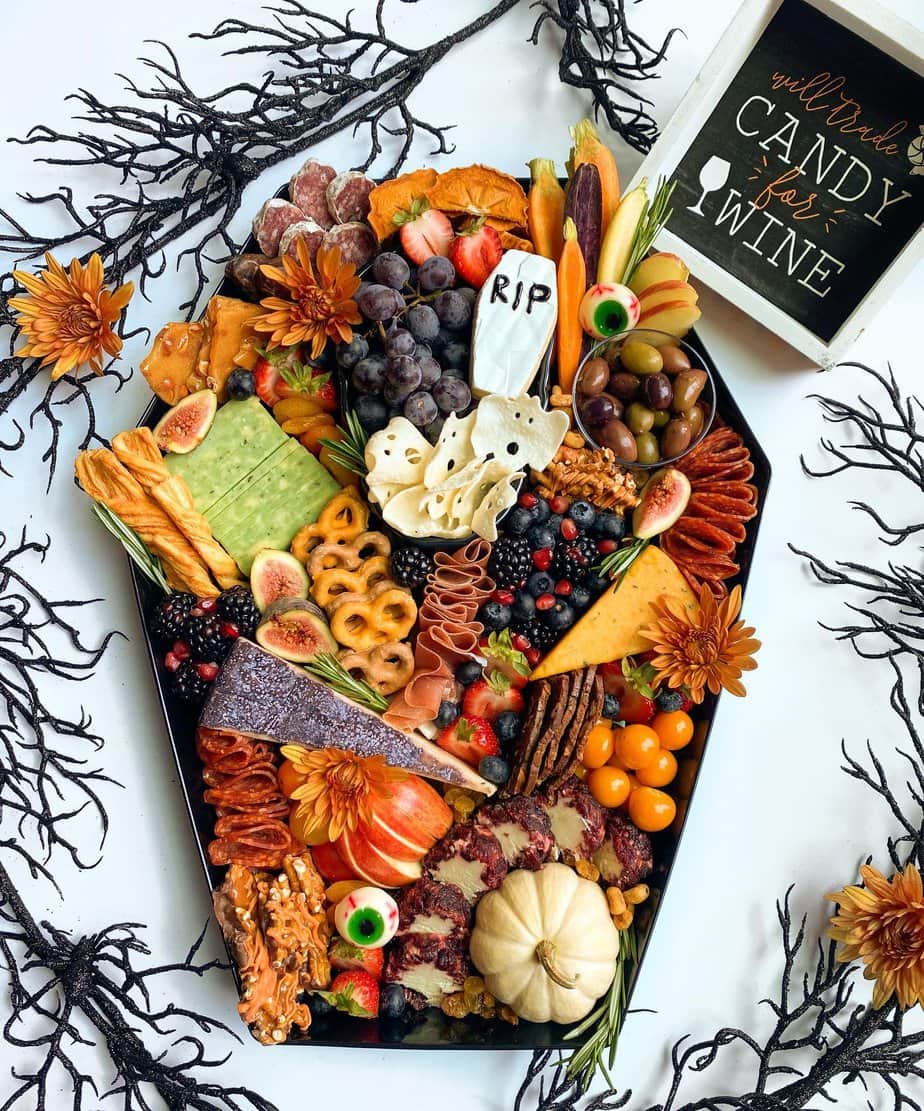 Don't forget that your serving platter doesn't have to be rectangular, embrace the spooky season and look for a coffin-shaped serving platter!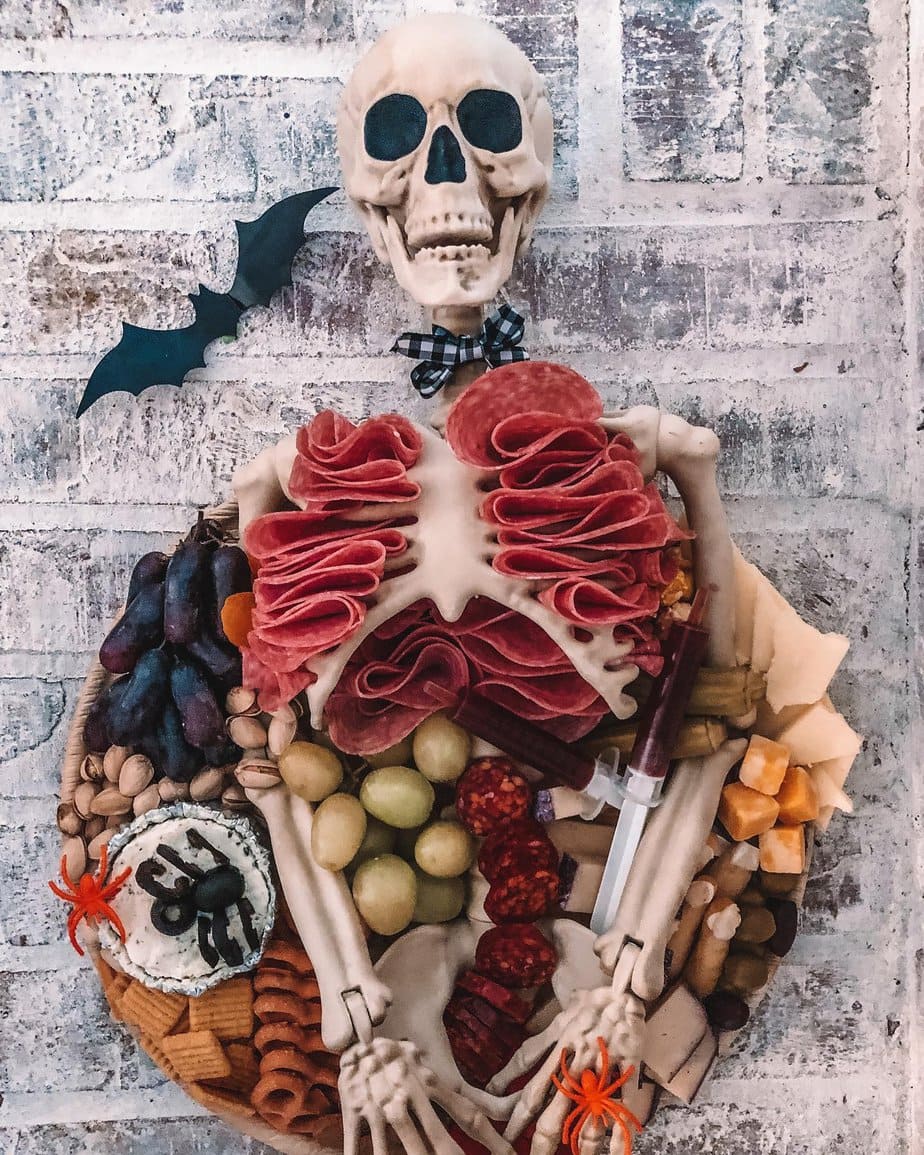 Here's some more spooky inspiration for your Halloween party grazing table! The folded meats in the rib cage add to the fun!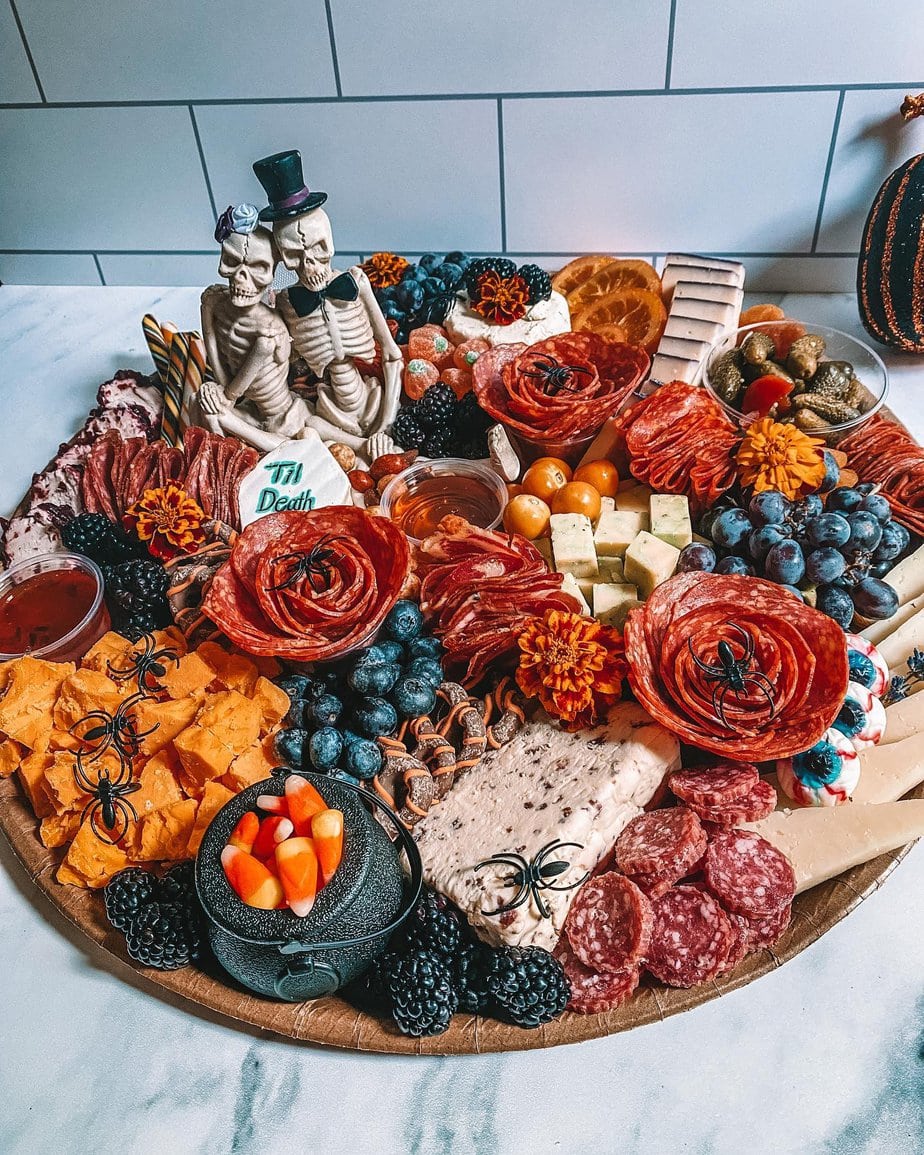 Here's another idea for a Halloween-themed wedding platter. The skeleton couple and flowers adds a romantic twist…but don't forget the plastic spiders!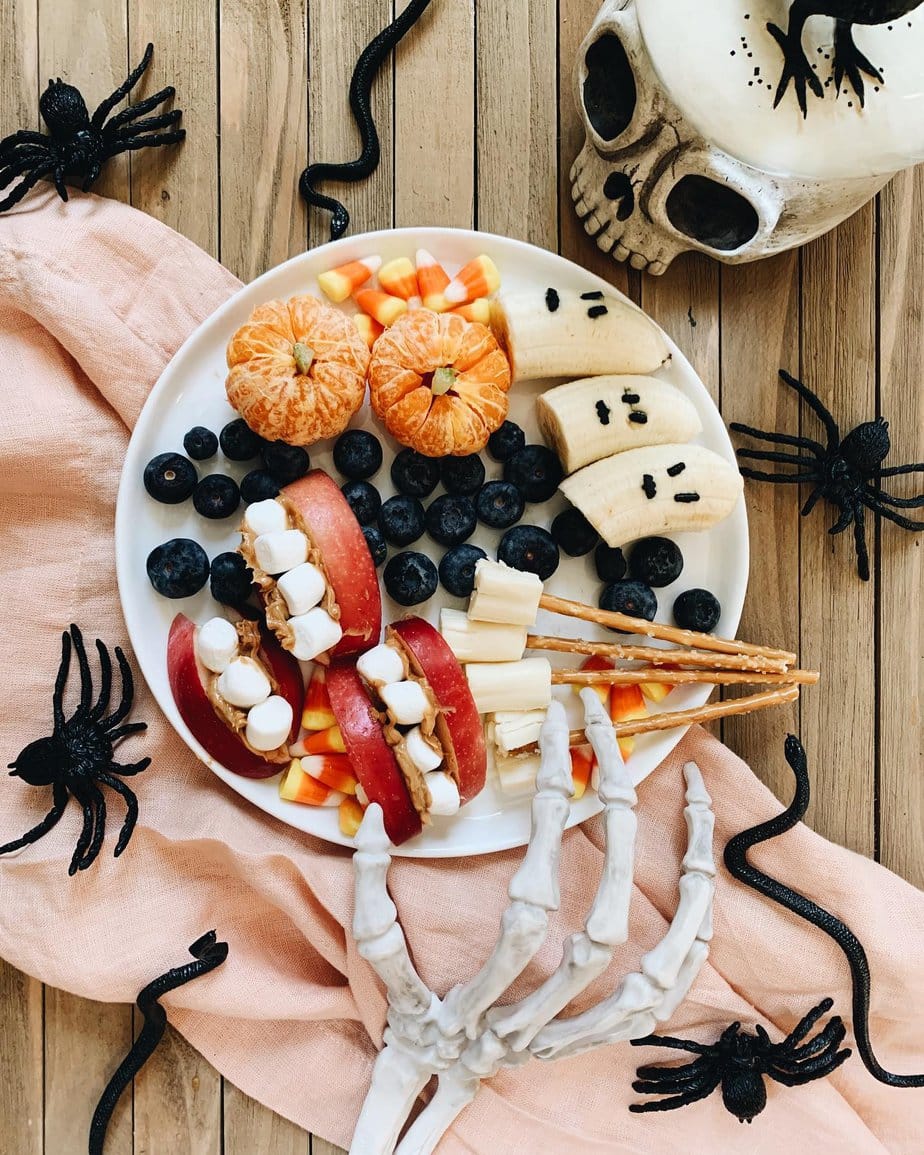 Want to know how to be the most popular mom on the block this Halloween? Make the kids a healthy snacking plate for breakfast!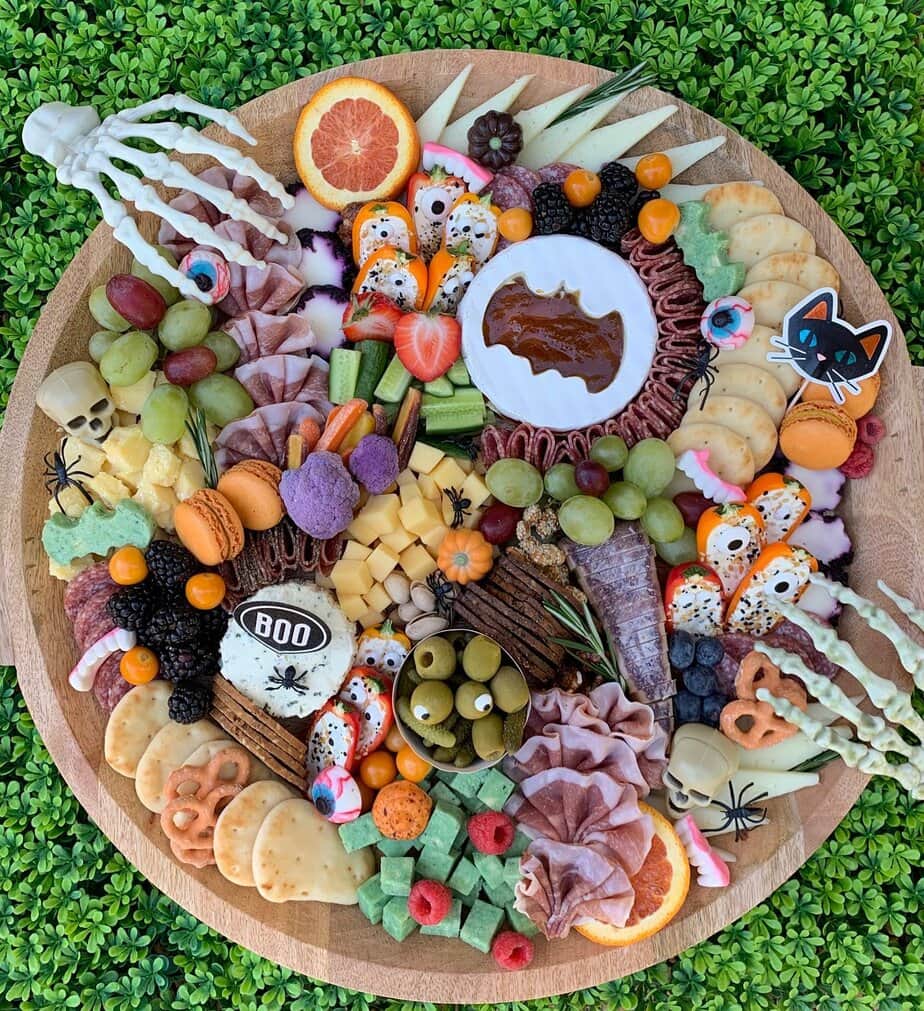 Mix different textures, flavors and ingredients on a cutting board to make a Halloween serving platter that guests will flock to at your party!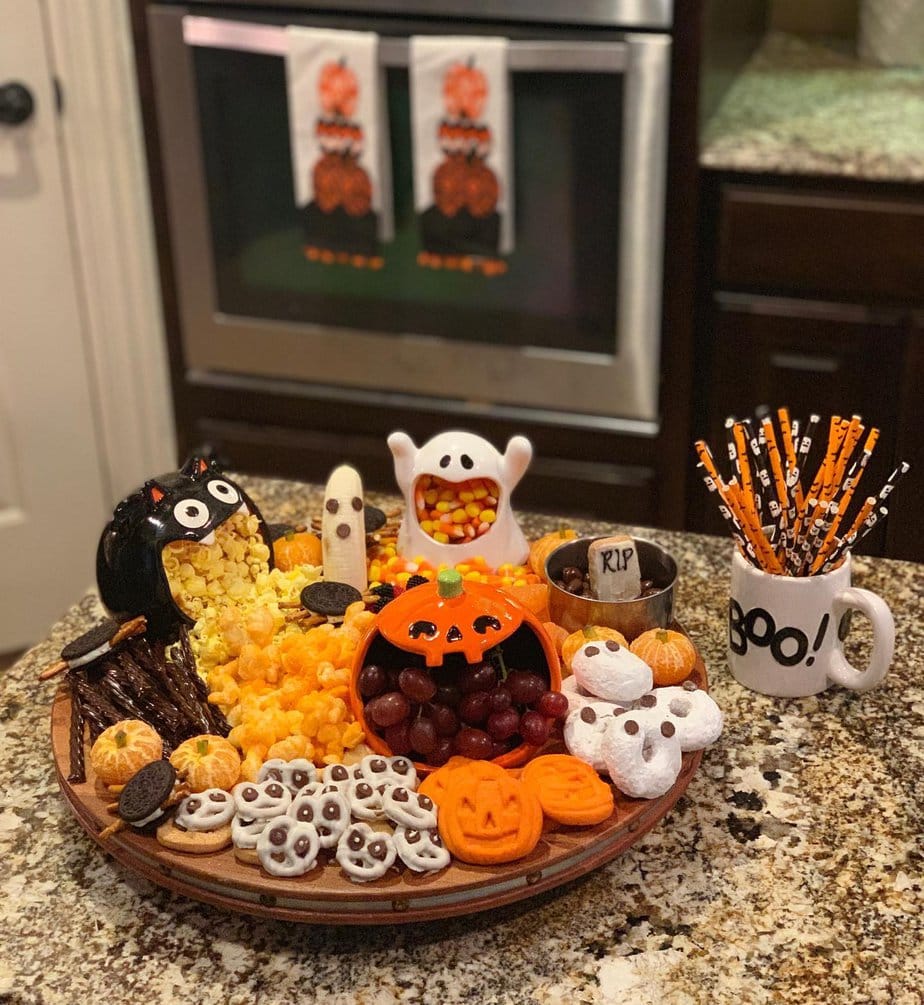 Don't forget the fun of a charcuterie board is in the decoration, and you don't have to have everything laid out flat on the board. Look how fun it is when you include Halloween ornaments filled with fresh fruit, popcorn and other treats!
Sweet Halloween Charcuterie Boards Kids will Love!
You can't have Halloween without Trick or Treat, and you can't have Treat without Halloween candy!
So how about some ideas for sweet candy-filled, Halloween charcuterie boards?
Or candy grazing platters to be more specific I guess!
Either way, whether you're throwing a party for kids or grownups, or you want a fun after-school treat keep scrolling to see the fun decorating ideas!
You can combine store bought candy with some Halloween recipes for cookies and baked treats to make a fun looking charcuterie board that tastes yummy!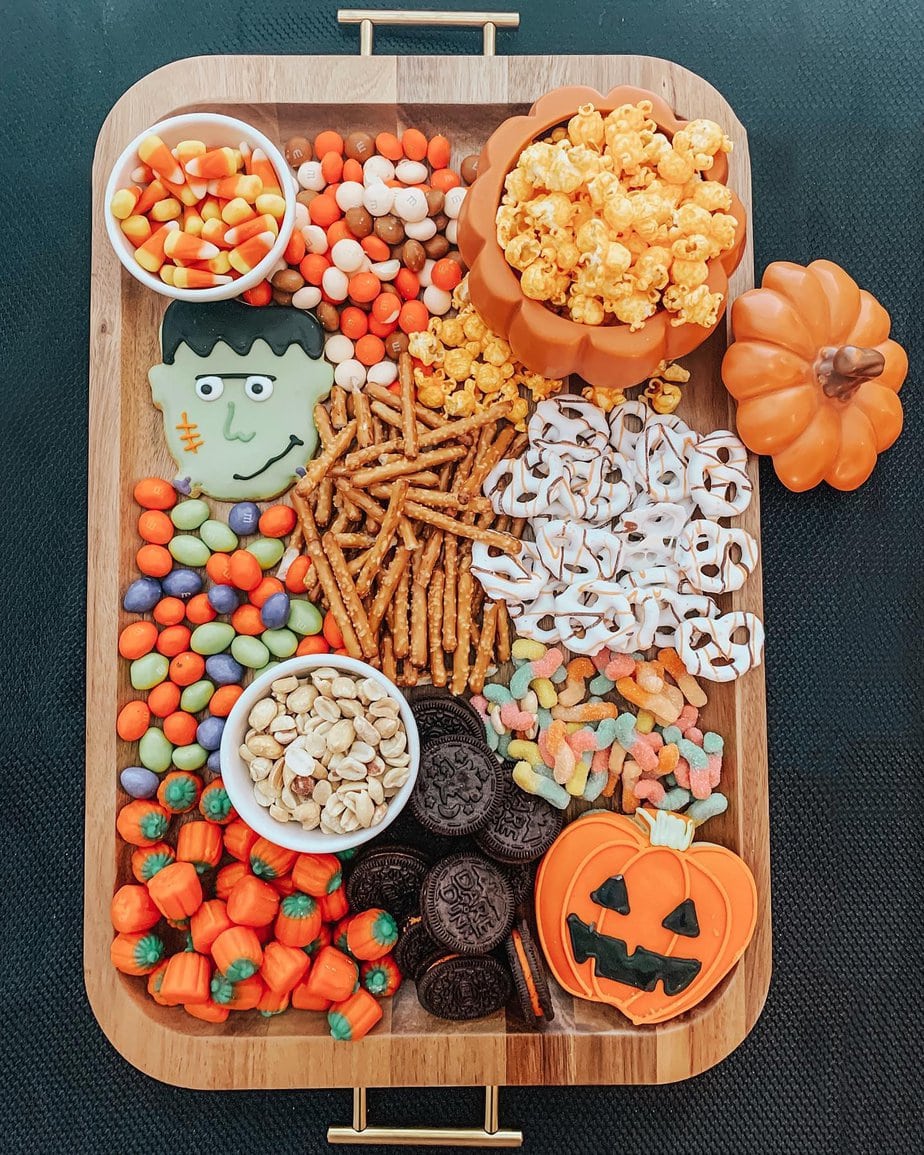 This is such a fun kid-friendly orange-themed Halloween charctuterie board! Fill some small bowls with popcorn, candy corn and nuts, add some chocolate OREOS and some Halloween M&Ms and your grazing tray is perfect for a party!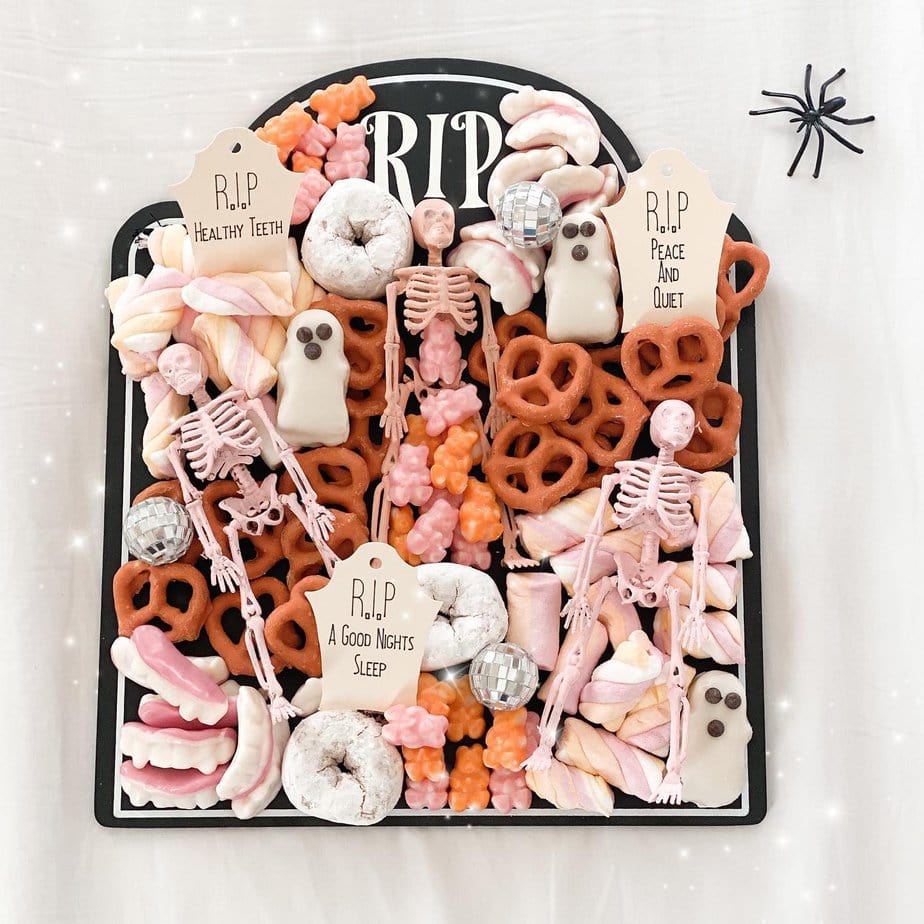 Halloween doesn't have to mean spooky and scary, if you have little ones and want to make things a little less gruesome try this "pretty in pink" themed snack tray instead!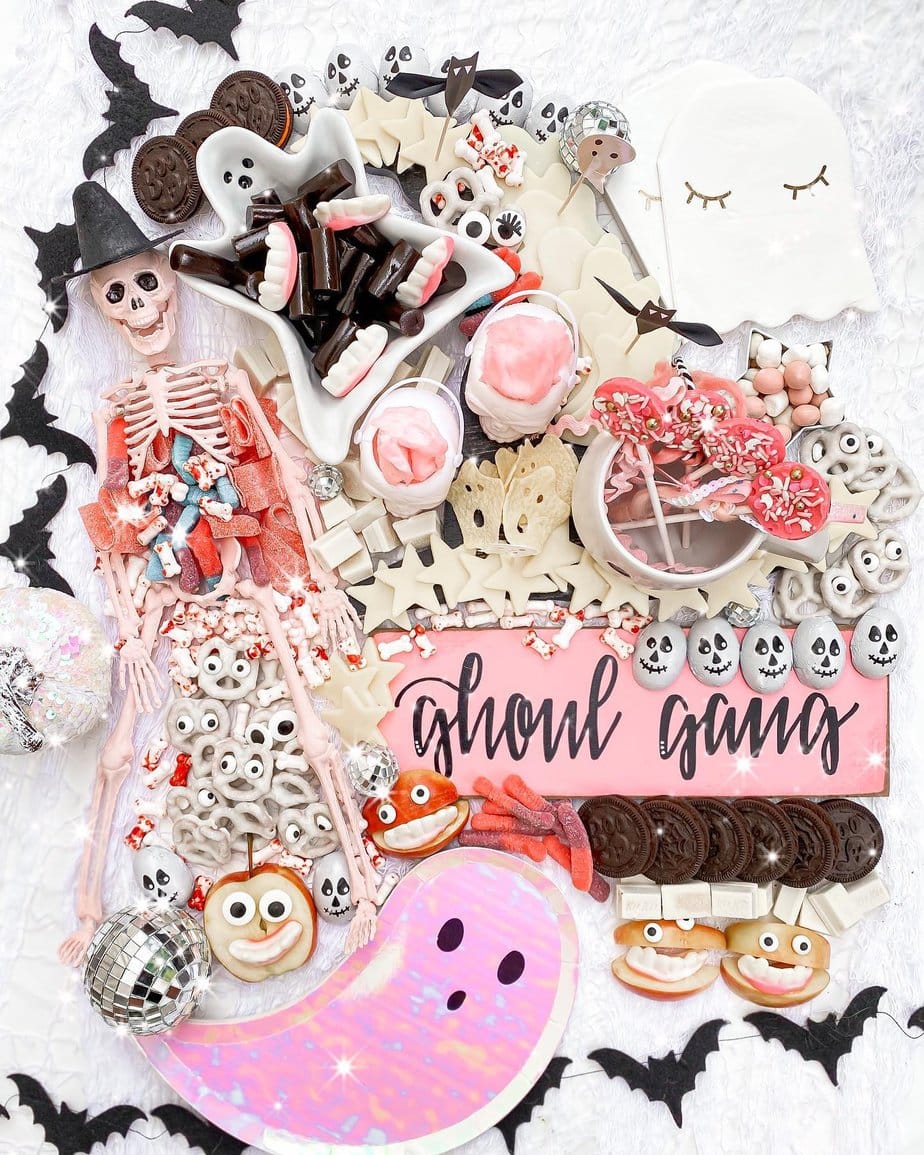 Or this one that has a similar not-so-spooky vibe! Go crazy with those candy eyes to bring it to life!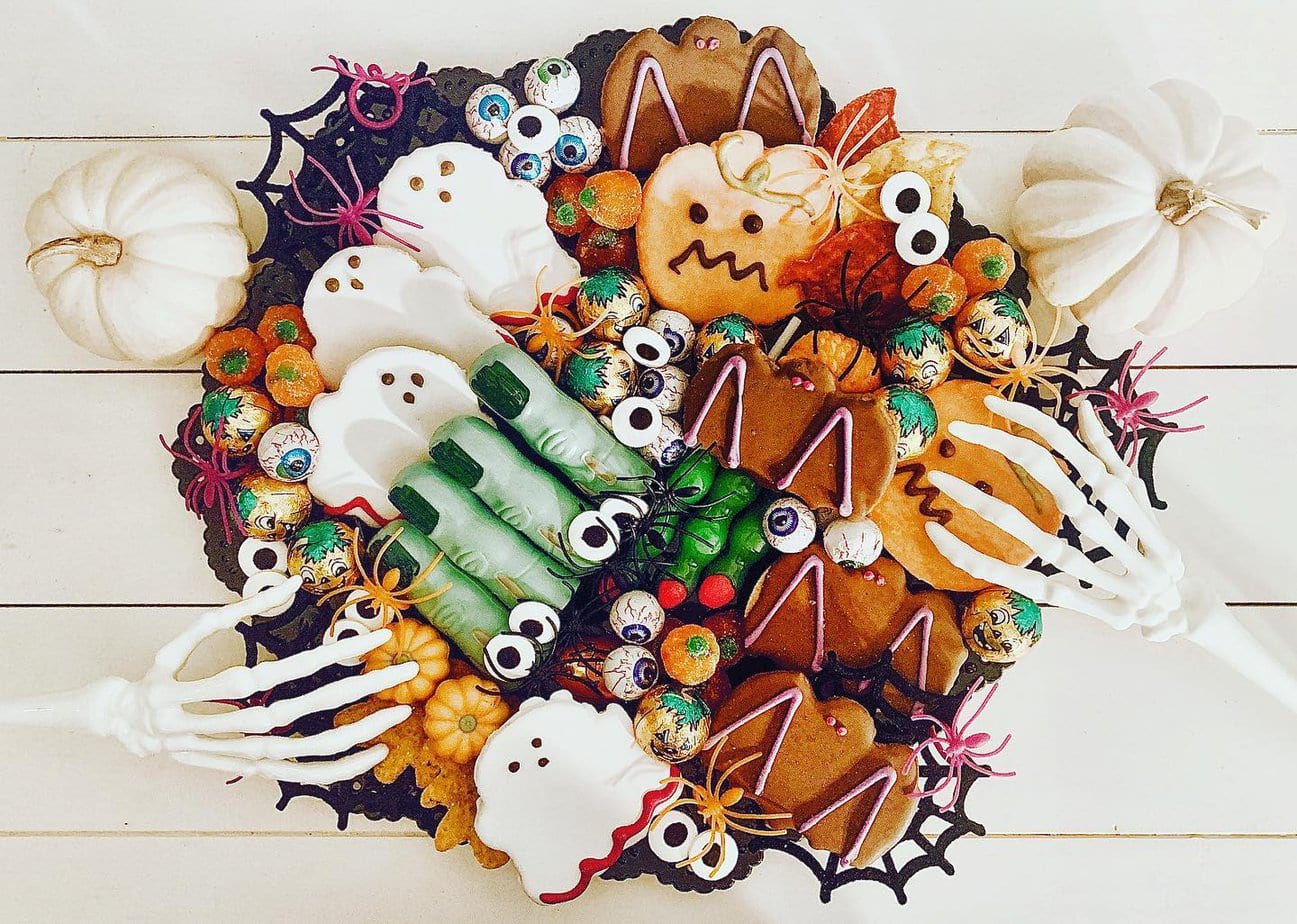 Offset the sweetness with some Halloween themed cookies, you could try pumpkins, bats or even ghosts with the help of some small cookie cutters! Add some skeleton hands and cobwebs to increase the spook factor!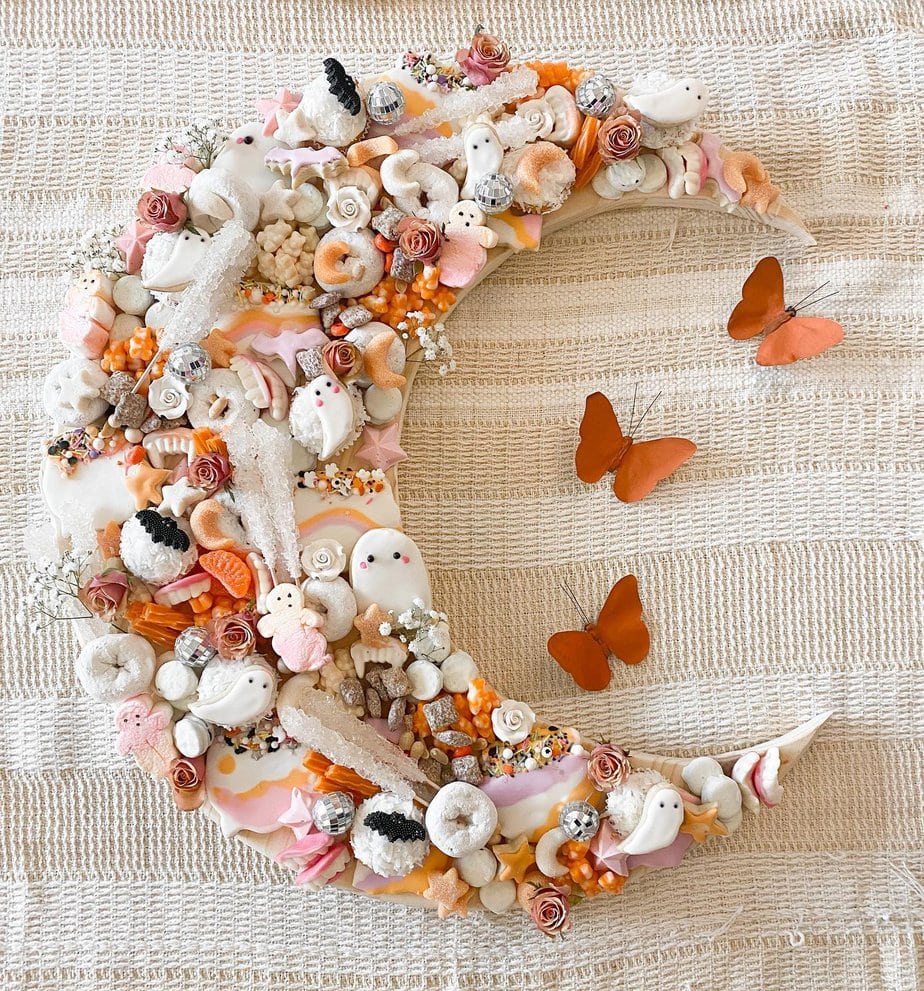 Make your Halloween candy platter stand out by using a moon shaped serving tray! The layering and textures of all the different candies, sweets and treats on this tray is quite the work of art!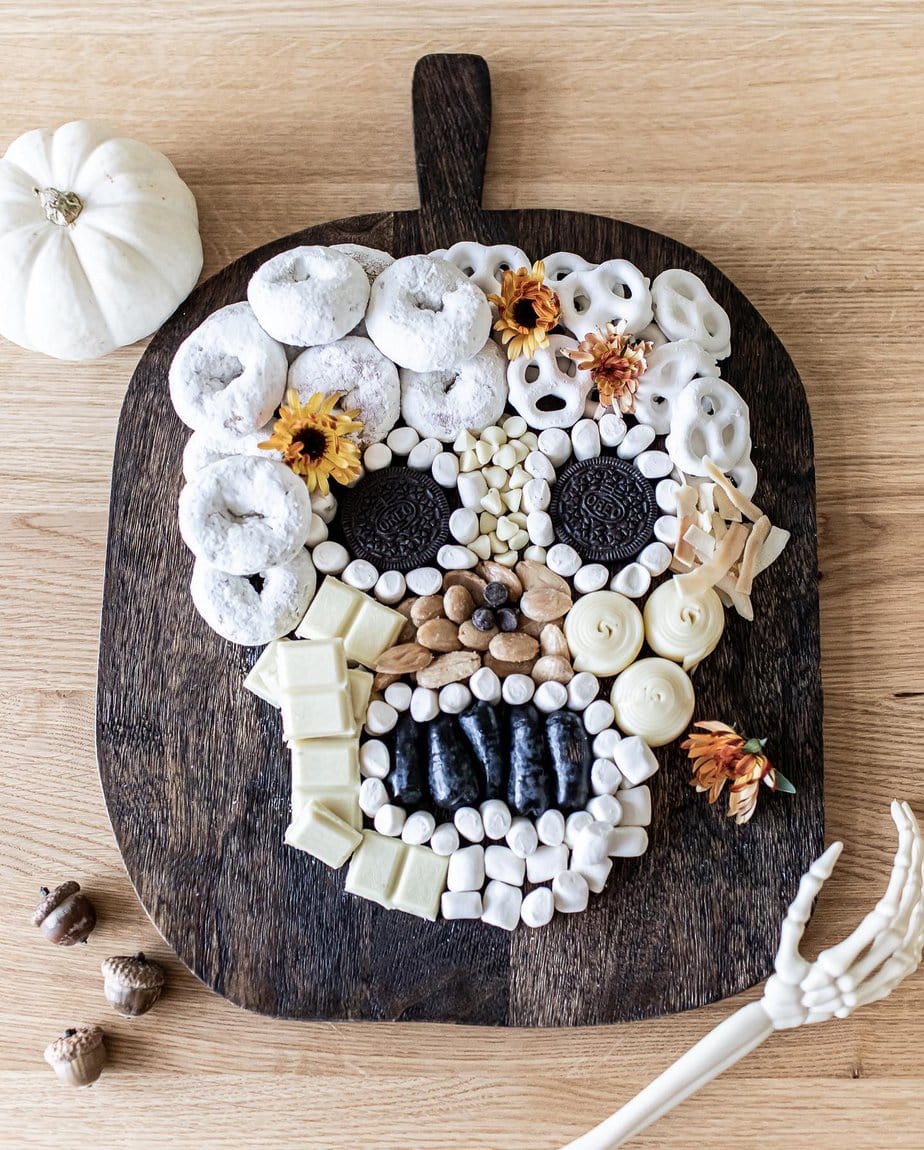 Love this idea for a Halloween platter, with all the yummy treats laid out in the shape of a skull! Seems a shame to eat it…