These incredible Labor Day burger recipes will make your last summer barbecue one to remember!
This post may contain affiliate links, which means I may receive a commission if you click on a link and purchase something. As an Etsy and Zazzle Affiliate I earn commissions from qualifying purchases.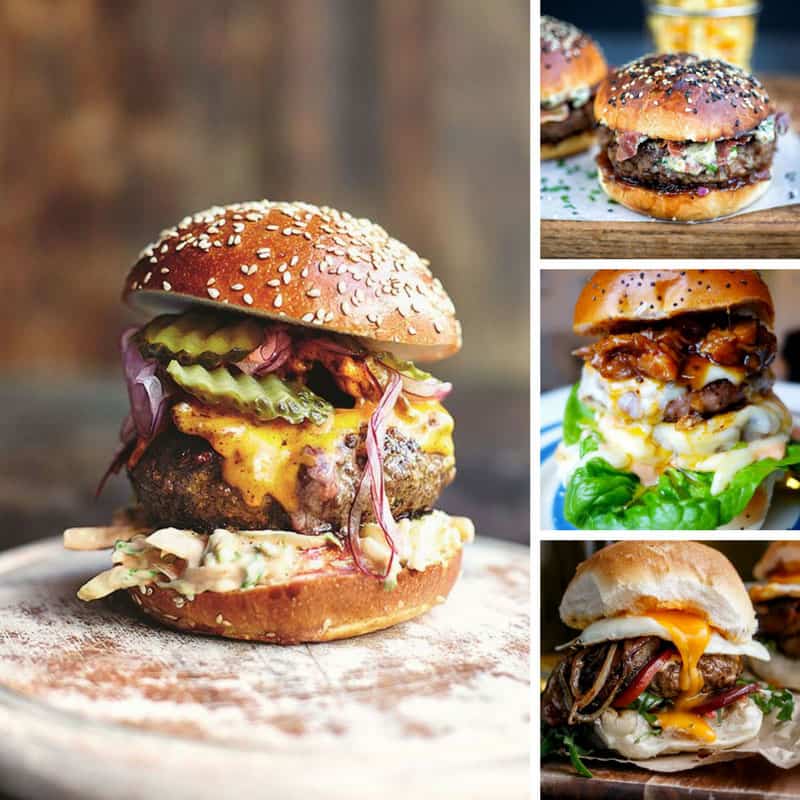 Labor Day Burger Recipes
It's almost time to bid farewell to summer, but you can't possibly be sad about it when you have the option to go out with bang stuffing your face with one of these amazingly delicious Labor Day burgers!
We've got everything from quest burgers and drunken Aussie burgers to burgers stuffed with jalapeño peppers and even a beef burger smothered with peanut butter!
As always be sure to scroll all the way to the end so you don't miss any of the great ideas. And don't forget to pin your favourites as you go!
Related Posts:
Queso Burgers

Alyssa's husband described these burgers as a Fiesta Queso explosion in the mouth! What more reason did I need to add them to this collection! (via The Recipe Critic)
Drunken Aussie Beef Burgers

If you're on a diet and missing your Aussie burgers this one is for you, because Karina has managed to lighten it up while still packing it full of flavour. And if your mouth is watering at the sight of that egg yolk oozing out from under the bun then my work here is done! (via Cafe Delites)
Want to make your homemade burgers look professional?
==> You need one of these
burger molds
!
Mojo Beef Burgers with Tequila-Lime Aioli

These burgers are mouth-wateringly delicious thanks to the citrus infusion from the Mojo sauce. And if you love aioli then this is the burger for you because there'll be plenty left over for dipping your fries or chips in! (via Striped Spatula)
Blue Cheese Burgers on Light Brioche Rolls with Crispy Pancetta and Onion Chutney

If you really wanna impress your guests this is the recipe for you, because not only are you going to serve up the most amazing homemade burgers, but you're going to bake the brioche rolls from scratch too! (via Super Golden Bakes)
Classic Bacon and Cheese Burger

Sometimes the best tasting burger is actually a simple bacon and cheese combo, you just have to make sure you use really good quality ingredients! (via Simply Delicious Food)
Coffee Rubbed Burgers with Dr. Pepper BBQ Sauce

If you're looking for a homemade burger that's packed full of flavours this one is it. First there's the coffee rub on the actual burger, and then it's drizzled with Dr Pepper BBQ sauce… I don't need to keep typing right? (via The Chunky Chef)
The Rib Tickler

I set out to pull together a collection of burgers you could share with your friends over Labor Day weekend, or just any weekend. But actually with this one you might want to keep it to yourself. Because if your friends were to taste the combination of double cheeseburger and slow cooked spicy ribs with homemade burger sauce they might refuse to leave until you made them all over again! (via The Londoner)
Chorizo Beef Burger with Crispy Onion Straws

If you like your burgers to have a little zing then this is the recipe for you, because this big mouth burger combines ground beef with full flavour chorizo… (via Nutmeg Nanny)
Loaded Beef Hamburgers

If you're on a tight budget you can still treat your friends to a delicious tasting burger, this one uses supermarket ground beef, and I never thought to cook the burgers on a skillet! (via Recipe Tin)
Insanity Burger

For the ultimate in comfort food serve up one of these Insanity Burgers. Invented by Jamie Oliver it's made with chuck steak and packed full of flavours. (via Cookbooks 365)
Bacon Burgers with Bourbon Caramelized Onions and Goat Cheese

If you usually serve your burgers topped with American cheese it might be time for a change. Check out this delicious burger that uses goats cheese instead. It's the perfect Father's Day burger to let your dad know that he's the best! (via Recipe Runner)
Swiss Pan Burgers with Rosemary-Mushroom Pan Sauce

If you think your Labor Day plans are ruined because the grill is out of action don't panic because these burgers are made in a skillet! And apparently they're topped with mushrooms that taste so amazing they'll convert even the mushroom haters on your guest list! (via Iowa Girl Eats)
The Adam

This burger was named after a golfer, but all you need to know is that it's an amazing combo of beef topped with lobster and beurre blanc sauce! (via Perpetually Hungry)
Peanut Butter Cracklin and Pork Belly Burger

Yes, you read that right. This burger is a combination of beef, veal and pork belly patties, topped with crispy bacon and then smothered with peanut butter. You gotta taste it to believe it! (via Nancy's Cravings)
BBQ Havarti Burgers with Sweet Potato Curly Fries

Turns out that if you've not been spirilizing your sweet potato and then putting those fries INSIDE your burger you've been doing it all wrong! (via How Sweet Eats)
Jameson Whiskey Blue Cheese Burger with Guinness Cheese Sauce + Crispy Onions

Oh my. I don't think there are words to describe this burger. The patty is stuffed with blue cheese, and then the whisky sauce adds a kick of saltiness and tang. You might find yourself struggling to finish it, but wanting to eat another! (via Half Baked Harvest)
Bacon and Cheese Corned Beef Burger with Guinness Caramelized Onions and a Fried Egg

Your beef burger patties don't always have to be made with ground beef. Oh no this recipe uses corned beef, and then tops them with bacon, cheese, Guinness caramalized onion and a fried egg! (via Closet Cooking)
Stuffed Jalapeno Popper Bacon Cheeseburger

If you want a burger that will split the men from the boys then this is it. For the simple reason that the burger is STUFFED with jalapeno peppers! This is certainly not a burger for the faint hearted! (via Shared Appetite)
Bourbon Basted Cheese Burgers and Mexican Street Corn

Fire up the grill because this combination of burger and corn is going to have your guests drooling all the way to next week! (via Simply Delicious)
Related Posts:

Pin these ideas!
Hit the button to save these ideas for later.
Don't forget to
follow us on Pinterest
for more great stuff!
&
---