This post may contain affiliate links, which means I may receive a commission if you click on a link and purchase something. As an Etsy and Zazzle Affiliate I earn commissions from qualifying purchases.
Always wanted to crochet a temperature blanket? Try one of these simple projects that are easy enough for a beginner to follow and by the end of the year you'll have a blanket to be proud of!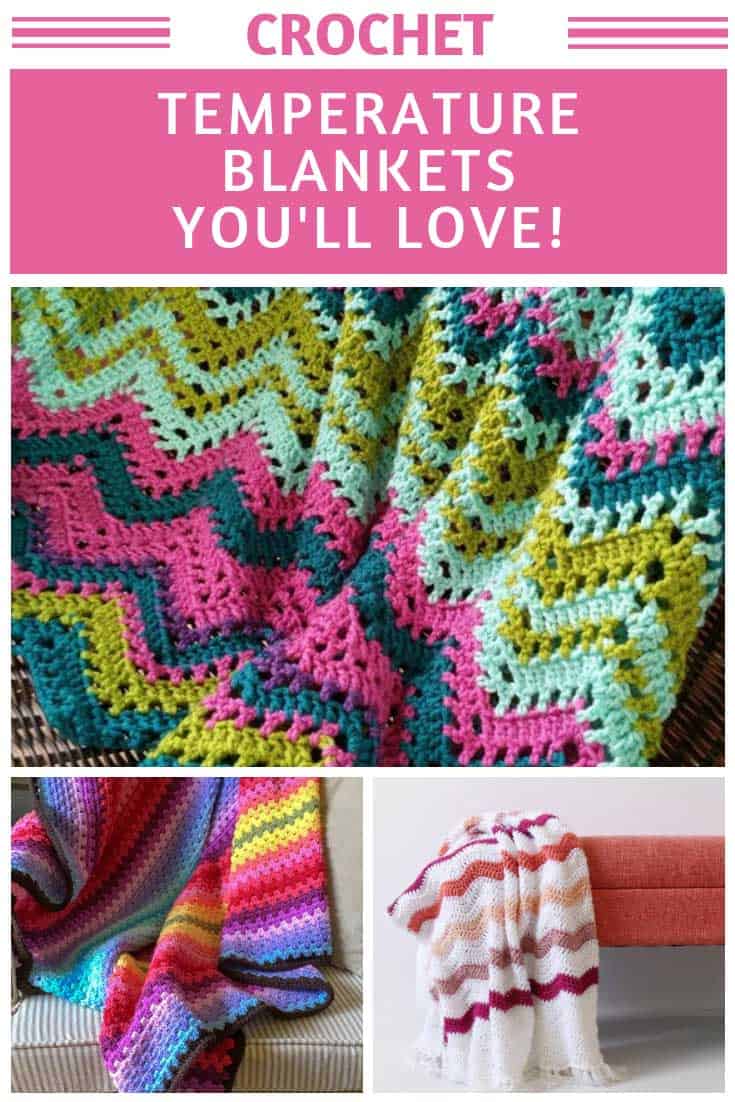 Yesterday I shared the most fabulous striped blanket and it reminded me that I wanted to try and make a crochet temperature blanket in 2023! I thought I'd pull together some more patterns that would work well and share them with you.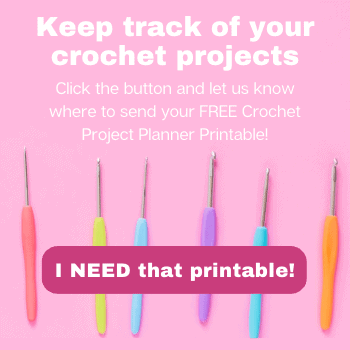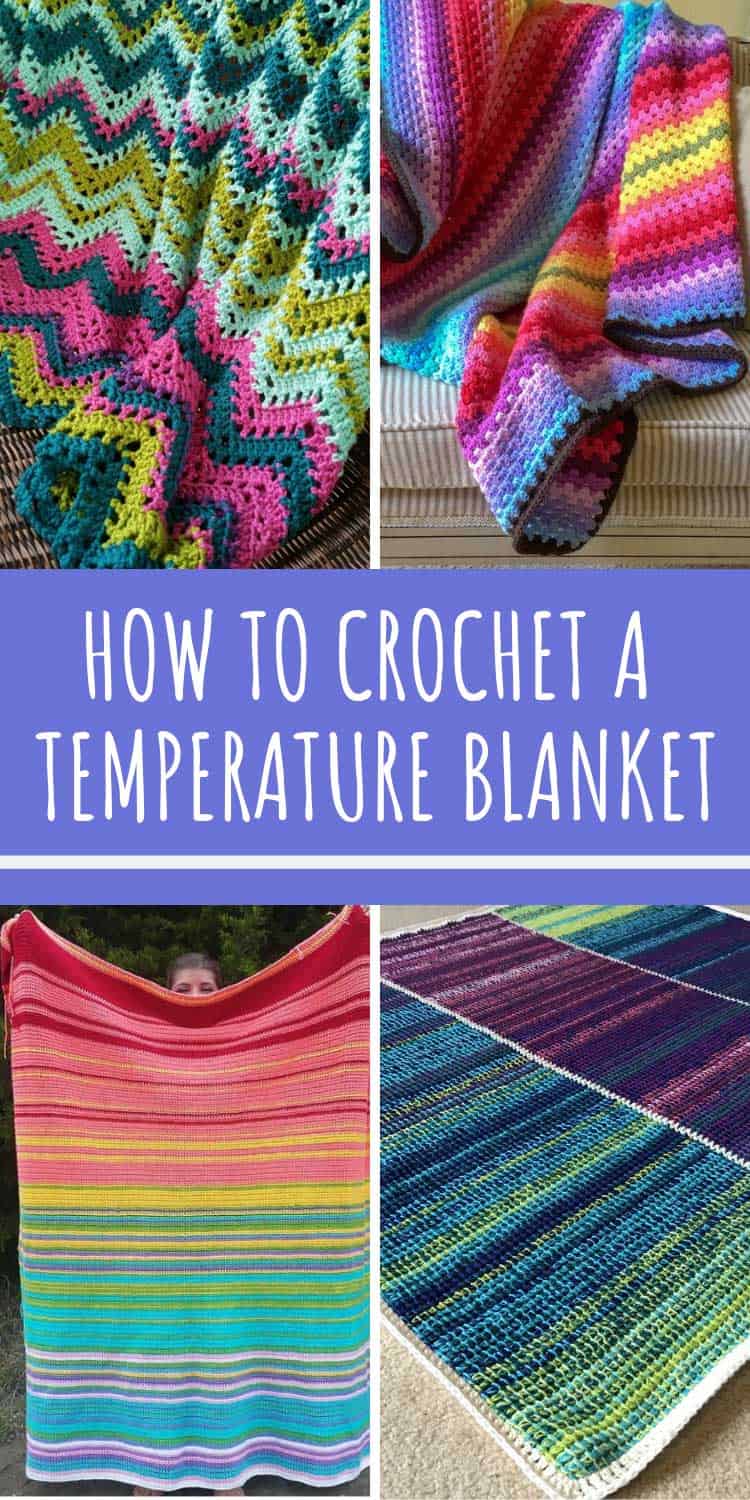 What's a temperature crochet blanket?
If you've never heard of a temperature blanket before it's a year-long project where each day you crochet a row in a blanket based on the temperature outside where you live.
At the start of the year, you pick out your yarn colors and you assign each color to a temperature. Then each day you crochet a row of your blanket using the color yarn for that day's temperature.
At the end of the year, you have a gorgeous striped blanket that's one of a kind, because even if you make one every year the temperature is always going to be different on any given day.
How many colors do I need for a temperature blanket?
The number of colors you will need depends on the temperature range where you live.
Most people pick 8-10 different colors with each having a 5-10 degree range.
For example, take a look at this chart from Jenn Likes Yarn. She picked out eight colors for her blanket and set them at 10 degree intervals from 22F through to 89F.
If the temperatures where you live are very similar for days on end you might want to switch colors every 2-5 degrees instead.
If I followed that temperature chart, my whole blanket would be pretty much green for March through October, which wouldn't be very interesting to look at!
When you're buying your yarn don't forget that you'll need more of your "average temperature" colors and less of the colors at the top and bottom of your temperature chart. You might even get to the end of the year and find you didn't use any of the colors at all.
What temperature should I use for my blanket?
The easiest way to pick a temperature is to use the daily high for your local area. You can look this up online or use the weather app on your phone.
Depending on the time of day you want to sit and crochet the next row in your blanket you might want to work a day behind. So on Tuesday you look up Monday's high and crochet the row for that day.
How many stitches do you cast on for a temperature blanket?
You're going to have 365 or 366 rows in your blanket so if you want it to be square you'll need to cast on about 340 stitches.
It's a good idea to make a gauge swatch before you get started to give you a good idea of just how big your blanket could turn out to be.
What yarn should I use for a temperature blanket?
The go-to yarn for temperature blankets is worsted weight, but if you want a lighter blanket you could use DK or fingering weight yarn.
Look for ranges like Scheepjes that have a spectrum of colors that blend together nicely.
Does a temperature blanket have to be rainbow colored?
Heck no! If you don't like bright rainbow colors don't let that put you off crocheting a temperature blanket. You can choose whatever color palette you like to make your blanket.
You could put together an array of blues and creams for an ocean-inspired blanket, or shades of green if a day in the forest is more your jam.
Pick out colors that compliment your bedroom or your lounge, or your front porch if that is where your finished blanket is going to be used.
Are all temperature blankets made up of stripes?
That's another heck no!
Most temperature blankets are striped for sure because the easiest way to make one of these over the course of a year is to crochet a row each day.
But if you prefer Granny Squares or Split Squares you can totally do that instead.
Temperature blanket crochet patterns to inspire you
Now you've had the 101 on temperature blankets let's take a look at some different crochet patterns so you can pick out the one you're going to follow to make your own blanket in 2022!
1 | Simple Temperature Blanket
Here's an example of a completed temperature blanket, doesn't it look beautiful? It's up to you how wide your blanket is going to be and it will of course be 365 rows long.
Kylee used I Love this Yarn from Hobby Lobby to make her blanket and if you click through you can see the temperature color chart she chose to use.
She has included her pattern too which is super simple.
Simple Pattern by Okie Girl Bling n' Things
2 | Tunisian Temperature Blanket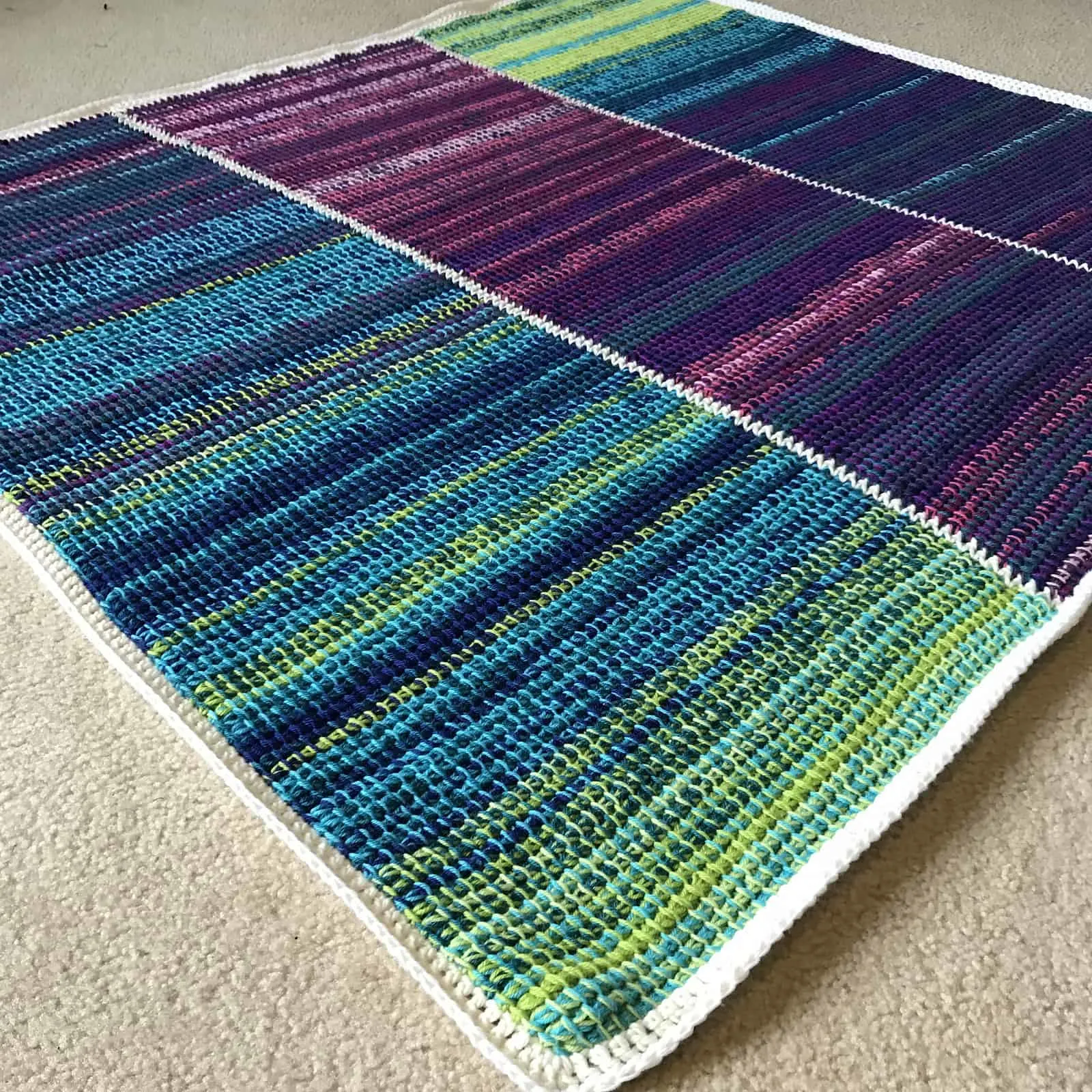 If 2022 is not your first year making a blanket and you want to try something a bit different from the regular stripe try this Tunisian style temperature blanket instead.
I love the way Nona actually used two strands of yarn for each day, one to represent the high and one for the low. It really adds some texture to the design.
Tunisian Temperature Blanket by Nona Davenport via Ravelry
3 | Unicorn Stripes Baby Blanket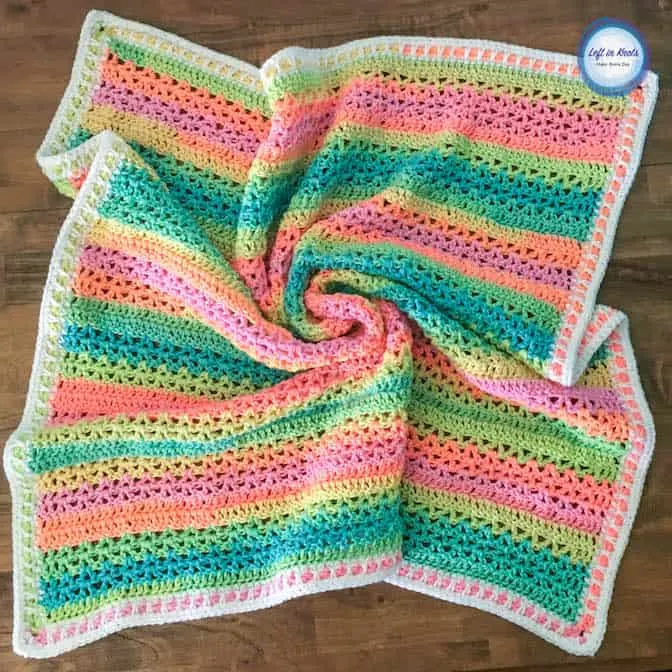 I wish I'd know what a temperature blanket was when my babies were born so I could have made one based on their first year. Of course back then I'd have been too worn out to actually complete it!
If you're a new grandma or auntie though it would make a wonderful first birthday gift wouldn't it? Just start the first row on the day they were born and run it through to their first birthday.
Unicorn Stripes Baby Blanket by Left in Knots
4 | Baby Ripple Blanket Pattern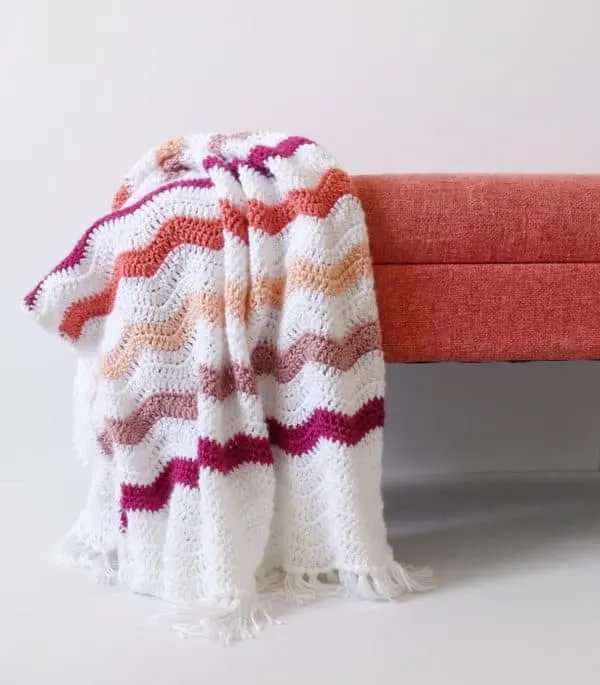 This baby blanket isn't actually designed to be a temperature one but I think the ripple pattern would work really well with all the different color stripes.
Baby Ripple Blanket Pattern by Daisy Farm Crafts
5 | Rainbow Yarn Kit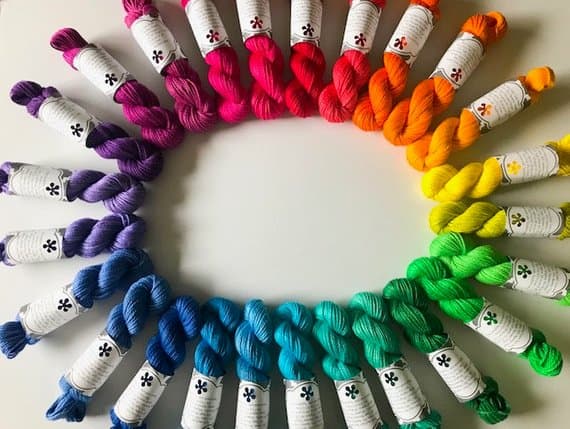 If you are making a keepsake temperature blanket for a loved one take a look at this rainbow yarn kit. Each skein is the most gorgeous shade and it's all hand dyed bamboo cotton.
Rainbow Yarn Kit by That's My Color Yarn Shop
6 | Temperature Chevron Blanket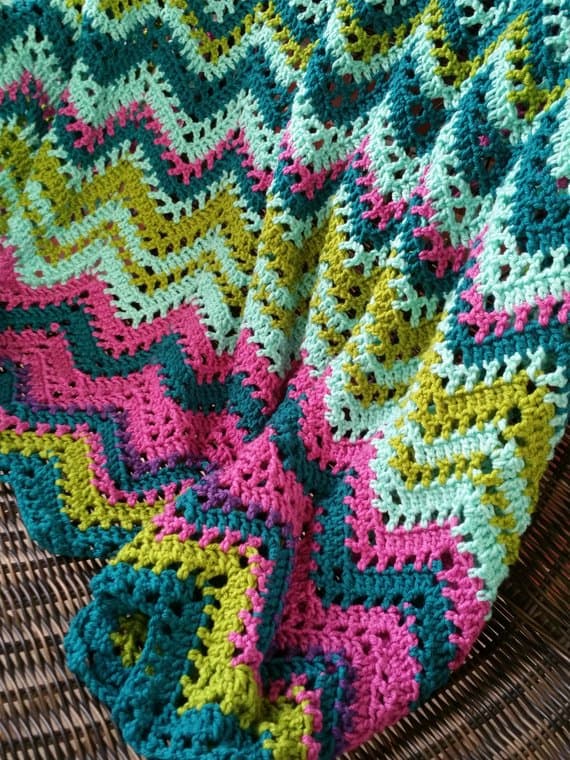 Here's another example of a temperature blanket that is totally GORGEOUS! I LOVE this chevron pattern. I think this is my favorite out of all the patterns I'm sharing today!
Temperature Chevron Blanket by Kristi Simpson Designs
7 | Granny Stripe Temperature Blanket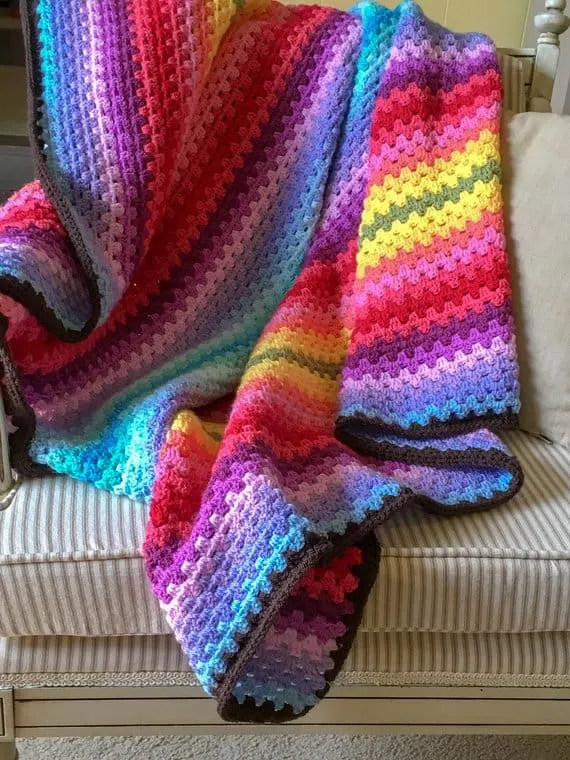 Granny stripes make great temperature blankets too!
This pattern is wonderful because it includes the color choices so you don't have to figure them out yourself, and it shows you how to finish off the blanket with a lovely edge.
Granny Stripe Temperature Blanket by Chocolate Dog Studio
8 | As-we-go Stripey Blanket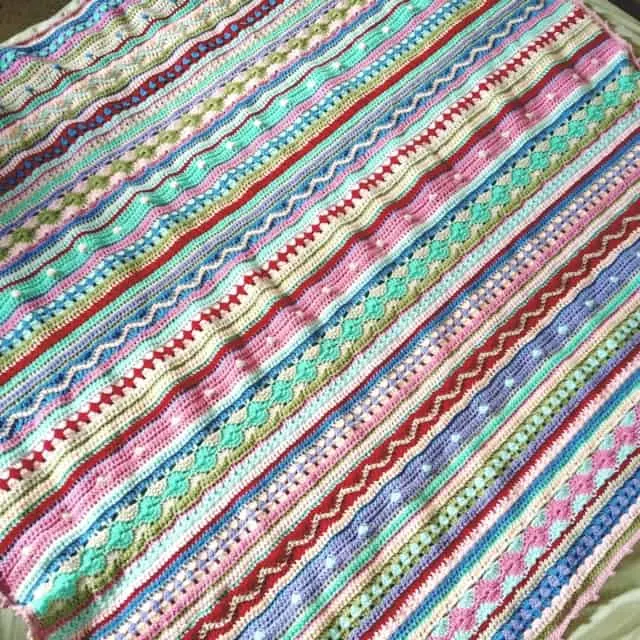 If you keep putting off making a temperature blanket because the thought of making the same stitch over and over every day for a year would drive you crazy THIS is the pattern for you!
Just look at how many different stitches and patterns there are? And this "organic" pattern is PERFECT for a temperature blanket!
As-we-go Stripey Blanket by Not Your Average Crochet
9 | Bohemian Temperature Wrap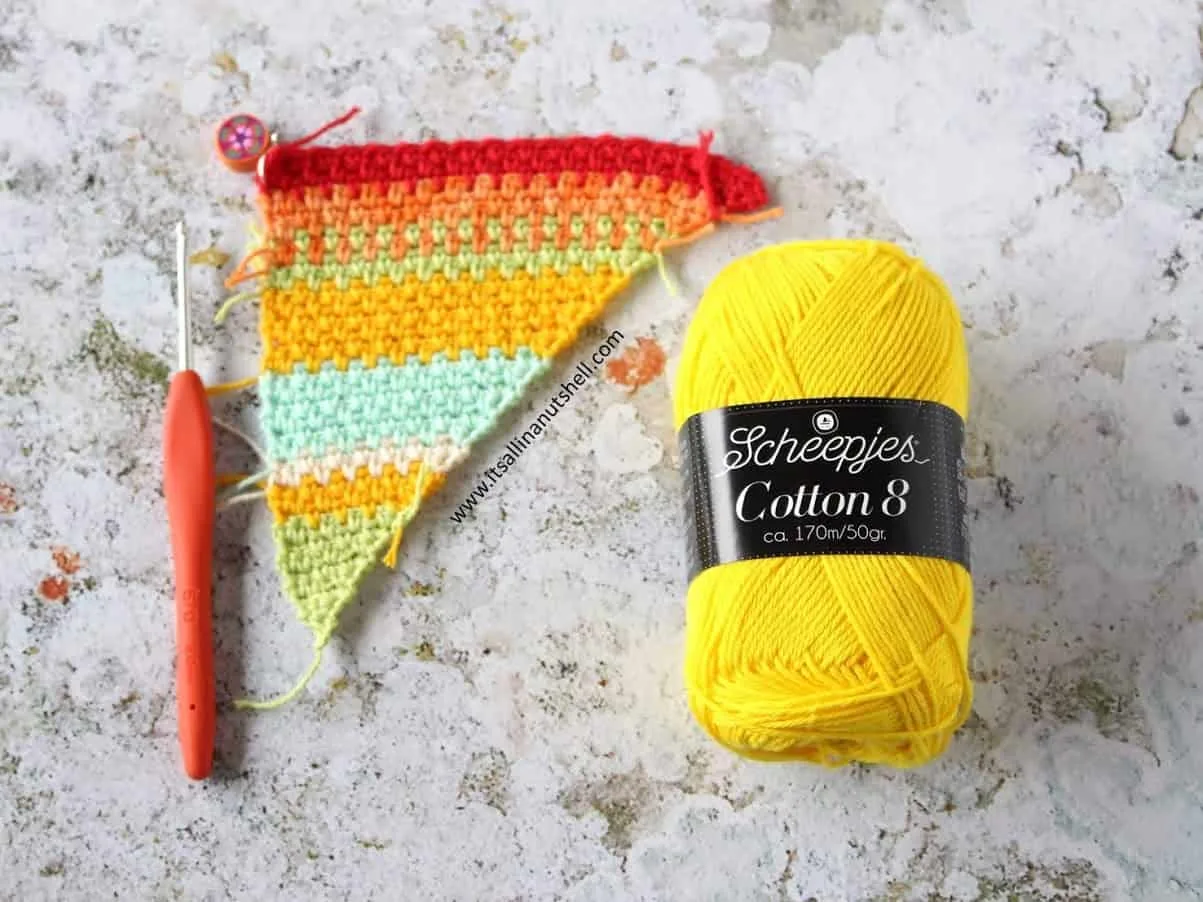 And there is absolutely nothing that says your temperature project has to be a blanket, why not join Esther as she makes a Bohemian style temperature wrap during 2022.
She's picked out 8 gorgeous shades of Sheepjes Cotton and has included a temperature color chart so you know which ones to buy.
She's included the pattern instructions too so you can make the triangular wrap in linen stitch.
Bohemian Temperature Wrap by It's All in a Nutshell
10 | Split-Square Temperature Blanket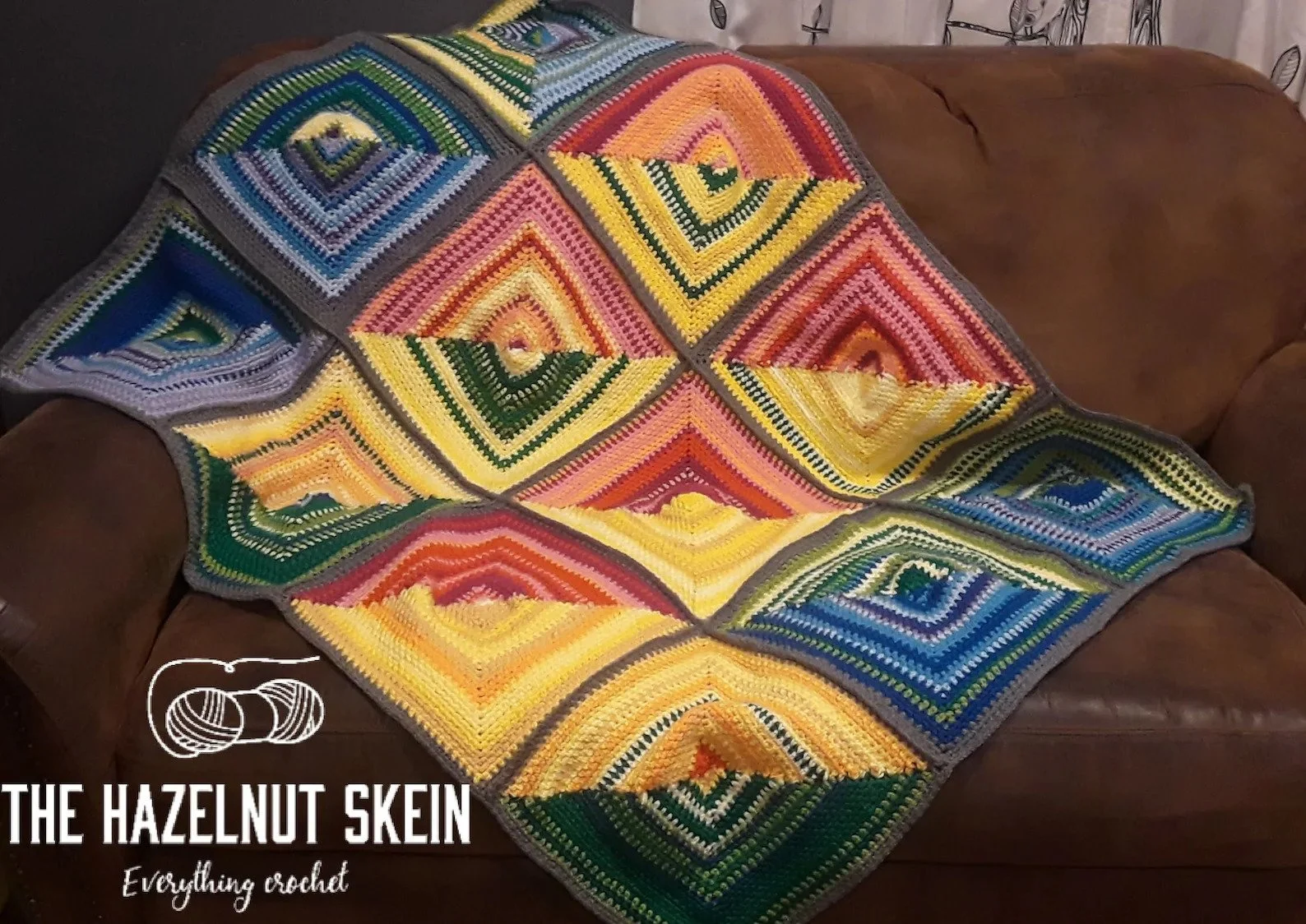 If you don't want to crochet a striped blanket check out this pattern that uses split squares instead. The low and high temperature for each day is used in this pattern with each round representing a day and each square representing a month.
Split Square Temperature Blanket by Everything Crochet on Etsy
11 | Gradient Tunisian Temperature Blanket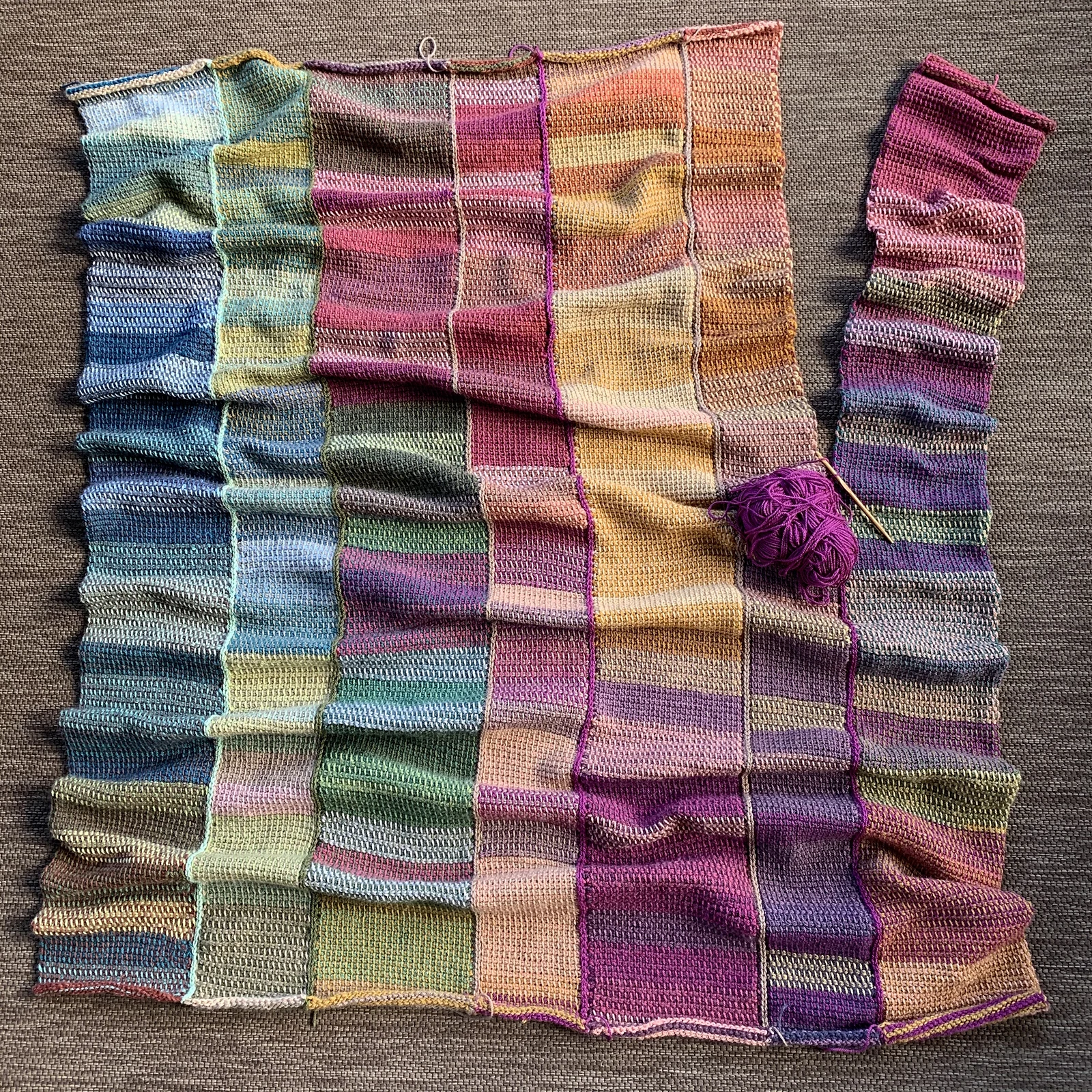 This gorgeous blanket is worked in panels using two different types of yarn and a Tunisian Simple Stitch.
The daily temperature stripes are worked using a contrasting color giving the stripes a woven and blended look.
Gradient Tunisian Temperature Blanket by Amy Minard on Ravelry
12 | Corner to Corner Temperature Blanket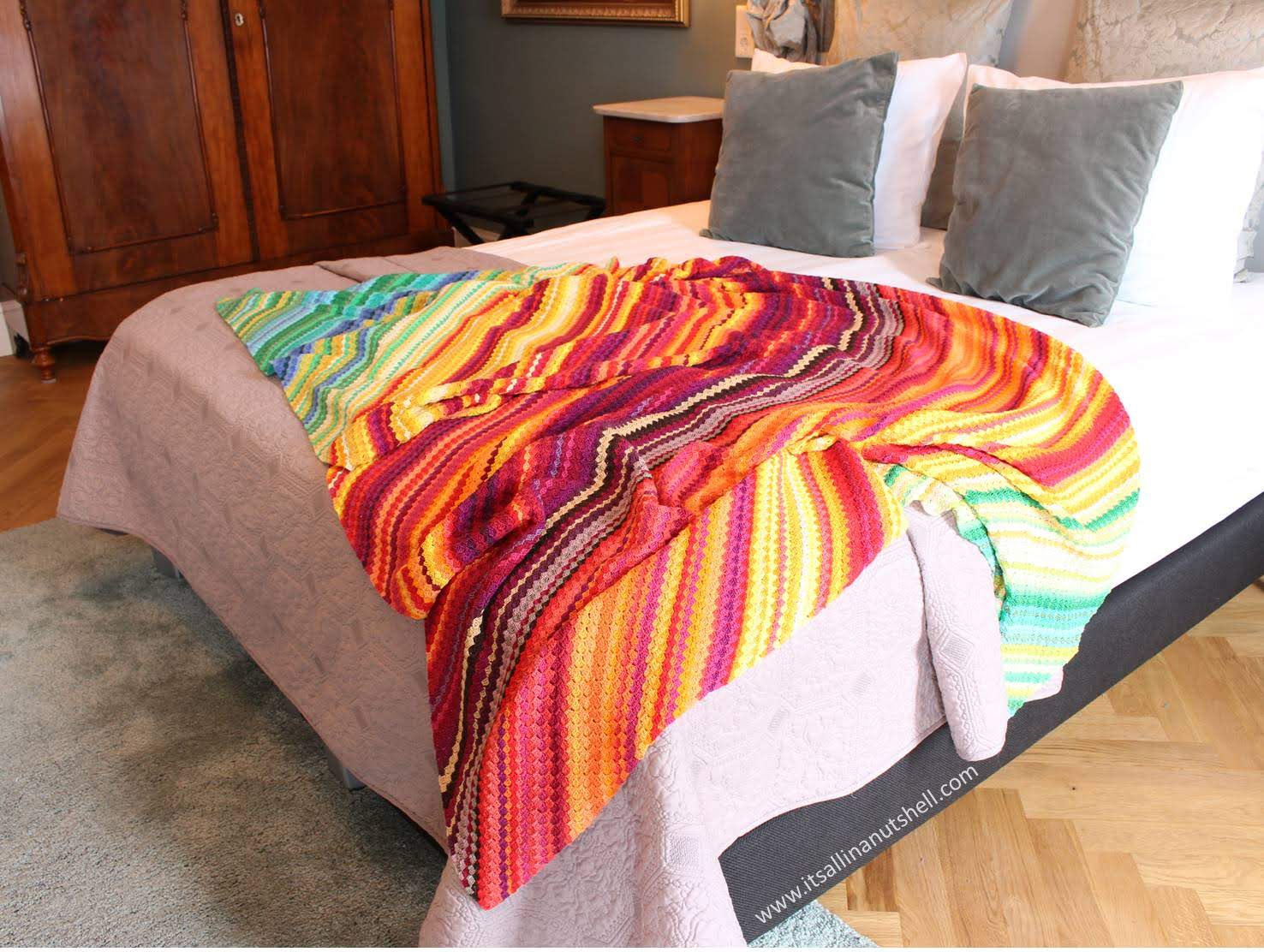 If you enjoy crocheting corner to corner this pattern could be the temperature blanket project for you.
The pattern creates a rectangular blanket made up of three distinct parts: (1) increasing the diagonal of the blanket from January 1st to May 25th, (2) keeping the diagonal length steady from May 26th to August 9th, and (3) decreasing the diagonal from August 10th to December 31st.
Free C2C Temperature Blanket Pattern by It's All In A Nutshell
13 | Tunisian Crochet Temperature Blanket Pattern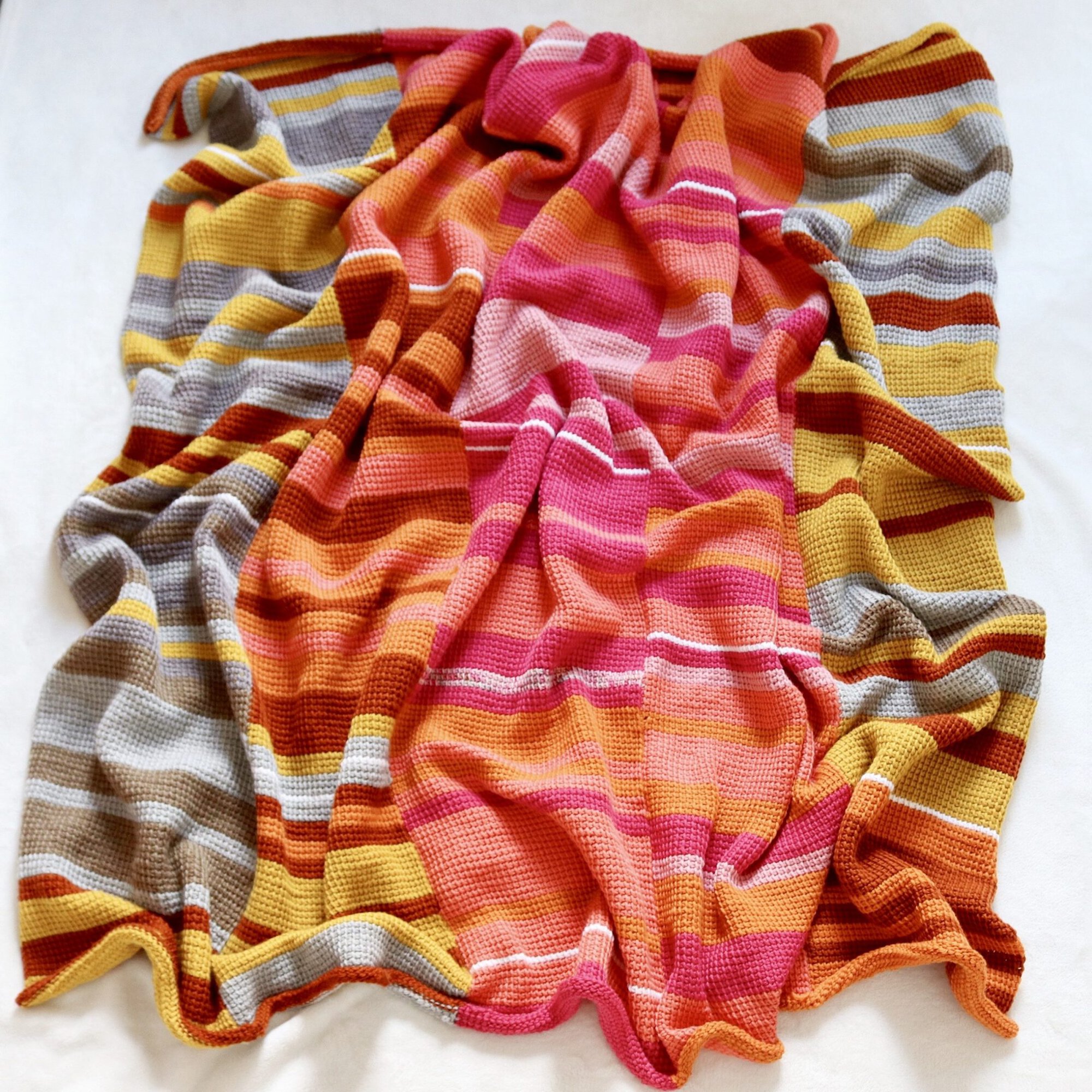 This gorgeous blanket uses DK weight yarn so it won't turn out to be too heavy.
Each day is represented by 3 rows and I love how a row of white is added to show the start of a new month.
How to Make A Tunisian Crochet Temperature Blanket by TL Yarn Crafts
14 | Mitered Square Blanket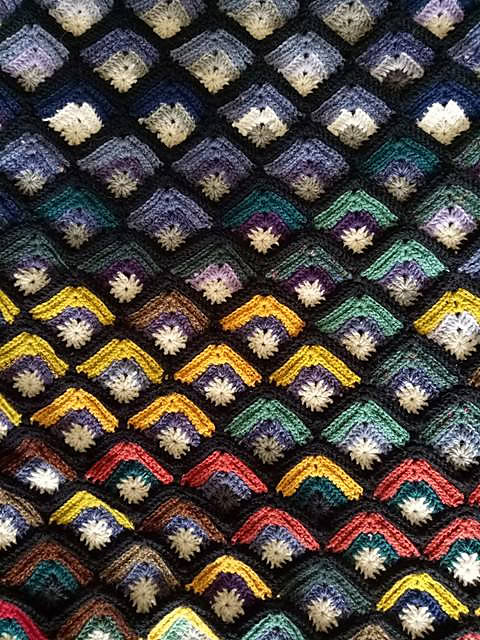 This free pattern shows you how to make a mitered granny square temperature blanket.
Free Mitered Square Temperature Blanket by Kaye Adolphson on Ravelry
15 | Granny Square Temperature Blanket Pattern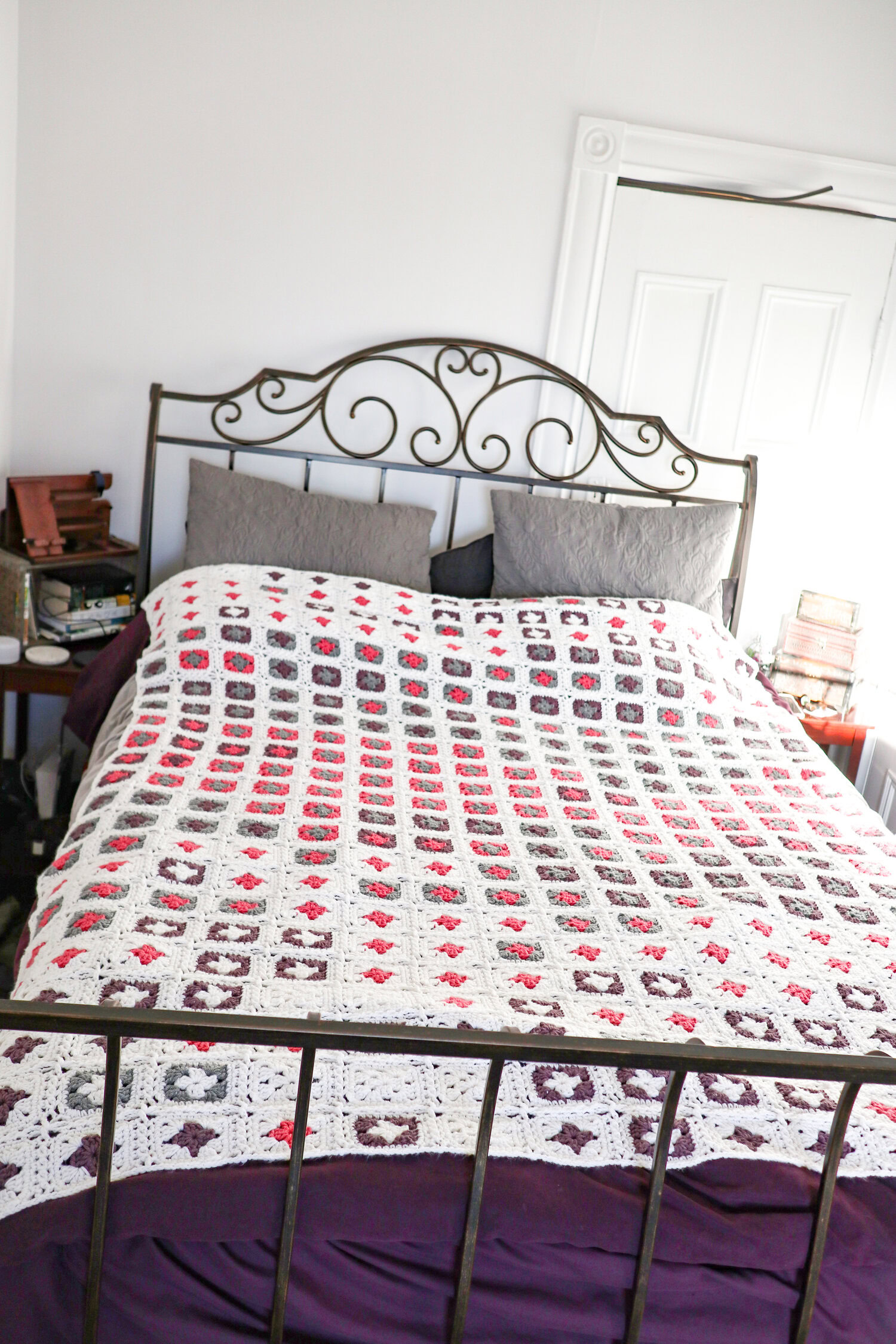 If granny squares are your jam check out this free temperature blanket pattern that includes a printable temperature chart to help you pick out your color scheme and another to help you track the daily temperatures.
Granny Square Temperature Blanket Pattern by Ravin's Designs
There are so many cute patterns for blankets in this collection that you're sure to want to refer to it again so why not take a quick second to save it to your crochet board over on Pinterest.