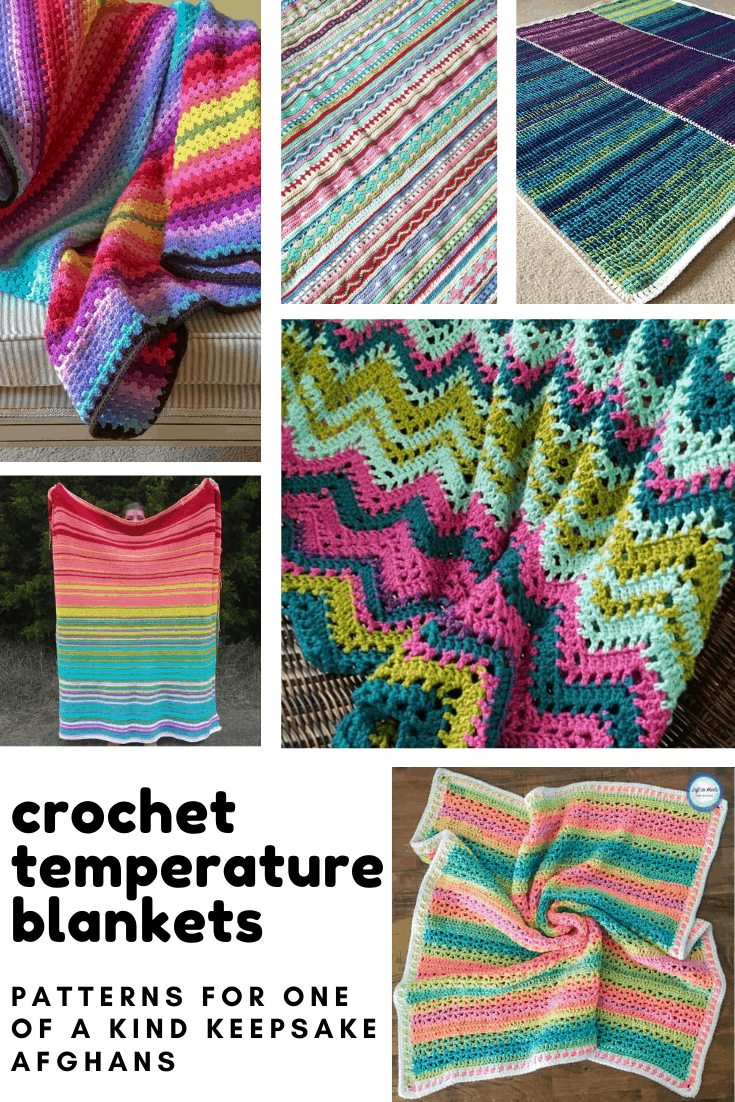 Make a one of a kind keepsake with a temperature blanket crochet pattern. Unique ideas for you to try – including baby blankets and a wrap!
Temperature Blanket Crochet Pattern
Yesterday I shared the most fabulous striped blanket and it reminded me that I wanted to try and make a crochet temperature blanket in 2020! I thought I'd pull together some more patterns that would work well and share them with you.
If you've never heard of a temperature blanket before it's a year long project where each day you crochet a row in a blanket based on the temperature outside where you live.
At the start of the year you pick out your yarn colors and you assign each color to a temperature.
At the end of the year you have a gorgeous rainbow coloured blanket that's one of a kind, because even if you make one every year the temperature is always going to be different on any given day.
1 | Simple Temperature Blanket
Here's an example of a completed temperature blanket, doesn't it look beautiful? It's up to you how wide your blanket is going to be and it will of course be 52 rows long.
Kylee used I Love this Yarn from Hobby Lobby to make her blanket and if you click through you can see the temperature color chart she chose to use.
She has included her pattern too which is super simple.
Simple Pattern by Okie Girl Bling n' Things
2 | Tunisian Temperature Blanket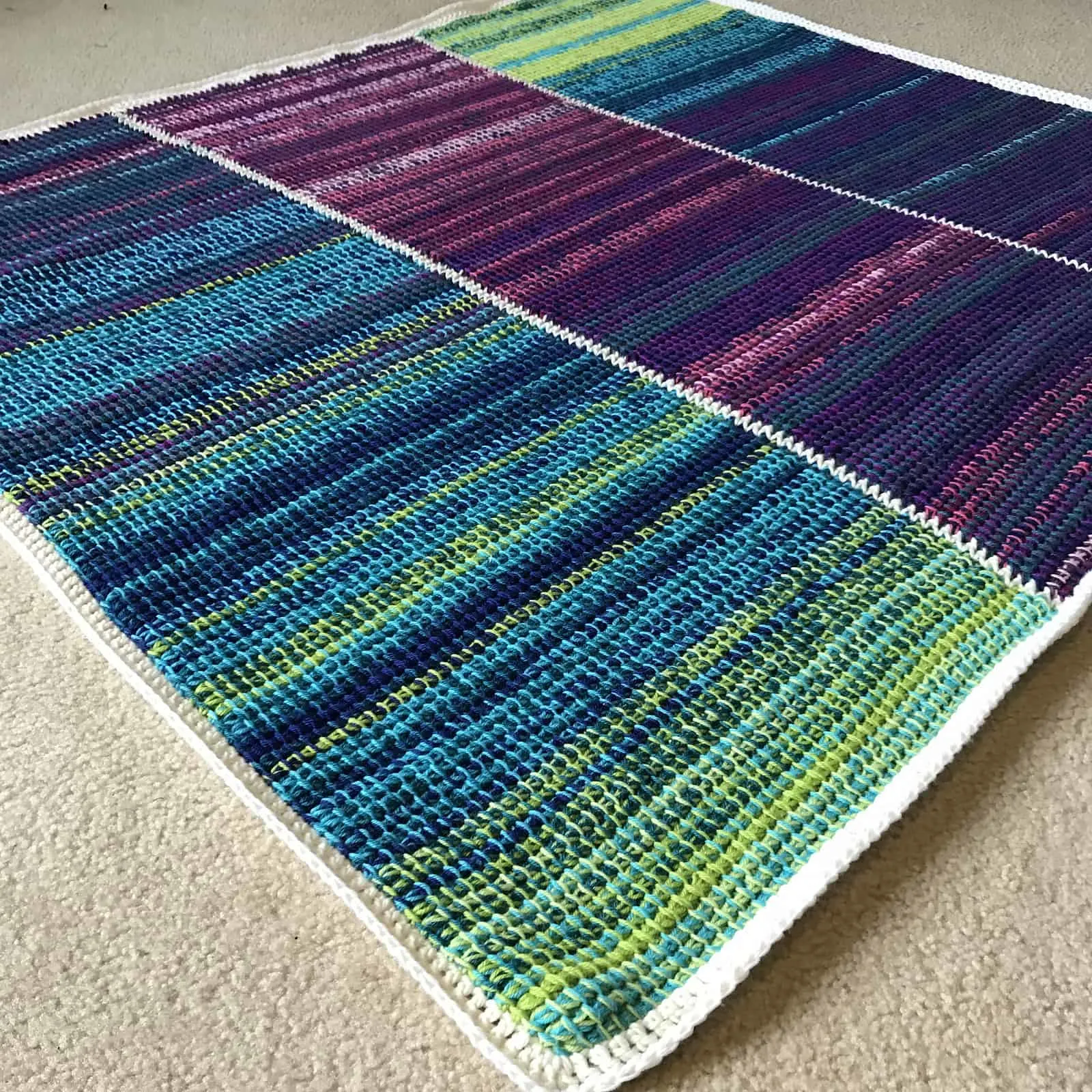 If 2020 is not your first year making a blanket and you want to try something a bit different from the regular stripe try this Tunisian style temperature blanket instead.
I love the way Nona actually used two strands of yarn for each day, one to represent the high and one for the low. It really adds some texture to the design.
Tunisian Temperature Blanket by Nona Davenport via Ravelry
3 | Unicorn Stripes Baby Blanket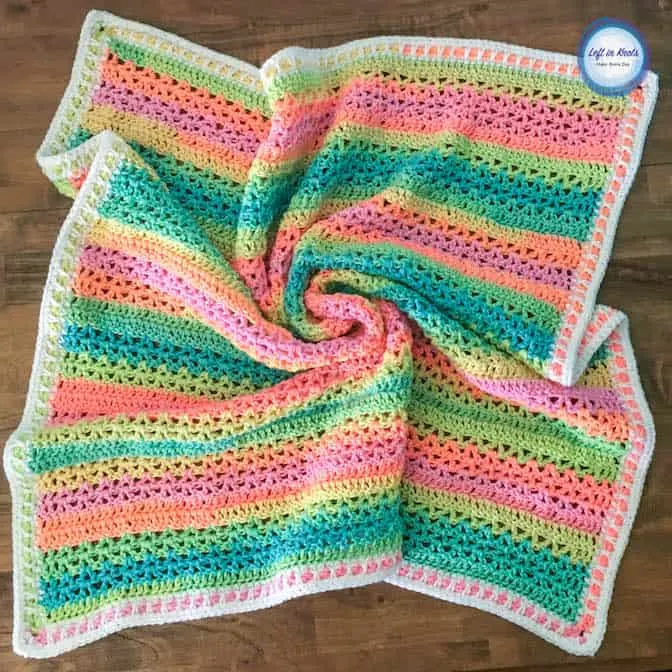 I wish I'd know what a temperature blanket was when my babies were born so I could have made one based on their first year. Of course back then I'd have been too worn out to actually complete it!
If you're a new grandma or auntie though it would make a wonderful first birthday gift wouldn't it? Just start the first row on the day they were born and run it through to their first birthday.
Unicorn Stripes Baby Blanket by Left in Knots
4 | Baby Ripple Blanket Pattern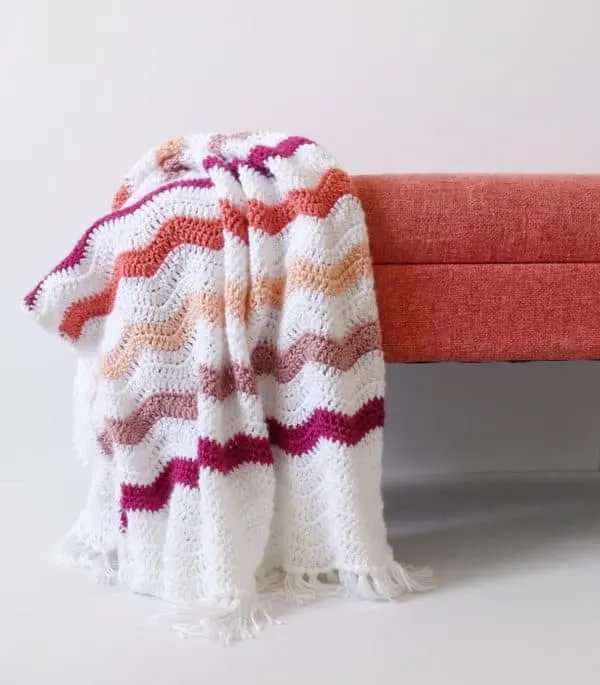 This baby blanket isn't actually designed to be a temperature one but I think the ripple pattern would work really well with all the different color stripes.
Baby Ripple Blanket Pattern by Daisy Farm Crafts
5 | Rainbow Yarn Kit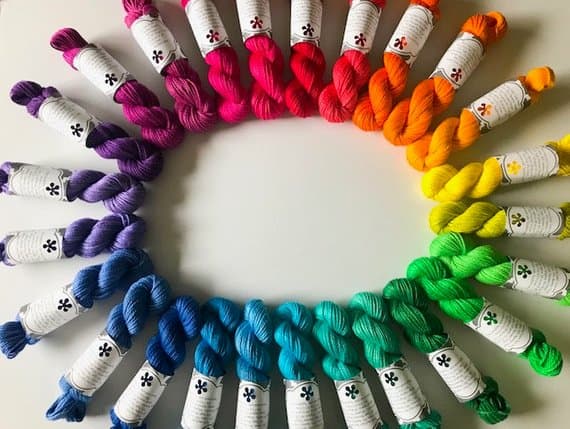 If you are making a keepsake temperature blanket for a loved one take a look at this rainbow yarn kit. Each skein is the most gorgeous shade and it's all hand dyed bamboo cotton.
Rainbow Yarn Kit by That's My Color Yarn Shop
6 | Temperature Chevron Blanket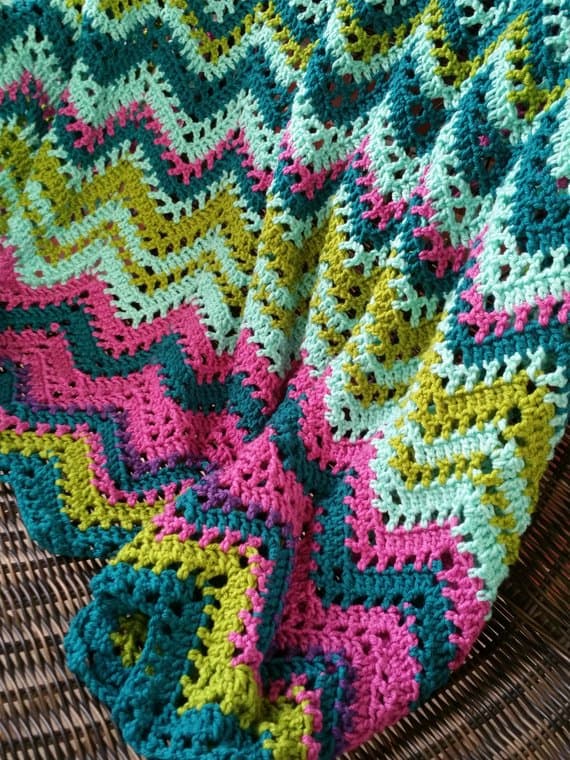 Here's another example of a temperature blanket that is totally GORGEOUS! I LOVE this chevron pattern. I think this is my favorite out of all the patterns I'm sharing today!
Temperature Chevron Blanket by Kristi Simpson Designs
7 | Granny Stripe Temperature Blanket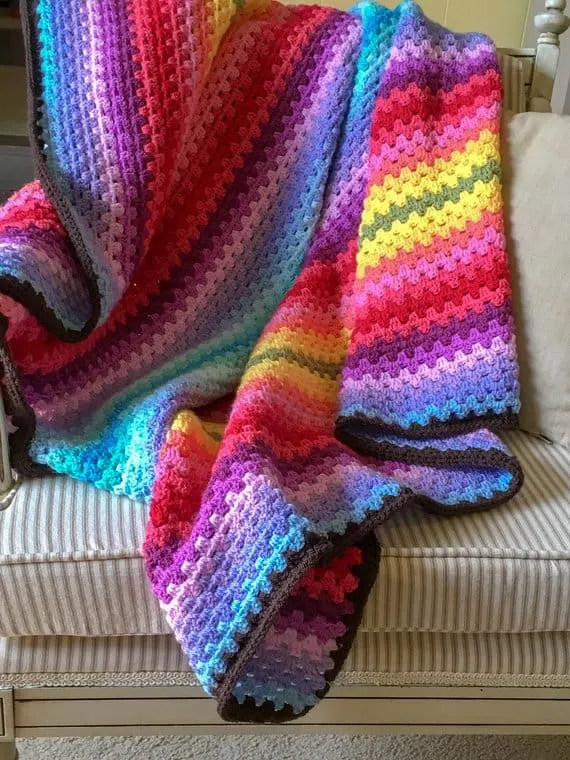 Granny stripes make great temperature blankets too!
This pattern is wonderful because it includes the color choices so you don't have to figure them out yourself, and it shows you how to finish off the blanket with a lovely edge.
Granny Stripe Temperature Blanket by Chocolate Dog Studio
8 | As-we-go Stripey Blanket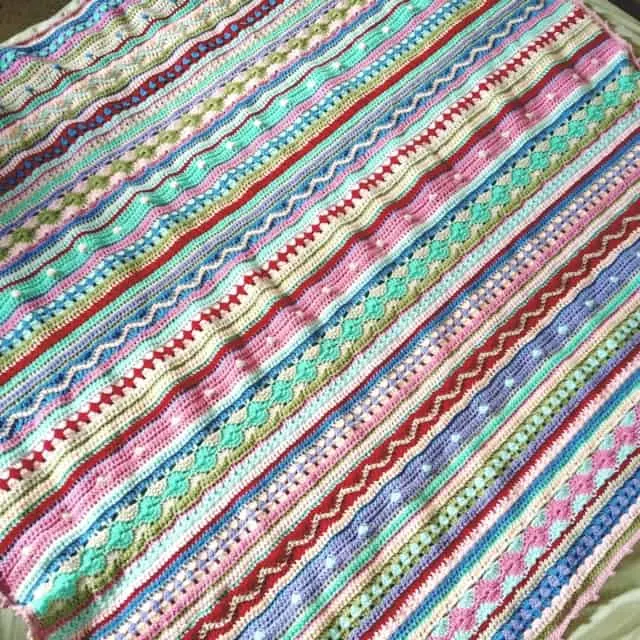 If you keep putting off making a temperature blanket because the thought of making the same stitch over and over every day for a year would drive you crazy THIS is the pattern for you!
Just look at how many different stitches and patterns there are? And this "organic" pattern is PERFECT for a temperature blanket!
As-we-go Stripey Blanket by Not Your Average Crochet
9 | Bohemian Temperature Wrap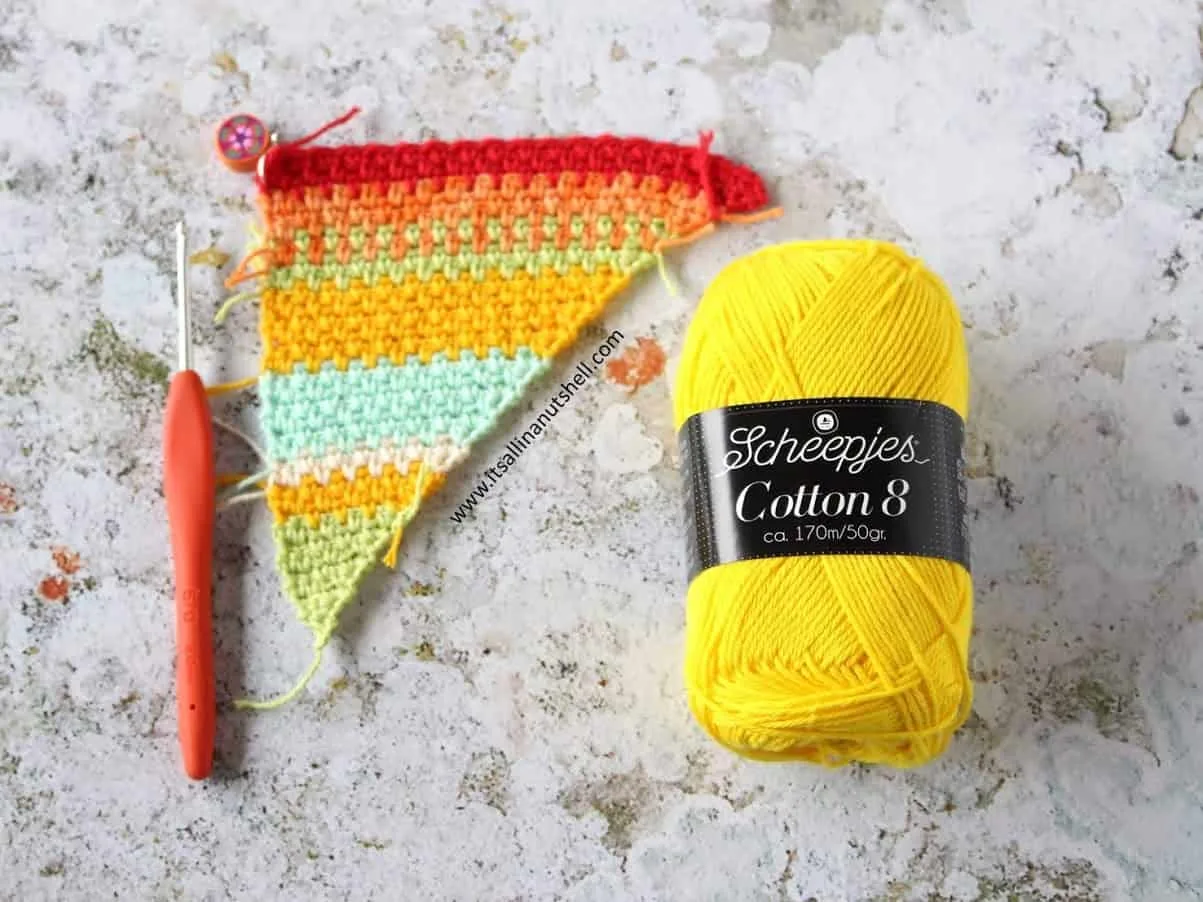 And there is absolutely nothing that says your temperature project has to be a blanket, why not join Esther as she makes a Bohemian style temperature wrap during 2020.
She's picked out 8 gorgeous shades of Sheepjes Cotton and has included a temperature color chart so you know which ones to buy.
She's included the pattern instructions too so you can make the triangular wrap in linen stitch.
Bohemian Temperature Wrap by It's All in a Nutshell