The circus is coming to town and we've got so many circus crafts for your child to enjoy as well as themed snacks and activities!
This post may contain affiliate links, which means I may receive a commission if you click on a link and purchase something. As an Etsy and Amazon Associate I earn commissions from qualifying purchases.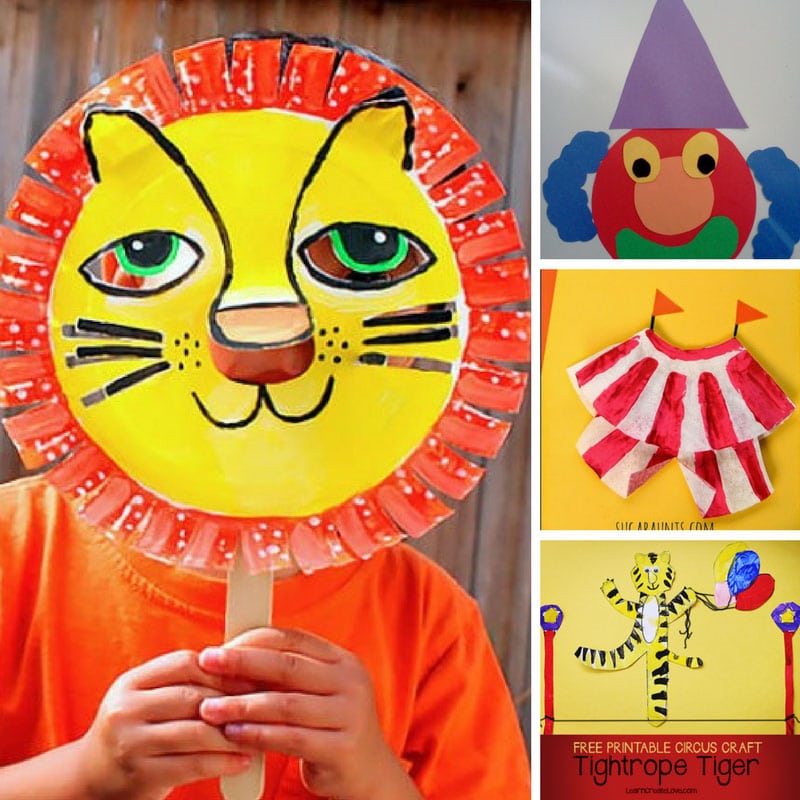 Circus activities – fine motor development

Fine motor skills are an important part of your tot's development, because without them they won't be able to write, grasp small objects or fasten zips on their clothing.
Here are some wonderful circus activities to help your child develop those fine motor skills while having fun:
Feed the elephant – Scroll down to see the wonderful feed the elephant activity for a mix of fine and gross motor fun.
Shape sorting – I love this activity for sorting shapes and colours to make a cute clown.
Circus crafts
Crafts are another way to develop fine motor skills and creativity and at the end of the session your tot will have created something they can show to daddy or their grandparents. These are some of my favourite circus crafts for toddlers and preschoolers:
Circus activities – gross motor development
We must not forget about helping develop the larger muscles needed for gross motor skills and encouraging climbing, running, crawling and jumping. Here are some wonderful circus gross motor activities to get your little one up and moving.
Clown shoes – borrow a couple of pairs of daddy's shoes and see if the kids can walk around the room in them.
Tightrope walking – set up a balance beam with either a plank of wood or just some painter's tape stuck to the floor. Then encourage your child to walk the tightrope, with one foot in front of the other.
Bean bag toss – set up some baskets and practice throwing the bean bags into them. You can add some problem solving practice to this activity by asking your child to match the colour of the bean bag to the correct coloured basket.
Lion training – have your child pretend to be a lion and jump through a hula hoop. If you want to make it more authentic decorate the hoop with pieces of red and orange tissue paper to make it look like a ring of fire!
Midway games – Midway games are a great way to have fun on Circus week and to practice gross motor skills all at the same time. Ring toss and can knock down are perfect choices.
Carnival game – I love this idea for a spontaneous carnival game with an added element of skill.
Tin can stilts – This is a brilliant way to practice balance skills, on good old fashioned tin can stilts!
Circus printables
To help develop numeracy and literacy skills you can use one of the many free printable packs that are shared by other mums. Here are some circus printables:
Circus sensory tubs and small world play
Sensory tubs are a brilliant way to encourage learning through invitation to play. Little ones can explore their senses as well as practicing pouring and measuring, counting and patterning. There is also an opportunity for small world play too as they explore and comprehend the world around them.
Circus sensory bin – This sensory bin uses popped popcorn and kernels, which is just so appropriate for a circus theme I think.
Circus books
Here are some circus themed books for you to read together:
Circus snacks
All this learning is enough to make anyone hungry, so why not fix one of these tasty circus snacks to enjoy together:
Enjoy your circus time!
Click here to follow our Fun Toddler Activities board over on Pinterest.
[text-blocks id="end-post-list-kids"]