DISCLOSURE: Some of the links below are affiliate links. This means that, at zero cost to you, I will earn an affiliate commission if you click through the link and finalize a purchase. All opinions are my own, and I only recommend products that will add value for my readers.
Get your day off to a healthy start with these delicious vegan plant-based breakfast recipes.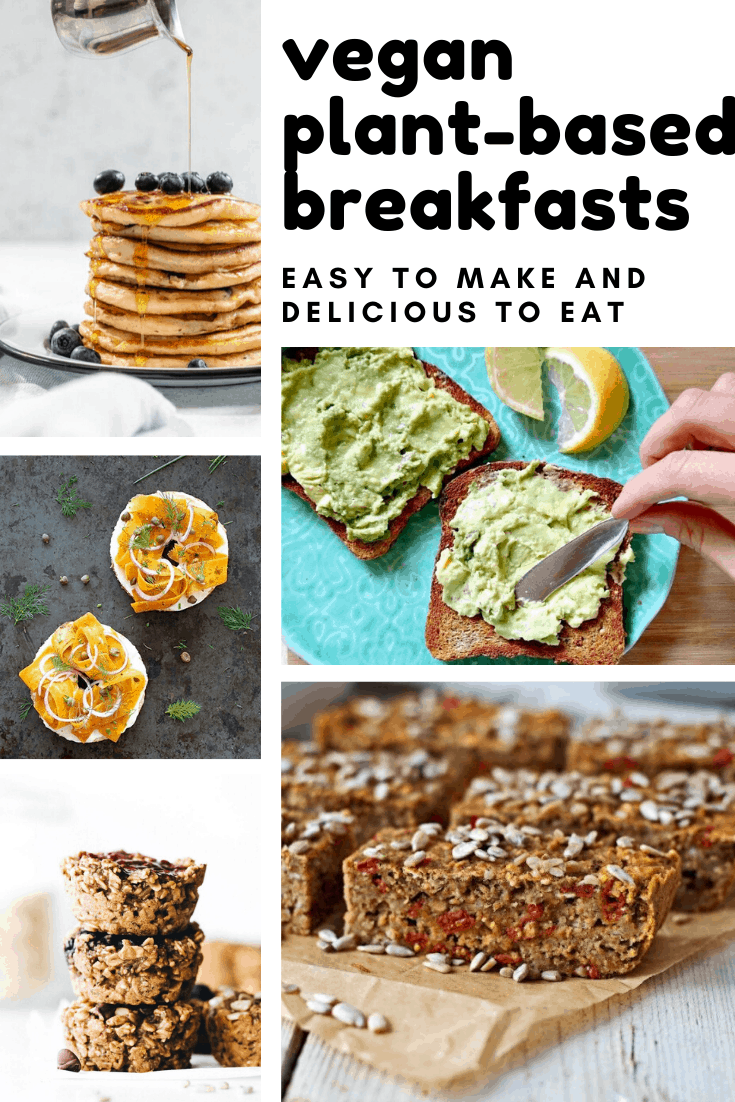 If you're just starting on your journal to a plant-based lifestyle one of the easiest places to start is breakfast.
We've rounded up some tasty vegan plant-based breakfast recipes including everything from pancakes and avocado toast to breakfast bars and bites to show you don't need to miss out on good flavours and delicious foods!
If you're living the whole foods, oil-free, sugar-free lifestyle don't forget to tweak the recipes accordingly: opt for 100% pure maple syrup instead of agave or honey, switch oil for water or veggie broth and use grain-sweetened chocolate chips or cacao powder instead of chocolate.
Oh and just in case you are wondering why there are no breakfast bowls in this list of recipes it's because we found so many delicious recipes there was enough to fill a collection all on their own! Click here to see the plant-based breakfast bowl recipes.
Vegan Breakfast Toasts and Bagels
Bread is a perfectly acceptable food to eat on a plant-based diet so you don't have to miss out on toast for breakfast.
Photo Credit: www.theglowingfridge.com
Avocado toast is a crazy right now - and when you taste the combination of warm, crunchy bread with creamy mashed avocado you'll understand why. Once you master this quick and easy version you can instagram it up to your heart's desire with extra toppings!
Photo Credit: gratefulgrazer.com
Like this protein-rich mushroom bean savory twist. It's full of fiber too so the perfect way to start your day!
Photo Credit: greenevi.com
If you love the savoury, salty, smokey texture of salmon but you don't want to eat fish you need to try this faux lox recipe. And you might be surprised to hear that the main ingredient is carrots...
Vegan Pancake Recipes
If you love to start your day with a stack of pancakes check out these vegan varieties that taste as good as they look!
Photo Credit: www.forksoverknives.com
Who could say no to chocolate pancakes for breakfast? These chocolate chip coconut pancakes are ready in about 30 minutes, but if you don't have time to cook in the morning you can make a batch ahead of time and freeze them.
Photo Credit: www.acouplecooks.com
Oh my - would you just look at that stack of blueberry pancakes - it's making my mouth water! If you're not keen on sweet for breakfast you can switch the syrup for almond butter.
Photo Credit: www.fragrantvanilla.com
Have you ever tried a German chocolate cake with the delicious combination of caramel and walnuts? Well that's the experience you get here... in a vegan pancake!
Photo Credit: www.feastingonfruit.com
If you're looking for a tasty vegan pancake that doesn't use bananas in the ingredients today is your lucky day! These fluffy breakfast cakes are made with applesauce and oats instead.
Photo Credit: greenevi.com
For a savoury pancake option try these chickpea pancakes with a sun-dried tomato sauce. They're filling and high in protein as well as being gluten-free. You can eat them for lunch or dinner too since you can add any toppings you like.
Plant-Based Vegan Breakfast Bars and Bites
If you need to eat breakfast on the run you can't go wrong with these healthy plant-based vegan breakfast bars or bites. They're great to keep on hand for an afternoon snack too, or to pop in the kids' lunch boxes.