Have a blast with these easy Fall crafts for kids making a leaf owl and painting cotton wool to make a tree! Plus we have Fall activities and snacks!
This post may contain affiliate links, which means I may receive a commission if you click on a link and purchase something. As an Etsy and Amazon Associate I earn commissions from qualifying purchases.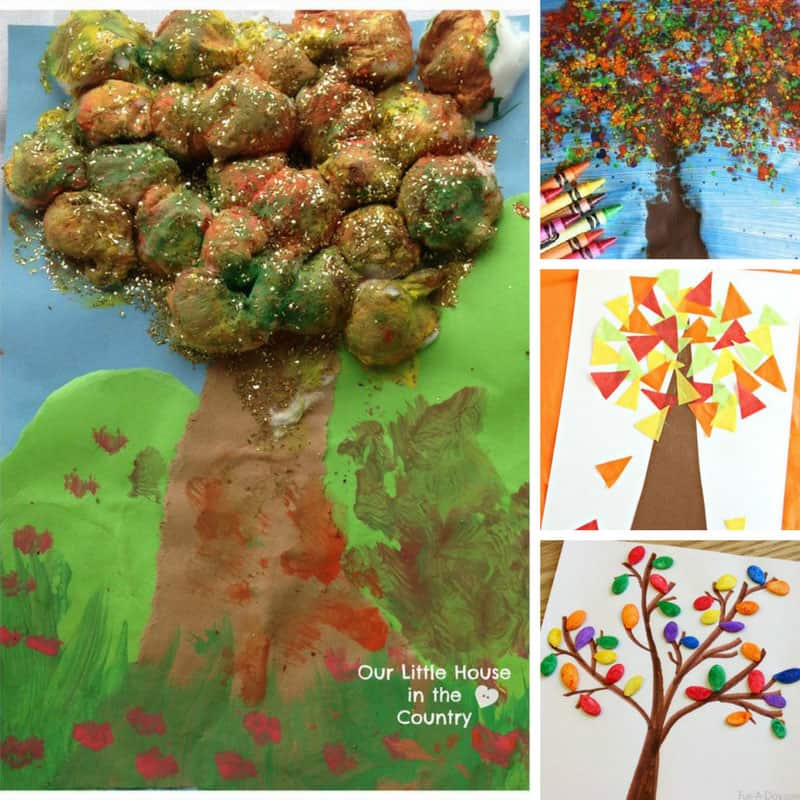 Easy Fall Crafts for Kids

Fall is in the air! Have your leaves started turning golden yet? This week I've rounded up some easy fall crafts for kids to make, some by themselves and some with a little help from you. We can't wait to make a leaf owl and the cotton wool painted tree looks like great fun!
And as usual I've thrown in some links to fine and gross motor skills, leaf themed printables, books and yummy snacks so you have everything you need for a fall themed Tot School for your toddler or preschooler!
Don't forget to scroll all the way to the end so you don't miss any of the fabulous ideas, and be sure to pin your favourites as you go so you can find them again later!
Related Posts:
Sunflower Handprint Art

I love handprint crafts because every time you do one you capture a milestone and over time you can see how much your little ones have grown. Ciara shared this wonderful handprint sunflower craft and I think it would be incredibly cute to make the stalk out of longer sections of paper so that the sunflower could be the same height as your child! (via Our Little House in the Country)
Scrunched Tissue Paper Autumn Leaf – Fall Craft

Anna's boys have been making scrunched tissue paper autumn leaves. This activity looks great for little ones to get involved with as scrunching paper is pretty simple, but good for fine motor development. I love how Anna has added a little bit of string to the leaf so it can be hung in a window or on the mantle. (via In the Playroom)
Cotton Wool Autumn Trees – Fall Art Activities for Kids

Ciara's kids are really getting into the Autumn spirit this week because they've been making cotton wool autumn trees too! I love how they used glitter to decorate the cotton wool leaves. (via Our Little House in the Country)
Crafting with Kids: Create a Whimsical Owl with Elements from Nature

I couldn't resist sharing this whimsical leaf owl, he has acorns for eyes and would look wonderful in any window of the house. (via HGTV)
Amazing Fall Art with Melted Crayon Shavings

The Happy Hooligans kids have been creating some wonderful tree pictures using the shavings from old crayons. You'll have to make good friends with a cheese grater to set up this craft activity but it will be totally worth it! (via Happy Hooligans)
Fall Art for Kids Using Colorful Pumpkin Seeds

I love the colours on these trees, and I think they would make beautiful gifts for friends and family if you popped them in a shadow frame. (via Fun a Day)
Fall Suncatchers

You can never have too many sun catchers, and this is a super simple craft project that your toddler can do but your older kids will also enjoy. (via What Can We Do With Paper and Glue)
Marble Painting Pumpkins

We have never tried painting with marbles before but after seeing what Ellen's kids did with this pumpkin painting I can't wait to set it up for the kids! (via What Can We Do with Paper and Glue)
Fall Tree Math Craft

I'm always a fan of ways to learn math that don't involve a worksheet, so this triangle tree fits the bill perfectly! (via Coffee Cups and Crayons)
Fall Leaves Candle Jar

And finally if you want an Autumn craft idea that would make an amazing gift for grandma check out this fall leaves candle jar that would be the perfect centrepiece on the dinner table. (via Kids Activities Blog)
Fall themed books for toddlers and preschoolers
Since we're Raising Readers we're going to need some books for our Fall themed Tot School:
Apples, Apples, Apples
I Know It's Autumn
We're Going on a Leaf Hunt
Mouse's First Fall
The Apple Pie Tree
&
Fall field trips
If there's no rain in the forecast why not grab a jacket and some wellington boots and go on a Fall field trip. Here are some ideas of places you could go:
An apple orchard – your little one might even be able to pick some apples from the trees
A pumpkin patch – because you're going to need a pumpkin or two to carve in time for Halloween
A local farm – especially one that has crops to harvest
A nature walk – take a walk to your local park or through a woodland trail if there's one nearby. Talk about the trees and the birds that you see and collect some leaves for crafting with back home.
Fall gross motor activities
Here are some wonderful Fall gross motor activities to help your toddler's development, and to tire them out in time for naps!
Fall fine motor activities
And now for some wonderful Fall themed fine motor activities:
Play Dough Apple Orchard

Jen set up this wonderful play dough apple orchard invitation to play for her son. Alongside the suitably coloured play dough you'll need some red beads or counters to represent the apples. (via Plain Vanilla Mom)
Pumpkin Patch Small World Sensory Play

"On a dry day take the fine motor play out into the garden and follow Chelsey's lead by turning your water table into a sensory play pumpkin patch!
" (via Buggy and Buddy)
Apple Picking No Sew Quiet Book Page

If you're feeling crafty and you have some felt, velcro and hot glue you can make this wonderful apple picking quiet book page which is a great way to practice fine motor skills while waiting for dinner or at the doctor's office. (via Powerful Mothering)
Felt Leaf Letter Match – Alphabet Activity

Allison found some felt leaves at the Dollar Store and created this fall themed alphabet matching activity which is great for little ones who are just starting to learn their letters. (via No Time for Flash Cards)
Fall learning packs and printables
If your tot likes to sit and do 'table time' or Tot Trays then you won't want to miss these wonderful printable packs, and they're all free.
Fall themed snacks
And because all this learning is enough to make anyone hungry why not make some Fall themed snacks to munch on:
Related Posts:
Pin these ideas!
Hit the button to save these ideas for later.
Don't forget to
follow us on Pinterest
for more great stuff!
&
---
[text-blocks id="end-post-list-kids"]