These pumpkin activities for preschoolers include everything from pumpkin crafts to pumpkin snacks and some fun sensory play!
This post may contain affiliate links, which means I may receive a commission if you click on a link and purchase something. As an Etsy and Zazzle Affiliate I earn commissions from qualifying purchases.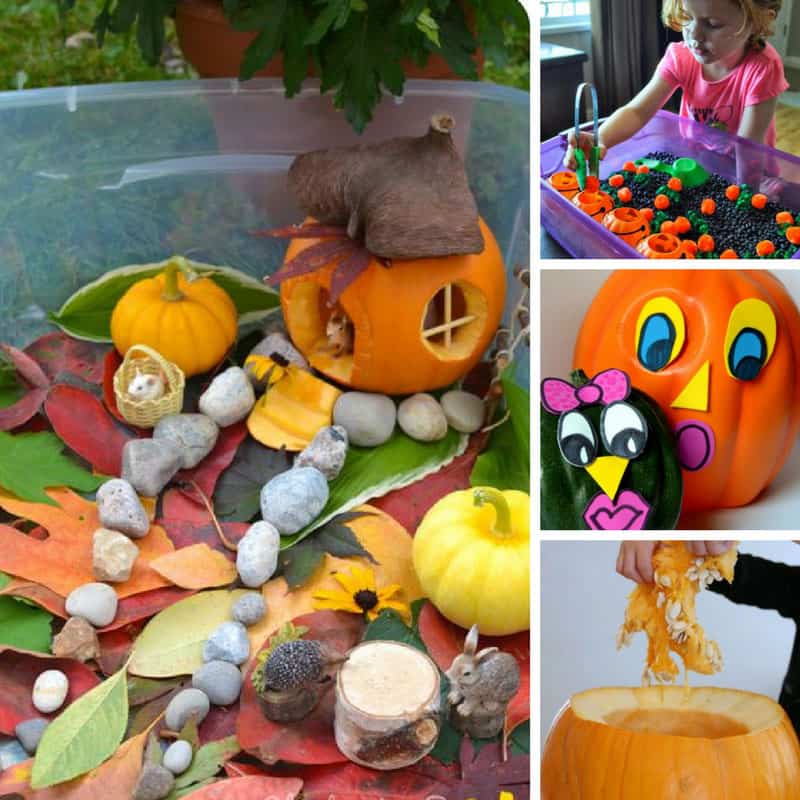 Pumpkin Activities for Preschoolers
Fall is here! Are you ready to start carving pumpkins? This week I've been searching high and low for the best pumpkin activities for preschoolers. As always I have plenty of crafts and fine and gross motor skill activities as well as pumpkin themed printables, books and yummy snacks so you have everything you need for a pumpkin themed Tot School for your toddler or preschooler!
Don't forget to scroll all the way to the end so you don't miss any of the fabulous ideas, and be sure to pin your favourites as you go so you can find them again later!
Related Posts:
Easy pumpkin crafts for kids to make
Crafts are a great way to develop fine motor skills and creativity and at the end of the session your tot will have created something they can show to daddy or their grandparents. These are some of my favourite pumpkin crafts for toddlers and preschoolers:
Glow in the Dark Pumpkin
This is a super fun craft because when your kids have finished decorating this pumpkin it will glow in the dark! (via Ginger Snap Crafts)
DIY Glow in the Dark Window Clings
And if your kids are excited by the idea of pumpkins that glow in the dark they should have a go at making these fun window clings too! (via Gym Craft Laundry)
Clay Pumpkins
These little clay pumpkins are a great way to decorate for Halloween or Fall. (via Joyfully Weary)
DIY: Mix-n-Match Pumpkin Faces
Oh these are super fun pumpkins! You'll need to do a bit of advance prep but then the kids can have fun mixing and matching the faces! (via Hand Made Kids Art)
Pumpkin Apple Stamps
Fruit and veggie stamping is always a fun craft to do and I love how an apple can be used to make some Jack o Lantern pictures! (via Frugal Mom Eh!)
Paper Plate Pumpkins
Paper plate crafts always go down well with my two so we'll definitely be trying out this pumpkin paper plate activity! (via Clare's Little Tots)
Chalk Stenciled Pumpkins
Ooh this looks like super fun! How cool is it that the pumpkin appears to be glowing! (via One Little Project)
Paper Mosaic Pumpkin
Mosaic crafts are always a good choice if you have children of different ages because the toddlers can have as much fun as the older kids with their own creations. (via The Pinterested Parent)
Pumpkin books
Here are some pumpkin themed books for you to read together:
Five Little Pumpkins
The Runaway Pumpkin
Pumpkin Soup
The Biggest Pumpkin Ever
Duck & Goose, Find a Pumpkin
Pumpkin fine motor activities
Fine motor skills are an important part of your tot's development, because without them they won't be able to write, grasp small objects or fasten zips on their clothing.
Here are some wonderful pumpkin fine motor activities for them to have fun with:
Pumpkin Play Dough Invitation to Play
This is such a fun play dough invitation to play, and your child will be able to put their fine motor skills to the test as they decorate their little pumpkin! (via I Heart Crafty Things)
Where's Waldo Pumpkin Play Dough Sensory Activities
And here's another idea for using play dough for your pumpkin activities. I love the addition of the goggly eyes! (via The Jenny Evolution)
Felt Board Pumpkin Faces
Here's another pumpkin face creation activity, but this time using felt boards. (via Hey There, Home)
Pumpkin Counting
And then combine fine motor skills with math with this every so simple to set up 1-1 correspondence activity. (via Simple Home Blessing)
DIY Pumpkin Pie Playdough
And just because my kids never tire of play dough activities here's a fun way to make pumpkin pie! (via Tinkerlab)
Pumpkin Hammering
Here's a fun way to work on hammering skills using a pumpkin and some golf tees! (via Preschool Powol Packets)
Pumpkin gross motor activities
We must not forget about helping develop the larger muscles needed for gross motor skills and encouraging climbing, running, crawling and jumping. Here are some wonderful pumpkin gross motor activities to get your little one up and moving.
Pumpkin printables
To help develop numeracy and literacy skills you can use one of the many free printable packs that are shared by other mums. Here are some pumpkin printables:
Pumpkin sensory tubs and small world play
Sensory tubs are a brilliant way to encourage learning through invitation to play. Little ones can explore their senses as well as practicing pouring and measuring, counting and patterning. There is also an opportunity for small world play too as they explore and comprehend the world around them. Here are some brilliant ideas for pumpkin sensory tubs and small world play:
Pumpkin Sensory Bag
Want to know what to do with your pumpkin guts? Turn them into a sensory I-Spy bag of course! (via Teaching Mama)
Pumpkin Sensory Dough
Or use this recipe to turn the pumpkin guts into a sensory dough, right there inside the pumpkin so there's no bowl to clean up! (via Housing a Forest)
Pumpkin Sensory Play and Science Activity for Kids
You might also want to have a go at turning your hollow pumpkin into a volcano! (via Little Bins for Little Hands)
Pumpkin Patch Mud Pie Invitation to Play
Oh how adorable is this pumpkin patch! There's endless opportunities for play with this one. (via Nerdy Mamma)
Fall Sensory Bin
Or you can make a sensory bin using play dough, with lots of things to bury. (via Wildflower Ramblings)
Five Little Pumpkins Sensory Bin
Here's another idea for a sensory bin where your child can practice their tweezer skills sorting the little pumpkins into the bigger ones. (via I Heart Crafty Things)
Pumpkin Scented Moon Sand
Moon sand is great for sensory play and this is a great recipe to make a pumpkin scented version. (via Parenting Chaos)
Pumpkin Bath
If your child loves water and bubbles they will have a blast with this water activity! (via Busy Toddler)
Little House in the Pumpkin – Autumn Craft & Sensory Bin
I am totally in love with this sensory bin, it's like a little fairy garden but totally pumpkin themed! (via Adventure in a Box)
Pumpkin Boats Fall Sensory Play Idea
What a great way to learn about the concepts of what floats and what sinks! If it's not warm enough to do this water play activity outside just do it in the bathtub instead! (via Frugal Fun 4 Boys)
Pumpkin snacks
All this learning is enough to make anyone hungry, so why not fix one of these tasty pumpkin snacks to enjoy together:
Related Posts:

Pin these ideas!
Hit the button to save these ideas for later.
Don't forget to follow us on Pinterest for more great stuff!
&
---
[text-blocks id="end-post-list-kids"]