DISCLOSURE: Some of the links below are affiliate links. This means that, at zero cost to you, I will earn an affiliate commission if you click through the link and finalize a purchase. All opinions are my own, and I only recommend products that will add value for my readers.
If your little girl or boy loves to cook check out these DIY play kitchens that don't cost a lot but will provide hours of fun and laughter!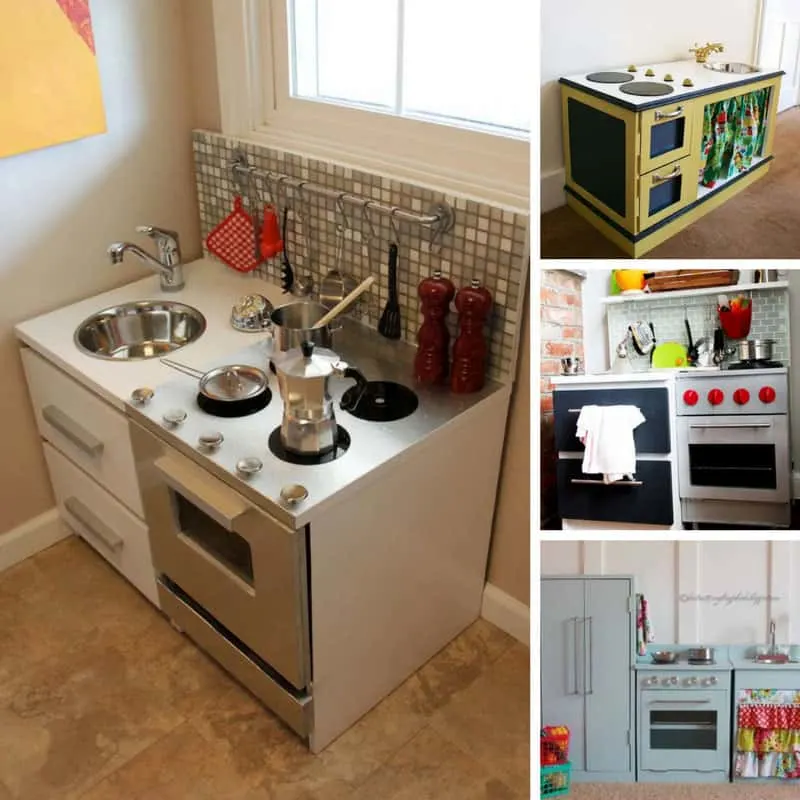 DIY Play Kitchens
Toy kitchens are a wonderful way to encourage imaginative play in girls and boys. If you haven't got the budget for a store bought kitchen, or you're put off by all the plastic, check out these amazing DIY play kitchens instead. Many of them have been created from old furniture. But it goes to show what a little love and imagination can create.
Heck these kitchens are so amazing you'll want to cook in them instead of your own!
I found everything from play kitchens made out of cardboard boxes and bedside cabinets and even an old entertainment unit!
As always be sure to scroll all the way to the end so you don't miss any of the great ideas. And don't forget to pin your favourites as you go!
Related Posts:
Homemade DIY Play Kitchen Tutorial

Oh my goodness this play kitchen is GORGEOUS – and you will NEVER guess what it's made out of! (via next Nursery)
How To: Make a Play Kitchen

This kitchen is a fabulous option for slightly older (and taller) children, and cost less than 30 bucks to make! I love the details of the splash back and the cute curtain. (via Apartment Therapy)
Build a Cardboard Play Kitchen Plans

This kitchen is the perfect height for a toddler and is made from recycled cardboard and some coat hangers. (via Forty Two Roads)
Play Kitchen

Oh my goodness, this DIY kitchen is adorable, will you get a look at that over the hob microwave? And it has double sinks too! (via Katherine Maries)
Build a Simple Play Kitchen Stove

If you want to build your toy kitchen from scratch then check out these free plans, any little boy or girl would love this kitchen design! (via Ana White)
How To Make A Homemade Play Kitchen (From A Cabinet

For a minute there did you think you were looking at a real kitchen unit? Because I did! This one is made from an old cabinet and looks amazing. There are full step by step instructions, with photos, over on the blog. (via Young House Love)
Tres Chic Play Kitchen

Can I interest you in a kitchen complete with chandelier? Who wouldn't want to do the washing up with a view of the Eiffel Tower from the window! (via Twice Lovely)
DIY Modern Play Kitchen

I don't believe in gender roles when it comes to pretend play so I have no idea why manufacturers insist on making toy kitchens pink! Check out this very modern, gender neutral design that was made from two Ikea bedside cabinets! (via Small + Friendly)
Ethan's "Manly" DIY Play Kitchen

Oh my goodness, here are some more Ikea nightstands that have had a kitchen makeover. I've seen apartments with worse kitchens than this! (via Preparing for Peanutes)
DIY Play Kitchen: No Carpenter Skills Required

If you're not very skilled at carpentry, or you just need a play kitchen in a hurry check out this adorable design. All you need is a table cloth and sharpie marker! (via Apartment Therapy)
Play Kitchen

Here's another great option if you're not very handy with a saw. Because all you need are some storage units and kitchen equipment, oh and a child with an imagination. I love this option because one day it's a kitchen, the next it's a grocery store, or the post office. The options for pretend play are endless! (via B Kids)
DIY Play Kitchen

I love the colour scheme on this play kitchen, and the fact that it has better storage then my own. And check out the wall phone too! (via This Grey House)
Easy DIY Play Kitchen

Oh my. If you think this built in toy kitchen is just adorable then you have to hop over to the blog to take a closer look, because it's part of a closet play house! Jealous? (via All Things Heart and Home)
DIY Play Kitchen

Move over Little Tikes because Nora's play kitchen is amazing! check out those fridge magnets, and the light over the sink area, oh and the window! (via Andrea Dekker)
How To Make A Play Kitchen

If you haven't got a lot of space then this DIY play kitchen is the perfect option for you. Upcycle an old cabinet from your home or find one on Freecycle. (via The Boy and Me)
DIY Play Kitchen

Got an old entertainment centre lying around in your garage? How about giving it a new lease of life and transforming it into a play kitchen? (via Made by Toya)
Upcycled Play Kitchen

What do you get when you mix an old filing cabinet with a sideboard and a little bit of love and imagination? This ADORABLE play kitchen! (via Huckleberry Love)
IKEA Mini Kitchen Makeover (hack)

And if you're now regretting buying that Ikea toy kitchen because you've seen so many adorable ones made from nightstands and bookcases, don't worry. Because with a little bit of imagination you can turn that Ikea kitchen into something amazing too! (via Visual Vocabularie)
Related Posts:

Pin these ideas!
Hit the button to save these ideas for later.
Don't forget to
follow us on Pinterest
for more great stuff!
&
---