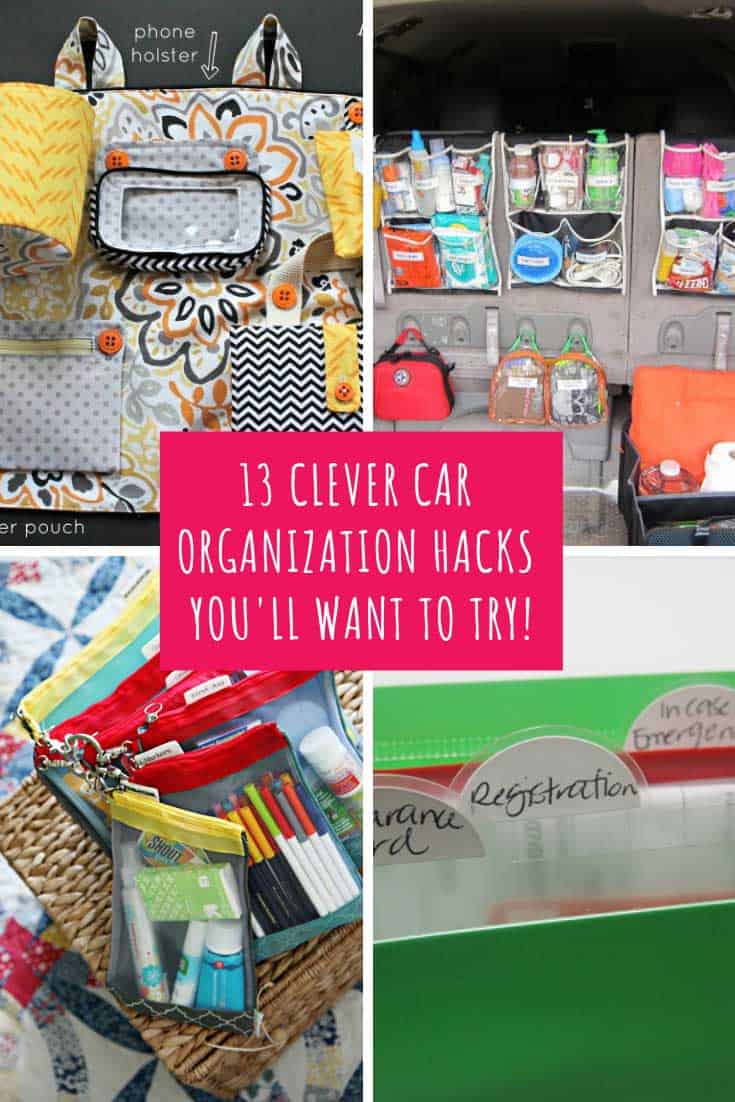 These car organization hacks will make your life so much easier. From trunk storage to road trip hacks we've got all the ideas you need here!
Car Organization Hacks
If your heart drops every time you open your trunk and see the chaos inside these car organization hacks are just what you need!
Take some time out this weekend and you'll be surprised how much difference these smart storage solutions will make.
From trunk organizers to stop your groceries getting scattered and squashed to genius snack boxes to keep the kids quiet on your next road trip you are going to find something here to make your car a sane place again!
1 | How to Make a Car Trash Caddy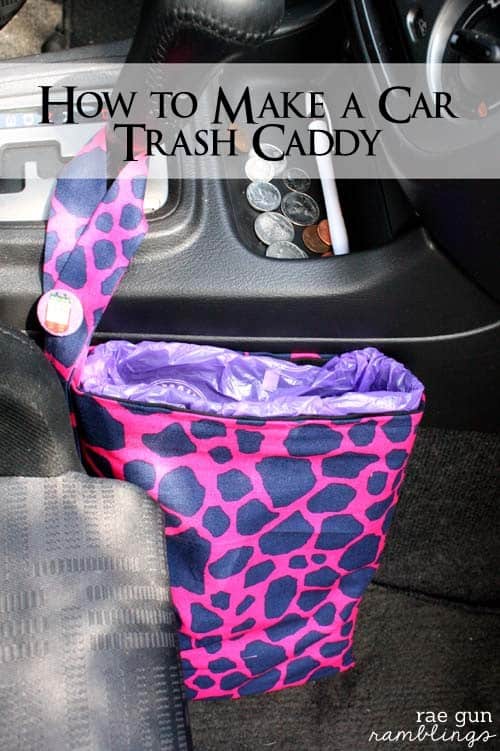 Hands up if you have random candy wrappers and other bits of trash stuck in random pockets in your car. Here's a simple solution, a trash caddy that you can hang up in your car to deposit the trash. It's perfectly sized for those doggie bags so it's easy to empty out when you get home!
How to Make a Car Trash Caddy by Skip to My Lou
2 | Do It Yourself Car Kit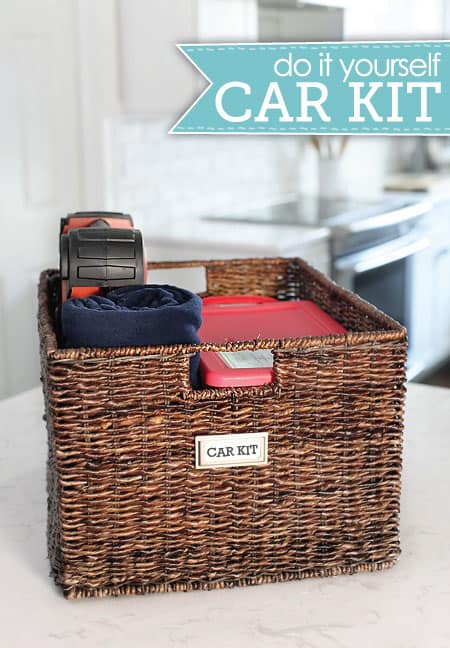 If your trunk is filled with "just in case" bits and pieces like tool kits and tissues, first aid meds and
road trip games
it might be time to corral them all into a designated "car kit" box. I love this idea because everything is packaged up and labelled so you can find what you need when you need it!
Do It Yourself Car Kit by I Heart Organizing
3 | DIY Car First Aid Kit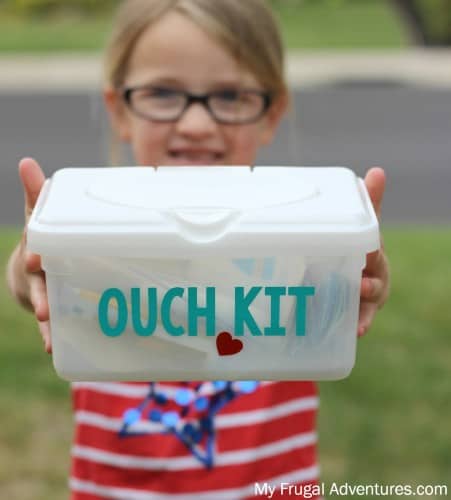 Ouch Kit – I LOVE it! It's always wise to have some first aid essentials stored neatly in the car. You never know when you might need a band aid when you're out on your travels!
DIY Car First Aid Kit by My Frugal Adventures
4 | How to Organize Your Glove Box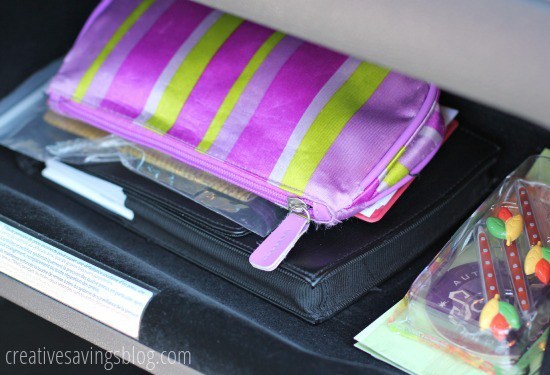 I hate opening my glove box because it is so stuffed full something inevitably falls out and then darn it if I can't get it all back in again! If you have the same struggle check out these tips on how to oganize your glove box and go dedicate 15 minutes to the task!
How to Organize Your Glove Box by Org Junkie
5 | How to Organize Your Trunk Like a Pro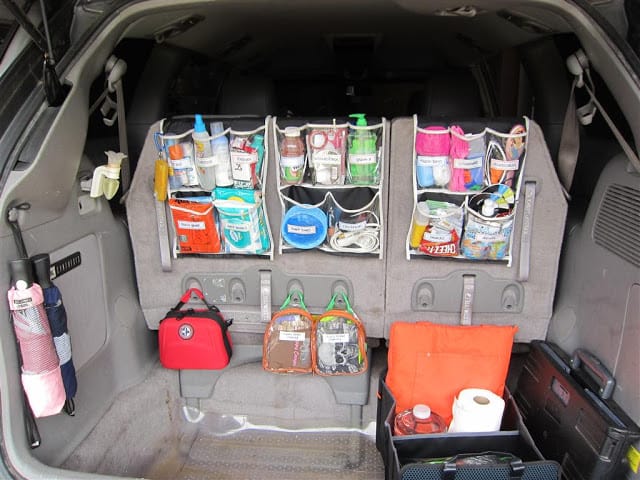 Wow! Have you ever seen such an organized trunk? There's a reason this mama had her own segment on the Dr Oz show… she's an organizing genius! Now I need to go get me some of those hanging things so I can organize mine too!
6 | Snack Kit for Road Trips
I need to get me one of these storage boxes for the trunk! I love the pull out trays that you can use to store anything you might need on a road trip. Like snacks. Because those are super important when you have hungry kids in the car!
Snack Kit for Road Trips by Blue 1 Style
7 | Grocery Hanger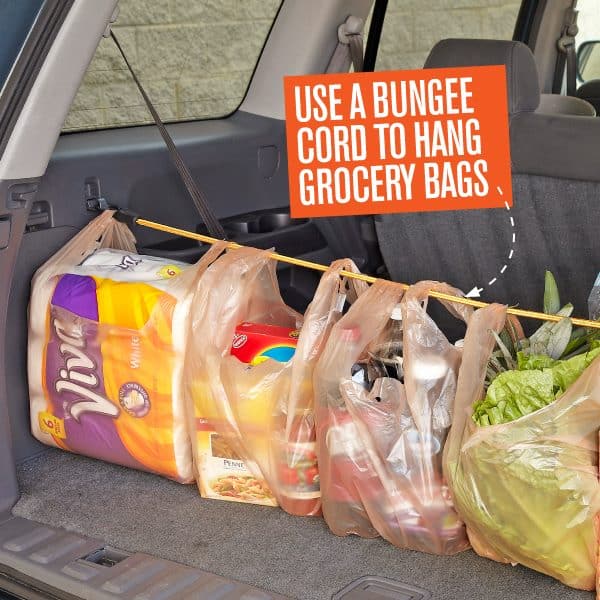 Oh my this is just GENIUS! Don't you just hate it when all your grocery bags fall over while you're driving and you end up hunting around for an apple or potato that managed to roll away!
Grocery Hanger by Handyman
8 | IKEA Flort Car Organizer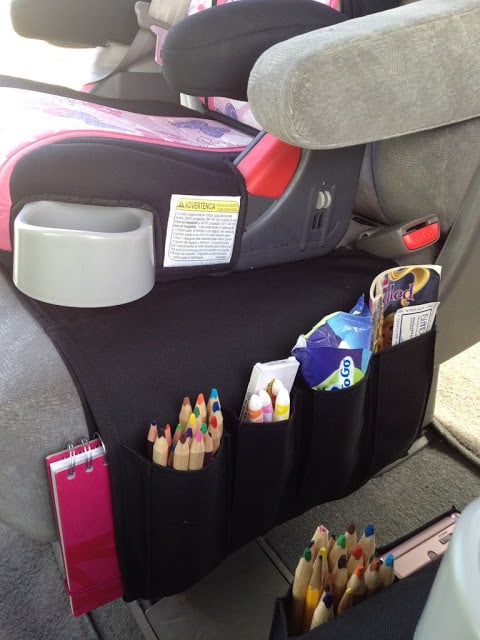 I know how much you all love an IKEA hack and this one is pretty clever, storage for your kids art supplies and a seat protector all in one!
IKEA Flort Car Organizer by IKEA Hackers
9 | DIY Seat Back Entertainment Center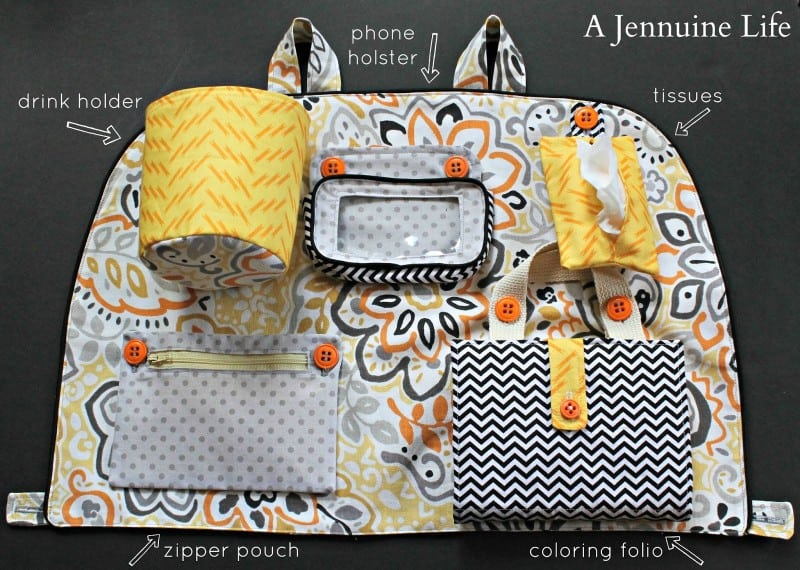 If you're handy with a sewing machine and you'd prefer an organizer that hangs on the seat back then take a look at this clever ideas. There's space for a drink, some tissues, a coloring folio, and a handy little phone holster for watching movies on the go!
DIY Seat Back Entertainment Center by A Jennuine Life
10 | Food Travel Kit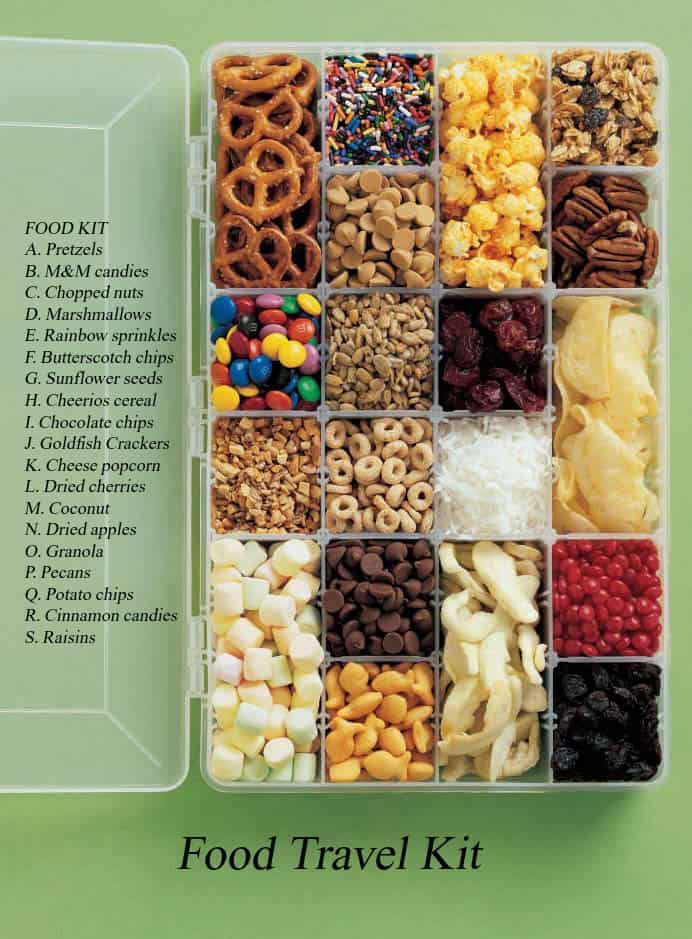 Oh my, this is like snack box heaven! Just what you need on a road trip to keep hunger at bay for sure! They have brilliant ideas for a travel game and travel craft kit too!
Food Travel Kit by DISBoards
11 | Glove Box Organizer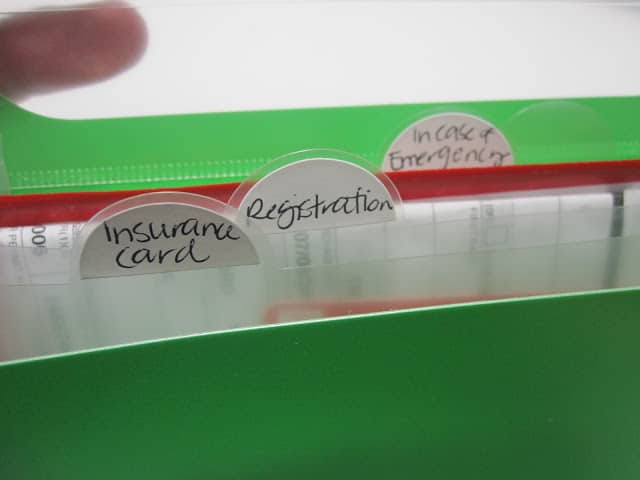 If your insurance documents are just floating around in your glove box just waiting to be misplaced you totally need to do this!
Glove Box Organizer by Confetti and Other Fun
12 | Kid's Travel Bags for the Car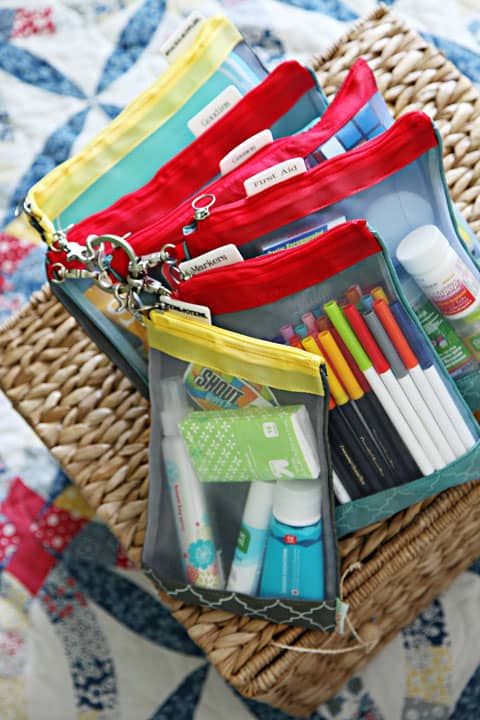 Love these little bags filled with goodies to keep the kiddos entertained in the car! And they're portable too so you can just grab one if you decide to stop at a restaurant to eat dinner!
Kid's Travel Bags for the Car by I Heart Organizing
13 | Fast Food Car Hack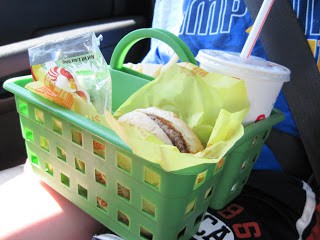 Road trips generally mean drive throughs and fast food right? Which where kids are concerned is often a recipe for disaster. That is until you give this clever hack a try! I'd make sure you have for hubby too!
Fast Food Car Hack by Look What I Did
More Organizing Ideas Here