So many great road trip games kids will love: just perfect for keeping your kids entertained in the car so they'll forget to ask "Are we there yet?"
Road Trip Games for Kids
Does the thought of an upcoming road trip fill you with dread because you have no idea how you are going to keep your kids entertained for so long?
Well you can stop worrying because we've pulled together a huge list of road trip games kids will love as well as activities and free printables that will keep your kiddos entertained for hours!
31. Free Printable License Plate Road Trip Game Boredom Buster!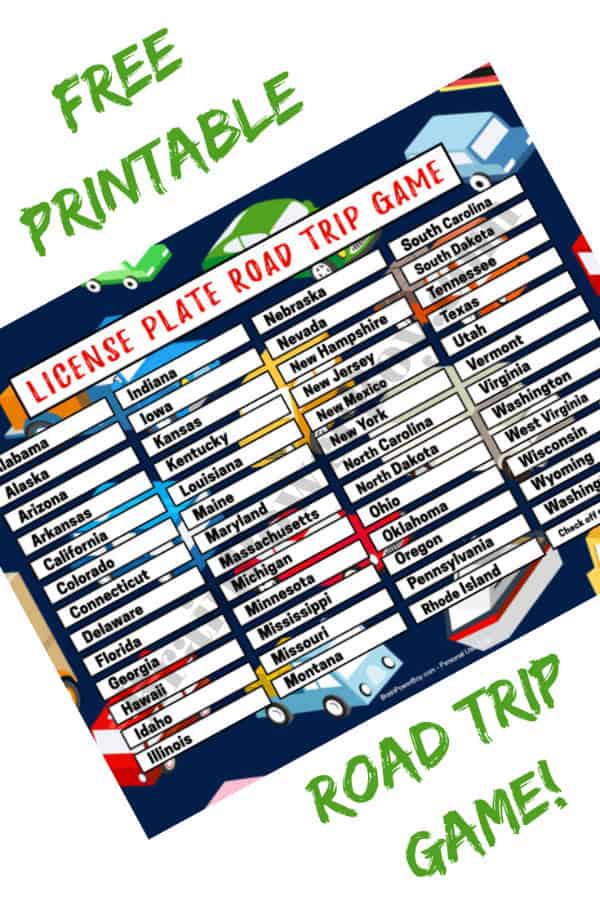 You can't beat a good old game of licence plate bingo while you're road tripping.
Not only does it get your child looking out of the window but they can learn about the States as they play!
30. Star Wars Activity and Coloring Books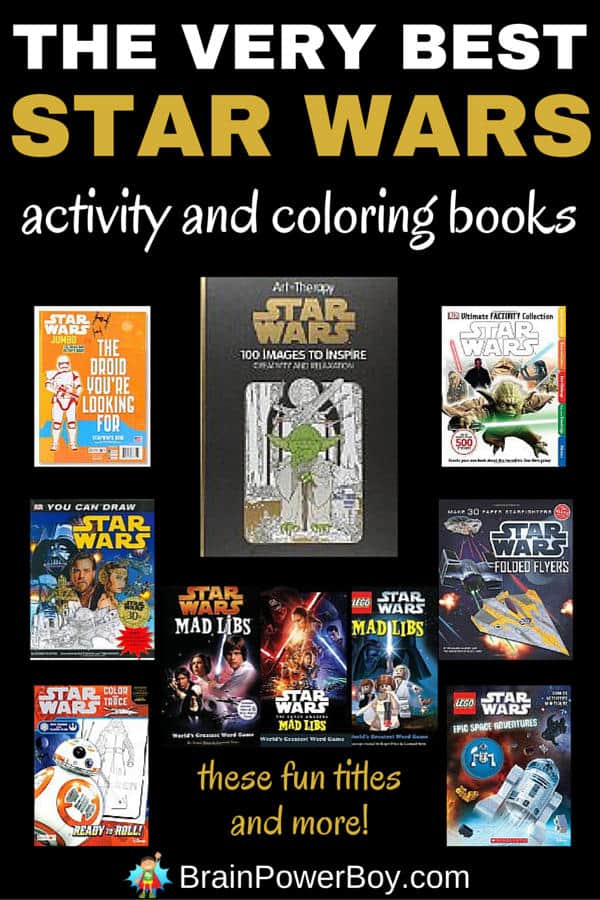 Colouring books and activity books are perfect ways to keep the kids entertained on long road trips and if your kids are Star Wars fans there are some great choices here.
29. Free Coloring Pages for Kids to Color When They're Bored!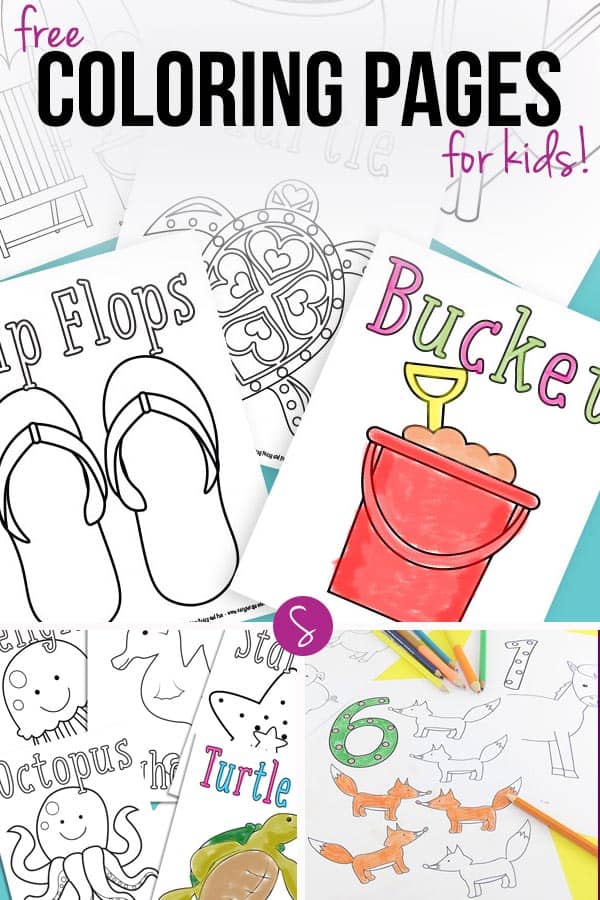 If you don't have time to run to the store to buy colouring books try some of these free printables instead.
28. Are We There Yet Maps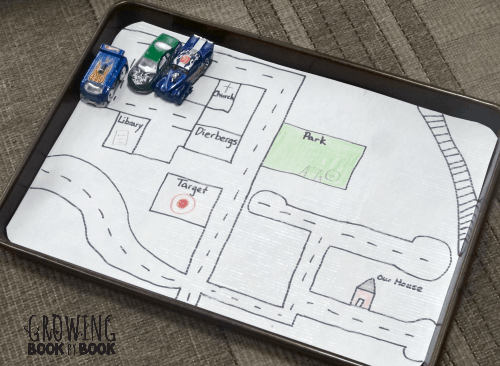 Such a great idea for helping little ones understand maps and directions. Draw a map to your destination and let your child drive their own car along, keeping track by the landmarks.
27. DIY Portable LEGO Kit with 24 Free Printable Activity Cards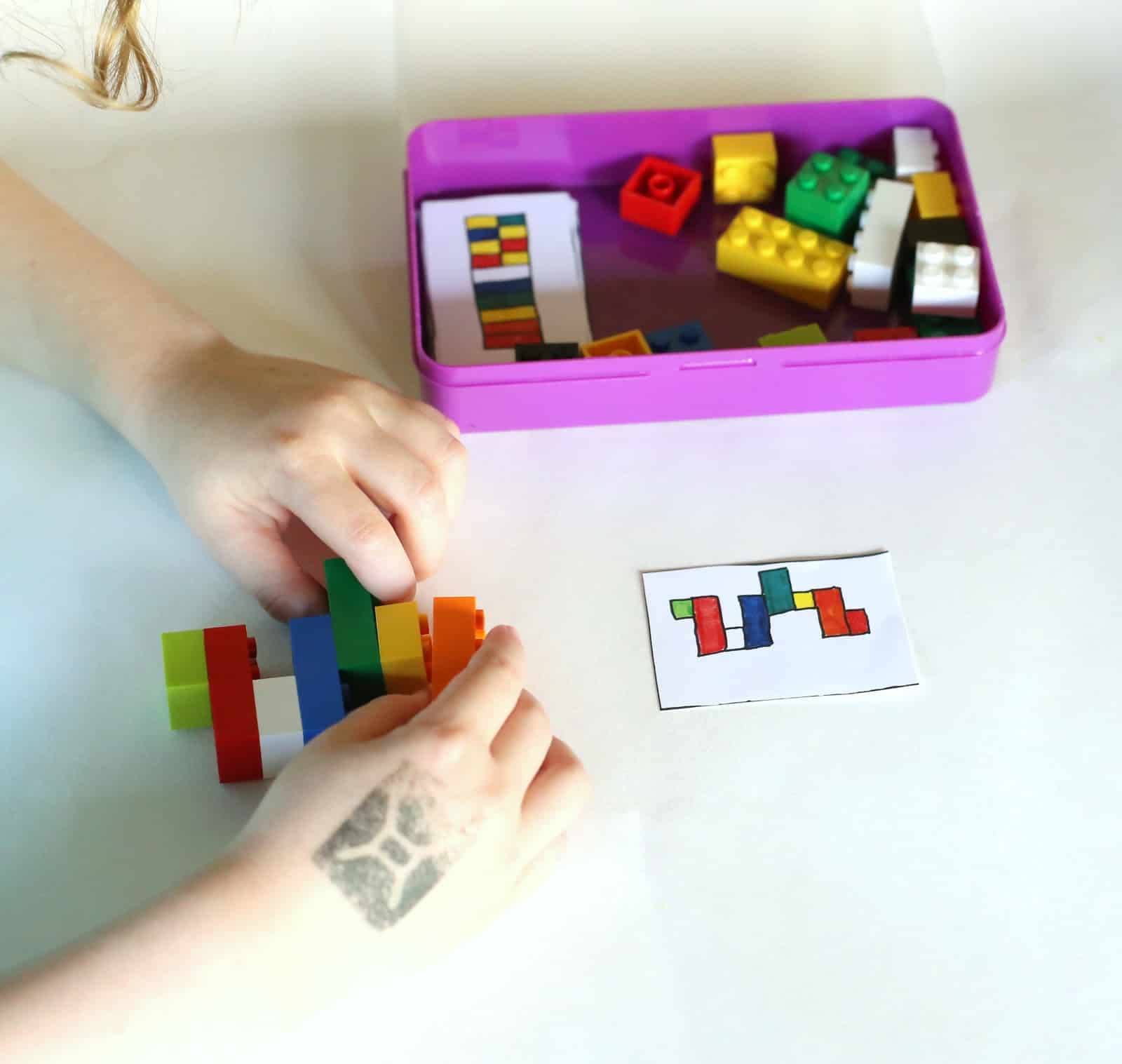 You might not think about letting your kids build with LEGO in the car but putting together a small kit like this will give them something to focus on. It's great for keeping them entertained in restaurants too.
26. Mad Libs
Mad Libs on the Road

Super Silly Mad Libs Junior

Sports Star Mad Libs Junior

Summer Fun Mad Libs Junior

You really shouldn't head out on a road trip without at least one Mad Libs book to keep the whole family entertained!
25. Free Interstate BINGO Printable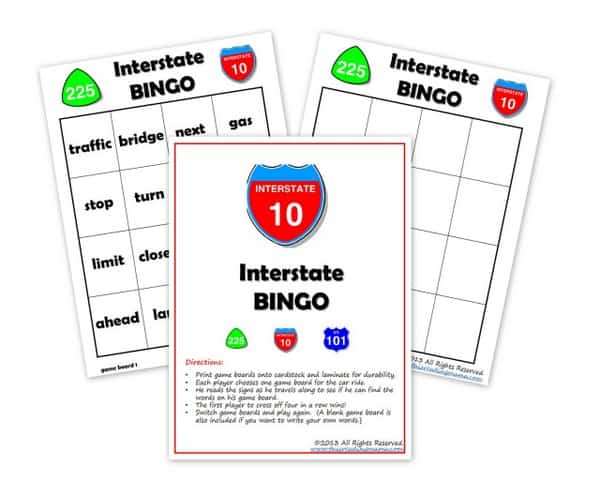 If you're travelling with kids who are in Kindergarten through to second grade print out a set of these free bingo cards before you go. As you're driving along they need to spot various items along the Interstate.
24. Road Trip Printables for Kids: Restaurant I Spy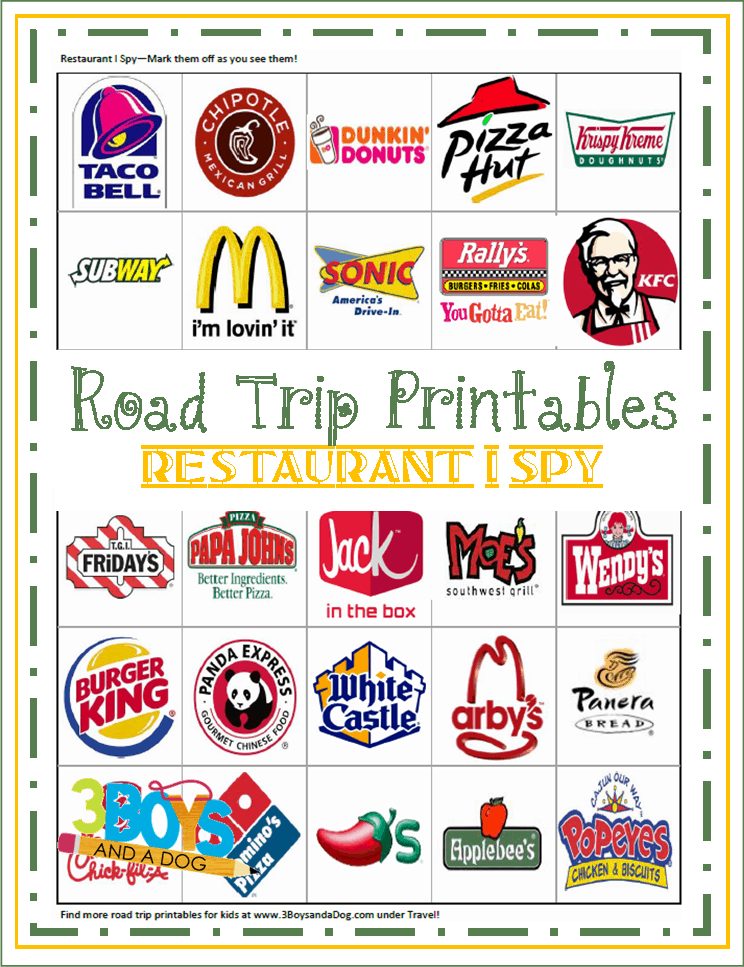 Here's another great idea for long road trips, having the kids keep their eyes peeled for restaurant signs and billboards along the road.
23. Free Printable Road Trip Drawing Prompts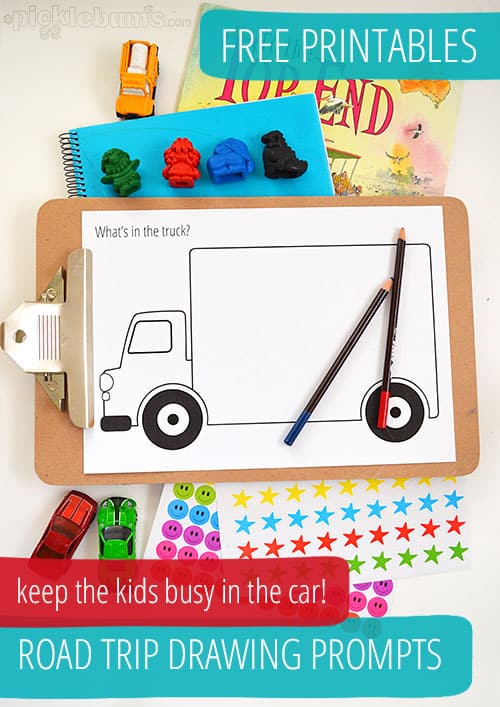 If your children love to draw but sometimes need a little inspiration try printing out these drawing prompts and attaching them to a clipboard for the trip.
You can easily get clipboards here
22. Wikki Stix
The Wikki Stix Book of Wiggles, Squiggles & Curlicues
Wikki Stix Adventures Across America with Andy in The Wikki Stix Fun Truck! Playset
Wikki Stix Traveler Playset Craft Kit
Wikki Stix Lil' Traveler Playset, 6-Inch Stix
Wikki Stix are brilliant for road trips (and plane journeys) because they can be stuck together and combined to make all kinds of creations but they're totally mess free!
21. How to Pack a Travel Activity Bag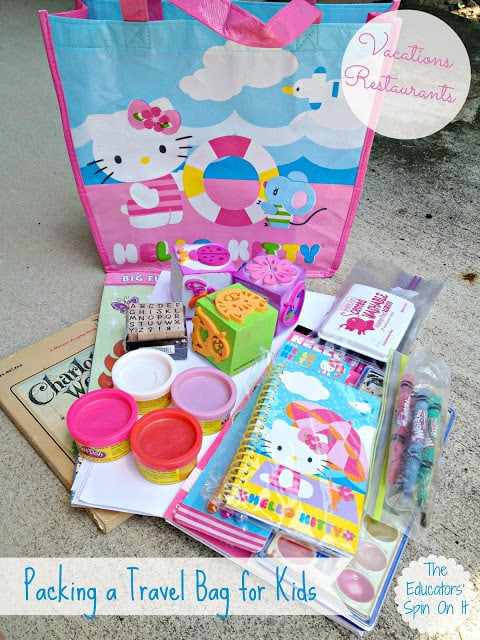 A travel bag is a great idea because not only will it keep your child entertained on the road but also in restaurants and during hotel stays. You can fill it with goodies from the Dollar Store or free printables from this collection.
20. DIY Clipping Toy for Toddlers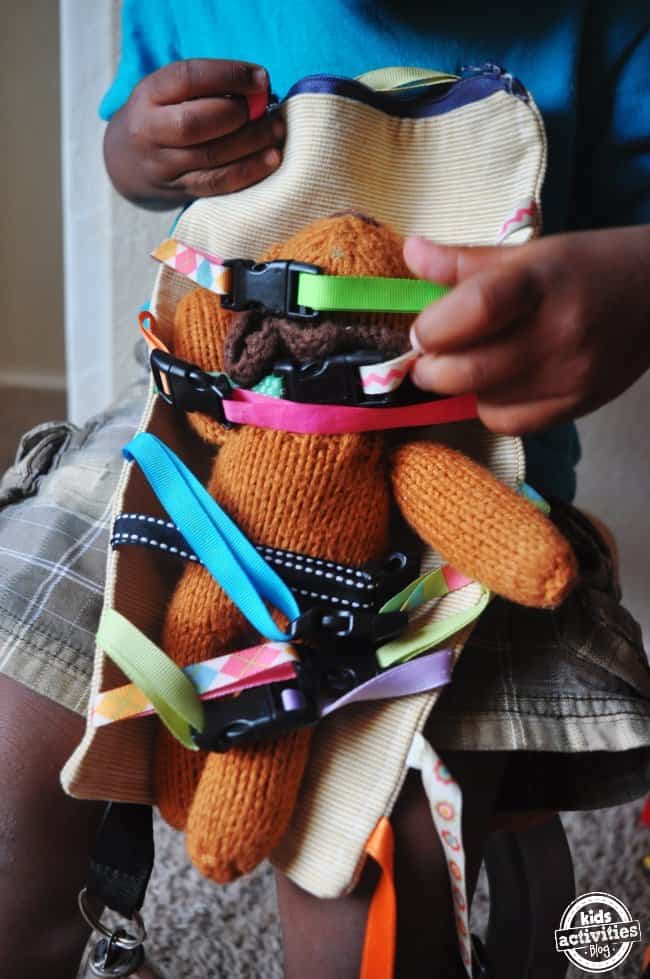 If you're travelling with a toddler who isn't quite ready for colouring books and play dough try making one of these clipping toys to keep them entertained.
19. DIY Busy Book for Travel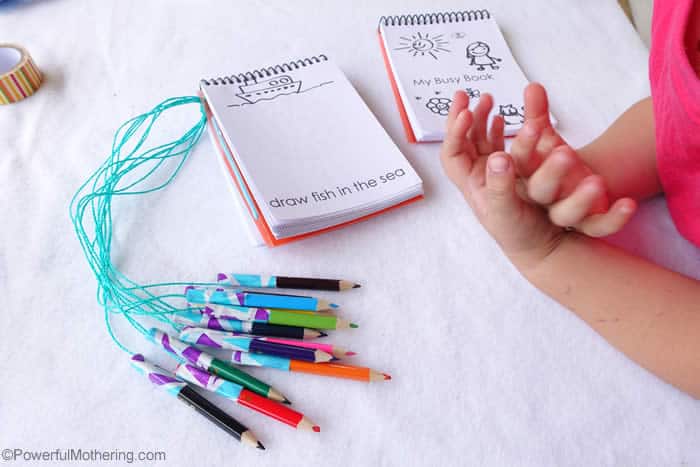 If your child loves colouring it is a great way to keep them occupied on long car journeys, except if they're not very good at keeping hold of their pencils and they end up all over the floor! Here's a genius way to stop that from happening.
18. Travel Games from Melissa and Doug
Melissa & Doug Tape Activity Book: 4 Rolls of Easy-Tear Tape and 20 Reusable Scenes
Melissa & Doug On the Go Felt Friends Craft Activity Set With 188 Felt Stickers
Melissa & Doug On the Go Scratch Art Hidden-Picture Pad – Favorite Things
Melissa & Doug Flip to Win Travel Memory Game – Wooden Game Board
You really can't beat Melissa and Doug for creative travel games for your kids to play in the car. Here are just four of our favourites.
17. Transportation Themed Matching Game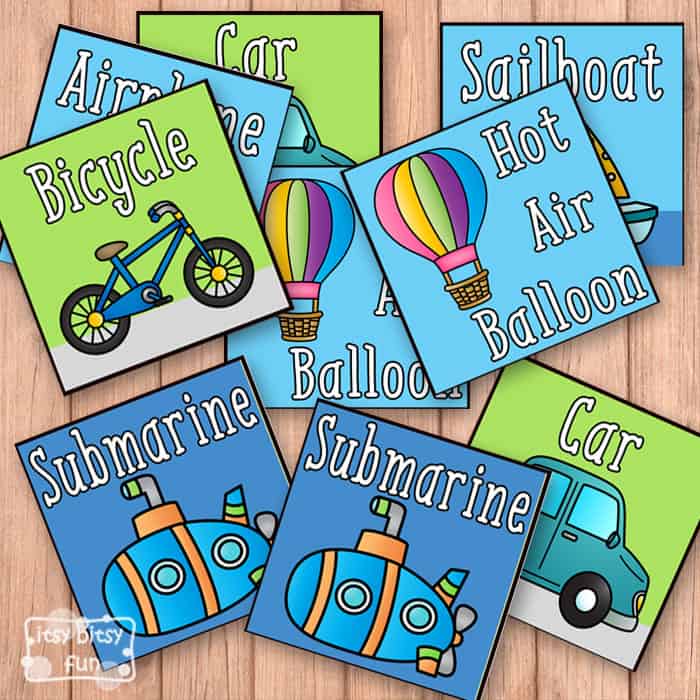 Matching games are a lot of fun and something your child can easily play on an activity tray in the back of the car. This brightly coloured game is sure to keep them engaged.
16. Little Red Riding Hood Finger Puppets
If your child likes to act out their favourite stories make a set of these finger puppets before you leave.
15. DIY Whiteboard Busy Bag Kids Travel Kit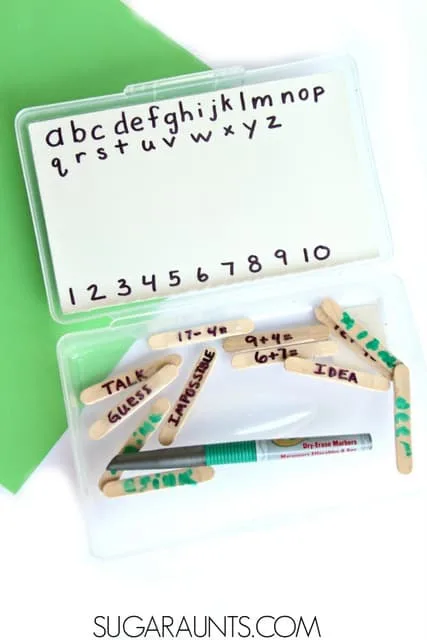 How clever is this? A mini whiteboard that your child can write on and some popsicle stick prompts to inspire them.
12. Kid's Travel Games
Fashion Plates Travel
World of Disney Eye Found It
Travel Spirograph Playset
Spot It! on the Road
If your road trip is really long you might want to pull out a new game or activity every couple of hours, and these travel games are perfect. You might even recognise a couple from your childhood!
13. Tic Tac Toe Busy Bag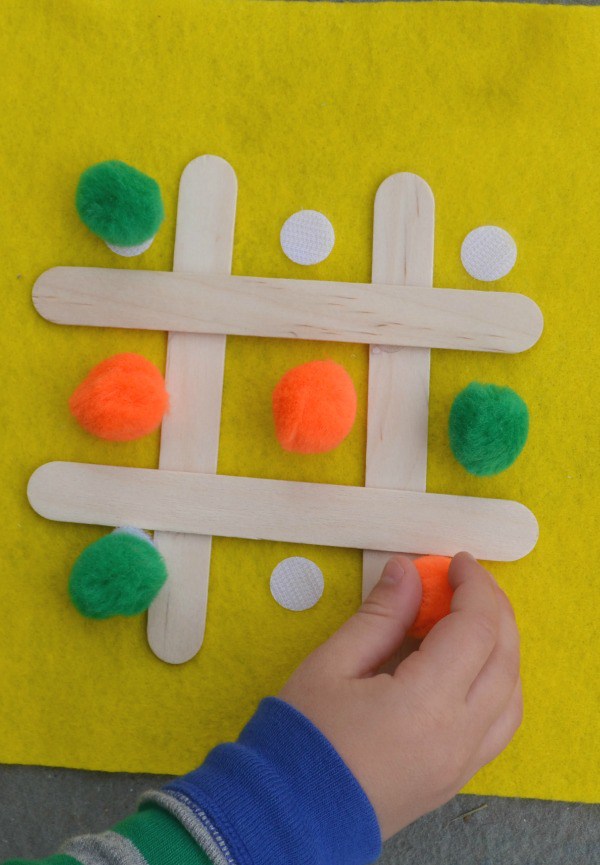 Tic Tac Toe is a fun game to play and we love that this DIY travel version has velcro so the pieces don't fall off when you go around a corner.
12. DIY Travel Memory Game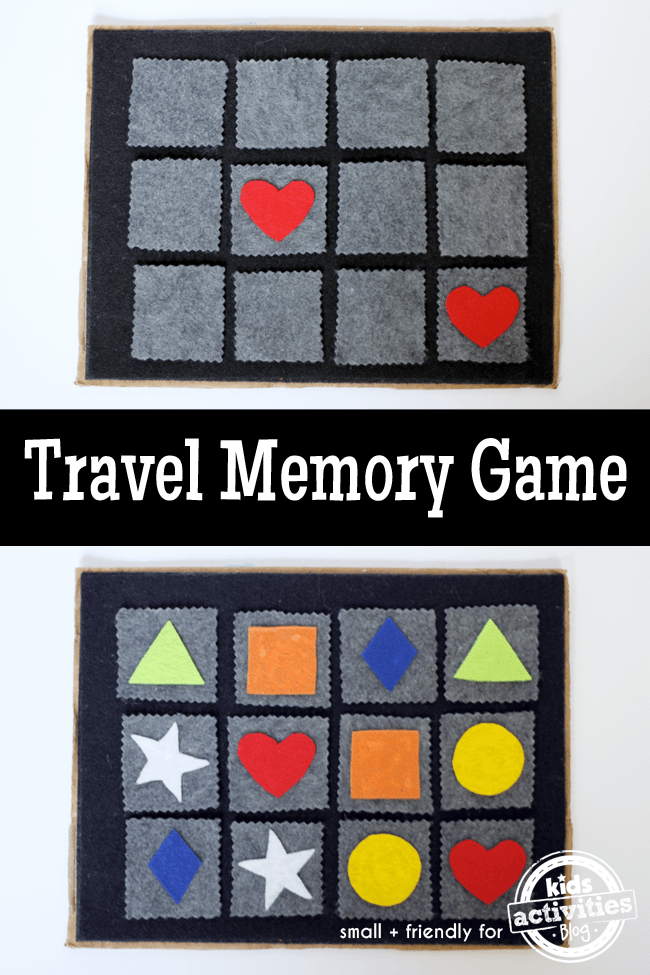 This travel memory game is so easy to make and because it's felt the pieces will stay stuck together.
11. Road Trip BINGO Free Printable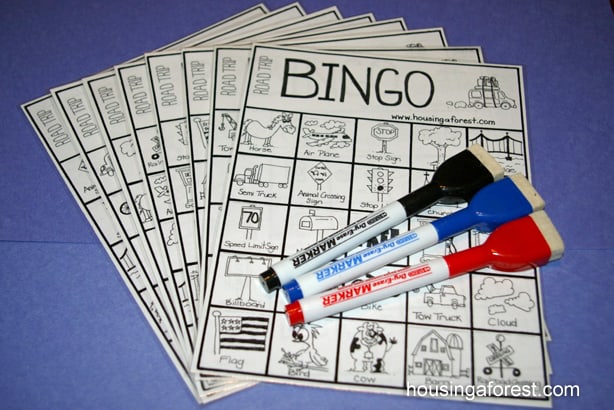 Here's a fun set of BINGO cards for your road trip, and if you laminate them you can then use dry erase markers and wipe them clean in between games!
10. LEGO I Spy Bag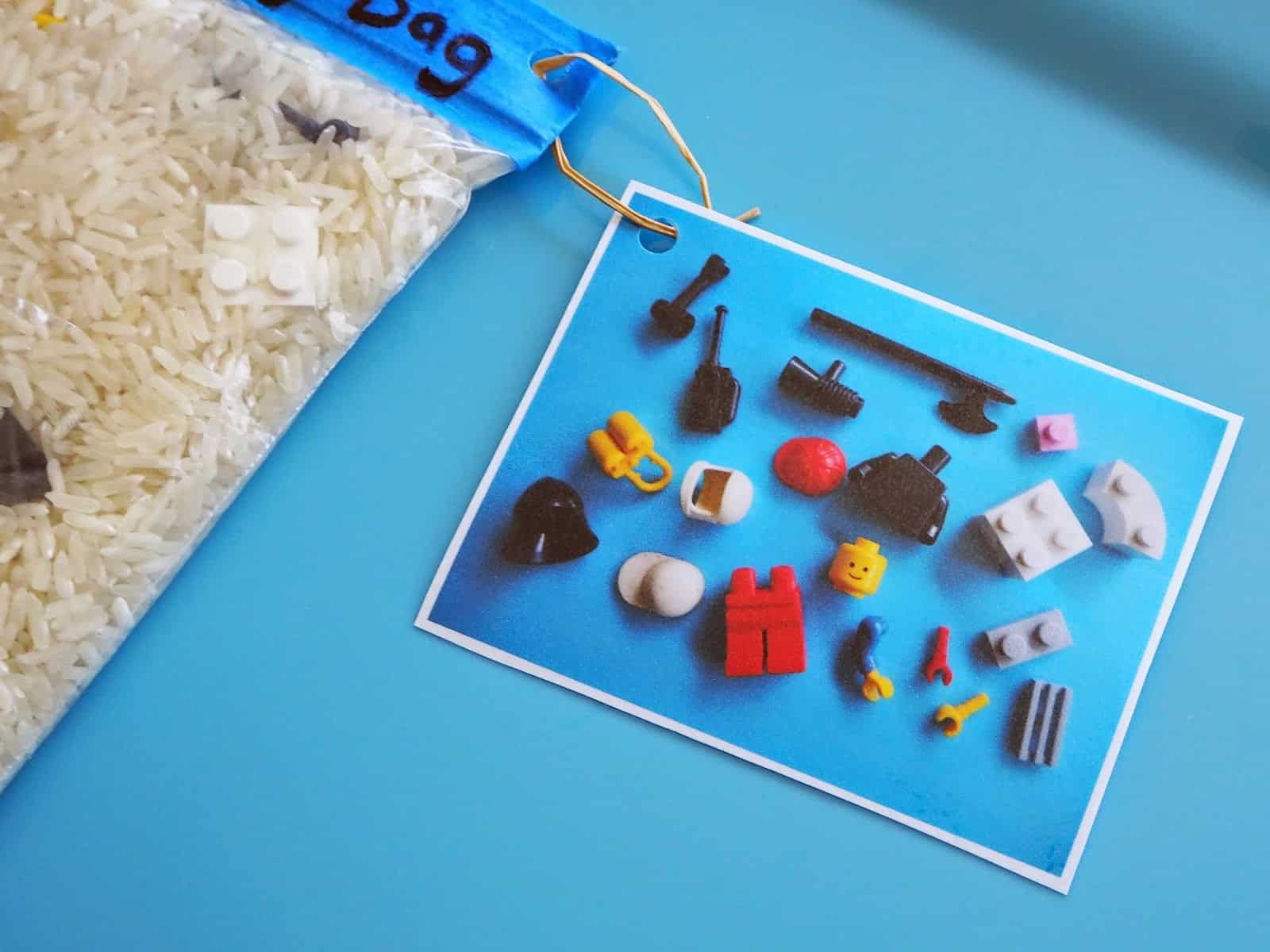 What a brilliant idea for an I Spy game. You could put any small toys inside the bag if your child prefers princesses or farm animals or even dinosaurs.
Dinosaurs
Farm Animals
Frozen
My Little Ponies
9. Make a Travel Timeline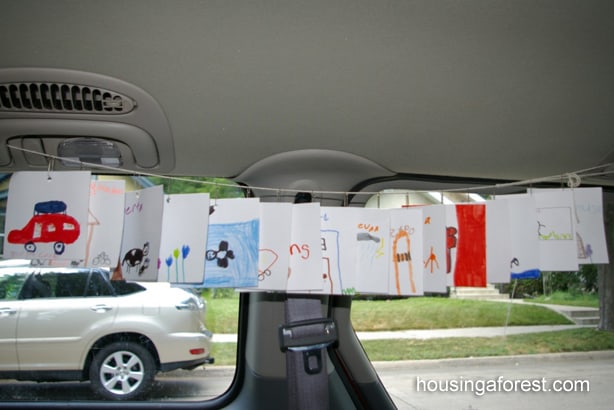 This is such a great idea. Hang up a piece of string and take along some mini pegs and pieces of paper. Have your children draw pictures of landmarks as you drive by and then they can track your progress by hanging up the pictures.
8. Mess Free Crafts
Crayola Dry Erase Activity Center Travel Kit
Melissa & Doug On the Go Water Wow! Activity Book
Melissa & Doug Mess-Free Glitter Craft Kit
My First Crayola Mess-Free Touch Lights
If your child loves to be creative then some of these mess free travel activities will keep them occupied in the car.
7. DIY Travel Board Games
Here's a genius way to make your own magnetic travel board games!
6. Magnetic Travelling Farm Toddler Game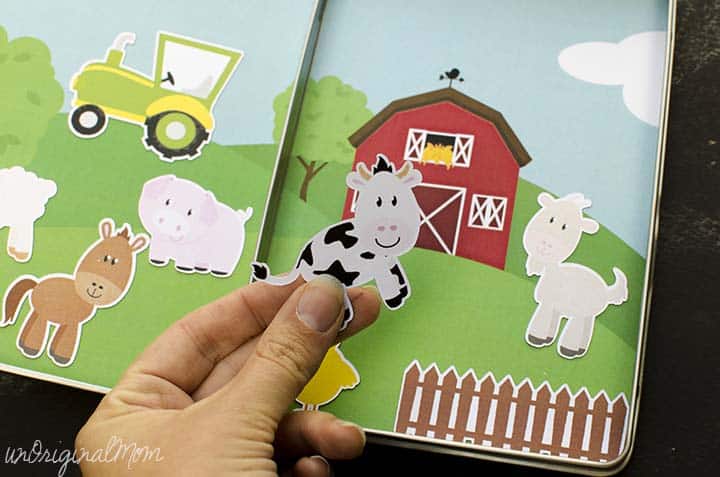 How cute are these? They make a great activity for a child who loves farm animals. And if you are worried about them putting the magnetic pieces in their mouths you could make it with laminated pieces and velcro instead.
5. Doll in a Tiny Tin Bedroom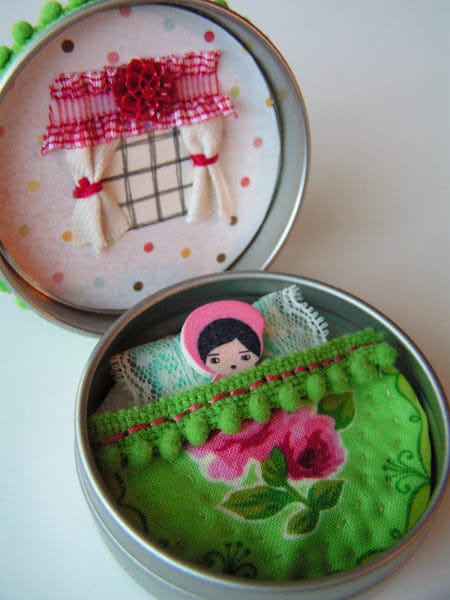 Totally adorable! If your little girl loves imaginative play with dolls she'll LOVE playing with this on a long car journey!
4. DIY Ice Cream Felt Board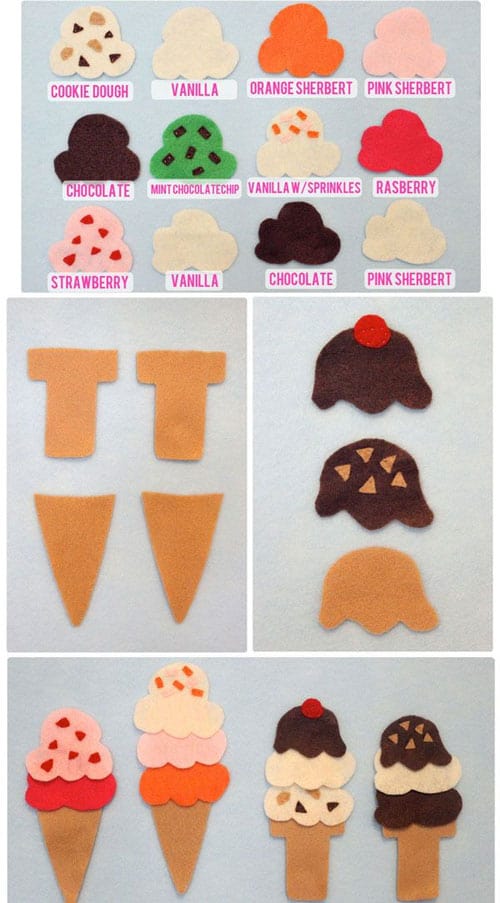 No instructions for this one but you should be able to figure it out from the picture. Let your child get busy creating their own delicious ice cream combinations!
3. DIY Travel Guess Who, Disney Style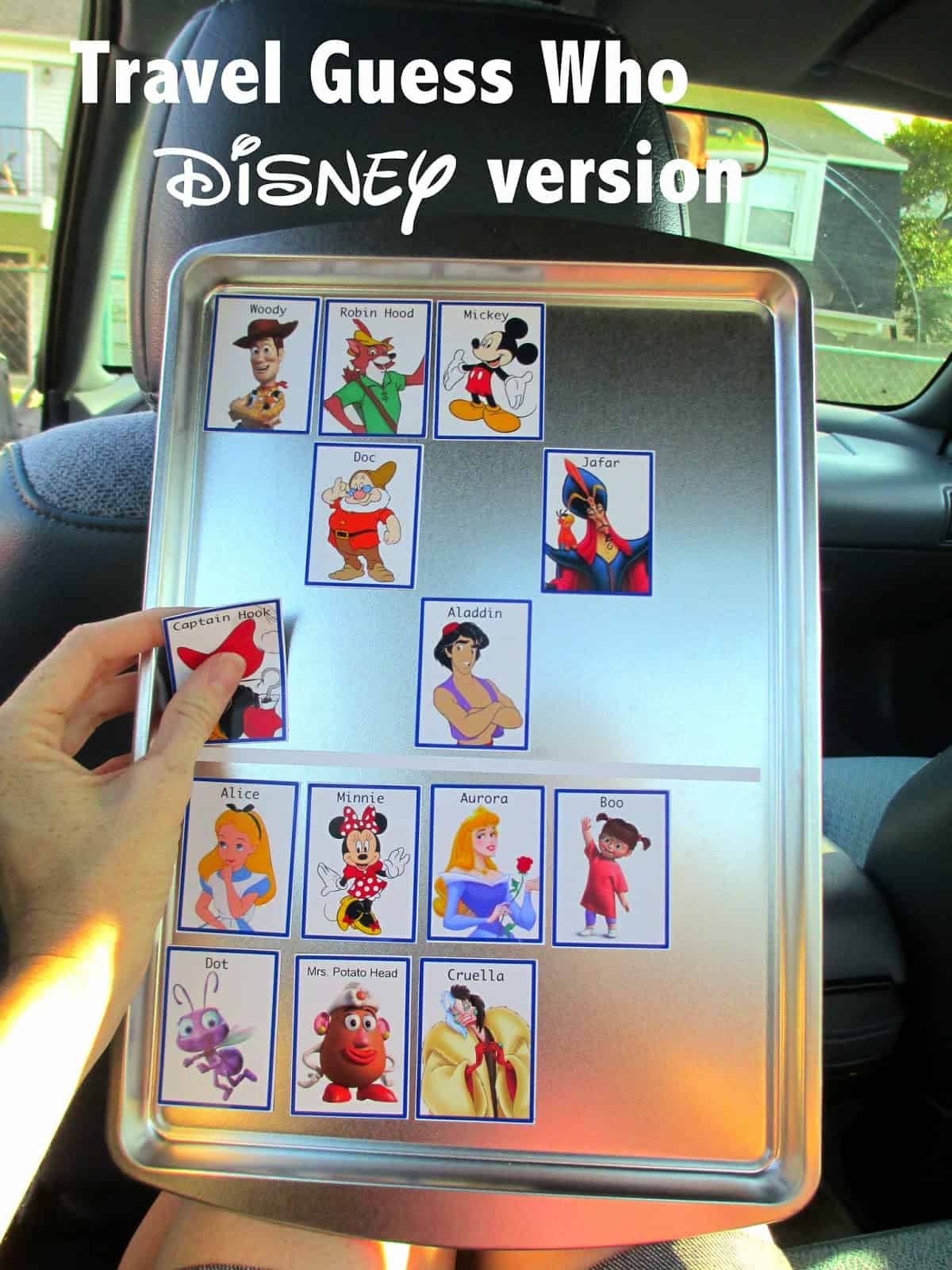 This is the PERFECT travel game to make if you are road tripping to Disney World! And because its magnetic you don't have to worry about the kids losing the pieces when you go around a corner.
2. Sweet Dreams Tiny Mouse Altoids Tin Playset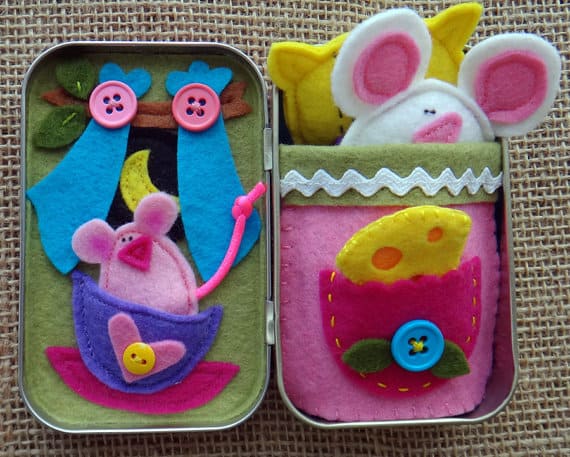 Isn't this just the cutest thing you've ever seen? Boys and girls will have so much fun playing with these little felt characters and when they're done you just close them up in the altoids tin to take with you on your travels.
1. DIY Travel LEGO Playset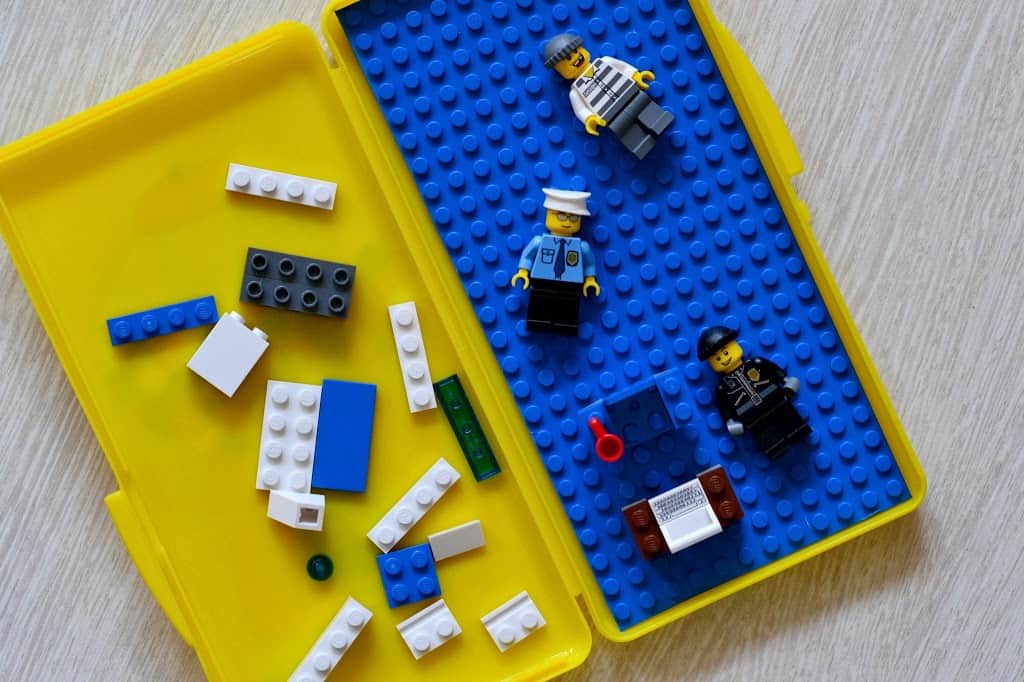 LEGO lovers will be perfectly content in the car with this clever little playset made from a baby wipes container!
Related Posts:
Car Seat Activity Trays and Organisers
Car seat back tablet holder

Car seat organizer and cooler

Portable travel trayCLICK FOR BEST PRICE Car Seat Travel Tray

If you're going to give your child games and activities to play while you're on your road trip they're going to need somewhere to store them and a flat surface to play on, because the last thing you want to be doing is pulling over every five minutes to pick things up out of the footwell!
More Kid's Activities Here