Now you have your itinerary mapped out and you know which park you plan to be visiting each day you can start to think about dining.
It may seem odd to be thinking about what you would like to eat more than 6 months before your vacation but Disney restaurants book up fast and you need to make reservations 180 days before your trip to have the best chance of securing a table.
So your next activity in the planning process is to prepare a Dining Wish List so that you can save yourself a table. Keep reading as we reveal the secret to making dining reservations at Disney World.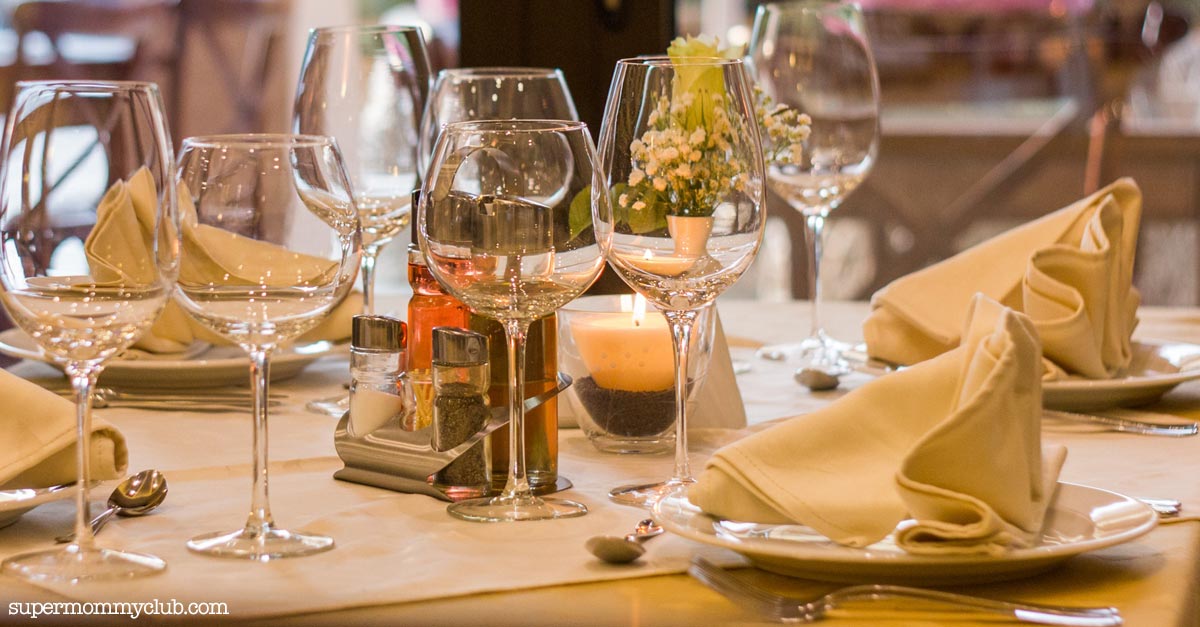 Is there an easy way to calculate what day is 180 days before our trip?
There sure is. Just head over to http://pscalculator.net/pscalc.php, plug in the first day of your trip and the system will tell you the all important date you need to mark on your calendar to make those reservations.
One thing to note if you're from the UK, the dates on the calculator are American style so make sure you read them backwards – i.e. if it says your 180 window starts on 05/07/2014 that's the 7th of May, not the 5th of July!
If you have reservations at a Disney World hotel you get a 10 day head start on non-Resort guests and can actually make your dining reservations 190 days in advance.
What are our dining options at the parks?
For the days that you are spending time at the parks there are a few food options available to you.
You could bring your own food into the park and have a picnic lunch. Disney is happy for you to bring your own food into the parks as long as you are sensible with the amounts; a family-sized cooler is acceptable, a huge sided cart on wheels would be turned away!
You could visit one of the quick-serve restaurants. Think fast food, but better quality and variety than McDonalds or Burger King. There are a variety of different quick-serve restaurants in each park and they serve much more than just hot dogs and hamburgers. Most have healthy options for you and the kids, as well as vegetarian and kosher meals.
You could experience one of the table-service restaurants. As the name suggests these are sit down meals with a server, and you might be surprised to read that some of the table-service meals in the parks are prepared by world-class chefs!
Finally you could experience character dining. These special meals are hosted at some of the table-service restaurants throughout the parks and you will be visited at your table by Winnie the Pooh, Mickey Mouse, or a fairytale princess to name but a few of the characters.
You might decide to bring a picnic lunch, or visit a quick-serve restaurant for lunch and then eat at a table-service restaurant, or dine with your favourite character at dinner time.
For picnic and quick-serve days you can just mark these as such on your planner so you don't need to decide where to eat when you get to the park, make sure you note down the name of the quick-serve restaurant so you don't forget which one you selected!
If you want to try one of the table-service or character dining experiences you will need to make a reservation. So make a note of these on your planner so you have the information to hand when the booking window opens.
Can we eat at any of the hotels?
Yes you can, there are many great restaurants in the Resort hotels so it is definitely worth checking out their menus while you're making you plans.
One thing you do need to think about is how you will get from your hotel to the one you want to eat at; it's pretty easy if you have a car but it can be quite time consuming and convoluted to travel between hotels on Disney Transportation.
Which characters can we dine with?
Character dining takes place at restaurants inside and outside of the parks. Here's a list of the current experiences to help you see where you need to eat to spend time with your family's favourite characters:
Akershus Royal Banquet in the Norway pavilion at Epcot – hosted by Princess Aurora and other princesses (Breakfast, Lunch and Dinner)
Cinderella's Royal Table at Magic Kingdom – hosted by Cinderella and other princesses (Breakfast, Lunch and Dinner)
Crystal Palace at Magic Kingdom – hosted by Winnie the Pooh & friends (Breakfast, Lunch and Dinner)
Garden Grill at Future World in Epcot – hosted by Chip & Dale (Dinner)
Hollywood & Vine at Hollywood Studios – hosted by Disney Junior characters (Breakfast and Lunch)
Tusker House at Animal Kingdom – hosted by Donald and Friends (Breakfast and Lunch)
1900 Park Fare at the Grand Floridian hotel – hosted by Mary Poppins and friends (Breakfast)
Cape May Cafe at the Beach Club Resort – hosted by Mickey & friends (Breakfast)
Chef Mickey's at the Contemporary Resort – hosted by Mickey & friends (Breakfast, Lunch and Dinner)
Garden Grove at the Swan Resort – hosted by Goofy (Breakfast and Dinner)
'Ohana's at the Polynesian resort – hosted by Lilo and Stitch (Breakfast)
How on earth do we decide where we would like to eat?
There are over 130 restaurants across the Walt Disney World Resort and over half of them allow you to make advanced dining reservations. That's a lot of restaurants and you could write a whole book about which ones serve what and whether you should eat there or not – in fact someone has written that book, it's called the Disney Food Blog Guide and here's the link if you want to check it out.
If you just want a better idea of what's available to suit your family's tastes then you can just head over to the Disney Food Blog and use their restaurant search tool to help narrow down your choices. Here's the link to the tool.
You can select the type of restaurant you'd like to eat at, or the park or hotel you'll be visiting that day, or even the amount of money you'd like to spend. Just plug in some choices and the tool will offer you a choice of restaurants as well as useful information like menus and how hard it is to get a reservation!
Here are some tips from our readers to help you make your Wish List
Rayme McKelvey had this tip for you which is useful when thinking about what time you should eat:
"Make lunch reservations at the latest possible breakfast time (11:30ish) that way you miss the breakfast lunch, beat the lunch rush and have ample park time with lower wait times because everyone is waiting to eat!"
Katherine Resch has a tip for you if you want to dine with your favourite characters:
"Try to make the first seating for a character meal, and be there first. They often have special experiences to "open" the dining experience."
How do we make our reservations?
Once you've decided where you would like to eat, and on which particular day of your trip, you're ready to make a dining reservation. Don't forget you can't book anything until 180 days (or 190 if you're a Resort guest) before the first day of your trip, but let's go over how you actually make the reservation so you feel prepared when the time comes!
You can make dining reservations online or by telephone (407-939-3463).
You will need to have your reservation number to hand so you can tie your dining reservations to your room booking. You will also need to have your credit card available to secure each reservation. There's no charge applied to your card at the time of booking, and you don't need to use that card to pay for your actual meal, it's just a security measure against ' no shows' and your card will only be charged if you don't turn up for your reservation.
To make your reservation you need to go online at 6am Eastern Time (or call from 7am ET), 180 days (or 190) before the day you'd like your reservation.
If you plan to make your reservations online you should visit disneyworld.com and set up an account if you don't have one already, once you've done that make sure you add your room reservation number to your account as this makes the booking process easier on the big day. You can add the reference by clicking on the My Disney Experience, and then My Reservations.
If you are staying in a Disney World hotel you can make reservations 180 days in advance, plus up to 10 days of your vacation stay. That is to say you should attempt to make reservations 190 days before your first vacation day.
If you're staying offsite you'll need to call or go online several times to make your reservations (i.e. 180 days before each subsequent day of your vacation).
How do I make dining reservations for Be Our Guest?
Getting a table at the Be Our Guest restaurant over in Fantasyland at the Magic Kingdom is a little like winning Willy Wonka's Golden Ticket – everybody wants a reservation but only the lucky few actually get one.
The best way to secure a reservation is to be a Resort guest so that you get that 10 day head start, and to be online or on the phone the second that reservations open at your 190 day out mark.
But all is not lost if you don't manage to get a reservation, because you can try and grab a cancellation instead. When you make a reservation with Disney you have to leave your credit card details, and if you are a no show on the day they will charge your card. This can be avoided by actually cancelling the reservation more than 72 hours in advance.
Think about how many people change their plans during their vacation, or spend more than they budgeted for. When those people call to cancel their reservations they are opened up for other guests.
About a week before your trip you need to start checking the Disney World Dining Reservations site several times a day. Think about when people would have time to call to cancel, before work, at lunch time and in the evening when the kids have gone to bed. Those are the times you want to be online checking for an opening, or you can just keep calling the reservations line 1-800-828-0228.
Your chances of grabbing a reservation should increase in the 72 hours before the time of your preferred slot so make sure you check around then too.
And if you can't secure a reservation at Be Our Guest for dinner, don't be disheartened because they have a lunch option too, and that doesn't need a reservation at all.
For your To Do list
Use the calculator to determine which day is 180 days out from your trip
Mark that date on your calendar as the day on which you need to start making your reservations
Mark the day before that on your calendar as the day you need to remind yourself how the booking process works
Use the Restaurant Search tool at the Disney Food Blog, or read the Disney Food Blog Guide, to decide where you would like to eat
Make your Dining Wish List by writing down a list of your preferred restaurants, dates and times
Set up an account at disneyworld.com if you don't have one already and add your room reservation number to your account
Make your reservations when the time comes around
~Clare – currently pinning to All Things Disney!.
Click here to follow our All Things Disney! board over on Pinterest.