This post may contain affiliate links, which means I may receive a commission if you click on a link and purchase something. As an Etsy and Zazzle Affiliate I earn commissions from qualifying purchases.
Get ready for your vacation with these gorgeous Disney Vintage Graphic Tees. From classic characters to retro designs, you'll be Insta-ready for your trip!
If you're planning a trip to Disney World, you're probably already thinking about what to pack.
While comfortable shoes and sunscreen are essential, deciding what to wear is one of the most fun parts of vacation prep.
And if you're a fan of vintage style and Disney nostalgia, graphic tees are a must-have item for your wardrobe. Not only do they make a statement, but they're also comfortable enough for a day spent exploring the parks.
We've been over at Etsy adding a stash of Disney vintage graphic tees to our cart and thought we'd better share them with you!
Keep scrolling for ten amazing Disney t-shirts that will make you look your best during your getaway.
From classic characters to retro designs, these shirts will help you show off your love for everything Disney, while keeping you looking stylish and comfortable. So, get ready to add some magic to your wardrobe and make your Disney World vacation even more memorable!
If you're traveling as a family or a large group, check out our collection of matching Disney shirts too… because you can never own too many Disney tees!
Disney Vintage Graphic Tees
Show off your love for Mickey & Co with this stylish graphic tee! Whether hanging out at home or with friends, this Mickey & Co t-shirt is the perfect way to show off your style.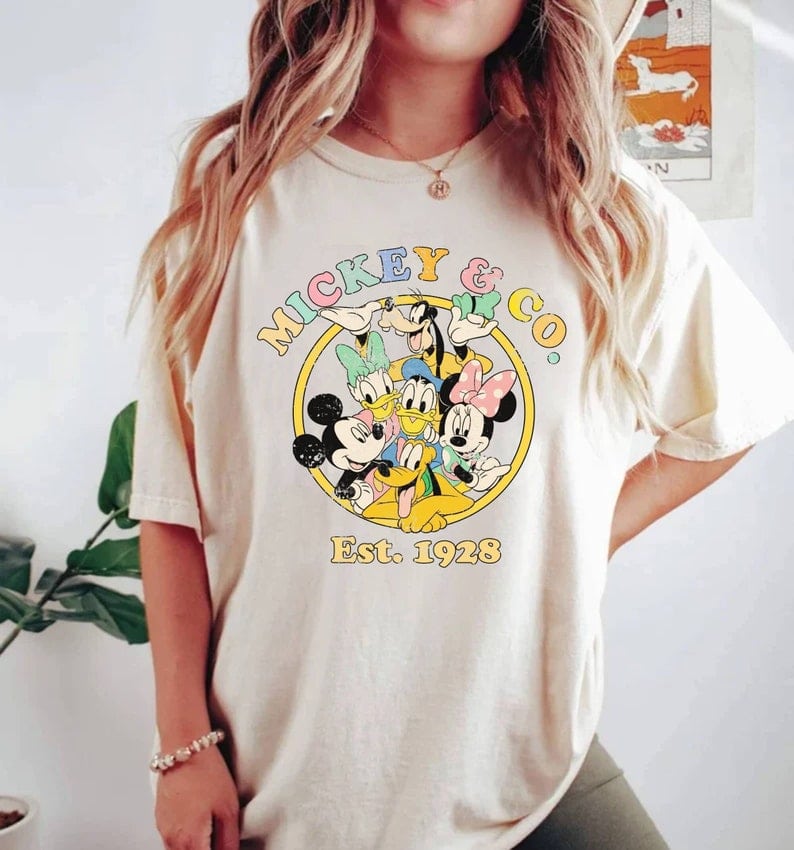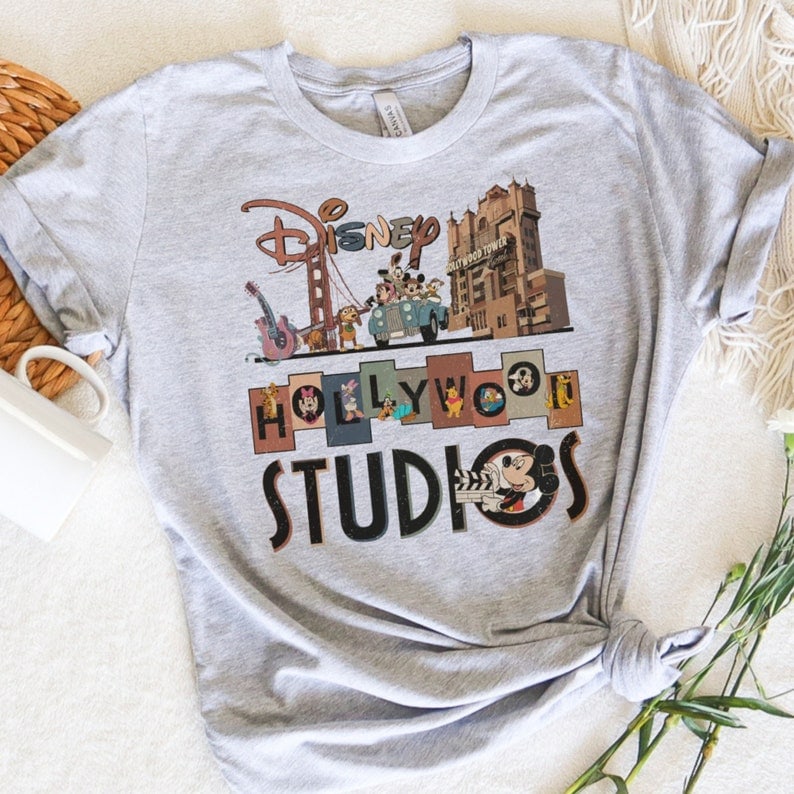 This vintage Disney's Hollywood Studios graphic tee is perfect for any theme park enthusiast! Classic and timeless, this vintage tee will quickly become a wardrobe staple you'll turn to time and time again.
This vintage Disney World Epcot graphic tee is a must-have for any Disney fan! With a classic feel, this timeless item features a vibrant, colorful design of Epcot on the front. Stylish and comfortable, this vintage tee will get you noticed in the parks.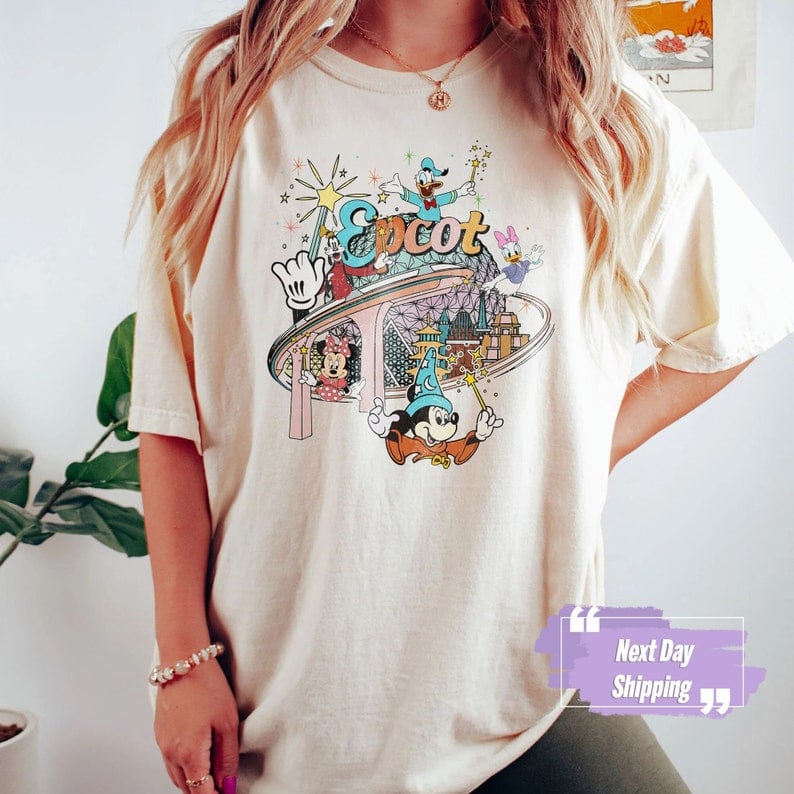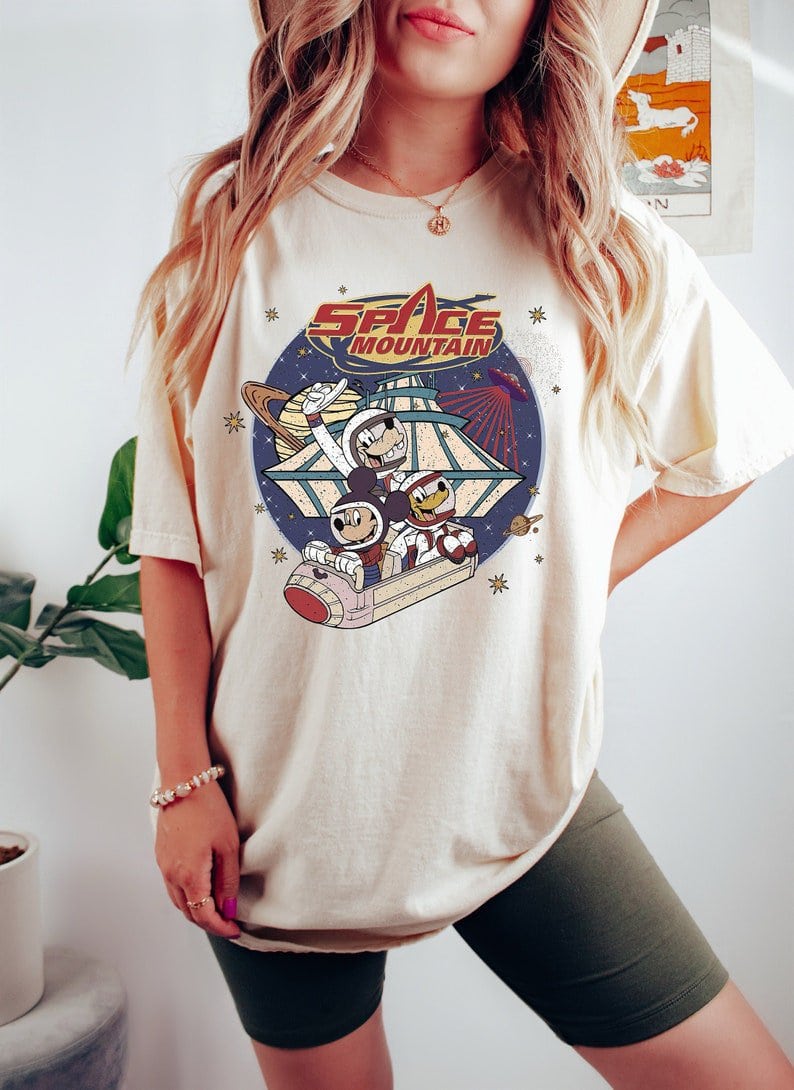 Look and feel like a true Disney fan with this vintage Space Mountain graphic tee. Featuring a classic design, this soft cotton shirt is perfect for a casual day out or a Disney-filled vacation. This stylish and comfortable tee shows off your love of all things Disney.
Let your imagination soar with this unique where dreams come true Disney shirt. Featuring bubble lettering and Mickey Heads this shirt is perfect for any Disney fan. Whether you're taking a trip to the Magic Kingdom or want to celebrate your love of Disney, this shirt will show off your Disney spirit.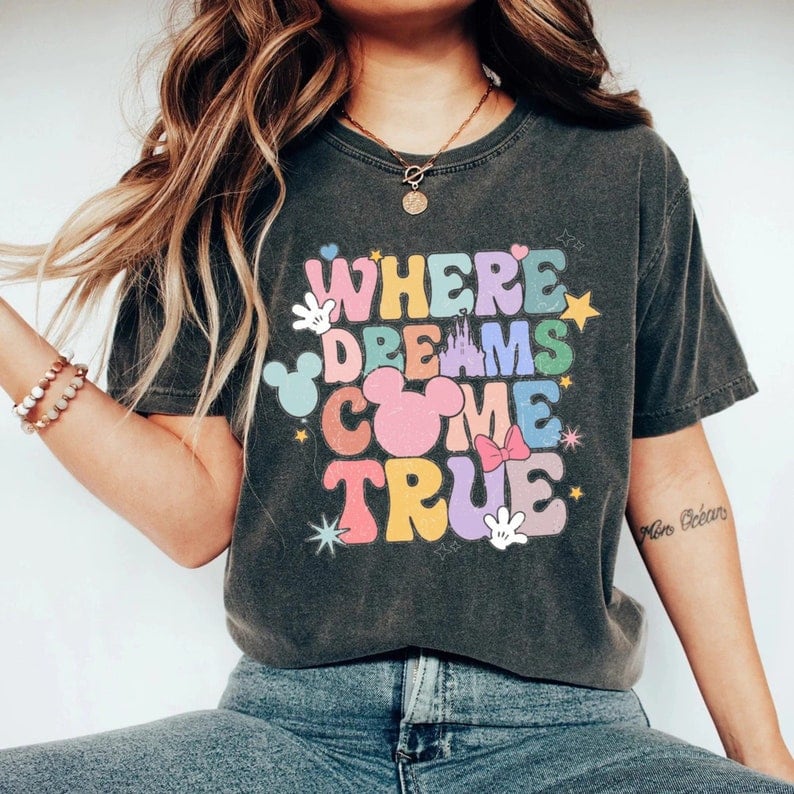 This vintage Cinderella Castle Mickey Minnie graphic tee is perfect for showing your love for Disney. Featuring classic Mickey and Minnie characters in front of the magical castle, this t-shirt is comfortable to wear and will make a statement wherever you go. Whether at the parks, movies or just out and about, this tee is perfect for expressing your love of the Magic Kingdom.
If you're looking for matching Disney shirts you can wear on a family trip these Retro graphic tees are a perfect choice! Choose from Pluto, Mickey, Chip, Daisy, Minnie or Goofy.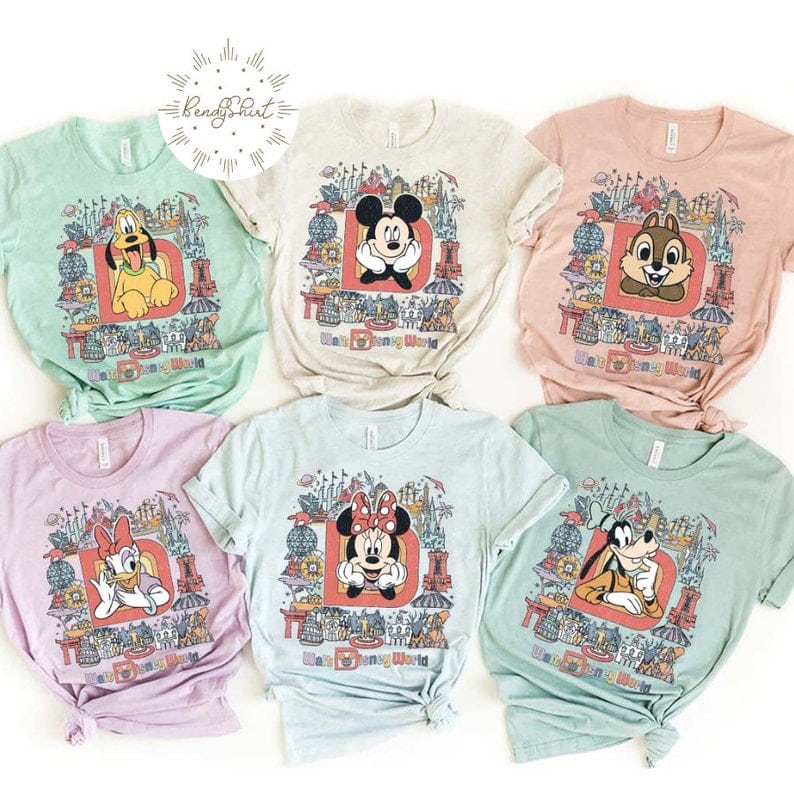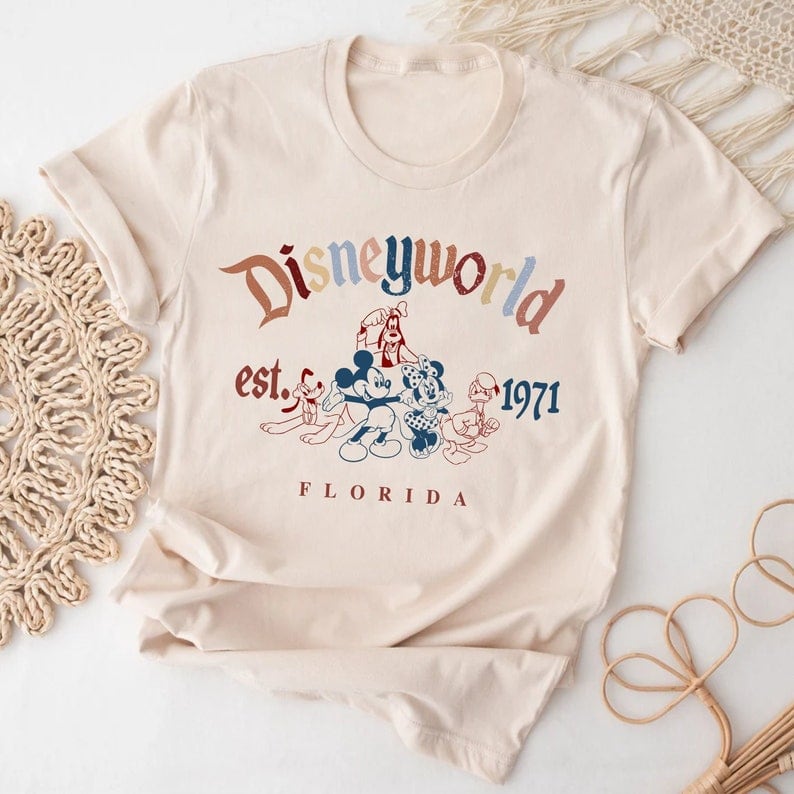 Wear this vintage Disney World Est. 1971 Theme Park shirt to show your love for the Happiest Place on Earth. The retro design features the iconic Fab Five in a classic 70s style. The perfect addition to any Disney fan's wardrobe!
Show your Disney style with this retro Cinderella Castle tee! This graphic t-shirt is designed with a stylish vintage-inspired look featuring a bold and colorful graphic of Cinderella Castle. The lightweight fabric and relaxed fit make it perfect for a day at the park or an evening out, and the soft cotton will keep you comfortable no matter where the day takes you. With this eye-catching tee, you'll be ready for the fairytale life in no time!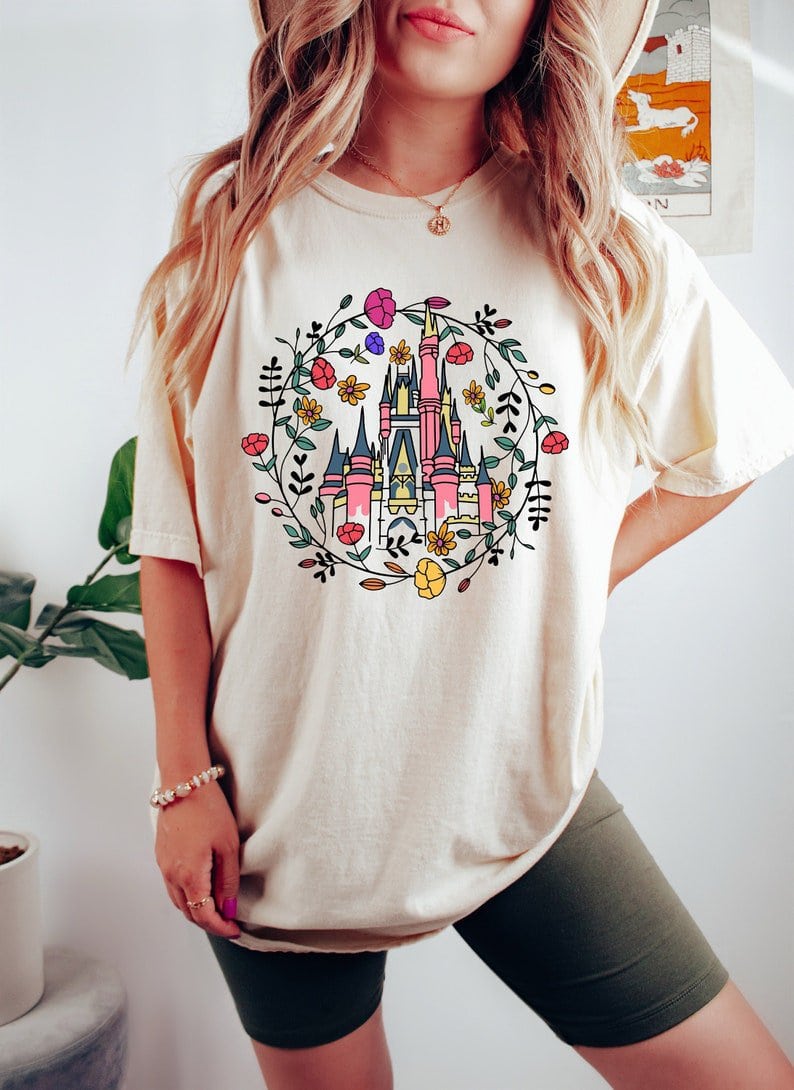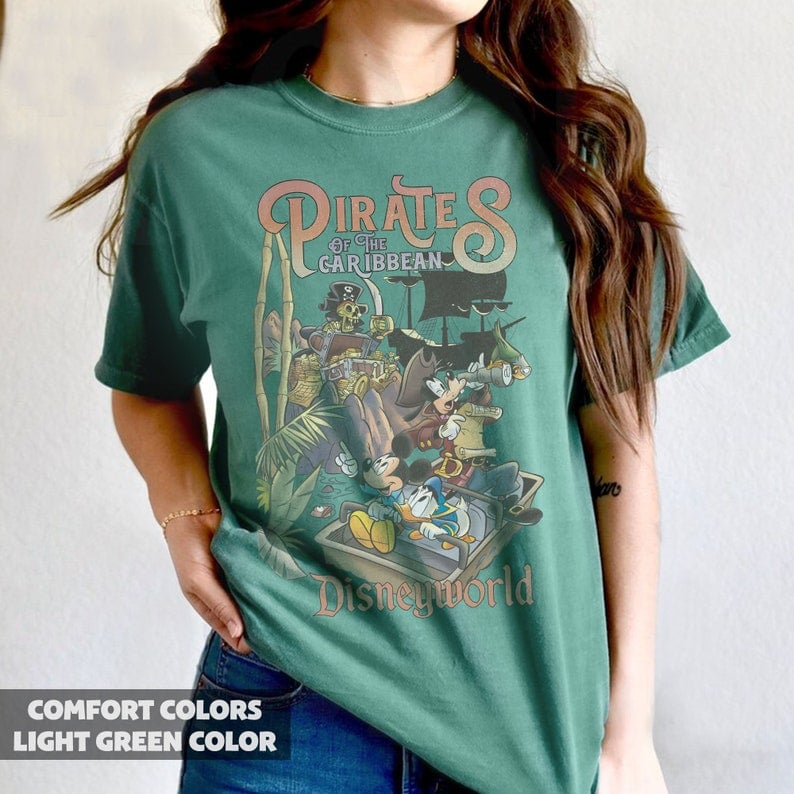 Make a swashbuckling statement in this stylish Pirates of the Caribbean graphic tee. This shirt will become a conversation starter, featuring a vivid design with Mickey, Goofy, and Donald discovering a pirate ship! This shirt is a must-have addition to your wardrobe, perfect for any POTC enthusiast.