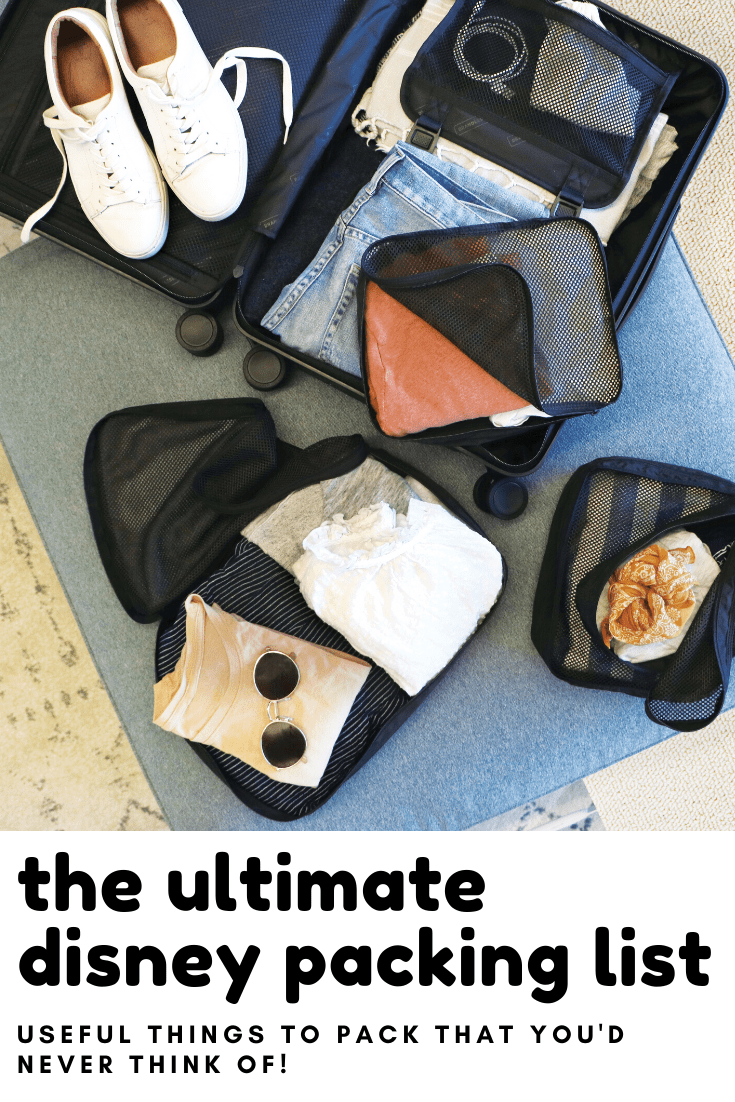 You know to pack your shorts and a swimsuit. THIS Disney packing list is a checklist of the stuff you'd never think to bring. Don't forget to pack our reader's no 1 comfort item!
Disney Packing List – The Useful Stuff to Pack!
We're planning our next Disney vacation right now and as we review the items on our insanely useful Disney packing list it occurred to us that you might find these packing hacks useful too!
This isn't your regular packing list. We're not going to remind you to pack your shorts or your swimsuit.
Oh no, this list is full of the things you'd (probably) never think of yourself.
Things that will make life easier for you when you're packing, and while you're on vacation.
And of course things you can bring from home that will save you money (so you can treat your family to more souvenirs or Mickey Bars).
You can print out this list by hitting the Control Button and P at the same time.
And just in case you're not sure what certain things are just hit the link to go to Amazon to take a closer look.
That's where we buy most of our vacation stuff anyway because we love the fast shipping!
We're flying in to Orlando so it's easier to get heavy items shipped directly to our Resort using the Amazon Prime Pantry service.
Useful Things to Bring On Your Disney Vacation
Face Masks – All guests aged 2 and up are required to wear face coverings so be sure to pack enough to get you through your trip.
Dried Snacks – All that walking and waiting makes you hungry so carry dried snacks or trail mix with you to the parks.
Bottled Water – Pop a couple of bottles in the freezer each evening then carry them with you to the parks so you'll have ice cold water to cool you down when you get thirsty.
Battery Powered Nightlight– Pop it in the bathroom so you can find your way in the middle of the night.
Bag of Pipe Cleaners – To keep kids entertained while waiting, they can make all kinds of creations with them. Just be careful of sharp ends with little ones.
Packing Cubes – To make packing your luggage more efficient, and if you have a different cube for each family member to unpack all you do is take the cube out of your suitcase! if you're arriving late then designate one to hold Pjs and other things you need for the night so you don't have to unpack your case to find it.
Brita Water Filter Jug – To make the water taste better. Pack your socks inside it to save room in your luggage.
Popup Hamper – for dirty laundry.
Collapsible Tupperware Containers – Pop your snacks or sandwiches in to stop them getting squashed.
Body Glide – to prevent chafing.
A Bright Scarf or Bandana – Attach it to your stroller handle so you can find it more easily.
Bag of Toys – Take a trip to the Dollar Store and pick up toys and bubbles to keep your children entertained while waiting for attractions.
Cheap Flip Flops – Put them on before you hit the wet rides and you can leave your sneakers safe on dry land!
Chewing Gum – Especially if you're a smoker.
Crystal Light – because Florida water doesn't taste very nice!
Ear Plugs – If you have sensitive ears (or a sensitive child) they can be helpful for the loud attractions and fireworks.
Drip Free Popsicle Holder – pop the stick from your Mickey Bar through the hole and it catches all the drips.
Odd Socks – Pop your water bottles inside them to keep the water cooler longer, and to stop the condensation getting your bag contents wet!
Plastic Shower Curtain – Grab a cheap one from the Dollar Store. You can sit on it for a wet day parade, or use it as a rain cover for your stroller using clothespins.
Post-it Notes – If you're travelling with a child who is afraid of the flush use them to cover the automatic flushers on the toilets.
Pre-printed Address Labels – for your postcards.
Small Fleece Blanket – You can sit on it while waiting for parades and shows, or use it as a pillow for little ones napping in a stroller.
Two Mini M&M Tubes – One filled with quarters and one filled with pennies, for the pressed penny machines.
Trunki Ride on Suitcase – Fill it full of activities and games to keep the kids entertained on your journey to Disney World.
Now you know what to bring in your luggage be sure to check out our views on the best mom backpack for Disney World and what you should carry in it!