DISCLOSURE: Some of the links below are affiliate links. This means that, at zero cost to you, I will earn an affiliate commission if you click through the link and finalize a purchase. All opinions are my own, and I only recommend products that will add value for my readers.
Inside: Wondering what you need to pack for Disney World? We've got the ultimate Disney vacation packing list including items you cannot forget to pack. Read on to find out how to save money, stay cool and comfortable and have a Magical trip!
The Ultimate Disney Vacation Packing List – AKA What Do I Need to Pack for Disney World?
Wahoo! You're going to Disney World! You're going to have a blast for sure. We've been traveling to Florida almost every year since 2003, and before that as a kid too, and over the years we've learned some secrets and hacks that we've combined into our ultimate Disney World packing list.
This isn't just about remembering to pack shorts and sunscreen. This packing list will help you stay cool, avoid blisters and save money all while having as much fun as possible in the most Magical Place on Earth!
This is the ULTIMATE list, but it doesn't mean that you need to bring EVERYTHING on it! You'll need to take into account whether you're traveling to Disney World in the winter or the summer, with or without kids, and whether you're driving or flying.
Items you'd never think to bring to the theme parks – but you'll be glad you did!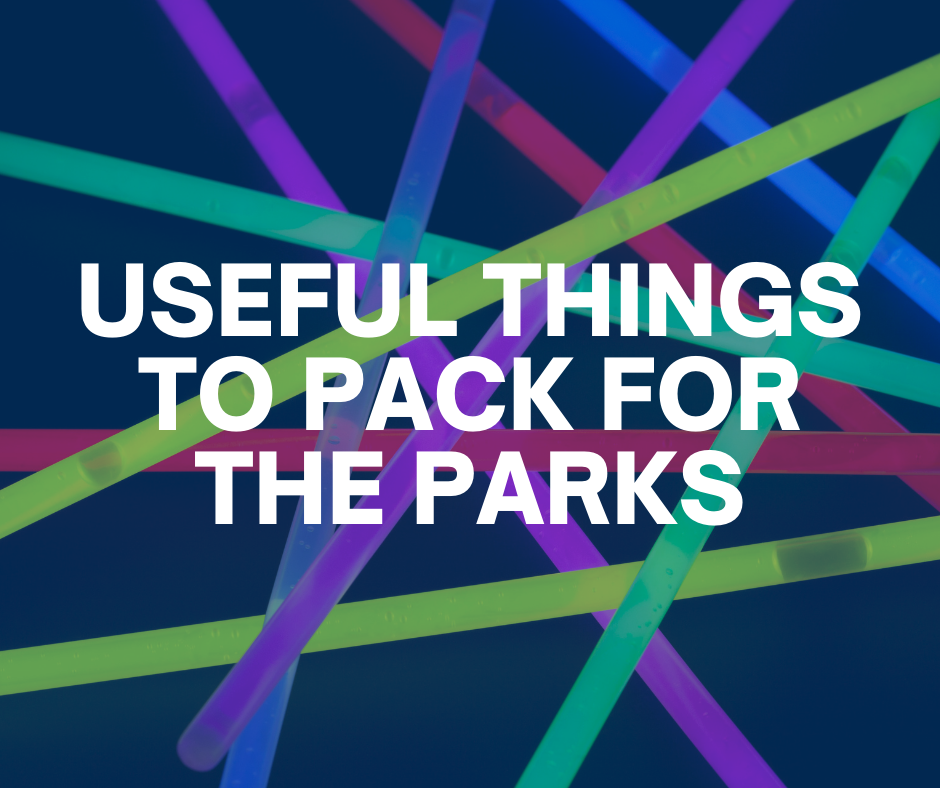 Face Masks – As of June 15, 2021 face masks are no longer a requirement for vaccinated guests, but if you haven't had your vaccination yet or you still wish to wear a face mask be sure to pack enough for your stay.
Dried Snacks – All that walking and waiting in lines sure does make you hungry, so carry dried snacks or trail mix with you to the parks. They're easy to carry in small ziplock bags, and you don't have to worry about anything melting!
Bottled Water – We're not fans of the taste of Florida water, so we prefer to carry bottled water to the parks. If you have a freezer in your room, you can pop a couple of bottles in there each evening and then carry them with you to the parks so you'll have ice-cold water to cool you down when you get thirsty.
Glow Stick Bracelets – You'll be surprised at how many uses you can find for the humble glow stick, making them a must-pack item!
If your child is wary of the dark, they can wear one on dark attractions to feel a bit braver.
If you have a stroller, you can wrap one around the handle to make it easier to spot in the stroller parking area.
You can put one on the toilet cistern in your room, giving off enough of a glow to see in the dark without having to turn the light on!
If you're planning to experience any nighttime parades or fireworks (and you should because they're all MAGICAL) you can entertain your children with glow sticks you've brought rather than paying for the expensive light-up toys they sell at the parks.
Over-the-door shoe pocket holder – if you have a stroller, bring one and hang it over the handlebars at the back. It is PERFECT for carrying water bottles, sunscreen, hats, etc. Be sure not to overload it, though or when your child gets out of the stroller, it could tip backward from the weight!
Shout Wipes in a cute carry pouch – if your kids manage to get covered in ketchup and ice cream as much as mine, you'll want some of these wipes to rescue clothes from stains!
Harness Backpack – if your child does not like holding hands, you're less likely to lose them in a crowd if you hold onto them using one of these cute harnesses.
Bag of Pipe Cleaners – To keep kids entertained while waiting, they can make all kinds of creations with them. Just be careful of sharp ends with little ones.
Around the Neck Fans – to stay cool when you're out and about, you will want this fan that hangs around your neck!
Cooler Backpack – A cooler backpack is the easiest way to carry your snacks and picnic into the parks without anything melting in the heat.
Carabiner Clips – For hanging hats and water bottles from your backpack.
Travel Dish Wipes – For cleaning your refillable mug before switching drinks.
Ponchos – It's likely to rain (heavily) at least once during your trip, and the Disney ponchos are not only expensive, they're all the same, which makes it very easy to lose your kids in the crowd. Bring some with you instead, they're cheaper, and you'll stand out in the crowd!
Brita Water Bottle – They come with a built-in filter so that you can refill at the fountains without the water tasting so bad.
Collapsible Water Bottles – Or try these collapsible ones; once you've finished your water, you can fold them up so they're easier to carry.
Autograph Book – and chubby pen to make signing autographs easier for Mickey and his Pals – if you're feeling crafty check out our collection of DIY Autograph Books.
A Bright Scarf or Bandana – Attach it to your stroller handle so you can find it more easily in the stroller parking area.
Bag of Toys – Take a trip to the Dollar Store and pick up toys and bubbles to entertain your children while waiting for attractions.
Cheap Flip Flops – Your feet will get wet on the wet rides, and walking around in wet shoes will cause blisters. You cannot ride barefoot, so carry some cheap flip-flops in your backpack. You can put them on before you hit the wet rides and leave your sneakers safe in a locker!
Chewing Gum – You cannot buy chewing gum in the Walt Disney World Resort, so if you can't survive without it you'll need to bring your own. Please dispose of it responsibly!
Crystal Light – because Florida water doesn't taste very nice!
Ear Plugs or Defenders – If you have sensitive ears (or a sensitive child), they can be helpful for loud attractions and fireworks.
Disney Bandaids – You never know when your child might get a scrape or a scratch and boo-boos at Disney are easier to soothe with a Disney bandaid right??
Odd Socks – Pop your water bottles inside them to keep the water cooler longer and to stop the condensation from getting your bag contents wet!
Plastic Shower Curtain – Grab a cheap one from the Dollar Store. You can sit on it for a wet day parade or use it as a rain cover for your stroller using clothespins.
Post-it Notes – If you're traveling with a child who is afraid of the flush, you can use them to cover the automatic flushers on the toilets.
Collapsible Tupperware Containers – Pop your snacks or sandwiches in to keep them from getting squashed.
Anti-Chafe Stick – This stuff will become your best friend at the parks because you will start to sweat in the humidity, which can lead to some…… uncomfortable chafing!
Small Fleece Blanket – You can sit on it while waiting for parades and shows or use it as a pillow for little ones napping in a stroller.
Portable Battery Pack – I stopped taking a digital SLR camera to Disney World years ago and prefer taking photos with my iPhone. But your battery can run down pretty quickly between photographs, the My Disney Experience app, and the odd YouTube video to pass the time in lines. We carry a portable battery pack to keep our phones charged during the day.
Disney Pins for Trading – Pin trading is fun; your child will come home with many fun souvenirs. They're expensive to buy in the parks, so bring some to get started.
Items to pack for your hotel room to make your life easier!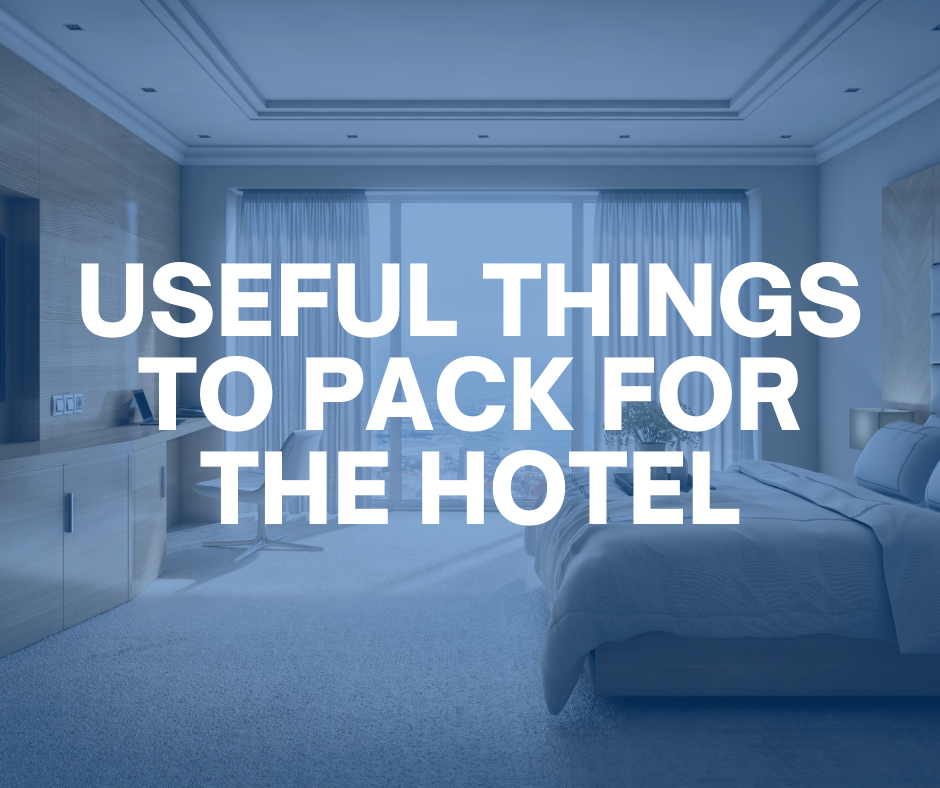 Packing Cubes – We switched to packing cubes a few years ago and have never looked back. I LOVE them. They make packing your luggage more efficient, and if you have a different cube for each family member to unpack, you only take the cube out of your suitcase!
If you're arriving late in the evening, designate one cube to hold Pjs and other things you need for the night and the clothes you want to wear on the first day, and then you don't have to worry about unpacking your case to find what you need.
Downy Wrinkle Releaser – No matter how carefully you pack your clothes, some will have that lovely crumpled vibe when you unpack them in Orlando. This stuff is magic because it gives your crumpled-in-the-suitcase clothes the freshly ironed look!
Hanging Collapsible Shelf – Our one complaint about the Disney World Resort rooms is insufficient storage for clothes. If you're traveling for more than a few days, bring one of these shelving units to maximize your space!
Over-the-door shoe pocket holder – While we're talking about storage, these shoe holders are great for storing toiletries, undies, and shoes.
Electronics Bag – To keep your charging cables, memory cards, and other essentials together.
Battery-Powered Night Light– Pop it in the bathroom to find your way in the middle of the night.
Soap Bag – Pop your bar of hotel soap in it and hang it in the shower.
Folding Potty Seat – For little ones who aren't very confident.
Ziplock Bags in various sizes – For storing snacks, phones and cameras when it rains, autograph books, wet clothes, swimsuits etc.
Popup Hamper – these lightweight hampers fold flat and are perfect for filling with dirty laundry so it doesn't take over your room. If you're planning to do laundry, you can take it with you to the laundrette, and if not, you can upend it back into your case when it's time to pack.
Fold-Up Duffle Bag – If you travel by car or plane and have enough baggage allowance, consider bringing a duffle bag instead of a pop-up hamper. Bring the bag empty and use it as a laundry hamper during your stay. When it's time to go home, you need to zip it up, and your clothes are packed. Then you can fill your suitcase with the souvenirs you bought!
Brita Water Filter Jug – To make the water taste better. Pack your socks inside it to save room in your luggage.
Pre-printed Address Labels – for your postcards.
Now you know what to bring in your luggage it's time to check out our views on the best mom backpack for Disney World and what you should carry in it!
General Disney World Packing Tips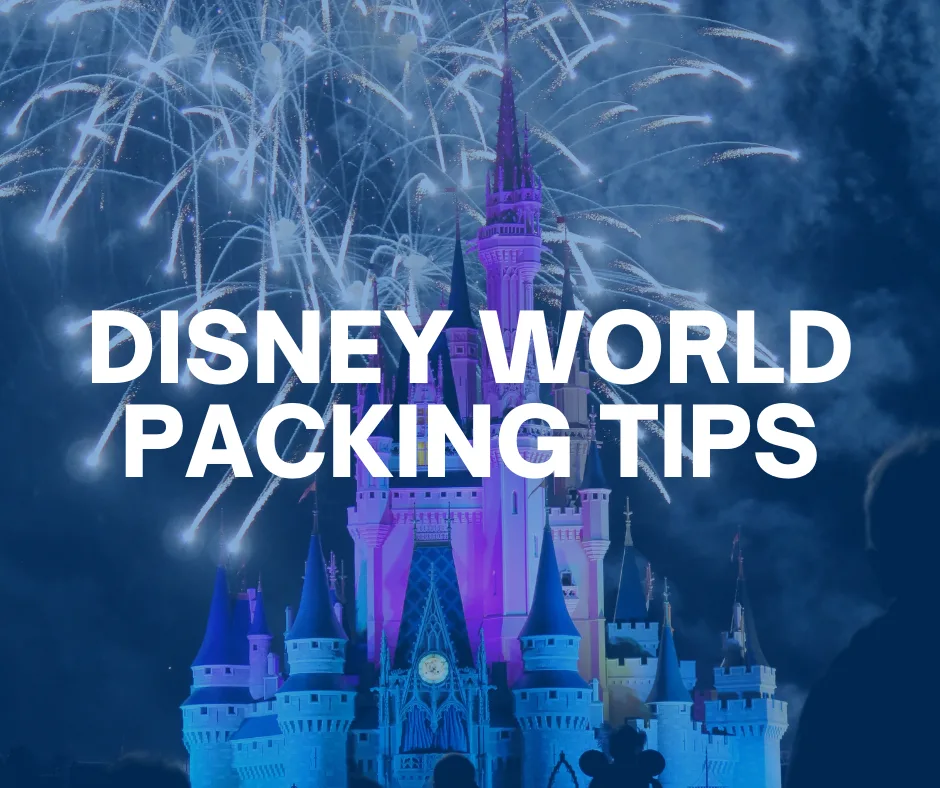 Here are a few tips to help you decide what you need to pack for your Disney World vacation.
What's the weather like in Orlando?
The weather in Orlando changes throughout the year. It gets very hot and humid in the summer, and you can experience frequent and very heavy rainstorms.
By contrast, it can get chilly in winter, especially at night.
It can also be unpredictable; we traveled during early December one year and started the trip wearing jeans and sweatshirts, with scarves and wooly hats in the evening, and ended the trip wearing shorts and T-shirts with the temps in the high 80s!
How long is your Disney vacation?
If you're visiting for a couple of days, your packing list will look very different from the one you would need for a 10-14 day stay.
When it comes to clothes, you will likely appreciate having more than one outfit per day, especially when the weather is hot and humid.
Make sure you find out whether your hotel or condo has a washer/dryer available because if you can do laundry during your stay, you won't need to pack so many clothes.
How are you traveling to Disney World?
If you are driving to Orlando, you can bring many things with you, including non-perishable groceries and crates of bottled water.
If you're flying, you'll be limited by your baggage allowance, especially if you're traveling carry-on only, so take this into account.
The best clothes to pack for Disney
The only dress code you'll find at Disney is that you must always wear a shirt and shoes. You don't need to get dressed up for dinner unless you want to.
When deciding what clothes to pack for your Disney vacation, you will want to be cool and comfortable. Shorts and T-shirts are your best bet, maybe dresses if you prefer those. Pick out clothes made of cotton rather than polyester, as that can make you sweat even more.
Even during the hottest months of the year, it can be chilly in the air conditioning, so bring a light cardigan or sweater with you too.
The best footwear to wear to Disney World
The Walt Disney World Resort is HUGE, and so are the theme parks. You will spend hours and hours on your feet each day and walk MILES!
So when choosing footwear for your trip you want to consider comfort over style.
This is the one place in the world where my hubby will trade his sneakers for a pair of Crocs!
Try not to buy new shoes specifically for your trip; if you have to, make sure you walk a few miles in them first to break them in ahead of time. You do not want blisters ruining your vacation!
Flip flops and sliders are probably best saved for the water parks; instead, think Crocs or sneakers for comfort.
Can kids wear costumes in the Disney World theme parks?
If you're traveling with children, consider bringing some Disney costumes. Nothing is quite as magical as meeting your favorite Disney princess while you both wear the same dress, right?
You will need to consider the weather because costumes can be hot and scratchy. You can either carry a change of clothes for when they start to feel uncomfortable or if you're handy with a sewing machine, check out our collection of DIY Disney Costumes, which are much more comfortable to wear.
To be clear, only children aged 13 and under are allowed to wear costumes in the Disney World theme parks unless you're attending Mickey's Not So Scary Halloween Party, where the whole family is welcome to get dressed up.
Check out our trending collection of matching Halloween costumes inspired by your favorite Disney movies!
Wear cute matching Disney shirts on vacation
Disney World is probably the only place on earth where anyone in your family will be happy to show up in matching shirts so you'll want to make the most of it!
It's easier to keep track of your kiddos when you're all wearing the same shirt, but families in matching shirts can also get an extra sprinkle of magic dust from cast members and characters.
We have an ultimate list of matching Disney family shirts to help you find ones your family will enjoy wearing!
Can you bring a stroller to Disney World?
If your kiddos are stroller-age, consider traveling with yours because the strollers you can rent in the parks are expensive and uncomfortable.
Another option is to rent from a firm like Kingdom Strollers or Magic Strollers. They rent Baby Joggers for a very reasonable price, meaning you can access a stroller all day.
If you have children who have outgrown their stroller, you might want to consider renting a Summit X3 to ride in. You will cover many miles in the theme parks, and it's tough for littles who don't usually walk that far.
We rented strollers for our 7-year-old twins, and because we could cover more ground more quickly, we could also experience more attractions during the day. And since they weren't tired from walking, they were much happier too.
Don't be tempted to bring those wagon-style strollers because they have recently been banned from the parks. Disney now has a "width limit" on strollers to double-check to ensure yours is no wider than 31" and no longer than 52" before you bring it.
Do I need a car seat on vacation?
If you're flying into Orlando and renting a car and your child is still in a car seat, think seriously about bringing it with you.
Sure, you can rent car seats from your car rental company, but they're expensive, and who knows how safe they are? When traveling on unfamiliar roads, I want to ensure my kids are traveling in a car seat I know is safe.
Airlines usually let you check car seats in for free, and we use a travel bag like this one to keep ours clean and safe in the hold. Oh, and those bags are pretty roomy so you can easily fit a blanket or extra clothes in there if you're short on space in your luggage… just saying!
If your car seat is big and bulky, you can think about buying a lighter one for travel, which is what we've done in the past.