DISCLOSURE: Some of the links below are affiliate links. This means that, at zero cost to you, I will earn an affiliate commission if you click through the link and finalize a purchase. All opinions are my own, and I only recommend products that will add value for my readers.
Make your home as festive as possible with these merry and bright Christmas decorations that you can make yourself!
DIY Christmas Decor Ideas
I have a confession to make, at Christmas the only decorations we have are on our tree. I know. Boring right? Well this year I think it's time to festive things up a bit and ho ho ho did I find some totally fabulous DIY Christmas decor ideas, that look like they were expensive to buy, but are totally easy to make!
Everything from ornament pillows that are just made for snuggling, the most amazing tree skirt, oh and adorable little snowmen made from old sweaters!
As always be sure to scroll all the way to the end so you don't miss any of the great ideas. And don't forget to pin your favourites as you go!
Related Posts:
DIY Ornament Pillows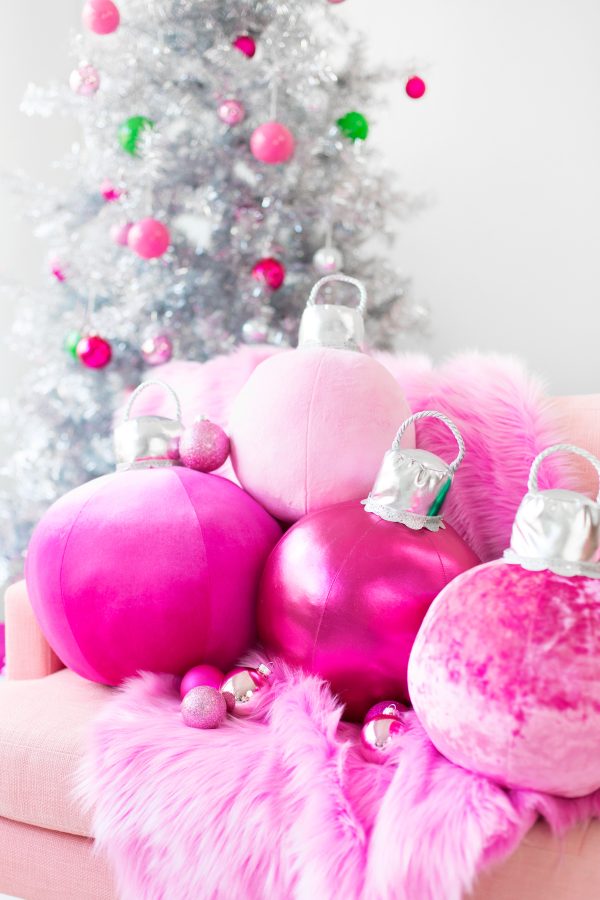 Oh my goodness how gorgeous are these ornament pillows?? They look like something you'd spend a lot of money on at the store, so no one will believe you made them yourself! You don't need to be a sewing wizz either, although you will need access to a sewing machine and a glue gun. The project takes 2-3 hours so it's perfect for a Sunday afternoon! (via Studio DIY)
DIY Ruffled Tree Skirt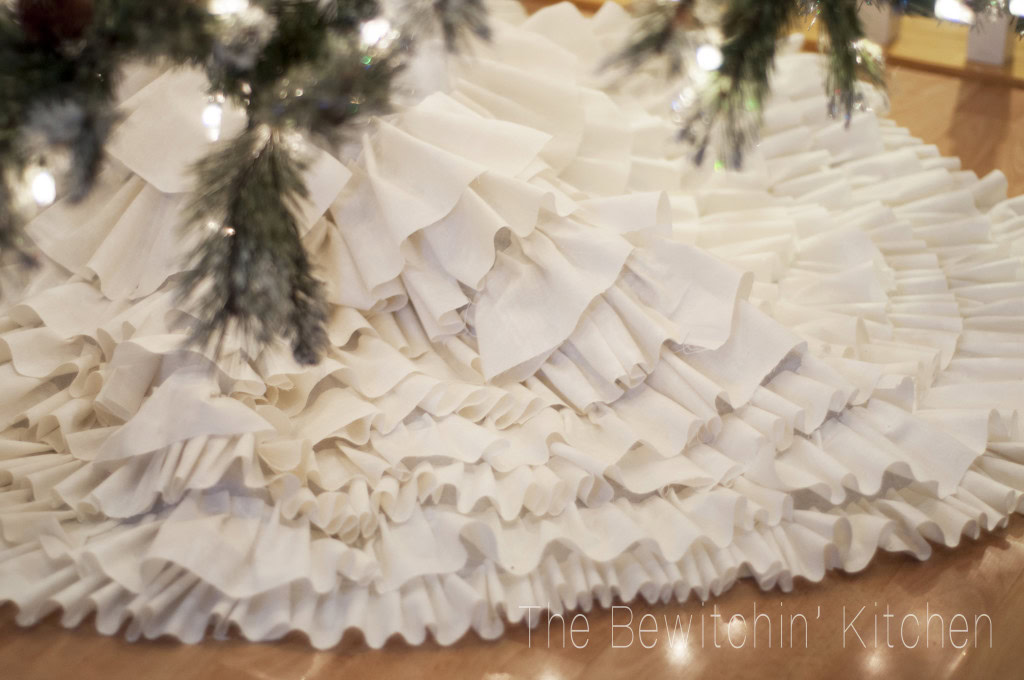 If you need a new skirt for your tree this year take a look at this amazing ruffled one! This is a no-sew project but you will need a glue gun as well as some time and patience since it took Randa about six hours to put it together. It looks fabulous though and works out a lot less cheaper than buying something similar from the store. (via The Bewitchin' Kitchen!)
DIY Snow Globe Necklace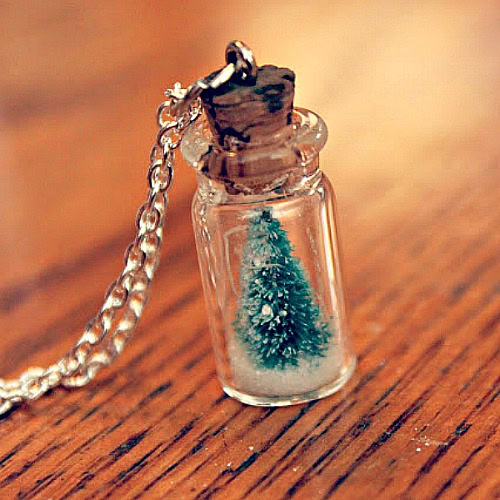 How about a Christmas decoration that you can wear around your neck, or hang from your tree, or gift as a stocking stuffer? This miniature snow globe necklace is adorable and super easy to make as long as you have some wire cutters and a hot glue gun! (via The 36th Avenue)
How to Make Giant Balloon Christmas Lights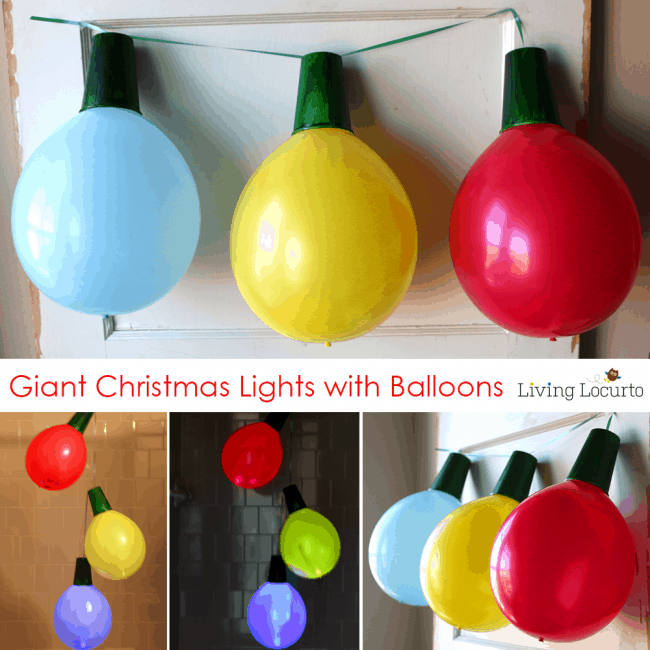 if you're throwing a kid's Christmas party you need to make some of these giant lights! They're crazy easy to make and you don't need any special tools or equipment! (via Living Locurto)
"Let it Snow" Christmas Wreath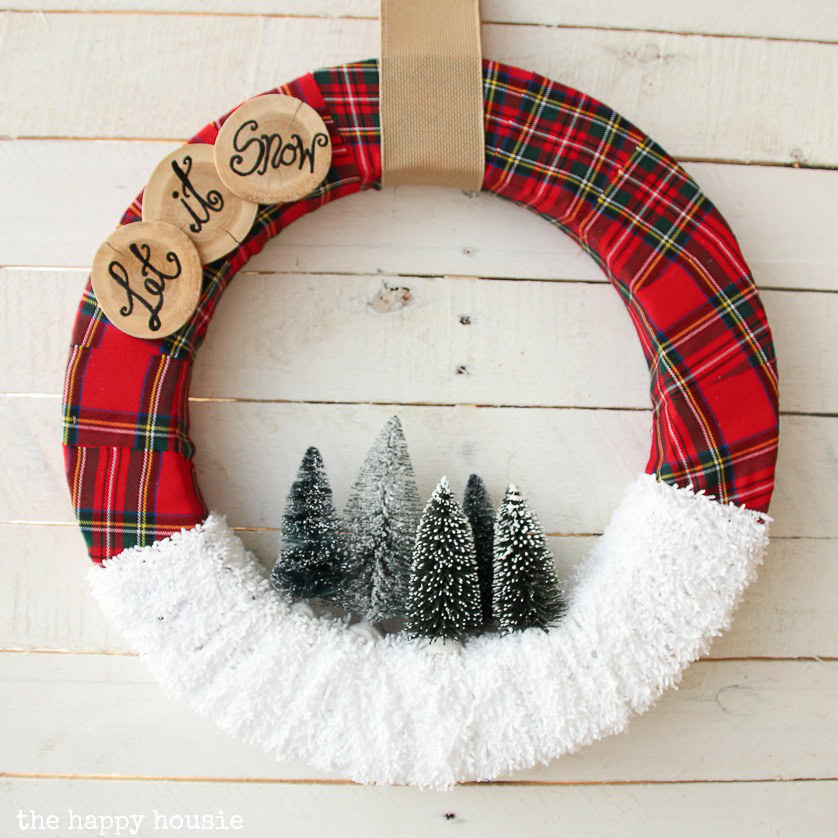 If you dream of a white Christmas this simple wreath is the perfect DIY project for you! I love the plaid fabric and those little wooden slices! And of course those snowy Christmas tree! What a wonderful way to welcome your guests for the Holidays! (via The Happy Housie)
DIY Custom Vintage Christmas Lights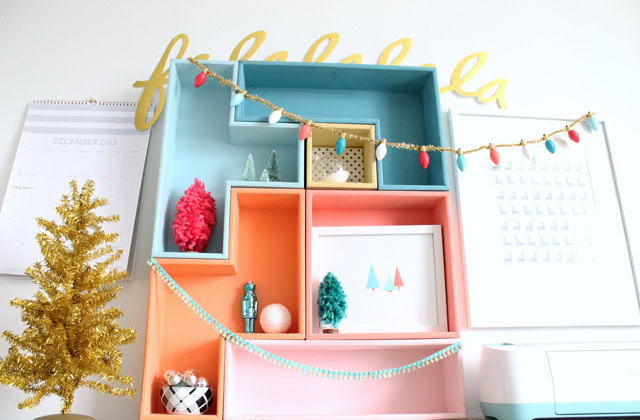 I love the look of these "vintage" Christmas lights – and that you can choose any colours you like to match your Christmas decor! Of course they don't actually light up but they're so brightly coloured anyway that doesn't matter! (via Sister's Suitcase)
DIY Wood Clock Christmas Advent Calendar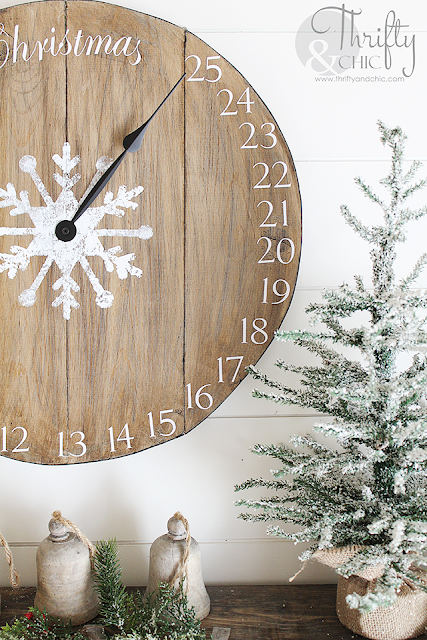 Here's a super unique idea for an advent calendar, I've never seen anything like it before! You'll need a jigsaw to make the circle but other than that no special tools or equipment required! (via Thrifty & Chic)
How to Make Christmas Light Balls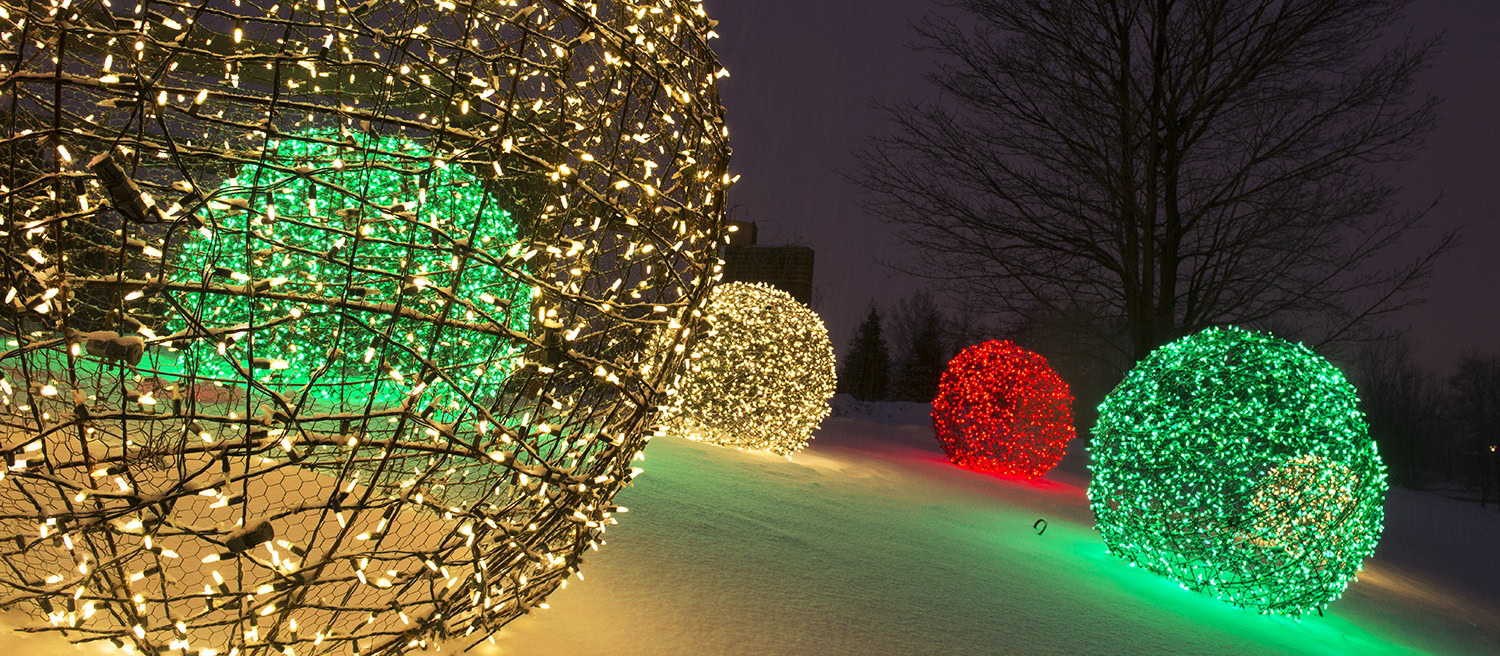 How amazing do these huge light balls look? I thought they'd be really tricky to make but nope, you just need some chicken wire, wire cutters and some LED mini lights and quite a bit of patience. But totally worth the effort don't you think? (via Christmas Lights Etc)
Mini House Wreath Tutorial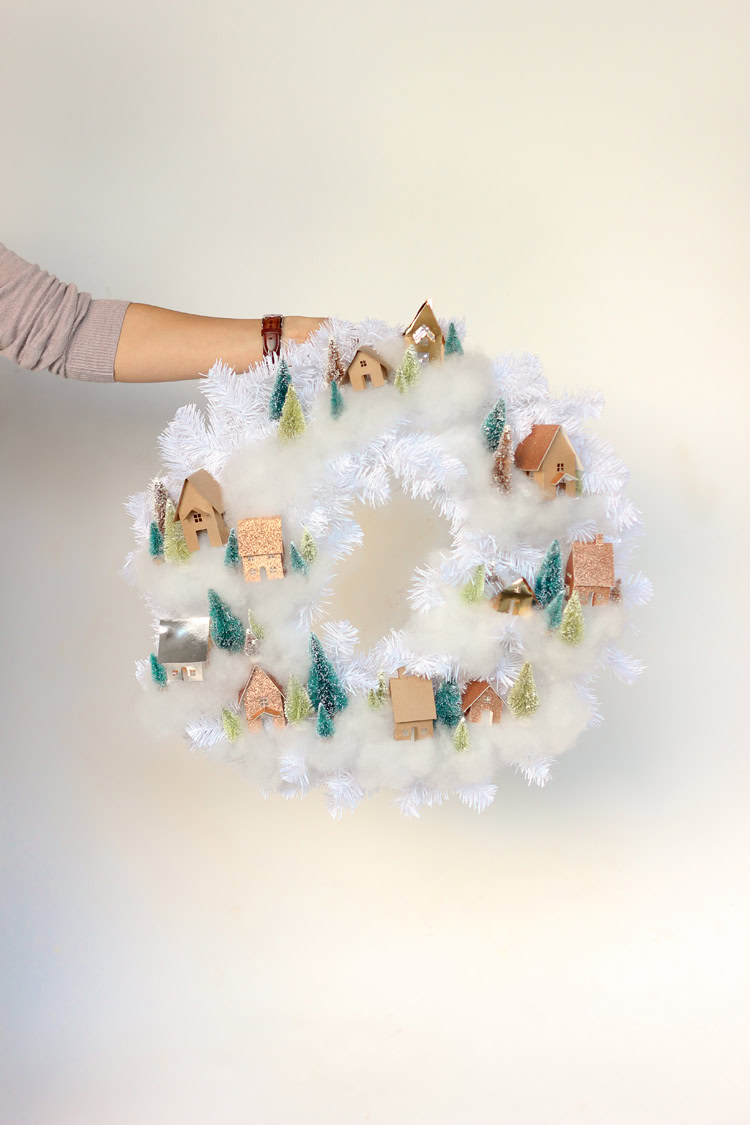 I am totally in love with this wreath, it's so snowy and those mini houses give it an almost magical vibe! Other than your trusty glue gun you don't need any special equipment to make these, and Delia has all the templates you need to cut out those houses from cardstock. I'd be tempted to add a string of battery operated LED lights to make it twinkle after dark! (via Delia Creates)
Make a Jingle Bell Tree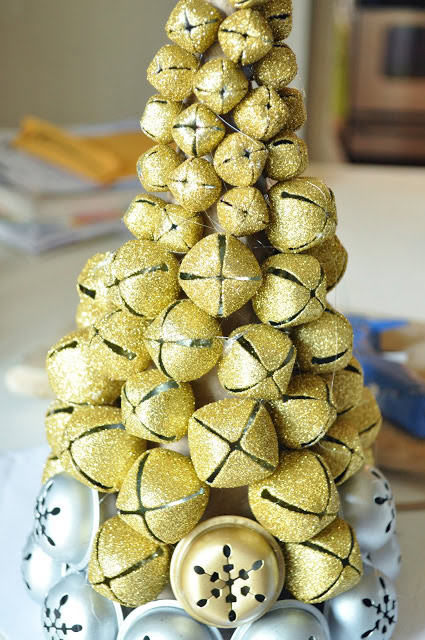 Next time you see giant jingle bells on offer (or at the Dollar Tree) snap up a few packets so you can make one of these fabulous cone trees! It doesn't matter what colour they are because you can spray paint them to be whatever colour you want to match your decor. (via Jennifer Rizzo)
DIY Sweater Snowmen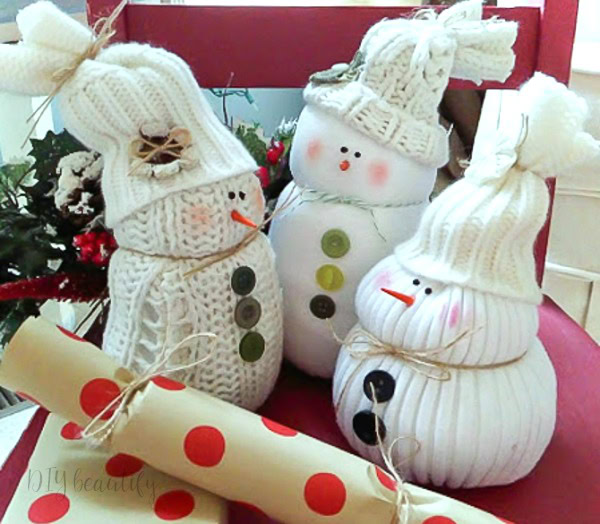 Oh isn't he just the most adorable little snowman you've ever seen! He'd look cute on your mantel, or would make a great gift for a little one. No special tools needed other than your glue gun, but you will need some old sweater sleeves so raid your closet or head out to goodwill to see what you can find! (via DIY Beautify)
Minimalist Christmas Tree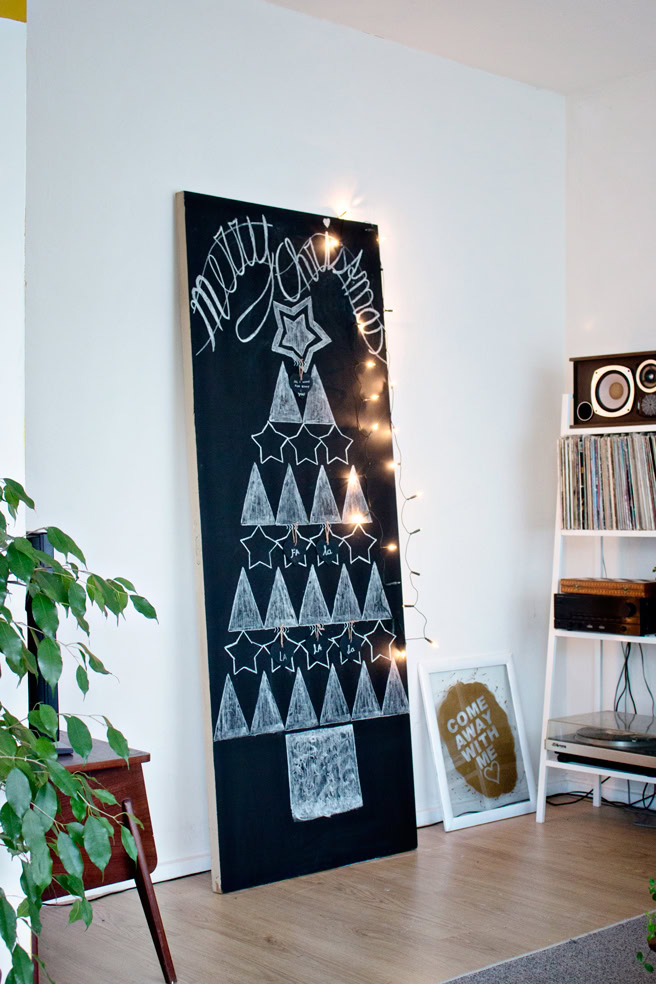 If you don't have room for a Christmas tree why not have a go at drawing one like this? If you planned it out you might even be able to get 24 stars on there and use it as an advent calendar too! (via Lana Red Studio)
Make a Sugar String Snowman Holiday Decoration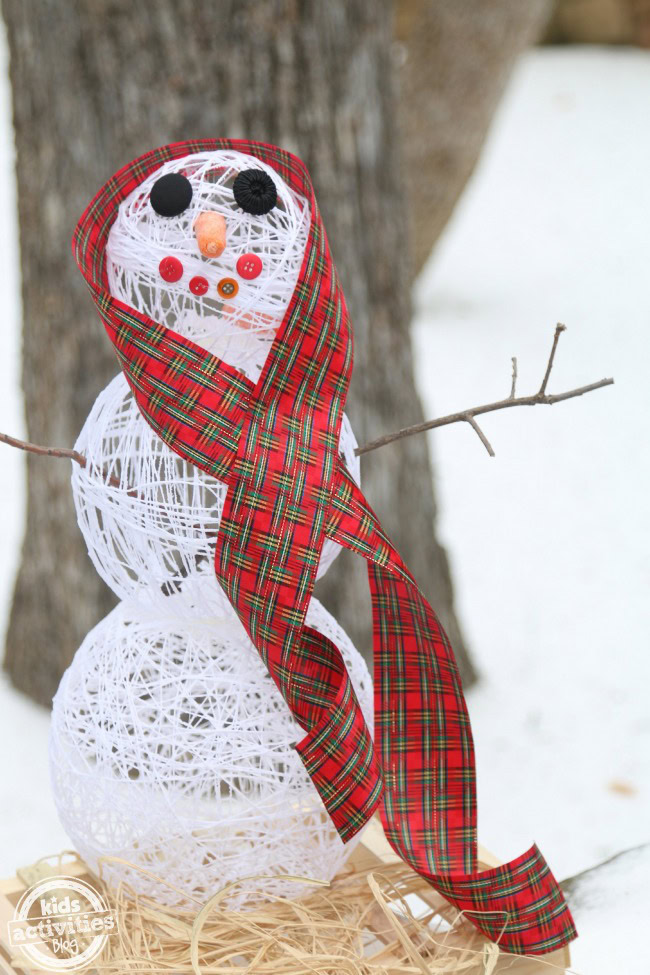 Here's another fabulous snowman that won't melt when the sun comes out! He's made from sugar water and is a really fun project to do with the kiddos! (via Kids Activities)
Do you Want to Build a Snowman?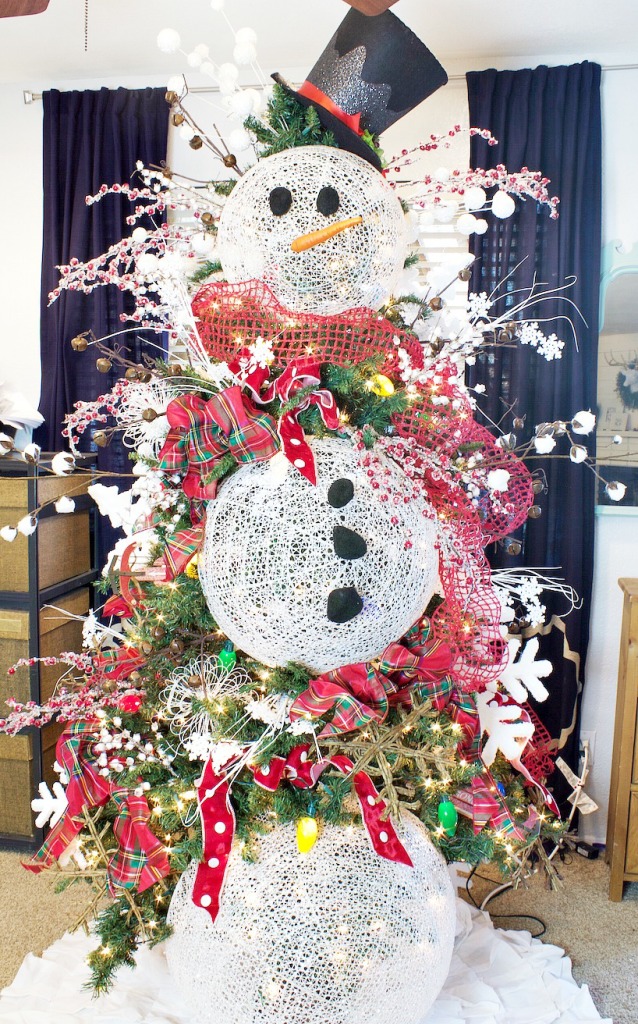 Oh my goodness I have never seen a Christmas tree decoration like this in all my life – it's a huge snowman ornament that sort of morphs into the tree! No tools required for this one, just decorate the tree with the different elements to create the snowman! (via Classy Clutter)
Related Posts: