This post may contain affiliate links, which means I may receive a commission if you click on a link and purchase something. As an Etsy and Zazzle Affiliate I earn commissions from qualifying purchases.
Inside: Wondering "what can I crochet for Christmas?" We have more than 100 festive crochet Christmas ornaments and decor patterns to share with you today!
Crochet Christmas Ornament Patterns
Before my children came along I collected Disney glass ornaments, and each year I loved decorating the Christmas tree with them.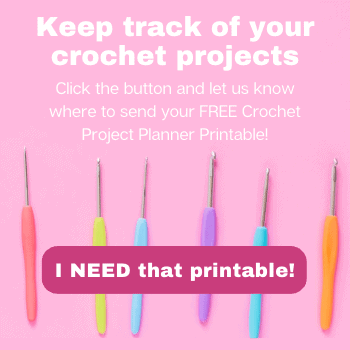 One year, when my kiddos were small, I heard a huge crash and ran into the family room to find our 6-foot tree lying on the floor next to a very startled-looking boy.
As he was trying to get a closer look at my beloved ornaments he'd inadvertently pulled the tree over… and after it crashed to the floor I was left with half a dozen headless Disney characters.
As I wrapped up the ones that had survived and put them away for a future Christmas I started wondering where I could buy child-proof decorations for the tree.
Then it dawned on me that crochet Christmas decorations were just what we needed!
And oh my… there are so many ADORABLE Christmas ornament patterns out there!
Crochet Christmas tree ornaments and decorations are THE BEST because they're:
Relaxing to make

Perfect for beginners

Fabulous stash busters

And your toddler (or cat) can't break them!
Because they're so small they hook up in no time so they make the perfect project for a wet and windy weekend (or any kind of weather weekend really!)
And when you've crocheted enough for your own tree why not whip up some more to give as homemade Christmas gifts?
They are sure to make your loved ones smile as they hang them on their own tree for years to come!
How do you crochet a ball ornament?
Have you ever wondered how to crochet a ball ornament or bauble?
They're not as tricky as you might first think, and they're also a great way to upcycle baubles that no longer match your color scheme.
Watch the video tutorial below to see how easy it is. And then check out all of the cute crochet ornament patterns I found to see how many variations there are for a simple ball ornament!
Each picture has a number on it and you can see the list of links underneath.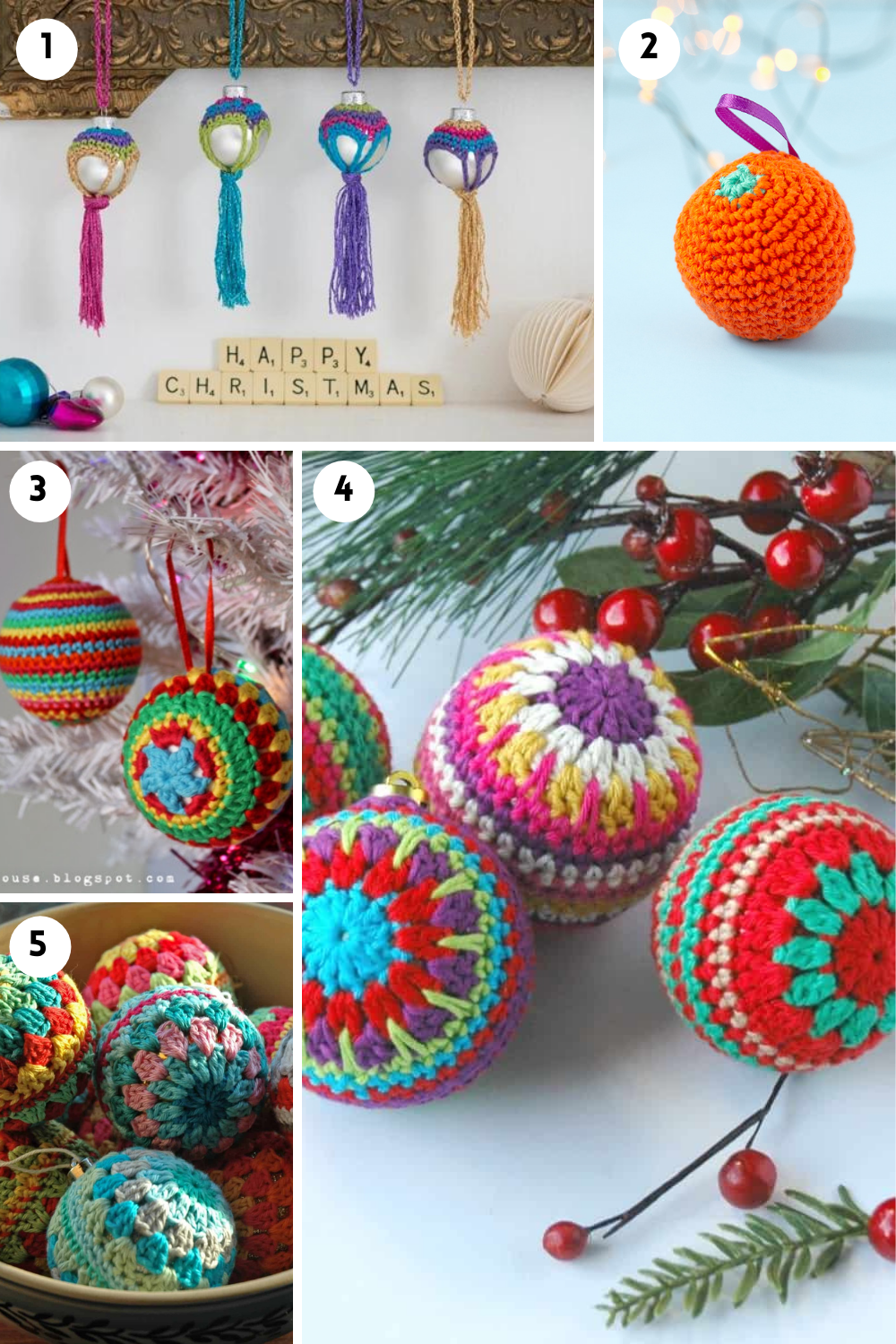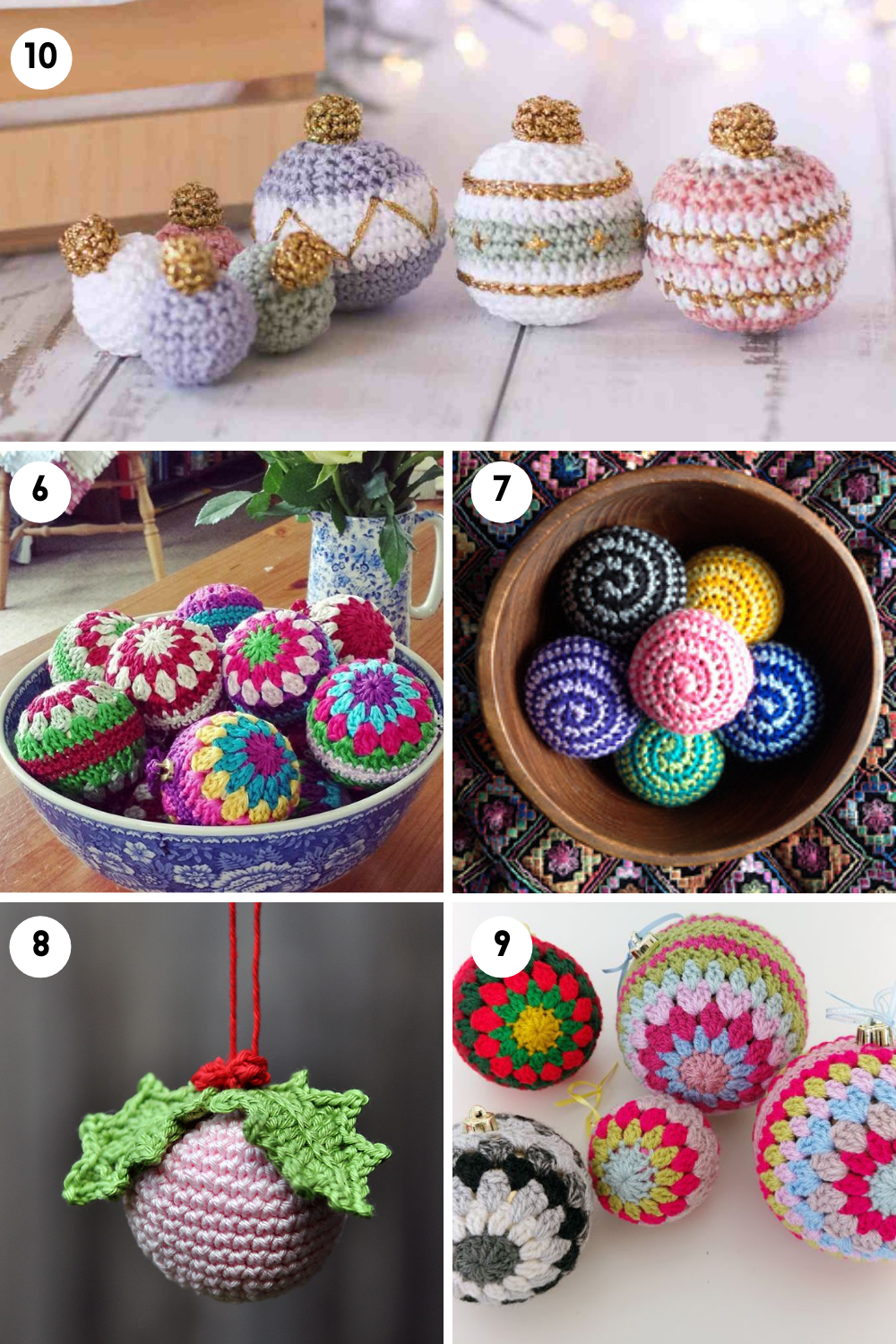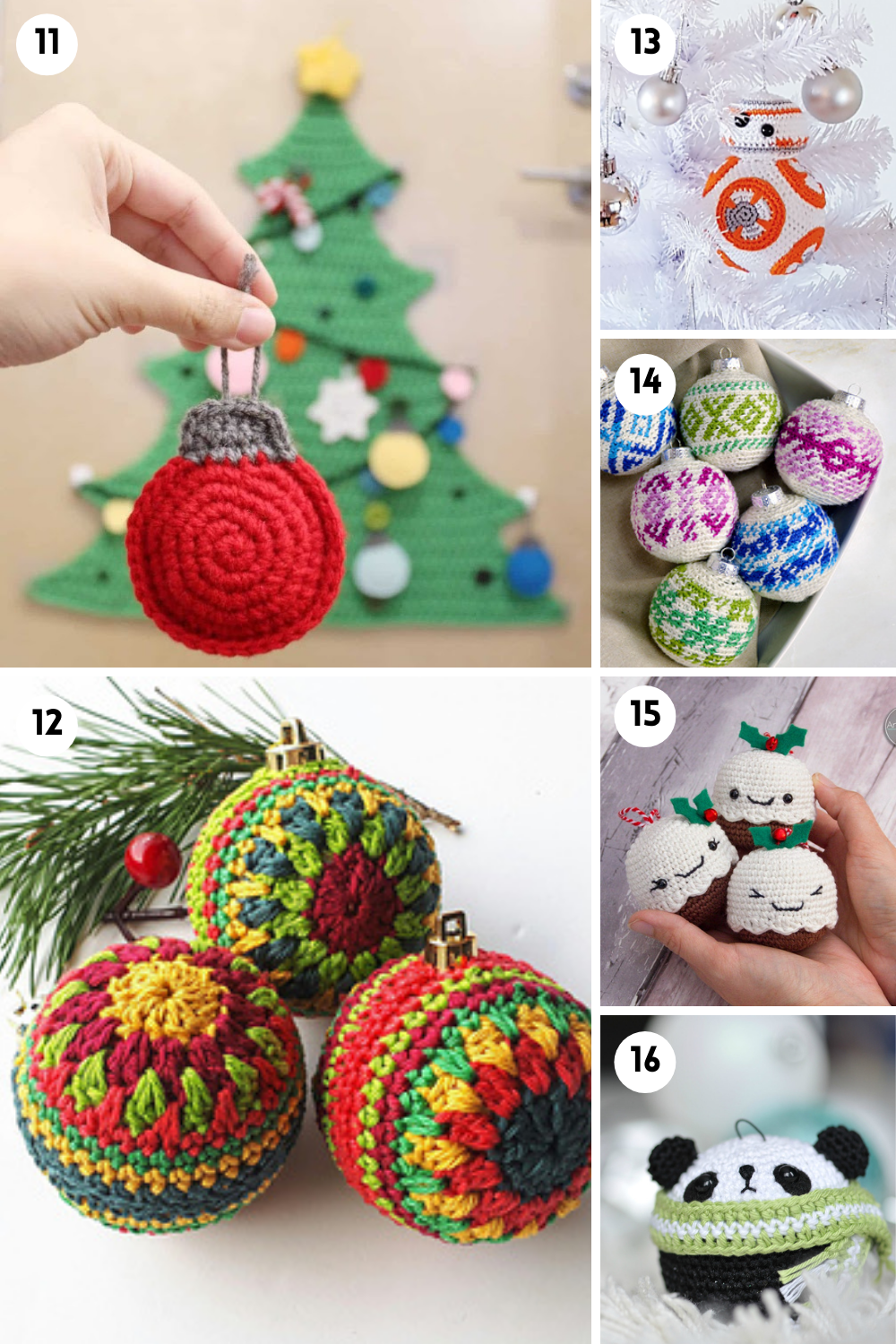 Adorable Christmas elf patterns you can crochet
If you've never had an elf come and visit with your family for the holiday season this year is a very good year to start that tradition.
If like me you find "that elf" that you buy from the store a little creepy looking you can make one of these instead!
These crochet elves come in all sizes so you can hook some up for your tree, or to sit on your mantle, or for the kiddos to play with!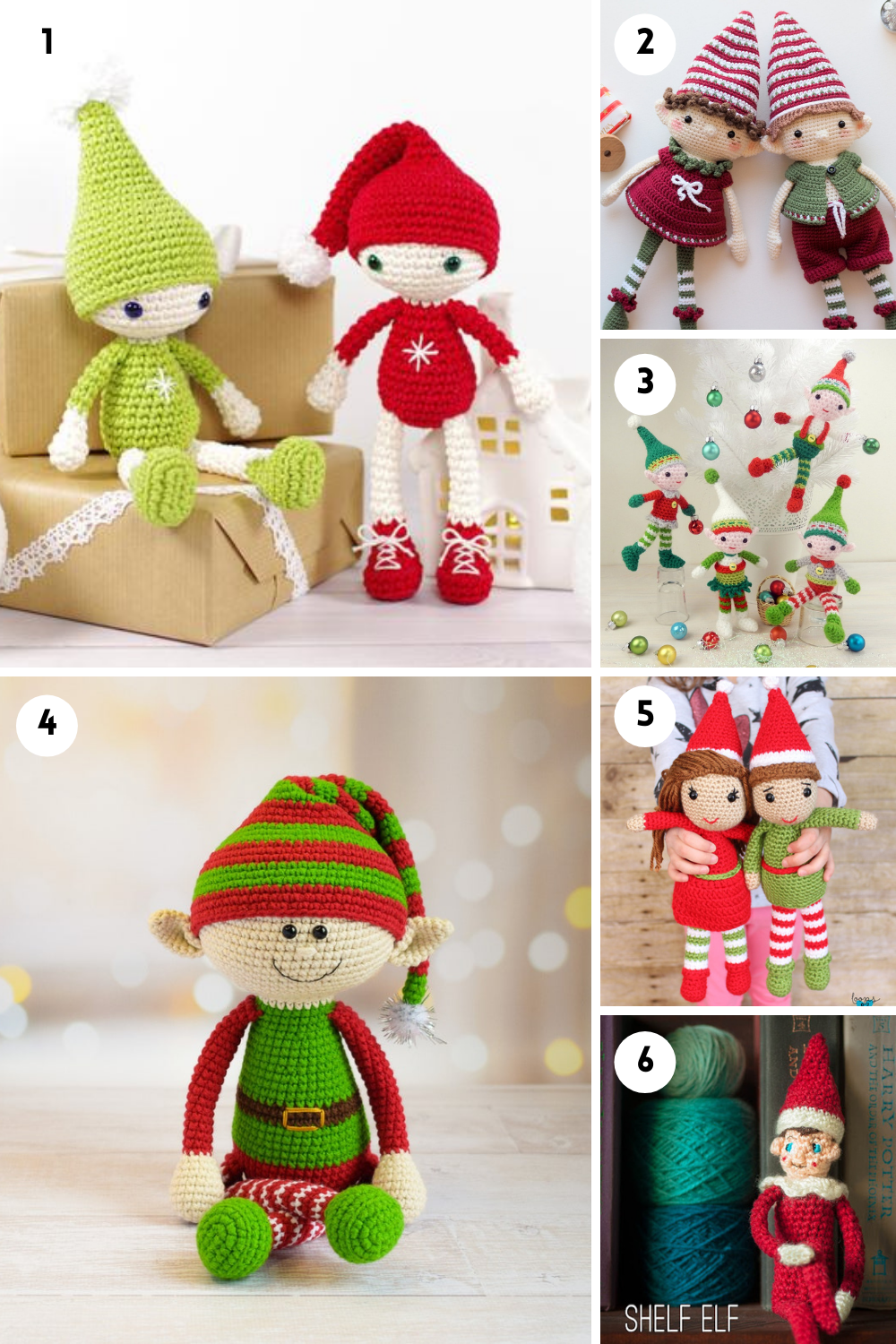 How to crochet a Christmas angel
Here are some lovely angels you can crochet for your Christmas tree.
You can hang them from a branch or use them as a tree topper.
I found so many wonderful angel crochet patterns that I made another collection for them that you can see here.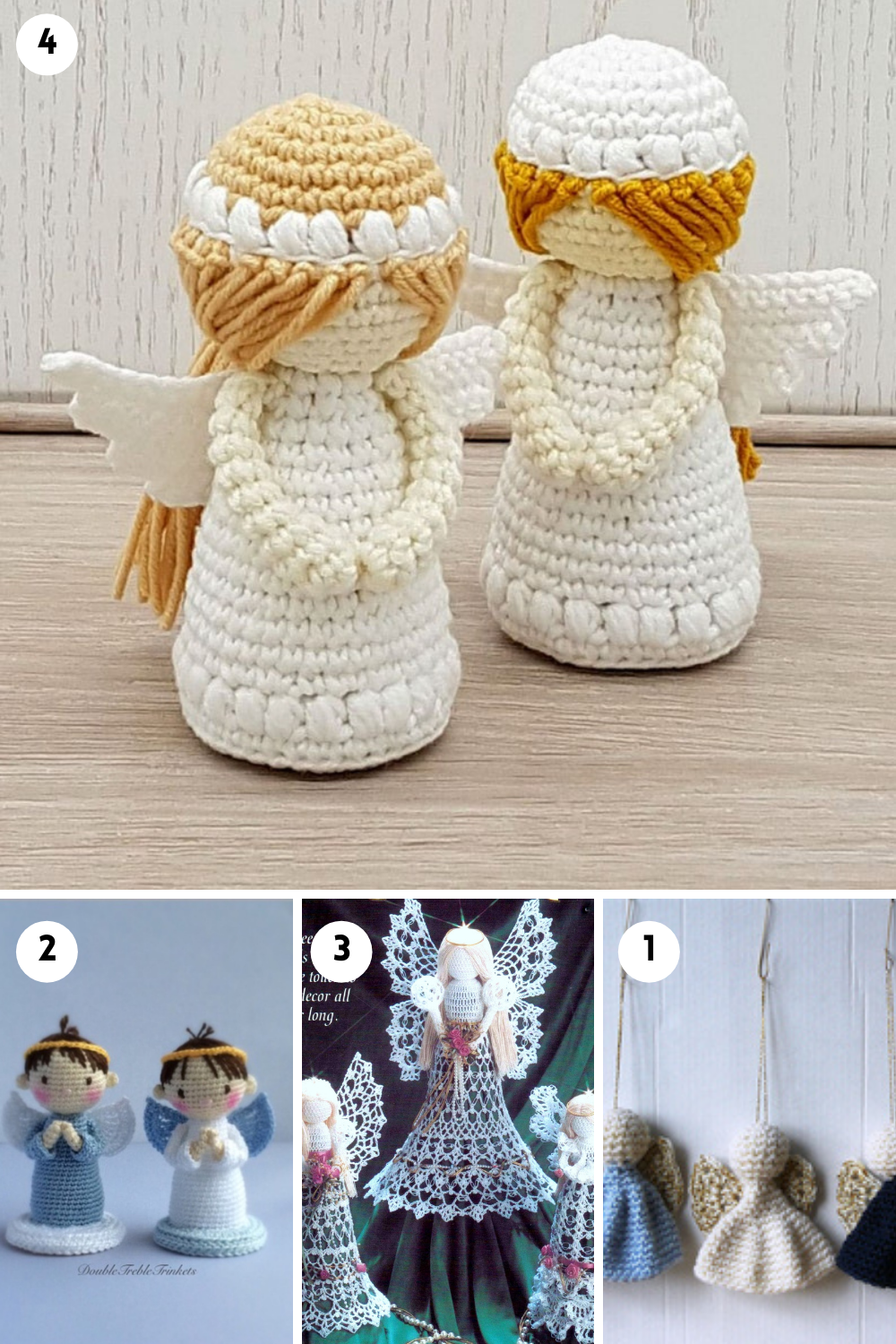 These crochet snow globes are adorable
I love snowglobes so when I saw these patterns I knew they'd be perfect for hanging on the tree and sitting on the mantelpiece.
Number 3 will make a great gift for grandparents with a cute picture of your kiddos inside!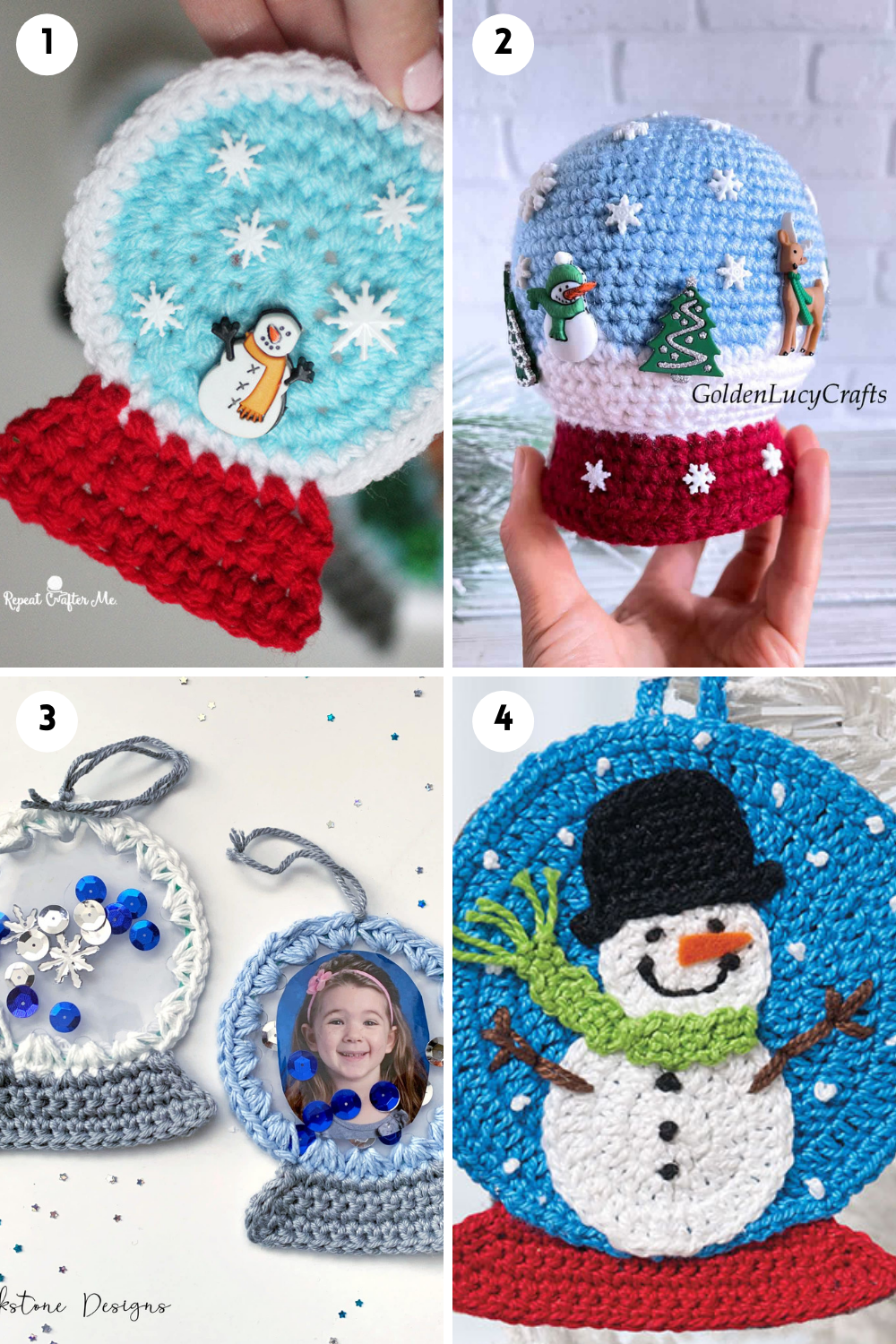 Pretty crochet snowflakes you'll want to hang on your tree
Snowflakes make classic tree ornaments and they hook up really quickly.
If it doesn't snow very often where you live you could scatter them on the floor for the kids to play with!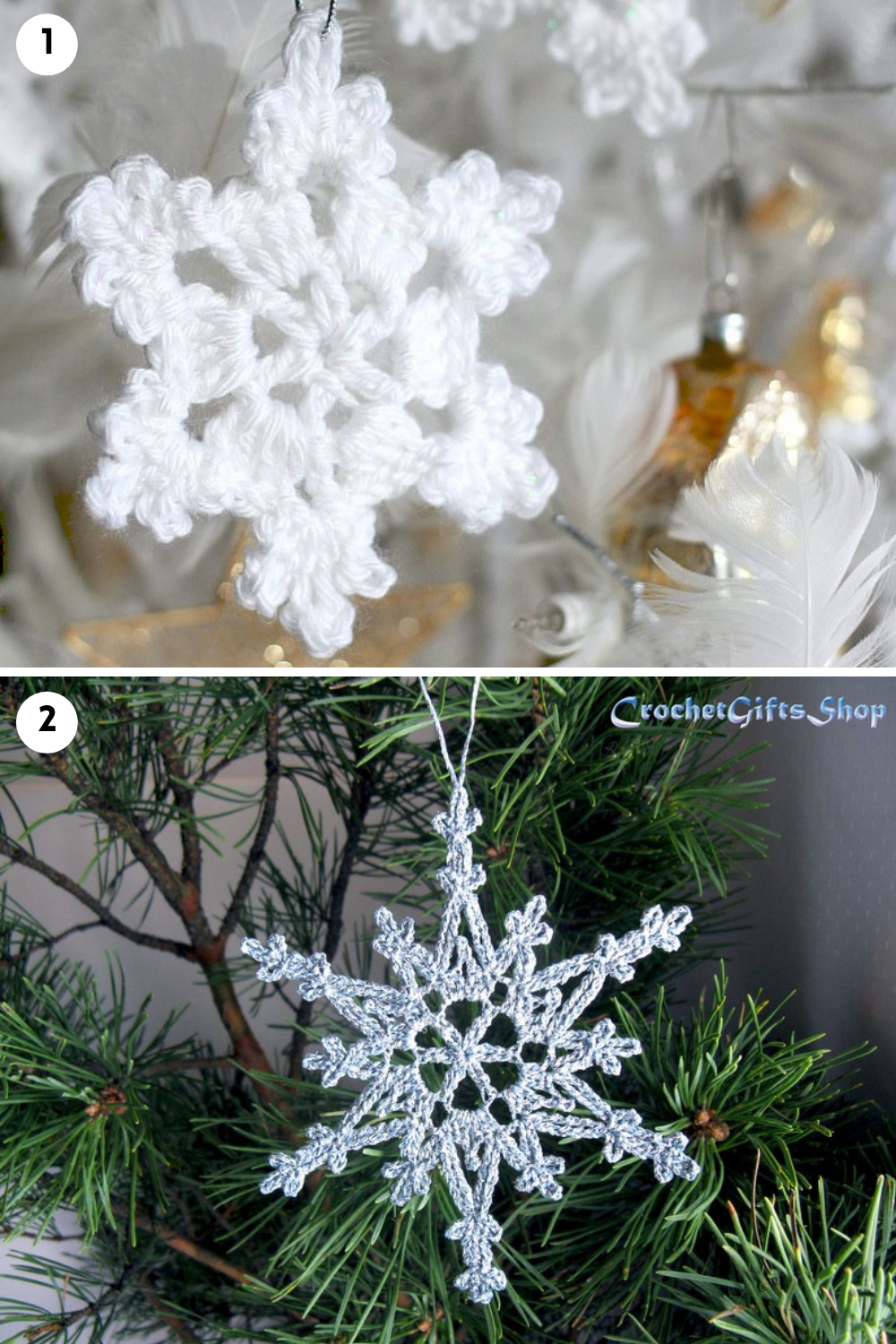 Pretty snowflake ornaments from Grateful Prayer Thankful Heart
Hanging snowflake crochet pattern from Etsy
How do you crochet a Christmas snowman?
Do you want to crochet a snowman ornament?
Here are some super cute little fellows (complete with a scarf) that won't melt and can be a part of your Christmas for years to come!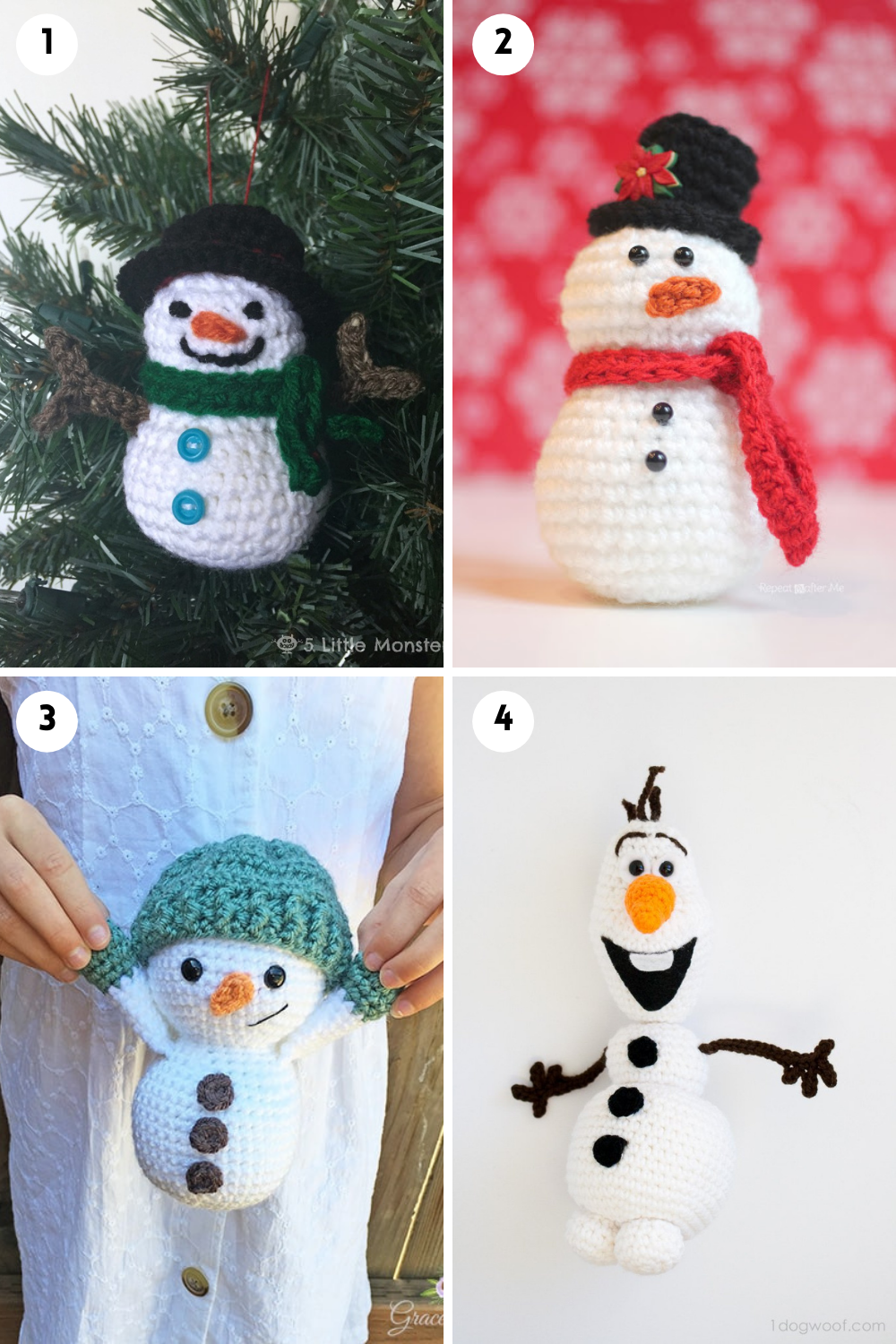 How do you crochet a Santa ornament?
These Santa ornaments (complete with santa hat) are perfect for hanging on your Christmas tree and I've included some larger crochet dolls that you can use to decorate your mantle or give to the kids to play with.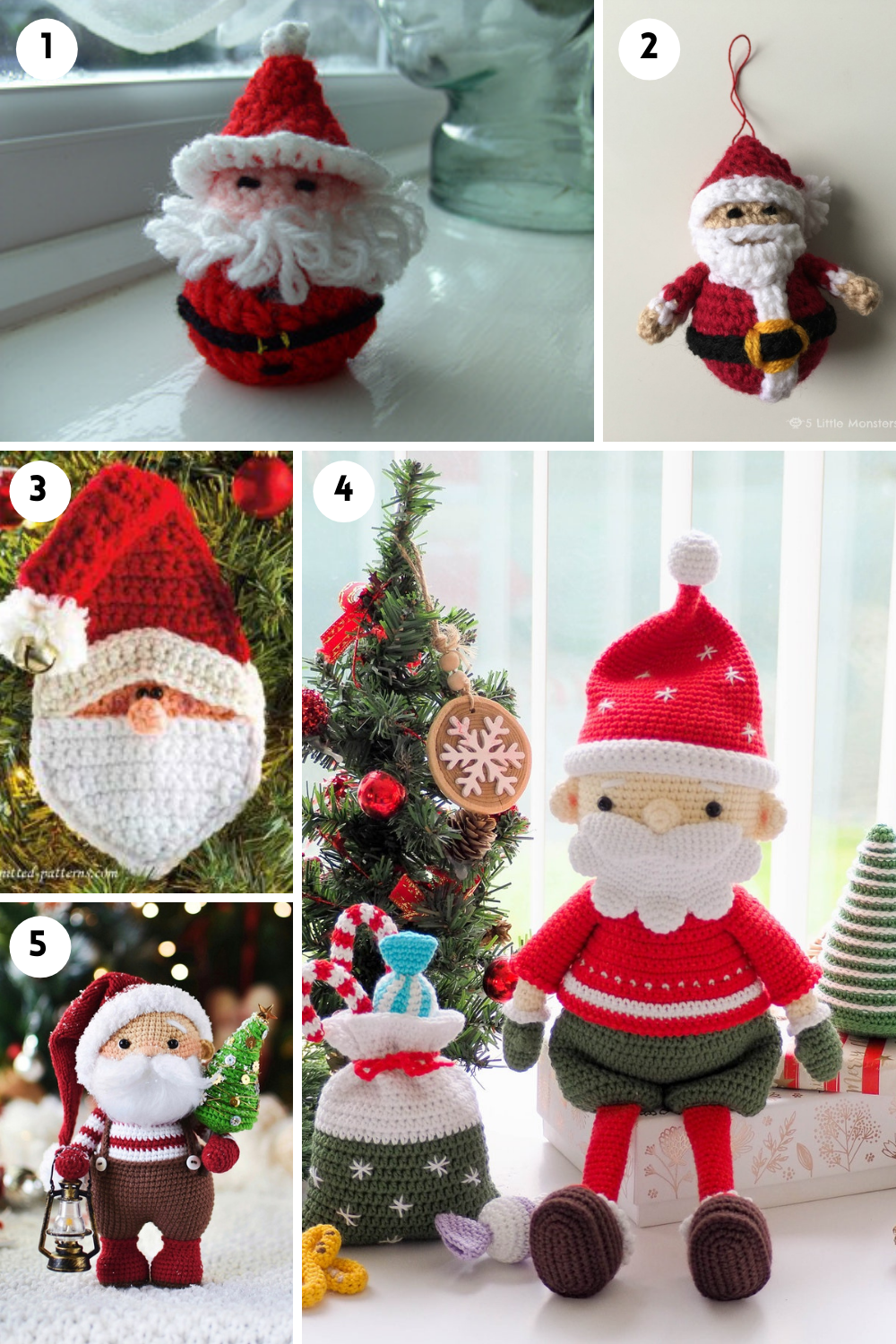 Adorable Christmas wreaths you can crochet this year
Fresh wreaths are lovely, until they start to wilt, so this year why not crochet a wreath that will last a lifetime with one of these easy-to-follow crochet patterns.
The elf legs wreath is sure to make your visitors smile and the snowman couple are a pair of cuties!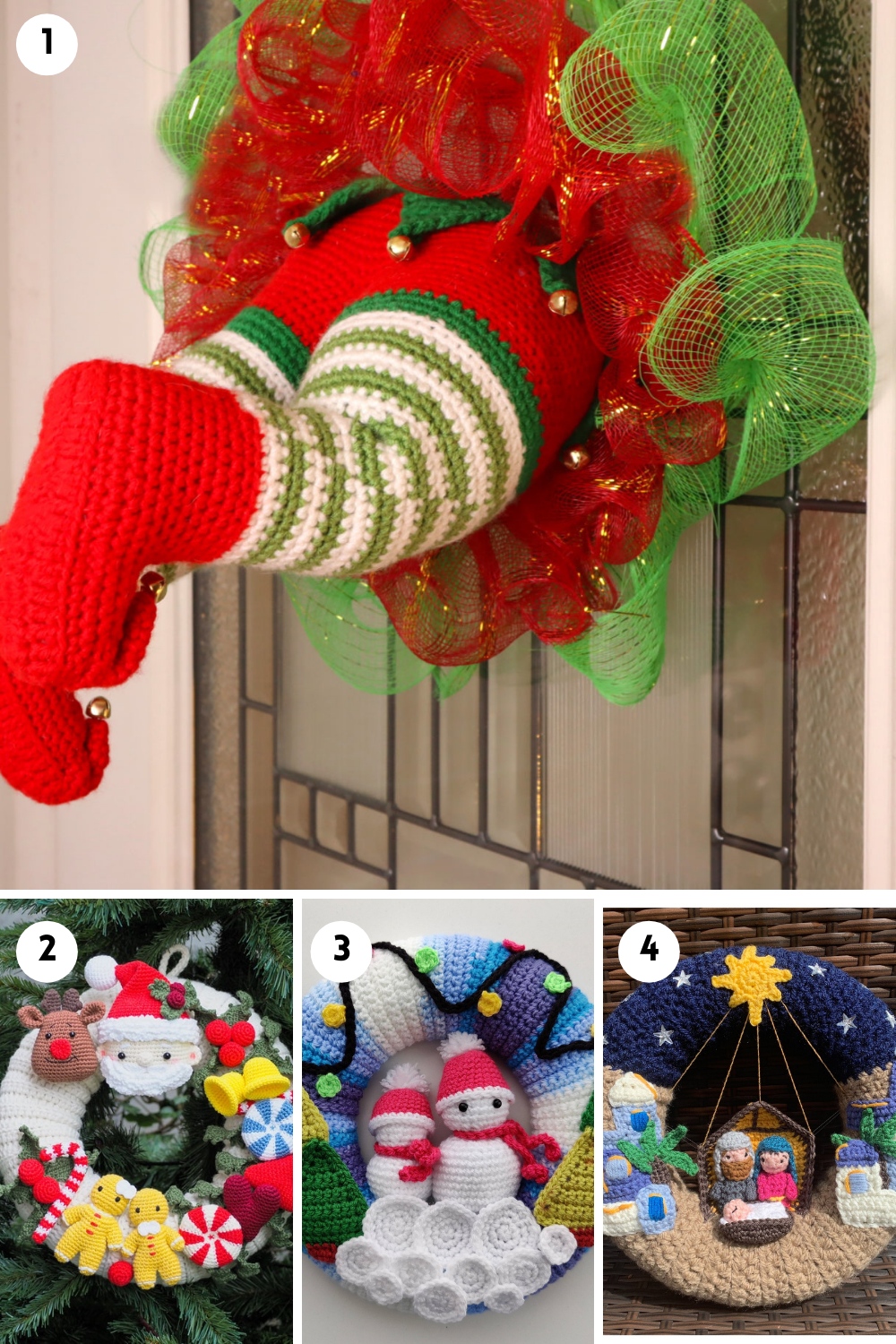 How do you crochet a Christmas star?
Wondering how you crochet a Christmas star? They're pretty simple when you have easy crochet Christmas ornaments patterns like these.
As well as crochet Christmas ornaments I also found a pattern for a potholder (a great handmade gift idea) and a gorgeous tree skirt!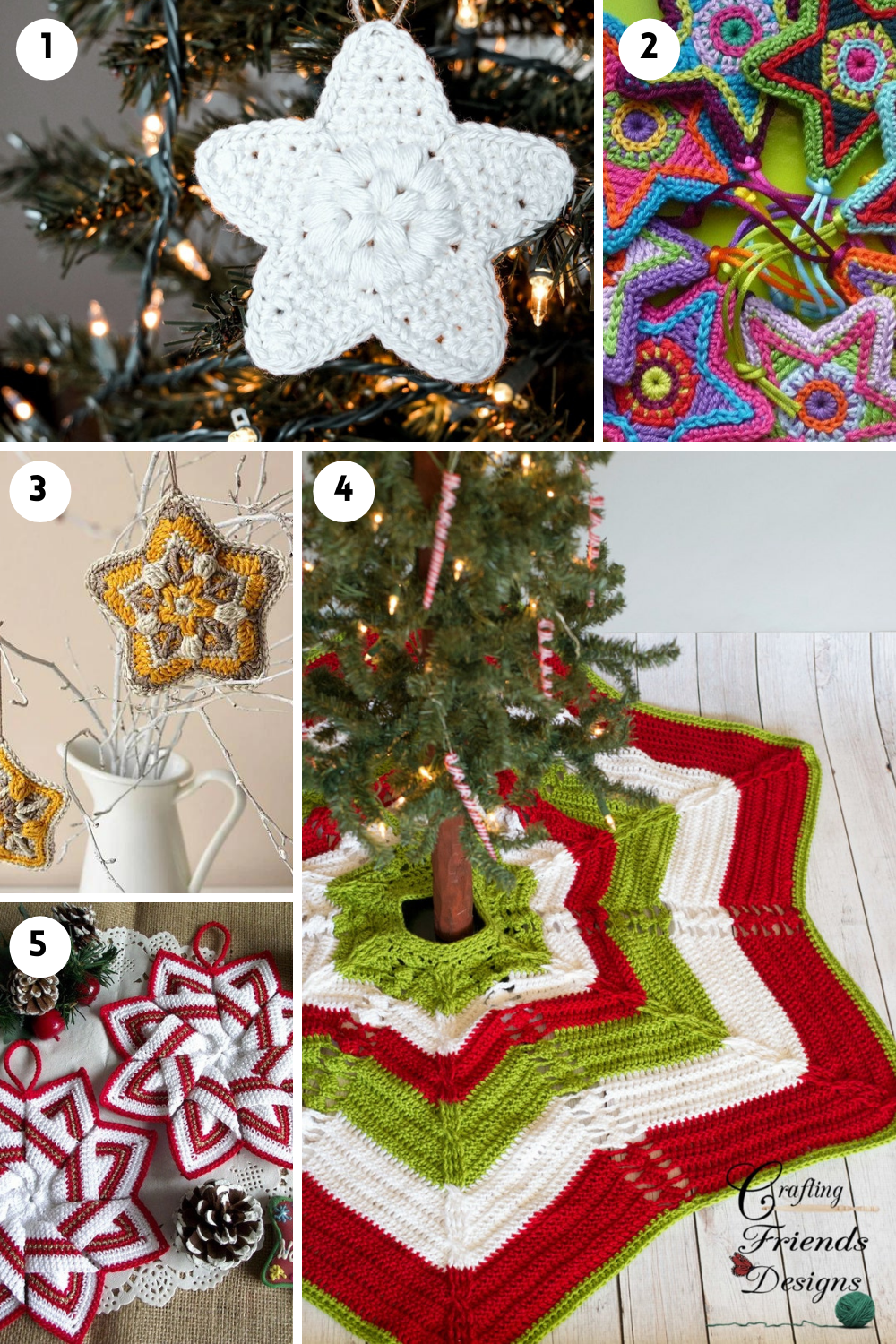 How to make a crochet Advent Calendar
I was in Costco the other day and my jaw dropped at the price of advent calendars!
Whether they're filled with tiny toys for kids or alcohol and beauty products for adults it would soon add up to buy one for each family member.
These crochet advent calendar patterns can be filled with treats, small toys or even activities you can do as a family this year.
Best of all you can use the calendar for years to come so the advent calendar itself becomes part of your family holiday tradition.
Grab your crochet hooks and get started today!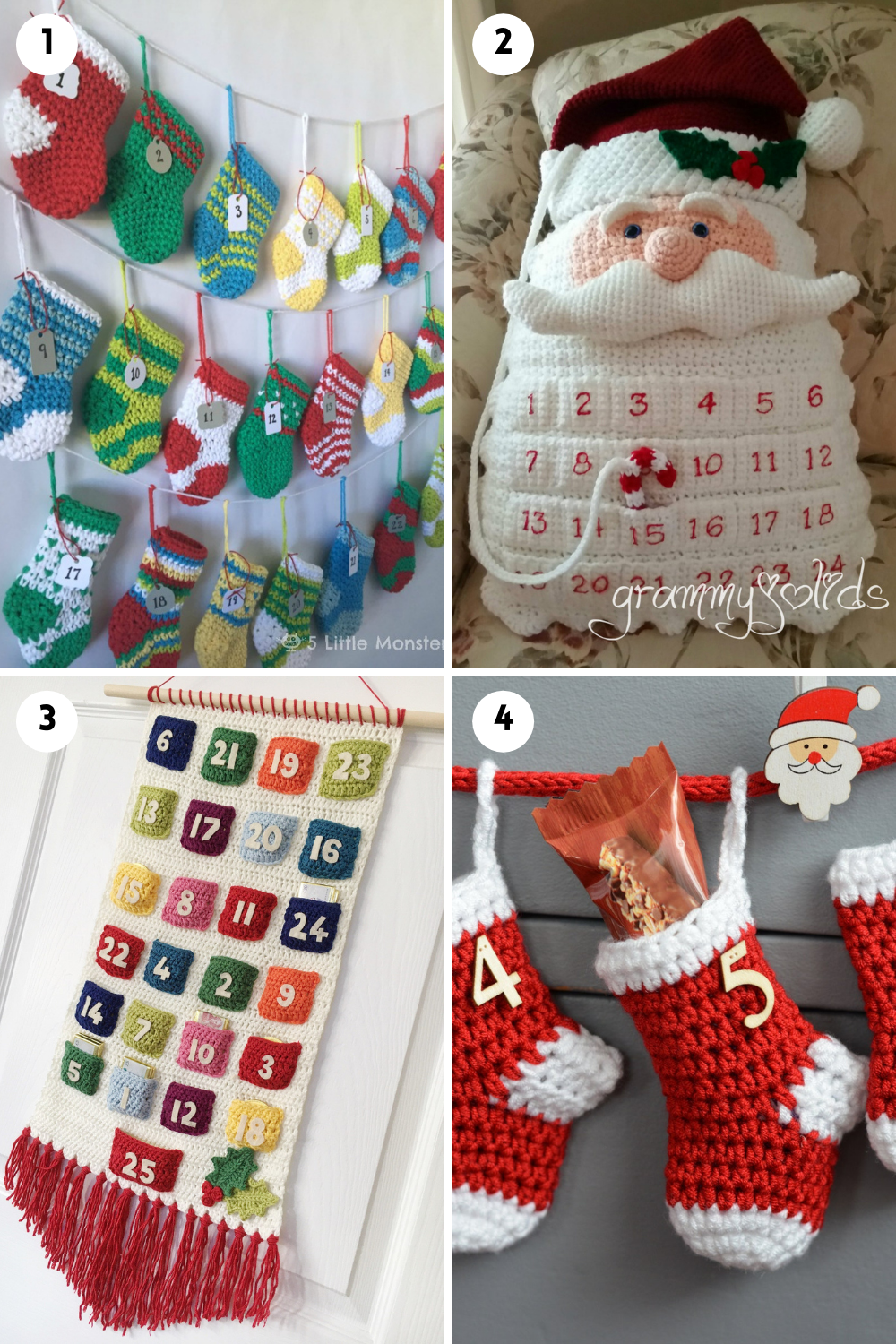 Cute Christmas animal decorations you need to crochet
From cardinals and robins to sweet little mice pulling a sleigh you have to take a closer look at these adorable animal-themed crochet Christmas ornaments and decorations.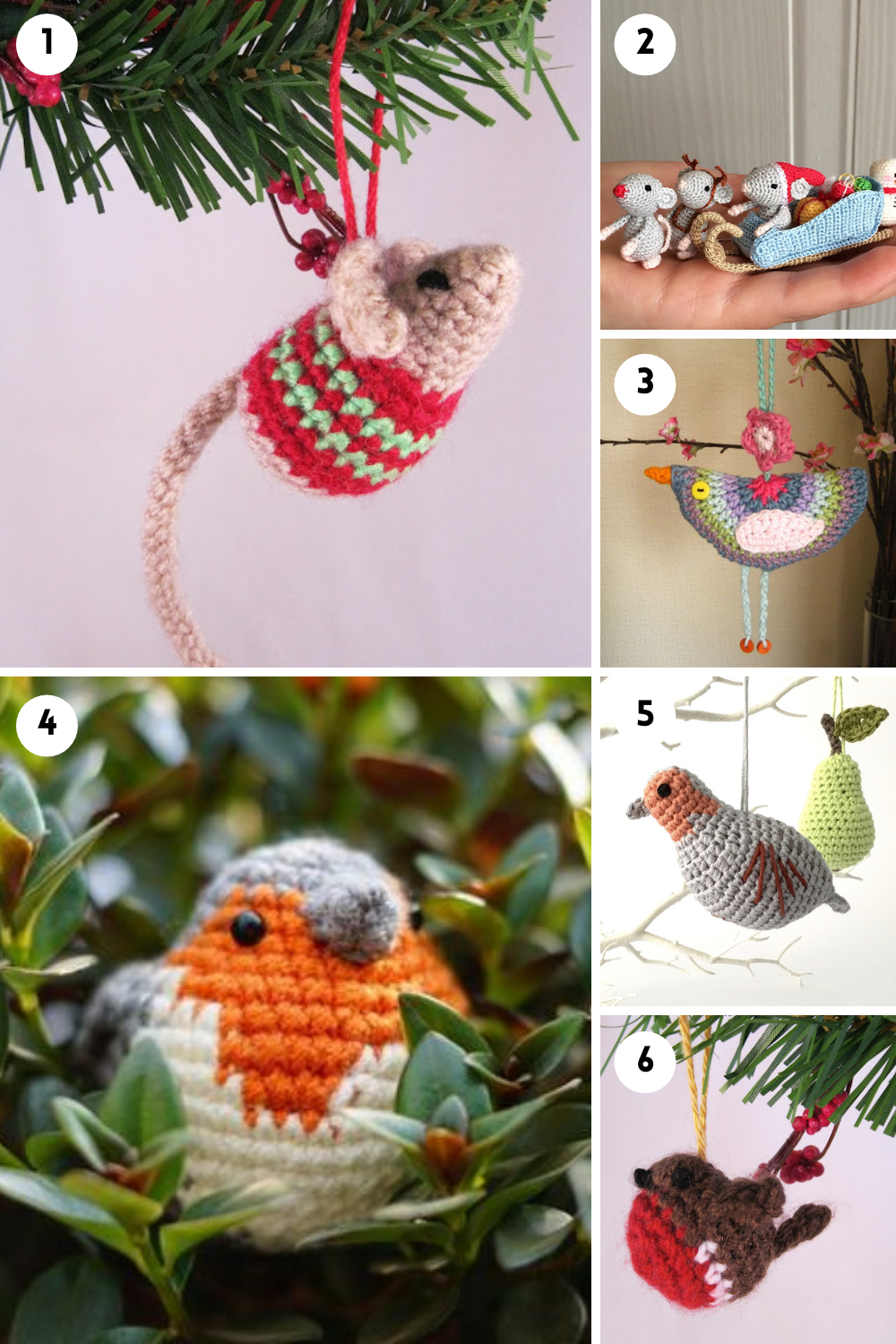 How do you crochet a reindeer Christmas decoration?
If you can't have Christmas without Rudolph you need to check out these fun and fabulous reindeer crochet projects!
If you want to see more Rudolph patterns you can see them here!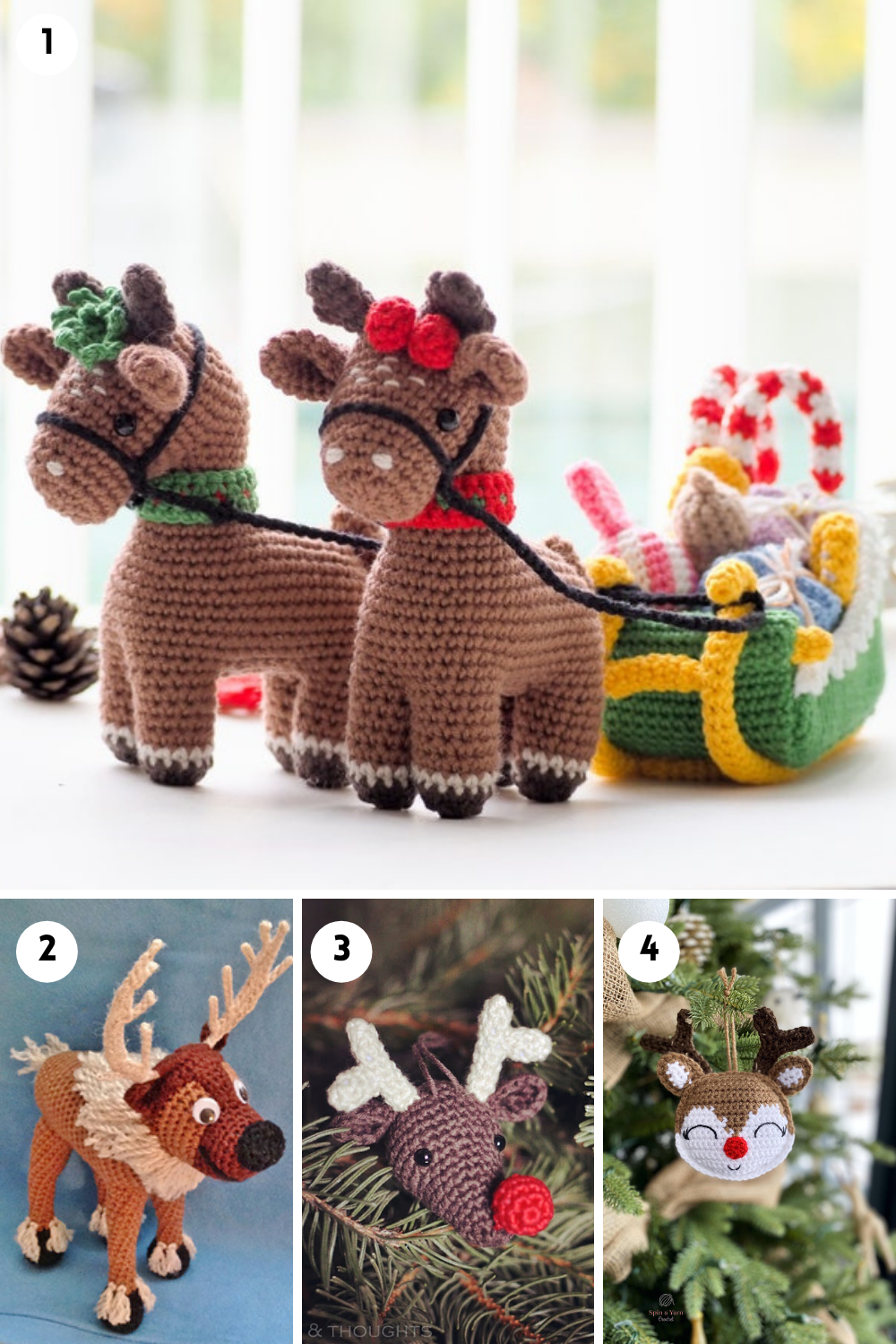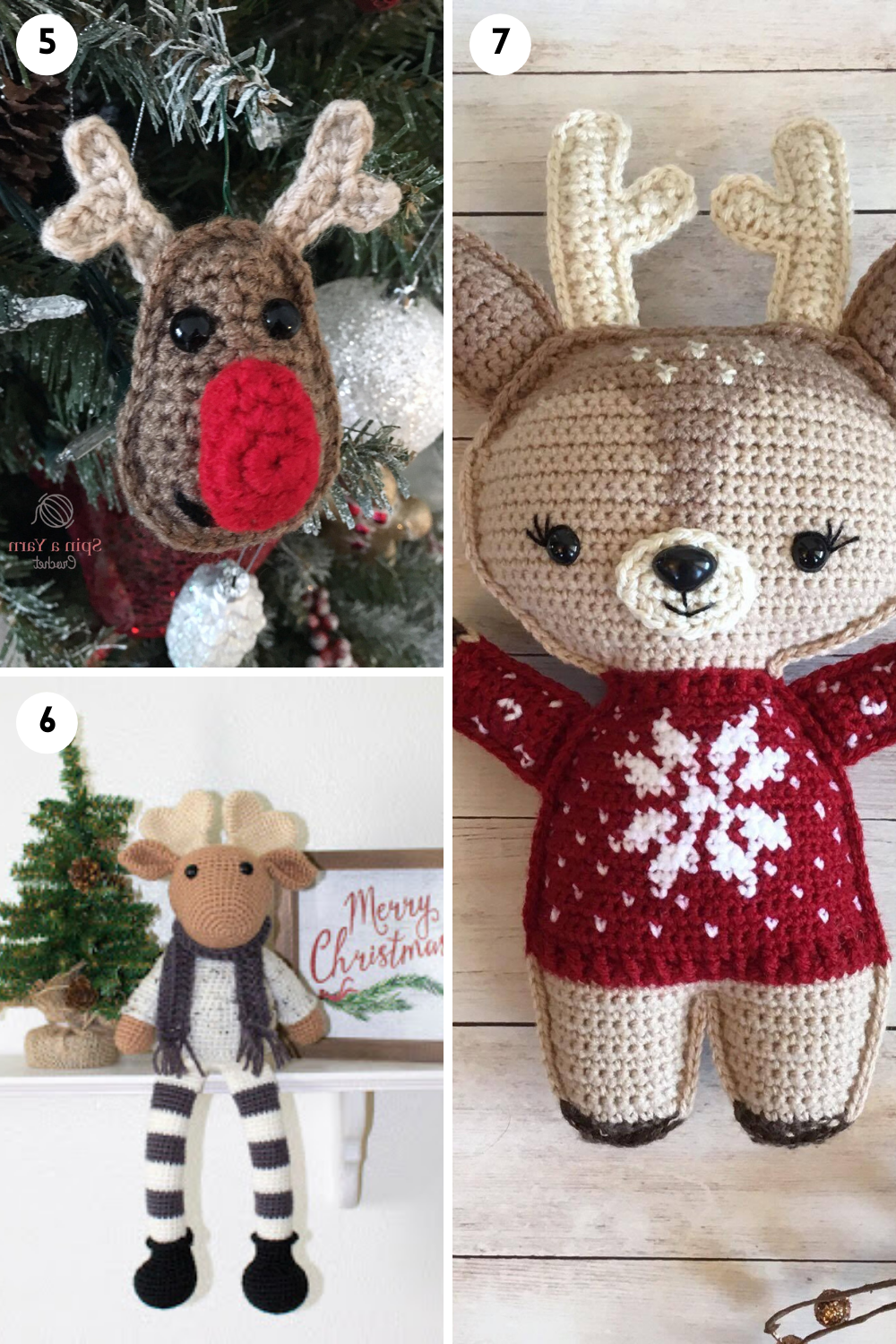 Adorable matching crochet Christmas ornaments you need for your tree
If you like your decorations to follow a theme you will love these sets of matching patterns that you can buy from these very talented crochet pattern designers on Etsy.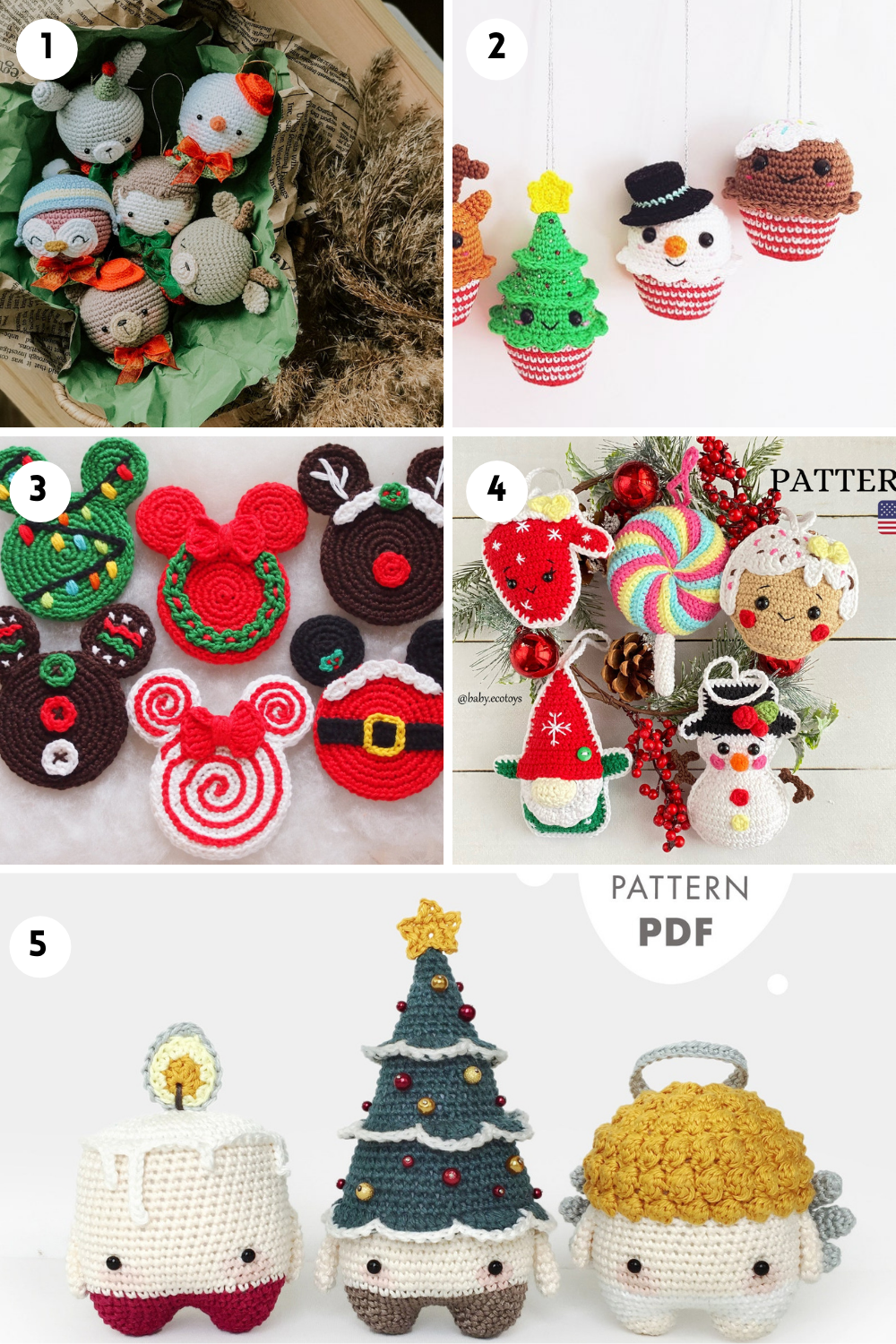 How to crochet a Christmas tree decoration
These Christmas tree ornaments are easy to hook up and will look fabulous hanging from your tree.
I found so many cute Christmas tree decorations that I had to make a whole other collection to put them in! You can see the other patterns here.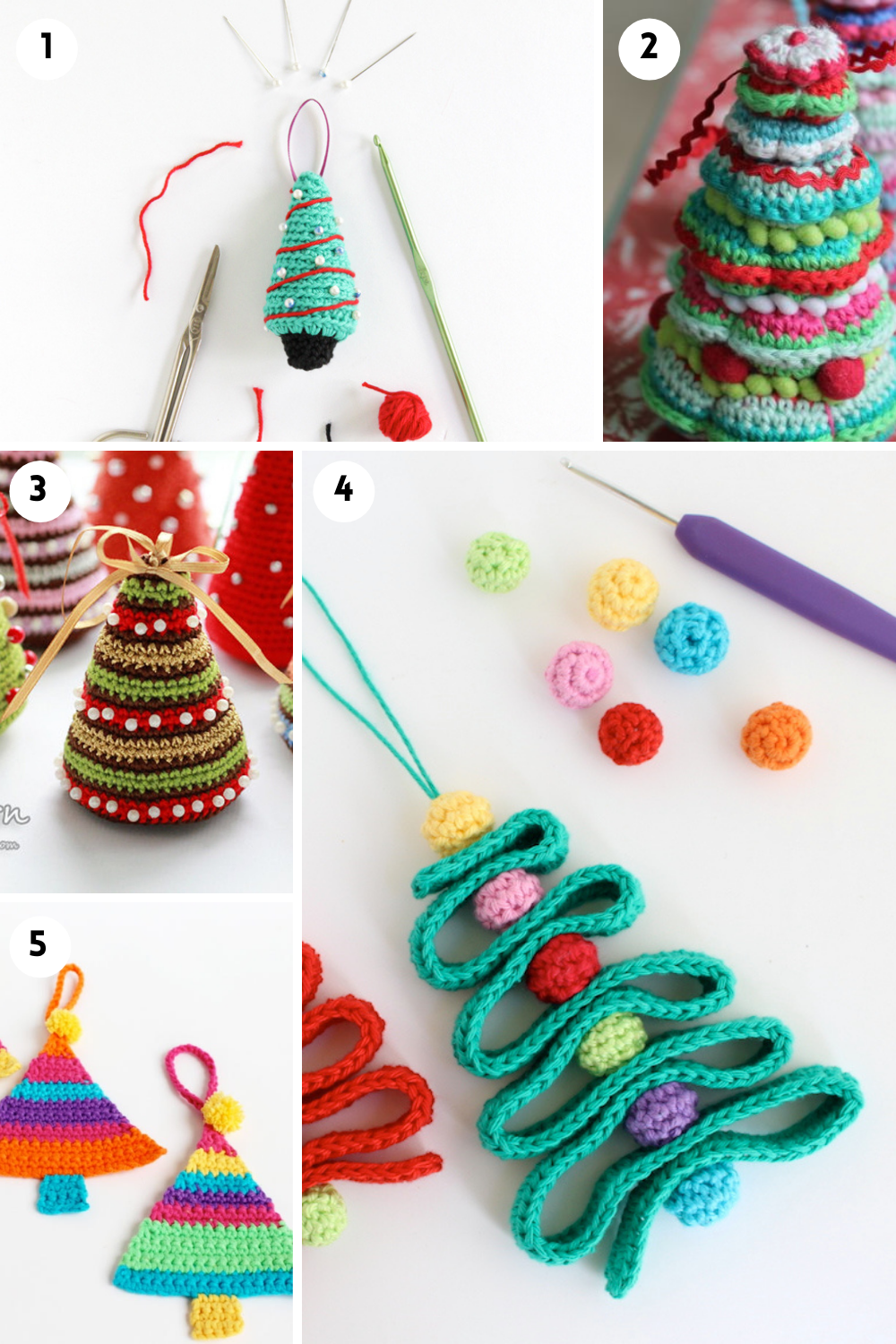 Simple Christmas crochet bell patterns
Add some jingle bells to these crochet bells sp that they make a noise when they hang on your tree.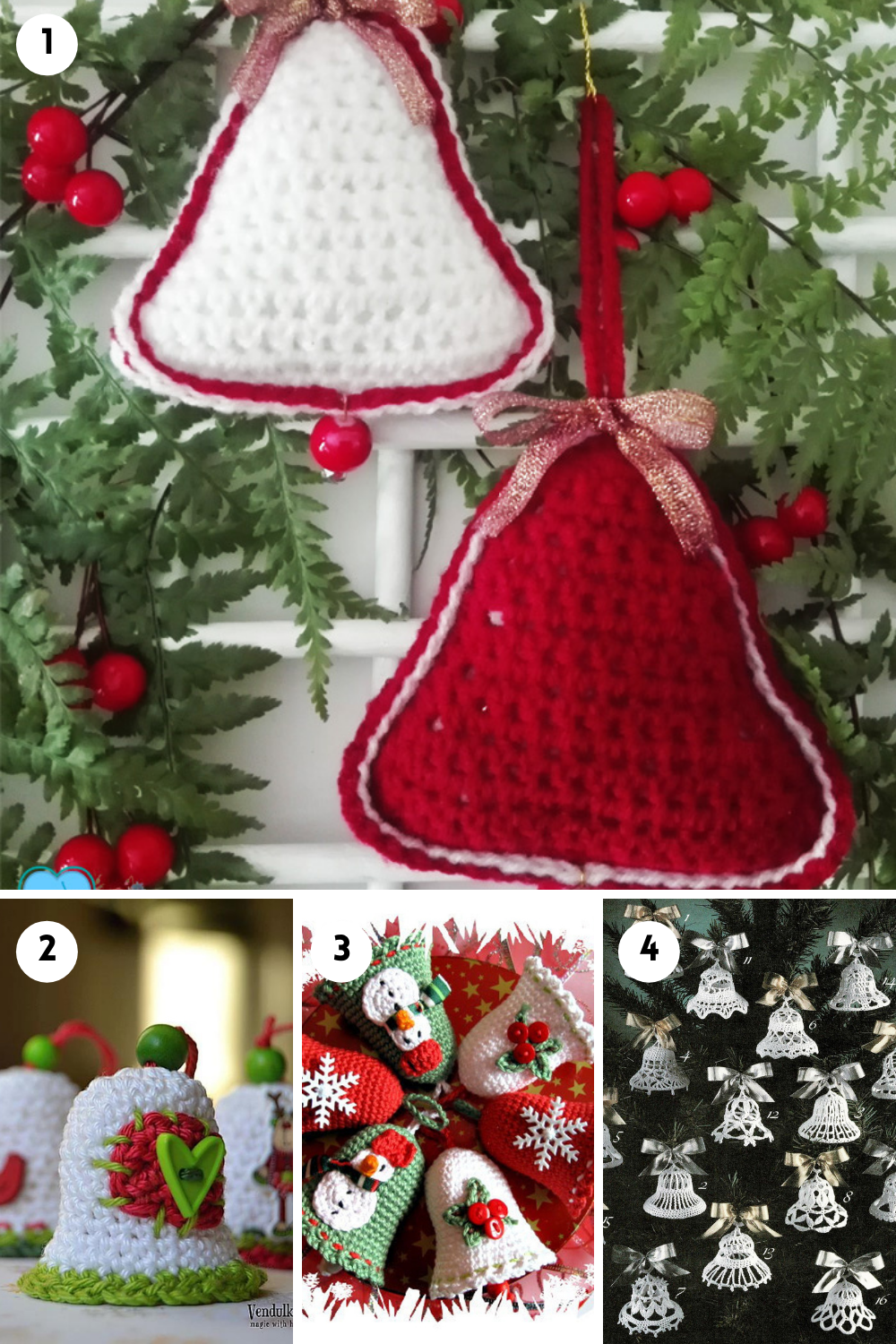 Cute Christmas pudding crochet patterns
How cute are these Christmas pudding crochet patterns? I know that hats aren't really decorations but they were too fabulous not to share with you!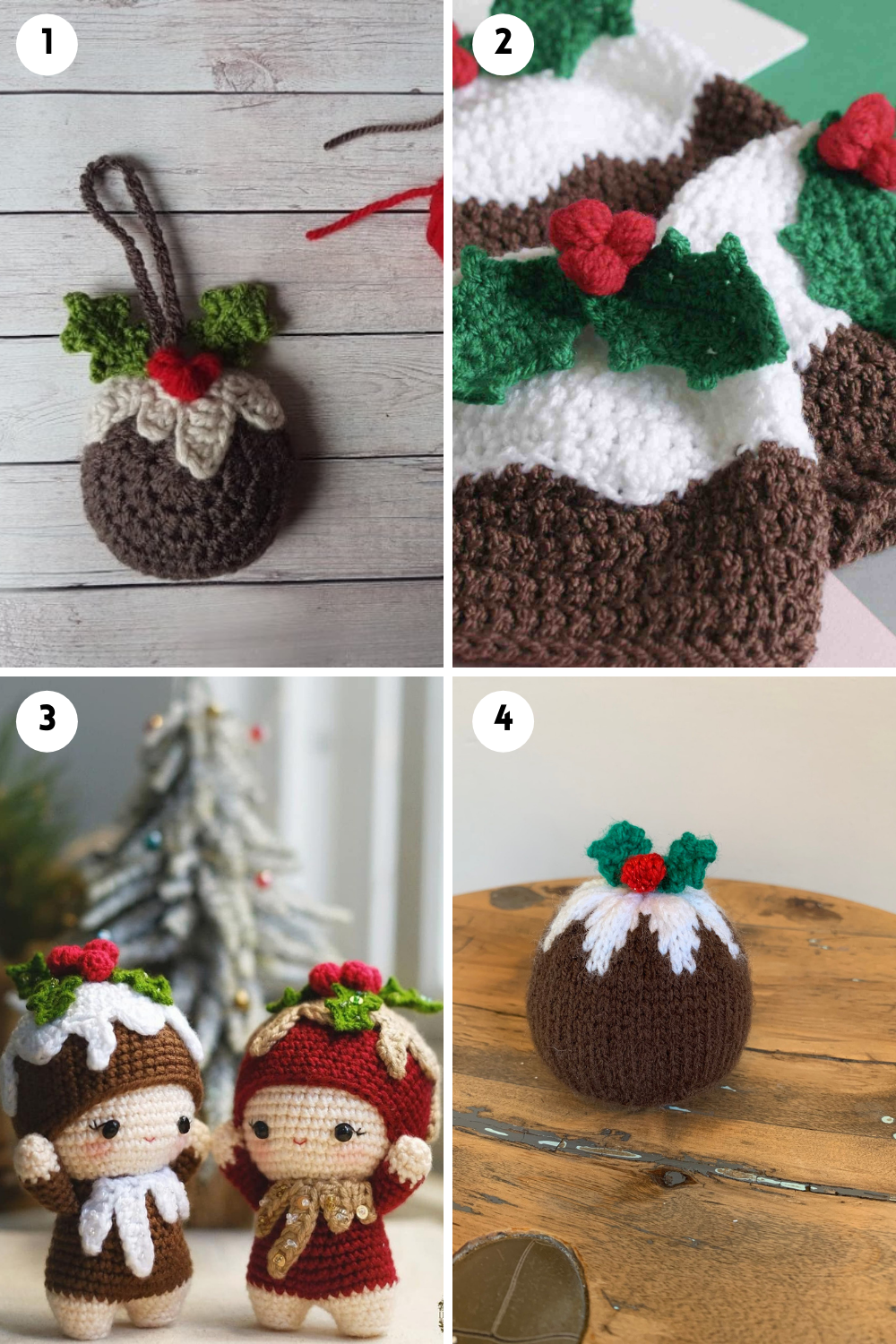 Gingerbread decorations you can crochet this Christmas
Making a gingerbread house is one of our family traditions for the Holidays. I love the idea of having a gingerbread house that lasts forever and that you can hang on your tree!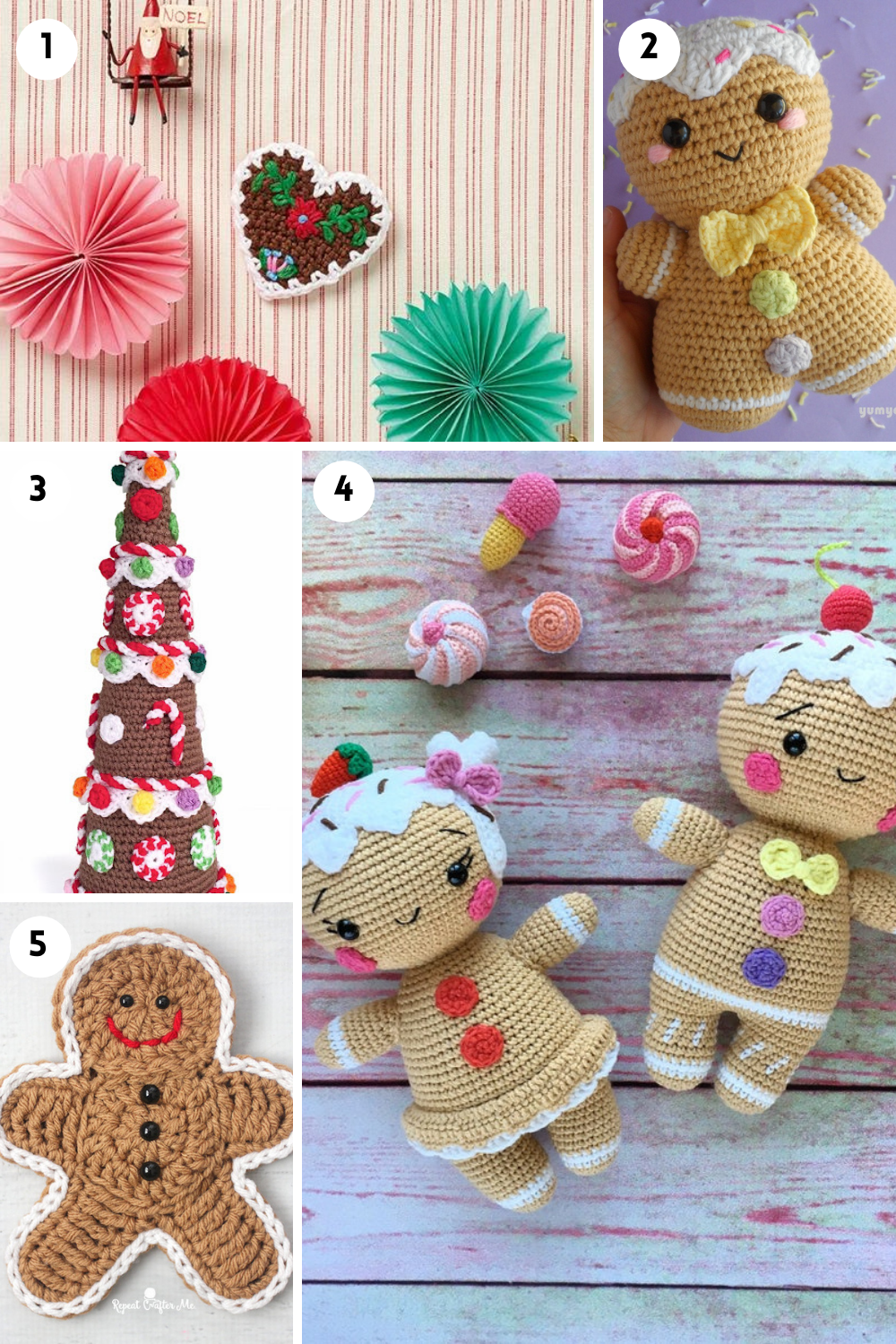 How to crochet Christmas stockings
These crochet Christmas stockings will look fabulous hanging from your mantelpiece, and you can work them up in colors to match you Christmas decor.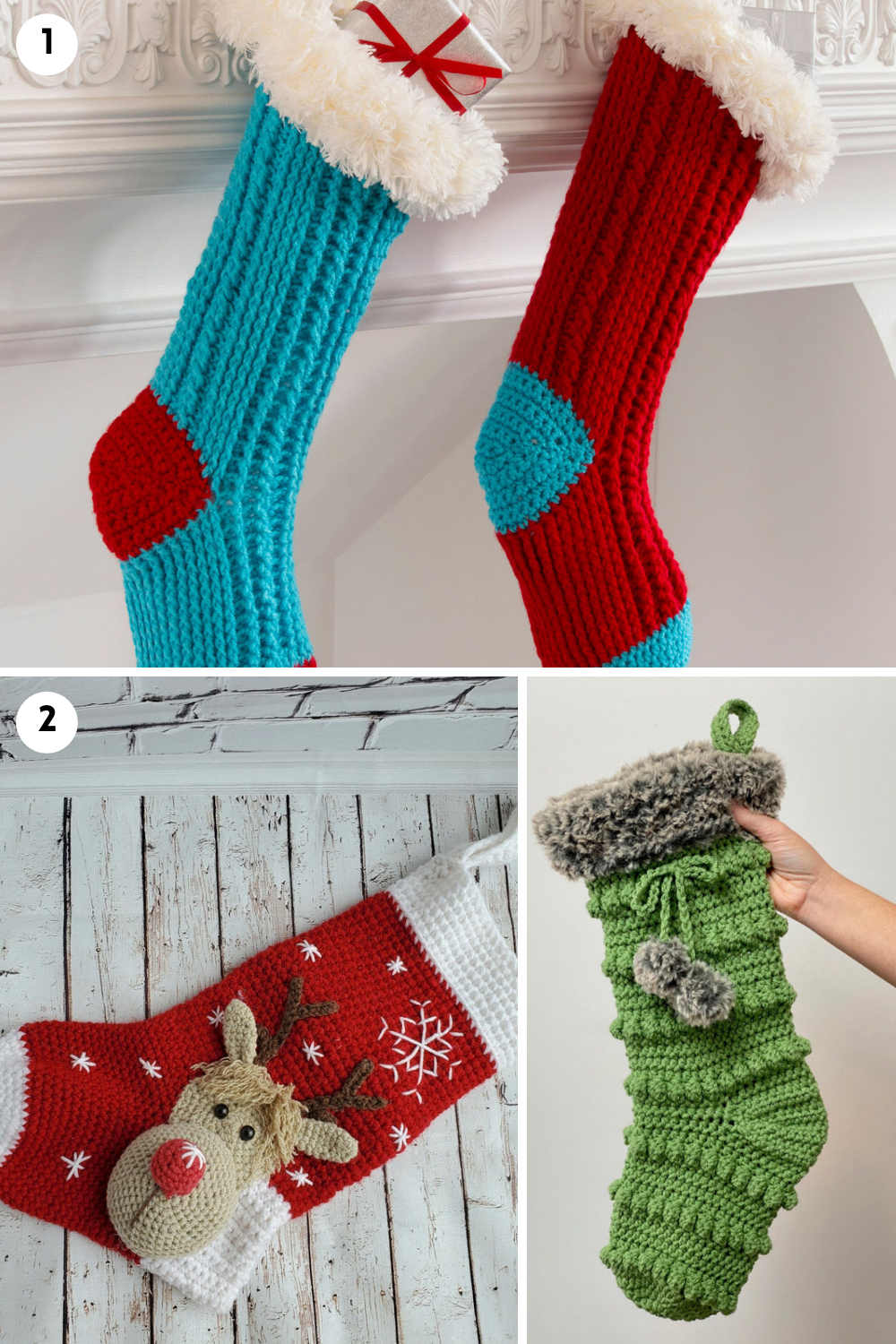 Christmas stocking crochet pattern from Yarnspirations
Reindeer Christmas stocking crochet pattern from Etsy
Crochet Christmas stocking pattern from Etsy
Easy crochet Christmas blankets you need to make
If your family loves to hang out watching Christmas movies together you need a huge crochet blanket (or two) to snuggle up in!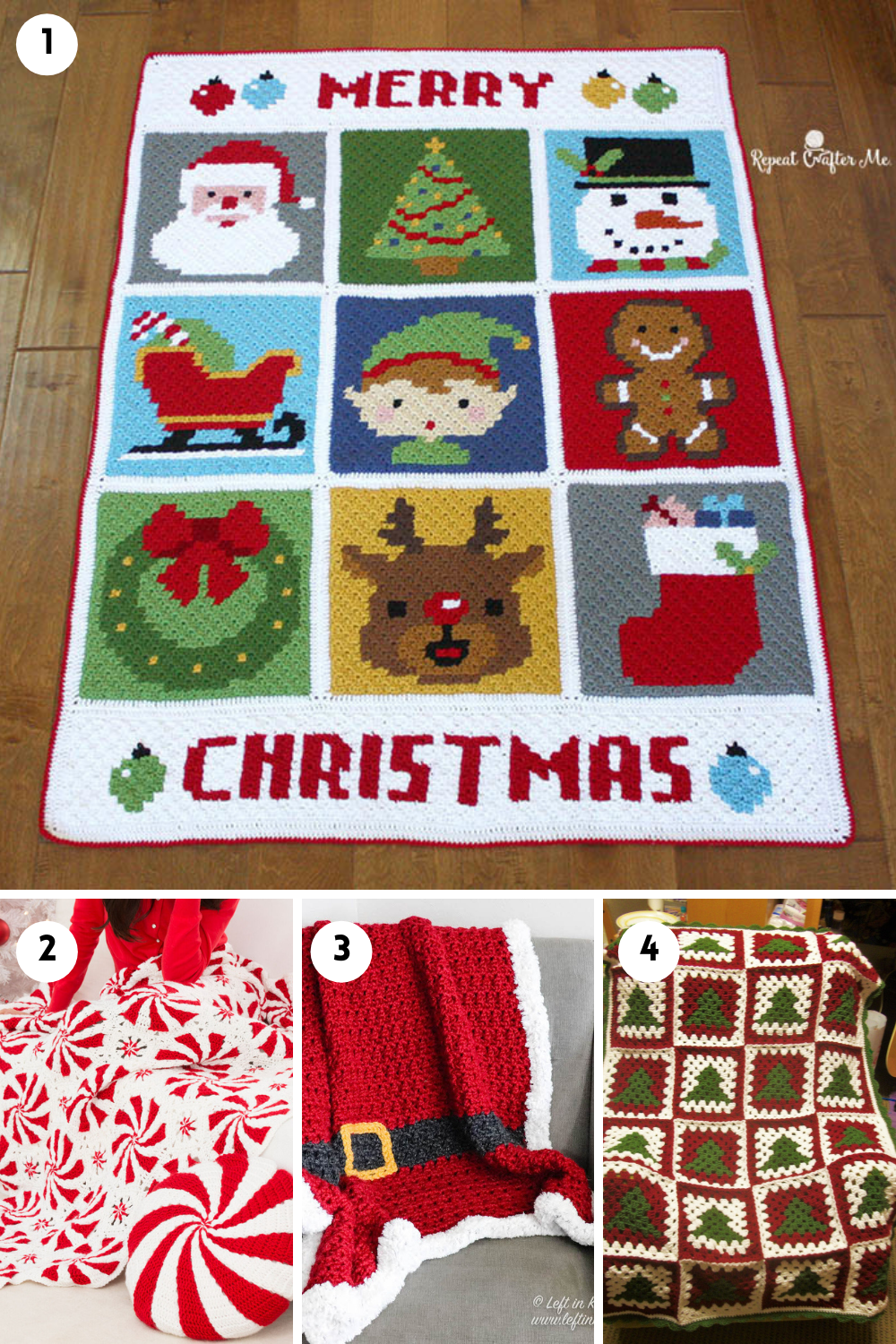 Easy festive bunting you can crochet
You can never have too many Christmas garlands because you can use them to decorate your mantelpiece, your staircase, your windows and even hang them on your tree!
If you love garlands we have a whole collection of crochet patterns here.