If you're travelling with a preschooler you need to check out our list of the best Epcot attractions that your little one will adore!
This post may contain affiliate links, which means I may receive a commission if you click on a link and purchase something. As an Etsy and Zazzle Affiliate I earn commissions from qualifying purchases.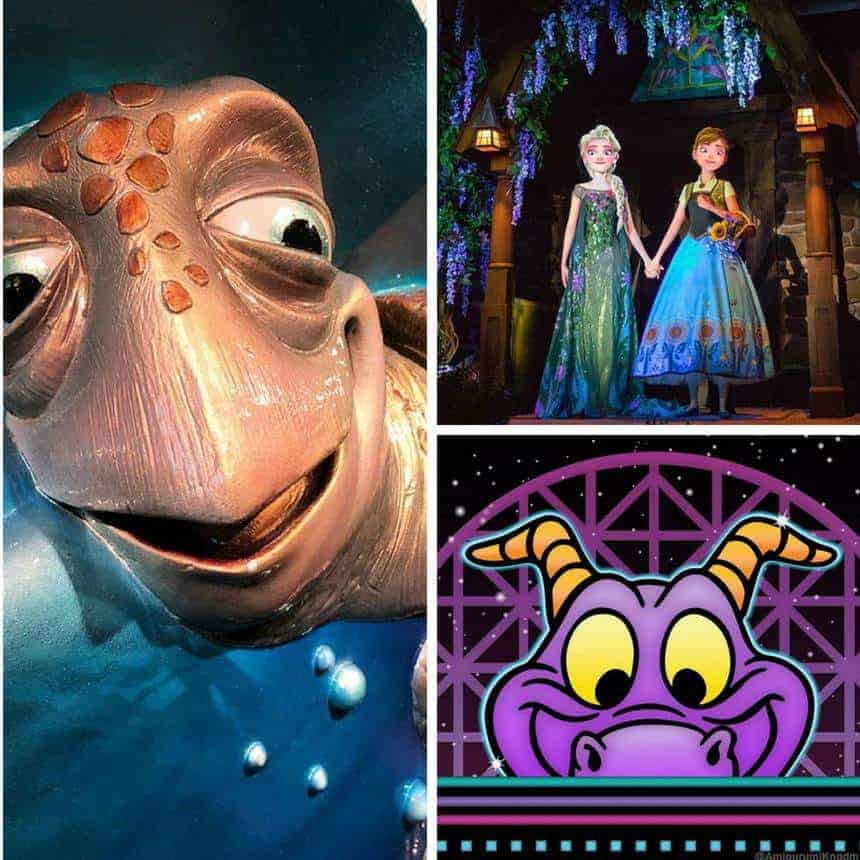 Epcot

There is plenty to see and do with your preschooler at Epcot. Most of the preschooler-friendly rides are situated in Future World, but be sure to explore the World Showcase too because as well as the amazing Frozen Ever After boat ride there is plenty to see in the country pavilions. And lots of character spotting to do here too so make sure your little one brings their DIY Disney autograph book along!
Journey into Imagination with Figment
I think that Journey into Imagination with Figment is one of the forgotten gems of Disney World attractions. It's one of those rides that people skip over just when they can't fit everything in, but for preschoolers (and grownups who are young at heart) it's absolutely fabulous!
You ride together in a car through Figment's imagination. He's an adorably cute purple dragon who teaches us all about our imaginations and how they are sparked by our senses
It's nice and cool and totally compelling for little ones.
Once you exit the attraction there's a fun indoor "playground" where your kids can explore their senses and have a whole heap of fun!
The Seas with Nemo & Friends
Hop into your clam-mobile and see if you can help Marlan to spot Nemo because the little fish has wandered off again!
This is a lovely ride with lots of animated scenes of favourite characters from the movie, including Bruce the Shark and of course Dory and Nemo!
My children's favourite part is right at the end when you see the Finding Nemo characters swimming in the aquarium tank with the real fish!
Turtle Talk with Crush
Take your seat and keep your eye on the "window to the ocean world" because Crush is going to stop by for a visit, and a chat!
He'll impart some really important information about keeping our oceans safe and of course crack a joke or two!
The best part about this show is that this adorable turtle interacts with kids in the audience!
Sea Base
Inside Sea Base your little one will have the chance to look more closely at the dolphins, turtles, rays, sharks and all kinds of fish in the giant aquarium tanks. You might even spot a diver going into feed the fish!
Be sure to check out the manatee room at the top of the stairs to learn about these amazing marine mammals and how we need to protect them.
And of course you'll want to visit the Nemo and Friends room downstairs to see real life versions of Neko and Dory!
Bruce's Shark World
When you've had your fill of fish spotting be sure to spend a little time in Brice's shark themed playground! It's the perfect place for kids to run off a little steam in the air conditioned play area.
Frozen Ever After
If you've visited Epcot before you'll know this ride as Maelstrom, but it's now been completely reimagined into a Frozen themed boat ride that will be loved as much by you as your preschooler!
As you float road you'll see all of your favourite movie characters singing songs from the original movie. And they are so lifelike my children were completely captivated and as soon as it was over they wanted to ride again!
One warning to heed is that you will very likely get wet, not a Splash Mountain sized soaking but enough to have to walk around World Showcase with damp shorts!
Illuminations Reflections of Earth

Illuminations is our family's favourite nighttime show at Disney World. We love the story and the music, and of course the most amazing fireworks that light up the whole of Epcot.
You can FastPass Illuminations in order to get access to the reserved standing right at the front of the lagoon, but I wouldn't actually recommend it. Since the display takes place right in the middle of the lagoon you can get a great view of it from anywhere in World Showcase. Our favourite spot is in Italy because there aren't as many trees to block your view.
Character Meet & Greets
Epcot is a great park for meeting characters because there are so many to see!
Here's a list of the characters you can expect to see. Check your park map for times and locations as they vary.
Daisy
Mickey, Minnie and Goofy
Baymax
Joy & Sadness
Pluto
Alice in Wonderland
Mary Poppins
Belle
Sleeping Beauty
Jasmine
Snow White
Mulan
Donald Duck
Don't forget that in the busiest times of the years the lines for characters can be really long, so you might want to think about booking a character meal instead.
At Epcot you can dine with Chip 'n' Dale family style at the Garden Grill restaurant. Your little ones will get a kick out of the fact that the restaurant rotates around while you're eating!
The food is harvest inspired and the cheeky chipmunks invite you to join them for breakfast, lunch or dinner!
If your little one prefers princesses see if you can get reservations at the Akershus Royal Banquet Hall for breakfast, lunch or dinner. There's no guarantee which princess will have a break in her royal schedule and be able to join you on any given day, but you might get to meet Snow White, Cinderella, Belle, Princess Aurora or Ariel.
Don't forget if you have the Disney Dining Plan or above you can use your table service credits to pay for your character meals, and they are an excellent way to use your credits!
6 Hollywood Studios Attractions Your Preschooler will Adore!
37 Things to Do At Disney World that Don't Require Theme Park Admission!