DISCLOSURE: Some of the links below are affiliate links. This means that, at zero cost to you, I will earn an affiliate commission if you click through the link and finalize a purchase. All opinions are my own, and I only recommend products that will add value for my readers.
Whatever you're celebrating you can be sure that your guests will go crazy for any one of these Oreo dessert recipes. You just need to turn a blind eye to the calorie count!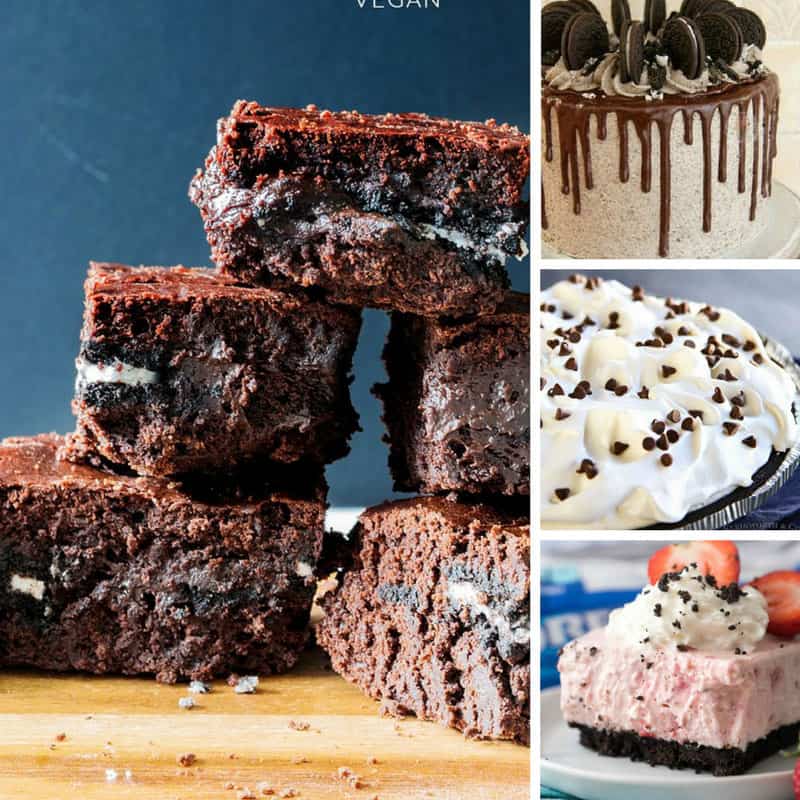 Oreo Dessert Recipes for Potlucks and Parties

Whether you're planning a party or you've been nominated to bring dessert to your next pot luck you really cannot go wrong with any of these Oreo dessert recipes.
I found everything from Oreo Cannoli Cream Pie and Extreme Cookies 'n Cream Oreo Cake to Oreo Strawberry Smoothie Cheesecake Bars and even a No Churn Oreo Ice Cream recipe!
They're all proof that the Oreo really is the best cookie on earth!
As always be sure to scroll all the way to the end so you don't miss any of the great recipes. And don't forget to pin your favourites as you go!
Related Posts:
Easy Oreo Cannoli Cream Pie

If you've been invited to a pot luck then this delicious Oreo pie is the perfect option because it's no bake, quick and easy and looks so amazing people will be raving over it before they even take a bite! (via Kleinworth & Co at the 36th Avenue)
Extreme Cookies 'n Cream Oreo Cake

Oh my goodness would you just look at that chocolate cake! It's like a giant Oreo right there on a serving plate, and the frosting even tastes like Oreo filling! And of course its stuffed full of Oreos too! (via Crazy for Crust)
Salted Caramel Oreo Bark

What do you get when you mix salted caramel with Oreo cookies? Heaven in a mouthfull I'd say! We're heading into the Holiday season and bark always makes a great edible gift so it's time to give this recipe a test run! (via Inside BruCrew Life)
Peanut Butter Oreo FreakShake

I'm never really sure whether you count milkshakes as dessert but since this is a freakshake that's packed full of all kinds to candy goodness and Oreo cookies I think it's definitely more food than drink! (via Miss Mamo's World)
Oreo Cheesecake Bites

Yum. Isn't there just something about bitesized cheesecake that makes you want to eat a whole plate full! (via Mel's Kitchen Cafe)
White Chocolate Oreo Truffles

And speaking of bite-sized treats… would you just take a look at these Oreo truffles! It really is time to start making a list of homemade edible gift recipes because this deserves to be on there too! (via Cakes Cottage)
Easy 5-Minute Oreo Ice Cream Cake

If you're short on time but need a show stopping dessert to serve your guests then you need to try this ice cream cake. It is so easy to make it's quite embarrassing because it looks like something you picked up from a bakery! The Oreo cookies and graham crackers soften up so they taste like cake wrapped up in ice cream, chocolate ganache and whipped cream! (via Butter with a Slice of Bread)
Oreo Stuffed Cookies

Surprise your guests with these chunky chocolate chip cookies that hide a surprise… (via Belly Full)
Cookies and Cream Cheesecake Parfaits

Here's another quick and easy but totally delicious dessert you can make with a packet of Oreos. They're rich and creamy and there's absolutely no baking required! (via Belly Full)
Oreo Christmas Pudding DIY

This isn't so much a dessert as a biscuit craft but these Oreo Christmas puddings are so stinking cute they had to be included in this collection. Save them to your Christmas treats board on Pinterest so you can make some for the Holidays! (via Nikki McWilliams)
Cookies 'n Cream Oreo Cake Roll

I've never made a cake roll before because they always seemed to be so tricky, but there are so many tips and tricks included in this recipe it really is easy to do! Just make sure you beat the eggs with your mixer for the full three minutes or the cake won't rise. Oh and if the worse happens and it cracks… just cover it in ganache and no one will know! (via Crazy for Crust)
OREO Strawberry Smoothie Cheesecake Bars

Oh my goodness have you ever seen a cheesecake looking so pink and yummy! This cheesecake is a must make for your next get together. The base is all Oreo deliciousness and that topping tastes just like a cold and creamy strawberry smoothie! (via Dear Crissy)
Chocolate Oreo Cake

If you're looking for a birthday cake recipe for an Oreo fan you really can't go wrong with this one. There is a reason this cake has been saved more than 275,000 times on Pinterest and that's because it's Oreo heaven in a cake. A cake that's filled with icing that's made from crushed up Oreos! Seriously there is a whole package of Oreos in this cake so it's one to save for special occasions! (via Life, Love and Sugar)
Oreogasm Cheesecake Bars

Ore-woah pretty much sums up this dessert. Make it for your next pot luck, or book club, or take it to work, but do not under any circumstances make this cheesecake on a day you are planning to spend by yourself… because you might be tempted to eat the whole thing! (via Delish)
No Churn Oreo Ice Cream

There's a reason this Oreo ice cream has been saved by more than 108,000 people on Pinterest, because not only is it packed full of Oreo yumminess it only needs 3 other ingredients and you don't need an ice cream to make it! (via Cincy Shopper)
Oreo Brownies

Oh my these brownies are so indulgent and delicious and as well as the mini Oreos decorating the top you'll also be hiding some inside! (via Fab Food 4 All)
Oreo Cookies and Cream Rocky Road

If you're a fan of Rocky Road and Oreos then this four ingredient dessert should be at the top of your "what shall I make next" list! It's creamy and crunchy and totally irresistible! (via Sweetest Menu)
Oreo Drip Cake

Here's another show stopping Oreo cake that's perfect for a birthday celebrations of the Holidays! You'll need a whole package of Oreos for this recipe so no sneaking any into your mouth when no-one's looking! (via Jane's Patisserie)
Vegan Chocolate Oreo Brownies

If you are searching for vegan recipes and worried you're not going to find anything decadent to appeal to a sweet tooth think again, because these Oreo brownies are about as decadent as try get so much so that even your non-vegan friends will be asking for seconds! (via Made by Luci)
Oreo Krispies

If your kids are always pleading for you to make Krispie bars here's an Oreo twist for you to add to your repertoire. They're extra thick, bursting with Oreo flavour and best of all they take less than 10 minutes to whip up! (via Foodtastic Mom)
Related Posts:

Pin these ideas!
Hit the button to save these ideas for later.
Don't forget to
follow us on Pinterest
for more great stuff!
&
---