These easy Crock Pot soups are just right for warming those tummies on chilly days. And they're perfect for busy moms because the slow cooker does the work!
This post may contain affiliate links, which means I may receive a commission if you click on a link and purchase something. As an Etsy and Zazzle Affiliate I earn commissions from qualifying purchases.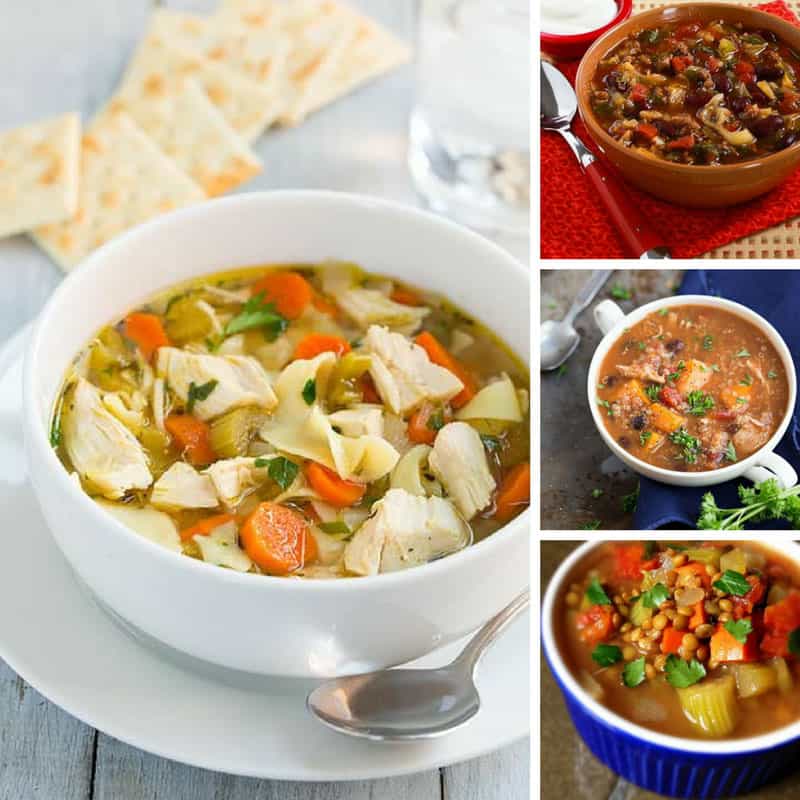 Easy Crock Pot Soups

When it's wet and windy outside there's nothing more comforting than a hot bowl of soup to warm you up from the inside.
I've always bought soup from the store because it just seemed like to much effort to make from scratch. That is until I learned about soups you make in the crock pot!
I've rounded up 12 super easy crock pot soups for kids that require hardly any preparation to put to the test, and I'm sharing them here in case you want to add them to your meal plans too.
French Onion Soup Slow Cooked

French onion soup is perfect for dinner on a cold and wet day. This crock pot recipe doesn't need much preparation, but you do need to add the broth after the first six hours so you'll need to make it on a day you'll be home at the right time. (via Mom with Crockpots)
Slow Cooker Recipe for Easy Thai Coconut Soup with Lemongrass

If you always order the coconut soup when you eat in a Thai restaurant this recipe is for you. It doesn't need a lot of preparation time and it cooks in as little as two to three hours so it's perfect for lunch. (via 365 Days of Crockpot)
Crock Pot Creamy Italian Chicken Tomato Soup

I love tomato soup but don't eat it very often as it's usually made with milk or cream, but this recipe uses coconut milk! I like the idea of adding chicken, and as it cooks in about four to six hours it's great for lunch or dinner. (via Caramel Potatoes)
Crock Pot Tomato Basil Parmesan Soup Recipe

If you struggle to get your kiddos to eat their veggies this is the crock pot soup recipe for you. It has celery, carrots and onions but they would never know they're there! It takes five to seven hours in the crock pot and then you'll need to prepare a roux so this is definitely a recipe for dinner. (via World's Best Recipes 4 Today)
Slow Cooker Recipe for Spicy Ground Beef and Bean Soup with Cabbage and Spinach

If you like your recipes with detailed instructions and lots of pictures then this is the one for you. This beef and bean stew looks very filling so will be perfect for dinner. You'll need to do some prep the night before if you want this to cook in the crock pot while you're out for the day. (via Kalyn's Kitchen)
Chicken Enchilada Soup

This crock pot soup is stuffed full of veggies, and even has some jalapeno peppers thrown in so it's perfect for warming tummies on a chilly winter's evening. (via Home is Where the Holmans Are)
Slow Cooker Lentil Soup with Bacon

Did someone say bacon? This hearty soup requires hardly any prep and can cook on low for eight hours or high for four so it's the perfect choice for lunch or dinner. (via The Lemon Bowl)
Slow Cooker Sweet Potato, Chicken, and Quinoa Soup

I bought some quinoa the other day and had no idea I could use it in a crock pot soup. This recipe is super easy to prepare and is the perfect antidote when anyone in your family has a stinking cold! (via Chelsea's Messy Apron)
Slow Cooker Baked Potato Soup

When were were over in Florida last year we were eating out at Bob Evans and my hubby ordered a cheddar baked potato. He was expecting a baked potato topped with cheese so his face was a picture when the waitress set a bowl of soup down in front of him! That's why this recipe caught my eye, and it's so simple to make too, just six ingredients and hardly any prep. (via The Taylor House)
Slow Cooker Chicken Noodle Soup

Chicken and noodle soup is perfect when you have a cold and just want something warm and comforting to eat. If you don't have your own family recipe this is just the one for you! (via Cooking Classy)
Slow Cooker Broccoli Cheese Soup with Cauliflower

If you love to order Broccoli Cheese Soup when you eat out but sometimes find it a little too gloopy or salty you won't want to miss this recipe which has been kid approved. (via Food Done Light)
Gnocchi, Sausage and Spinach Soup

I always eat gnocchi like it's pasta and wonder why I feel so full and uncomfortable after, and now I know why! Apparently gnocchi shouldn't be consumed like pasta, but is much tastier (and less discomforting) if you add it to a soup instead. And I was so excited to learn this that I didn't even notice that there is no crock pot involved… but heck it takes less than 30 minutes to make from scratch so I'm keeping it here anyway! (via Cinnamon Spice)
Related Posts:

Pin these ideas!
Hit the button to save these ideas for later.
Don't forget to
follow us on Pinterest
for more great stuff!
&
---