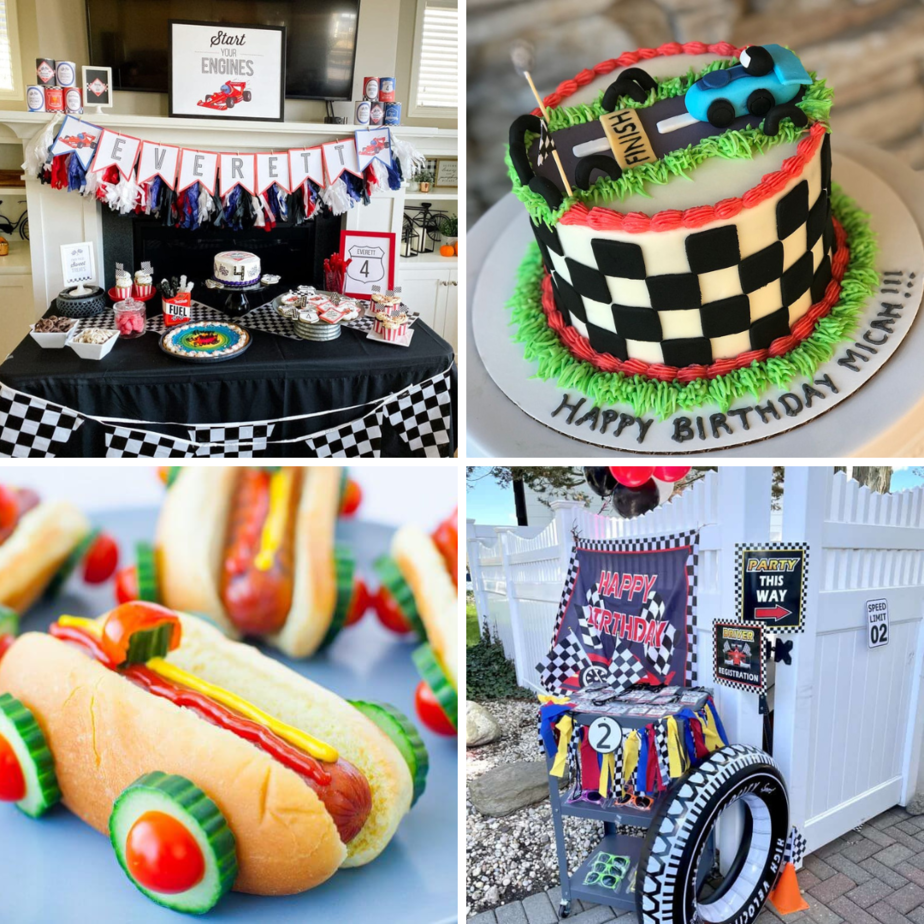 This post may contain affiliate links, which means I may receive a commission if you click on a link and purchase something. As an Etsy and Zazzle Affiliate I earn commissions from qualifying purchases.
Planning a race car birthday party for your little one? We've got you covered! We have everything you need, from decorations to activities to make the ultimate racing car party. Let the racing begin!
Table of Contents
Race Car Birthday Party Ideas
Is your child a huge fan of hot wheels, Cars the movie, or racing cars? If so, a race car birthday party is the perfect way to celebrate their special day!
From decorations to party games to food, there are many fun and creative ways to incorporate the race car theme into your child's celebration.
Today I'll share some of my favorite party inspiration, tips and ideas for throwing a next level race car-themed birthday party that your child will never forget.
🏁 Looking for racing car party supplies?
Race car Birthday Party Invitations
The first step to throwing a successful race car birthday party is sending out invitations to excite your guests.
We have compiled a collection of fun invitation templates featuring race cars, checkered flags, and even one that lets you put a photo of the birthday boy or girl in a racing helmet!
Our easy-to-use templates remind you to include important information about the party, including the date, time, location, and how to RSVP.
You can choose whether to have your invitations professionally printed by Zazzle and shipped to your door, or you can purchase a "Digital Download" to print them yourself at home or send them digitally via WhatsApp or social media.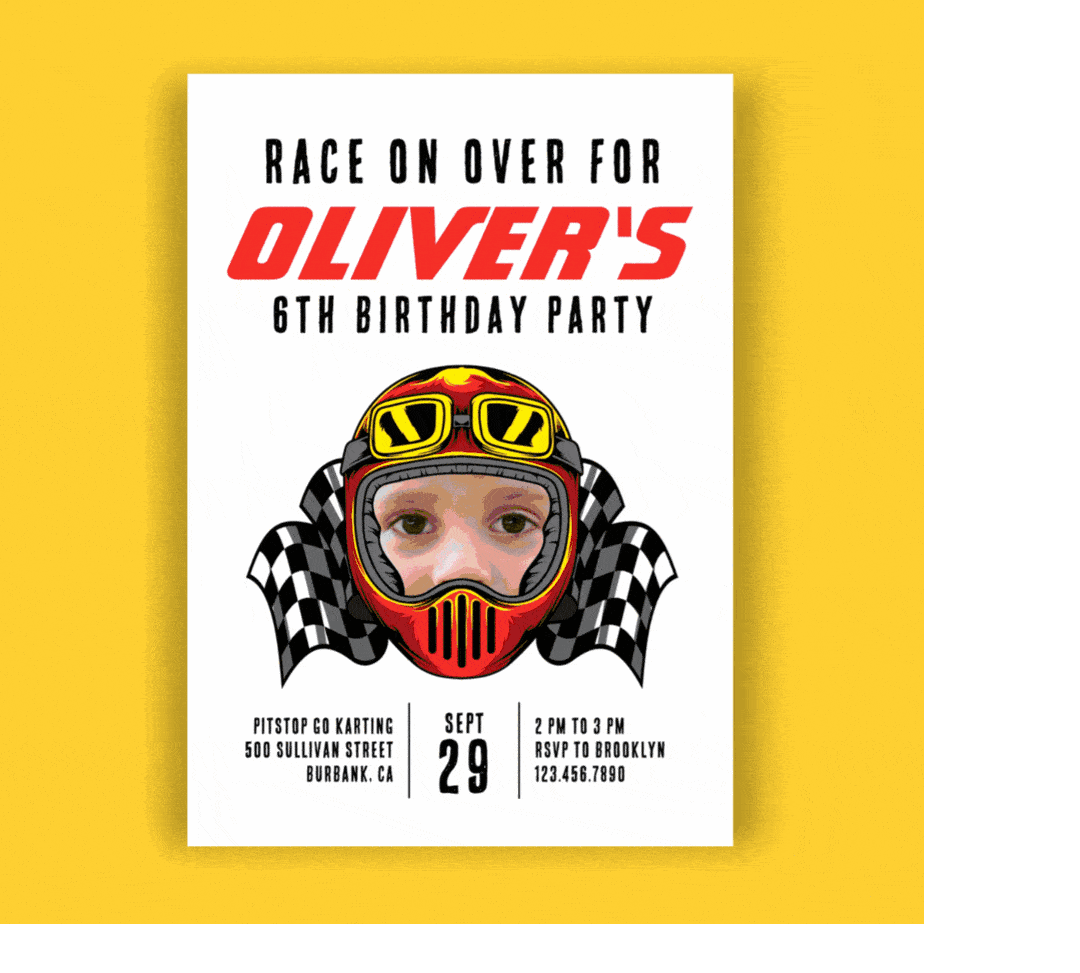 🏁 Visit our Zazzle store to customize your invitations.
With these fun and creative ideas for race car birthday party invitations, your guests will be revved-up and ready for an exciting day of racing fun!
Race Car Party Decorations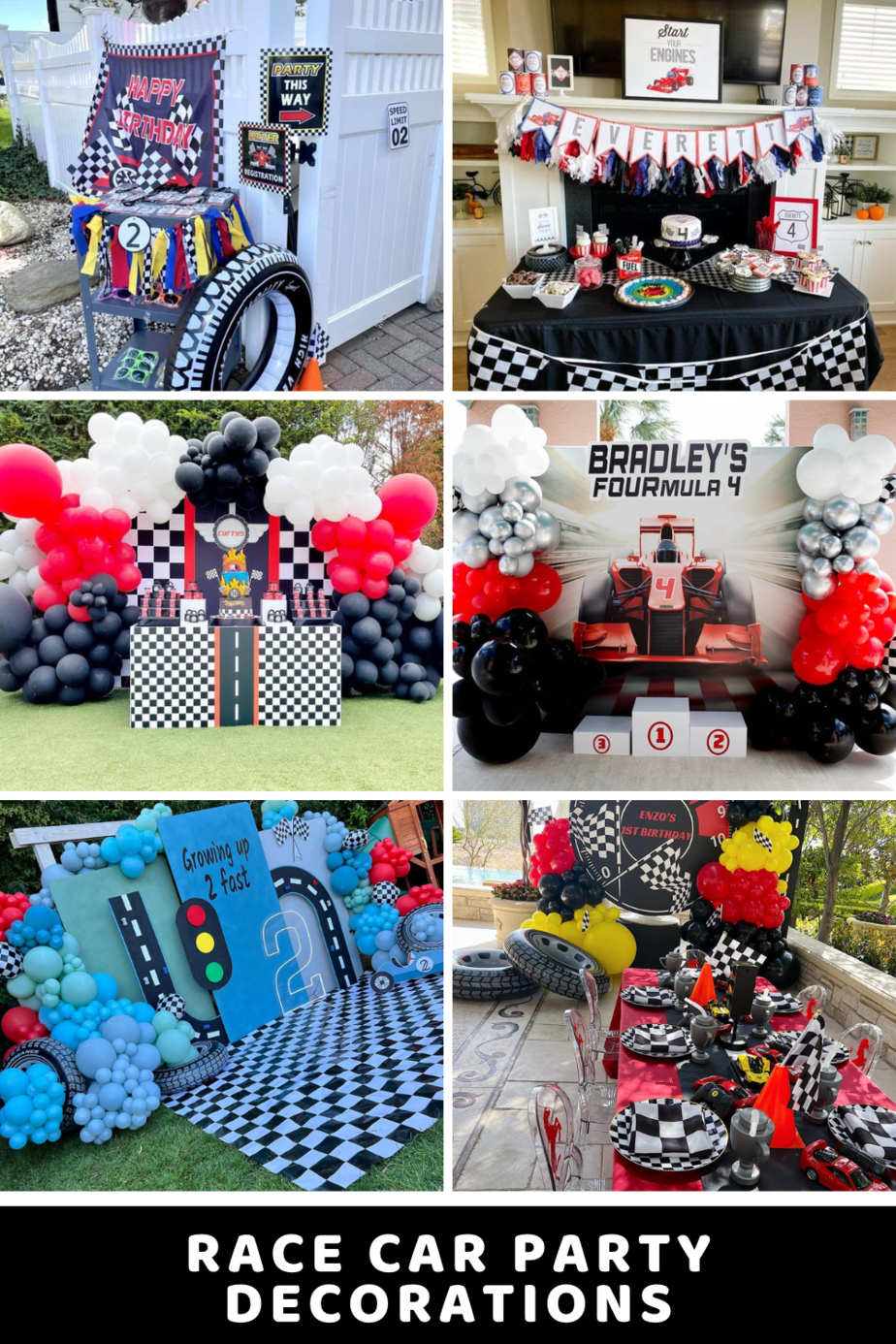 Think checkered flags, racing helmets, and plenty of red, white, and black accents for race car-themed decorations.
Car Party Games and Activities
No race car party is complete without some fun games and activities! Here are a few ideas to get you started:
Race car track: Set up a race car track with toy cars and let the kids race against each other. You can also create obstacle courses and ramps to make it more challenging.
Pit stop challenge: Set up a "pit stop" station where the kids can change the tires, refill the gas tank, and repair their toy cars. Time each child and see who can complete the challenge the fastest.
Pin the wheel on the race car: Put a spin on the classic party game of Pin the Tail on the Donkey by creating a race car poster and having the kids try to pin the wheel in the correct spot.
Car painting station: Set up a station where the kids can paint and decorate their toy cars. Provide paint, brushes, stickers, and other craft supplies.
Car Themed Party Food Ideas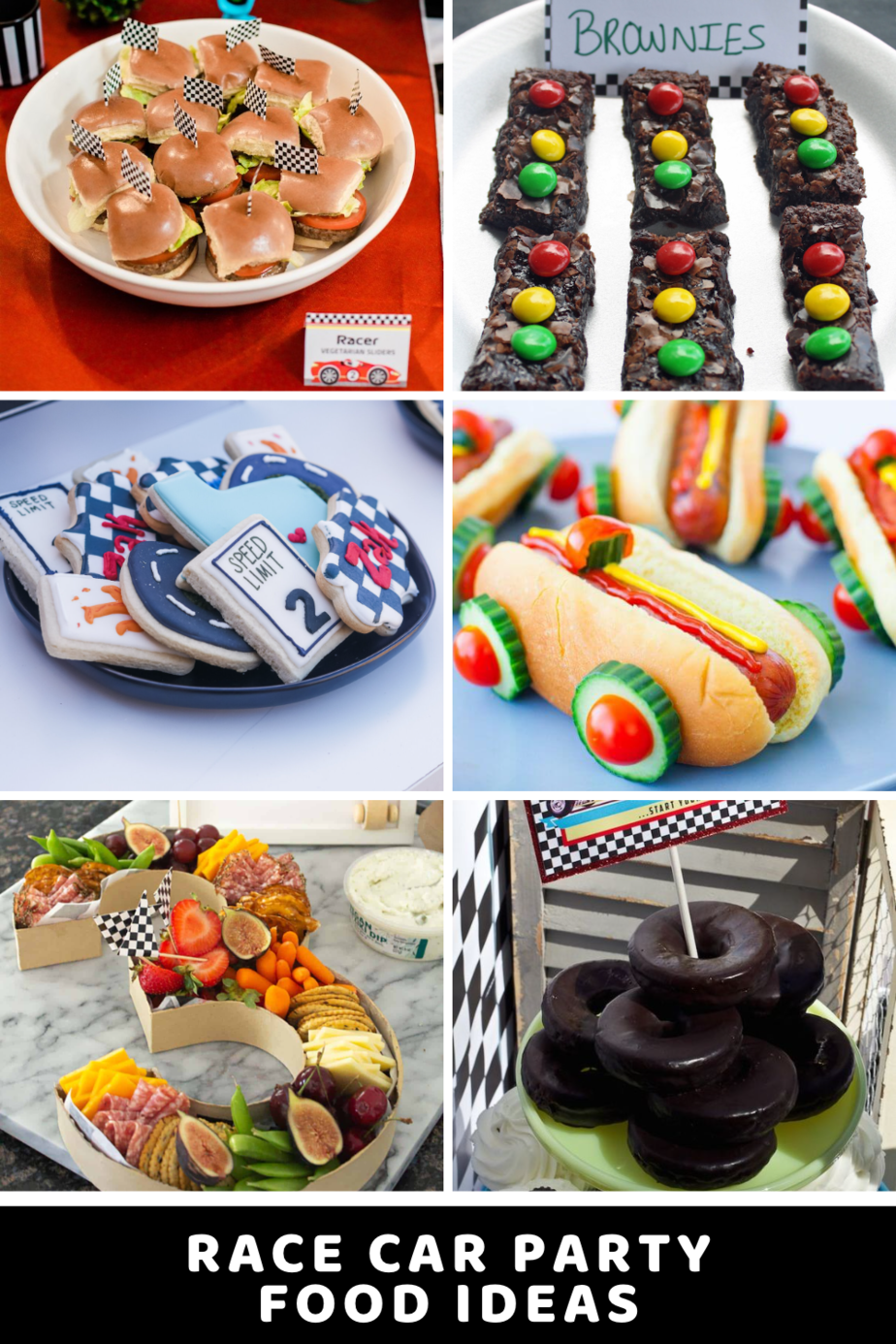 When it comes to race car party food, think fast and fun! Here are some ideas: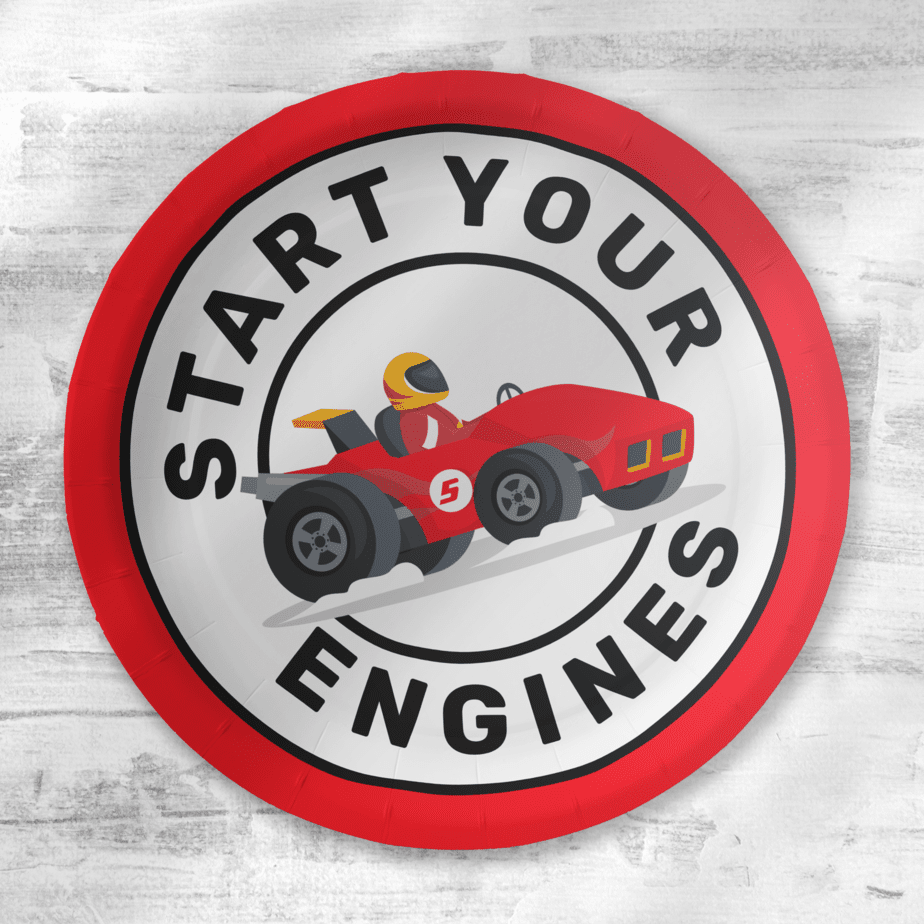 Race Car Birthday Cake Ideas
The birthday cake is always the party's centerpiece, and a race car cake can be delicious and eye-catching. Here are some ideas:
Race Car Theme Party Favors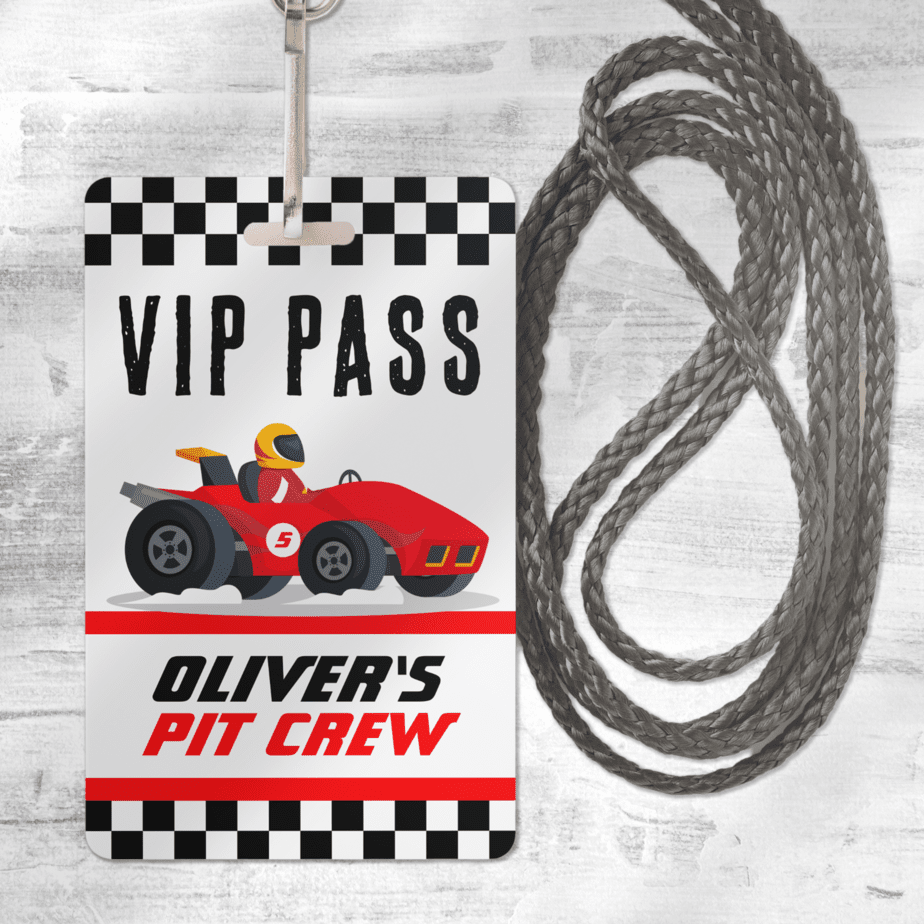 Send your guests home with fun and creative party favors that remind them of the racing car party. Here are some ideas:
Mini race car toys: Give each child a mini car toy to take home.
Mini trophies: Add cute stickers that say "World's Best Driver" to a mini trophy.
Personalized water bottles: Create customized water bottles with each child's name and a race car design.
Personalized pit passes: These cute lanyard passes will remind them of the fun birthday party they went to.
Conclusion
A race car birthday party is a great way to celebrate your child's special day and create unforgettable memories.
There are many creative ways to incorporate the race car theme, from decorations to party games to food.
With these tips and ideas and some coordinating race car party supplies, you can create a fun and exciting party that your child and their guests will love.