This post may contain affiliate links, which means I may receive a commission if you click on a link and purchase something. As an Etsy and Zazzle Affiliate I earn commissions from qualifying purchases.
If your child sees fruit and runs the other way check out these delicious smoothies recipes for kids. They'll be loaded up with fruit before you know it!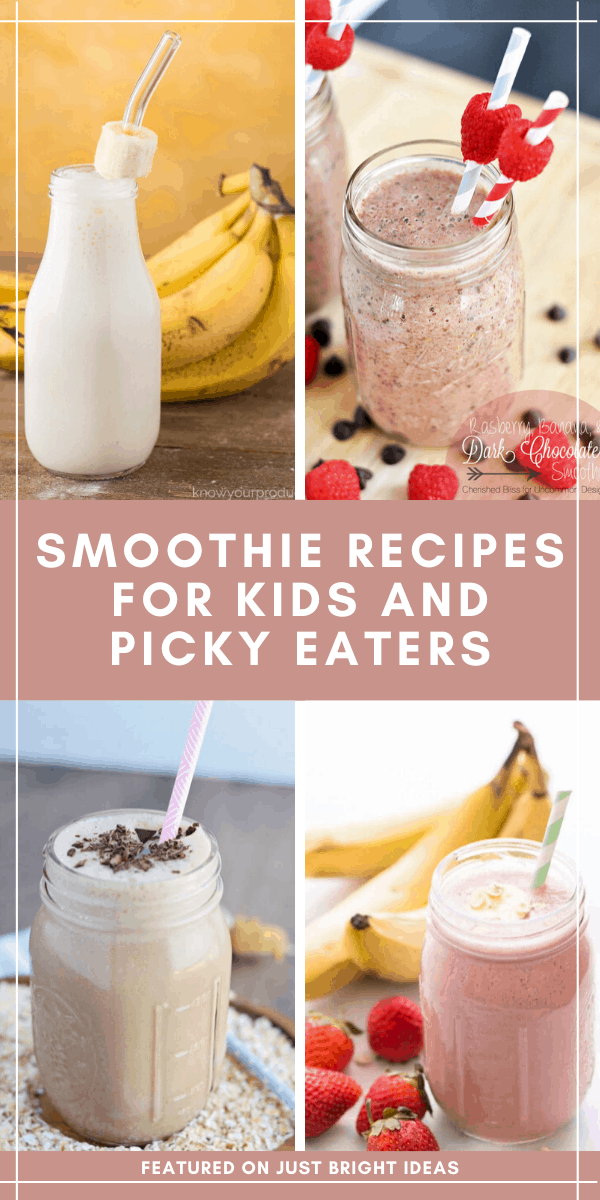 Smoothie Recipes for Kids
As parents we know how important it is for our kids to eat fruit – but what are we supposed to do when they run the other way at the mention of an apple of a banana? I think I've finally uncovered the secret to success… smoothie recipes for kids!
As long as they're drank in moderation (otherwise they might have a sugar overdose) they're packed full of fruit goodness, vitamins and calcium, and even if your kids are dairy free there are still plenty of recipes to choose from!
We've rounded up some easy smoothie recipes for kids that you can make at home (which is much cheaper than buying them from the store!)
They're perfect for kids of all ages including toddlers who won't eat. I bet dad would love to take one to work too!
Try a few of them out, see what you like and what you don't like, and then if you're feeling brave start switching up the ingredients and see if you can invent your own smoothie recipes!
Chocolate Smoothie Recipes for Kids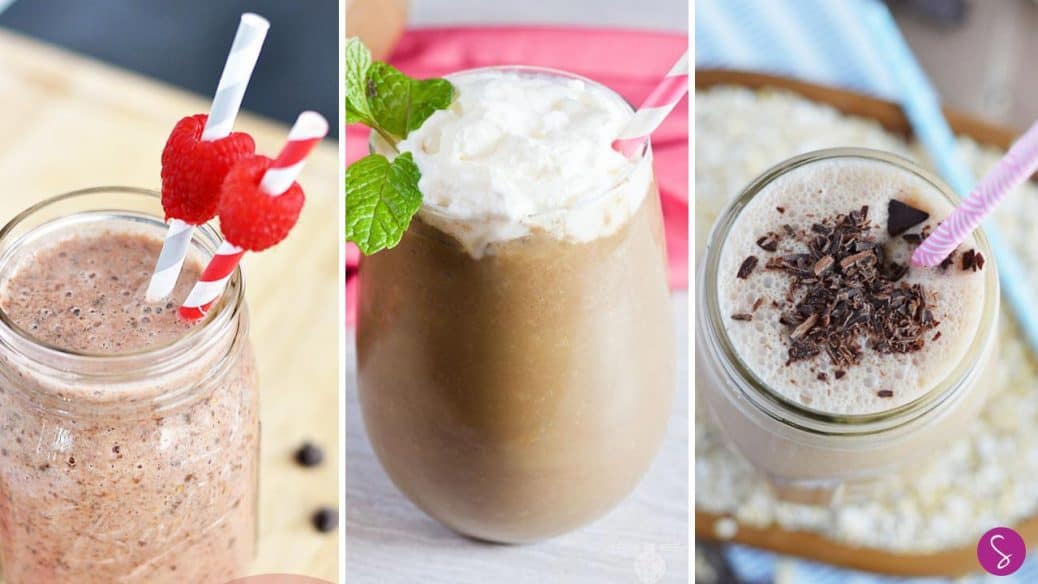 Let's kick off this collection of smoothie recipes with some chocolate options, for the kids who run the other way when you offer them fruit. Because between you and me if it has chocolate in it you can pretend that the fruit isn't there…
1. Raspberry Banana Dark Chocolate Chip Sweetheart Smoothie – so much goodness packed into this delicious smoothie recipe, all wrapped up in a chocolatey flavour!
2. Chocolate Peppermint Green Smoothie – if your child orders a milkshake every chance they get then this smoothie is the perfect choice for you, it's so thick it will pass for a shake and they'll be enjoying drinking it so much they won't notice the hidden avocados, bananas or (shhh) baby spinach!
3. Chocolate Peanut Butter Oatmeal Smoothies – If your child won't fall for the "hidden fruit" then try this recipe. It doesn't have any fruit in it but it's got peanut butter which is a great source of protein.
Kid's Banana Smoothie Recipes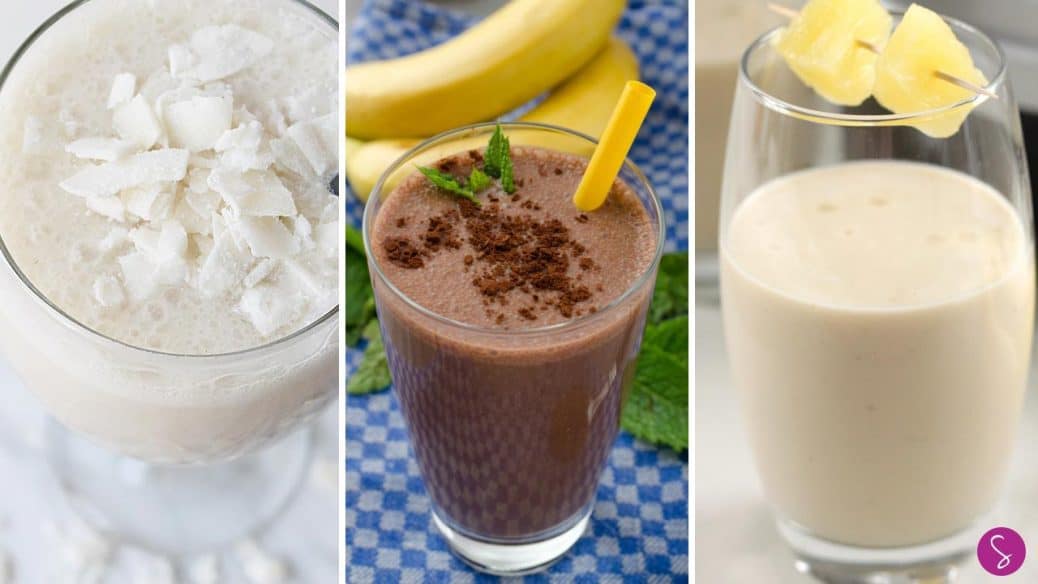 My children go nuts for bananas so I was keen to see if I could find some banana smoothie recipes to start their day. Here's what I found:
1. Almond Banana Smoothie Recipe with Shaved Coconut Topping – if you're looking for dairy free breakfast ideas for kids then this almond banana smoothie is the perfect choice, because it's made with Almond Coconut blend instead of the usual milk or yoghurt.
2. Chocolate Peanut Butter Banana Smoothie – here's another dairy free smoothie recipe which any child will go nuts for, because as well as the bananas it also has chocolate peanut butter in it! I didn't even know you could buy powdered chocolate peanut butter!
3. Coconut Pineapple Banana Smoothie – a lovely thick smoothie that's just perfect for a tropical start to the day.
Easy Yogurt Smoothie Recipes for Kids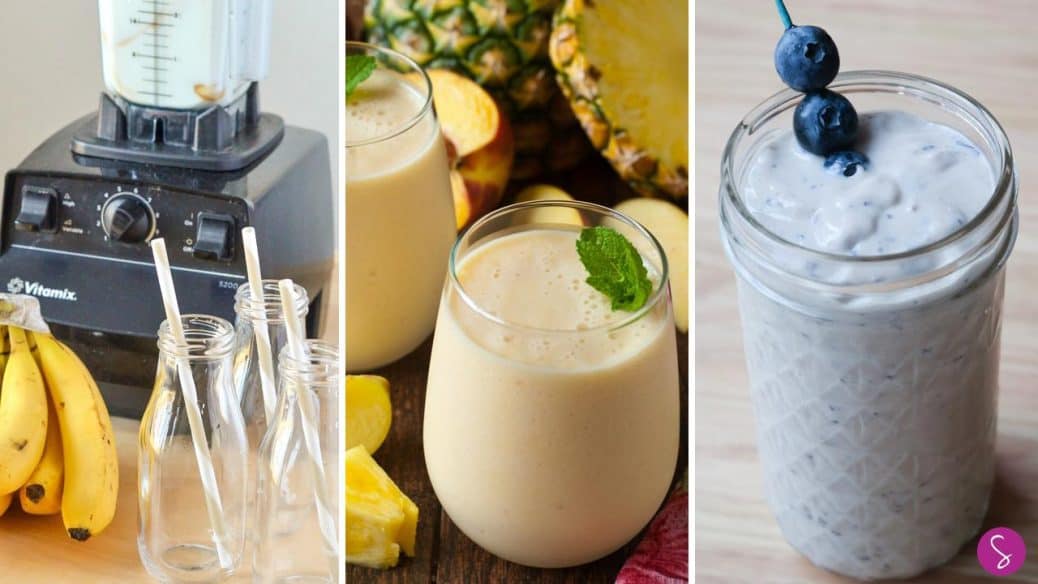 Yogurt makes the perfect base for a kid's smoothie and if you freeze it it's a great treat on a hot summer's day. Here are some of the best yogurt smoothie recipes we could find.
1. Yogurt Smoothie – Creamy Banana Vanilla – this smoothie has just three ingredients and if you go ahead and prep the bananas it's such an easy smoothie recipe that the kids can make it themselves.
2. Fresh Pineapple Peach Smoothie – this yummy smoothie uses greek yoghurt along with peaches and pineapple for a zingy treat. The agarve nectar adds a little extra natural sweetness.
3. Blueberry Avocado Greek Yoghurt Smoothie – this smoothie is one of the most perfect breakfast ideas for kids who turn their noses up at fruit, especially if their favourite colour is blue!
Apple Smoothie Recipes for Kids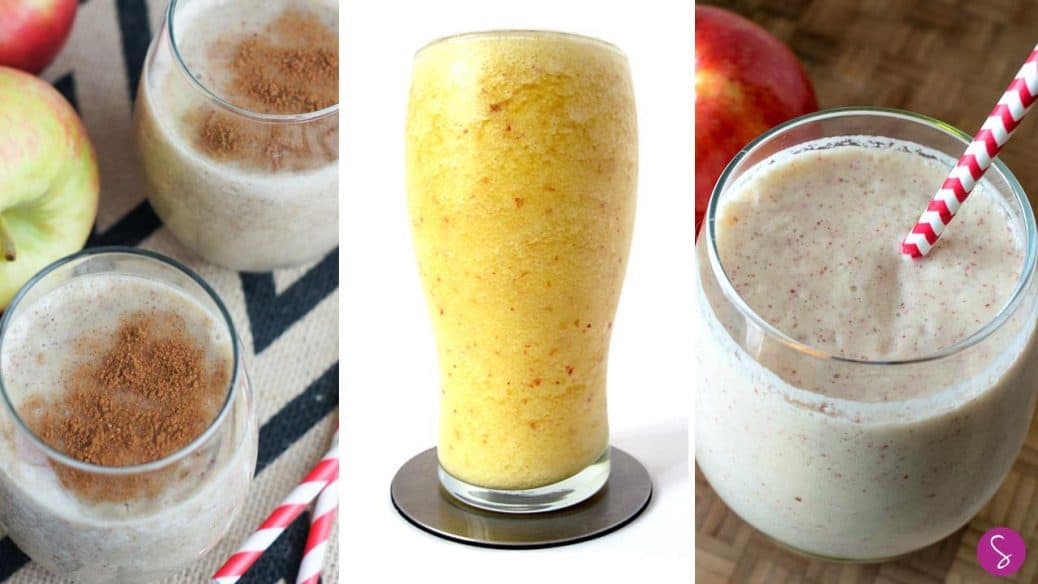 Apple smoothie recipes seem to be few and far between but my kids love apples to I was determined to track some down! These would be very tempting served up in an apple green tumbler!
1. Apple Pie Smoothie – what child would say no to a drink that tastes just like apple pie?
2. Kid Friendly Red Apple Banana Smoothie Recipe with Omega-3 & DHA – we love that smoothies are such an easy way to fill our kids up with vitamins and minerals, and this smoothie really packs a punch with Omega-3 and DHA too!
3. Simple Apple Smoothie – for a warming taste of Fall try this simple apple smoothie which contains walnuts for added Omega-3 goodness.
Strawberry Smoothie Recipes for Kids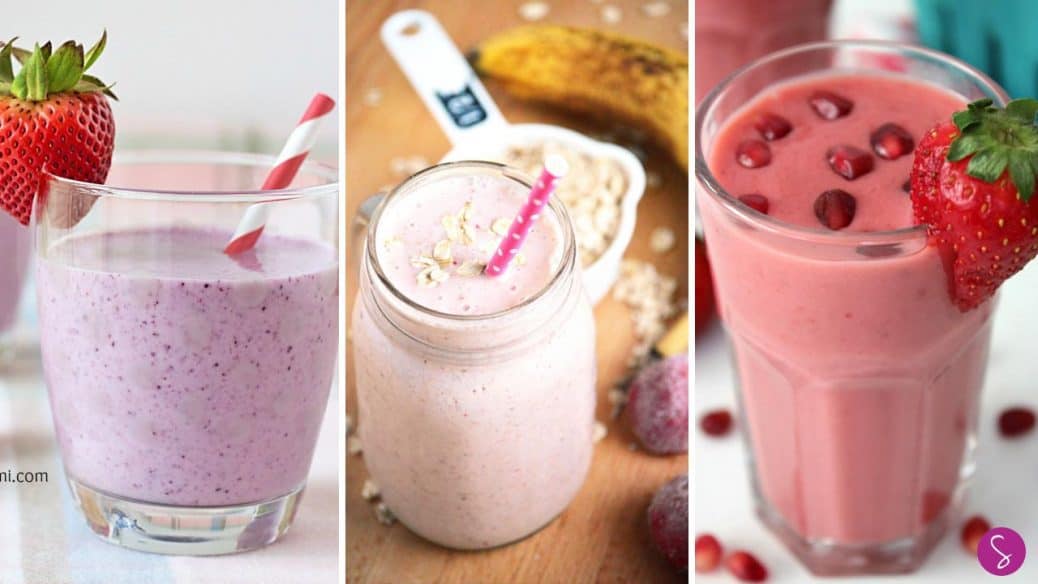 If your kids prefer strawberries then don't worry because we've scoured the web to find some of the best strawberry smoothie recipes for them to enjoy at breakfast time.
1. Easy Strawberry Smoothie Recipe – this smoothie is packed full of fresh fruit, calcium, vitamins, protein and fibre, making it one of the healthier breakfast ideas for kids.
2. Strawberry Banana Oatmeal Smoothie – here's another recipe that is perfect for shake lovers, it's just as thick but not as sweet! It's packed full of oatmeal, strawberries, bananas and coconut which are all great-for-you foods. And there's a little bit of honey and a splash of vanilla extract for sweetness and flavour but no dairy and no refined sugars, making it the perfect choice for kids!
3. Pomegranate Strawberry Smoothie Recipe – one of the great things about smoothies is that you can introduce your kids to new fruits, by blending them up with ones that are already familiar. That's why we picked out this sweet and tangy recipe that combines strawberries with pomegranates!
Smoothie Making Tips
Start by removing all of the seeds and stems from your fruit and then dice them up so that they go through the blender a bit easier.
If the fruits you want to use are in season then go ahead and buy them fresh, if not you can use frozen fruit to make smoothies too.
Add the liquid into the blender first, and then add about half of your fruit and other ingredients. Whizz it up, and then add the rest of the ingredients a bit at a time. If you want to add ice cubes then add them in at the very end. Oh and don't forget to replace the lid each time or you'll end up wearing breakfast!
If you want to make a batch of smoothies so you can eat them for breakfast then you can store them in the fridge in an airtight container and they'll last for one or two days, or pop them in the freezer in a silicone popsicle mold for a fun way to eat a frozen smoothie.
More Smoothies for Kids Ideas Here
Click here to save this post for later