When it's time to take down the trimmings these clever Christmas storage ideas will save you time and keep your decorations safe!
Ultimate Christmas Storage Ideas
This post may contain affiliate links, which means I may receive a commission if you click on a link and purchase something. As an Etsy and Zazzle Affiliate I earn commissions from qualifying purchases.

Artificial trees and wreaths will last for many a Christmas as long as you store them away carefully when they're not being used.
And Christmas ornaments often become family keepsakes so it would be heartbreaking if they got broken in storage.
That's why we have pulled together the Ultimate Christmas Storage Ideas list: clever storage picks that will keep your decorations safe and sound but also save you time when you are taking down the trimmings!
Christmas Ornament Storage Solutions to Keep Them Safe and Sound
Christmas ornaments don't come cheap and some of them can be fragile and breakable so you need to store them away safely in a container that is designed for that purpose.
[yellowbox]In a hurry? ==> See the best deals on Holiday Ornament Storage here[/yellowbox]
I used to just store my Christmas ornaments all in a cardboard archive box with some packaging peanuts… not such a good idea when someone puts a heavy box on the top and your ornaments end up getting squashed!
When we were researching our ornament storage options we kept seeing fabric storage boxes that look great and come in festive colours and we almost bought some.
But we decided there was too much risk of someone putting something heavy on the top and all of the ornaments getting damaged.
Plastic Ornament Boxes Protect Your Ornaments
Snap 'N Stack Seasonal Home Storage 13

That's why we prefer the plastic containers like the Snap N Stack range. Just like the name says each tray snaps together with another so you can add extra ones depending on how many ornaments you have.
They come in two different sizes too to cope with different sized ornaments.
Using these containers you can store your regular baubles as well as oddly shaped ornaments.
They are also perfect for heirloom ornaments and decorations that the kids have made although you might want to wrap those in tissue paper as well to make sure they stay safe.
Sturdy Ornament Bags Can Also Be Used
TreeKeeper TK-10127 Ornament Storage Box
If you don't want to use plastic containers then your best option is a storage bag like this one from TreeKeeper.
These bags are sturdy and easy to use, and they will keep your ornaments protected as well as dust free until next Christmas.
There are three fabric lined storage trays inside with dividers creating 24 square compartments. You can fit an ornament that's upto about 5 inches in each compartment, or you can remove some of the dividers to make room for larger ornaments.
I know that the absolute safest way to store ornaments is in their original packaging and boxes, but seriously who has time for that?
It's so time consuming packing them away and then unpacking them again next Christmas. Decorating the tree is meant to be fun not a huge chore!
That's why we much prefer using an ornament storage box, because the decorations are kept safe and it's super quick to take them out and put them back in again when Christmas is over.
Artificial Christmas Tree Storage Bags to Keep the Dust and Bugs Away
An artificial tree will last for many Christmases as long as it is stored correctly in between Holidays. The only problem is once you get it out of the box it was delivered in it generally never goes back in, which is why you need one of these artificial Christmas tree storage bags.
[yellowbox]In a hurry? ==> See the best deals on Tree Storage here[/yellowbox]
We have a collection of artificial trees in our attic because we have moved house a couple of times and needed a different sized tree.
For years we kept them in their original cardboard boxes, but each year it got harder and harder to fit them back in again (those branches never really go back flat).
Then we resorted to using refuse bags, which of course get shredded by the branches.
So finally the only course of action was to buy a Christmas tree storage bag!
There are two categories of artificial tree storage available.
The first let's you store your disassembled tree safely, the second lets you store the tree fully assembled.
I would love to be able to not have to take my tree apart every year but we just don't have the storage space for that, if you do then I'm green with envy!
Christmas Tree Storage for Disassembled Trees
Low Cost Christmas Tree Storage
Elf Stor Premium Christmas Tree Bag Holiday Extra Large for up to 9′ Tree Storage

If you're looking for a low cost option then a Christmas tree bag like this one is ideal.
It can hold a tree up to 9 foot tall and is made of durable tear-proof material.
If you don't have a 9ft tree then it just means you have room over to store other decorations inside!
Look After Your Expensive Artificial Christmas Tree
If you have an expensive tree then you should really invest a little more in the storage bag to make sure it stays safe, and that's when you need this bag from CoverMates.
It's made from heavy canvas and has built in cinch straps to keep everything in place.
It has reinforced padded handles for transporting your tree and a dual zipper.
It also comes with a three year warranty.
This bag is also the perfect storage option for large trees because you can fit a disassembled 11 foot tree in there!
Christmas Tree Storage for Assembled Trees
If you are lucky enough to have the space to store your artificial tree fully assembled then you will need a bag to protect it from dust, moisture and bugs.
Perfect for Small Trees
Household Essentials Christmas Tree Storage Bag with Green Trim
If you have a small tree then this bag from Household Essentials is less than 15 dollars and is surprisingly good quality for such a low price.
It's really basic but it is made of tear-proof polyethylene and has sturdy handles so you can carry your tree to it's storage position.
Store Your Large Tree Fully Assembled
Tree Keeper Premium Holiday Christmas Pro Large Girth Upright Artificial Tree Bag with Rolling Stand
If you have a large expensive tree then you need to invest in a good quality bag and that means buying a TreeKeeper.
This bag is durable, and attaches to your tree stand like a skirt so you just pull it up around the branches and close it.
It also has a rolling stand which makes it easy to move your tree to the storage area without having to lift it.
Each of these bags are "compression" bags, which means when you put your tree inside the branches are folded upwards.
This means you can leave your lights in place but you should exercise caution leaving ornaments on as they could get squashed.
Store Your Large Tree Fully Assembled and Decorated!
Tree Keeper Premium Holiday Christmas PRO Decorated Tree Storage Bag With Rolling Stand
If you really want to store your fully decorated tree so that you just pull it out year after year then you need this bag from TreeKeeper instead.
It's made for trees up to 9 feet tall and 72″ wide and it has a rolling tree stand which not only bears the weight of the tree but also makes it easy to move to the storage space and back again.
One thing you need to keep in mind with both of the TreeKeepers is that if you have hard floors there's the chance they could be scratched by the wheels as you move it.
Use a thin carpet runner to make a path between your tree and your storage area to avoid any chance of damage and you will be just fine.
Christmas Light Storage Reels to Stop Your Fairy Lights Tangling
Hanging fairy lights has to be the most stressful thing about decorating for Christmas, because they always take ages to untangle. Unless of course you store them away correctly every January using Christmas light storage reels!
[yellowbox]In a hurry? ==> See the best deals on Holiday Light Storage here[/yellowbox]
Do you want to know what I hate most about decorating for Christmas? Fairy lights.
They are always a huge tangled mess and it takes ages to unravel them.
And I kept putting off buying Christmas light storage reels because it just seemed like a waste of money.
But now I wish I'd done it years ago!
At the end of the season when you're packing everything away you just wind your lights (or garlands and bead strings) around the reel.
Then the next year you just walk around your tree, or up your stairs, unwinding the string as you go. Easy Peasy!
There are a couple of different options available for you to buy.
Cheap Christmas Light Storage
Christmas Light Cord Wind Ups (2 pack)
The cheapest option is a basic winder like this one.
It holds 100 feet of lights and you literally just wind it around and around to store it away.
Then the following year you unwind it as you decorate your tree.
Christmas Light Storage Bag and Reels
Trademark Home Extension Cord or Christmas Light Reels with Bag, Set of 4
If you have lots of light strings to store away then take a look at this reel and bag set.
You get four reels that can each hold two 100 mini light sets or one 150 icicle light set.
Once you have wound up all your lights you then pop the reels into the storage bag so you know exactly where they are next Christmas!
Christmas Wreath Storage Solutions to Keep Away the Dust and Bugs
Artificial wreaths are a great investment because just like a tree you can use them for Christmas after Christmas. But that is only the case if you store them away safely between Holidays using one of these Christmas wreath storage solutions.
[yellowbox]In a hurry? ==> See the best deals on Holiday Wreath Storage here[/yellowbox]
It can be tempting to just put the wreath in a plastic bag and store it away but you run the risk of it being knocked out of shape, or attracting dust and insects.
You're much better off protecting your wreath with a specially designed bag or box.
A Wreath Storage Bag Will Keep Your Wreath Looking Perfect
Elf Stor Supreme Canvas Holiday Christmas Wreath Storage Bag For 30
If you have somewhere to hang your wreath then a storage bag like this one is perfect.
It's large enough to hold a 30 inch wreath (there are other sizes available) and it is made of durable tear-proof oxford canvas.
It zips up to keep out the dust and insects and you can hang it up using the h4 handles.
A Wreath Storage Box Will Stop Your Wreath Getting Sqaushed
Homz Holiday Wreath Plastic Storage Box, Up to 24
If you don't have anywhere to hang your wreath in storage then you need a box instead because that will allow you to stack your wreath and not risk it getting squashed.
This wreath box is made of durable plastic that will protect your wreath for many Christmases.
It can hold a wreath up to 24 inches in diameter but keep in mind that if you have a really thick wreath it might not fit in the box.
We struggled to find a wreath box to fit a larger wreath, the only option seemed to be to buy a bag instead and use a hook to hang it.
Christmas Gift Wrap Storage to Keep Your Wrapping and Bows Safe
Storing leftover rolls of gift wrap always seems like a frugal idea, until you go to use it the following year and its all tattered and torn. To save you wasting that expensive wrapping paper it's best to invest in some Christmas gift wrap storage.
[yellowbox]In a hurry? ==> See the best deals on Holiday Gift Wrap Storage here[/yellowbox]
CoverMates – Ultimate Gift Wrap Storage Bag
I don't know about you but I always buy too much gift wrap each year and think that I will use it the following Christmas.
Then when the time comes I either can't remember where I stored the gift wrap or if I can find them the rolls are all squashed up and the paper is torn!
The best thing to do is to use a gift wrap storage bag like this one from CoverMates.
We love this bag because it not only has room for 12-15 rolls of gift wrap but also ribbons, bows and gift bags.
It has a clever strap to hold the gift wrap in place and you can move the divider up and down or remove it completely.
This is perfect for you if you love buying those extra long rolls of paper because without that top divider you can fit them in the bag!
Its not the cheapest gift wrap storage bag available to buy but it is the only one we're going to tell you about because the cheap bags all fall apart and end up costing more in the long run!
The CoverMates bag is sturdy, long lasting and has a three year warranty. It's so good you'll want to have one to store your Christmas gift wrap and one for your day to day gift wrap too!
Finding Your Christmas Decorations Next Season!
Of course finding the right boxes and cartons for your Christmas decorations is only part of the organising project. You need to be able to find all your stuff again next year!
Inventory Your Christmas Decorations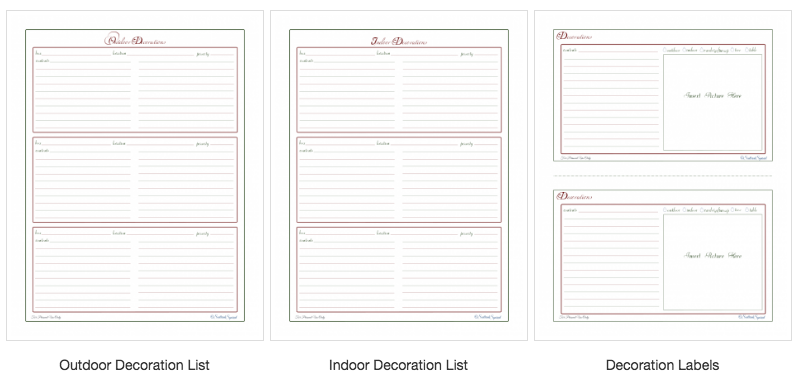 Whichever Christmas storage solutions you decide on the important thing is you know what's inside the boxes and cartons.
My friend Alli has put together a free Holiday Planning printables pack and inside you will find inventory lists for indoor and outdoor decorations as well as labels you can use on the outside of your storage containers.
Click here and then jump to the Decorations section to get them.
As you pack away your ornaments and decorations fill out the inventory forms, and then use the labels to make clear what sort of decorations you have stored inside.
Store Your Containers Away Safe and Sound
If you put your inventory sheets inside your Home Management Binder you will know exactly how many boxes and cartons you need to retrieve at the start of next year's Holiday Season.
To make things even easier try to make sure you store them all in the same place, whether it's the garage, the attic or the basement!