These waffle station ideas will help you set up your own party bar, from how to keep your waffles warm to a waffle toppings list, we've got the answers!
This post may contain affiliate links, which means I may receive a commission if you click on a link and purchase something. As an Etsy and Zazzle Affiliate I earn commissions from qualifying purchases.
Waffle Station Ideas
We rounded up some food station ideas for parties and some of you have been asking us for more specific waffle station ideas so here they are!
Whether you're planning a breakfast brunch, a baby shower, or your kids are just having a sleepover a waffle bar is a fun way to feed a whole group at the same time. And you don't have to just have sweet toppings either, throw in some savory choices and those waffles are an easy way to serve dinner!
How to serve waffles at a party
How you serve your waffles depends on the size of your party.
If you're just having a kid's sleepover then go easy on yourself and pick up some frozen waffles from the store. Then you just heat them up when the kids are ready!
If you're throwing a baby shower for a friend you might prefer to make your own homemade waffles, which you can freeze ahead of time.
If you're planning on having a waffle bar at your Wedding check with your caterers to see if they can man the station for you, or see if there is a local "waffle station" company who provides services in your area.
How to keep waffles warm on a waffle bar
You could use a waffle maker right there at your bar to serve piping hot waffles but the easiest thing is to serve pre-cooked warm ones so your guests don't have to hang around waiting for them to cook.
If you use frozen waffles (store bought or homemade) pop them in the over at 200 degrees to warm them up and then lay them out on baking sheets covered with paper towel. Layer up your trays and they should stay warm for about two hours.
If you make your waffles fresh in a waffle iron you can follow the same process, just skip the oven part.
What do you need for a waffle bar?
If you're putting together your own waffle bar you're going to need lots of bowls for the toppings.
If it's a low key affair then just raid your kitchen cabinets and bring out everything you have, even if its mis-matched.
If you want something more co-ordinated you can order bowl sets from Amazon and they're not too expensive. You can choose colors to match your party decor.
Or for a vintage theme why not hit the local thrift store or flea market and see if you can find serving bowls to use.
If you're just planning a small scale waffle station for a sleepover, or a family brunch you could even use cute popcorn favor boxes to set out the toppings.
You'll also need plates for guests to make their waffle creations on, and serving spoons and flatware.
Oh and lots of napkins because waffles can be messy to eat!
What are good toppings for waffles?
And now for the all important waffle toppings list! You can of course be as creative as you like, but here are some sweet topping ideas to inspire you:
Sliced fruit
Banana split toppings
Spiced peaches
Or set out some of these sweet toppings on your waffle bar for guests to choose from:
Apple Pie Filling
Blueberries
Cherries
Chocolate Chips
Graham Crackers
Granola
Hazelnut Spread
Honey
Hot Fudge Sauce
Jams and Jellies
Maple Syrup
Marshmallow Fluff
Peanut Butter
Rainbow Sprinkles
Raspberries or Blueberries
Shredded Coconut
Sliced Bananas
Sliced Fruit
Strawberries
Strawberry Syrup
Whipped Cream
Yogurt
Savory waffle bar ideas
Of course your waffle toppings don't have to be limited to sweet ones, here are some savory waffle bar ideas:
Pork and maple pears
Green chile and sausage gravy
Cheese and bacon
And you could also give these a try:
Bacon, lettuce and tomato
BBQ pulled pork with a tangy coleslaw
Caramelised onions, sautéed mushrooms and parmesan cheese
Fried chicken and honey
Goats cheese and balsamic syrup
Mac n Cheese with crumbled bacon
Poached egg with hollandaise sauce
Waffle bar printables
Whether your waffle station is for a baby shower, a birthday brunch, or for your kids on a sleepover it's good to have some little printable signs to let guests know what they need to do!
Waffle bar sign printable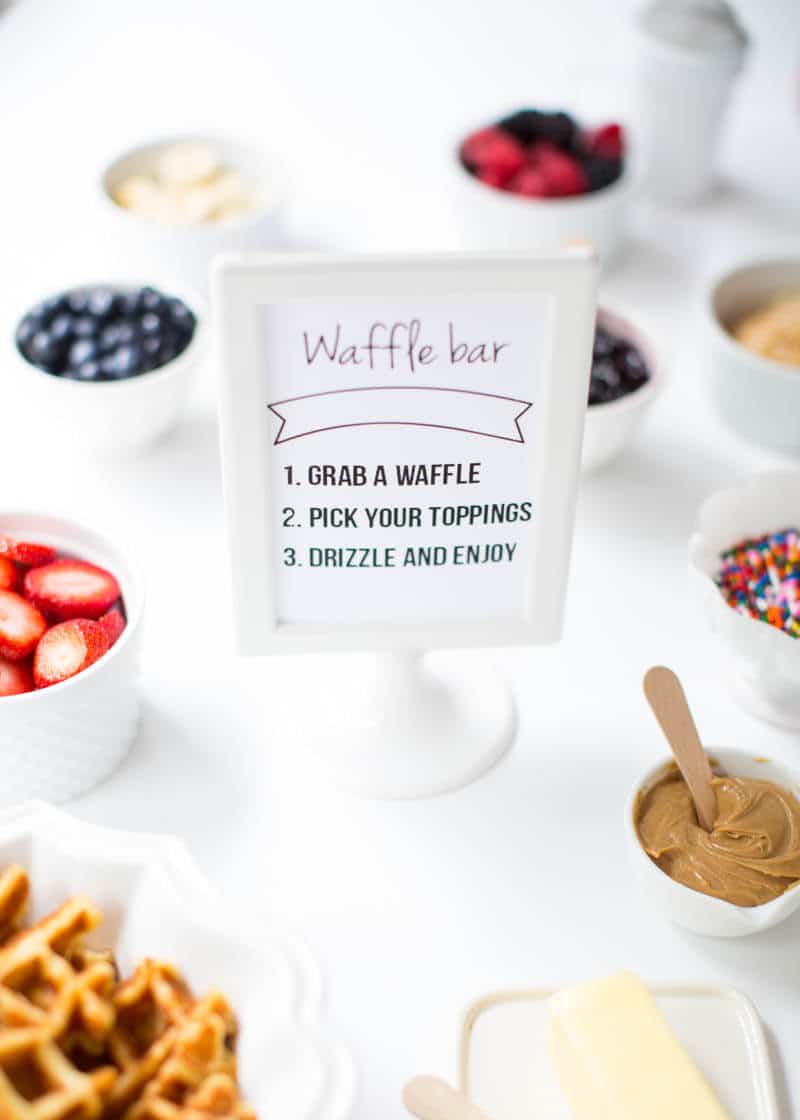 This waffle bar sign printable is cute, I love step 3… drizzle and enjoy!
Waffle bar ingredient printables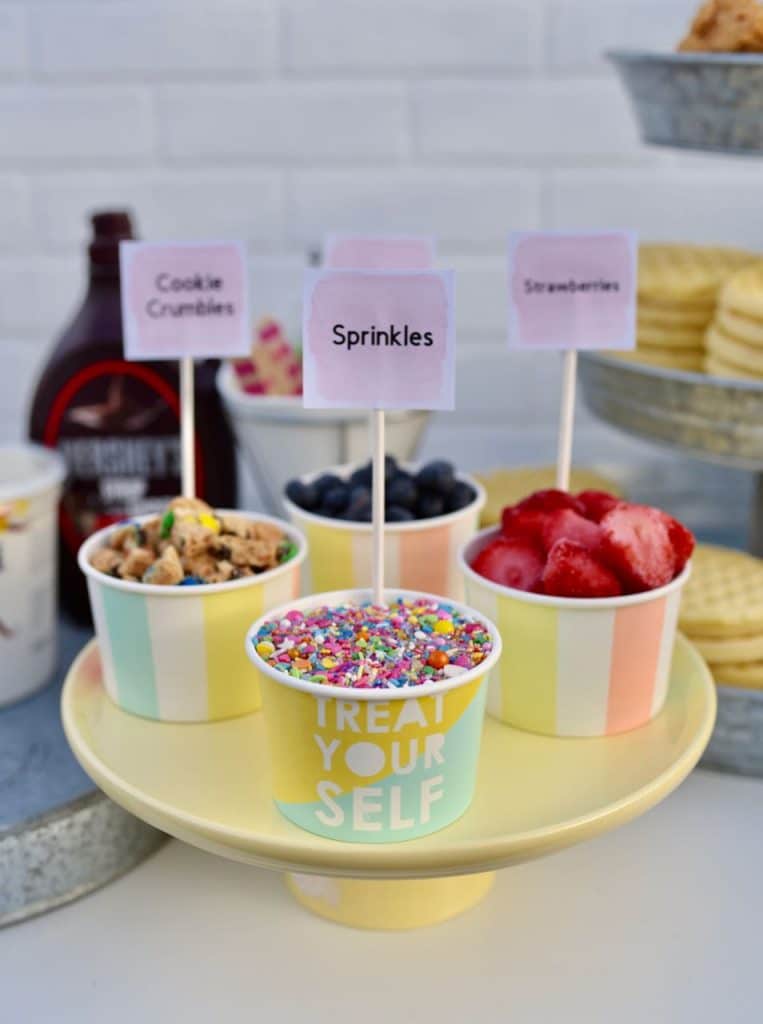 These cute waffle bar printables are a great way to let your guests know what each of your toppings are.
More waffle station ideas to inspire you!
Valentine's Day Waffle Bar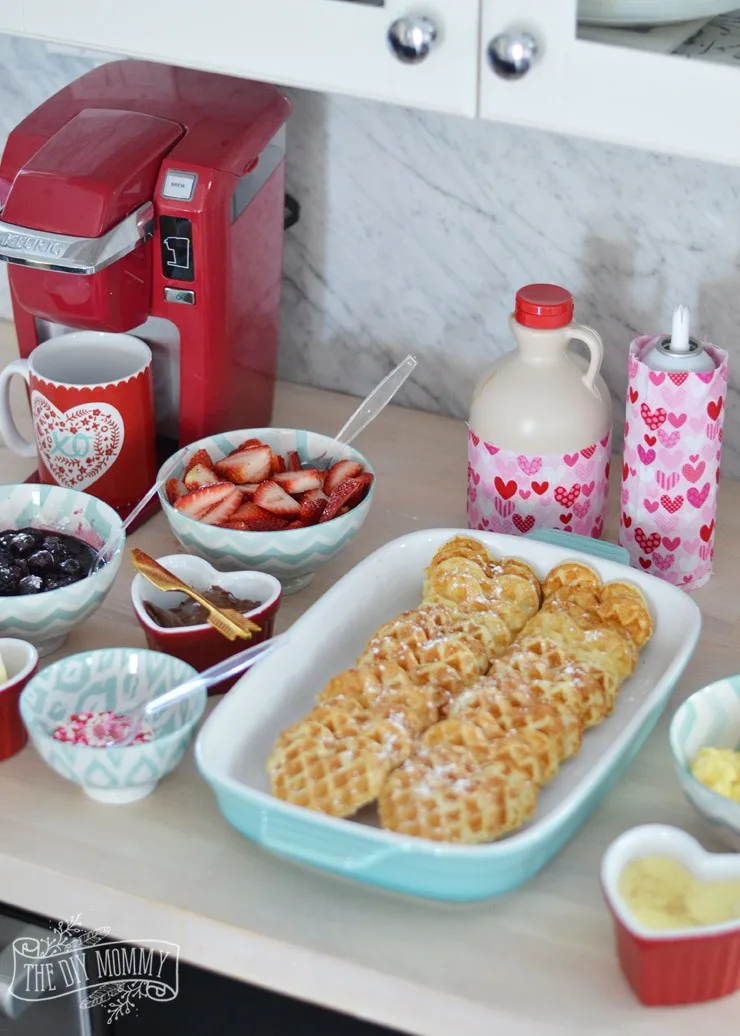 You don't have to save waffle bars for parties and get togethers, they're also a lovely way to serve brunch to your family. I love this Valentine's Day station with the heart shaped waffles – just perfect to show your kids and your hubby how much you love them!
Easter Waffle Bar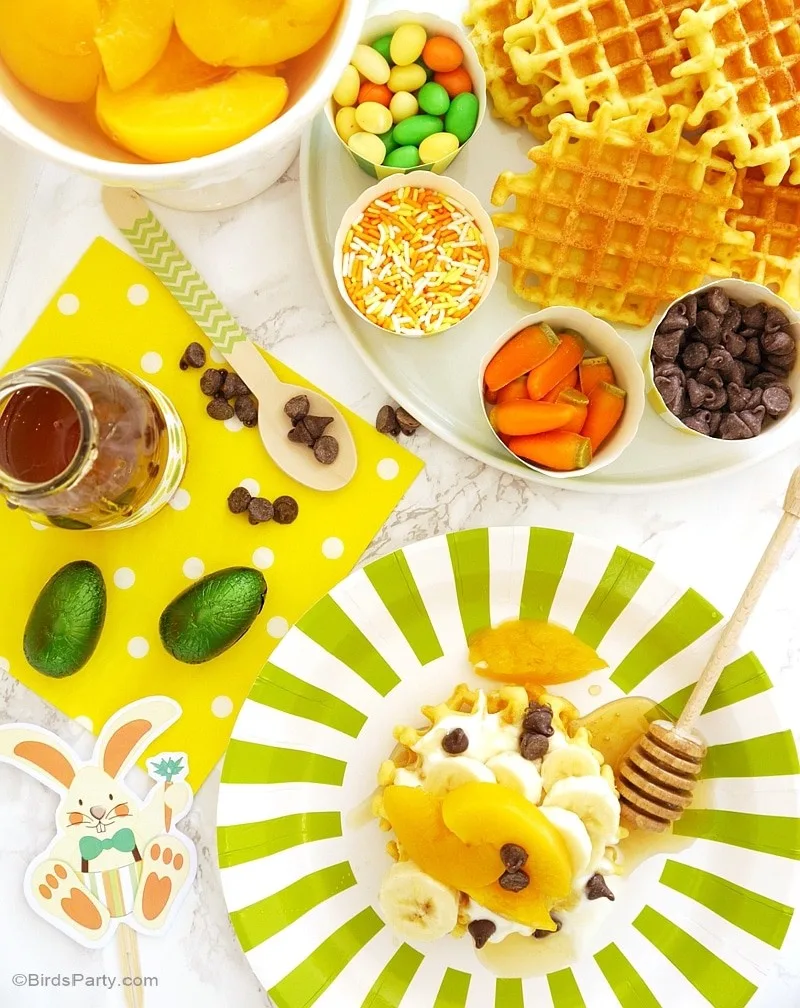 How about an Easter themed waffle bar? Complete with cute little bunnies!