If you want to get out of debt in 2020 try one of these budget tracker Bullet Journal ideas to help you stay in control of your expenses!
This post may contain affiliate links, which means I may receive a commission if you click on a link and purchase something. As an Etsy and Zazzle Affiliate I earn commissions from qualifying purchases.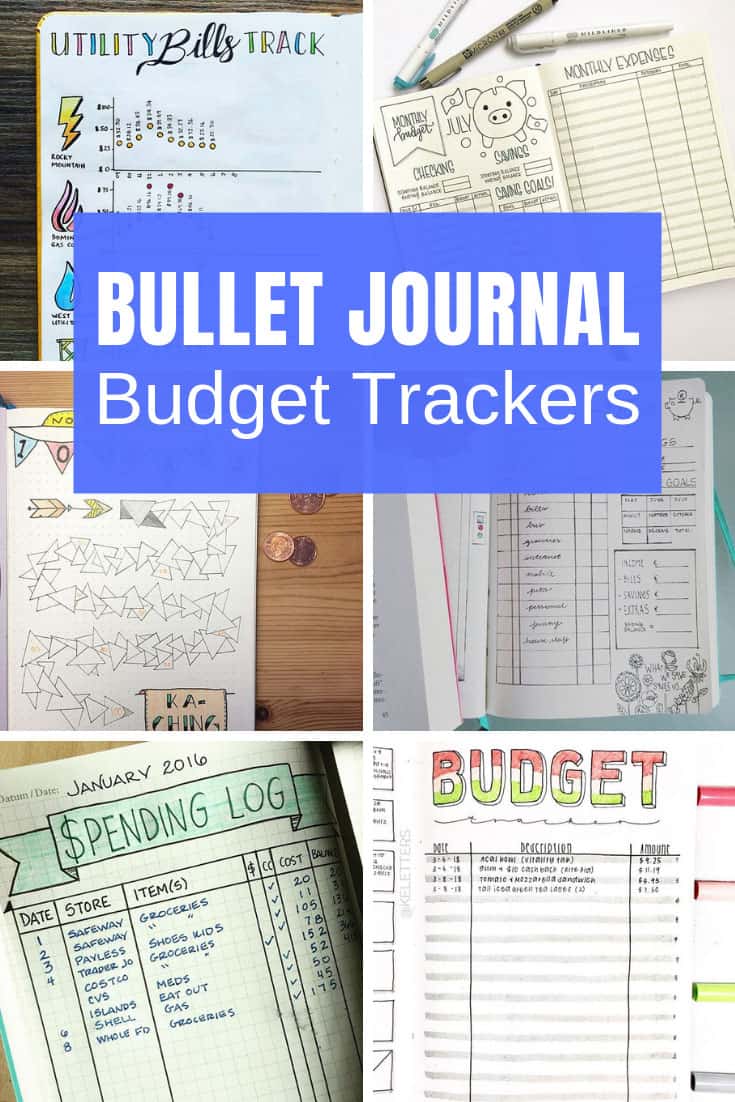 Budget Tracker Bullet Journal Ideas
Ever since we published our super popular Bullet Journal tracker collection our readers have been asking for more budget tracker Bullet Journal ideas to help them manage their finances. So that's why we have today!
Since you have your Bullet Journal with you all day every day it makes perfect sense to track your expenses and keep an eye on your budget with it. And there are so many creative layouts for you to try out for yourself.
Have a browse through the ones we've picked out for you, think about your budgeting goals and what you want to keep track of and then put something together that will work for you!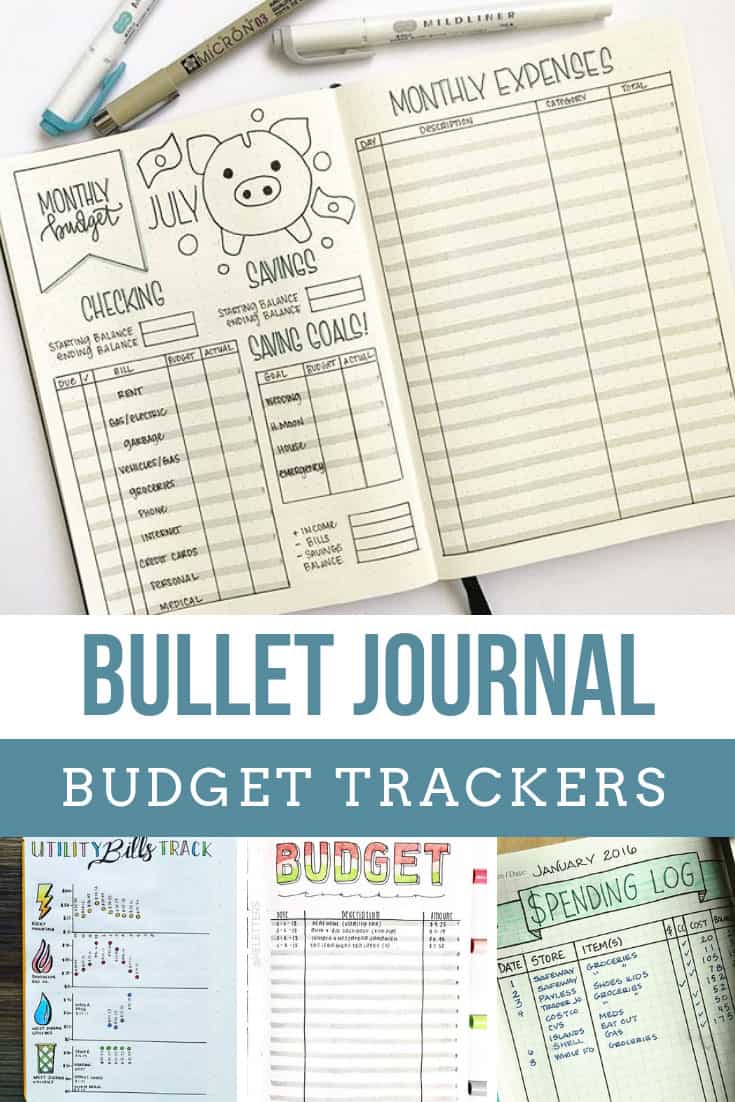 Spending log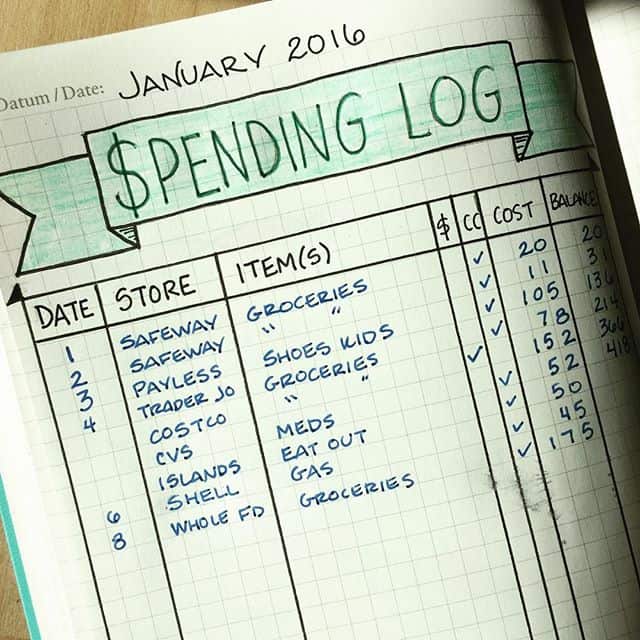 Keep track of your spending with a simple log layout like this one. If you spend on a combination of credit card and cash it's a good idea to have a separate column for each.
YNAB tracker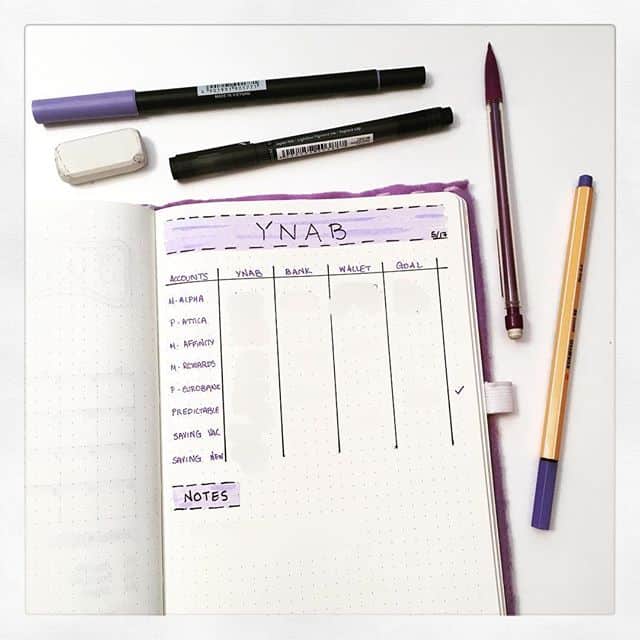 I love using YNAB to balance my budgets and this is such a clever idea to have a layout in your Bullet Journal so you can keep track of the times things don't quite add up right.
Budget dashboard spread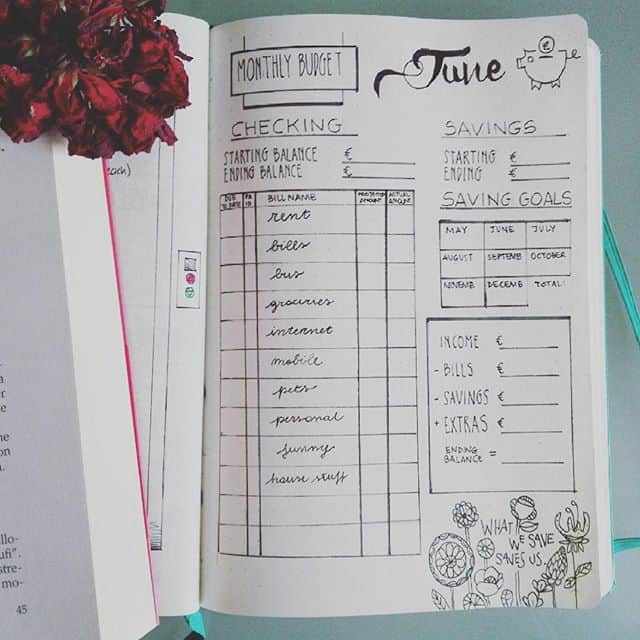 I love this layout because it's like a budget dashboard for your Bullet Journal with your monthly bills and savings goals all on one page.
Online earnings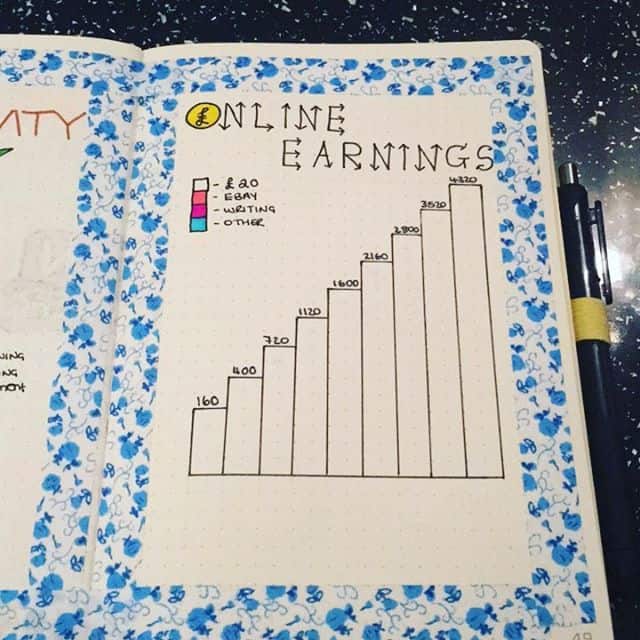 If you have a side hustle making money online with Pinterest or eBay then this online tracker is a nice way to keep track of your earnings and motivate yourself to keep putting in the effort!
Monthly bills tracker for utilities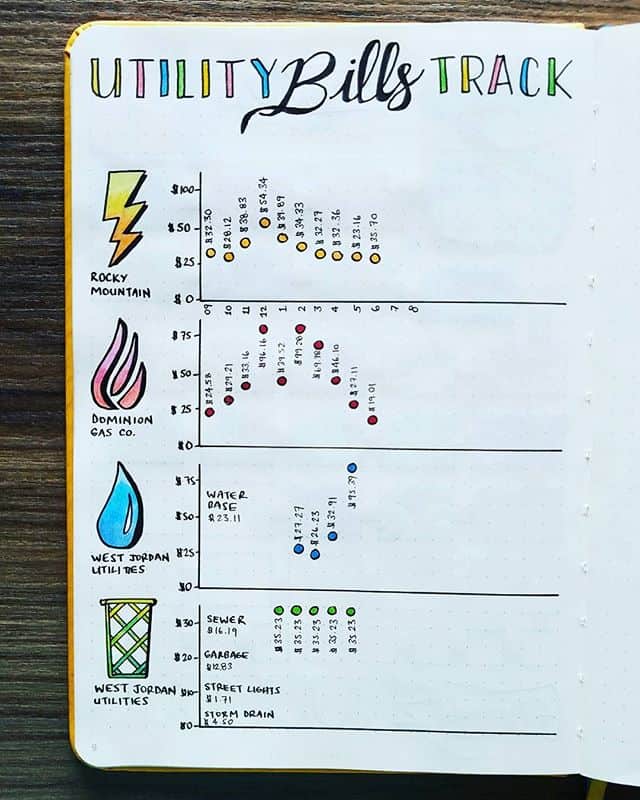 Oh I LOVE the idea of keeping track of utility bills over the course of the year with a little graph so you can see high your usage goes up and down! This is a way you can see where you can save money on your utility bills not just how much they cost.
Budget tracker spread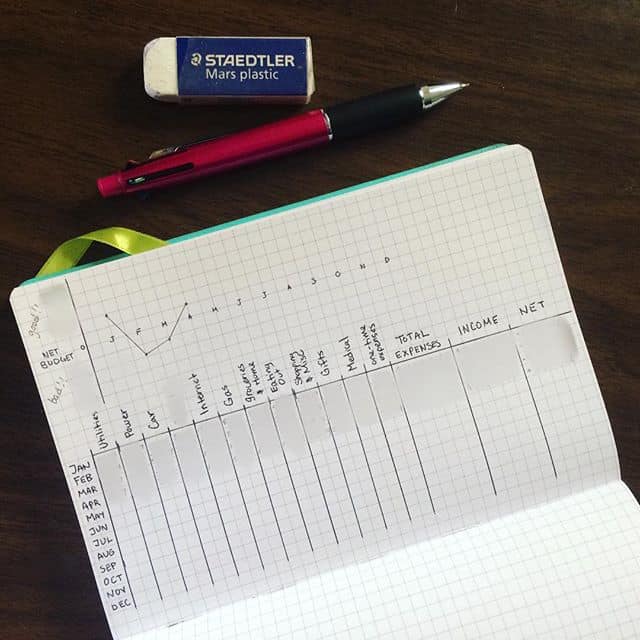 And speaking of charts, here's another way to incorporate one into your financial Bullet Journal spreads. This time the chart will show you which months you were over budget and which months you were under.
Monthly budget list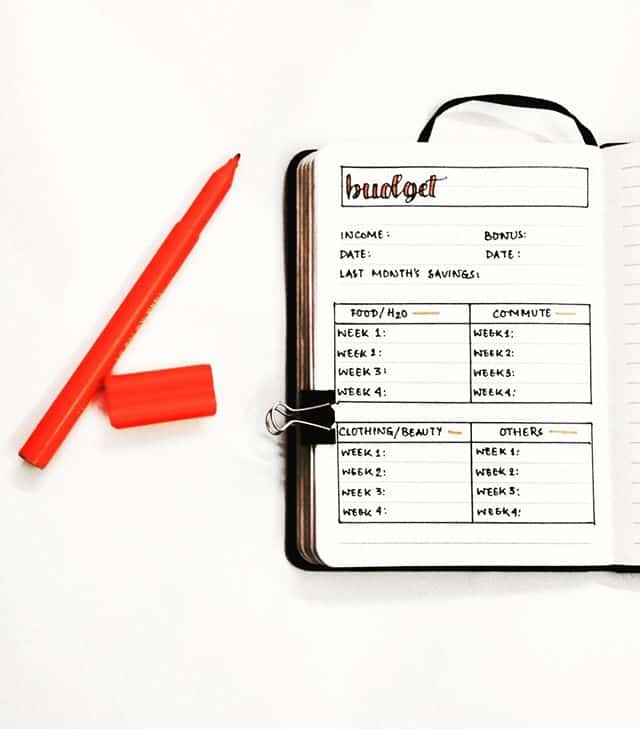 If you like to break your budget down into sections then try a simple grid layout like this one so you can see at a glance how many dollars you have assigned to each category each month.
Simple expenses tracker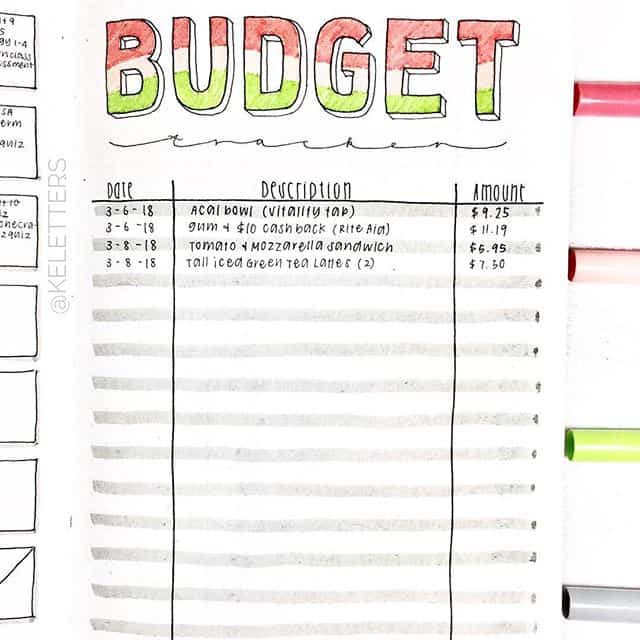 If all you want to do is keep a running list of the amount of money you spend each month try a simple layout like this one. I LOVE that colourful header!
Budget graph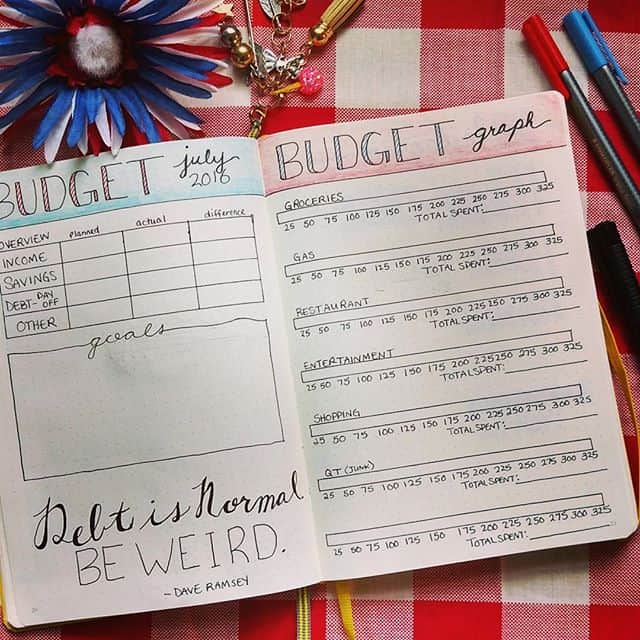 Here's the layout you need if you follow the Dave Ramsey strategy to reduce your debts. I really like the budget graph page.
Monthly budget spread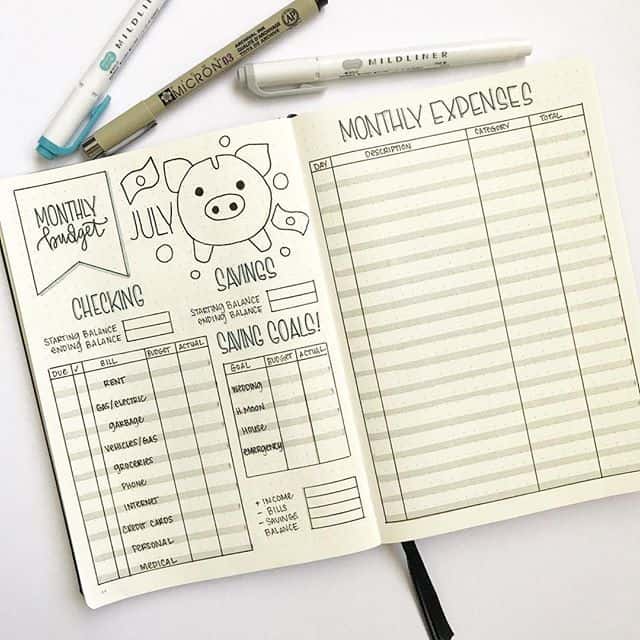 This spread jumped out at me because of that cute little piggy bank doodle, but on closer inspection I realised that this was a really well thought out budget dashboard spread. There's space for keeping track of monthly expenses and savings goals as well as a budget v actual table to help you get an overall picture of your spending each month.
No spend tracker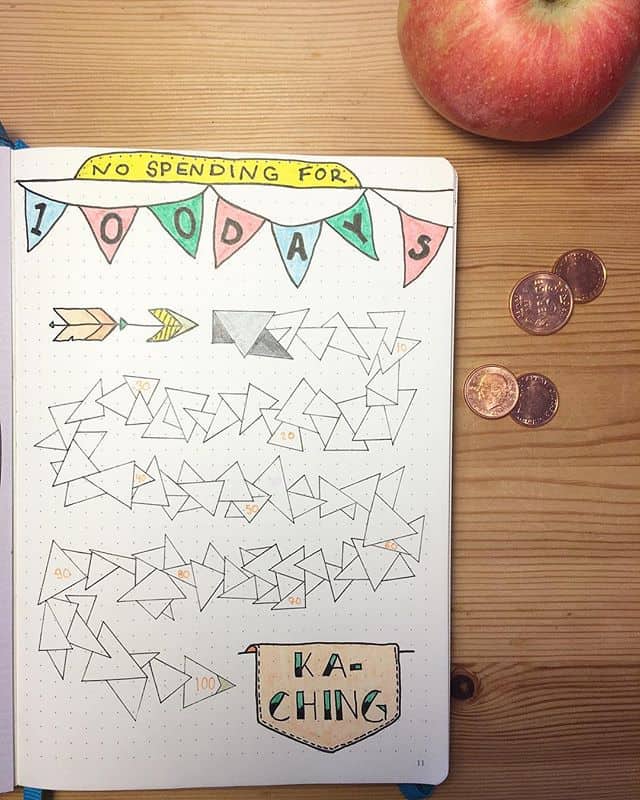 This isn't really a budget tracker, but if you're trying to save money by having no spend days you should think about making a layout like this one to help you build the habit and track your progress!