DISCLOSURE: Some of the links below are affiliate links. This means that, at zero cost to you, I will earn an affiliate commission if you click through the link and finalize a purchase. All opinions are my own, and I only recommend products that will add value for my readers.
This list of Bullet Journal collections is the BEST! Whether you want to keep track of your health, your reading habits, or your household chores you'll find the tracker you need right here! These ideas will help you to take your BUJO to the next level in 2022!
Things to Track in Your Bullet Journal with Collections
One of the things I love most about the bullet journal system is that it's so flexible. Building a planner that fits your life is so easy when you can decide what to record on the blank pages of your journal. And once you have the daily and weekly planner pages sorted you can move onto adding some collections.
And just in case you're wondering what the heck these bullet journal collections are and why you need them in your life sit tight because that's what we're talking about today!
What are bullet journal collections?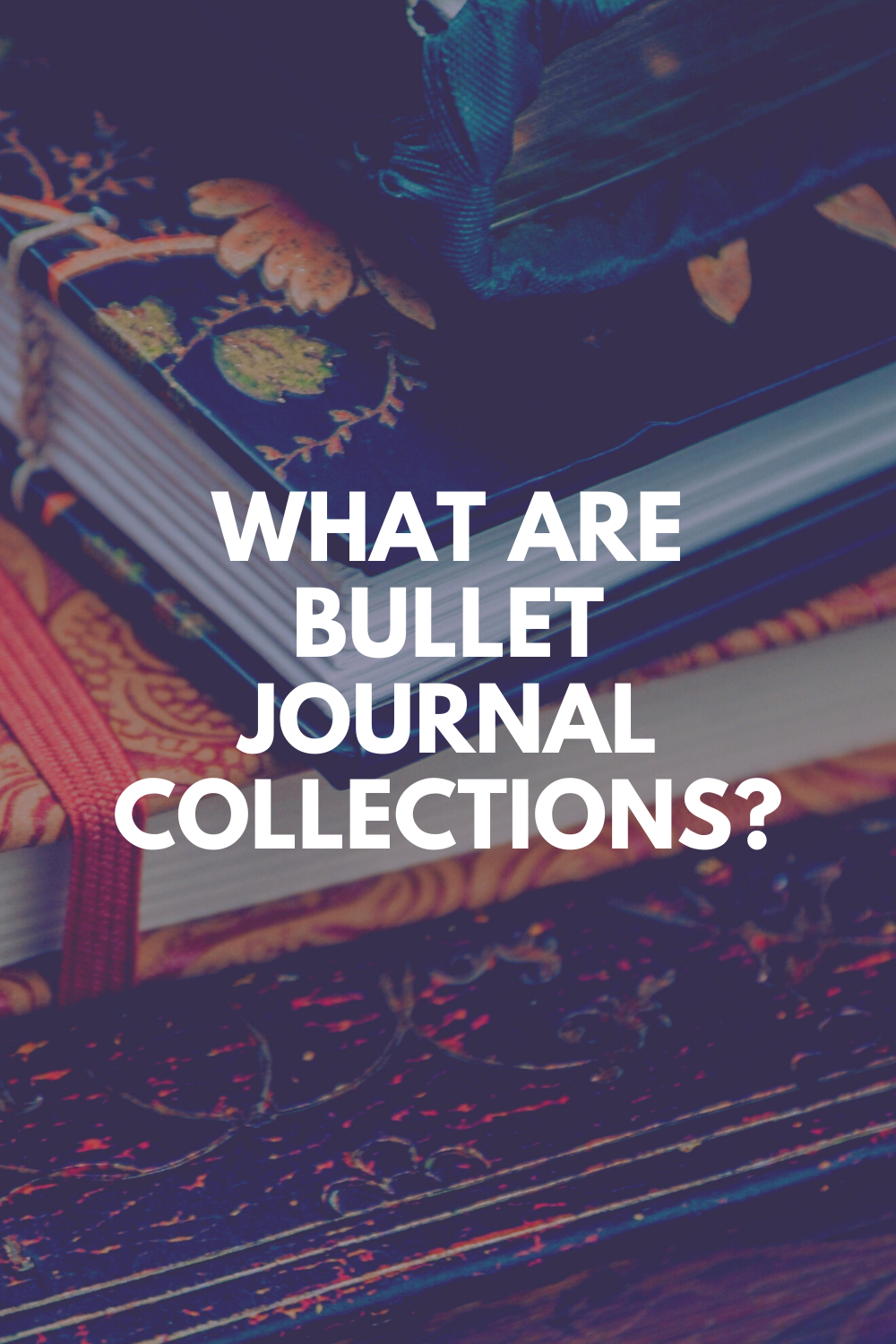 If you're new to the bujo world you might be wondering "what are bullet journal collections?"
Plain and simple a collection refers to a list or notes on a project or a tracker. Essentially anything that isn't you daily, weekly or monthly planner pages.
There are no "official" collection pages that you have to include in your journal as part of the Bullet Journal system. You create whatever custom collections you need to keep track of your life.
Maybe you want to keep a reading log, or track your sleep, or keep your cleaning schedules close to hand, you might even want to make notes about a house move or new car.
You can do all of these things in your Bullet Journal so you have the information right there when you need to refer to it.
Where should I put the collections in my bullet journal?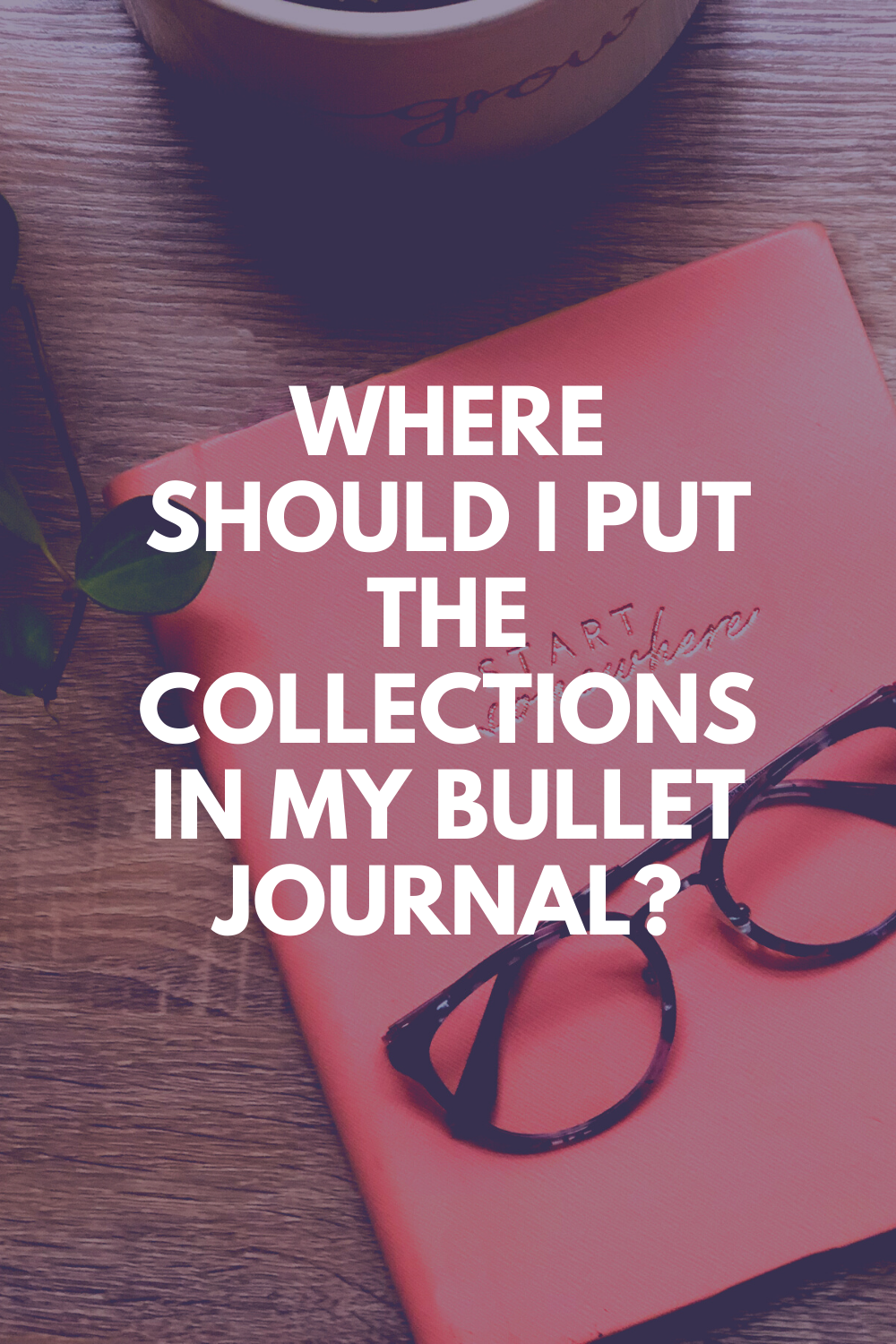 Now that is a very good question.
Where you put your bullet journal collections depends on what kind of collection they are and how often you want to look at them.
While there are an infinite number of collections and trackers you could create they will all fall into two main categories: time bounded and open ended.
Time bounded collections are things like monthly sleep logs, exercise trackers and step counters. For these you will make a new tracker or collection each month and use it during the month. The best place for these to live in your bujo are right there alongside your weekly and monthly planner pages.
Open ended collections include things like reading logs, chore lists, and wish lists. These collections and trackers might last for the whole year, or even longer and you might not refer to them as frequently.
For this category of collections you have a few choices as to where you should put them.
First up you simply turn over to the next blank page in your journal and add the next collection right there. You add it to the index as usual so you know where to find it when you need to add to it.
Your second option is to use the back of your journal for open ended collections. So they are all grouped together at the back of the book, you can even use the last couple of pages to create a collections index.
The third option is to store all of your open ended collections in a separate notebook. This works best if you're using the travellers notebook set up because you can keep your collections notebook and actual bullet journal in the same cover. While it might seem that this method "breaks the rules" for using a bullet journal (since the point is to use one notebook for everything) it is beneficial if you have collections (like a book or movie log) that you want to continue to add to for years.
How do I organize my bullet journal collections?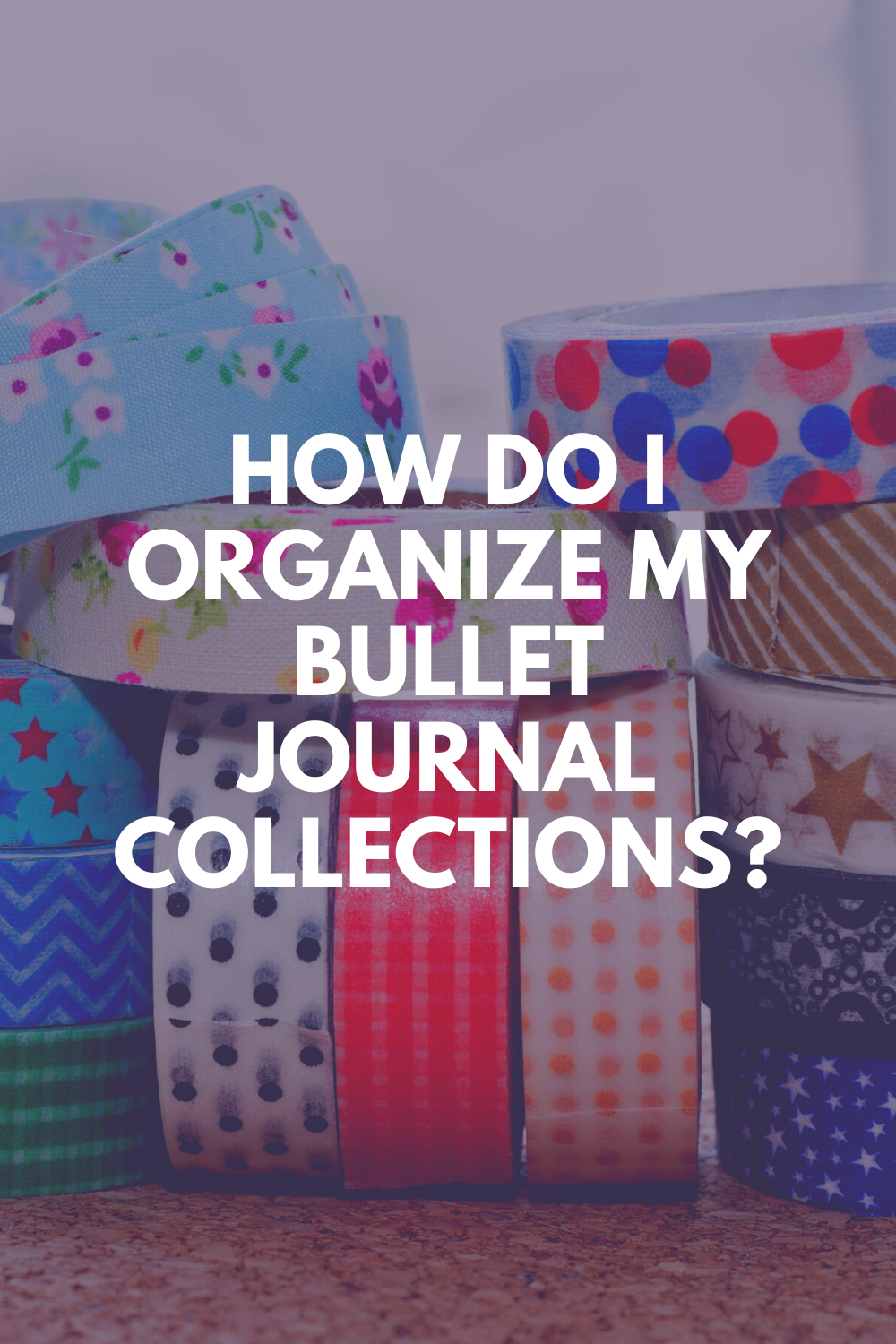 Where you put your collections and how you organize them are one and the same thing. But it's also worth thinking about how you can find your collections and trackers when you want to add to them.
You can of course look them up in the index but for collections you want to refer to and update regularly you might want a more efficient way to find them. Here's a few ideas for you to try:
You can use book flags (like these from Amazon) that you simply stick to the page that your collection is on so you can see it easily.
You can use planner clips (like these from Etsy), again you attach them to the page but these have cute tassels on rather than tabs.
You can use washi tape (like these on Etsy), to fold over the edge of the page so that you can easily see it when your journal is closed.
What are the essential bullet journal collections?
There isn't a list of "essential" bullet journal collections that you need to add to your journal. It all comes down to the collections and trackers that will be most useful to you.
The list of things you can track in your bullet journal is endless, but we've gathered a ton of them here to inspire you both with what to track and also how to track it. Because we never pass up on the opportunity to share bujo spreads and pages with you!
Come to think of it… the first collection page you might want to create in your journal could be a list of all the collection and tracker ideas that you'd like to add!
Bullet Journal Collections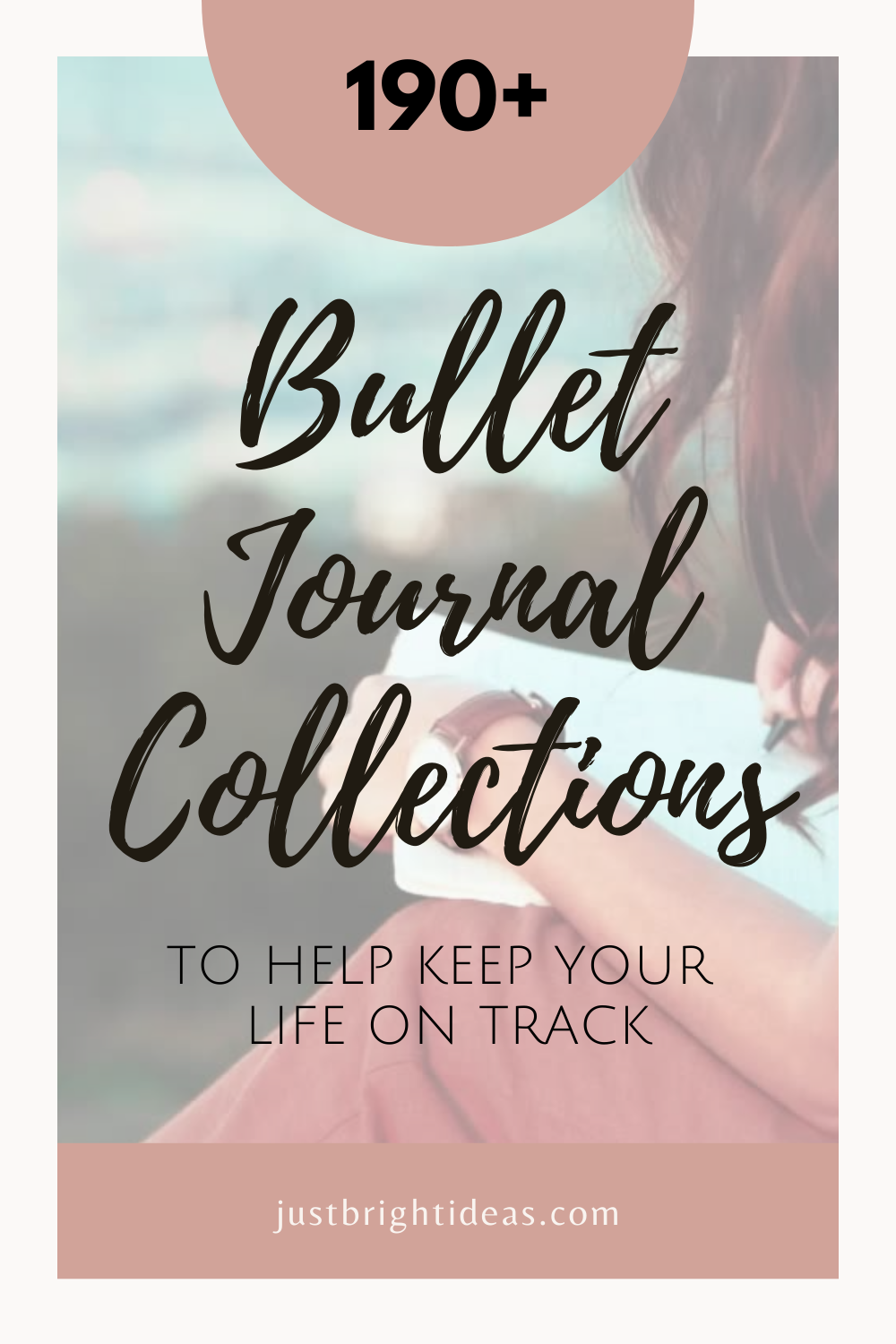 Are you ready to jump in and see all the different ideas for collections and trackers you might want to add to your bullet journal? All you've got to do is scroll to be inspired!
Health and Wellness Collection Ideas
Your Bullet Journal is a great place to keep track of your health and overall wellness, here are some ideas for recording your sleep patterns, doctor's appointments and monitoring your migraines.
Track your sleep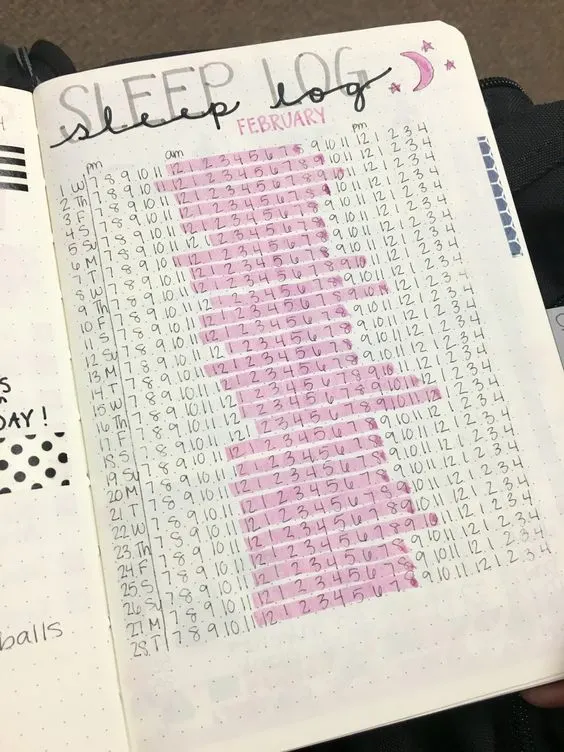 If you have children think about tracking their sleep patterns in your BUJO too. My son is a terrible sleeper and when he goes through a bad patch I whip up a sleep tracker spread to monitor what's going on.

Check out these other Sleep Bullet Journal Ideas
Track your Doctor appointments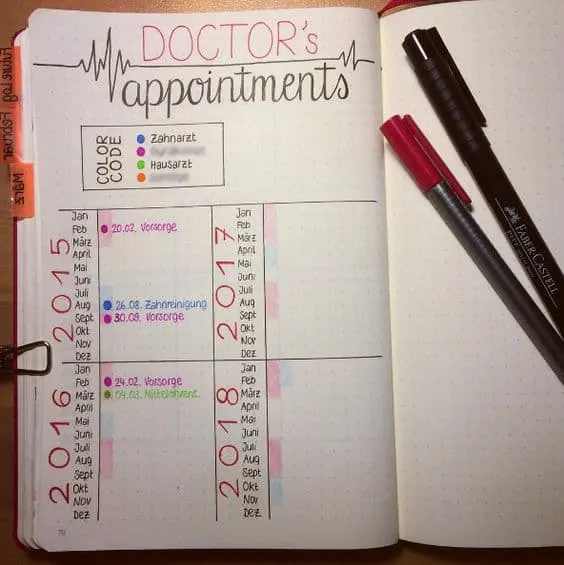 Keeping track of your family's doctor appointments is also a good idea. I like how this layout covers several years on one page which is perfect if you don't have to visit them too often.
Tracking doctor and healthcare professional appointments is even more important if someone in your family has a health condition that requires regular monitoring or treatment, in which case you might want to dedicate a whole page per calendar year.
Monitor your migraines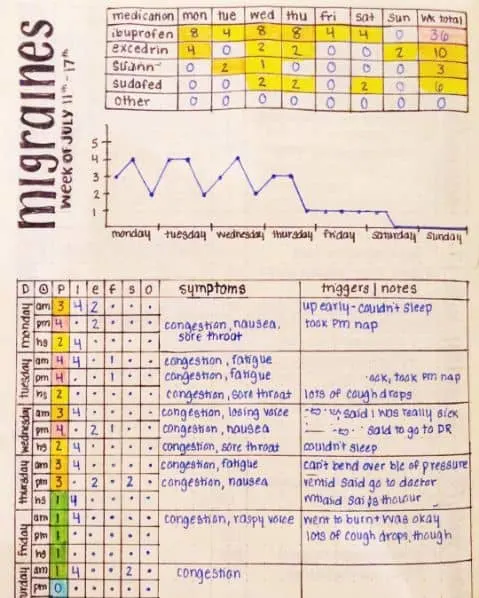 This is an excellent tracker layout if you suffer from migraines and want to be able to track your symptoms and triggers. It will help you to make sure you take your medication properly too.
Here's a list of health and wellness related trackers for you to try:
Blood sugar tracker
Doctor appointments
Food diary
Foods to eat and avoid
Healthy snacks list
Journal prompts
Log of weight loss/gain
Medical history
Medication log
Migraine tracker
Pain tracker
Self care activities
Sleep tracker
Things to do instead of eating
Want more ideas? Check out these health and wellness bullet journal ideas
Fitness Bullet Journal Collections
What are your fitness goals for the coming year? Whether you want to track your fitness routine, up your daily step count or lose some weight these creative bullet journal layout ideas will help you get going!
Track your fitness routine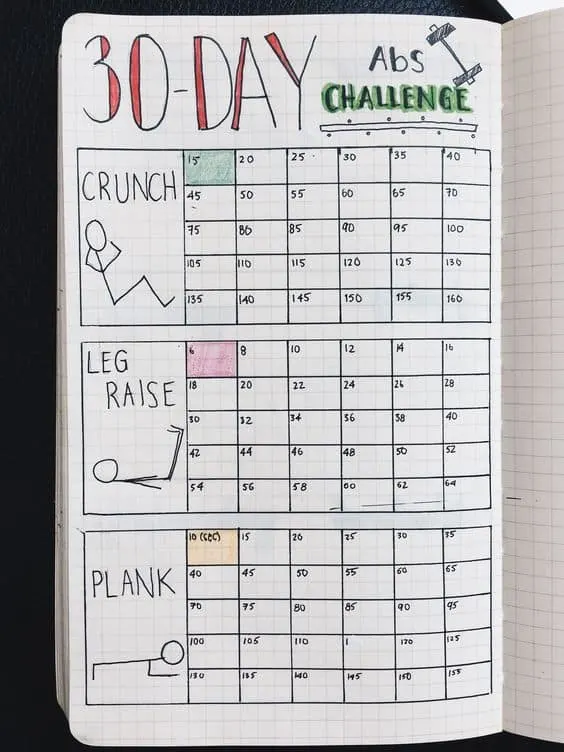 Challenges are a great way to motivate you towards meeting a goal, and you can take part in an official challenge, join up with some friends or just go ahead and challenge yourself!
This tracker is a simple way of monitoring your progress towards three fitness goals.
Track your steps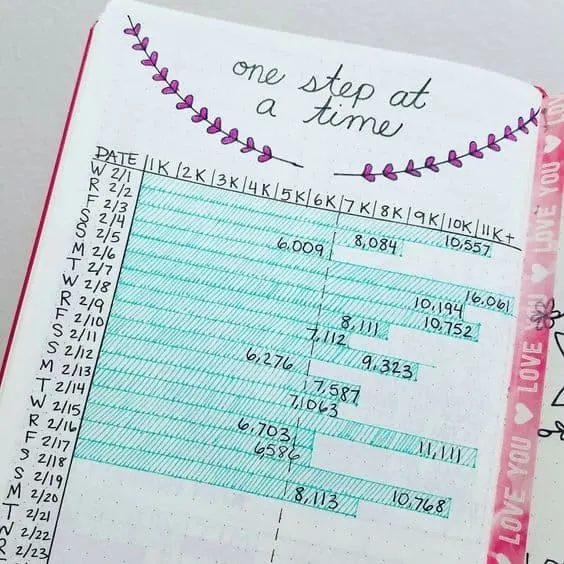 If you want to increase your daily step count try a layout like this step tracker. I like how they put their daily goal as a line down the middle but left room to exceed it for those days when you can walk more than usual.
Track your weight loss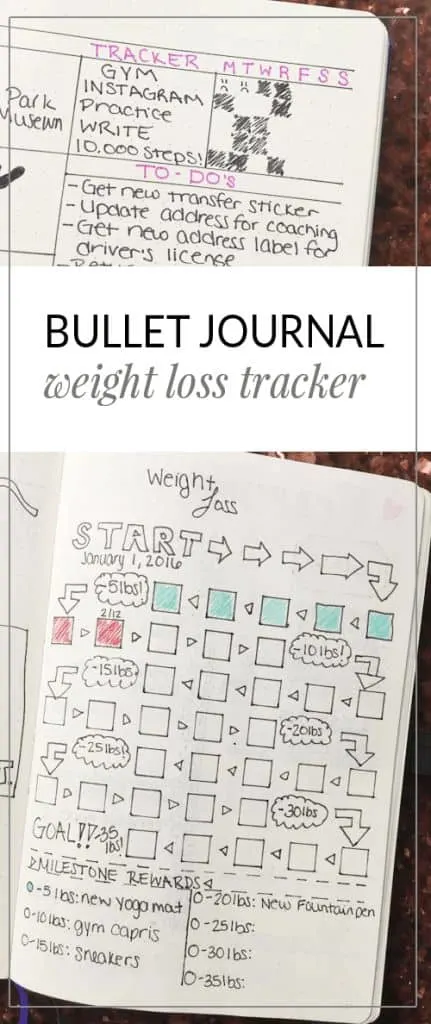 I love this weight loss tracker spread with its built-in rewards to celebrate your progress along the way!
Here's some fitness trackers and collections for you to try:
Fitness diary
Fitness goals
Log of weight loss/gain
Step tracker
Tracking your measurements
Weight loss goals
Workout routine
Yoga poses
Don't miss these other fitness bullet journal ideas
Meal Planner Bullet Journal Collections
Here's a set of Bullet Journal tracker ideas to help you organize mealtimes and make sure that you and your family are eating healthily.
Plan your diet
This tracker was created as a diet plan, but don't scroll past if you're not "on a diet" right now.
It's also a really useful layout for a weekly meal plan whether you're meal prepping, Keto-ing, Whole 30-ing, or just planning out what to feed your family this week!
Track your water intake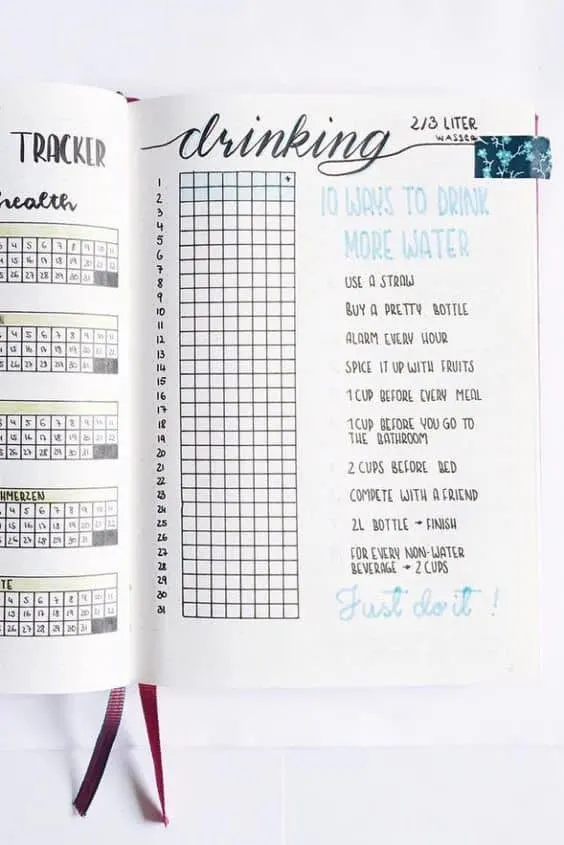 If you need to drink more water it's a good idea to track your daily intake on a water tracker spread like this one. I like how they included "10 ways to drink more water" to inspire them to build the habit!
Plan your meals

As Bullet Journal hacks go this meal planning one is pretty genius… build a recipe bank in your BUJO using colorful sticky notes!
Here are some great ideas for meal planning trackers and collections:
Diet planner
Christmas cookie exchange recipes
Favorite recipes
Freezer inventory
Go to meals
Holiday menus
In-season produce
Meal plan/meal prep schedule
Pantry inventory
Recipes to try
Water tracker
If you love these tracker layouts check out our collection of Meal planner Bullet Journal Ideas
Bullet Journal Tracker Ideas
Don't forget that your Bullet Journal can also be used as a diary and these are my favorite spreads and collections for keeping track of the things that are important to you right now.
Try a monthly spread to keep track of what you're currently doing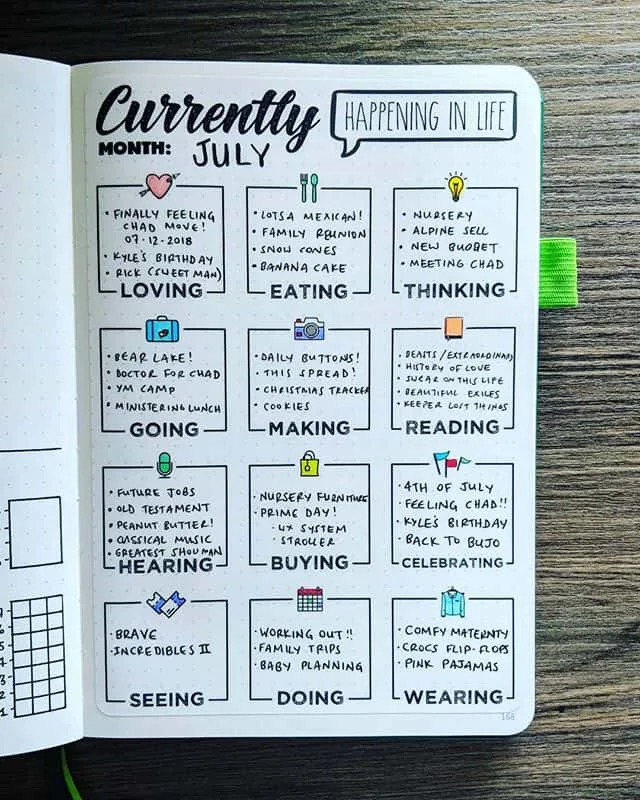 This layout is actually a Bullet Journal printable and you can get a copy right here.
I love how this simple one page spread lets you journal what life looked like this month in 12 different areas.
Track the movies you watch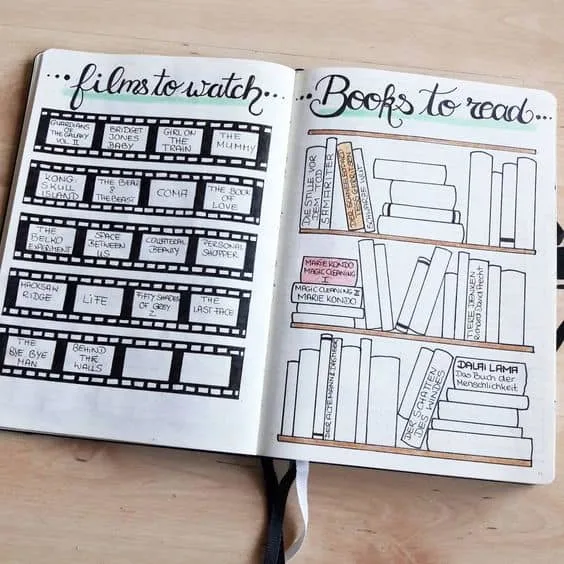 If you're big on movies and you want to write out a bucket list, or just record them as you see them this cute movie tracker layout is a good way to do it.
Or track your tv shows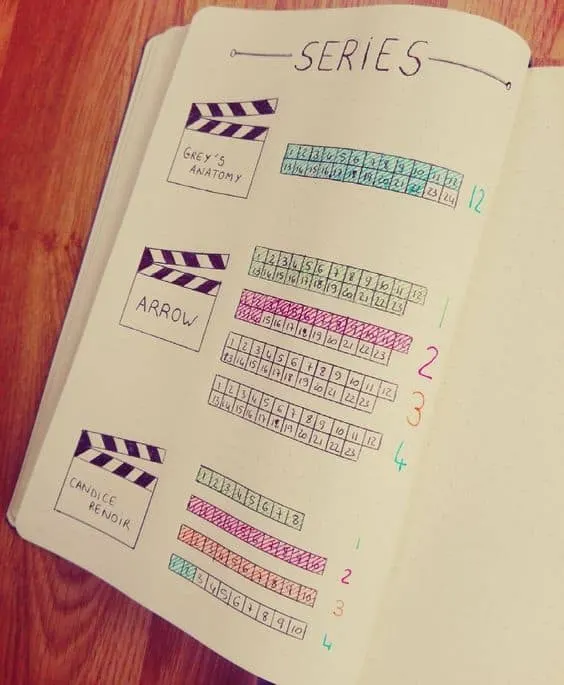 If you're like me and can never remember which episodes you've seen of your favorite TV shows then try a TV tracker spread like this one.
Track your craft projects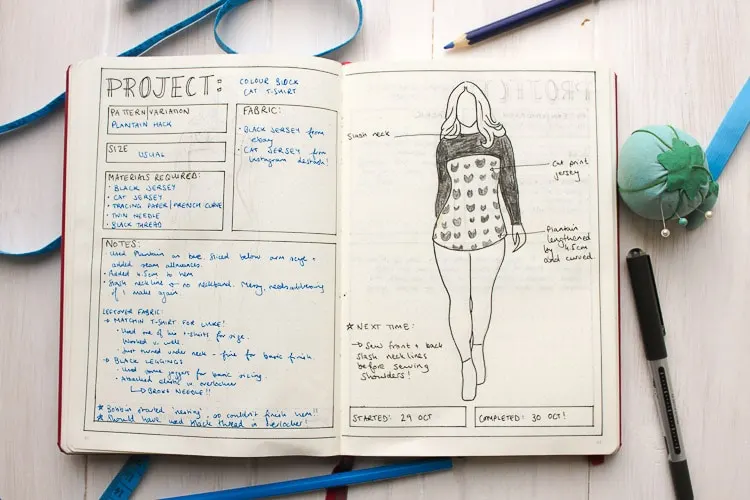 If you're a keen crafter you can use your Bullet Journal to note down the projects you are working on and track your progress. I like this two page layout because it has room for a picture.
Don't miss our other Craft Bullet Journal Ideas
Track your Instagram follower numbers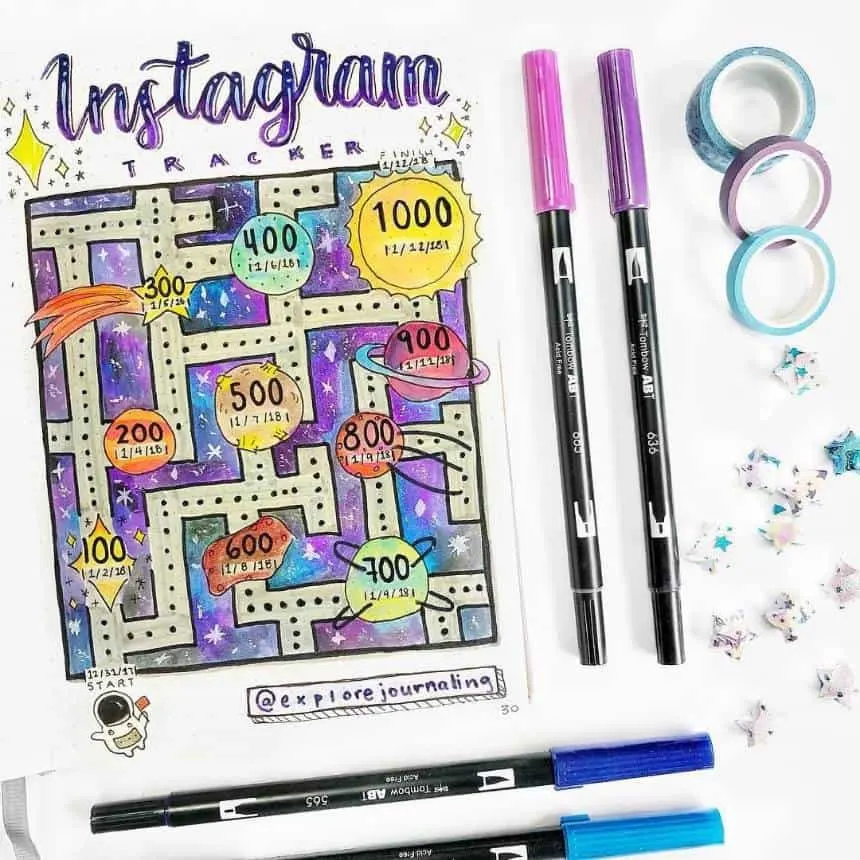 I love this Instagram tracker layout because it reminds me of PacMan!
Track the weather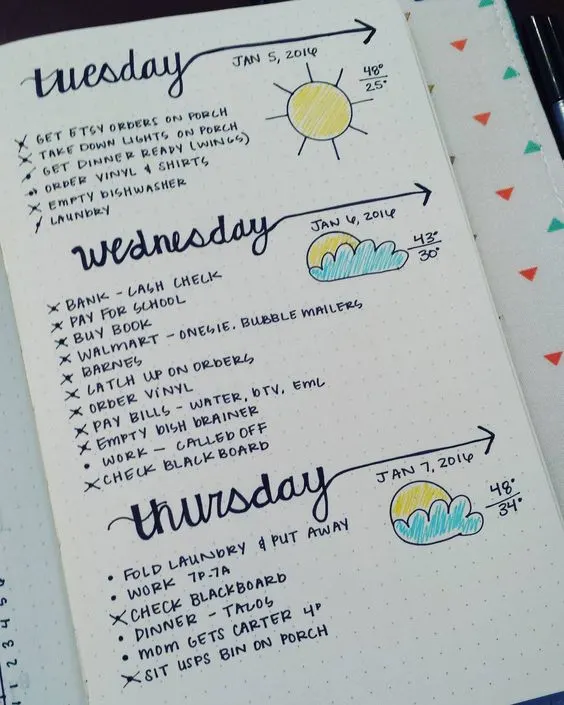 This is a fun and easy way to track the weather by doodling right there alongside your daily log!
Here's a super long list of things you can track:
Book reading challenge
Book reviews and quotes
Books already read
Books to read
Capsule wardrobe
Composers to know
Craft project tracker
Currently doing
Disney movie bucket list
Doodle a day
Essential oil recipes
Favorite TV shows
Favorite lyrics
Favorite movies
Favorite quotes
Favorite songs and artists
Hair color numbers
Handlettering practice
Header and banner doodles
Hobbies to try
Horoscope tracker
Inspirational quotes
Instagram / YouTube accounts you follow
Lunar cycle
Makeup expiration dates
Memories
Movie tracker
Movies to watch
Nail polish colors
New words to use
Pen tracker
Personal affirmations
Podcast tracker
Social media followers
TV Shows to watch
TV show tracker
Washi tape swatches
Weather
Mental Health Bullet Journal Collection Ideas
Self-care seems to be a bit of a buzzword right now but it really is so important to look after our mental health as well as our physical health. The following spreads, collections and trackers are a great place to start.
Track your mood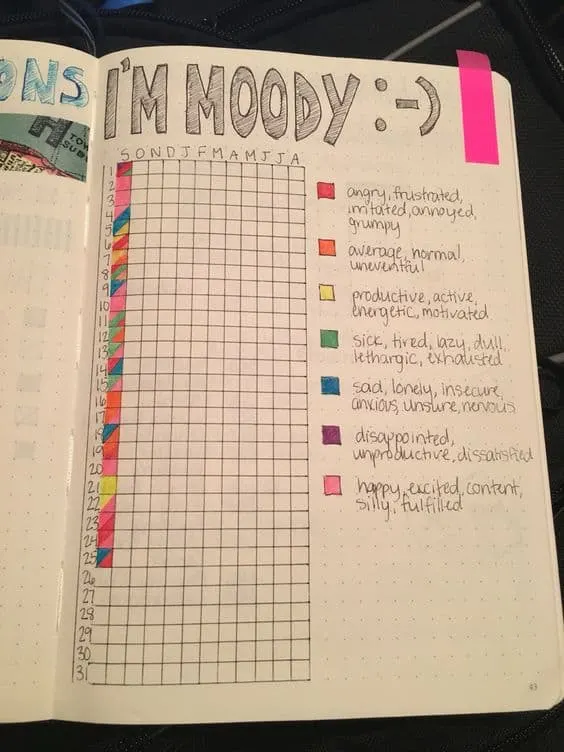 Tracking your mood is important for emotional health and this simple layout is a good place to start.
Mood trackers are a BIG thing in the Bullet Journal world so we have a huge collection of Mood Tracker Bullet Journal Ideas
Track your year in pixels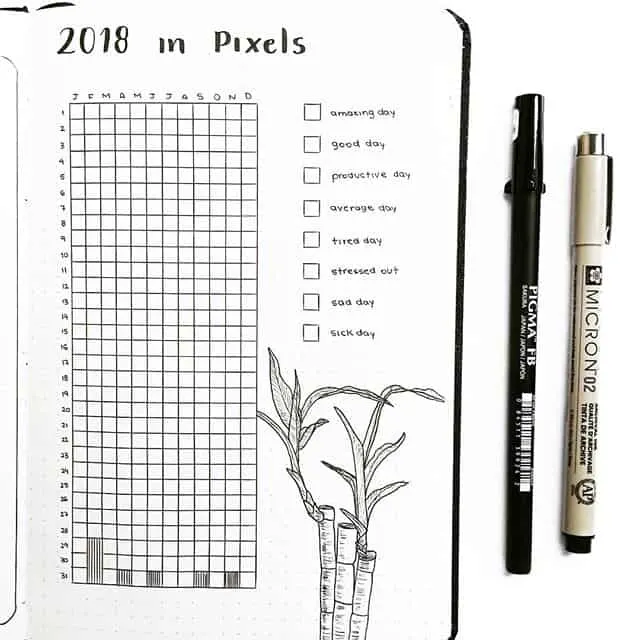 Or you could try a more minimalist layout like this one.
Track your memories and milestones

And it's always a good idea to note down memories and milestones, however small, to keep your mind positive even on the bad days.
Here's some more ideas for you:
23 things to do before 2023
5 Year plan
About me
Bucket list
Compliments and kindness received
Gratitude Log
Habit tracker
Health tracker
Level 10 life
Mood tracker
Pay it forward ideas
Personal goals
Values
Wish list
Year in pixels
Travel Bullet Journal Ideas
If you're a regular traveler you'll probably want to start a standalone travel journal, but if your trips are less frequent you can plan and track them right there in your Bullet Journal.
Countdown to your Disney vacation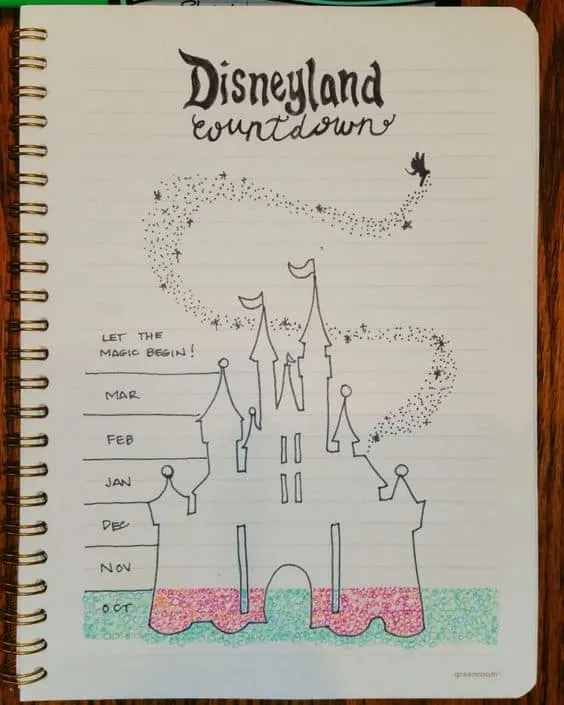 A countdown is always fun especially when you're counting down to a Disney vacation!
Track your bucket list
Or how about setting aside a page to write out your travel bucket list, and include those all-important boxes so you can check them off as you visit!
Here are some more travel collections for you to try:
Day trip ideas
Places you have been
Places you want to go
Saving money for travel
Shopping list for traveling items
Souvenirs to bring back
Travel itinerary
Trip planning
Vacation countdown
Finance Bullet Journal Collection Ideas
Your Bullet Journal is also a useful place to monitor your budgets and expenses since you have it right there with you all day.
Track your budgets and expenditure

This set of tracker spreads is pretty all-encompassing when it comes to tracking budgets. You can see how you could set out spreads for monthly bills and subscriptions, no spend months and savings goals.
Track your savings goals
Speaking of savings goals, you might want to set aside a whole spread for those. I love this one with the picture of the mason jar that you fill up as you go through the year!
Track your debt payoff – Dave Ramsey style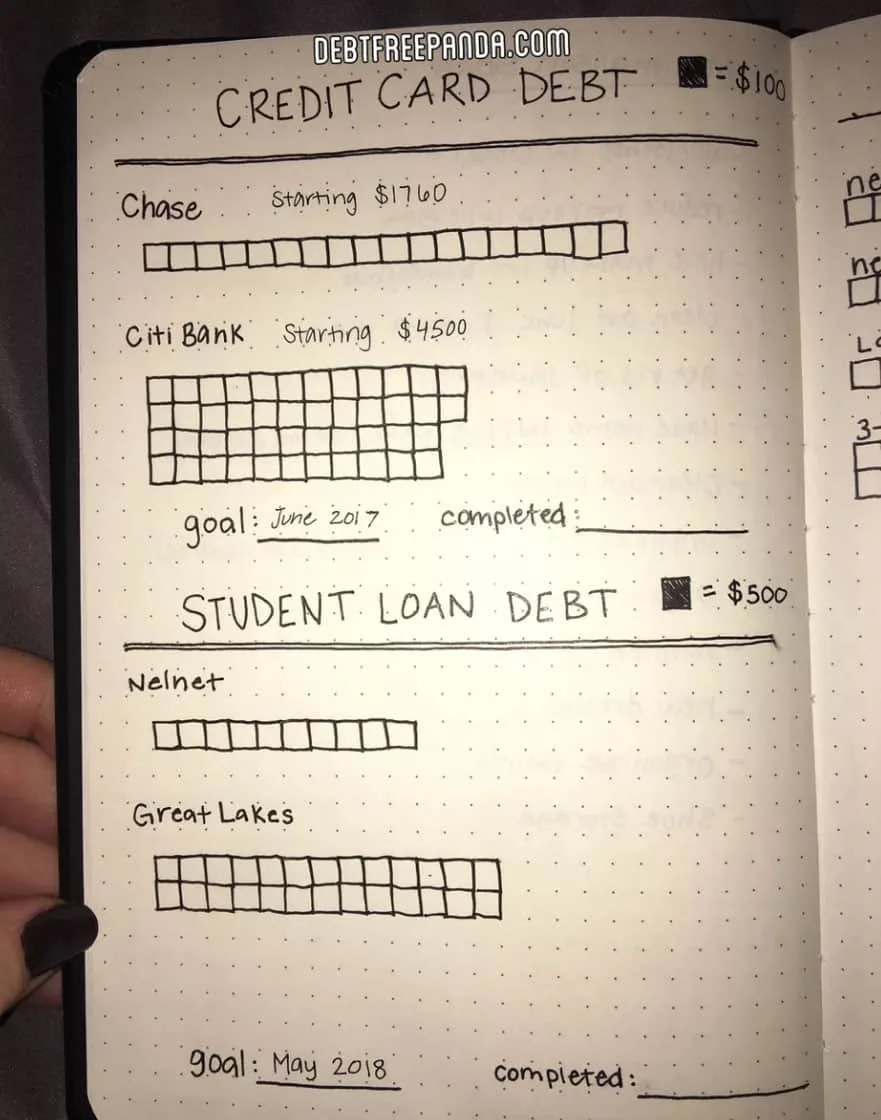 If you're following the Dave Ramsey method to pay off your debts then try a tracker spread like this one to monitor your progress.
Need more finance collections to try? How about these:
Big purchases
Bill payment tracker
Budget
Coupons
Daily business expenses
Daily personal expenses
Debt tracker
Household finance info
Items to buy
Money savings challenges
No spend tracker
Online orders
Passwords
Records for tax returns
Shopping list
Specific savings goals
Subscriptions
Vacation fund tracker
Home Management Bullet Journal Trackers
If you have trouble staying on top of your household chores it might be time to pop some goals and schedules into your Bullet Journal to remind you what you need to do!
Track your chores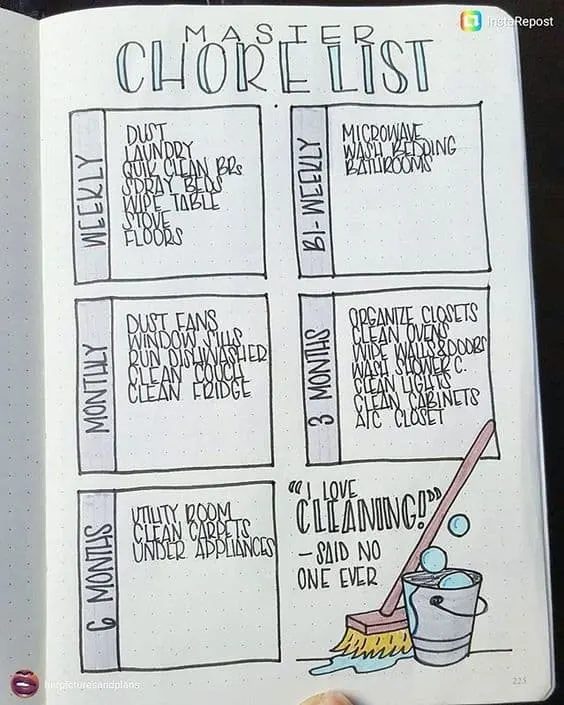 I like this master chore list spread so you can see at a glance which tasks need doing and how often.
Don't miss our collection of Bullet Journal Cleaning Schedules to keep your home spick and span!
Track your KonMari organizing efforts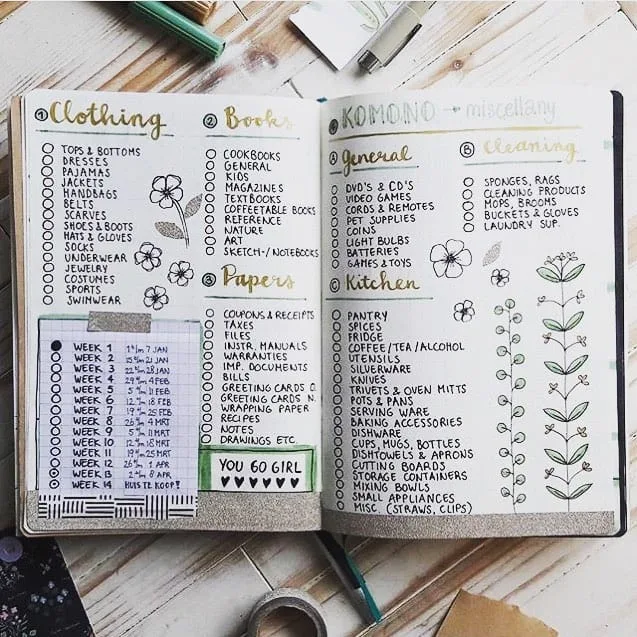 If you are keen to organize your home Marie Kondo style you'll need a KonMarie checklist and schedule like this one. The sub-categories is such a good idea!
Track your car maintenance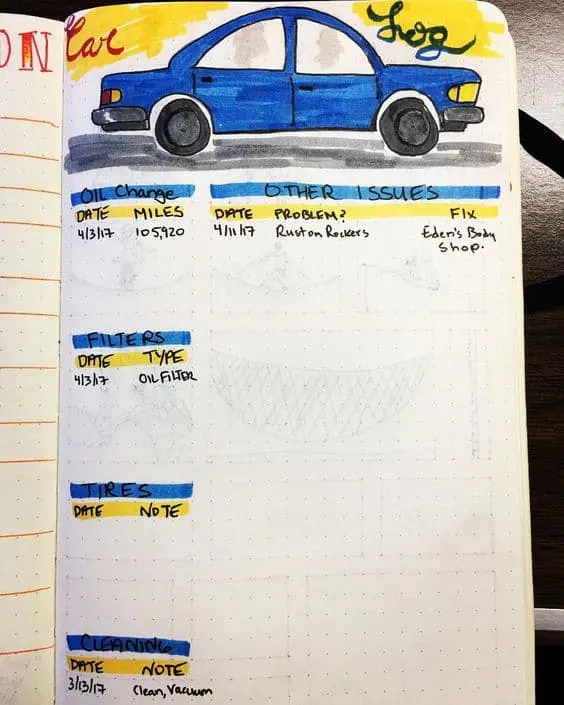 Or how about a spread like this to remind you when you last changed your oil or check your tyre treads.
Track when you last…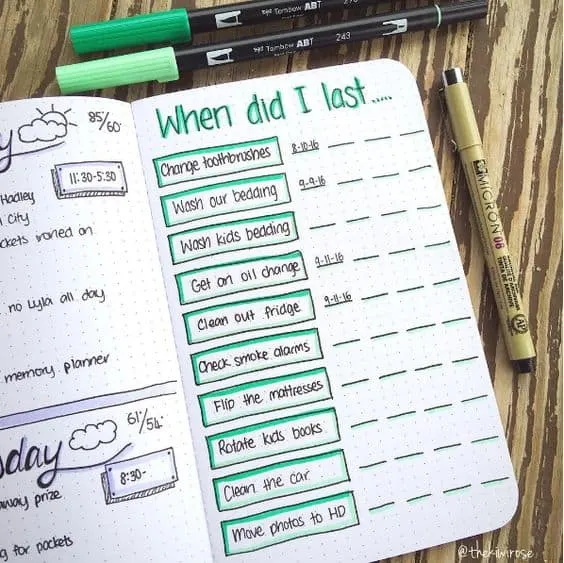 And I think this "when did I last…" tracking spread is really useful for those random household tasks that need to happen at regular intervals like checking the smoke alarm or flipping your mattress.
And here's the full list:
Car maintenance log
Chore list
Daily cleaning to-do lists
Event planning
Garden projects
Home repairs to make
Inventory for insurance purposes
KonMarie schedule
Mileage log
Moving house checklist
Numbers of home repair contractors
Recurring tasks
Smoke alarm check schedule
Spring cleaning notes
Weekly cleaning to-do lists
When you last…
Goal Planning Bullet Journal Ideas
Using your Bullet Journal to track your time and your goals is probably the most obvious so here are some creative ideas to help you decide how to do it.
Track your mini goals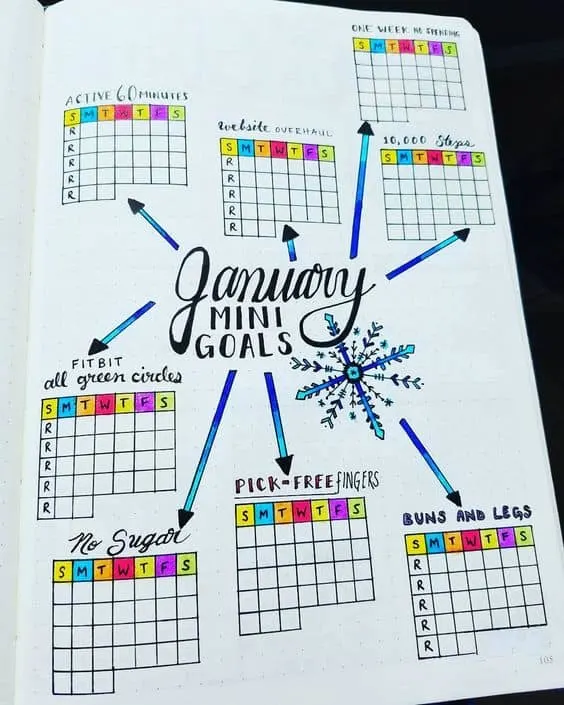 I LOVE this mini goal tracker! Create one at the start of each month and then pick out your mini goals that you want to track progress against!
Plan your morning routine
Having a morning routine is a good way to start your day positively and efficiently, and if you need to get into the habit of doing it right it makes sense to write your plans out in your journal.
Use the Dutch Door hack to track your week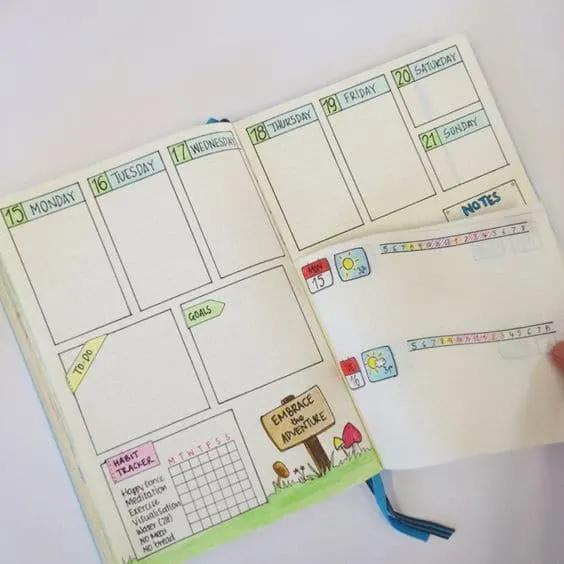 I haven't tried the dutch door hack yet because I haven't been brave enough to take a pair of scissors to my Bullet Journal! but it sure is a clever way to create extra space in a weekly layout.
Here's your full list of goal setting collections:
Active projects
Brain dump
Bullet journal plans for next month
Business plan lists
Daily Schedule
Evening routine
Events and appointments
Future log
Goal setting
Mini goal tracker
Miracle morning
Monthly Schedule
Morning routine
My ideal day
Professional development
Skills to learn
Reviews
Tasks
Time block notes
Time tracking
To-do lists
Weekly Schedule
Speaking of hacks and goal setting we have a whole collection of Bullet Journal goal tracker hacks if you need some more inspiration!
Fertility Bullet Journal Collections
And now for the female health trackers. Whether you're trying to get pregnant, monitor your nursing schedule or just know when to expect your period these creative layouts should give you some ideas!
Track your period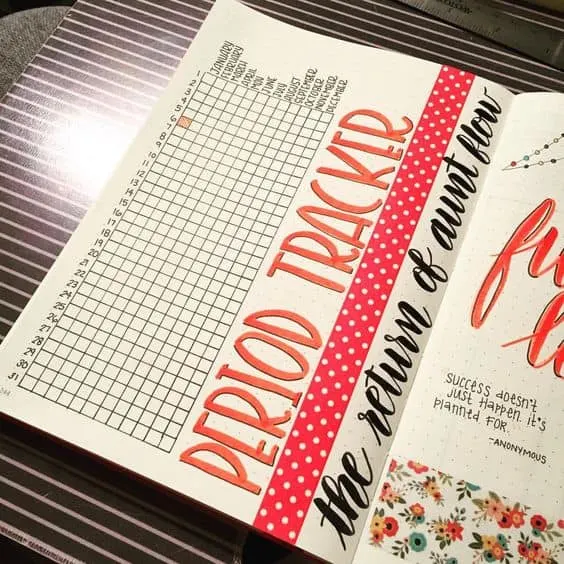 A simple pixel grid style chart is one of the easiest ways to track "the return of aunt flo"!
Track your IVF cycle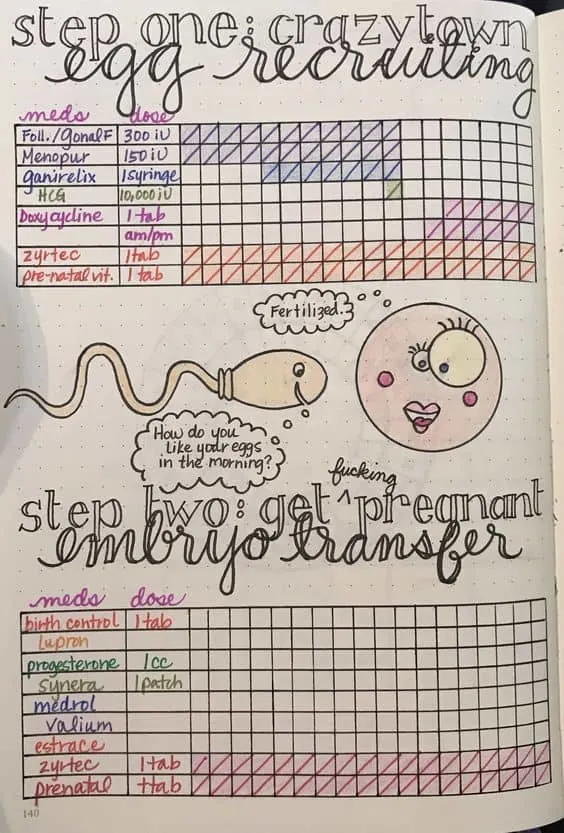 I wish I'd had a tracker like this when we were going through out IVF program because it sure was confusing keeping up with all the meds!
Track your antenatal appointments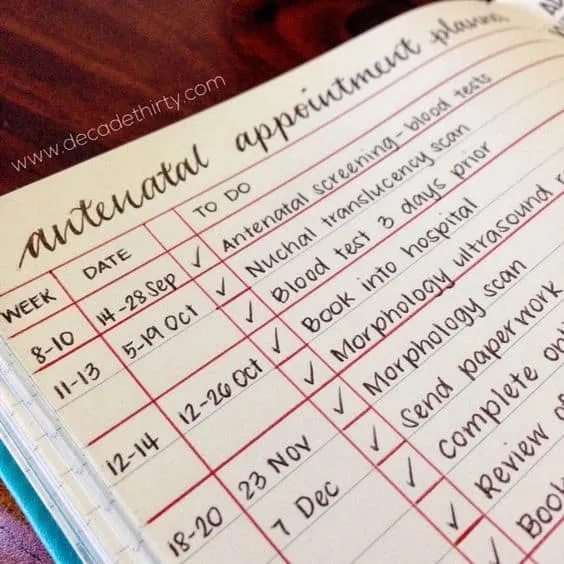 And when you have a list of ante-natal appointments as long as your arm it makes sense to keep track of those in your Bullet Journal.
Track your breastfeeding

Keeping track of your left and right side is important when you're nursing, and this is a pretty humorous way to do it!
Here's your list of fertility trackers:
Antenatal appointments
Fertility tracker
Nursing tracker
Period tracker
Pregnancy tracker
Family Bullet Journal Collection Ideas
Your bullet journal is of course a great way to keep track of all the information you need as a parent. Here are some collection ideas:
Remind yourself of birthdays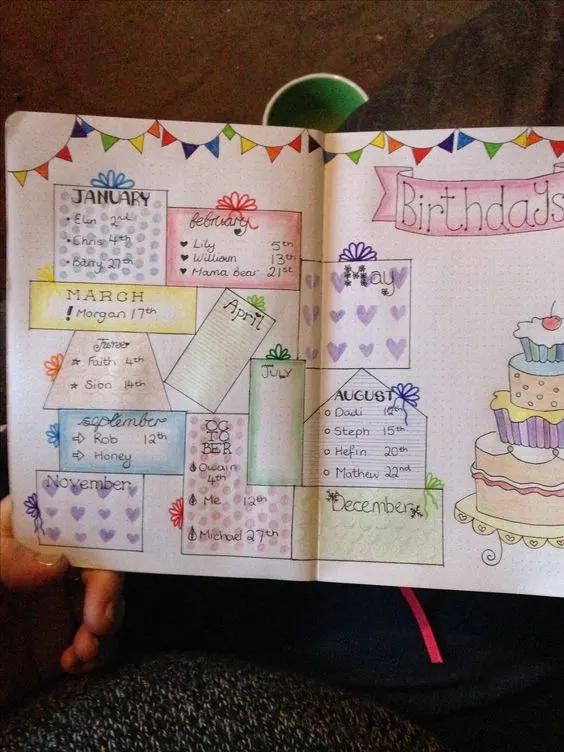 It can be all to tempting to fill your year-at-a-glance or calendex spread up with birthdays and anniversaries (I know I did it) but it makes things so cluttered, I personally find it better to use a birthday tracker spread instead. And besides doing it this way lets you be more creative!

Here are the other trackers and collections that will help you keep your family life organized:
Allergy/diet information
Baby names
Birthday and anniversary list
Carpool planner
Clothing checklist
Communication tracker AKA when you last called your mom
Date night ideas
Family game night ideas
Funny quotes from your kids
Important contact numbers
Insurance information
Measurements
Party planning
Penpal tracker
Pet tracker/information
Places to go as a family
School shopping lists
Stocking stuffer ideas
School Bullet Journal Collection Ideas
Kids of all ages, and especially college students, can use the bullet journal method to keep track of their school life too!
Create a school weekly schedule spread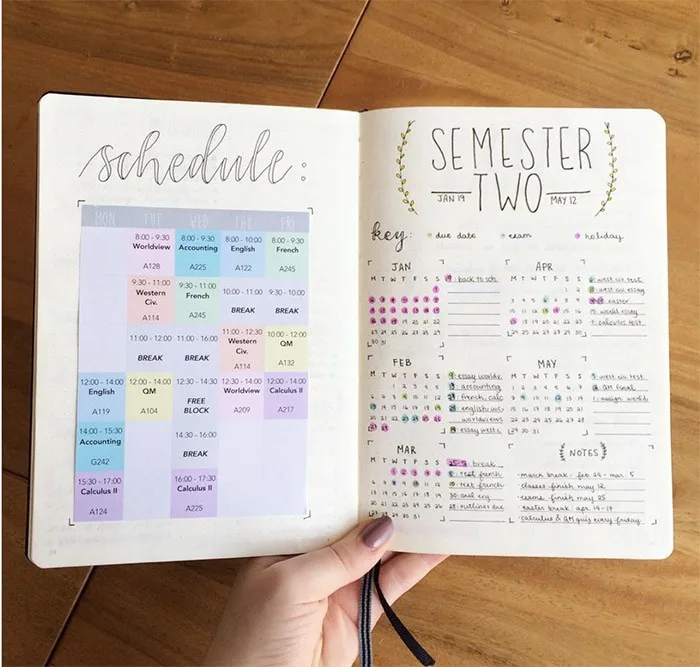 Make sure you know which classes take place each day by setting up a color coded weekly schedule like this one.
Here are some more collections that will help you stay on track in school:
Before college begins checklist
Booklist
College packing list
Exam preparation
Grade tracker
Homework assignments
How to study page
Reading log
Semester log
Study notes
Syllabus
Timetable / Schedule
Weekly study plan
Don't miss our collection of bullet journal pages for school you will want to use this semester!
Bible Study Bullet Journal Collections
Your bullet journal is a good place to keep track of your bible study and prayer requests too.
Track your bible reading progress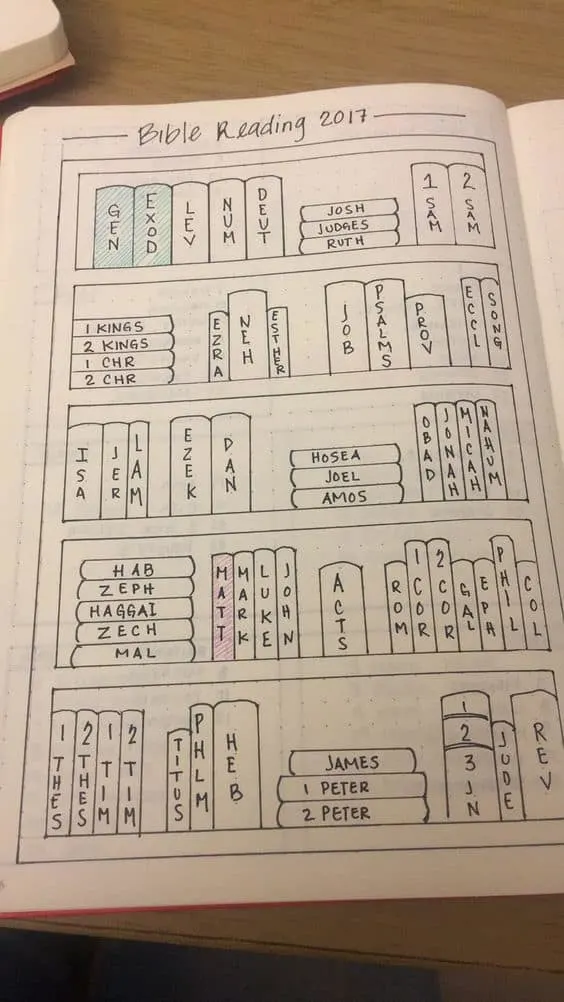 Create a bookshelf spread with each of the books of the bible and then color them in as you read them.
Track your prayer requests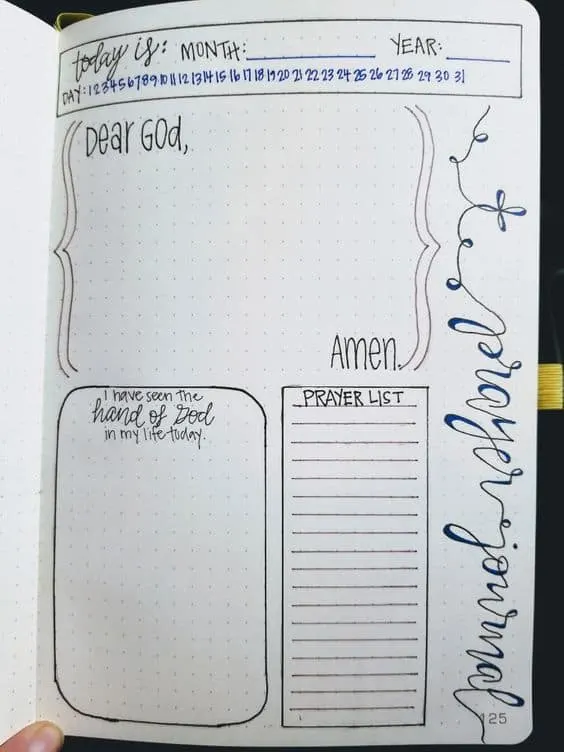 Here's an idea for how you can add prayer requests into your bullet journal.
Here are some more ideas to inspire you:
Answered prayers
Bible reading tracker
Inspirational bible verses
Prayer requests
SOAP Bible study
Bullet Journal Tracker Ideas
Phew! That was some list right? I've actually lost count of how many trackers and collections we have here but it's somewhere in the region of 190.
You're sure to want to go through this list more than once so now would be a great time to save it to your Bullet Journal board on Pinterest so you can find it again later!