You will love this crochet mermaid dolls collection! They are the sweetest toys that any little girl (or boy) will love to play with! The hardest thing is deciding which one to make!
This post may contain affiliate links, which means I may receive a commission if you click on a link and purchase something. As an Etsy and Zazzle Affiliate I earn commissions from qualifying purchases.
Crochet Mermaid Dolls
Y'all are going crazy for our crochet mermaid tail collection and we've had requests for some crochet mermaid dolls… so that's exactly what we have for you today!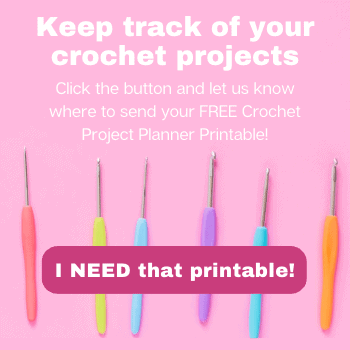 We have a mix of crochet and amigurumi doll patterns so there is sure to be something that you are going to love to make!
1 | Mermaid Ava – One doll with Two Looks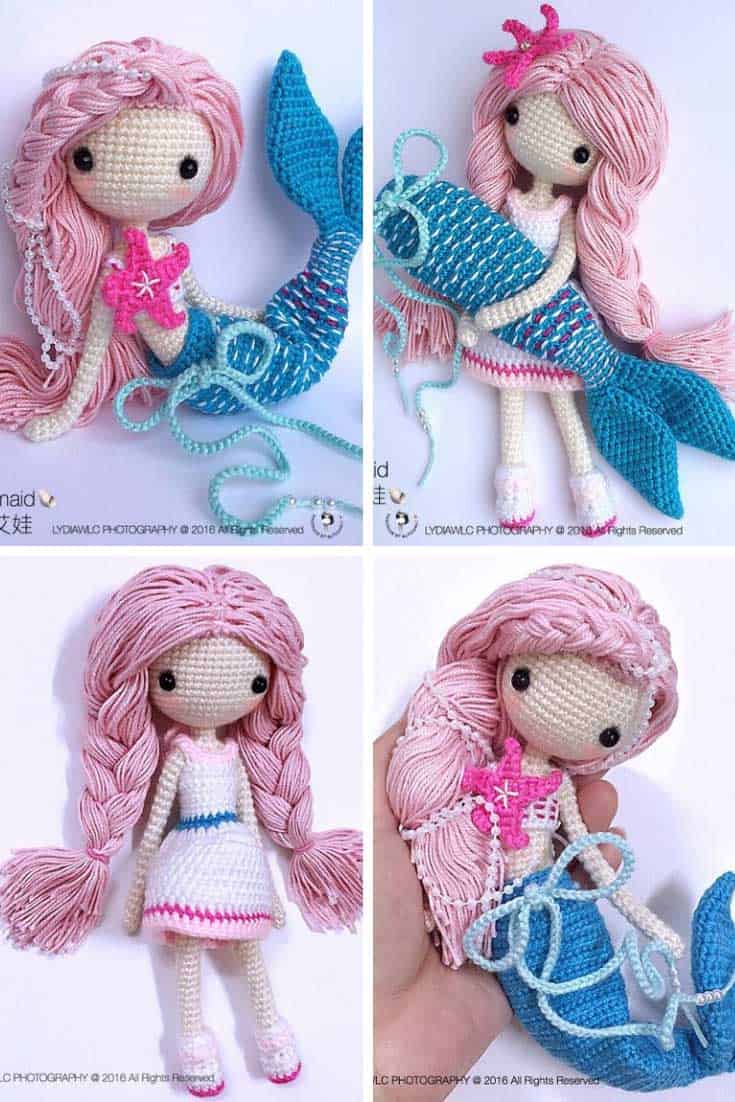 When we think mermaid I think most of us picture a little mermaid better known as Arial, and
this doll reminded me of her
because she has a fabulous tail, but she also has legs so she can walk on land! She's so precious with her pearls flowing through her hair! This mermaid is not meant to be a doll for small children as she has lots of small parts. But she's the perfect "collectible" for an older mermaid fan!
2 | Mindy the Mermaid Doll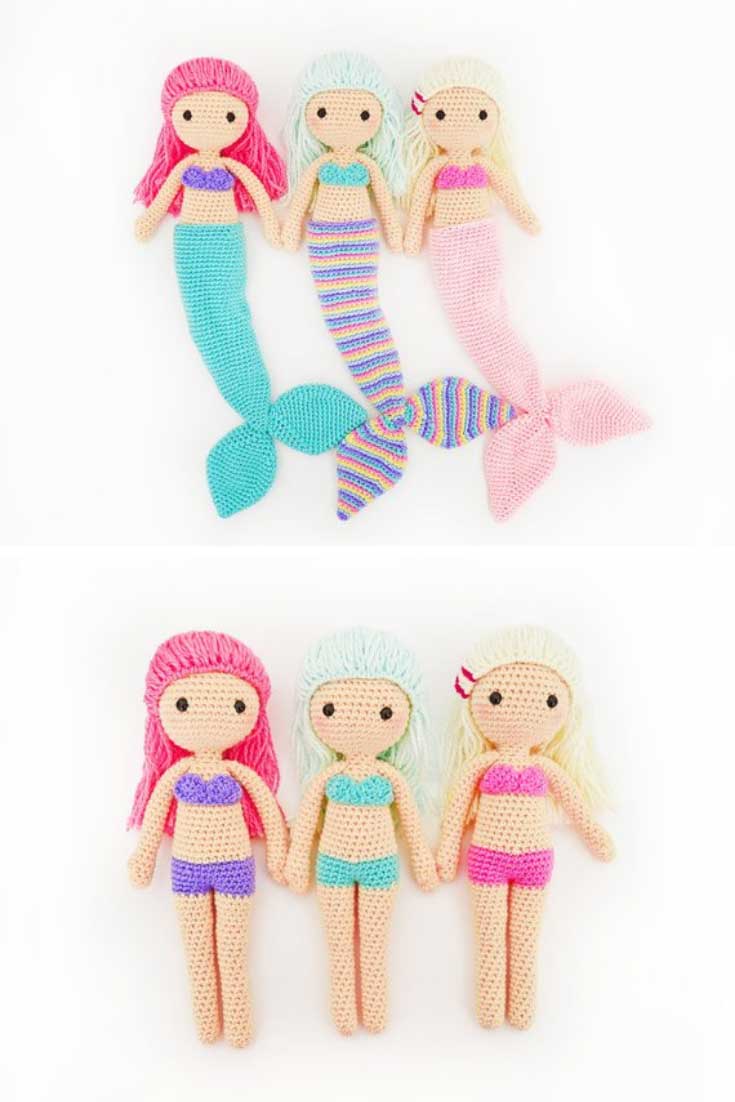 If it's a doll pattern you're looking for then
check this one out
. You'll need to know intermediate crochet and amigurumi skills to make her but she is a super cute doll. And I love how you can see that by switching up the color in her tail, her bikini top and her hair you can make a whole set of different mermaids to swim together!
3 | Diega the Mermaid Crochet Doll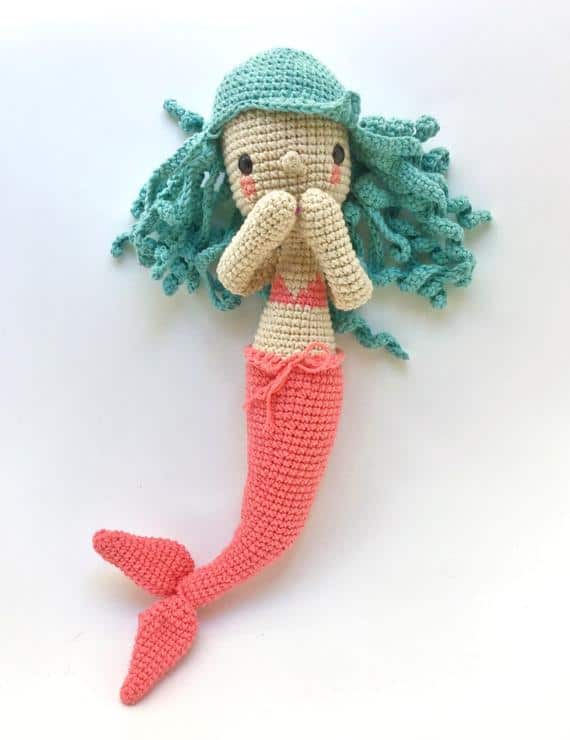 I wonder what it was that made
this sweet mermaid
blush? She's a very sweet amigurumi doll just waiting for a playmate!
4 | Oceana the Mermaid Crochet Pattern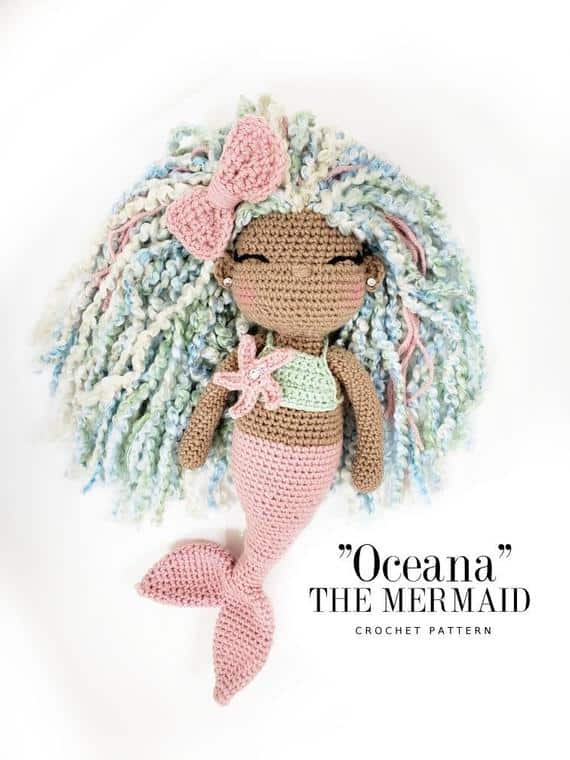 Oh my goodness how cute is
Oceana the mermaid
? I LOVE the colors and her hair is just fabulous!And just look at those little pearl studs in her ears!
5 | Miriam the Mermaid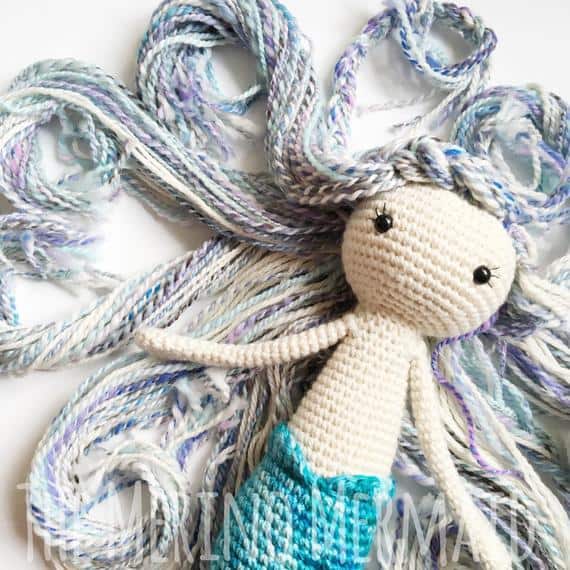 Speaking of amazing mermaid hair,
check out Miriam's
! Apparently her hair is magical and can grant wishes… and do you know what… I totally believe that!
6 | Cute Mermaid Crochet Pattern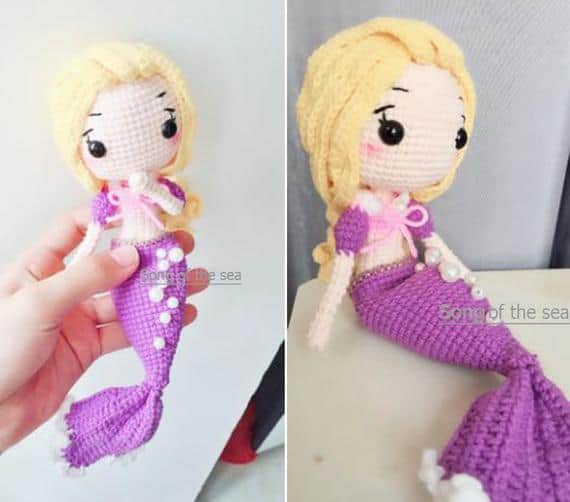 I know I said when we think mermaid we think Arial, but when I saw
this mermaid doll
I totally thought… Rapunzel!
7 | Mia the Mermaid Crochet Amigurumi Doll Pattern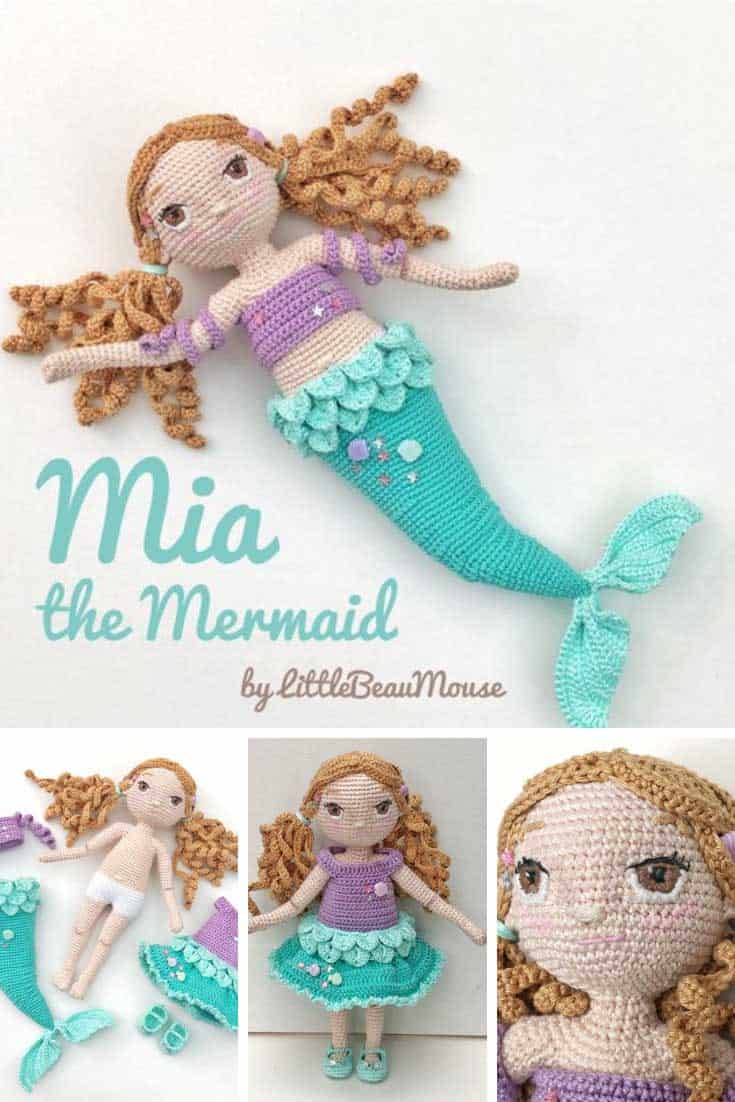 Everyone
meet Mia
. This is another doll that has legs hidden beneath her tail so she can change into a cute little dress and shoes when she wants to be human! I love the little sparkly details on her clothes and her tail, and look at those sweet bunchies!
8 | Pisces Mermaid Crochet Pattern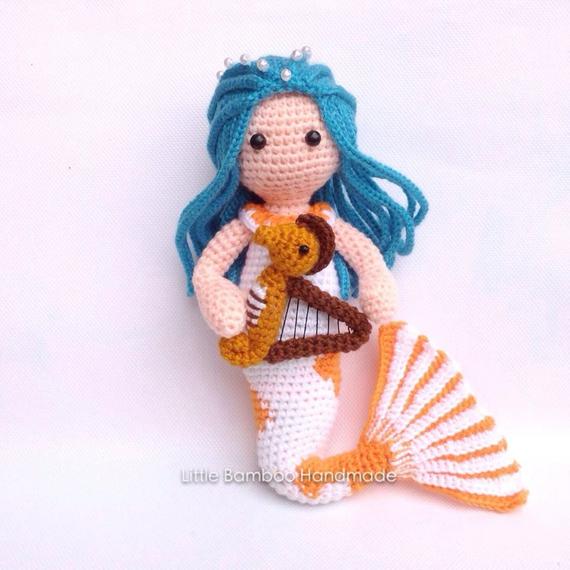 This sweet mermaid
is inspired by Pisces and I picker her out because of that cute little seahorse harp and the pattern on her tail. She's not meant for playing with as she has wire inside to make her poseable. She'd be a wonderful gift for a Pisces friend though. The pattern is a little tricky to follow as its been translated into English so this is not one for beginners or crocheters of little patience. She's worth it if you're happy to take your time with her though!
9 | Ragdoll Mermaid Crochet Pattern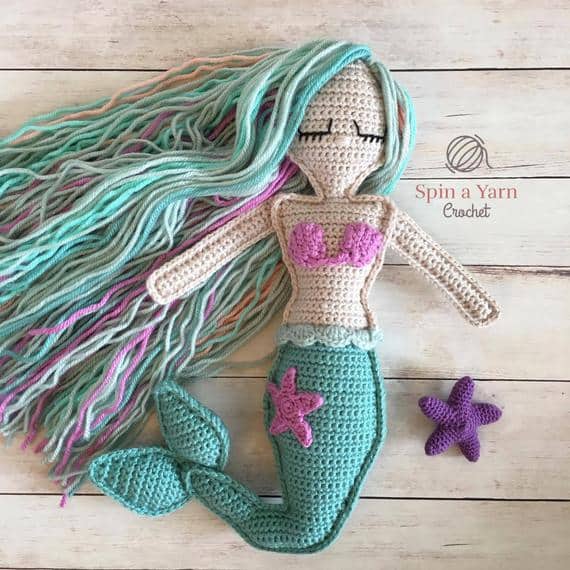 SpinaYarnStudio always designs the most wonderful crochet ragdolls so when I saw they had
a mermaid in their collection
I knew I just had to share her with you! It's an amigurumi pattern but worked in two pieces in flat rows so that when they're joined together you get this charming 2-D appearance!
10 | Estelia the Mermaid Doll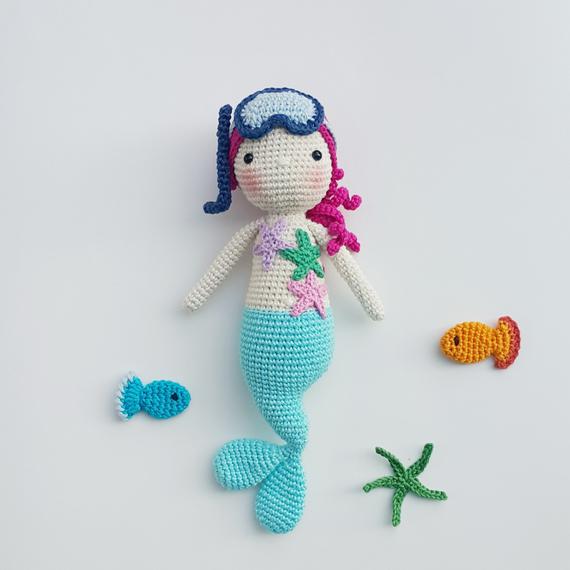 This is Estelia the Mermaid
and I love that she has a snorkel and goggles to help her see under water! She made me smile so I'm sharing her with you!
11 | Mici the Mermaid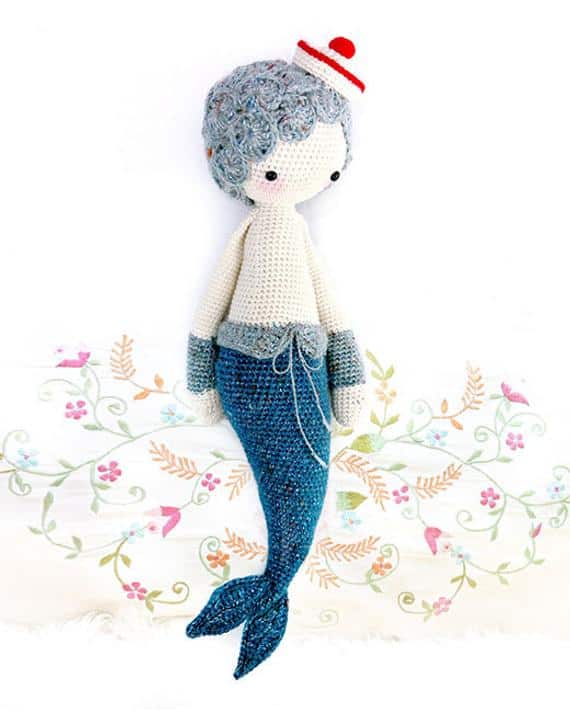 Even mermaids
need a lifeguard
to help them stay safe when they're playing in the ocean right? Apparently Mici is a merMAID but I have to admit when I saw this doll with the short hair, wrist cuffs and anchor tattoo I thought she was a merMAN. So gender it how you wish but if you have a little boy who wants to play with merpeople and doesn't want a pretty doll with long flowing locks this pattern is the perfect choice!
More Crochet Toy Ideas Here