This post may contain affiliate links, which means I may receive a commission if you click on a link and purchase something. As an Etsy and Amazon Associate I earn commissions from qualifying purchases.
We've rounded up the best Christmas crochet blanket patterns you can make for the Holiday season. Cozy up with one of these afghans or gift one to a loved one.
Best Christmas Crochet Blanket Ideas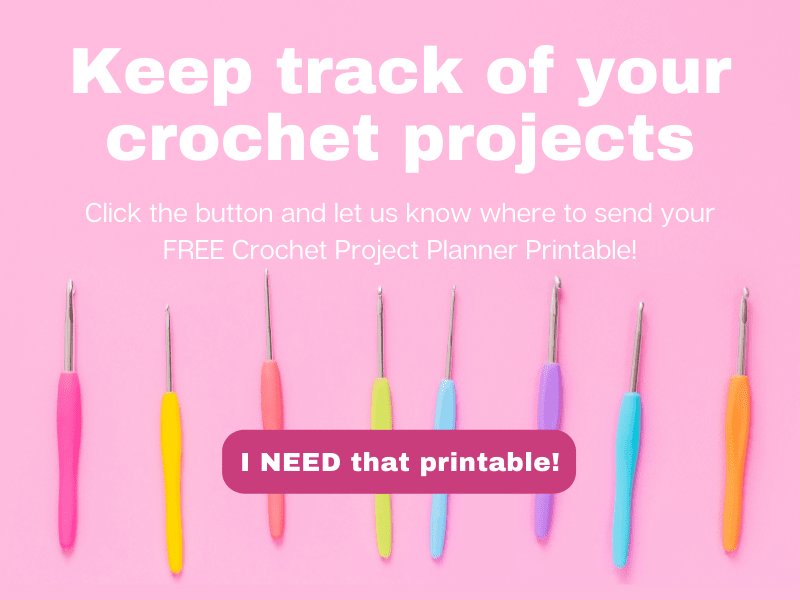 I don't know about you, but one of my favorite things about the Holiday Season is snuggling up under a cozy blanket, with a big bowl of popcorn, and watching Christmas movies with my family.
And that's why today I thought I'd bring you a collection of the best Christmas crochet blanket patterns I could find, to help you add a little festive coziness to your living room this Holiday season.
As always I have trawled the internet to find some wonderful free crochet patterns to share with you. And I've thrown in some paid ones too because I think it's important to support small businesses. There are some crazy-talented crochet designers selling Christmas afghan patterns online these days for less than a Caramel Waffle Latte!
Speaking of hot drinks, why not grab yourself a cup of cocoa (with marshmallows on top) to get you in the festive spirit while you have a browse through the festively-fabulous Christmas blanket pattern ideas I found for you!
Crochet Merry Christmas Pixel Graph Pattern (Free)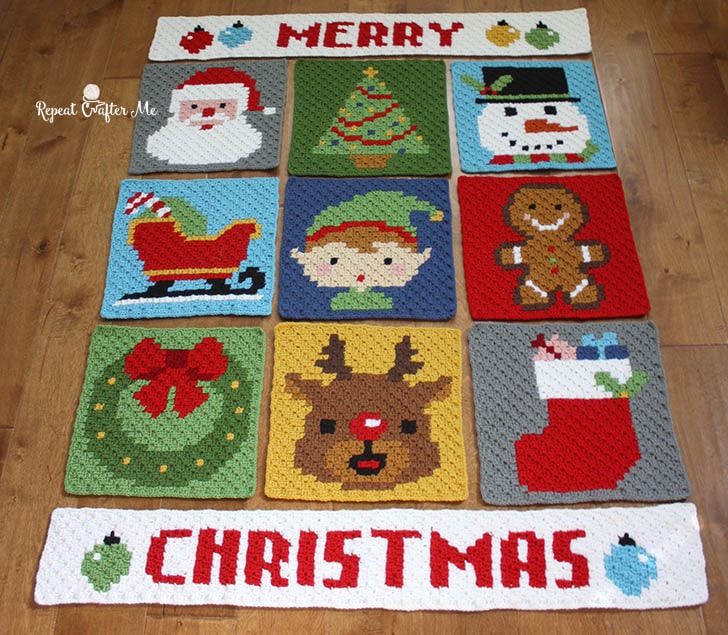 Found at: Repeat Crafter Me
If you're a fan of C2C afghans then you won't want to miss this free festive pattern designed by Sarah. It's made up of Christmas-themed squares, including a Snowman, Rudolph, an Elf and of course Santa Claus himself!
If you're wondering how to crochet a C2C blanket because you've never made one before then check out this video from the Crochet Crowd which will show you how fast these blankets can come together.
Candy Stripe Baby Blanket Crochet Pattern (free)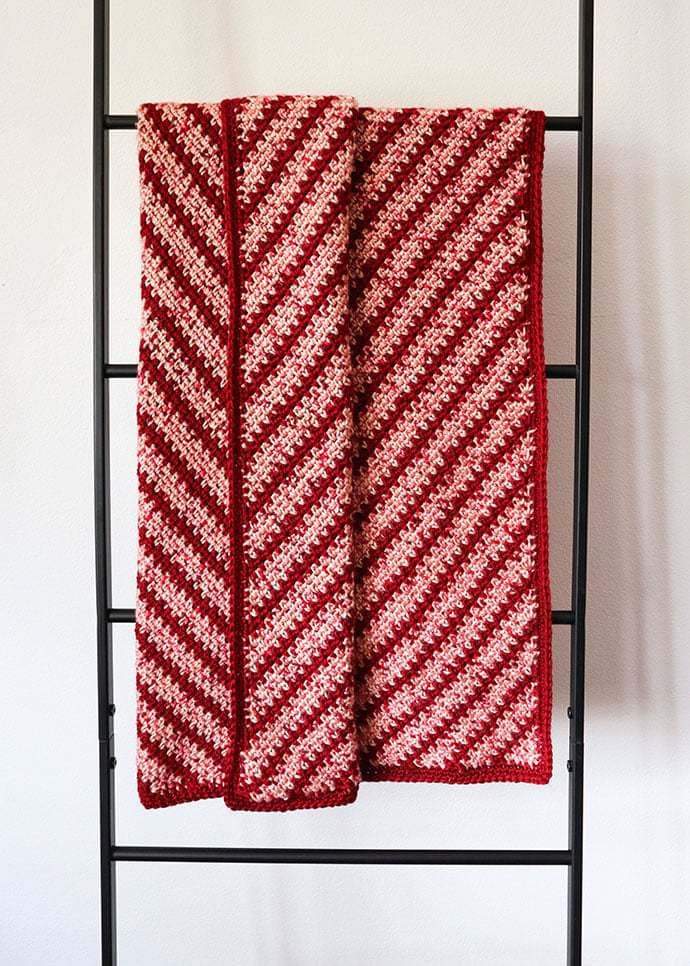 Found at: My Poppet
Here's another idea for a Corner to Corner Christmas blanket, this one totally makes me think of candy canes! The great thing about C2C is you don't have to decide on the final size of your blanket at the start, you can even use up your yarn scraps to make them! This pattern is a moss stitch which is just a combination of single crochet and chain stitches.
Christmas Snowflake Baby Blanket (free)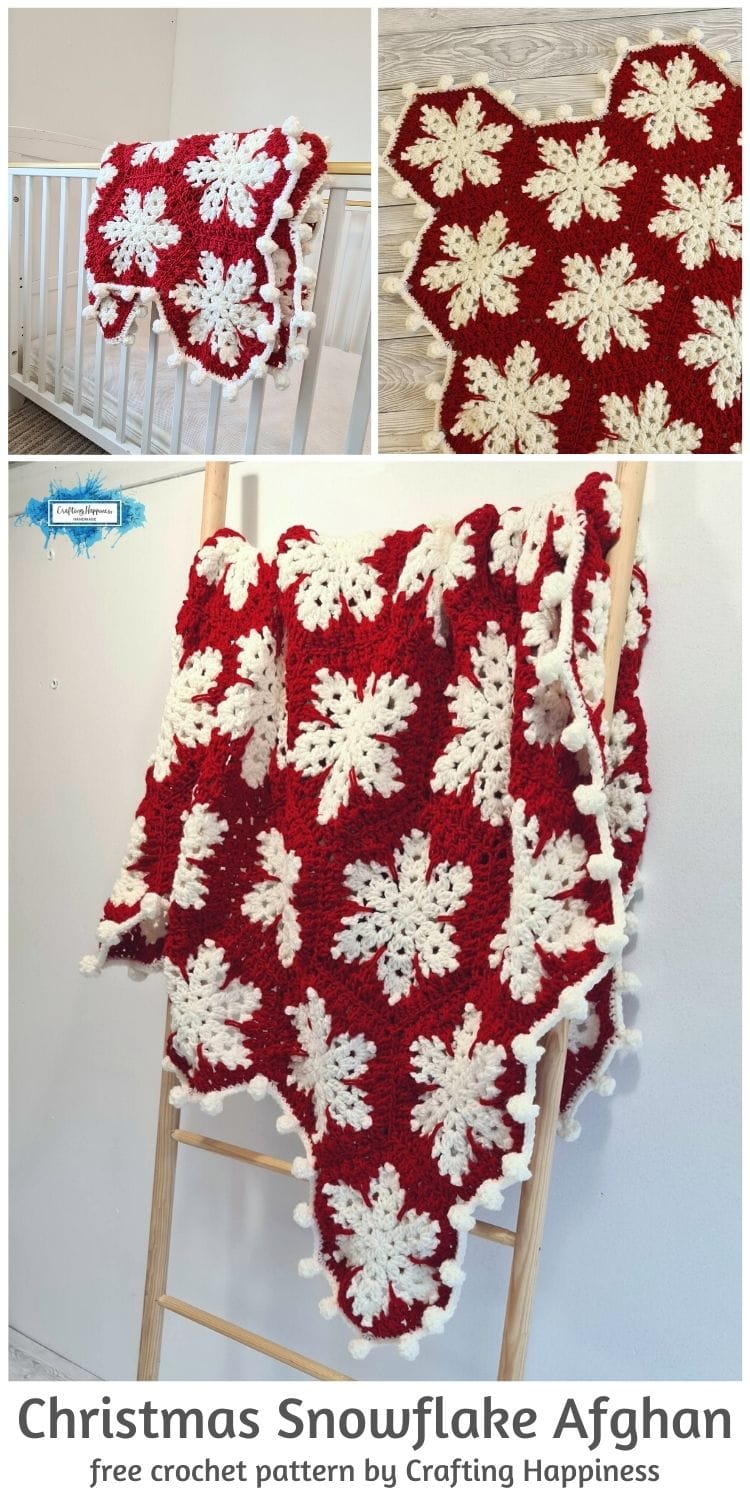 Found at Crafting Happiness
This snowflake afghan is GORGEOUS! You can make it afghan size or reduce it to make a lovely baby blanket that would make a thoughtful baby shower gift. I love the pompom-style trim!
Gingerbread Man Crochet Baby Blanket (paid)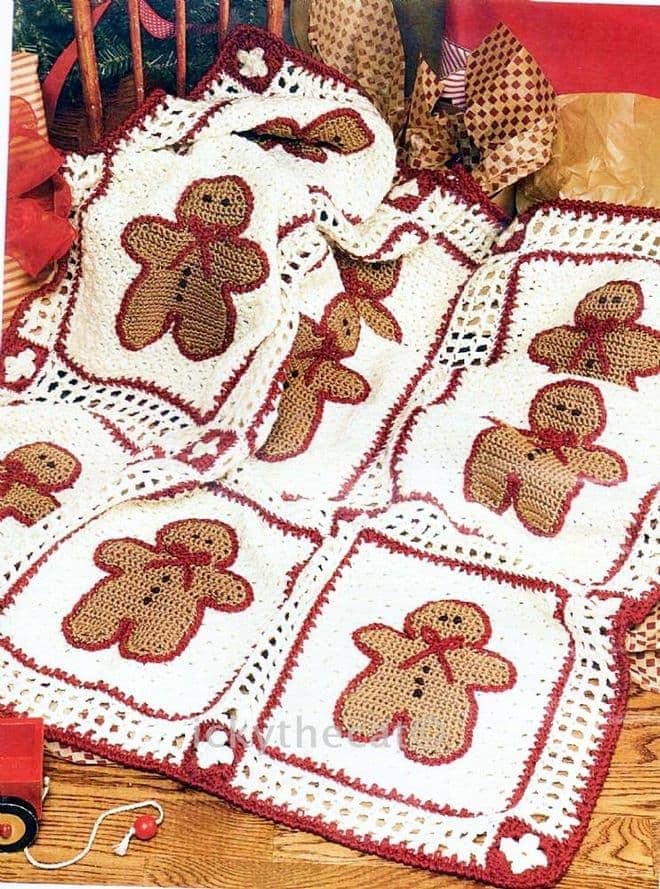 Found at IckytheCat
How sweet is this Gingerbread Man baby blanket? If you love working with Granny Squares then this Christmas crochet blanket pattern would be the perfect choice for you. It's a vintage crochet granny square pattern and the finished size is about 41″x47″ making it the perfect gift for a baby.
Gingerbread House Throw Crochet Pattern (free)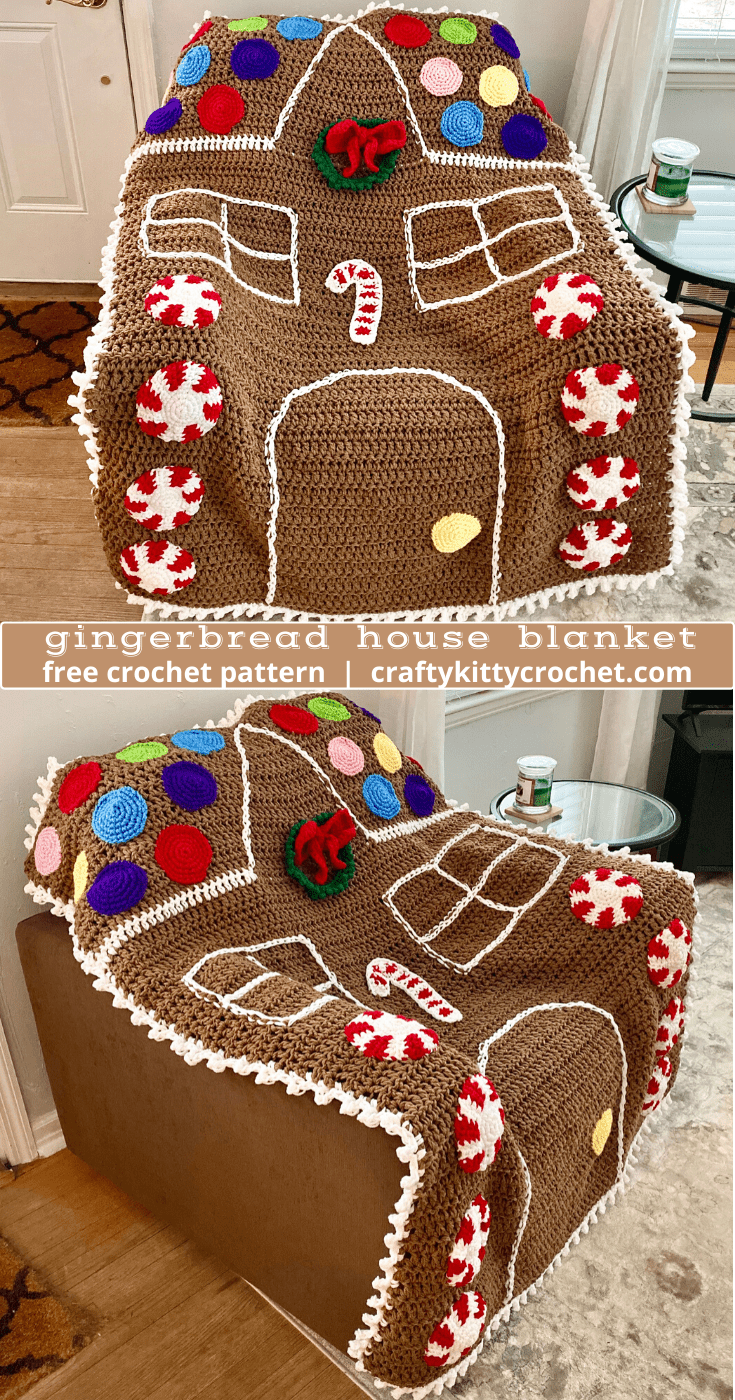 Found at: Crafty Kitty Crochet
Oh my goodness! Did you ever see anything as cute as this Gingerbread House throw?? I mean, you could snuggle up under it to watch a movie or your kids could turn it into a den and snuggle up underneath it to read a book!
Plaid Christmas Crochet Blanket (free)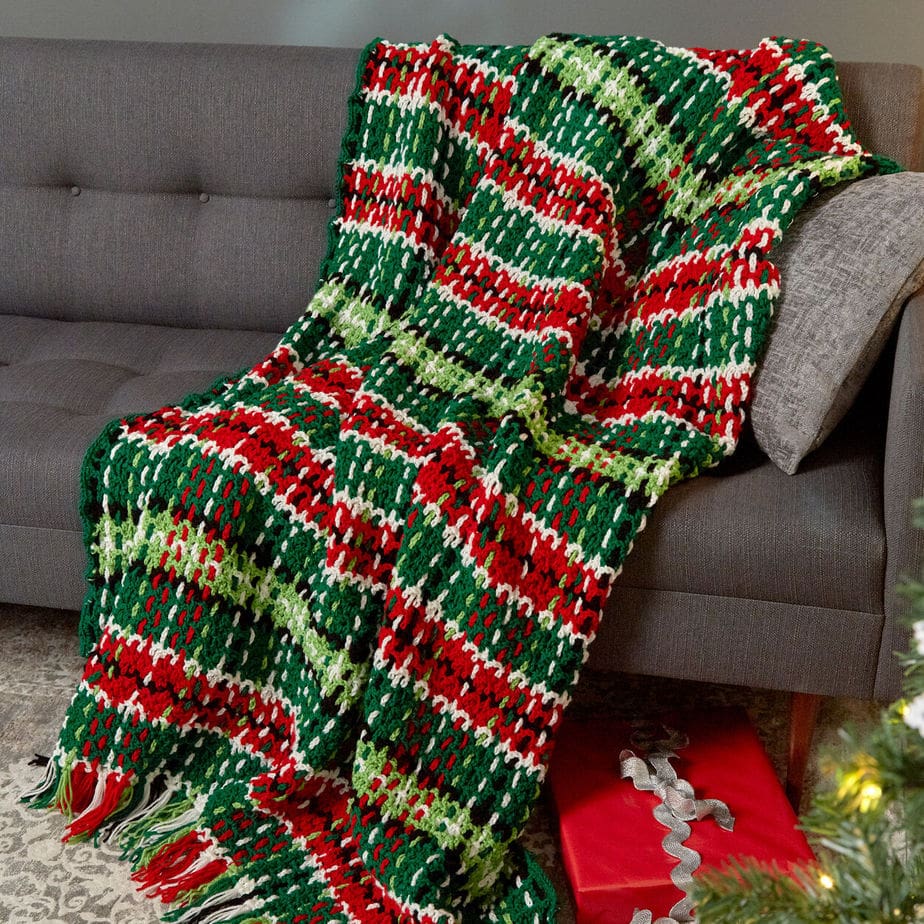 Found at: Marlybird
There is something about plaid that just screams Christmas, and you'll be surprised at just how easy this pattern is to follow. Seriously, if you can chain and double crochet you can make this Christmas crochet blanket. Check out the video below to see just how simple it is.
Christmas Crochet Blanket Vintage Red Truck (free)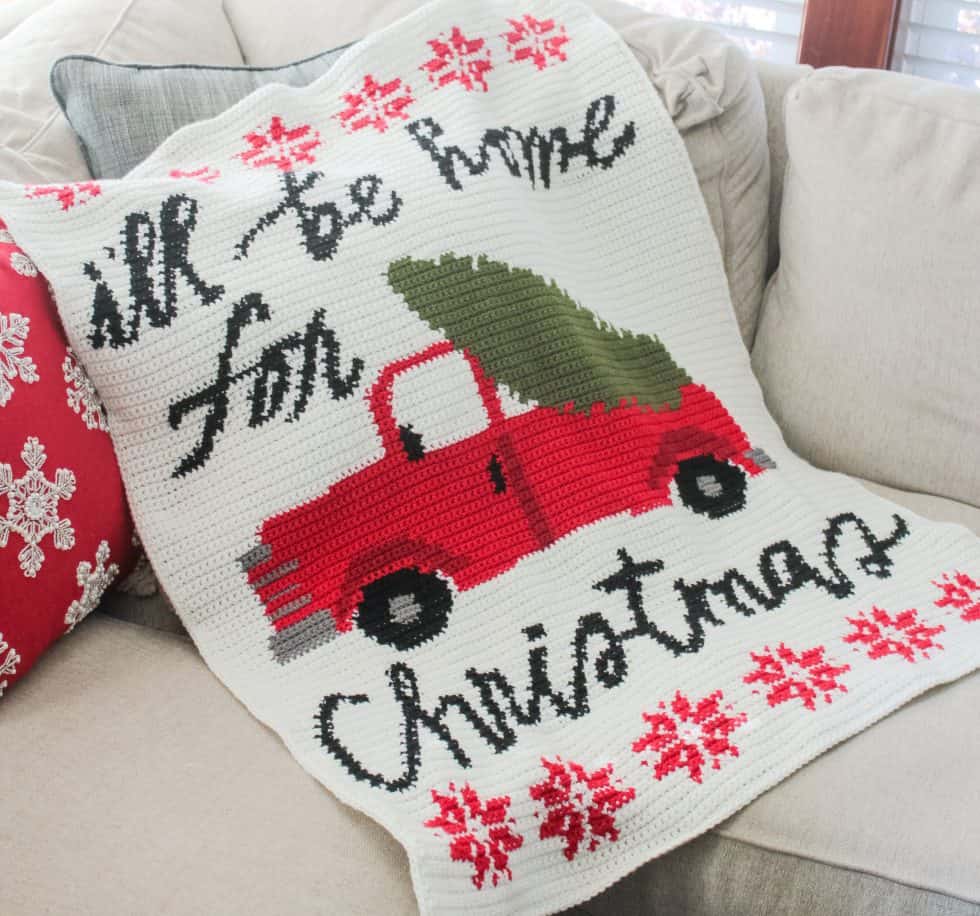 Found at: Nana's Crafty Home
The red truck is pretty much synonymous with Christmas these days and I love this I'll be Home for Christmas C2C blanket! It might look super complicated but it's totally beginner friendly and uses single crochet stitches, you just need to get the hang of switching out the colors.
Red Heart Snowflakes Christmas Throw (free)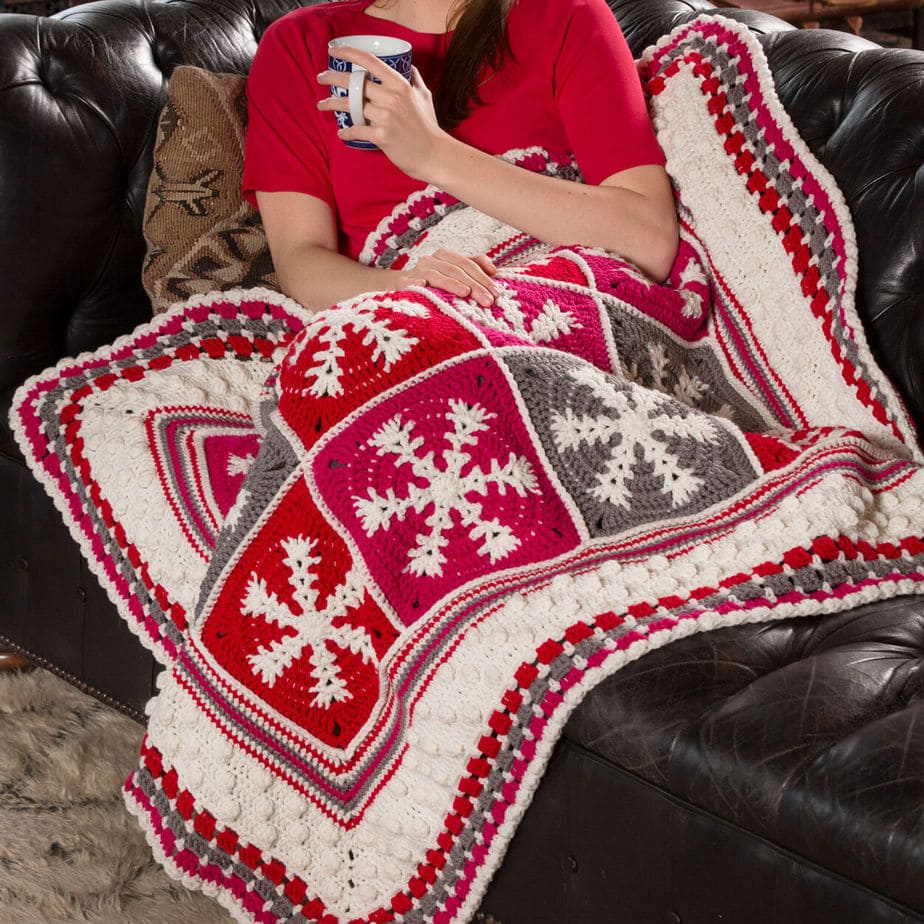 Found at Yarnspirations
You'll find this snowflakes afghan pattern over at Yarnspirations. It's made up of 12 squares in Christmas colors that are joined together with a popcorn border.
It's an intermediate pattern but Jessie, the designer, has a video tutorial you can watch so you don't get lost.
Christmas Cabin C2C Crochet Afghan (paid)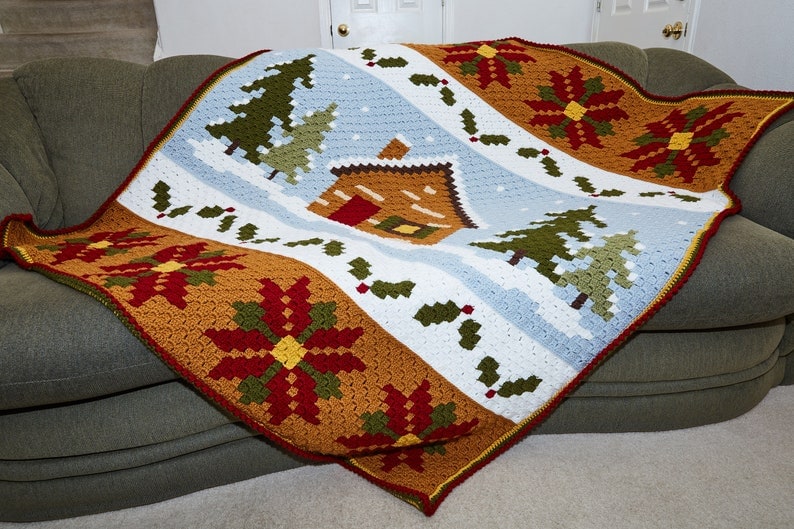 Found at: Swish and Stitch Crafts – Etsy
I love the backstory of this Christmas crochet blanket pattern because it was inspired by a kitchen towel! Featuring poinsettias, holly, and a snowy cabin in the forest, this blanket is crocheted in warm, welcoming colors. Make one for yourself or as a gift for a friend.
Nordic Motif Blanket (free)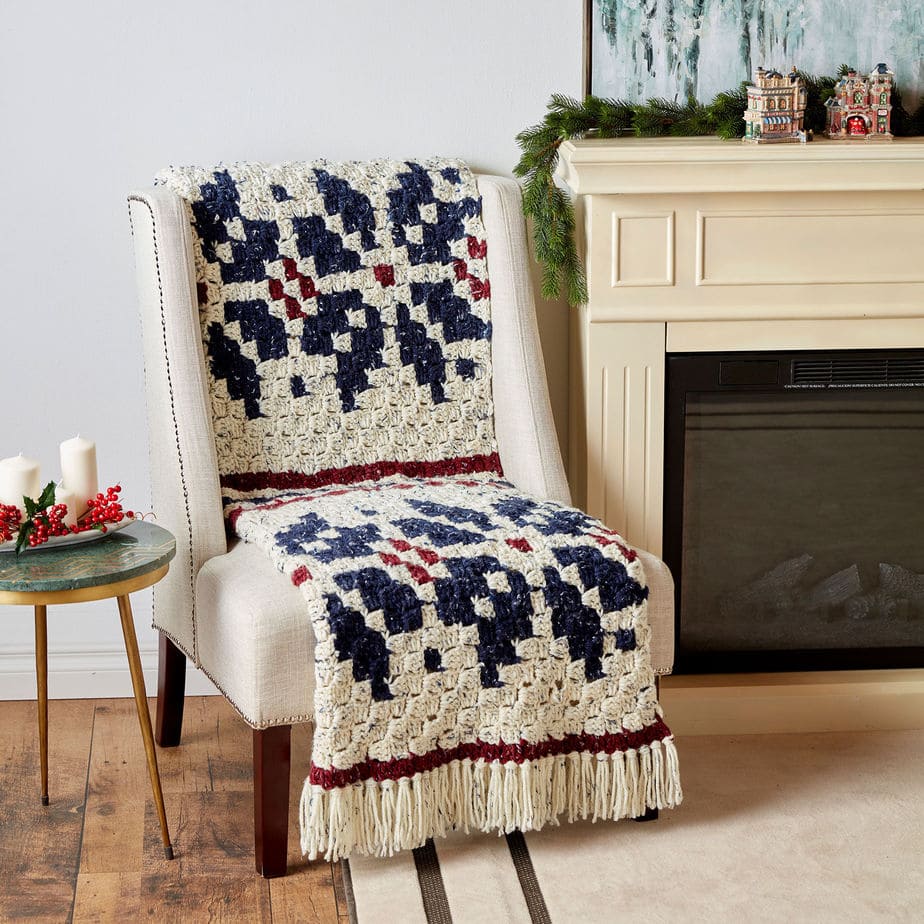 Found at: Yarnspirations
I love the deep, warm tones in this Nordic-inspired crochet blanket. It looks thick and cozy and is perfect if you're looking for something less traditional in style for your Christmas decor this year.
Crochet Christmas Lights Blanket (free)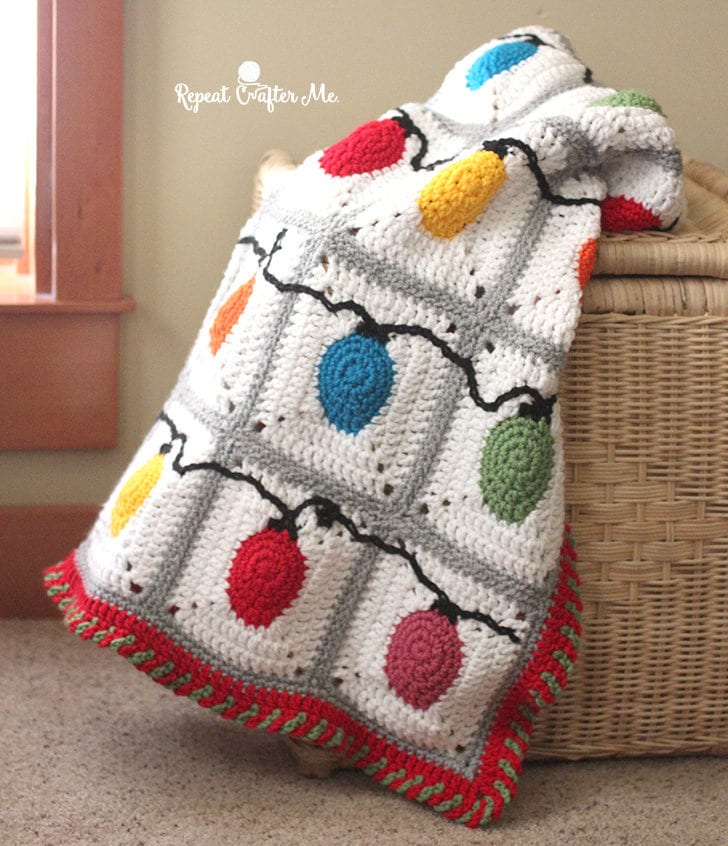 Found at Repeat Crafter Me
This is such a fun festive Christmas crochet afghan, with all those Christmas lights! It's made up of Granny Squares, which makes it the perfect project to start early because you can make one crocheted square a week until you're done!
Father Christmas Afghan (free)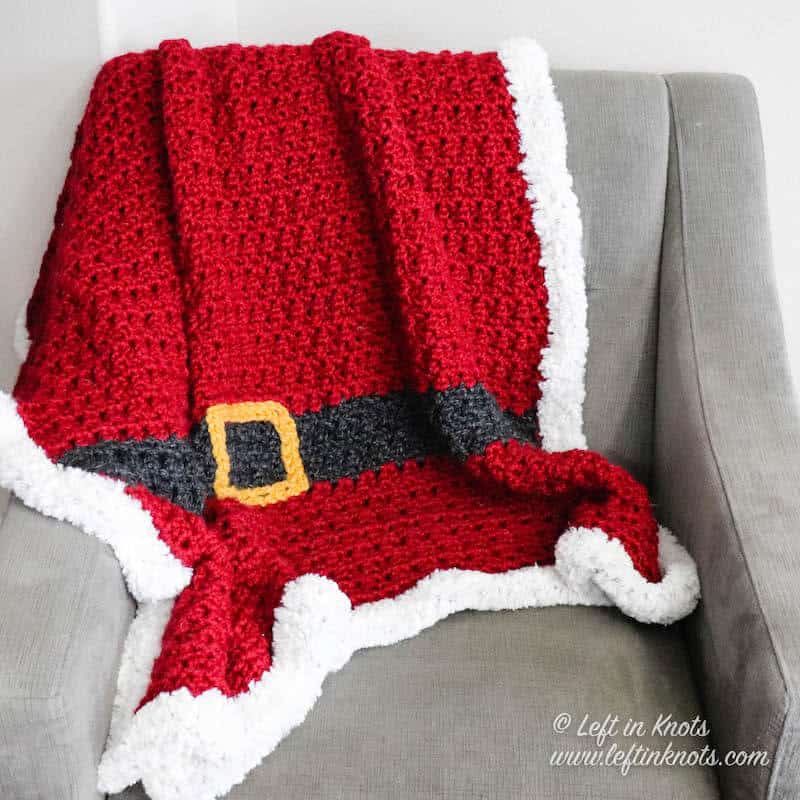 Found at: Left in Knots
Oh my goodness, how fun is this Santa Claus Christmas crochet blanket! It's super cozy thanks to the faux fur trim and it uses super bulky yarn so it comes together quickly!
Red Heart Peppermint Throw and Pillow (free)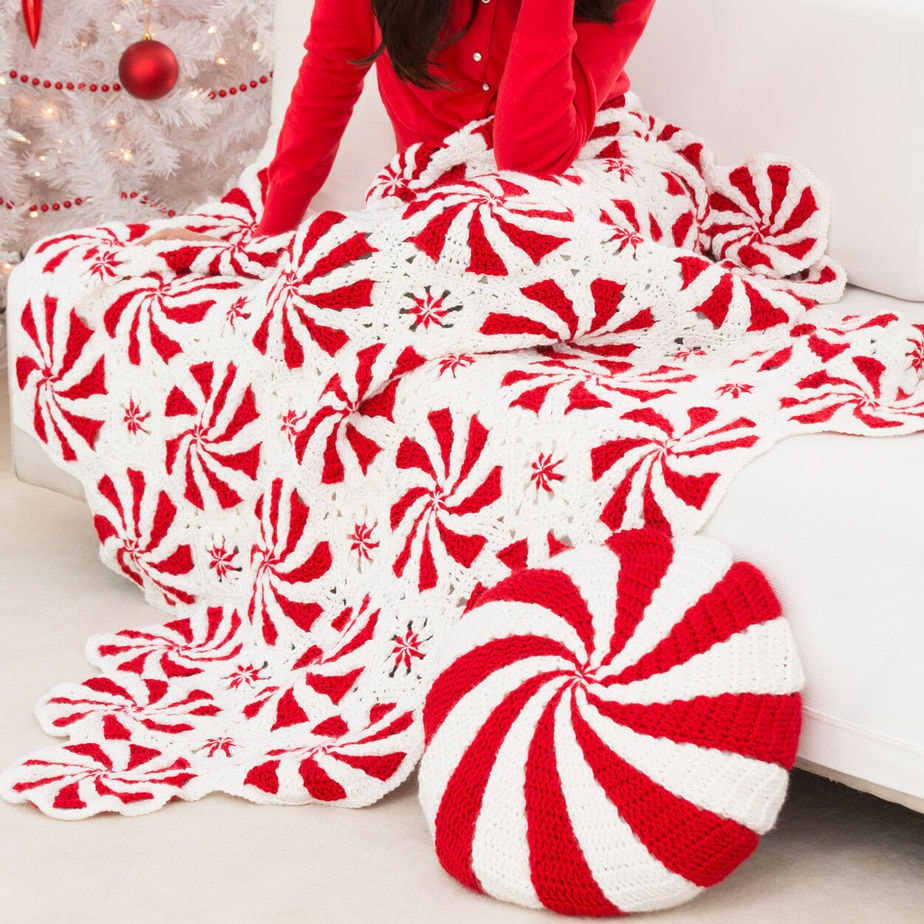 Found at: Yarnspirations
This Christmas crochet blanket pattern is for experienced crocheters, but oh my isn't it totally stunning?? I love that you also get the instructions on how to crochet a matching pillow, that looks just like peppermint candy!
The Noel Nine Patch Blanket Pattern (paid)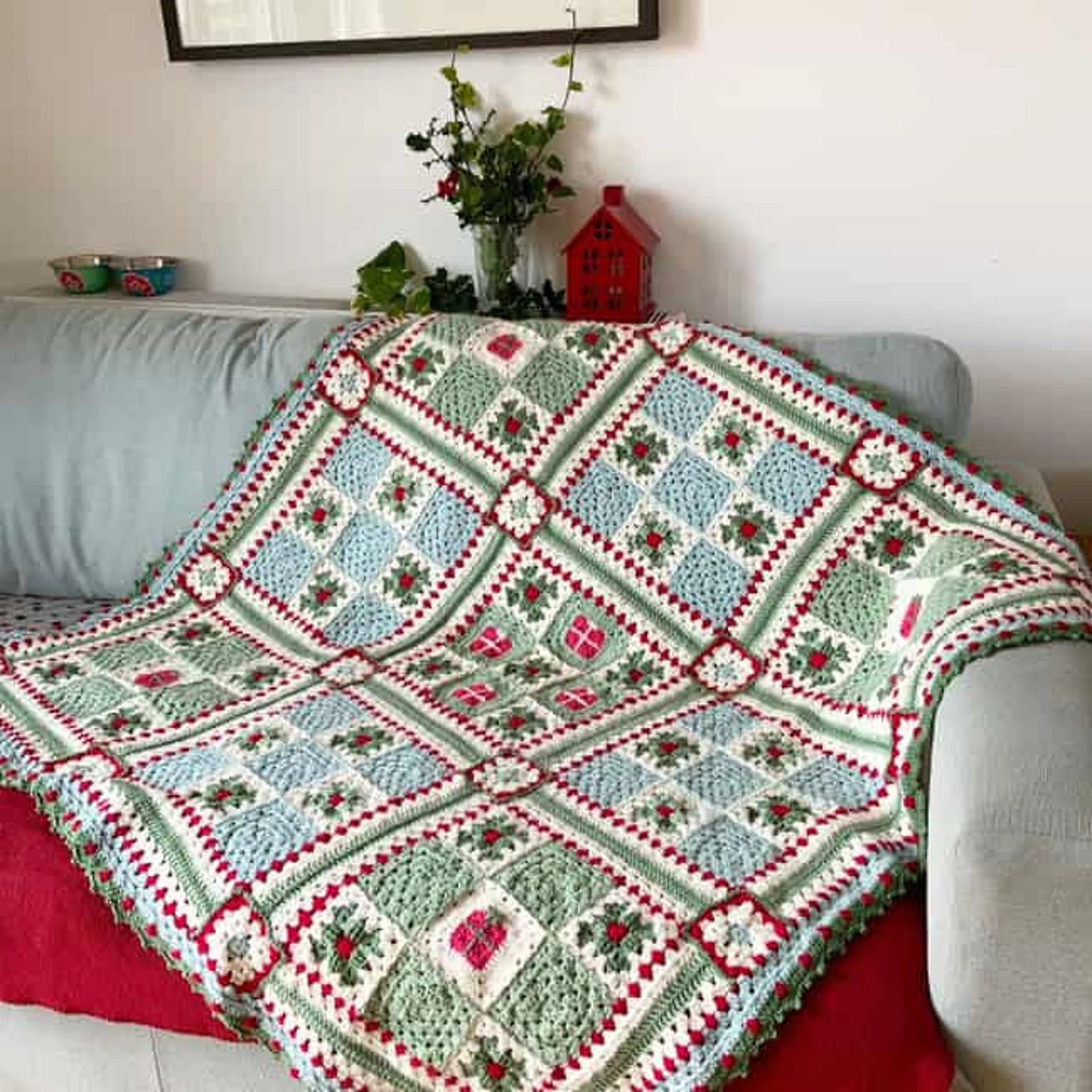 Found at: Wool Thread Paint – Etsy
Inspired by vintage patchwork quilts, this Christmas crochet blanket is made up of blocks of nine-patch squares in soft retro colors which are perfect for the Holiday season. The pattern is suitable for most abilities as it uses only a few basic crochet stitches and a little bit of surface embroidery. 
Caron Christmas Tree Throw Pattern (free)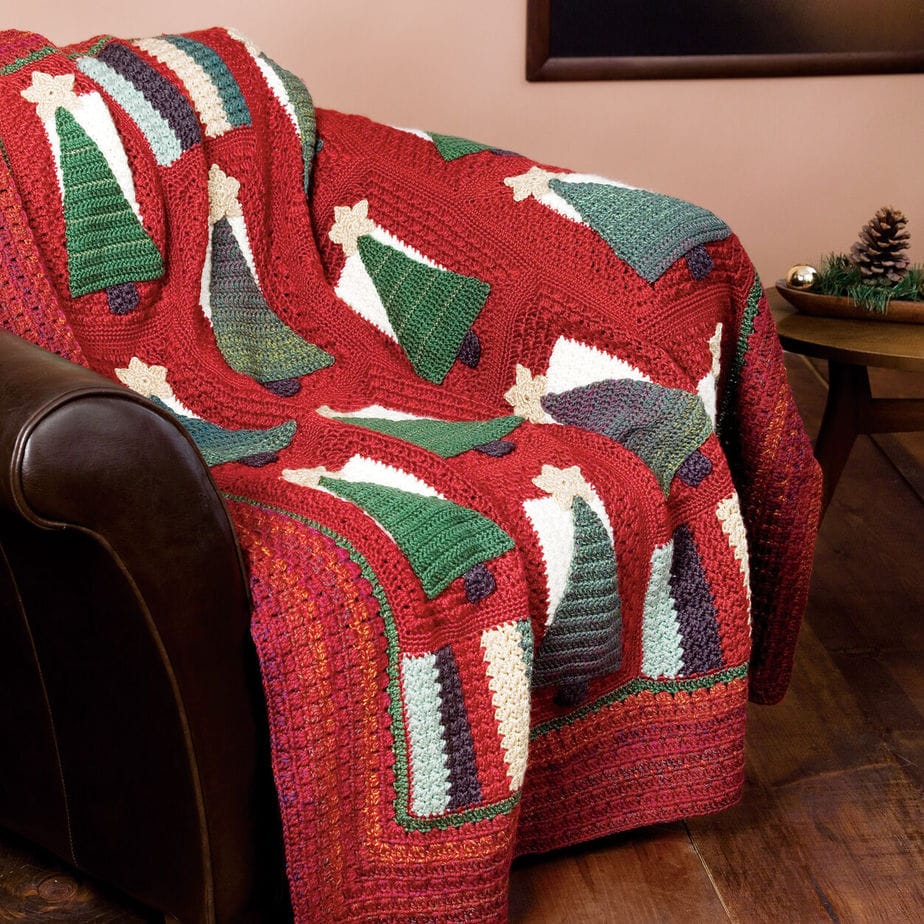 Found at: Yarnspirations
I know how much you love crochet Christmas Tree patterns so when I saw this Christmas tree throw I knew it had to make the collection! I love the color combination on this one.
Sholach Christmas Trees – Overlay Mosaic Crochet (paid)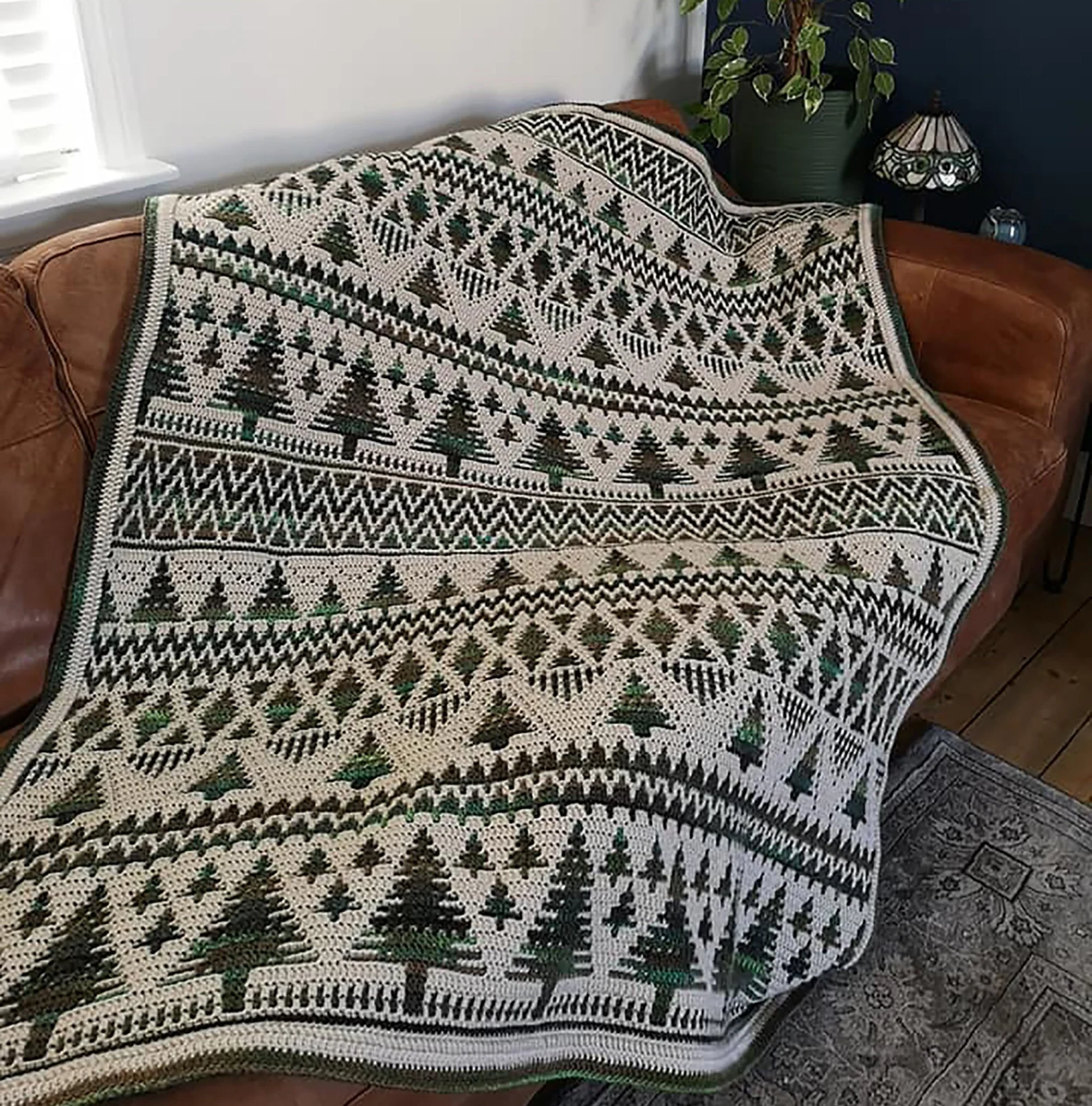 Found at: GetYerHookOn – Etsy
Or how about this GORGEOUS overlay mosaic Christmas crochet blanket that is sure to become a family heirloom to pass down from generation to generation! The PDF instructions include US and UK crochet terms and there are some video tutorials you can watch too.
Merry & Bright Crochet Throw Pattern (free)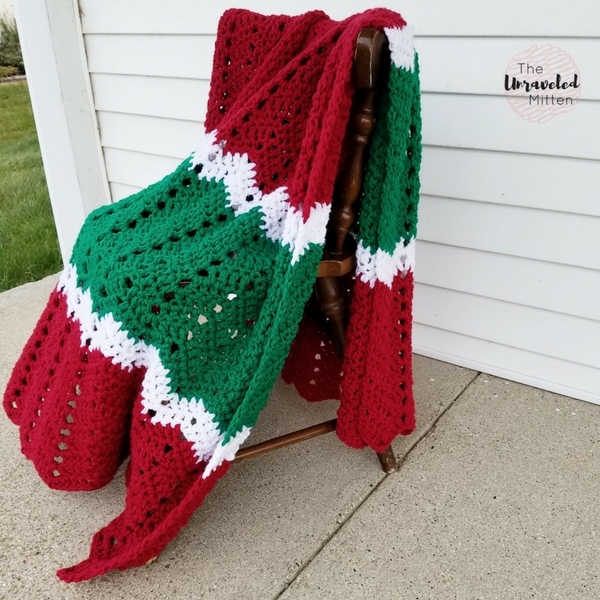 Found at: The Unraveled Mitten
If you love a good old ripple pattern you do not want to miss this beautiful Christmas crochet blanket with its green and red festive color combination.
---
Sure hope you found a project or two to make this year in our collection of Christmas Crochet Blankets. Be sure to save it to your Crochet Patterns board on Pinterest so you can find it again later.