DISCLOSURE: Some of the links below are affiliate links. This means that, at zero cost to you, I will earn an affiliate commission if you click through the link and finalize a purchase. All opinions are my own, and I only recommend products that will add value for my readers.
Does your child have a fascination with all things dinosaur-related? Are you looking for a unique and exciting way to throw a birthday party for them? Look no further! We have prehistoric ideas that will take your party from boring to roaring!
Dinosaur Party Ideas
How do you host a dinosaur party?
Childhood is all about creating memories that last a lifetime, and what better way to do that than with a dinosaur-themed party?
You can transform any space into a prehistoric paradise with a few simple touches.
From fun activities to decorations and food, this article will provide all the fun and exciting ideas you need to help you throw a dinosaur-themed party your kids will never forget.
Whether your kids are dinosaur aficionados or want to make a roar-some statement for their next birthday, these creative dinosaur party ideas will surely be a hit!
From custom invitations to fun-filled games and dino-mite snacks, these dinosaur party ideas will ensure your child's birthday celebration will be unforgettable.
So let's dive into the world of the dinosaurs and make this party one for the ages!
Dinosaur Themed Party Invitations
Make your child's party stand out with custom dinosaur-themed invitations.
You can easily make them using green, brown, and white cardstock paper to create a prehistoric landscape. Cut out dinosaur shapes and attach them to the card. Add a caption like "Join us for a roaring good time" and include all the essential details such as date, time, and location.
If you're not the crafty type, don't worry; we've got you covered with some awesome template designs that are easy to personalize. You can have them professionally printed and shipped to your door or choose the digital download option and print them at home or invite people via social media!
Now that the invitations are taken care of let's move on to the fun part – DIY Dino Decorations. With creativity and imagination, you can transform your dino party space into a prehistoric paradise.
Dinosaur Party Decorations
With the invitations taken care of, it's time to focus on turning your party space into a prehistoric world.
Dino Decorations are a must-have for any dinosaur-themed celebration.
Start by using green streamers to create a jungle-like atmosphere. You can also use brown paper to make tree trunks and leaves to hang on the walls.
For the tables, you can make your own dino centerpieces. Using small toy dinosaurs and moss, create a miniature scene to transport your guests back to the Jurassic era.
Set up a fun dinosaur photo area where kids can have their pictures taken. Using cardboard or foam board, you can paint a backdrop to look like a prehistoric landscape. Have the kids make their best dinosaur poses in front of the camera.
These decorating ideas will transform the party space into a prehistoric paradise that kids will love! And speaking of exciting the guests, check out the next section on planning some dinosaur party games to keep the kids entertained!
Dino Party Games
You might wonder what the kids will do during the party other than run around excitedly! Here are some ideas for Dinosaur-themed party games and activities.
Hatch the Dinosaur Eggs
For this game, you'll need a lot of white balloons and dino-themed items such as small toys, dinosaur stickers or candy.
Blow up the balloons, fill them with the items, and then corral them all in a giant net or duvet cover until the party.
When it's time for the game, let the dinosaur balloons out from the nest, and the children have to sit, stand, or jump on the eggs… anything they can think of to "crack" them and win the treats inside!
Fossil Hunt Game
A fun activity to keep the kids entertained during the dinosaur party is a Fossil Hunt Game. This game is perfect for a backyard party or indoors if you have enough space.
You'll need plastic dinosaur fossils or dinosaur bones to set up the game, which can be found at most toy stores or online shops. Hide the fossils around the party space, and create a map or clue sheet for the kids to follow.
Divide the kids into teams, and give them each a bucket or bag to collect their fossils. The team that collects the most fossils within a set time wins the game.
If space is limited, you can play a similar dino dig game by filling a portable sandpit with sand and burying the fossils for the kids to dig up!
Dino Cookie Decorating
It's a good idea to schedule some quieter activities so the kids don't get over-excited.
For an easy activity, set out a table with some dino-shaped gingerbread cookies and lots of icing and sprinkles, and let the children decorate their own dinosaur treats.
Dinosaur Terrariums
Another fun party idea is to make dinosaur terrariums. Set out small jars with pebbles, soil, and miniature toy dinosaurs or plastic plants. Your child and their friends can get creative with their unique designs and take them home as a special reminder of the fun party.
Once the party games are over, it's time for some dino-mite snacks! Check out the next section for fun and easy snack ideas to complete your prehistoric party theme.
Dino-Mite Snacks
What food do you serve at a dinosaur party?
After all those dino games, your little explorers will work up an appetite. Luckily, we have plenty of dinosaur party food ideas to fill their hungry tummies! So, prepare to roar into fun with these tasty and creative dino-themed snacks!
Let's kick off the dino snacks with something savory. These cute dino-shaped sandwiches are fun and easy to make with a dinosaur cutter.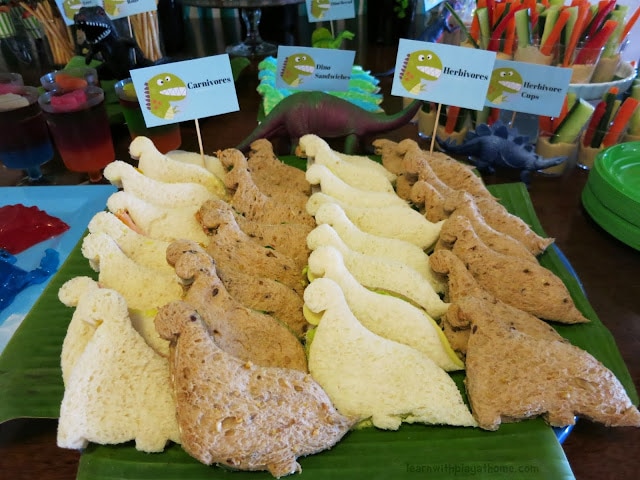 Or how about some roar-some dinosaur foot cookies? These are the perfect combination of sweet and scary.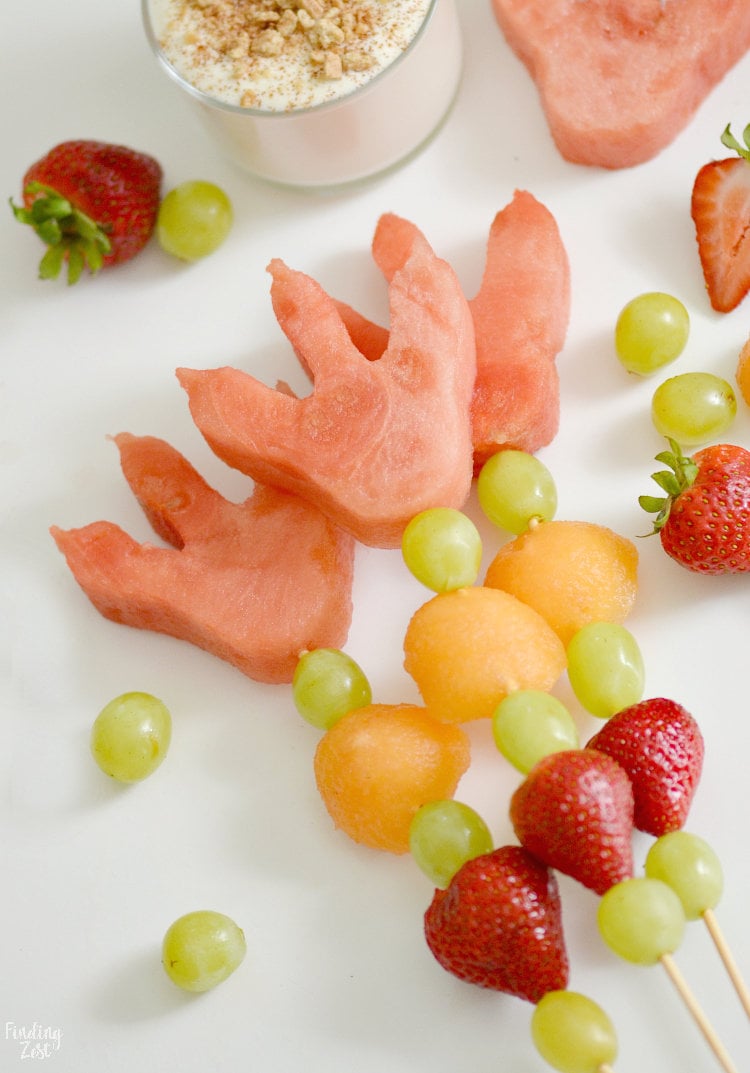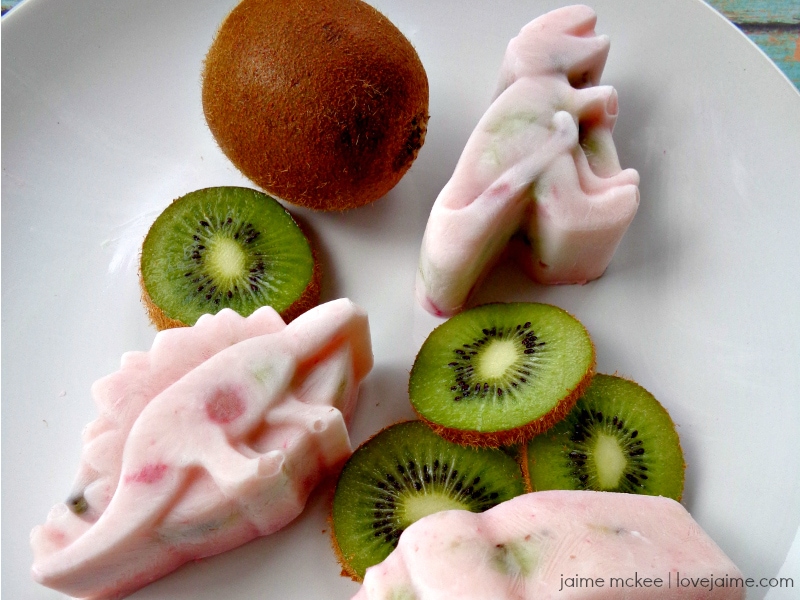 These frozen yogurt treats are super easy to make and perfect for a summertime dinosaur-themed party!
Or how about some roar-some dinosaur foot cookies? These are the perfect combination of sweet and scary.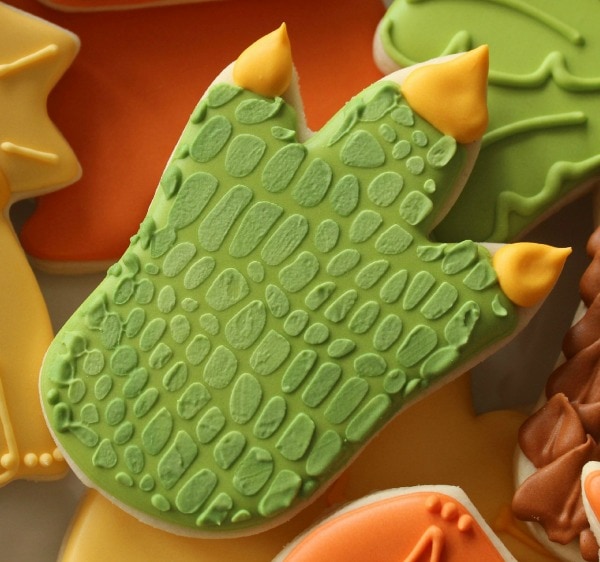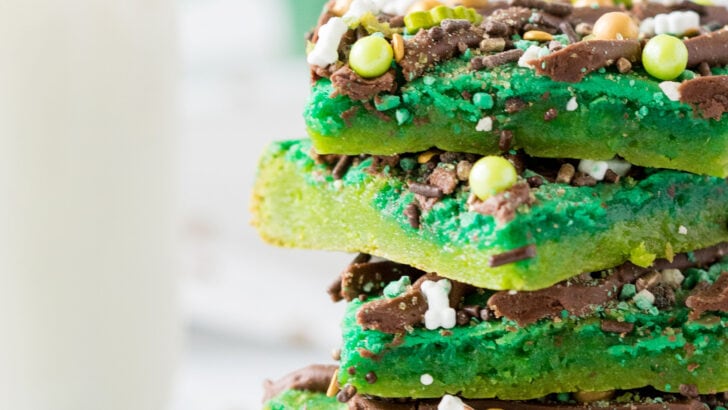 Oooh… green dessert bars! These are sure to catch the kid's attention, and the best news is it's made from a cake box mix!
Be sure to ask parents whether any of the kiddos have dietary requirements. These dino balls are vegan and gluten-free.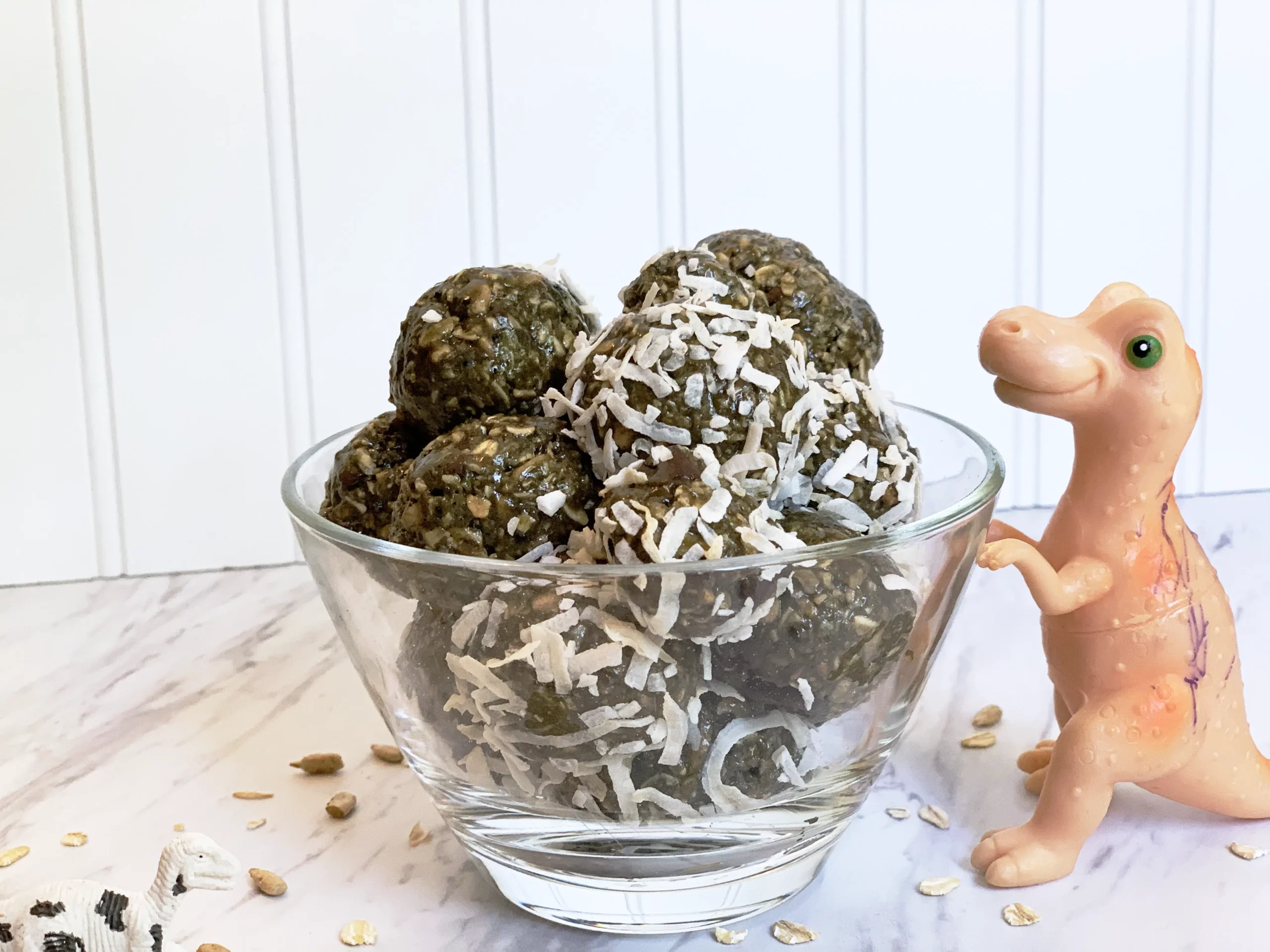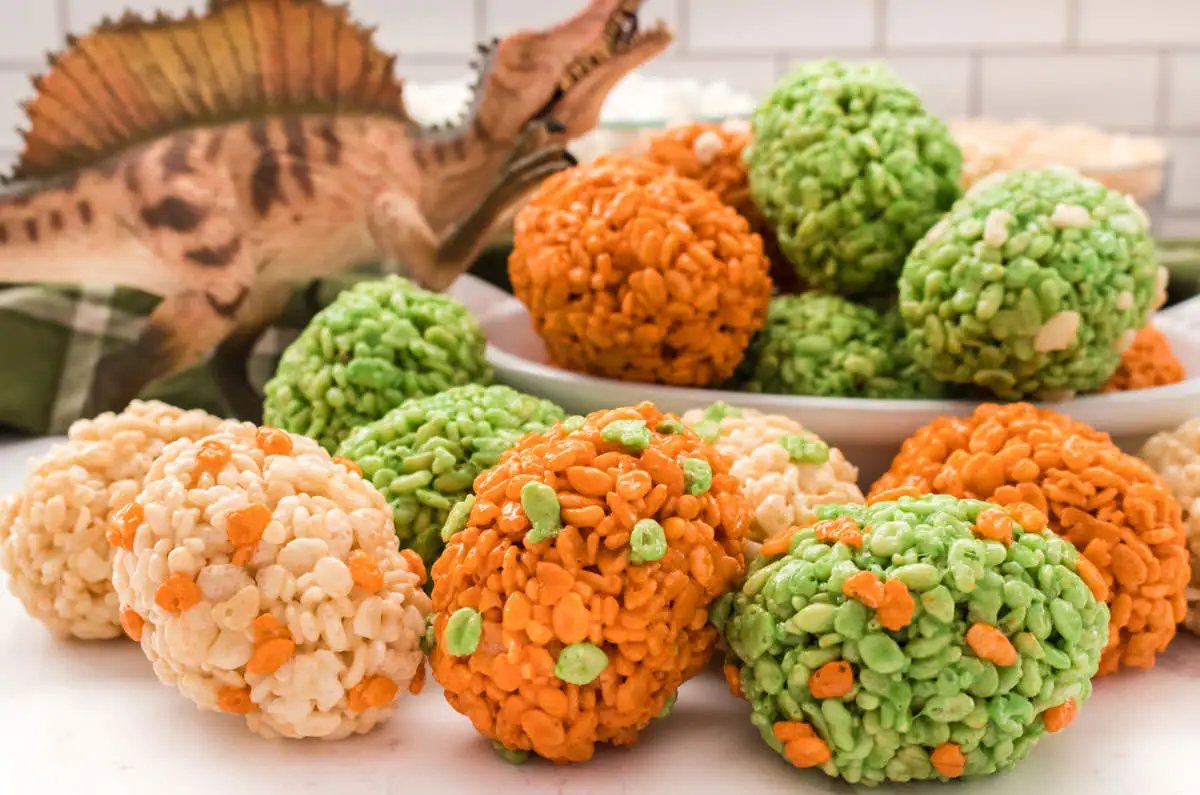 I don't think I've ever been to a birthday party that didn't have Rice Krispie treats… here's a cool dino spin for you to serve!
And, of course, no birthday party is complete without cake. In the next section, we'll show you some Cretaceous cake ideas that are as fun to make as they are to eat.
Cretaceous Cake ideas
After chomping on some delicious prehistoric snacks, it's time to bring out the pièce de résistance – the dinosaur birthday cake!
A dino-themed cake is always a hit; plenty of creative ideas exist. Here are some ideas to inspire you (or your chosen cake-baker!)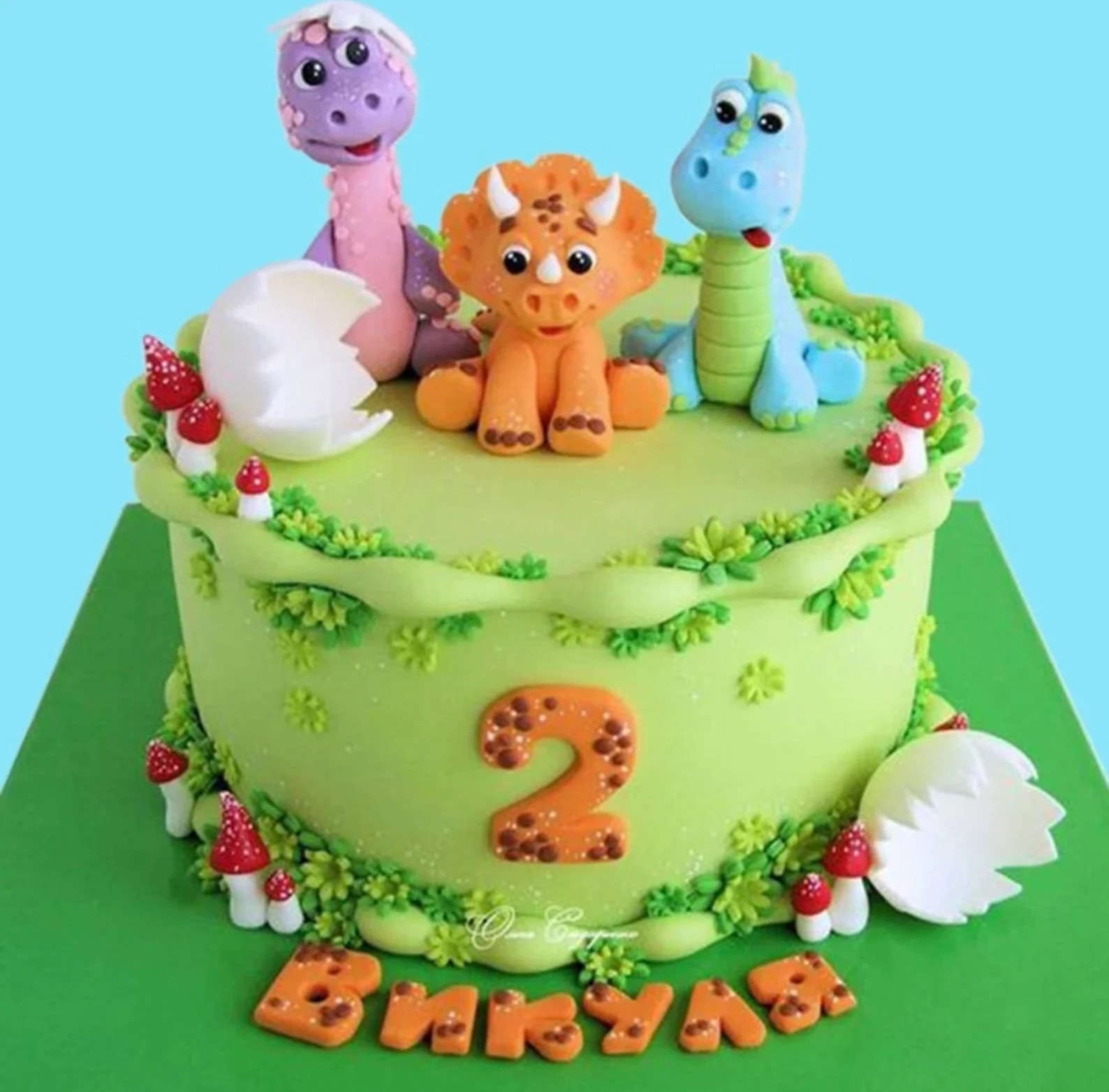 Or a cake decorated with fondant dinosaurs that your little ones can play with after devouring their slices?
The options are endless, and the result will surely be a roaring success.
But the fun doesn't have to stop at just the cake. In the next section, we'll give you some inspiration for Jurassic party favors your guests will love to take home.
Jurassic Dinosaur Party Favors
After the excitement of the dinosaur-themed party, your little ones will love to take home some prehistoric goodies as souvenirs. So, why not create fun Jurassic party favors that your guests will always remember?
Dinosaur Tote Bags
One idea is to create personalized dino tote bags as a unique, reusable option. You can buy plain tote bags and fabric markers to draw different dinosaurs on. Then pop some dinosaur treats like coloring books or stickers inside to give to the children as they leave the party.
Adopt a Dinosaur
Fill a bucket or container with toy dinosaurs and shredded paper, and the children can adopt a dinosaur to take home with them.
You could also buy the dino eggs that hatch when left in water and have the children dig for those.
Crochet Dinosaurs
If you love to crochet, you could also make each child a little stuffed dino friend to take home.
Get creative and have fun making unique and personalized souvenirs that will make your guests feel like they traveled back in time.
Dinosaur Birthday Party Ideas
With these unique dinosaur party ideas, your child's dino-themed birthday party will be a roaring success.
Every detail is covered, from the dino-themed invitations to the Cretaceous cake ideas and Jurassic party favors. Remember to capture all the prehistoric fun with plenty of photos and send your guests home with dino-mite souvenirs.
So start planning now and let your child's birthday party roar!