Today we're sharing our thoughts on the best bag for Disney World and perhaps more importantly… what you need to put in it!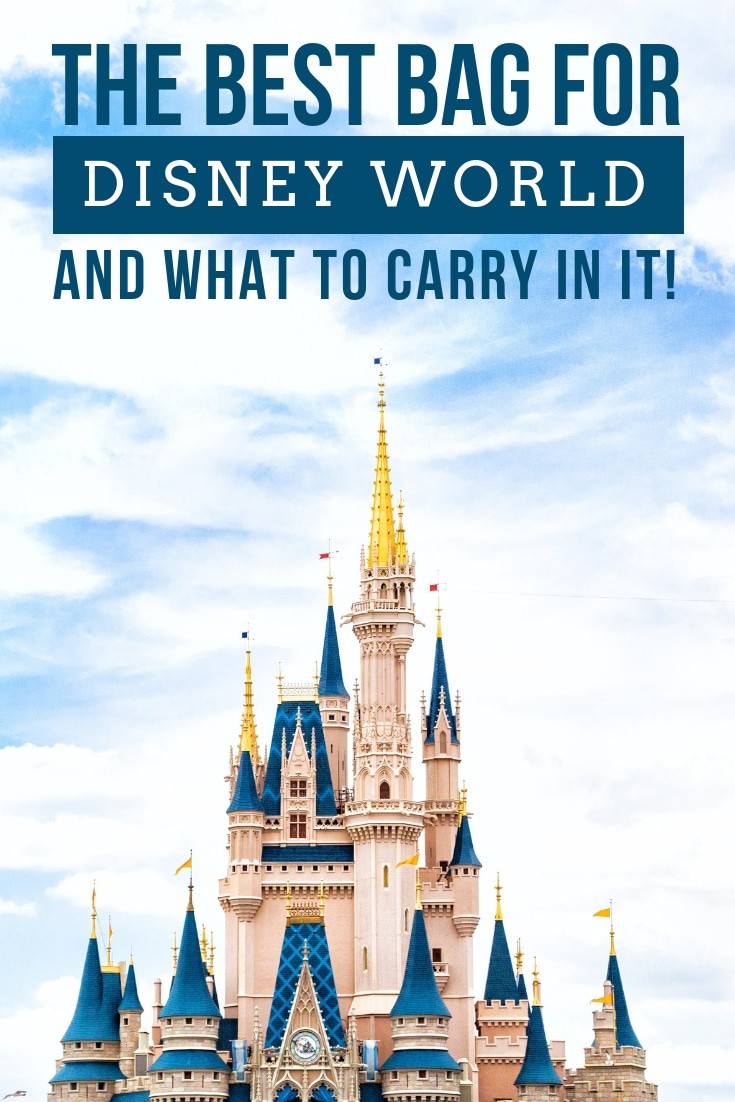 This post may contain affiliate links, which means I may receive a commission if you click on a link and purchase something.
Best Bag for Disney World
Our insanely useful Disney packing list has been super popular with our readers and many of you have asked about our thoughts on the best bag for Disney World.
So today we're going to let you know which backpack we use, and perhaps more importantly give you some ideas on what you should carry with you to the themeparks!
Oh and while you're here be sure to check out all of our Disney World hacks to show you how to save time and money while on vacation!
Tips for choosing the bag that's right for you
When you pick out a bag to use at the parks make sure you can carry it on your back or across your body, you'll want your hands free to experience the fun and take pictures rather than carry a purse.
You also want to make sure it's not too big because you don't want to feel like a pack horse carrying it about, and it needs to fit on the rides with you.
You can of course rent a locker but that's pretty expensive and you'll need to keep going back to the entrance of the park whenever you need something from your bag.
We like to save money on our Disney vacation by bringing our own picnic lunch to the parks so we use a cooler backpack just like this one. It's insulated so it keeps our lunch and snacks nice and cool and there's room inside for all the other bits and pieces we like to carry with us!
If you're on the Dining Plan or just want to experience the restaurants rather than brown bag your lunch then you can just use a regular backpack. One like this is a good option because it's light weight and has lots of pockets and compartments for storing things. It also folds up into a little pouch so you can store it in your luggage when you're travelling!
The one type of bag we do NOT recommend you use is one of those drawstring backpacks (like these) because those string straps can really dig into your shoulders and get uncomfortable after a while!
What should you put inside the bag?
There is a fine balance between bringing along the essentials you need to make sure everyone in your family enjoys the day and carrying everything but the kitchen sink – just in case. The parks are huge, and you will do a lot of walking, not to mention unless you're visiting in the winter months it will also be hot and humid, so the last thing you want to do is act like a pack horse!
Don't forget to check out our top picks of
Disney shirt ideas
to wear while you're having fun at the parks!
Important items to carry in your wallet or on your arm
And make sure you don't forget these all important items. Which we put in a different list because they might not actually go in your bag!
Things to take for the kids
Extras for babies and toddlers
What NOT to carry with you to the Disney parks
Selfie sticks! Yep, if you turn up at bag check with one of those you will not be allowed to take it in to the park with you.
Before you travel make sure you check the official list of restricted personal items to see what other items you can't take into the Magic Kingdom and other Disney parks.