DISCLOSURE: Some of the links below are affiliate links. This means that, at zero cost to you, I will earn an affiliate commission if you click through the link and finalize a purchase. All opinions are my own, and I only recommend products that will add value for my readers.
Make something special for your loved one this Valentine's Day with these easy heart crochet patterns. Perfect for beginners. With just a little yarn and some love, you can make a beautiful gift that will last a lifetime.
Heart Crochet Patterns
Valentine's Day is right around the corner and what better thing to crochet than a sweet heart or two! I went searching for heart-shaped crochet patterns and I found so many lovely ideas to share with you!
You could use your hearts to make a crochet garland. Or you could turn them into a sweet baby mobile. Or add them to blankets, tote bags or baby clothes. You could scent the padded ones with essential oils and put them in your drawers to make your clothes smell nice. Or you could use them as gift tags, or as a sweet gift for a friend to show you care!
So many ideas of things you can do with a simple crochet heart!
1 | Granny Square Heart Coaster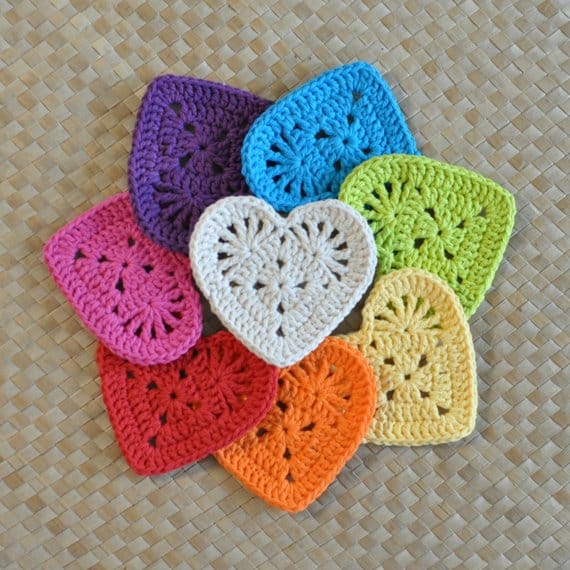 Ooh and coasters too! I didn't even think of that! If you're a fan of granny squares then you are going to love
this heart version
. It's an intermediate project but there are tons of photos so if you're a beginner looking for a challenge you should be able to follow along!
2 | Crochet Heart Pattern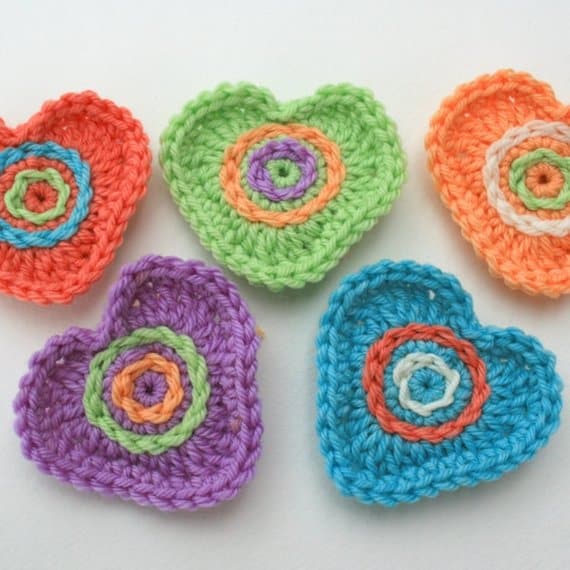 I love the little circle details on
these hearts
that give them extra texture. The circles are added with surface crochet.
3 | Crochet Flower Heart Pattern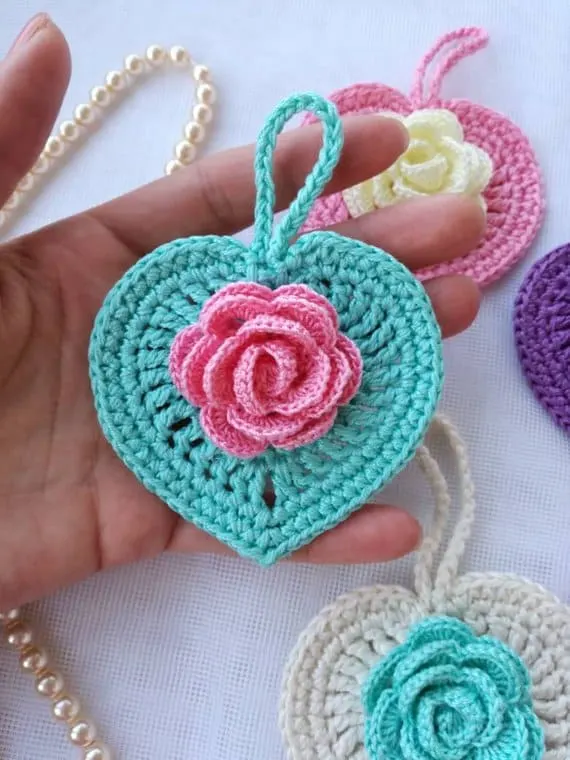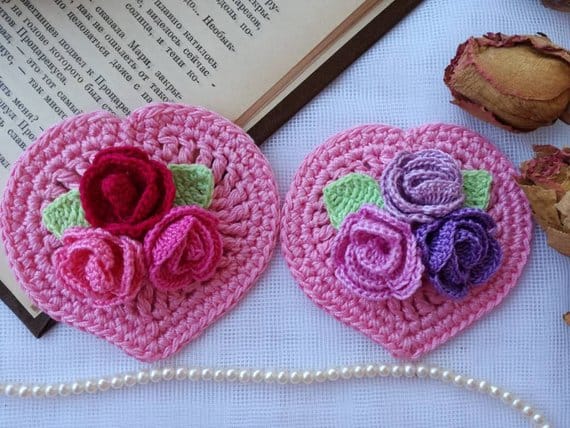 Ooh
these hearts with the little flower centers
are so ELEGANT! If you're looking for something unique to give as
wedding favors
this could well be the project you need. Or you could add clips to turn them into
hair accessories
!
4 | Irish Crochet Spiral Pattern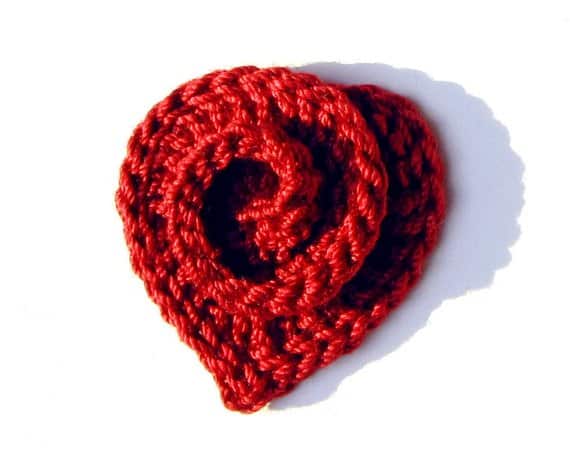 One of the ladies in our heart group has made some
spiral hearts like this one
and they look FABULOUS! I really want to try this one myself!
5 | Colourful Crochet Heart Pattern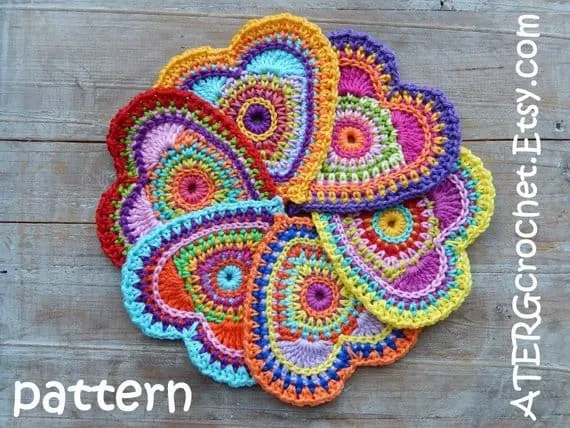 I am a HUGE fan of ATERGcrochet patterns because they are always to colourful with fabulous patterns.
This heart pattern
is no exception, with the colour burst design they're just stunning!
6 | Crochet Pattern Heart Keychain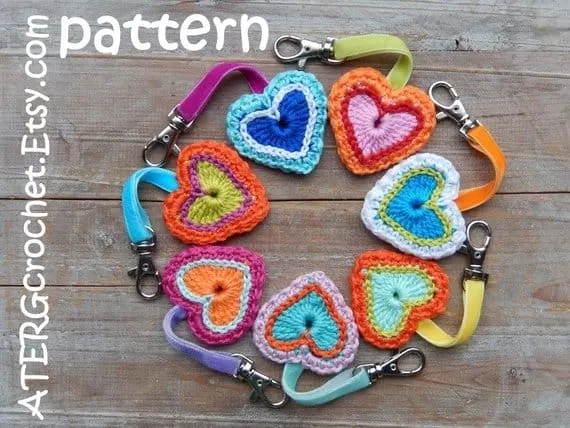 If nine different colors feel a bit daunting try
this three-colour pattern
instead! They make such sweet
keychains
don't you think? They'd make cute party favors or
teacher gifts
that's for sure!
7 | Heart in Bloom Crochet Motif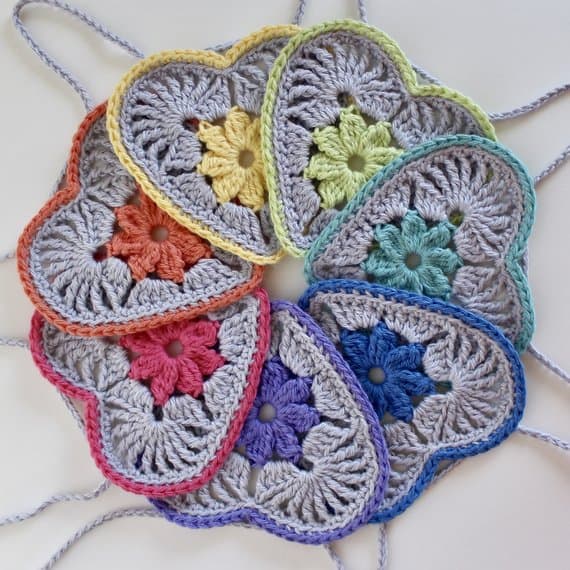 Wow
this heart with a flower inside is so beautiful
the two colour design is so striking! This would be perfect as bunting or you could use the motif on a
tote bag
or blanket.
8 | Patchwork Heart Ornament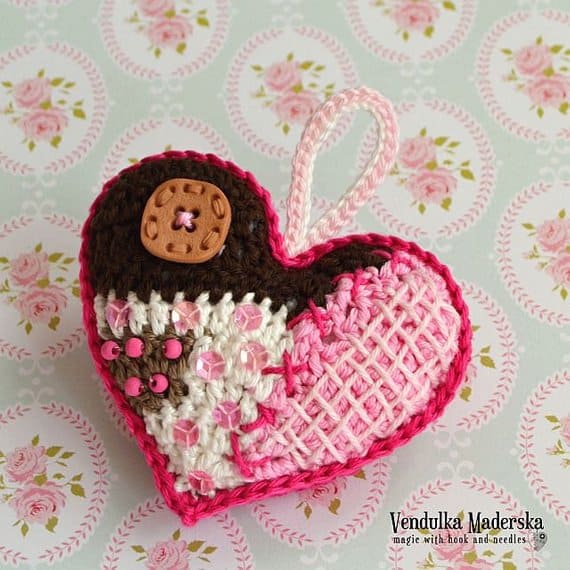 Oh how sweet is
this little patchwork crochet heart
? I've never seen anything like this before with the patchwork effect of the different colours and then the added elements of sequins and buttons. If you make crochet products for sale you will be glad to know that that is allowed in limited quantities with this unique pattern!
9 | Happy Colourful Crochet Heart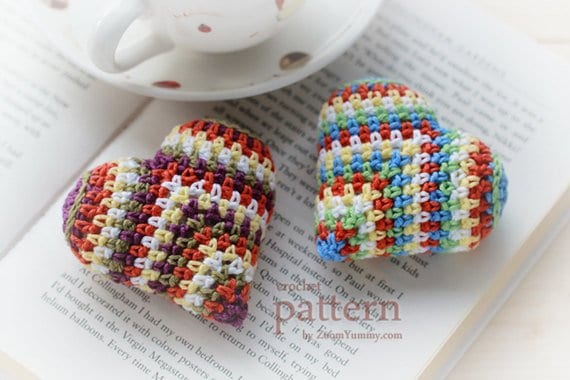 Here's another padded heart design
and I love the stripes! The finished hearts are about 3 inches square and you're allowed to sell the hearts from this pattern too.
10 | Stuffed Heart Crochet Pattern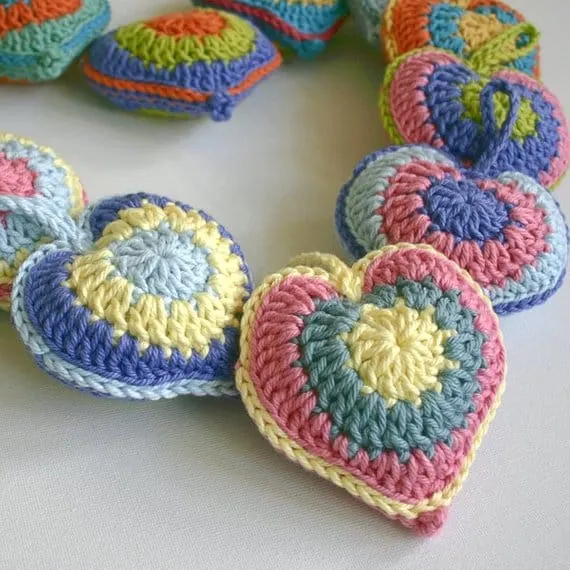 If you're looking for a stuffed heart pattern that's beginner friendly then
give this one a look
. You'll need to know how to work in the round but it's a really sweet design.
11 | Heart Pillow Crochet Pattern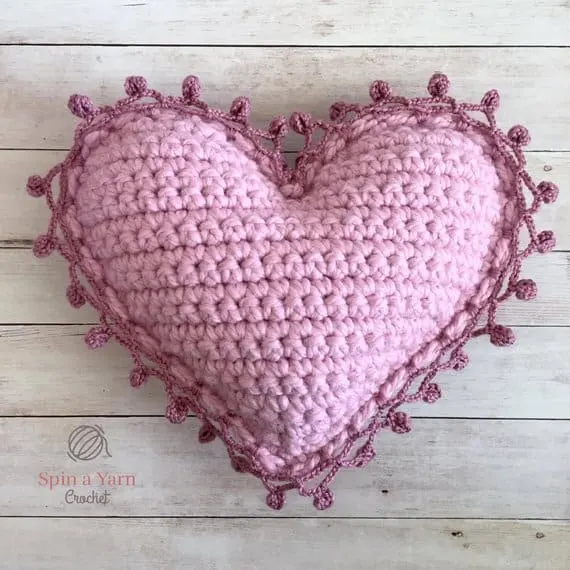 And once you've mastered small hearts why not size things up and
make a heart-shaped crochet pillow
! I love the fun design with the pompom edging! It's perfect for your Valentine's decor or for your
daughter's bedroom
(or yours even)!