Road maps, vintage maps, world maps, don't keep them folded away in a box somewhere, turn them into something amazing! Check out these awesome ways to repurpose maps and be inspired!
Repurposed Map Crafts
This post may contain affiliate links, which means I may receive a commission if you click on a link and purchase something. As an Etsy and Zazzle Affiliate I earn commissions from qualifying purchases.
How many times do you come across gorgeous vintage maps at flea markets and thrift stores?
If you've always wondered what on earth you can do with them you'll love today's collection.
I've pulled together some super creative repurposed map projects that you can use to upcycle those vintage maps (or modern maps for that matter) into fabulous home decor and handmade gifts.
More upcycling ideas you need to see:
24. Map Monogram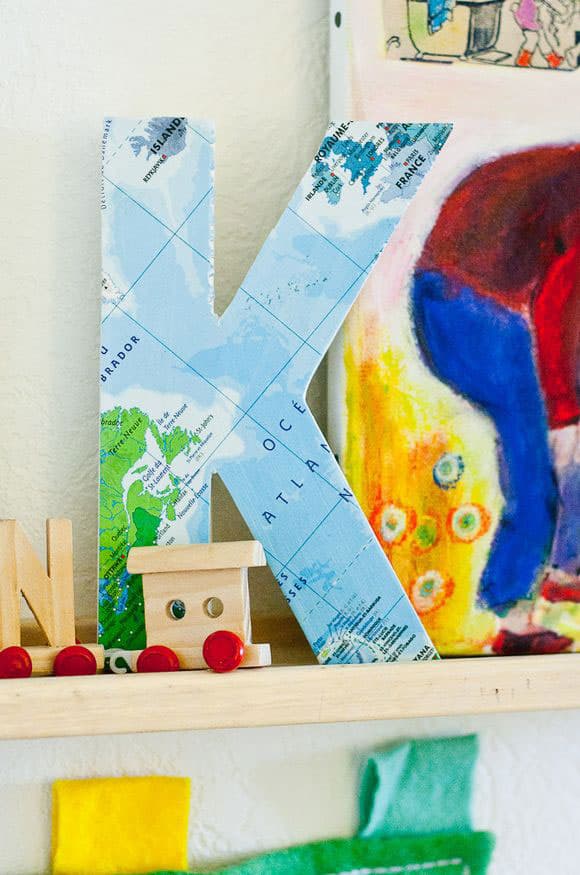 Found it here >> Francine C
Take a papier mache, or wooden letter, add a map, and you have a fabulous map monogram just perfect for a child's nursery!
23. Personalized Photo Map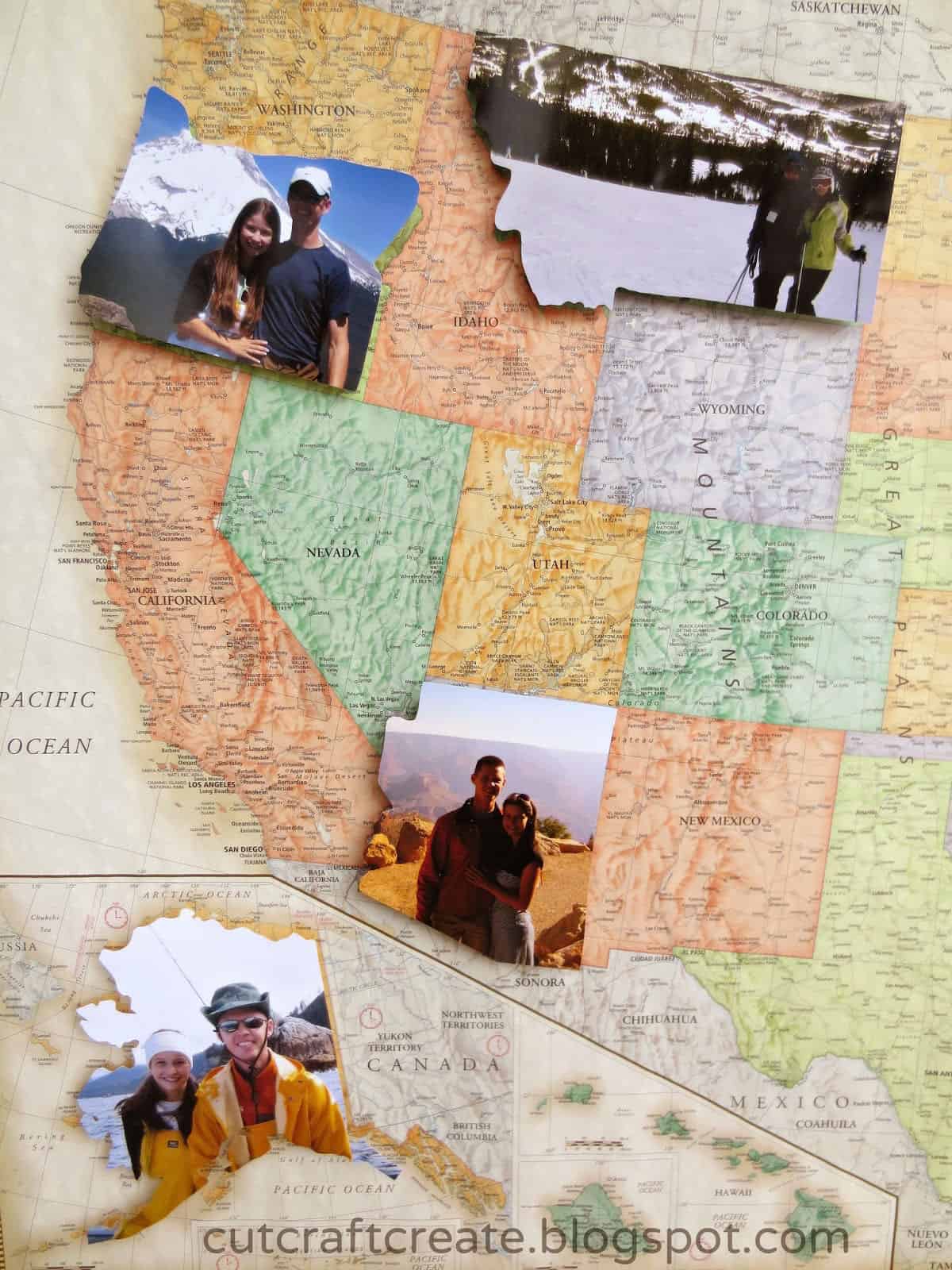 Found it here >> Cut Craft Create
This is such a FABULOUS idea for an first wedding anniversary gift (you know that's paper right??)
22. Decoupage Map Chair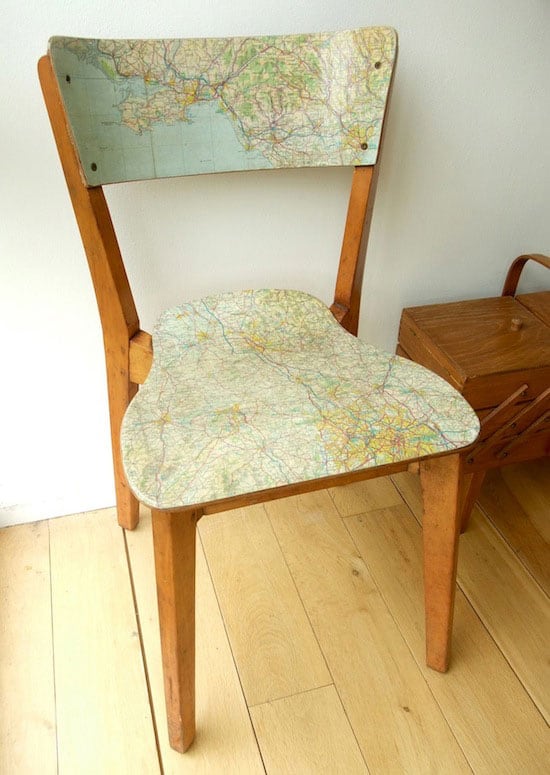 Found it here >> Roddy and Ginger
Here's a little inspiration for you. Take a vintage chair and bring it to life with a vintage map!
21. DIY: Map Pendant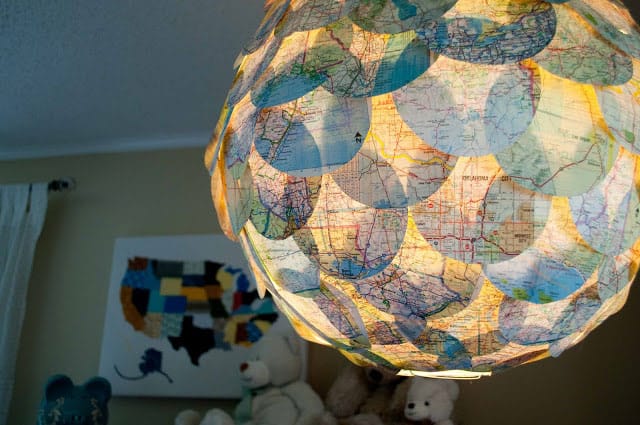 Found it here >> Paisley Sprouts
This map pendant light is genius!
20. DIY Map Wallpaper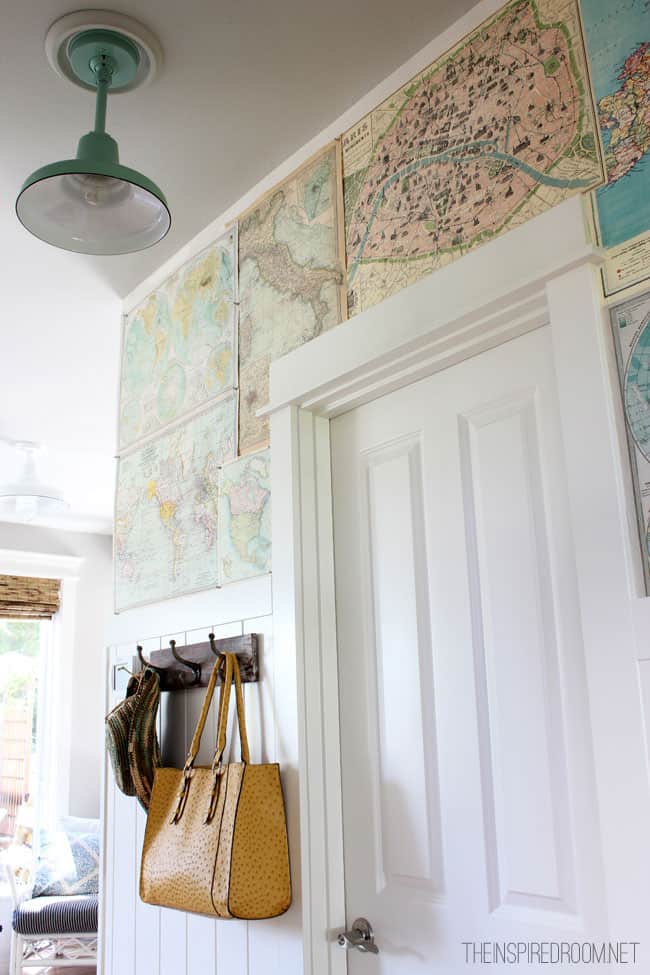 Found it here >> The Inspired Room
If you find a stash of vintage maps that you'd really like to have on display go and ahead and turn them into wallpaper!
19. Map-Wrapped Gifts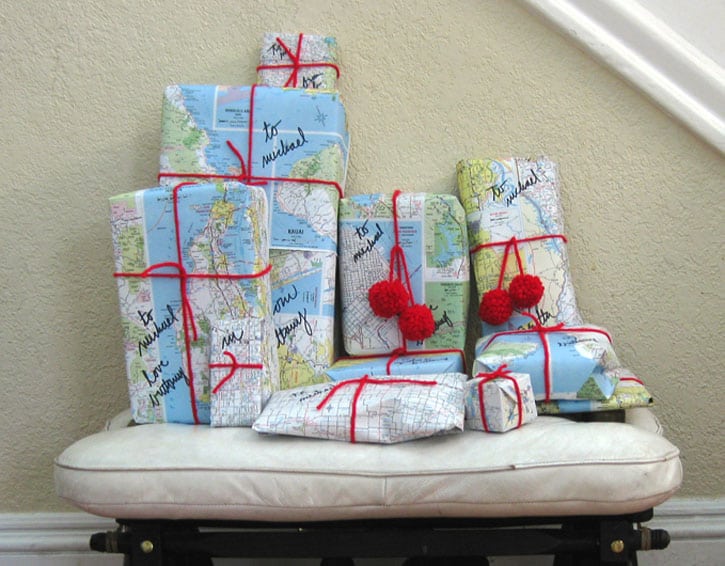 Found it here >> Brittany Powell
This isn't a craft for one of a kind vintage maps, but if you happen to pick up some cheap road maps they make excellent wrapping paper!
18. Furniture+Decoupage+Maps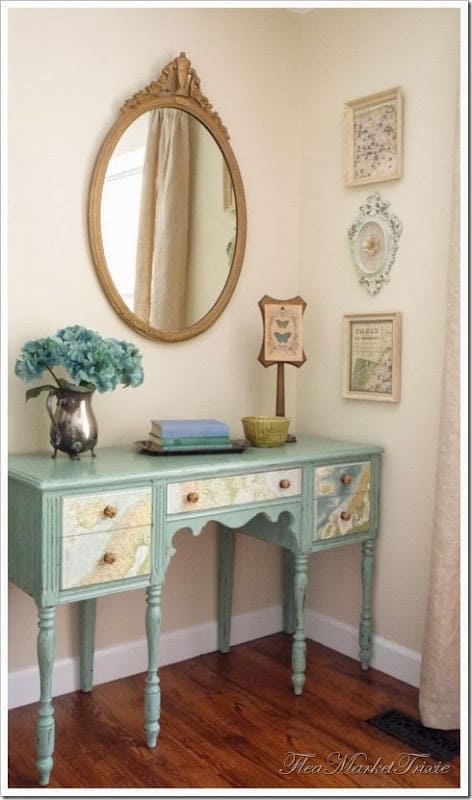 Found it here >> Flea Market Trixie
Next time you're at the flea market or thrift store look out for a gorgeous table that needs a new lease of life, and upcycle it with maps!
17. Upcycled City Map Table Mats (Place Mats !)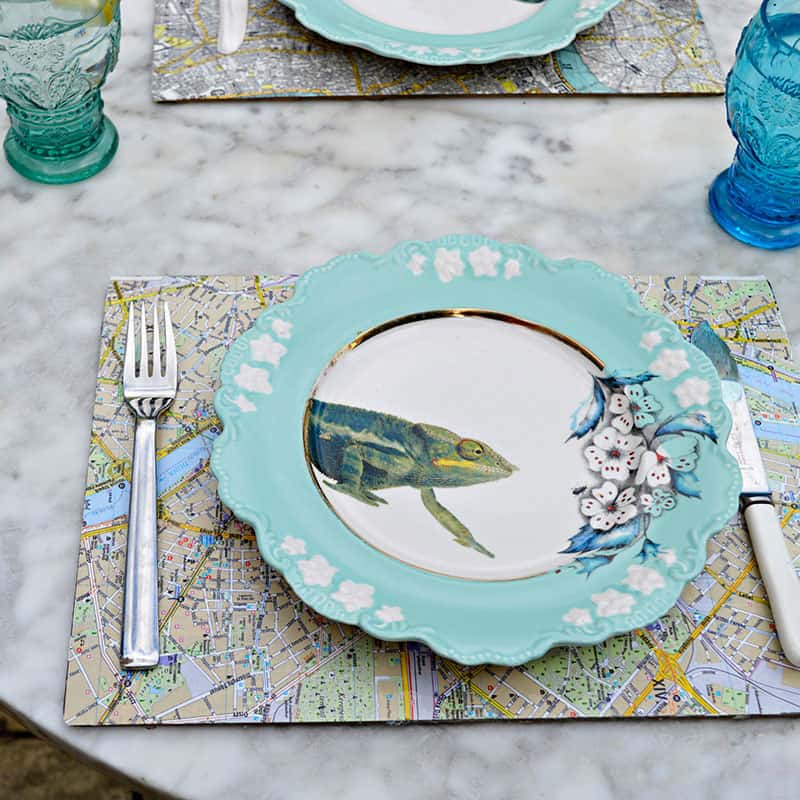 Found it here >> Pillar Box Blue
We LOVE these upcycled place mats and think they would make brilliant housewarming gifts if you used a local city map to make them.
16. Maya Road Chalkboard Globe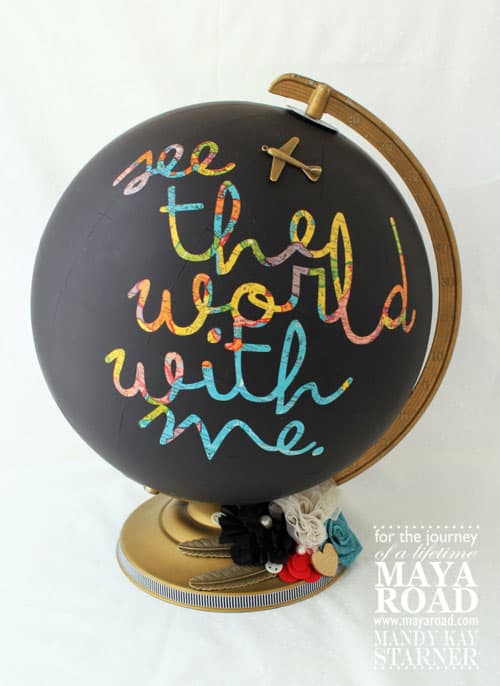 Found it here >> Maya Road
What a clever way to upcycle a vintage globe, with your favourite inspirational quote. This would make a fabulous graduation gift idea!
15. Decoupaged Map IKEA Desk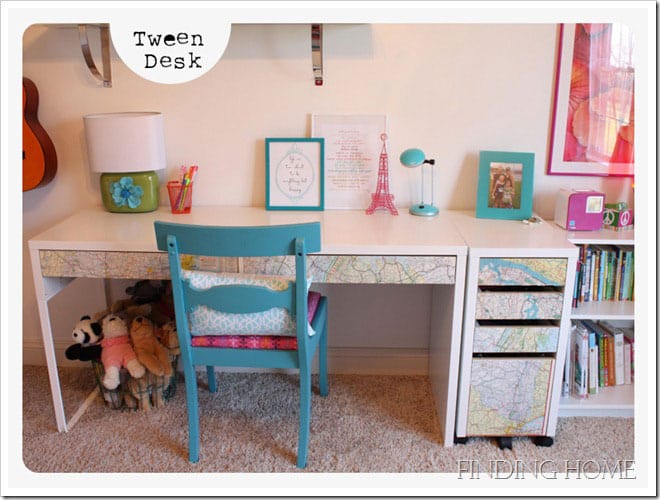 Found it here >> Finding Home Farms
IKEA hack alert!
14. How to Upcycle a Vintage Suitcase with Maps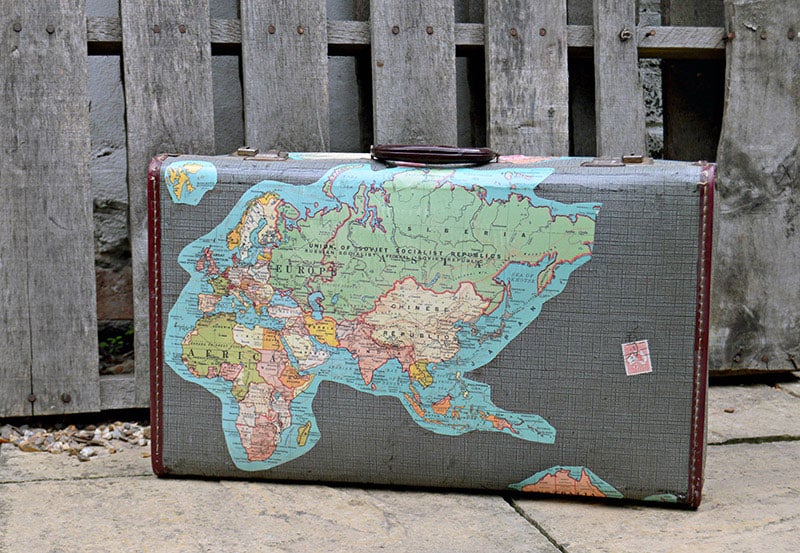 Found it here >> Pillar Box Blue
If you have lots of travel memorabilia why not make yourself one of these fabulous map covered vintage suitcase to store it all in?
13. How to Make a Map Ring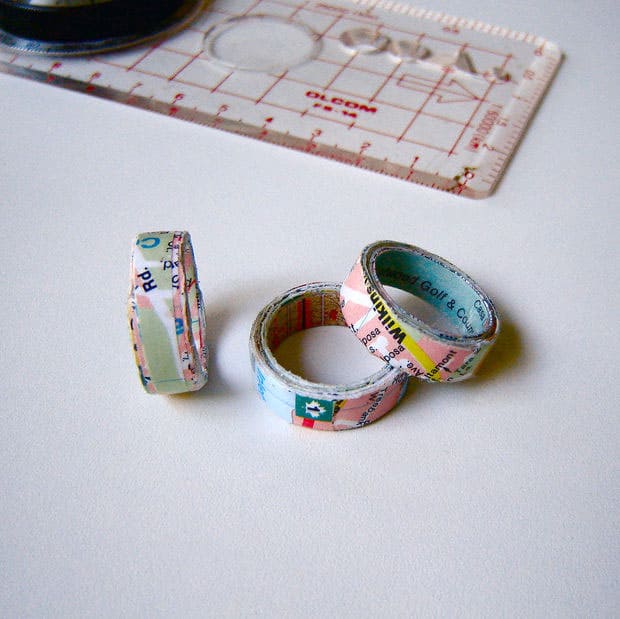 Found it here >> Instructables
Here's a unique gift idea for Valentine's Day – a ring made from a map!
12. An Amazing Ikea Lamp Hack -Pimp your Rismon Lampshade with Maps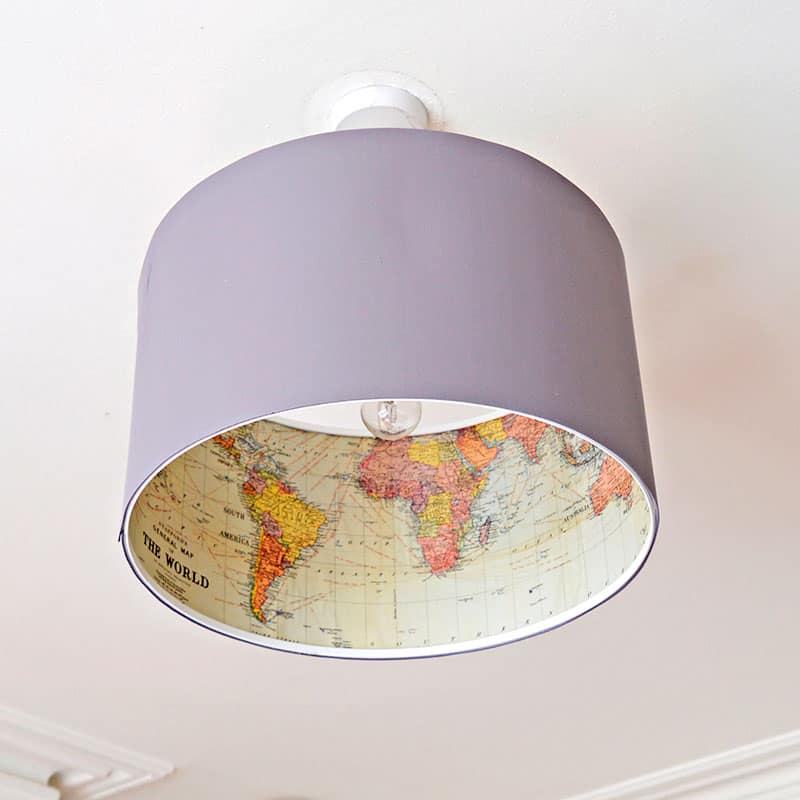 Found it here >> Pillar Box Blue
IKEA hack alert!
11. DIY Map Bunting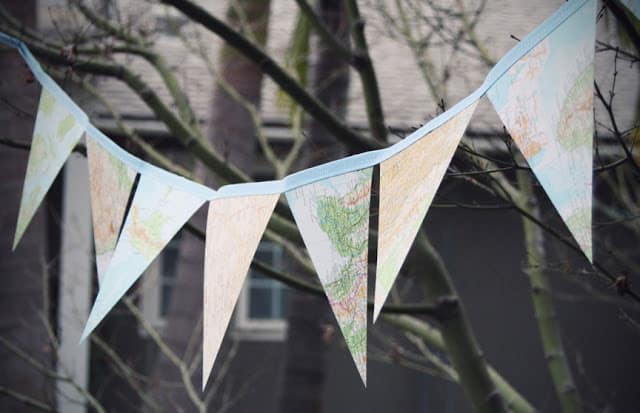 Found it here >> Please Note
How about upcycling an old atlas into some fabulous bunting? This would look really cute in a nursery.
10. Birthplace Map Keychains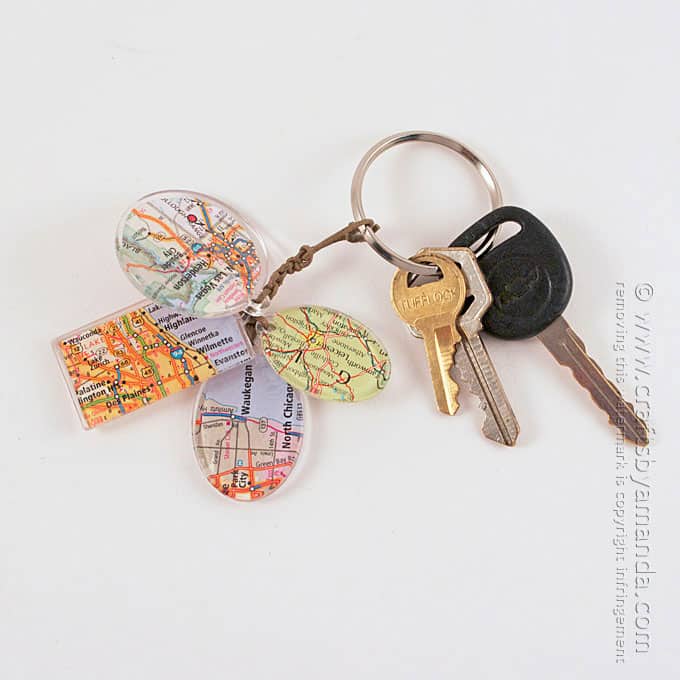 Found it here >> Crafts by Amanda
If you need a Father's Day gift idea for dad try making one of these fabulous birthplace keychains.
9. DIY Map Boxes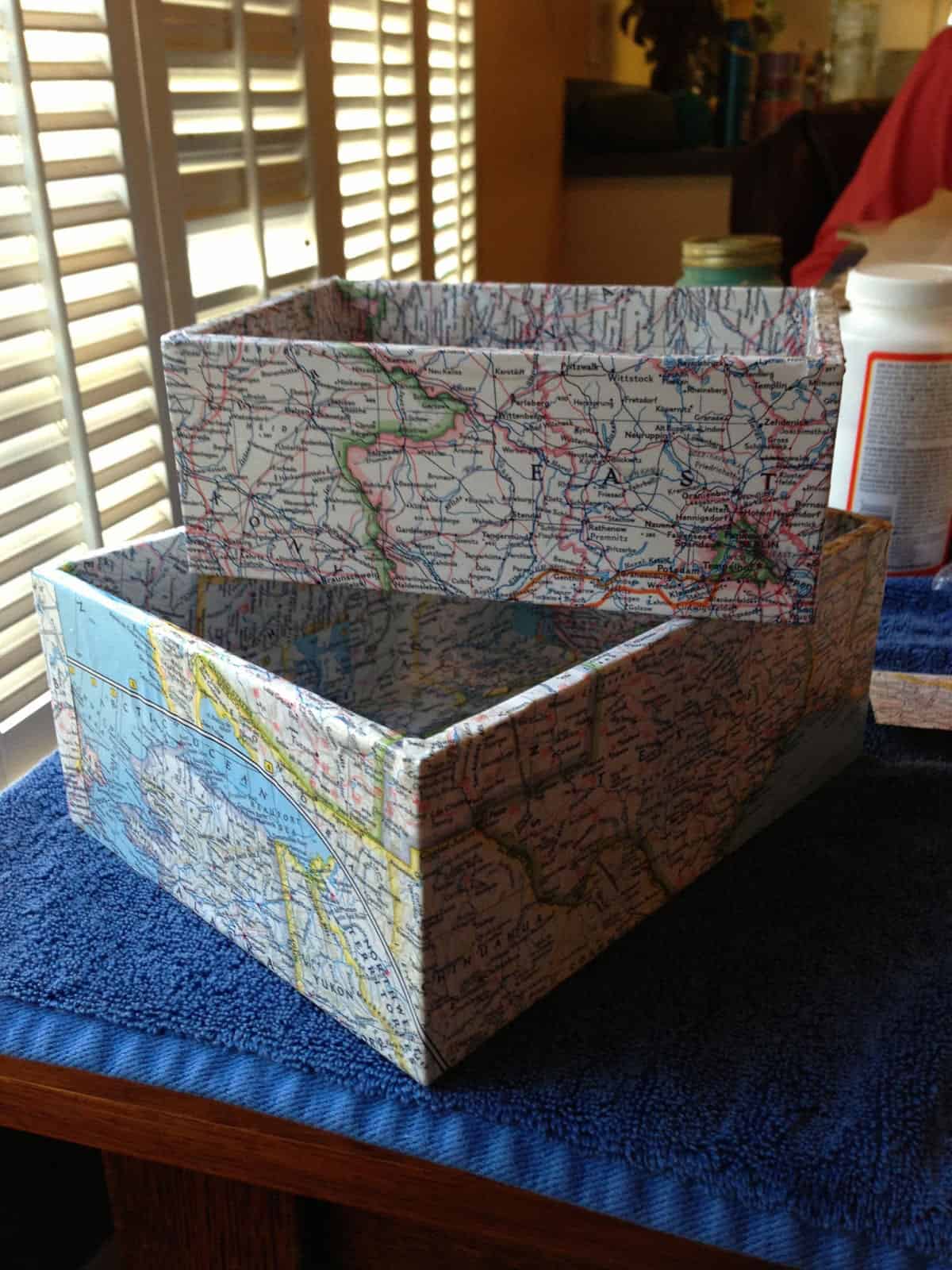 Found it here >> Craft Dictator
Decorated storage boxes can be super expensive to buy, which is why we were excited to see how to upcycle plain wooden boxes with vintage maps.
8. Decoupaged Map Table
Found it here >> Girl in the Garage
We love ideas for repurposing furniture around here, and this decoupaged map table is delightful! We love how she decorated the inside of the drawers too.
7. Vintage Map Decoupaged Pots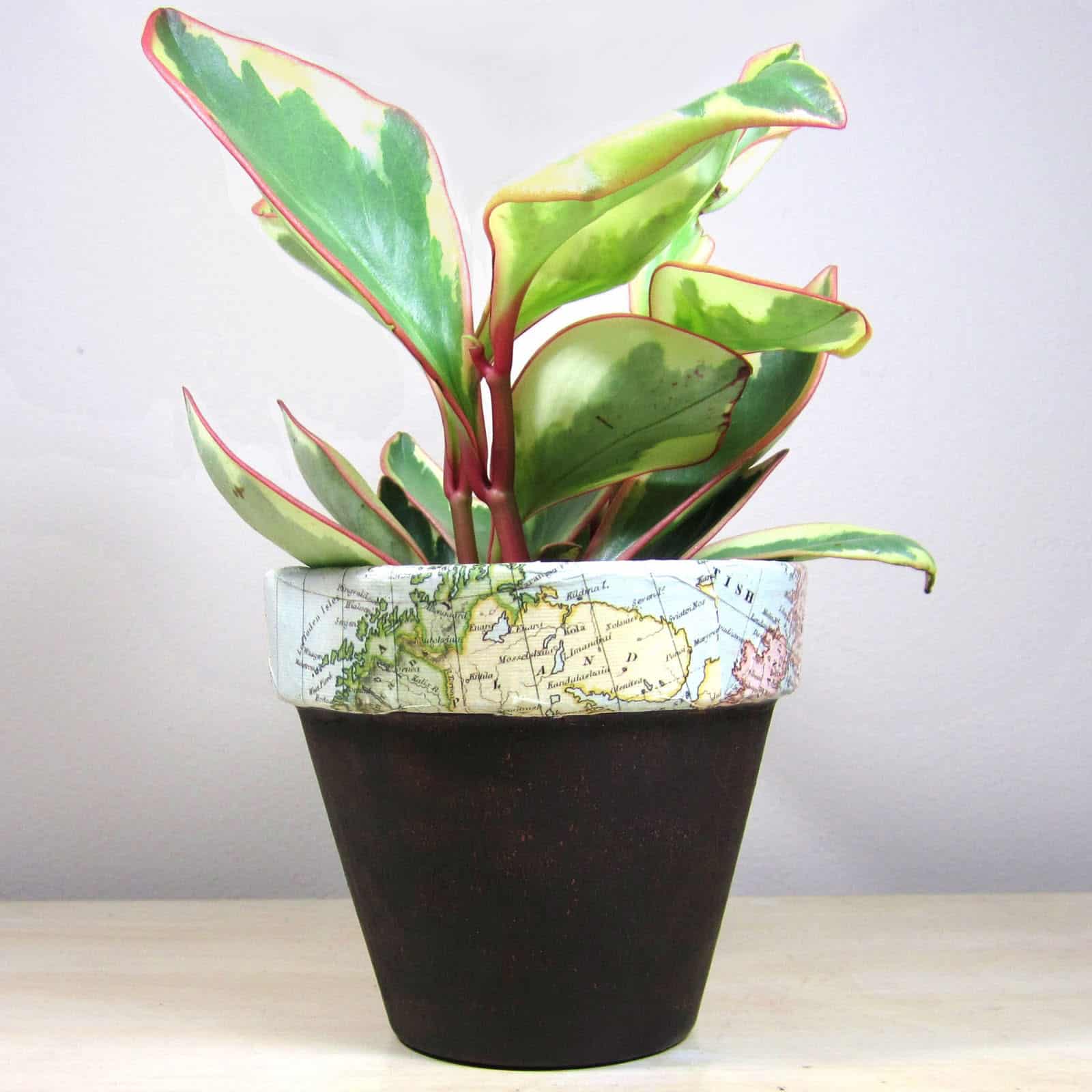 Found it here >> 365 Designs
If you've got some boring planters that need brightening up try decoupaging them with vintage maps. Pots like these would cost a pretty penny to buy!
6. Altoid Tins+Clear Pebbles = Cool Magnets!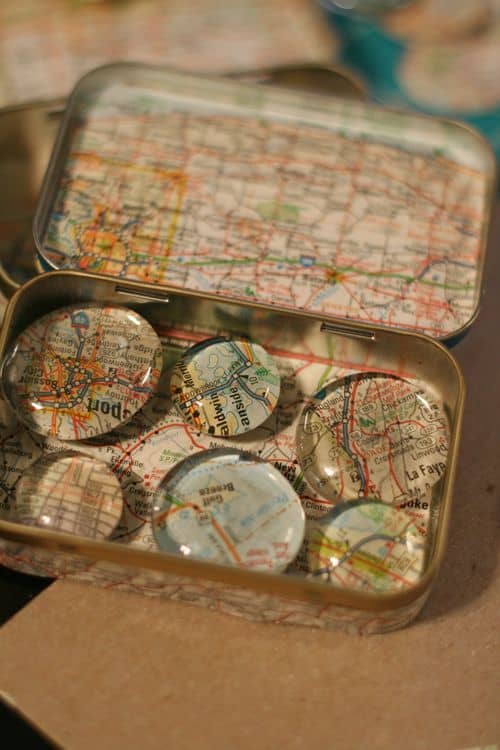 Found it here >> Scrapper Girl
We can never get enough of Altoid Tin projects around here, and this one is the prefect way to remember your travels!
5. DIY Jenga Keychain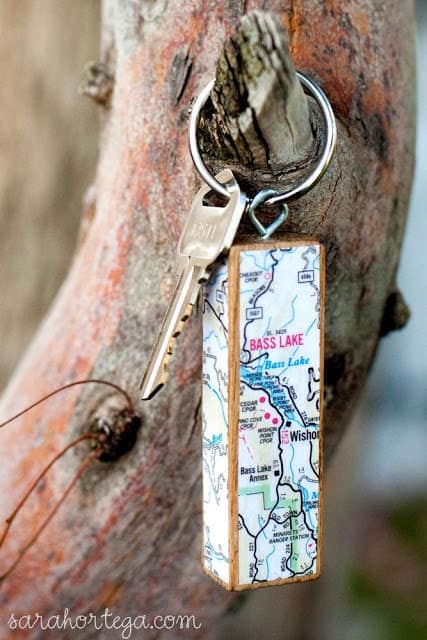 Found it here >> Sarah Ortega
What a great way to remember your summer road trips by making a map keychain.
4. Decoupaged Magnetic Map Tray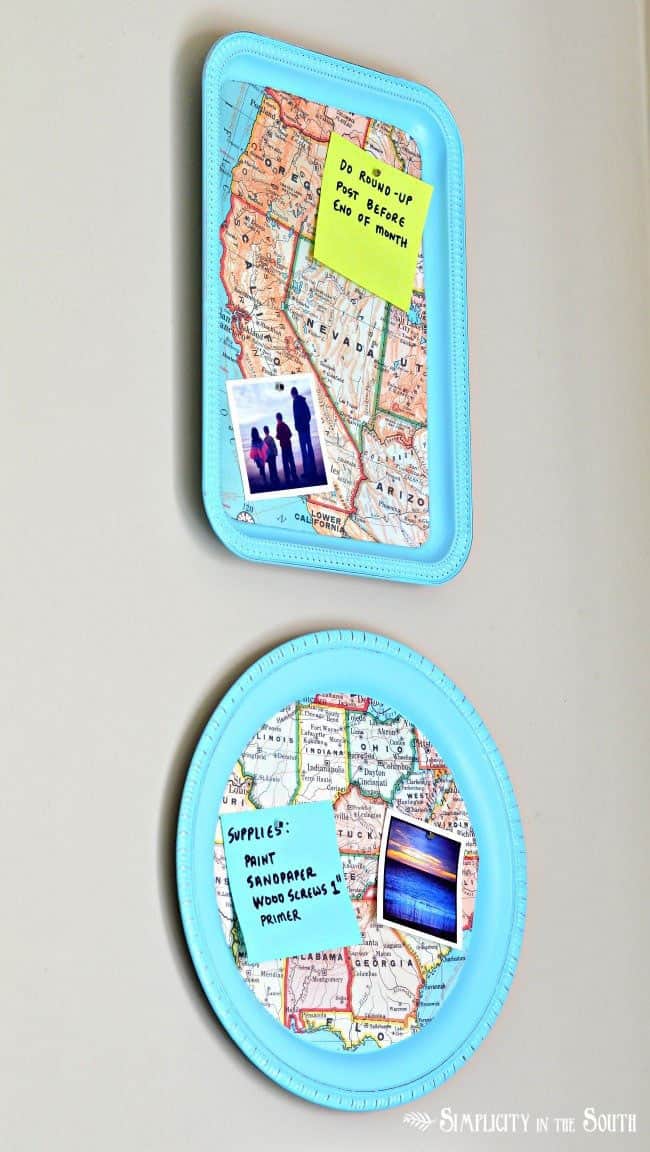 Found it here >> Simplicity in the South
These map memo boards are perfect for your kitchen command centre, and they're magnetic!
3. Make Your Own Map Shoes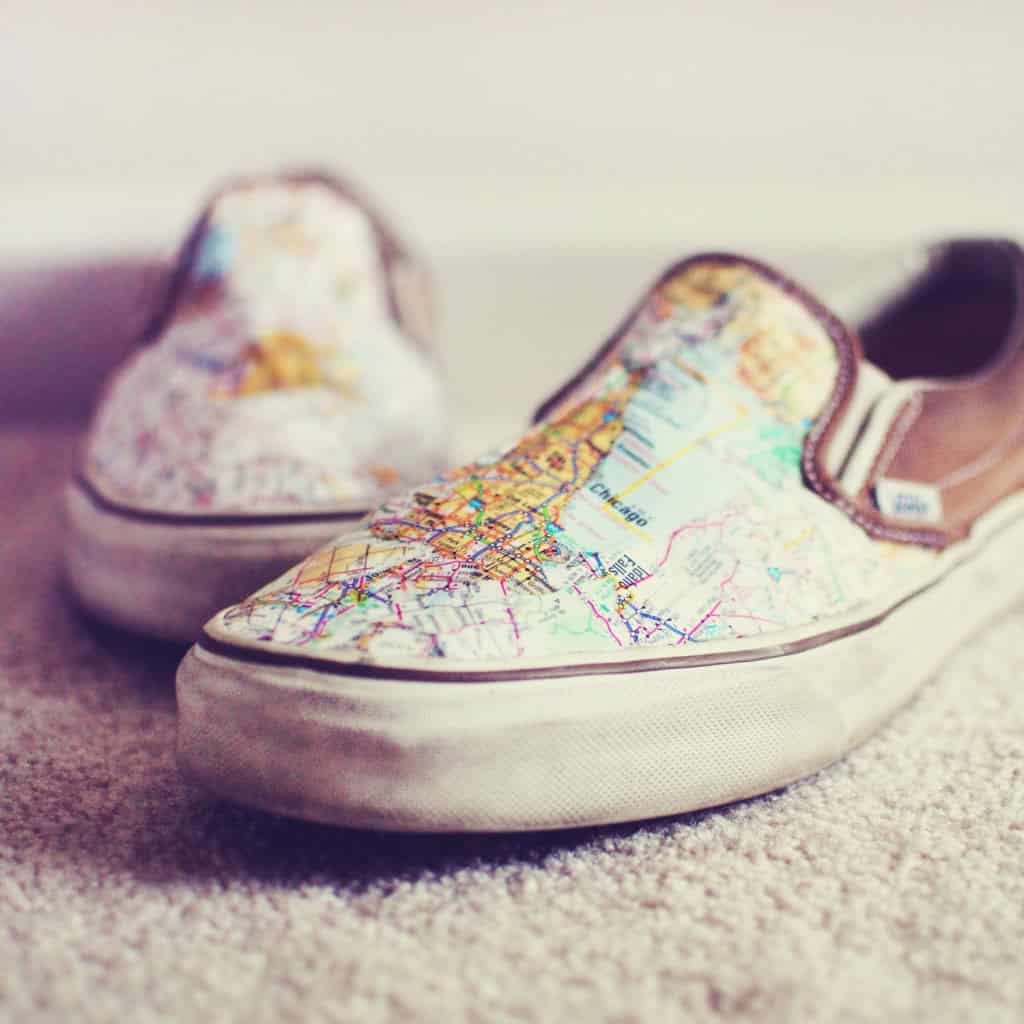 Found it here >> Something Monumental
If your favourite shoes are looking a little faded give them a makeover with a vintage map.
2. Miniature Map Magnets Craft Tutorial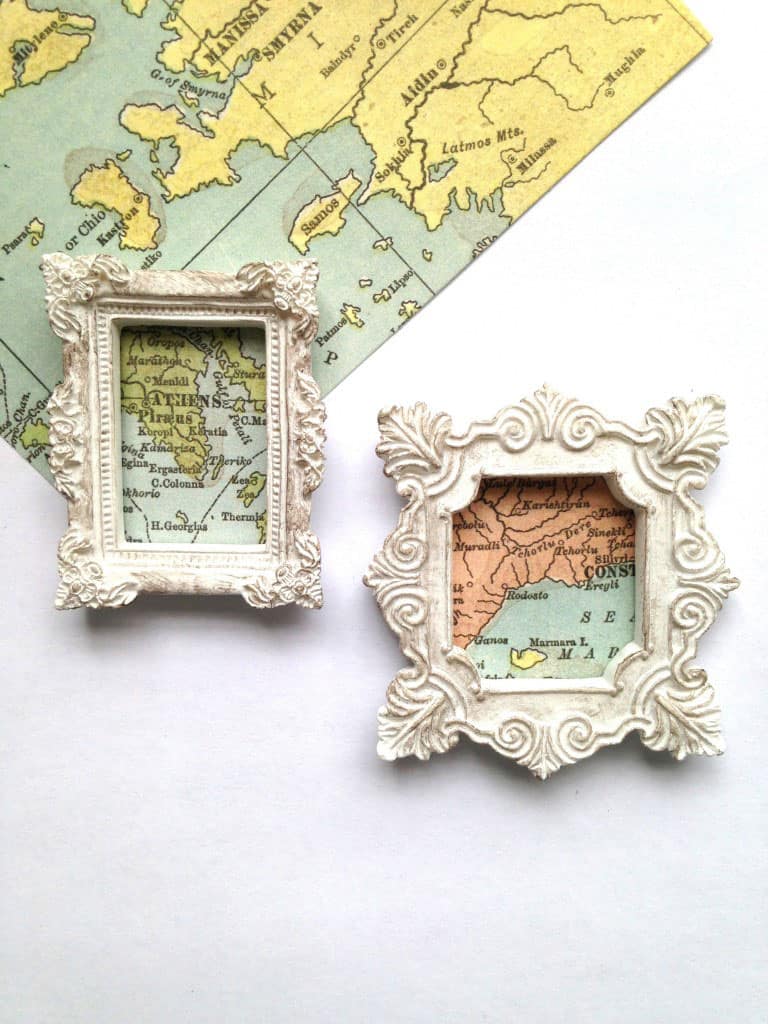 Found it here >> Surviving a Teacher's Salary
Next time you see miniature frames on sale grab a handful because you can combine them with your vintage maps to make the most fabulous magnets.
1. Road Map Birdhouses

Found it here >> Crafts by Amanda
Give some plain bird houses a makeover by decorating them with a vintage road map. It might even help the birds navigate!