DISCLOSURE: Some of the links below are affiliate links. This means that, at zero cost to you, I will earn an affiliate commission if you click through the link and finalize a purchase. All opinions are my own, and I only recommend products that will add value for my readers.
Organization meets relaxation with our fabulously free printable coloring planner sheets. You'll have May under control in no time!
Free Printable Coloring Planner Sheets
One of the benefits of bullet journalling is that as well as keeping your life organized it also gives you the opportunity to be creative.
And creativity is an important part of self care.
And do you want to know one of the easiest ways to be creative?
Do some coloring.
You might think that coloring is just for kids. But actually it encourages mindfulness, reduces anxiety and makes you feel less stressed.
So it's just as important for us grown ups too.
This month we're kicking off a brand new series of printables for you.
A set of monthly coloring planner sheets.
You can use the spreads as bullet journal printables, or you can print them out and spiral bind them or pop them in a ring binder.
It's entirely up to you.
The important thing is that as well as using the planner pages to stay organized you actually take some time out of your day to relax and color them in too!
If you want to see what pages are included in this month's pack keep on reading. If you just want to get the printables the links are at the bottom of the post.
What's inside May's printable planner sheets?
Here's what you'll find inside May's printable pack:
May sunshine cover page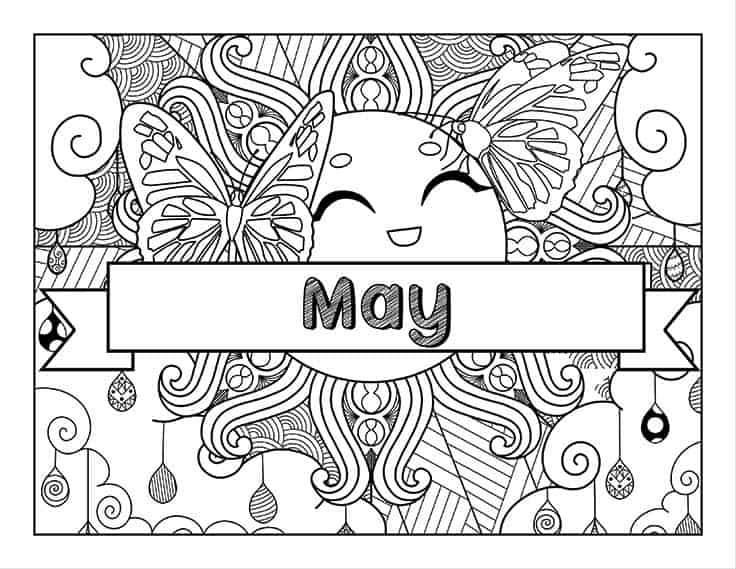 Get in the mood for summer with this fun sunshine cover page.
May swans calendar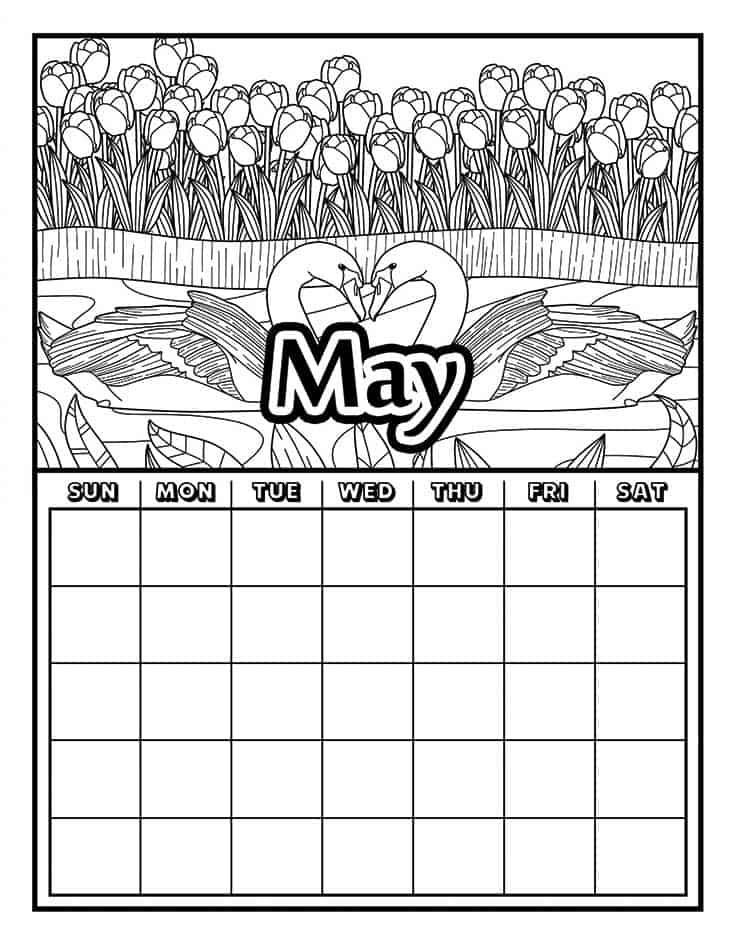 You can see your month at a glance with this calendar spread. Color in the relaxing picture of swans as the month goes by.
The calendar is undated so you can print this page out whatever the year.
Weekly spread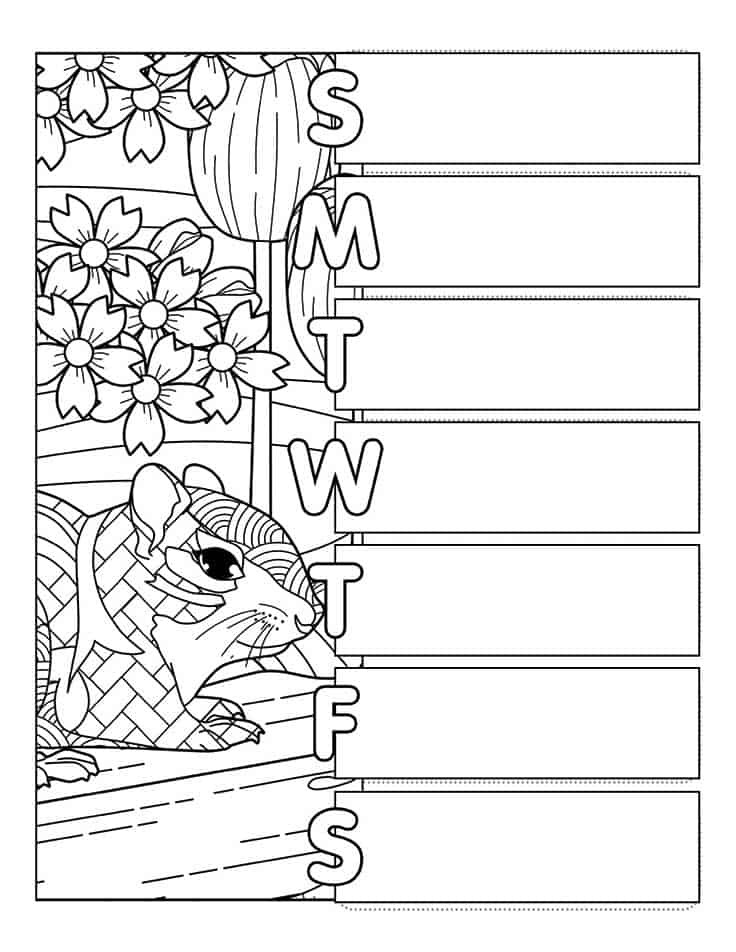 Use this weekly spread to see the highlights of the week ahead.
Daily planner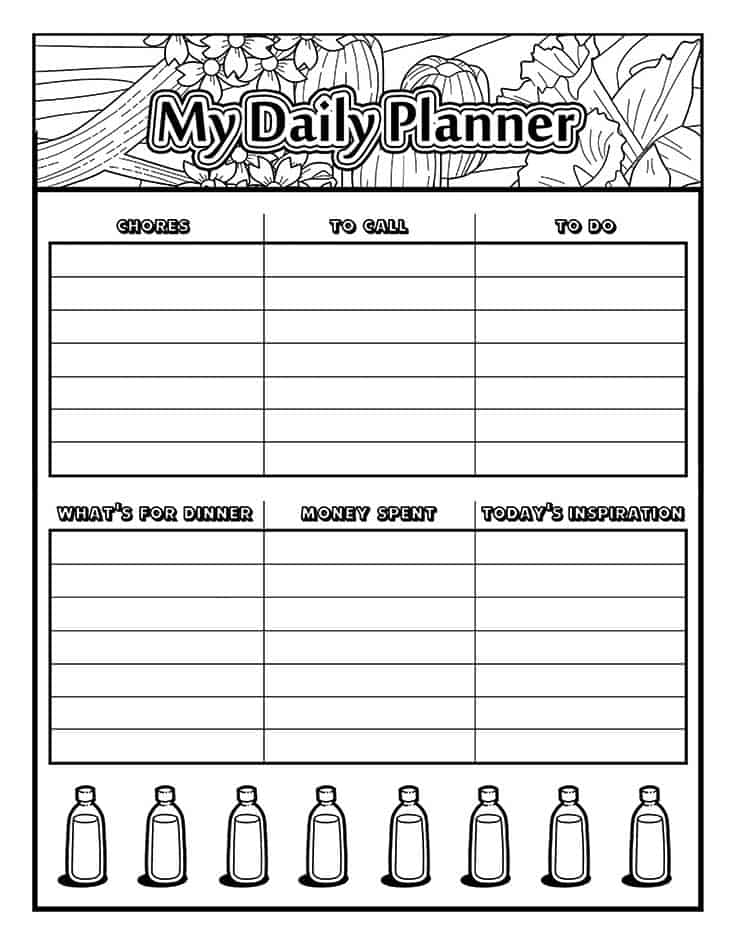 And of course you're going to need a daily planner spread.
This one includes space for you to plan:
Chores
Calls you need to make
To do list
What's for dinner
Money spent
Today's inspirations
There's also a handy water tracker along the bottom to make sure you get your H2O for the day!
Menu planner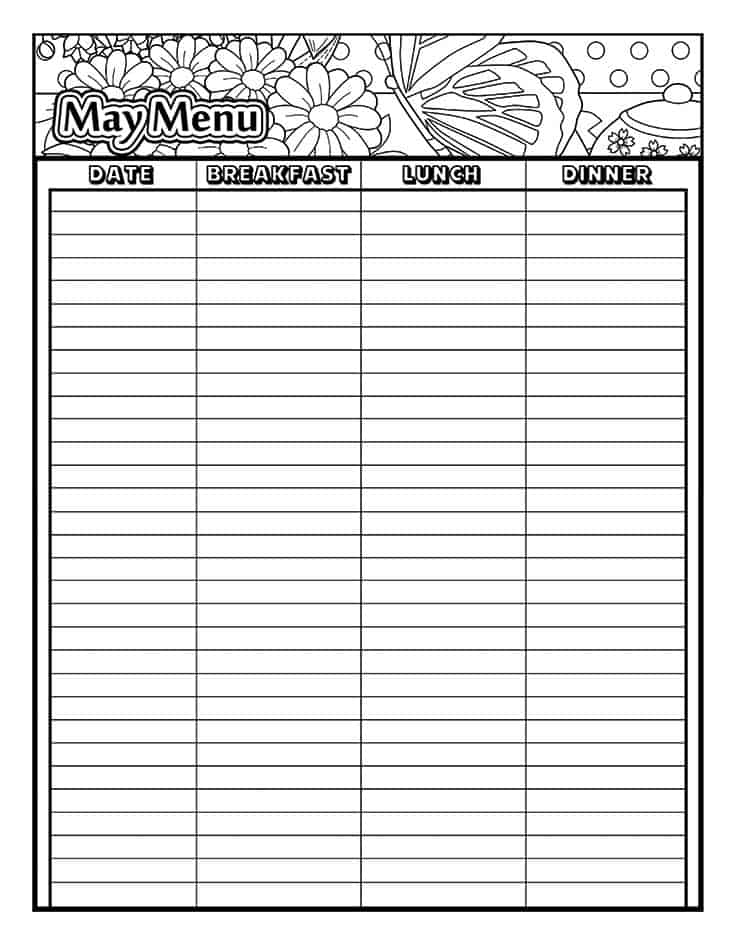 While we're on the subject of "what's for dinner?" you can plan out your meals ahead of time with this handy menu planner.
Grocery list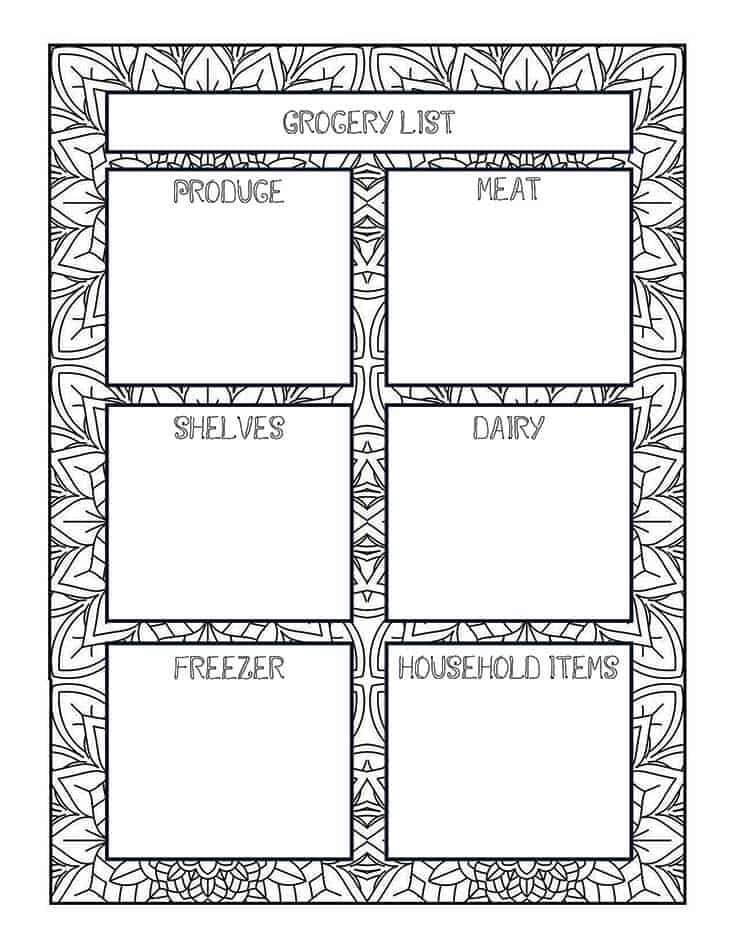 Of course you'll need somewhere to write down your grocery list too to make your meal planning even easier.
Habit Tracker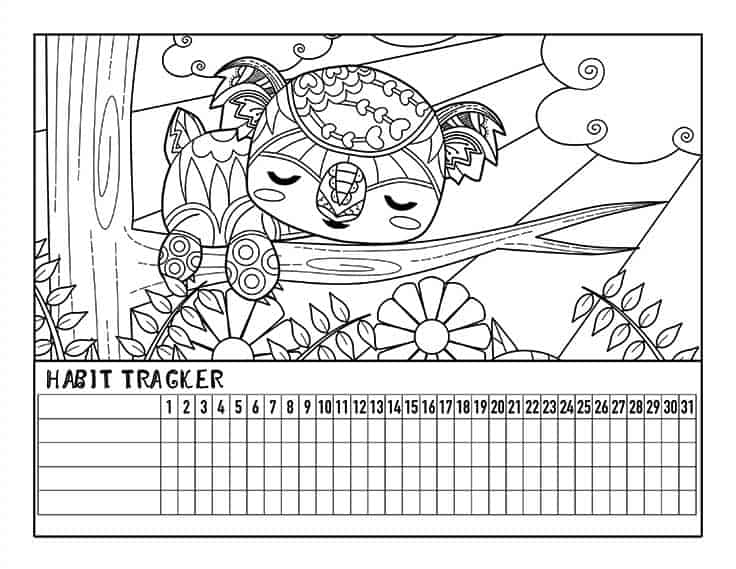 How cute is that little koala? I thought he'd make the perfect addition to your habit tracker for the month!
Just choose which habits you want to track and then mark them off as you go.
Mood tracker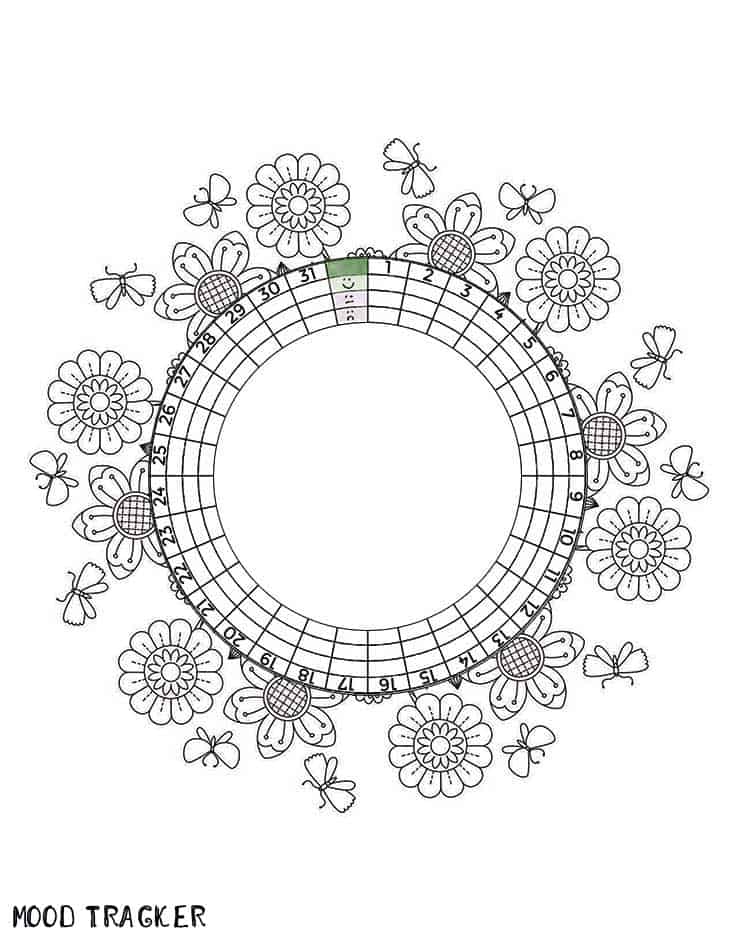 And for May's mood tracker it's all butterflies and flower doodles around a circle tracker.
I'm grateful for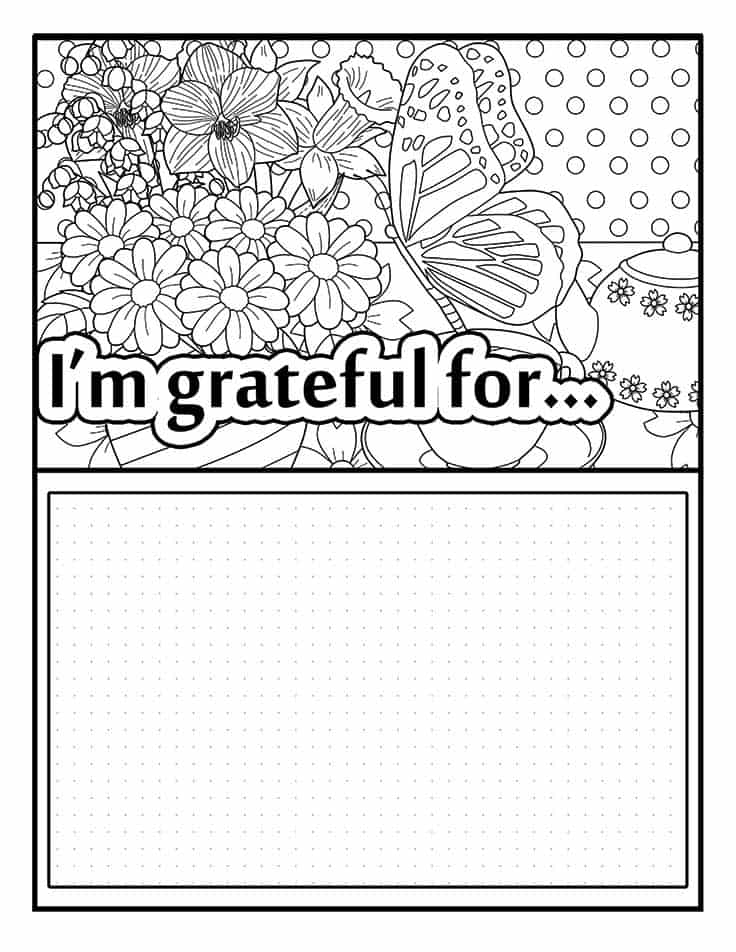 Another important part of self care is acknowledging the positives in your life and taking time to write down what you're grateful for.
This month's page includes more flowers and a beautiful butterfly to color in.
Notes pages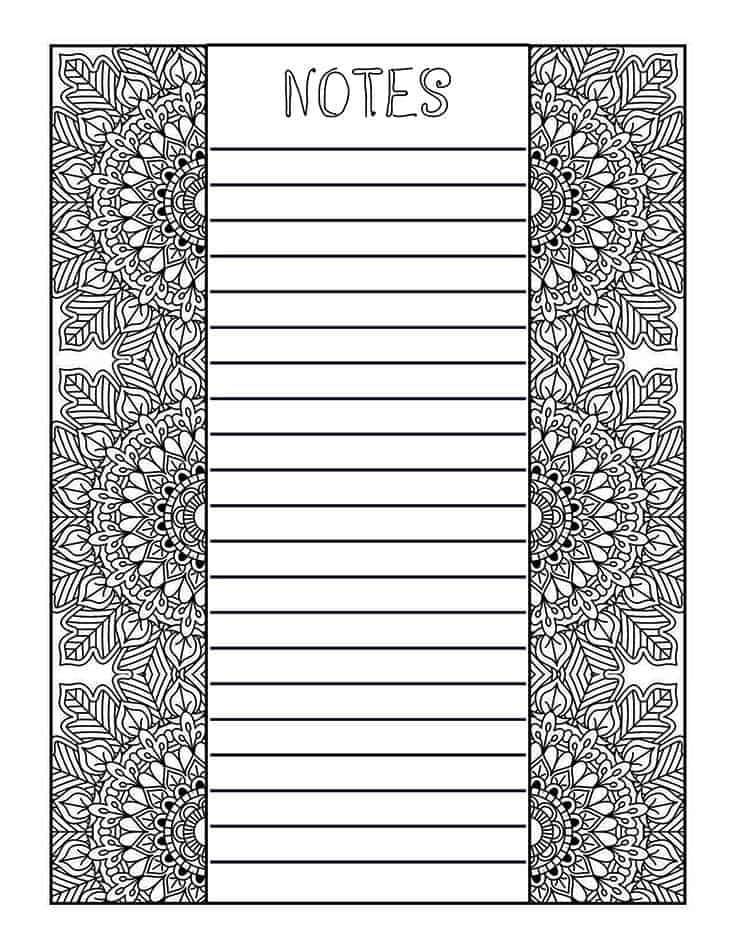 The printables pack also includes a number of notes pages with beautiful mandala frames for you to color.
The notes pages are dot grid and you can use them to write down whatever you like.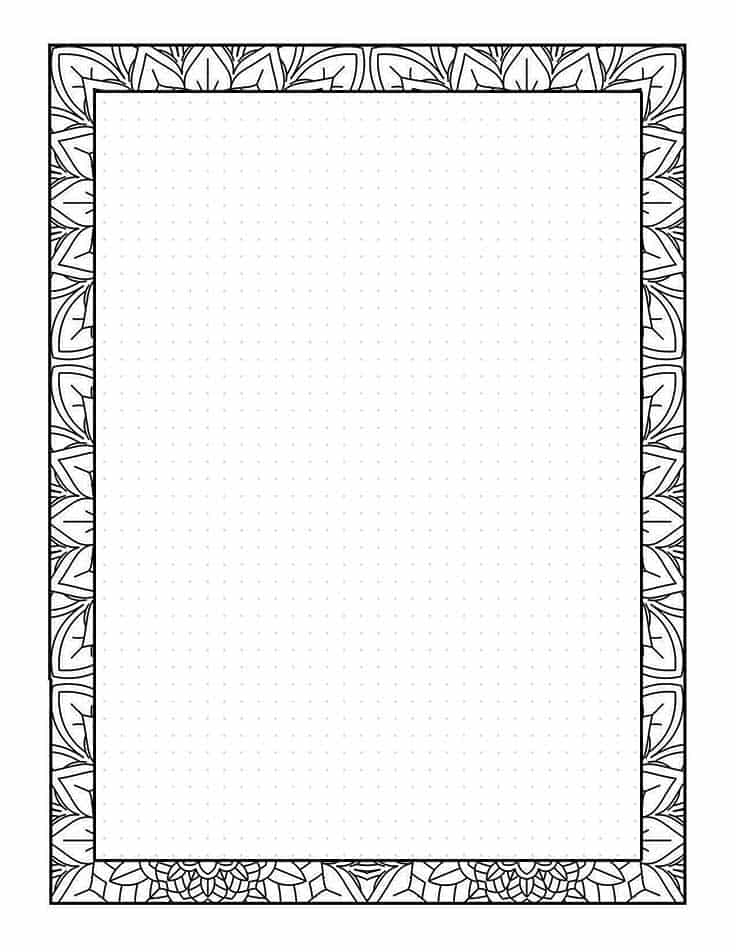 They'd be the perfect place to start a collection or a tracker spread.
Or you could use them for journalling. Be sure to check out our collection of May journalling prompts to help you get started!
Download your planner sheets
I've split the printables into two PDFs otherwise they would be too large to get!
The first part includes all of the planner pages, and the second part is the notes pages.
More Printables Here