Life is stressful enough without trying to prepare dinner from scratch. So do yourself a favour and fill your freezer with make ahead freezer meals. We've got a whole month's worth of easy and delicious recipes for you to choose from!
This post may contain affiliate links, which means I may receive a commission if you click on a link and purchase something. As an Etsy and Zazzle Affiliate I earn commissions from qualifying purchases.
Healthy Freezer Meals for a Month
Are you always in a panic as dinner time approaches trying to rustle up something for the family to eat?
How would you like to spend one afternoon a week, or even a month, preparing meals ahead of time, so that you can just grab something from the freezer, defrost it and serve up a home cooked meal without the panic?
Sound good? Keep reading because we're going to let you know how you can make one whole month of make ahead freezer meals recipes in just five simple steps!
Step 1: What You Need to Prepare these Make Ahead Freezer Meals
Before you jump in and start to make your own freezer meals you need to make sure you have some freezer-safe supplies.
You don't want to skimp on these things, because poor quality or inappropriate packaging can actually spoil your food.
There's no point spending a day preparing food for the rest of the month if you then end up eating takeaway every night because everything got freezer burn right?
Freezer Meal Containers
Our readers LOVE these foil pans
Our readers LOVE these foil pans for preparing their freezer meals.
They are 9×13 and about 2 inches deep and are made of a much sturdier foil than the ones you can pick up at the dollar store.
&
Good Quality Freezer Bags
Don't skimp on freezer bag quality because your food will suffer!
Don't spend hours preparing food for your freezer only to skimp on the freezer bags because your food will just get freezer burn and taste horrible.
We love these freezer bags from Ziplock because they are designed to live in your freezer, and they have a super tight seal so you can push all of the air out before you close them up.
&
Freezer Bag Holders
Hands up if you'd like an extra pair of hands in the kitchen!
The downside of using freezer bags is that they're a pain in the butt to try to fill them as they fall over quite easily.
Which is why you need one of these AWESOME gadgets! It's literally like having an extra pair of hands (and how many times have you wished for that!!) in the kitchen.
Just clip the bag into the holder and then fill it up quickly and easily. We like the four packs so that you can fill four bags at once, production line style!
&
A Mini Food Processor
This mini food processor can speed up your food prep
You don't NEED a food processor to batch cook, but it saves a heck of a lot of time, and that's what we're trying to do here right?
Something like this one which is very affordable would be a worthwhile investment if you don't have one already.
&
A Vacuum Sealer
A vacuum sealer will keep the frost bite away from your delicious meals
When you're just starting out stick with the freezer storage bags. But when you decide that you want to freeze meals for your family every month you're better off investing in one of these to really cut down on the risk of freezer burn.
It's super EASY to use, just pop your food in the bag, line it up with the appliance and hit the button to have it suck all of the air out of the bag! Now your home cooked meal will be nice and safe in the freezer until you are ready to eat it!
Step 2: Choose Make Ahead Freezer Meals Recipes
Some foods just don't like to be frozen. Like sauces that have been thickened with flour, they tend to separate once they're frozen and end up sort of yucky! Cooked potatoes don't always fare too well either, and can end up being gritty.
So if you can't just freeze any recipe, what can you freeze?
Don't worry, we've got you covered. Here are 30 freezer friendly recipes to get you started; that's a whole month of dinners you could prepare in advance!
The recipes are a mixture of make ahead and then freeze and reheat, and 'dump' dinners, which means you bag up the raw ingredients and then thaw and cook (usually in the slow cooker) on the day you want to eat them.
Oh and if you're just getting started we'd recommend making a week's worth of recipes in one go, rather than a whole month's worth. Just until you get used to the process of batch cooking and freezing.
Easy Freezer Meal Recipes
We searched high and low and these are the top freezer meals recipes we could find to help you make cook ahead freezer meals!
As always be sure to scroll all the way to the end so you don't miss any of the great ideas. And don't forget to pin your favourites as you go!
1. Incredible Italian Meatballs

These classic Italian meatballs are gluten free and dairy free and taste incredible! Make sure you read through the recipe so you don't miss the secret behind these fall apart-tender meatballs. (via Iowa Girl Eats)
2. Poppy Seed Chicken Recipe

This delicious chicken bake can be prepared in a aluminium tin and then popped in the freezer for a busy day. It's perfect for kids because the crunch crumb is made with Ritz crackers. (via Passion for Savings)
3. Homemade Freezer Breakfast Sandwiches

These ham egg and cheese on English muffin breakfast sandwiches are totally delicious. This recipe is for 18 sandwiches so they're perfect for meal prepping breakfast (and lunch) ahead of time, especially when they're ready to eat from the freezer in just 90 seconds! (via Frugality Girl)
4. Slow Cooker Salsa Verde Honey Lime Chicken

If you love Taco Tuesdays this is a tangy sweet and spicy chicken recipe you can make ahead of time because it's delicious piled high in seasoned taco shells! (via Carlsbad Cravings)
5. Baked Chicken Pesto Alfredo Freezer Meal

This baked chicken pesto Alfredo has chicken, pesto, bacon, cheese, fresh spinach and some tomatoes all mixed together in a delicious white sauce. And it's kid approved! (via Happy Money Saver)
6. Beef Tortilla Taco Casserole

This cheesy Mexican-Inspired casserole can be baked straight from the freezer without having to defrost it first! (via Pilsbury)
7. Ravioli Casserole (Freezer Meal)

This three cheese Ravioli is super easy to put together and goes from freezer to plate in under two hours. (via Six Sister's Stuff)
8. Chicken and Avocado Burritos

These burritos are packed with nutritious avocado and as long as you put the cheese in the right place are totally ooey and gooey! (via Closet Cooking)
9. Mushroom Spinach Lasagna

This lasagna has a light parmesan sauce and a ton of flavour. You can even add some shredded chicken or turkey to the recipe to give it a twist and add some extra protein. (via Life as a Strawberry)
10. Freezer Bagel Breakfast Sandwiches

Freeze ahead breakfast sandwiches are perfect for you if you never have time to eat breakfast. These bagels are easy to compile and go from freezer to mouth in under two minutes. (via The Diary of a Real Housewife)
11. Easy Homemade Freezer Pancakes

If you prefer to eat pancakes for breakfast then check this out. You can make your pancakes ahead of time and then just grab them from the freezer and zap them in the microwave on busy mornings. (via A Cultivated Nest)
12. Easy Vegan Chilli Sin Carne

For your next Meat Free Monday why not try this delicious Chilli Sin Carne. It's just as delicious as a Con Carne but without the meat! (via Wallflower Kitchen)
13. Make Ahead Spaghetti (That You Can Even Freeze)

This spaghetti dish is packed full of veggies and crispy bacon. This recipe is perfect if you're cooking for a crowd too, just size up the batch and then reheat it when you need to serve it. (via Kitchen Sanctuary)
14. Lemon Garlic Dump Chicken – The Ultimate Make-Ahead Meal

If you've never made a dump chicken before be prepared for your meal prep life to change forever! Seriously dump recipes are so easy and this yummy garlic chicken is a great one to get started with. (via One Good Thing by Jillee)
15. Beef Stifado (Slimming World Friendly)

For a totally satisfying comfort food dinner you can't go wrong with this Beef Stifado which is packed full of flavours. (via Taming Twins)
16. Freezer Friendly Baked Chicken Nuggets

If you think that making your own chicken nuggets is tricky and time consuming check out this recipe. You don't need a meat grinder, you know exactly what's going into those nuggets, and best of all you can freeze them for later! (via Natasha's Kitchen)
17. Homemade Ham & Cheese Freezer Pockets

If you get nostalgic at the thought of freezer pockets you need to add this recipe to your meal plan rotation! They're perfect for quick and easy lunch or snack, straight from the freezer and heated in 2-3 minutes. (via Sally's Baking Addiction)
18. Sweet Potato Fish Pie with Salmon

Here's an easy recipe you can make ahead of time to enjoy on Fish Fridays. It's packed with the goodness of salmon with the added punch of sweet potatoes. It should become a firm family favourite. (via Taming Twins)
19. Hearty Baked Penne Pasta (Freezer Meal)

This recipe is delicious, can be made ahead, frozen, and batched up to feed a whole bunch of people. You can't really go wrong with it! (via Thriving Home)
20. Freezer Smoothie Packs

If you love to start the day with a Smoothie but don't always have time to prep the ingredients from scratch this one's for you. Prepare your smoothie packs ahead of time, freeze and then when you're ready just add liquid and throw in the blender! (via Dessert Now Dinner Later)
21. Red Beans and Rice in the Slow Cooker

When you're batch cooking a slow cooker is one of your BFFs and this red beans and rice recipe is delicious and easy. Just make sure you read the directions to see whether you need to pre-soak your beans or not. (via A Pinch of Healthy)
22. 7-Veg Tomato Sauce

A nutritious tomato sauce can be used in so many different meals (or even just for dipping instead of ketchup) and this recipe from Jamie Oliver has seven different veggies in it! Filling freezer bags with liquid can be tricky which is why you need one of these, it's like an extra pair of hands! (via Jamie Oliver)
23. How to Make Healthy and Delicious Freezer Stir-Fry Kits

When you're meal prepping dinners stir-fries are a great option because they have endless combinations. You just switch up the veggies, or the protein or the sauce. It's a pick and mix dinner the whole family will enjoy. And making stir-fry packs in batches to freeze for busy days is a totally genius idea! If you're going to make these stiry-fry kits regularly treat yourself to one of these to save time. (via Humble in a Heartbeat)
24. Jalapeno Popper Chicken Casserole

If you're looking for a super quick chicken casserole recipe to add to your make ahead list try this one, because it uses pre-cooked frozen chicken breast! (via Eating on a Dime)
25. Lemon Pesto Chicken Freezer Meal Recipe

This chicken dump recipe is super easy to prepare and only has four ingredients! You can serve it with rice or pasta or even quinoa so it's a different meal three days running! (via Frugal Living Mom)
26. 20 Minute Tuscan Pasta (Freezer Meal)

This one pot sauce can be prepared in a pot or a skillet and tastes so good over noodles you can skip the chicken if you want to! (via Sis Sister's Stuff)
27. Easy Chicken Enchiladas Freezer Meal

One batch of this chicken enchilada recipe will make 8-10 enchiladas depending on how generous you are with your filling. Pop them in a foil freezer pan so they're ready to be heated when you want them. (via Live Craft Eat)
28. Signature Spicy, Smoky, Sweet Chili (Crock Pot and Freezer-Friendly)

When we enter the comfort food months it's always good to have a chili in the freezer and this slightly spice, smokey and sweet crock pot recipe is the perfect choice. (via Iowa Girl Eats)
29. Chicken & Steak Fajitas: Freezer Skillet Meal

If you love skillet cooking add these chicken & steak fajita packs to your meal planning rotation. On dinner day throw the contents of the thawed bag into your skillet to cook. (via Smart Money Mom)
30. Slow Cooker Cilantro Lime Chicken (Freezer Meal)

Look at that rainbow of colours! This has to be the most colourful dump freezer pack we've ever seen. And if you love burrito bowls this is the pack for you, just add some brown rice and a dollop of sour cream and dinner is served! (via Damn Delicious)
Print out the recipes you want to make and store them in a folder in your kitchen so that once you've defrosted the meal you can remember how to cook it! Alternatively you could write the cooking directions on the package or bag when you're preparing it to be frozen.
Step 3: Chill it Before you Freeze it
You can't just take a meal out of the oven and stick it straight in the freezer unfortunately as that will raise the temperature of the freezer, causing havoc to the food you already have in there!
Instead you need to cool the food quickly, before you put it into the freezer.
Simple steps
Give it an ice bath – put some ice water into the sink or a bowl that's large enough to fit the pan or dish into. Make sure the water isn't so deep that it comes up over the top! Leave the pan in there for about five minutes. If it's a soup or chili you can stir it occasionally.
Transfer it to the fridge – pop it in the fridge, uncovered and leave it there until it's cool.
Contain it – transfer the meal to a plastic container or storage bag. If you're using a bag make sure you squeeze all of the air out before you freeze it.
Record it – record the recipe name and the date on the container/bag with your Sharpie marker and pop it into the freezer.
If you're putting together a recipe that you'll heat up in the slow cooker don't put the veggies in with it as they can end up all mushy. Cook the veggies by all means but freeze them in a separate bag so that you can heat them up just before you're ready to serve up the meal.
Step 4: Freeze it Quickly
The best way to keep your meals fresh and full of flavour is to make sure they freeze quickly.
Simple steps
Give it some space – your meals will freeze more quickly if there is room for air to circulate around it. So if you're making a month's worth of meals in one day, don't try to freeze them all at the same time!
Check the manual – some freezers have a quick freeze shelf or drawer, or a button you can press to lower the temperature to help the food freeze more quickly. Check your manual to see what your freezer can do.
You don't have to store soups or stews in containers. If you put them in a storage bag and lay them flat while they freeze you can then stand them up end to end so that they take up less room in the freezer!
Step 5: Defrost it Properly
When it's time to enjoy the fruits of your labour and eat one of your yummy frozen home cooked meals you MUST make sure you defrost it properly.
Simple steps
Back to the fridge – the best way to defrost your meal is to put it back in the fridge the night before and leave it to defrost slowly.
Enlist the microwave – if you forget to get something out of the freezer the night before then the second best way is to use the defrost function on your microwave.
Never at room temperature – you should NEVER leave frozen food out on the worktop to defrost at room temperature because you run the risk of contamination. Though to be fair my mom does it every day ad has never had a problem – touch wood!
There you have it. Stress free homemade freezer meal creation in just five simple steps!
For more recipes join Once a Month Meals
How to batch cook without doing any of the planning yourself
Filling your freezer with home cooked meals is the perfect way to save time and make sure your family still eats healthy on busy days.
The problem I had was coming up with a meal plan and figuring out what order to prepare and cook everything in.
Once a Month Meals takes that headache away because not only do they have hundreds of family friendly recipes to choose from, they also generate shopping lists and food preparation instructions to make cooking once a month (or once a week) super simple!
&
Once you get the bug for batch freezer cooking you'll be wanting even more recipes to add to your meal plans, and that's when you need to check out Once a Month Meals. They have THOUSANDS of delicious recipes and they are ALL designed to be batch cooked and then frozen for a later day.
One thing I really love about the site is that you can pick out the meals you want either from a pre-set menu or by picking and choosing them yourself from the HUGE list of 5000 recipes! Then it takes all the recipes and gives you combined instructions. So you print out:
One shopping list, with all the combined ingredients on it
One set of Prep instructions so you know how the meats need to be sliced, which ingredients need to be cooked in the oven and how all the veg needs to be chopped
One set of Cooking Day instructions which tells you exactly what needs to be cooked and how to prepare the other ingredients for freezing
One set of recipes so you know what supplies you need and how to cook to freeze/cook after freezing.
One set of labels, so you don't have to worry about Unidentified Frozen Objects in your freezer! The whole point of planning ahead is that you can find the meals and know how to cook them when you want to eat them right?
One thaw set. This sets out for each recipe how long it takes to thaw (if required) and how long it takes to cook in either your oven, slow cooker or Instant Pot. This is a brilliant way of deciding what meal to eat on which day as you will know how long you have to prepare dinner.
There's no figuring out batch sizes either because you tell the system how many people you need to serve and it will figure it all out for you, adjusting the recipes and the shopping list accordingly.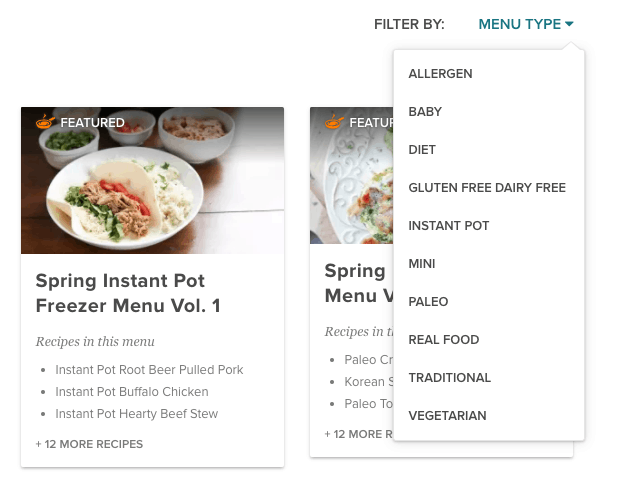 There are so many different pre-selected menu options with everything from Instant Pot recipes, to Paleo, Gluten Free and even a menu for tots!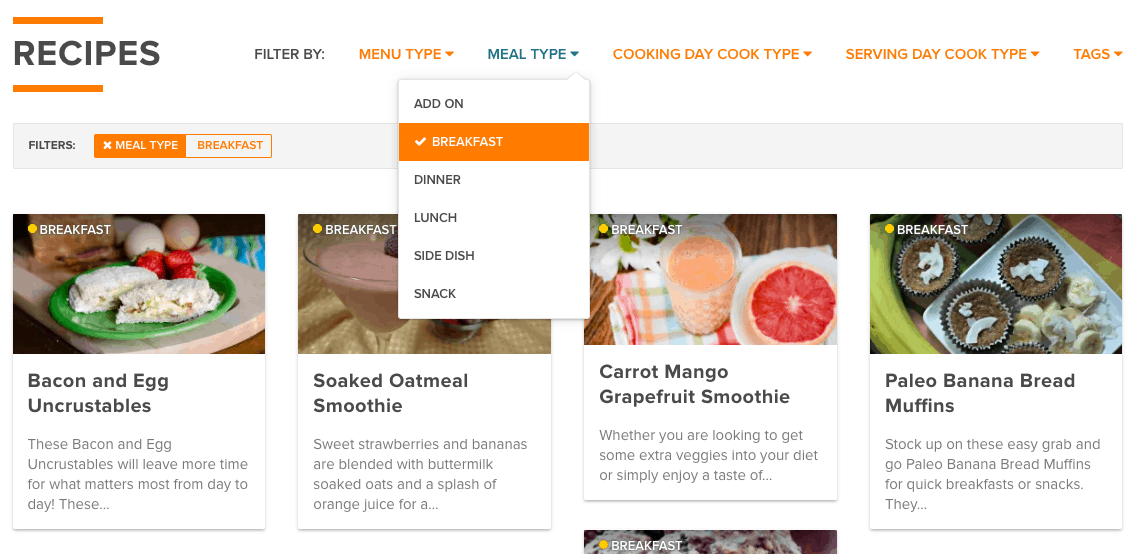 If you prefer to make your own menus from scratch (or just switch out some recipes from a pre-selected menu) then you can choose from a whole heap of yummy recipes including breakfast, side dishes and even snacks.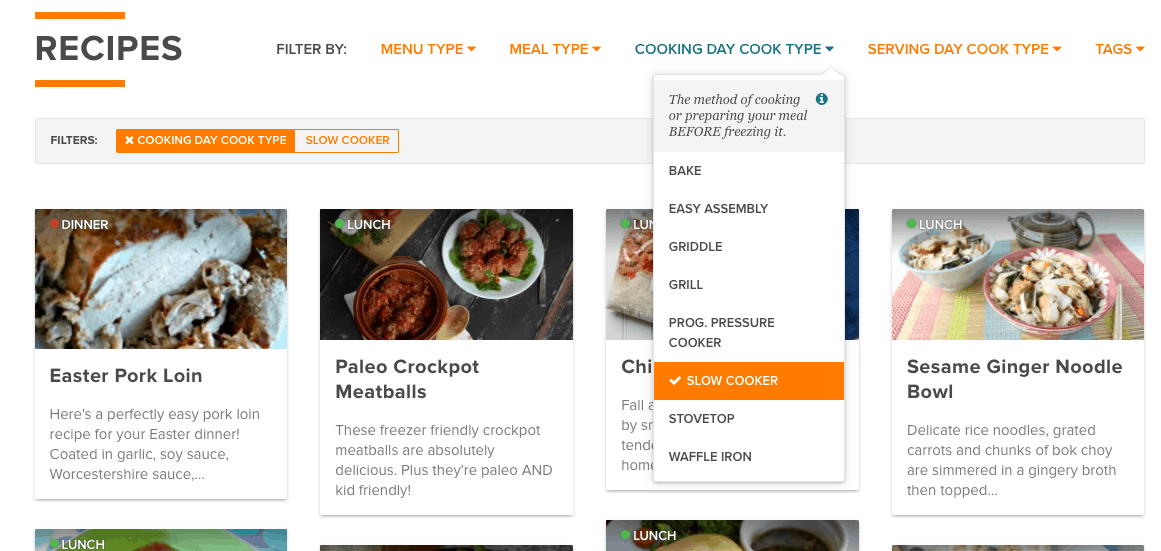 You can also choose recipes based on how you want to prepare the meal before freezing, or how you want to cook the meal on serving day.
The website is so easy to follow that it will turn you into a freezer cooking pro even if you've only just started. And there's a really handy "Secret Handbook" that holds your hand and walks you through the process step by step.
Find out more about Once a Month Meals and get your FREE Mini Menu by
clicking here
.