These easy Halloween spider recipes for kids are perfect for a kid's party, Halloween or even a play date!
This post may contain affiliate links, which means I may receive a commission if you click on a link and purchase something. As an Etsy and Zazzle Affiliate I earn commissions from qualifying purchases.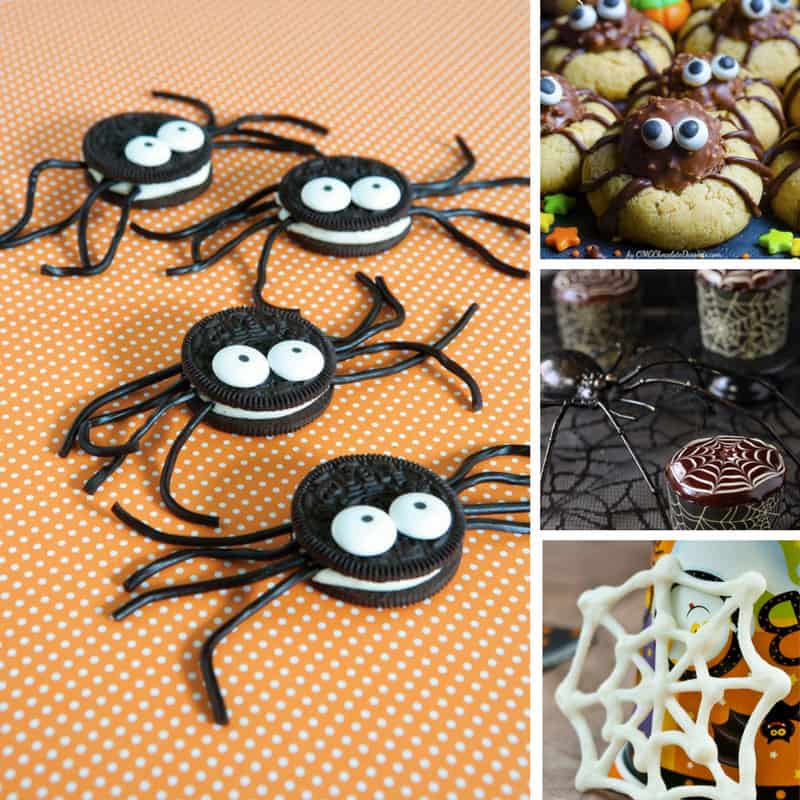 You know how much I love hanging out on Pinterest right? Well the other day I stumbled across the most adorable spider cupcakes… and suddenly I was inspired to pull together as many easy Halloween spider recipes for kids I could find.
So whether you're planning a party for a birthday or for Halloween, or you just want to make some fun spooky spider themed cookies or cupcakes on a Sunday afternoon you need to check these out!
Don't forget to scroll all the way to the end so you don't miss any of the fabulous ideas, and be sure to pin your favourites as you go so you can find them again later!
Easy Halloween Spider Recipes

1. Itsy Bitsy Spider Cookies

I love these cookies because they're super easy to make, and super easy to turn into spider cookies! (via The Kitchen Whisperer)
2. Attack of Spider Cookies

And here's a slightly different twist on the cookie spider recipe! Love the googly eyes on these spiders! (via OMG Chocolate Desserts)
3. Spiderweb Cupcakes

If you prefer cupcakes then this is a super easy way to make a Halloween spider treat and (shhh) if you need to whip something up super fast you could decorate muffins or cupcakes from the store! (via The Girl Who Ate Everything)
4. Spiderweb Cupcakes

If you're looking for a spider treat that's a little more elegant then check this one out. They look fabulous in those spiderweb cases don't they? (via Sugar Hero)
5. Mini Donut Spiders

Aww how cute are these little guys with their pretzel legs! And we love a good excuse to use our mini donut maker! (via It's Always Autumn)
6. Brownie Spiders

If you prefer brownies over donuts check out these spiders instead! (via Gimme Some Oven)
7. Smart Cookie Oreo Spider Treats

If you have no time to bake but you need a spooky Halloween treat then these spooky spiders are just what you need! (via Pizzazzerie)
8. Spiderweb Cookies

These spiderweb cookies will take a bit of practice to get right but when you do they are really impressive! I think they'd be a great way to decorate a plain old cake! (via Cake Whiz)
9. Spiderweb Sandwich Cookies

These spiderweb cookies have a yummy marshmallow buttercream filling and are surprisingly simple to make thanks to a clever cookie press! (via Home Cooking Memories)
10. Rolo Halloween Spider Treats

These candy spider treats are so simple you could make them with your toddler! (via Cake Whiz)
11. Creepy Crawly Cake Pops

Totally in love with these cute creepy crawly spider cake pops but if you want something a little more spooky click through and see Angie's other spider ideas! (via Bakerella)
12. Black Widow Spider Pancakes

Halloween spider treats don't all need to be sweet, why not start the celebrations at breakfast with these fabulous black widow spider pancakes? (via The Joys of Boys)
13. Breadstick Spider Pizza

You can continue the savory spider treats at lunch or dinner time with these super spooky breadstick spider pizza! (via Miss Information)
Related Posts:

Pin these ideas!
Hit the button to save these ideas for later.
Don't forget to
follow us on Pinterest
for more great stuff!
&
---