DISCLOSURE: Some of the links below are affiliate links. This means that, at zero cost to you, I will earn an affiliate commission if you click through the link and finalize a purchase. All opinions are my own, and I only recommend products that will add value for my readers.
Don't miss these easy animal crafts for kids of all ages to have fun making at home. From paper collage to pom poms and paper plates, there is something here for all ages!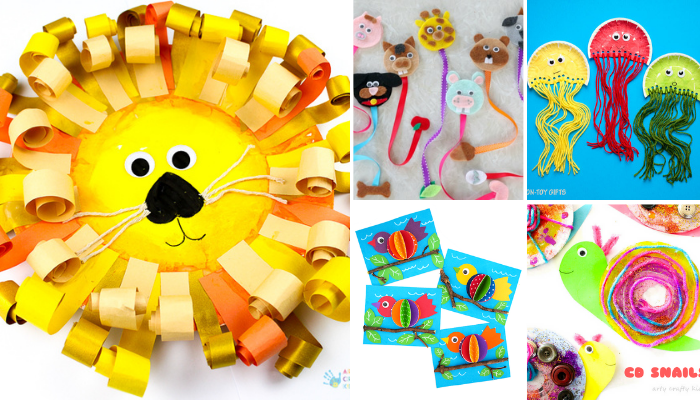 Animal Crafts for Kids
I was looking for some animal crafts for kids today as we have an animal unit coming up on our homeschool schedule.
I was looking for ideas that would use different supplies from our craft box as well as crafts that would work for kids of different ages.
I found a ton of easy projects for kids to do at home and as usual I'm sharing them all here for you to browse through too!
Paper Collage Zebras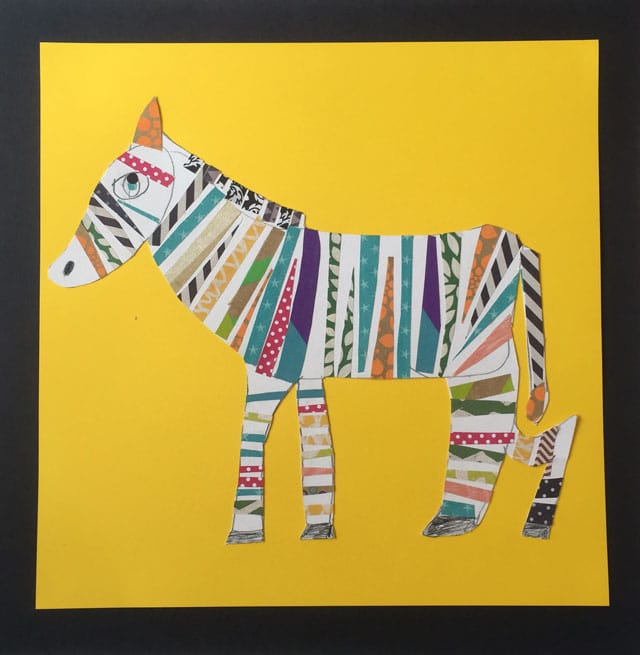 Oh my goodness how cute is this zebra with his collage paper stripes?
I love this craft because it's good for littles to practice their glueing skills if you pre-cut everything.
Elementary students can do their own cutting and sticking. And for your middle-schoolers you can have them draw their own zebra!
Source: Small Hands Big Art
Easy Felt Bunny Sewing Pattern
Sewing is an important life skill for kids to learn and felt animals are a great way to introduce them to a needle and thread.
These little bunnies are super cute, and while you can make bunny crafts at any time of year they're extra perfect for the Spring!
Source: The Yellow Birdhouse
Felt Animal Bookmarks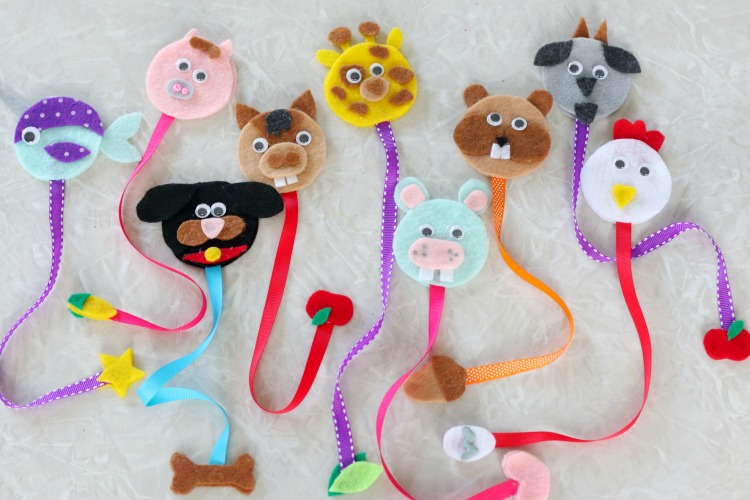 For another felt animal craft how about these super cute bookmarks?
Your kids can sew these together, or with your supervision they can use a hot glue gun to stick them together instead.
There's a whole menagerie of animals to choose from and these would make sweet back to school gifts to give to friends.
Source: Gluesticks
Inchworm Sock Project
Our collection of sock animals is always super popular with readers so when I saw this inchworm sock puppet I new I had to include it here!
This is a fun craft for kids of all ages and a great way to recycle those odd socks we always seem to end up with!
Source: Woo Jr
Paper Plate Polar Bear Twirler
Paper plate crafts are another popular theme around here so here's a fun idea to try… a polar bear twirler!
He's so cute, and I love the little fish swimming around… although thinking about it they are probably about to become lunch!
Source: Kid's Craft Room
Paper Plate Jellyfish Craft
Let's stick with the paper plates for this next craft, and add in some hole punching and threading skills to make these cute jellyfish.
This is another craft that can be differentiated to suit different age ranges. Your tots can have fun painting their plates, while your older kids can complete the whole craft on their own.
Source: Non Toy Gifts
Paper Chain Octopus
For another under-the-sea animal craft how about this paper chain octopus?
He'd look so cute hanging from the ceiling don't you think? With his tentacles all a dangling!
If you wanted to add some gratitude practice into your craft time you could ask your child to write something they are thankful for onto each of the pieces of paper before they add them to the chain.
Source: Woo Jr
Simple Shape Racoon Craft
Let's head back up onto dry land for this next animal craft, and throw in some math with these simple shape racoons.
You can raid the recycling box for this craft, because cardboard is a great base colour for a racoon!
Source: Our Kid Things
Easy CD Snail Craft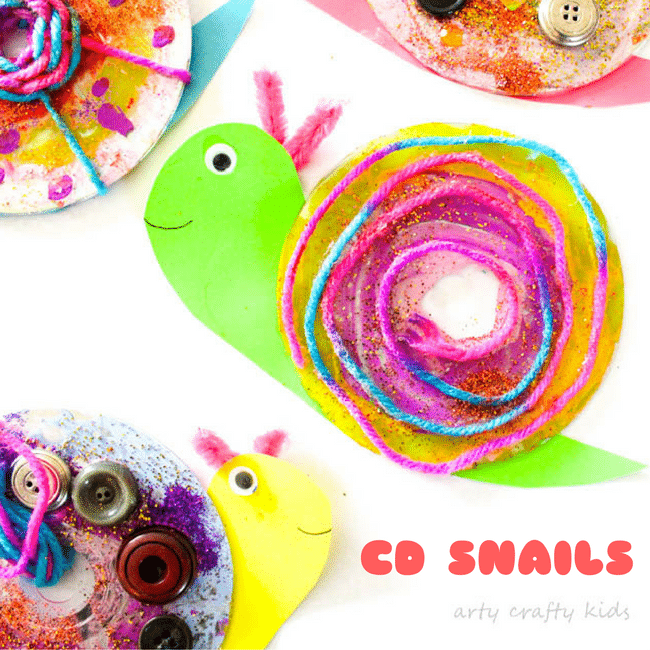 If you've been holding onto a pile of old CDs wondering what on earth to do with them (or is that just me??) this is the perfect solution!
These CD snails are adorable, and a brilliant messy crafts for kids of all ages to do at home.
I love that there are so many ways to make these snail shells, from gluing on found treasures from the craft box to some simple circle weaving.
Source: Arty Crafty Kids
Black Cat Paper Craft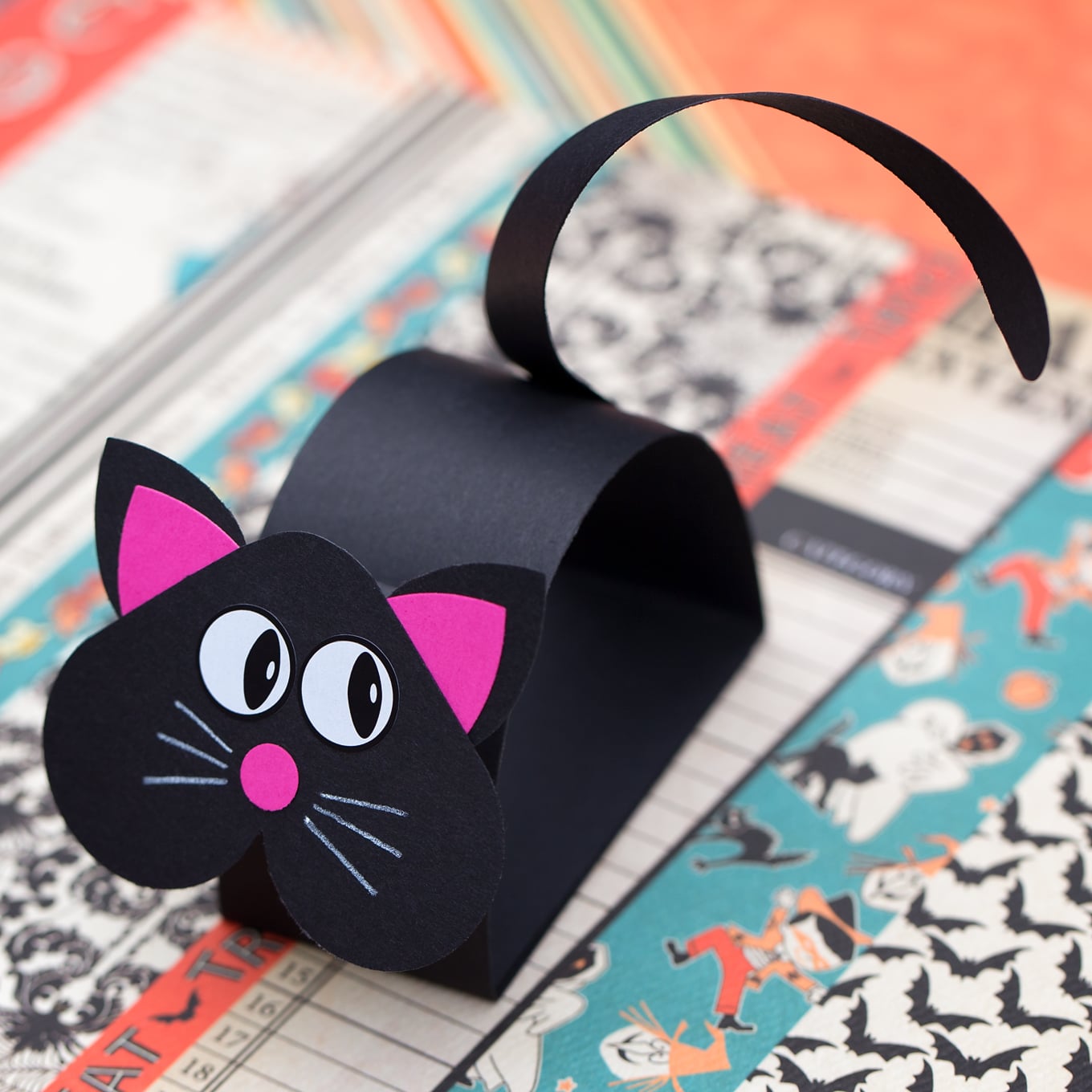 While this bobble head black cat would be perfect as a Halloween craft for kids he is so cute I think you could make him at any time of year!
Click through for the free template and detailed photo instructions to show your kids how to make this cute kitty.
Source: Fireflies and Mudpies
Curly Paper Plate Lion Craft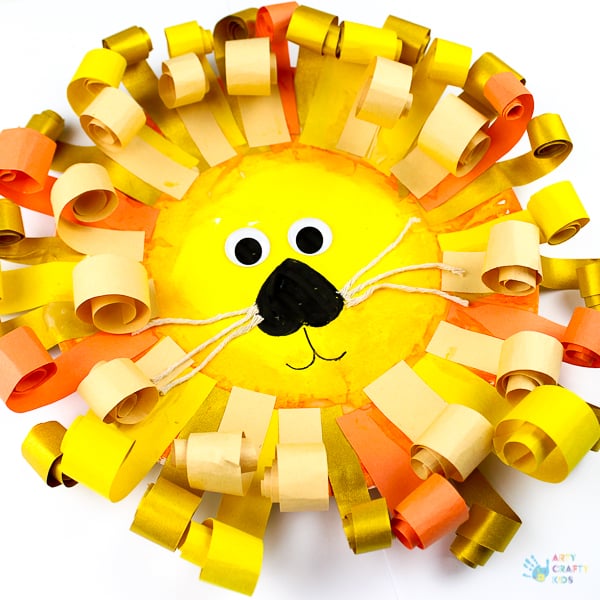 From black cats to big cats. This paper plate lion has such a sunny disposition!
Your kids can practice their cutting and curling and sticking skills to make his gorgeous curly mane.
And then I'm sure they'll have hours of fun making up stories about him!
Source: Arty Crafty Kids
Easy Jumping Frogs Origami
These jumping frogs are a whole heap of fun, and a great way to introduce your children to the art of origami and paper folding.
Once everyone has their frogs folded you could hold a frog race!
Source: Red Ted Art
Colourful Chameleon Craft
Have you ever painted with bubblewrap? It is so much fun, and a great sensory experience too.
Set your kids up with this chameleon craft and let them get messy with paint and bubblewrap.
When he's complete you could add a stick to turn him into a puppet – or even add him to a headpiece like Amanda did!
Source: Barley and Birch
Magazine Mosaic Tiger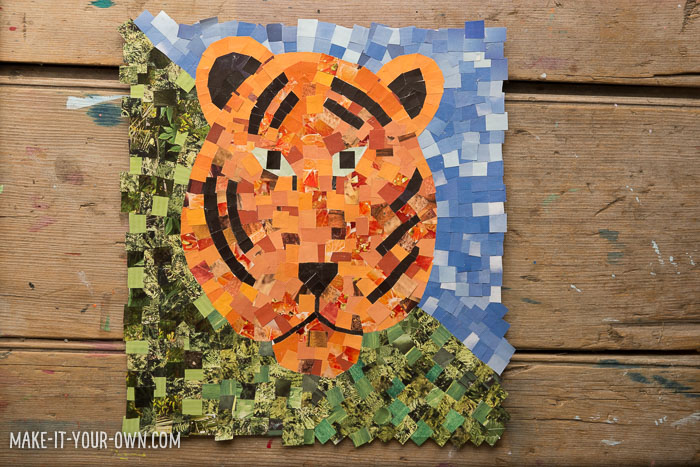 You'll need a pile of old magazines for this craft, which is so much fun you will want to make a collage alongside your kids!
Cutting paper and sticking it down with glue is a wonderfully mindful activity that will help everyone calm down. You might want to put on an audio book or play some music while you're all collaging together.
[If you haven't tried Audible Plus yet for all-you-can-listen-to audio books you can sign up for a free trial here.]
Source: Make it Your Own
Pinecone Farm Animals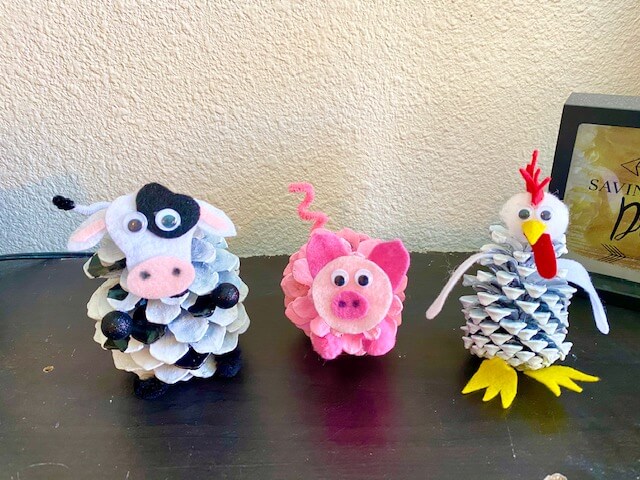 If you have a stash of pinecones that the children have collected check out these tutorial to find out how they can turn them into some sweet farm animals that are just perfect for imaginary play.
Source: Manda Panda Projects
3D Paper Zebra Craft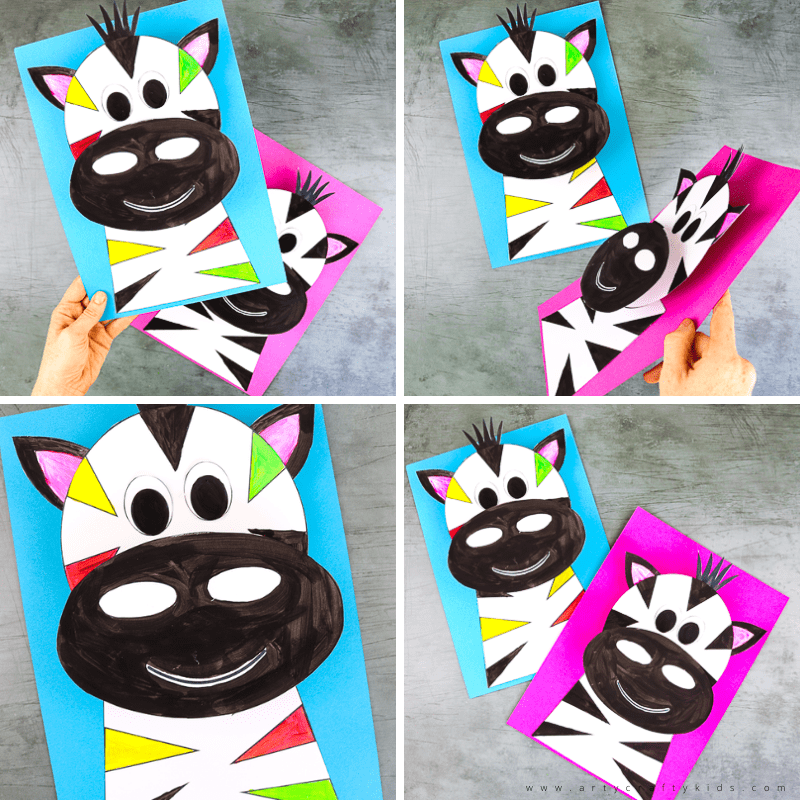 If your kids love paper crafts then there are so many great templates over at Arty Crafty Kids.
I picked out this cute zebra to share with you today because I love how his head extends up off the page, and your kids can choose to go traditional black and white stripe when they colour him in, or crazy rainbow!
Source: Arty Crafty Kids
Paper Bird Craft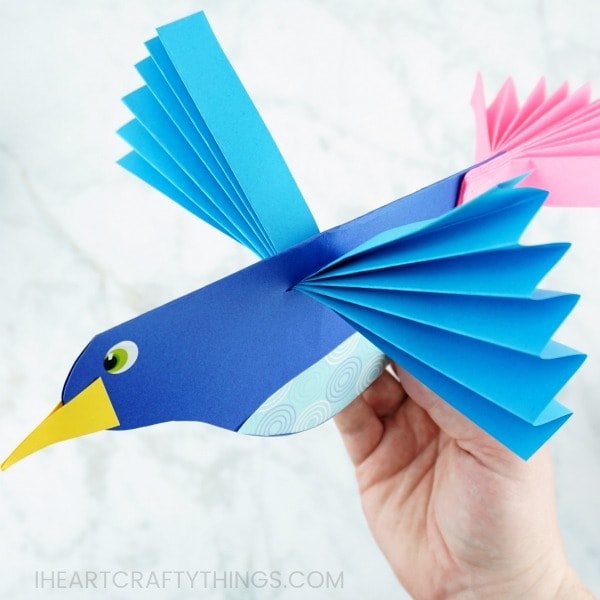 If your children are learning about birds then you should have a go at making some of these beautiful paper birds, with accordion folded wings.
You could look up some birds in books and copy their colours, or just let them use their imaginations to come up with something bright and colourful themselves.
Source: I Heart Crafty Things
Mini Fishbowl Craft
Raid the recycling box for some plastic jars with lids (we have some that our peanut butter came in) and your kids can make this cute fish in a bowl craft!
They make great pets because you don't have to worry about changing their water or remembering to feed them 😉
Source: Kids Activities Blog
Birds on a Branch
Here's another paper craft that you children will enjoy making, and I love that they are sitting on real sticks!
The sweet bodies are made using a circle punch. If you don't have one in your craft kit they are worth investing in because punching holes in paper is great fine motor practice and helps strengthen their hand muscles which in turns helps with their handwriting skills.
Source: Our Kid Things
Pom Pom Hedgehog Craft
Oh my goodness did you ever see anything so sweet as this array of hedgehogs?
We love yarn crafts here, especially pom pom ones and these hedgehogs are perfect for using up your scraps.
Source: The Craft Train
Newspaper Koala Craft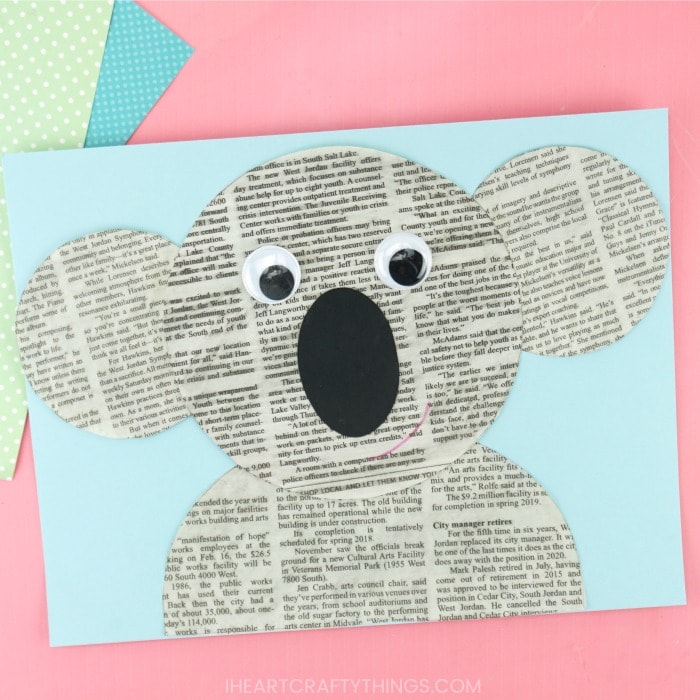 Let's finish up our collection of animal crafts for kids with this cute koala collage project.
He's a great way to use up your newspaper but you could also use magazine pages or even paper from an old book if you have those things in your recycling bin.
Source: I Heart Crafty Things