This post may contain affiliate links, which means I may receive a commission if you click on a link and purchase something. As an Etsy and Zazzle Affiliate I earn commissions from qualifying purchases.
One whole month of super easy overnight oatmeal recipes that are EASY to make and YUMMY to eat!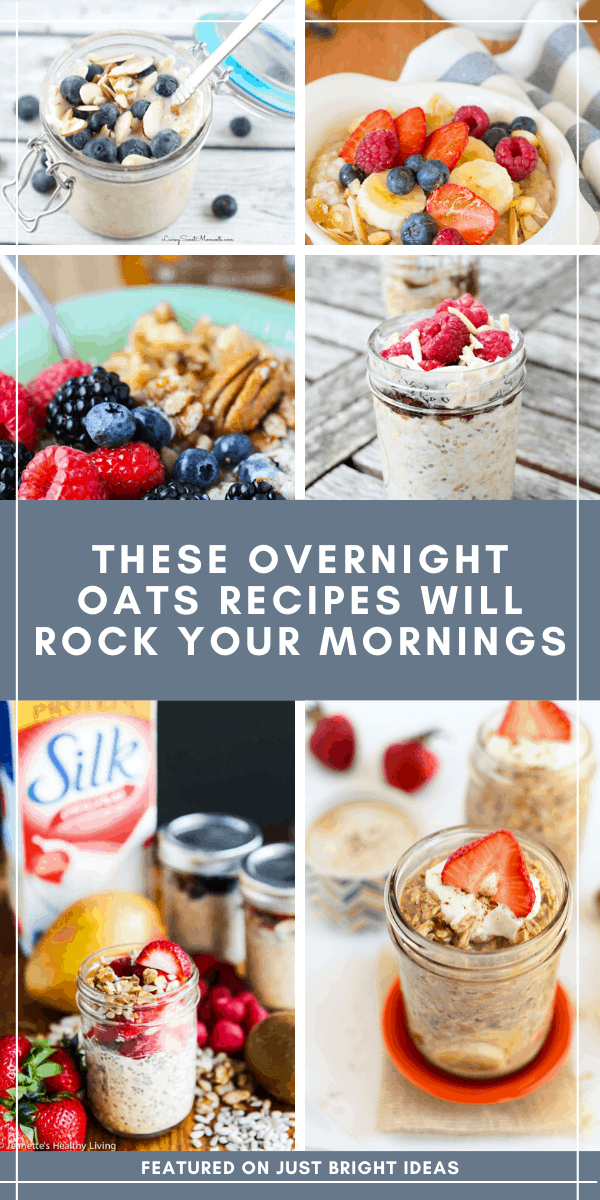 Easy Overnight Oatmeal Recipes
If your mornings are anything like mine they're probably a whirlwind of chaos, trying to convince children to get out of bed and into their clothes so you have a cat in heck's chance of getting out of the door on time.
And when somethings gotta give it can often be breakfast that gets skipped.
But we really don't want that to happen because eating first thing in the morning helps our brains be more alert (especially for children) and makes us less likely to snack on junk food to get us through to lunch time.
Oh and did you also know that when you don't eat breakfast your brain tricks your body into thinking you're in starvation mode, and your body holds onto fat instead of burning it?
If that's not a good reason to eat breakfast I do not know what is!
So how do we eat a healthy breakfast when we don't really have time to stop and make it?
Simple.
We make overnight oatmeal the night before, and it's all ready for us to munch on before we run out of the door.
Or we could even eat it in the car!
The best part about overnight oatmeal is that you prepare it the night before.
So when you get up in the morning and you have a million things to do before you can get yourself and the kids out of the house on time breakfast is right there, sitting in the fridge, just waiting to be eaten!
And if you're thinking, yeah but oatmeal is oatmeal and the kids will get bored of it quite quickly then you need to keep reading.
Because I went down a Pinterest rabbit hole (shh don't tell hubby!) and found one whole month's worth of easy overnight oatmeal recipes!
Yep, 31 scrumptious ways you can serve oatmeal for breakfast, so you're sure to find a few new family favourites in there somewhere.
Quick, go find the oats!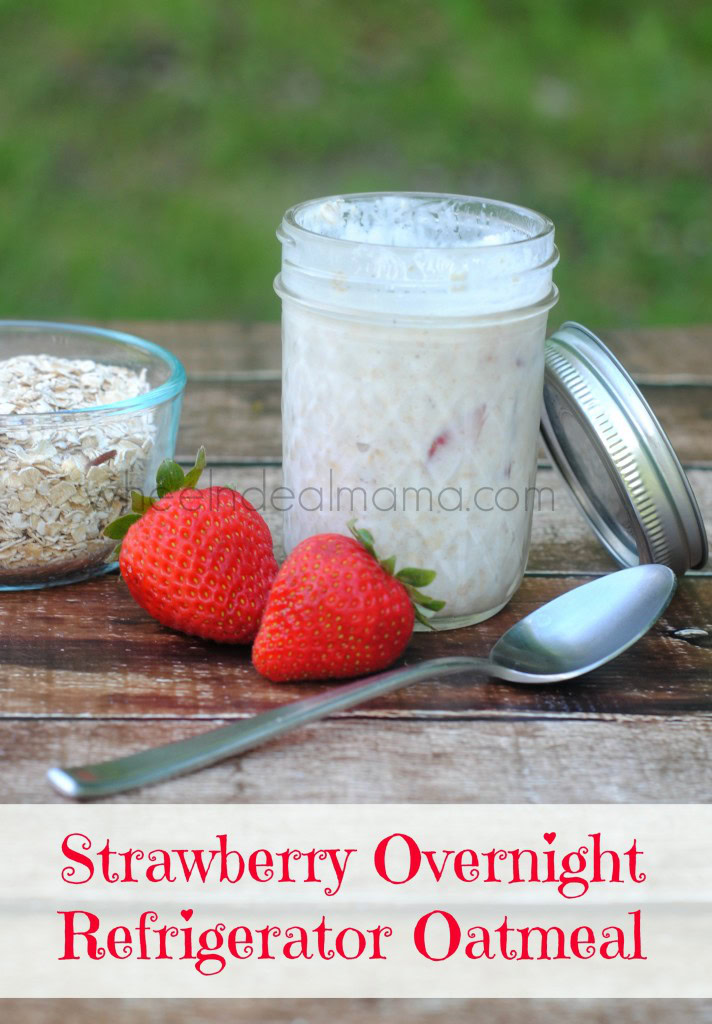 "My personal favorite is this Strawberry Overnight Refrigerator Oatmeal, I am giving you two recipes for it because there is the "healthy" version and then the version that I usually make which isn't all that healthy but… who am I kidding? It is just better. Period. Both are great though, I just PERSONALLY prefer it without yogurt." – Wheel n Deal Mama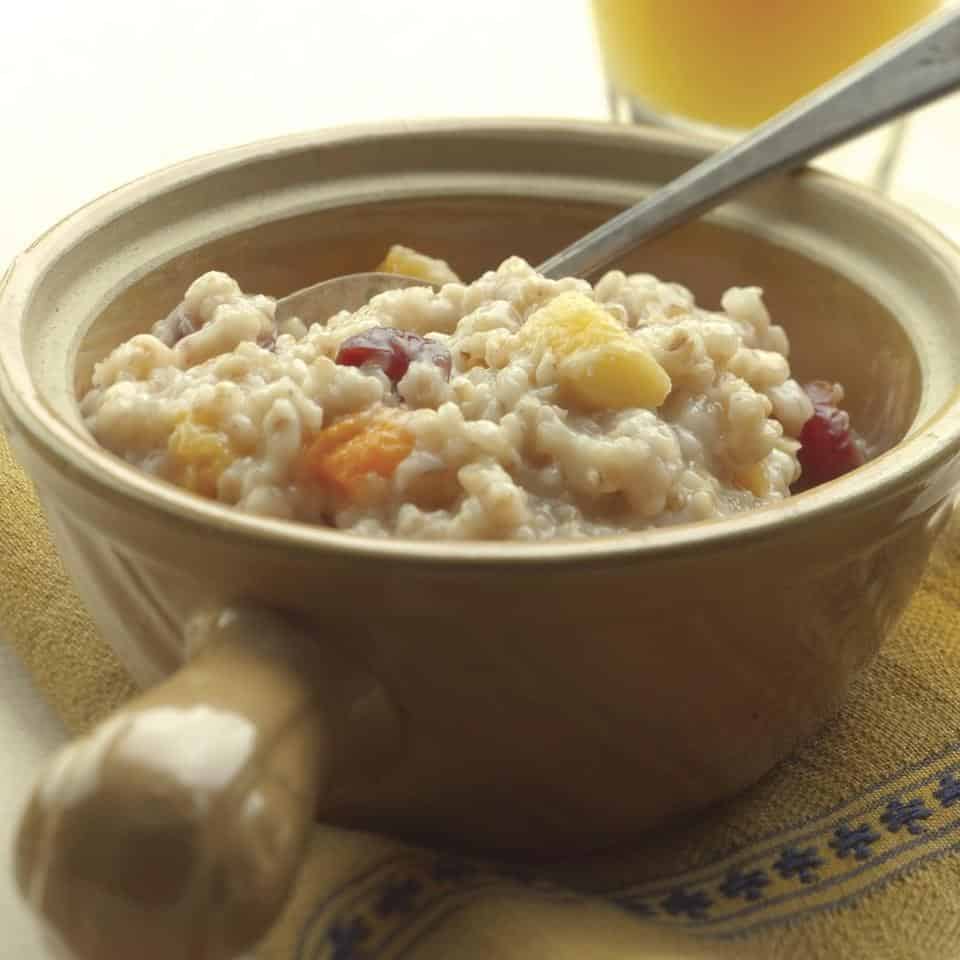 "Here is an easy way to serve a crowd a hearty breakfast before facing the elements for a day of winter sports. You can assemble it in the slow cooker in the evening and wake up to a bowl of hot, nourishing oatmeal. The slow cooker eliminates the need for constant stirring and ensures an exceptionally creamy consistency. It is important to use steel-cut oats; old-fashioned oats become too soft during slow-cooking." – Eating Well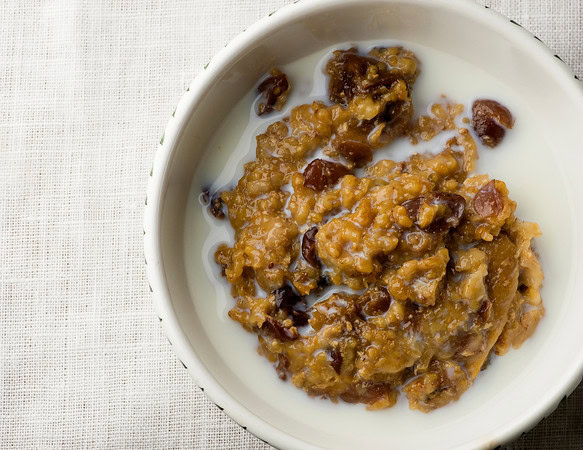 "Most of my crockpot recipes are dinner-oriented. This oatmeal recipe also makes a fantastic comfort food dinner recipe, but it's my only crockpot recipe that is perfection for breakfast. " – Framed Cooks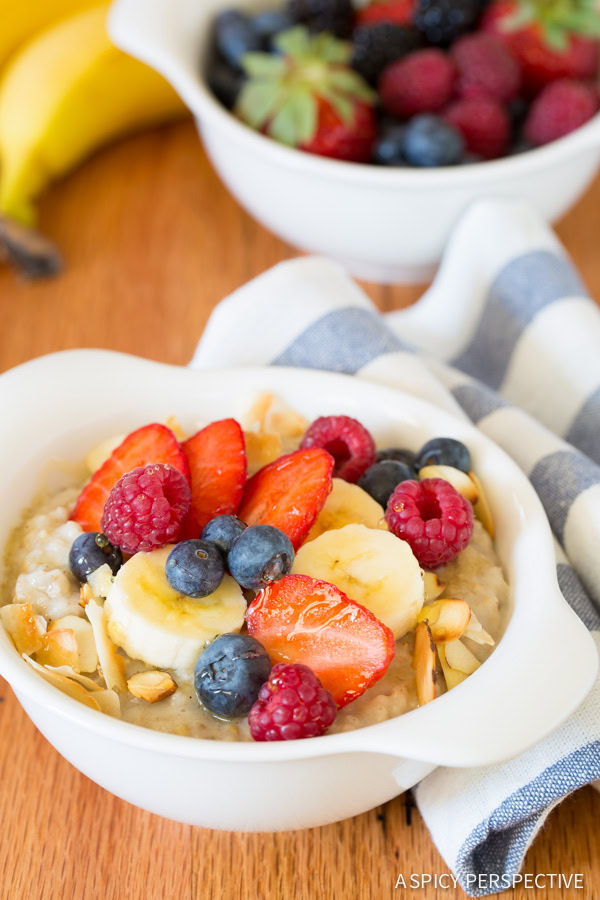 "Put your crock on at bedtime and this Slow Cooker Overnight Oatmeal will be ready and waiting for you first thing in the morning. Keep it on warm throughout the day for when the kids come home, or you are craving a snack. Oatmeal is a great anytime meal!" – A Spicy Perspective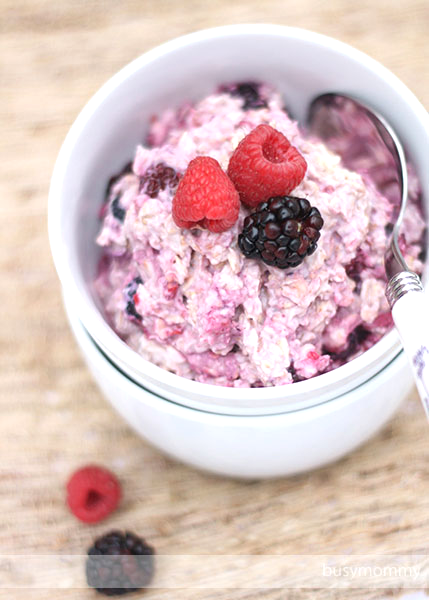 "This, my friends, is one of the easiest recipes that tastes out of this world. Overnight Fridge Berry Oatmeal is perfect for breakfast or a snack and you can customize it to suit your tastes. I consider this pretty healthy, so I don't feel guilty eating something that tastes so decadent. Using frozen berries is important because as they melt overnight, they create a wonderful juice that you just can't get with fresh berries. So when you're rushing to get the kids ready for school or you're late for work- breakfast is already waiting for you in the fridge!" – Busy Mommy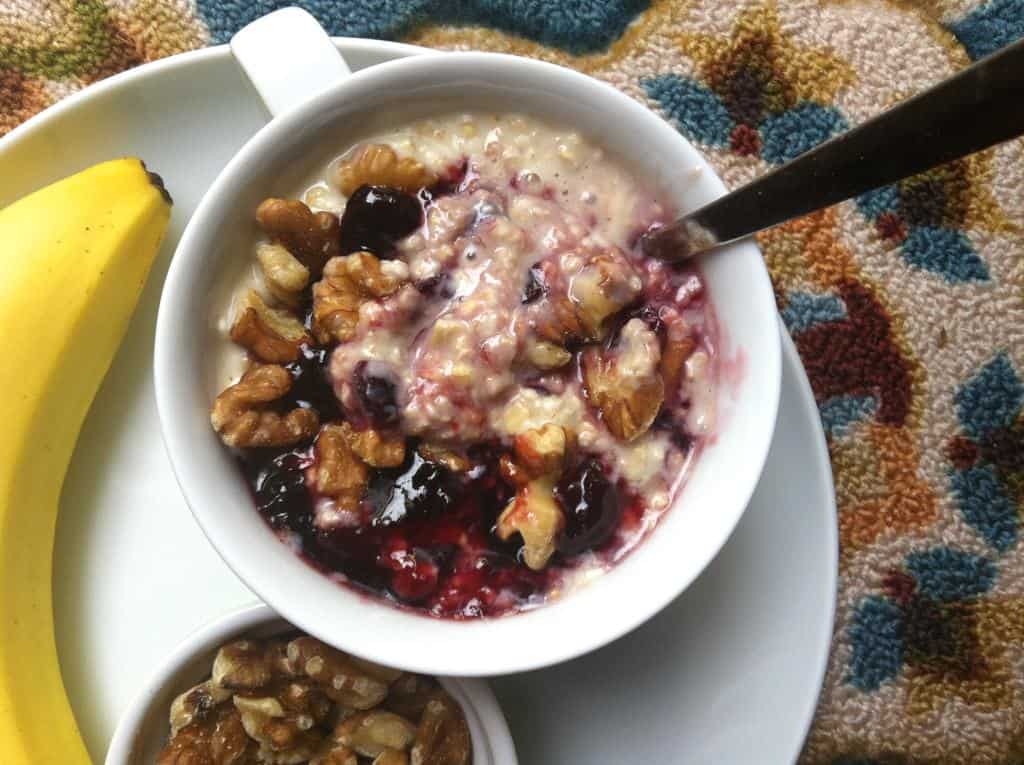 "I love recipes like this for breakfast because it requires almost no clean up and is ready when you roll out of bed. My days start early with a long list of things to do so having something in the fridge waiting for me is key. This overnight oatmeal uses the new Stonyfield Petite Creme Yogurt–the vanilla bean to be exact. Have you tried it yet? The Petite Creme Vanilla Bean Yogurt goes perfectly in overnight oats to help add flavor and texture." – A Cedar Spoon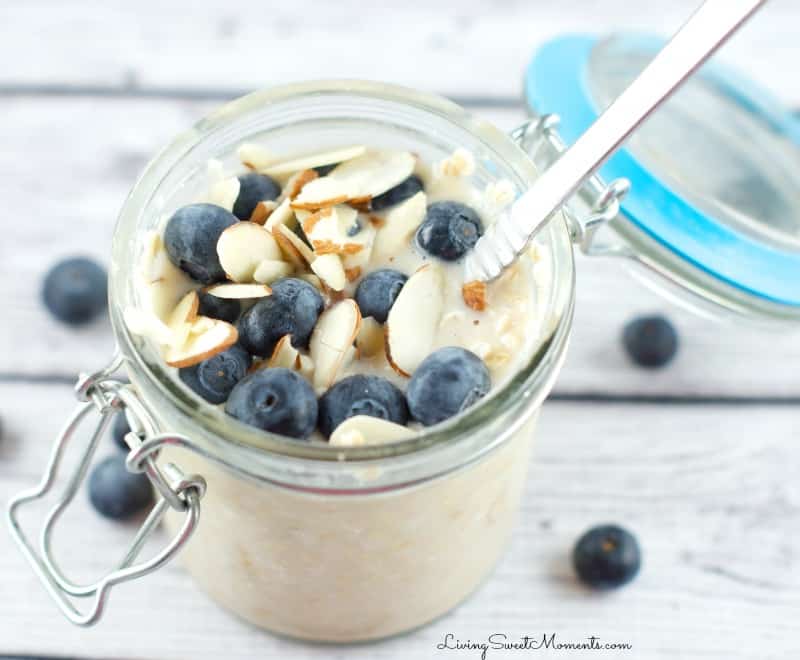 "If you're the kind of person that is running around in the morning, this Overnight Oatmeal In A Jar Recipe is perfect for you. Make a few jars the night before and just grab them on the go the next morning. Take them to your work, gym or even in the kid's lunch boxes – packed in a sealed container of course. This oatmeal takes literally seconds to make and you can customize it any way you would like." – Living Sweet Moments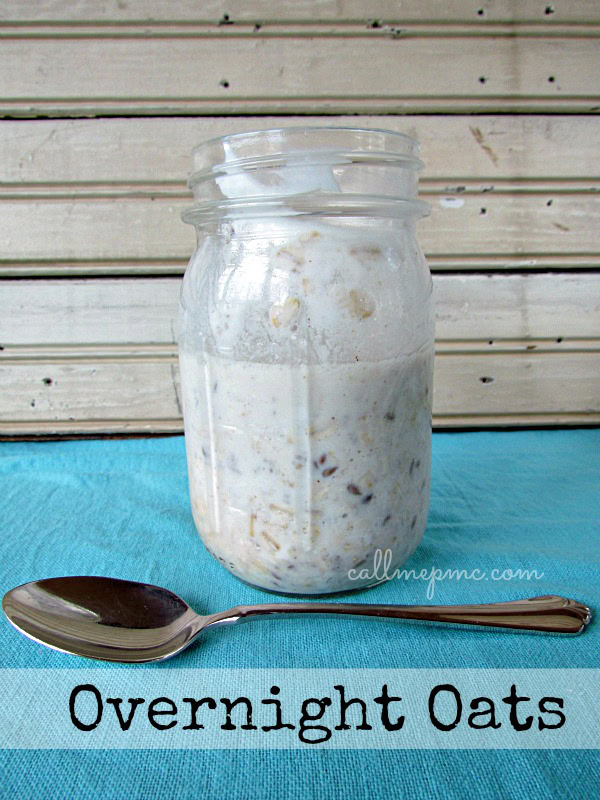 "My morning goes like this 4:30: get up, get dressed, run, finish run and stretch, check blog emails, start breakfast for boys, shower, dress, start boys lunches and finish making breakfast, wake boys, feed them, finish packing their lunches and help them finish getting ready, take them to school. We have it down to the minute and there is no extra time for me to make myself breakfast (and no I don't want to have biscuits or pancakes with them). Being able to grab a protein shake or Overnight Oatmeal is ideal. Actually, after trying it, I love it. It's my new obsession. I also have it for a mid-afternoon snack a lot of days." – Call me PMc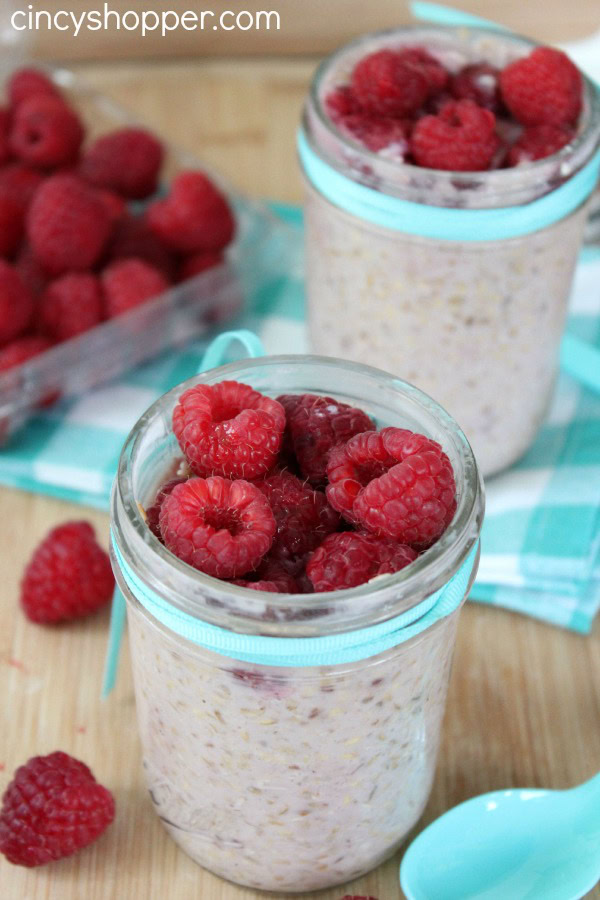 "Overnight Oatmeal in a mason jar requires no cooking and are great for on the go breakfast. My daughter loves throwing these together quickly a few evenings per week. She then has a quick and easy on the go breakfast. Fill them with your favorite yogurts and berries or even add in some brow sugar or honey." – Cincy Shopper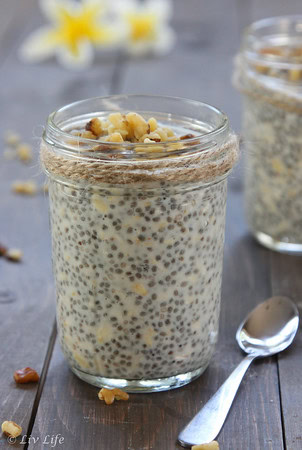 "For months my blog reader has been filled with various versions of overnight oats. From Pumpkin Spice to Orange Cashew, overnight oats are everywhere. But… the thought of them somehow just sort of seemed distasteful. Would they be overly mushy? Would they be chalky? Would they be just plain weird? Nope to all the above. Amazing, fabulous, incredible, irresistible, and perhaps even spectacular." – Liv Life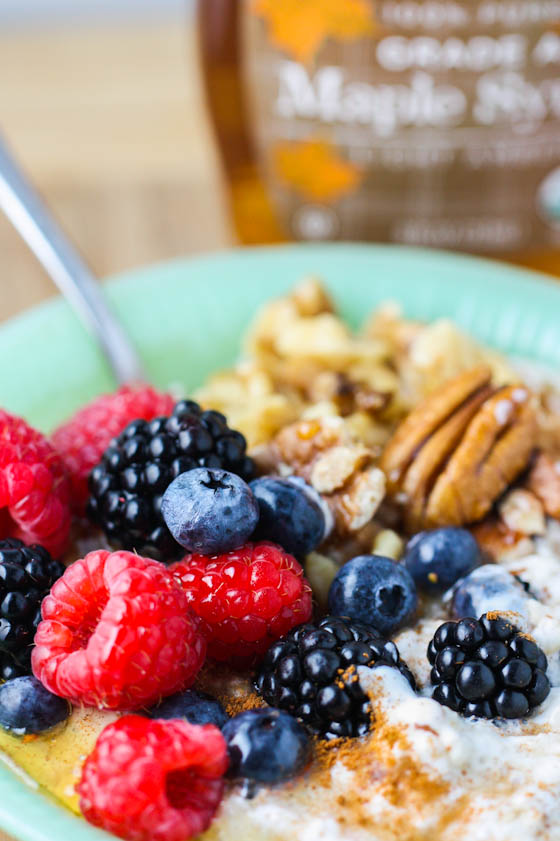 "Overnight oatmeal couldn't be simpler to prepare and is mega satisfying. It's one of the only breakfasts that keeps me full all the way until lunch…definitely from all that protein in the Greek yogurt. It's my version of bircher muesli and a total breakfast staple, especially when topped with lot of nuts, maple syrup and berries!" – Eat Live Run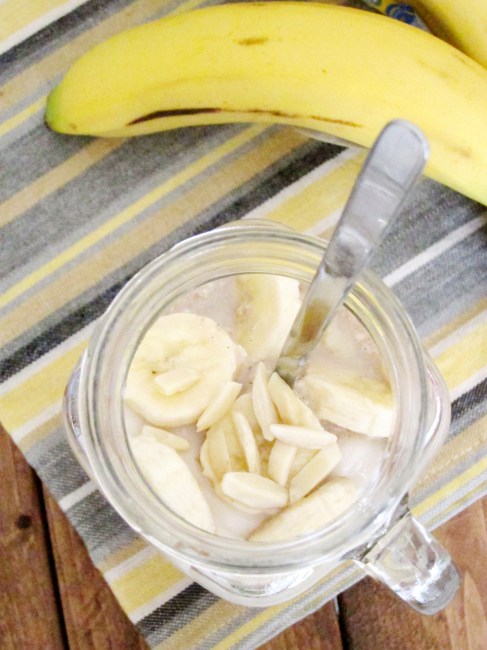 "Ever since making a banana cream pie overnight oatmeal, I've wanted to make its chocolate cousin. This is like a layered parfait, and as you can tell from the name, the chocolate layer goes on the bottom. I thought about making two different flavors of oatmeal, but eventually decided to make the bottom layer more of a chia pudding than an oatmeal. The result was super." – The Oatmeal Artist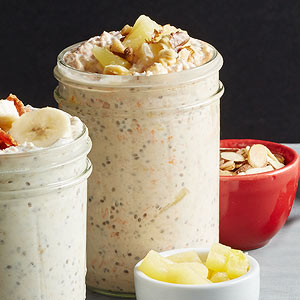 "Give overnight oats a dessert-inspired twist with this carrot cake version." – Better Homes & Gardens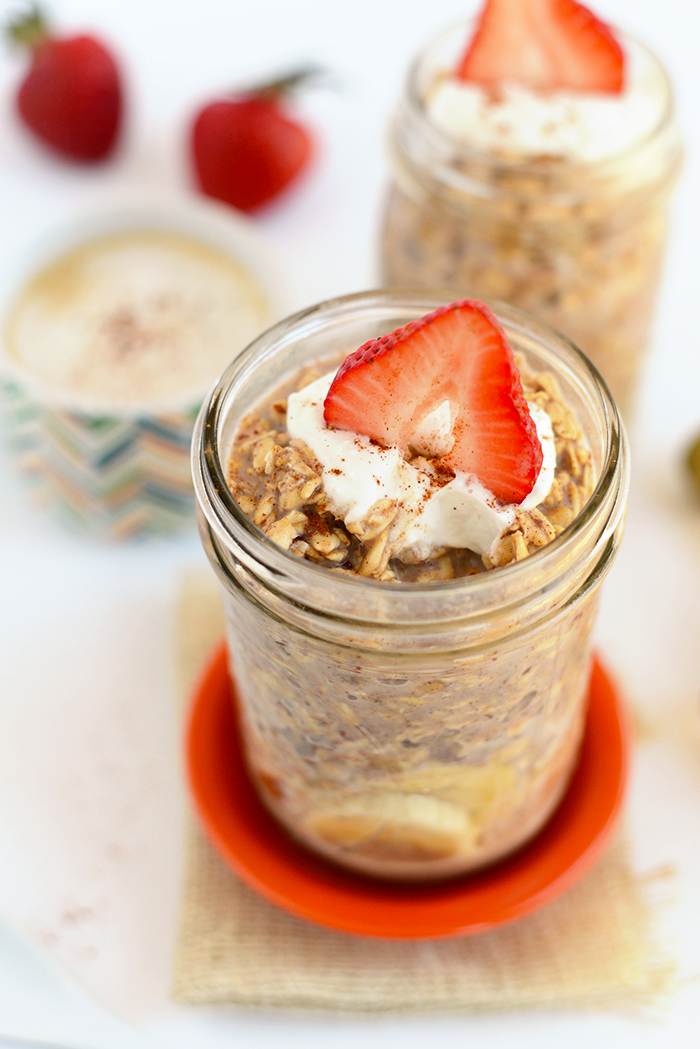 "Have your french toast and oatmeal too! Make French Toast Overnight Oats for an easy, make-ahead breakfast that's packed with maple and cinnamon flavor!" – Liv Life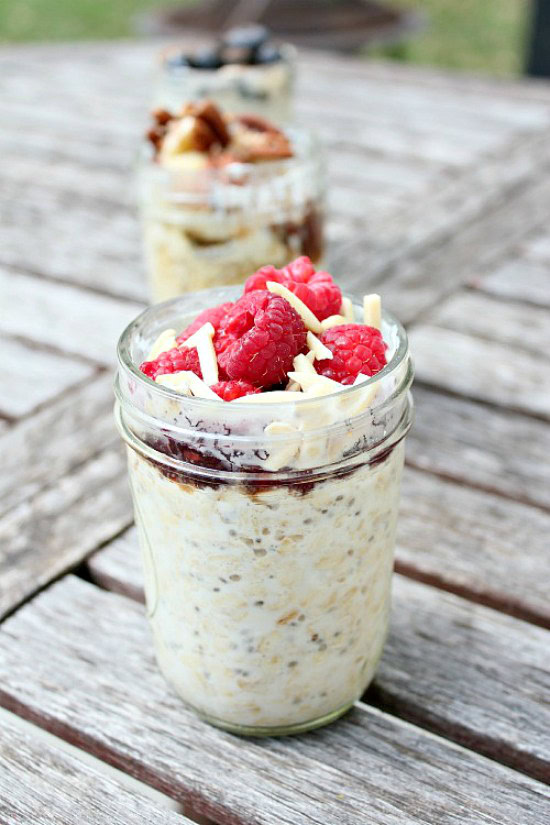 "I HAD to share this Raspberries N' Cream recipe with you. It's by far my most favorite – I have eaten this one everyday for the past week!" – Living Chic Mom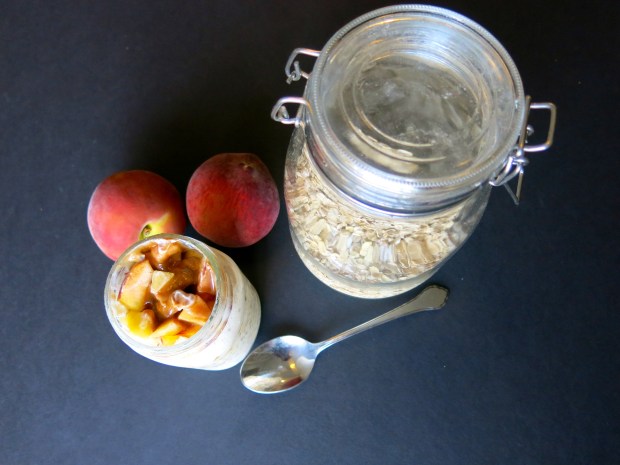 "Meet my new obsession: Peach Overnight Oatmeal. I don't remember a time in my life before overnight oats and I don't think I want to remember it. This has been my breakfast for the past few weeks and I wake up so excited to eat it (as if I don't wake up excited to eat every breakfast)." – Almost Getting it Together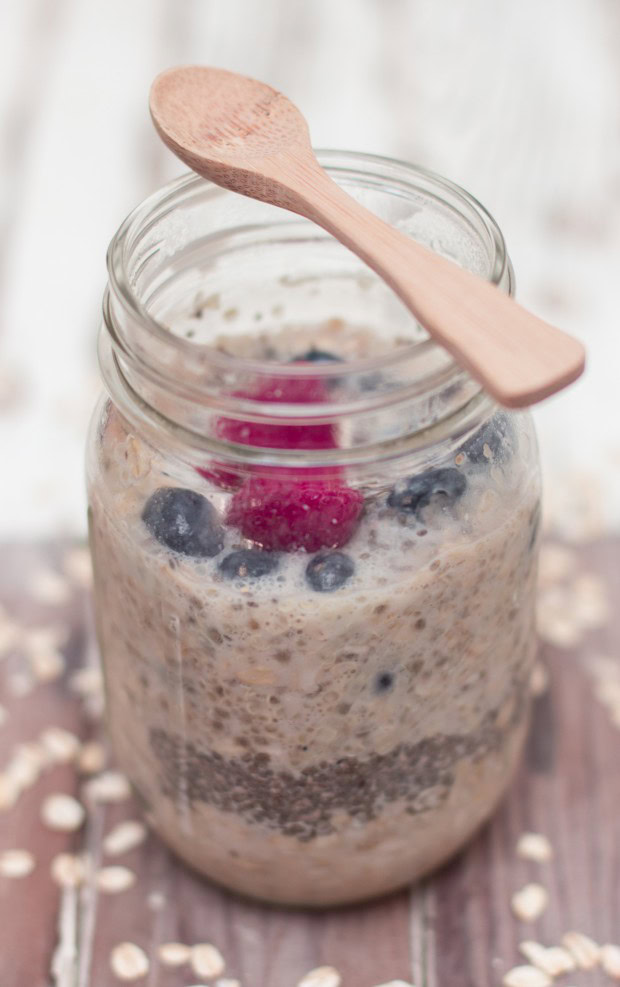 "I suck at breakfast. No, really. Even though I work at home, I often won't have breakfast till sometime after lunchtime. It's embarrassing, and the reason I love overnight oats, especially this Overnight Quinoa & Blueberry Oatmeal. Then I have no excuse… first thing in the morning, breakfast is waiting for me. It'd only be better if I could get it served in bed!" – Cooking Stoned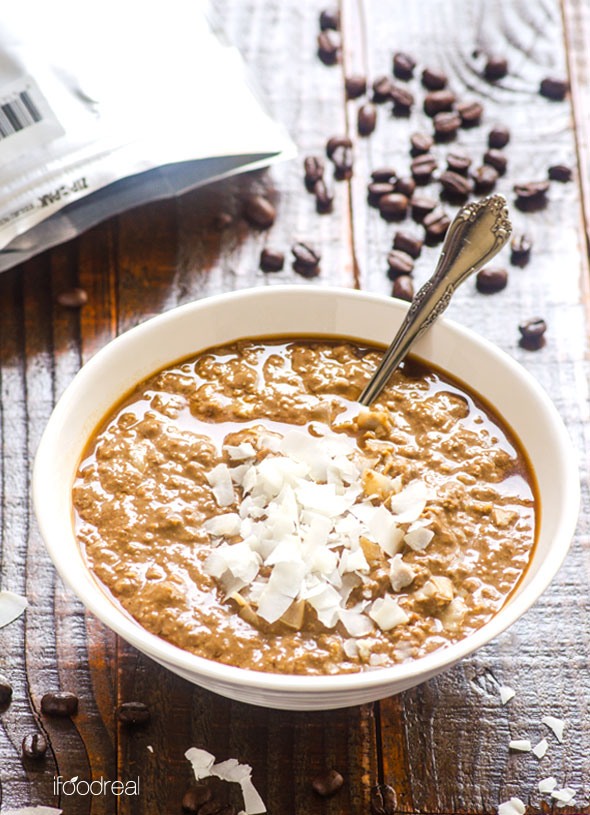 "This overnight oatmeal is like eating dessert for breakfast – creamy, sweet and chocolate-y. And it has extra coffee that I'm sure any mama needs on a weekday morning. If you are not a fan of protein powder, I have included substitute options. I love using protein powder because it is usually naturally sweetened, so I can keep my food low in sugar. You can use stevia as well." – iFood Real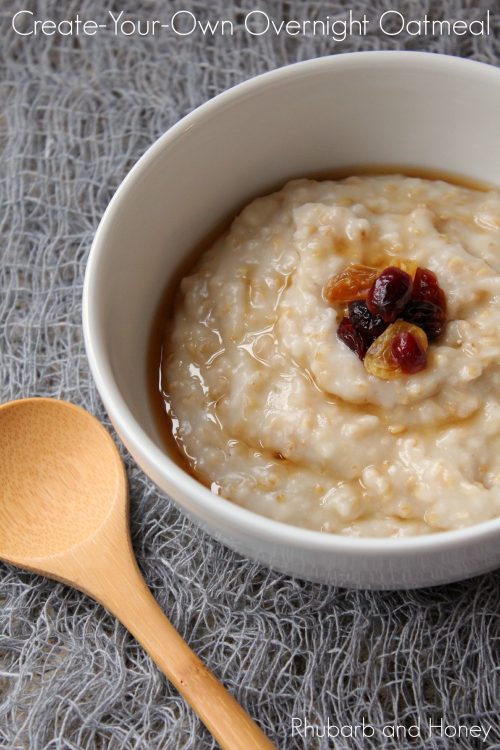 "Did you know that heart disease is responsible for 1 in every 4 deaths in the United States, making it the leading cause of death among both women and men? For my contribution to the mix, I decided to help you start your day off with a heart-healthy breakfast … and make it both fun and delicious at the same time!" – Rhubarb and Honey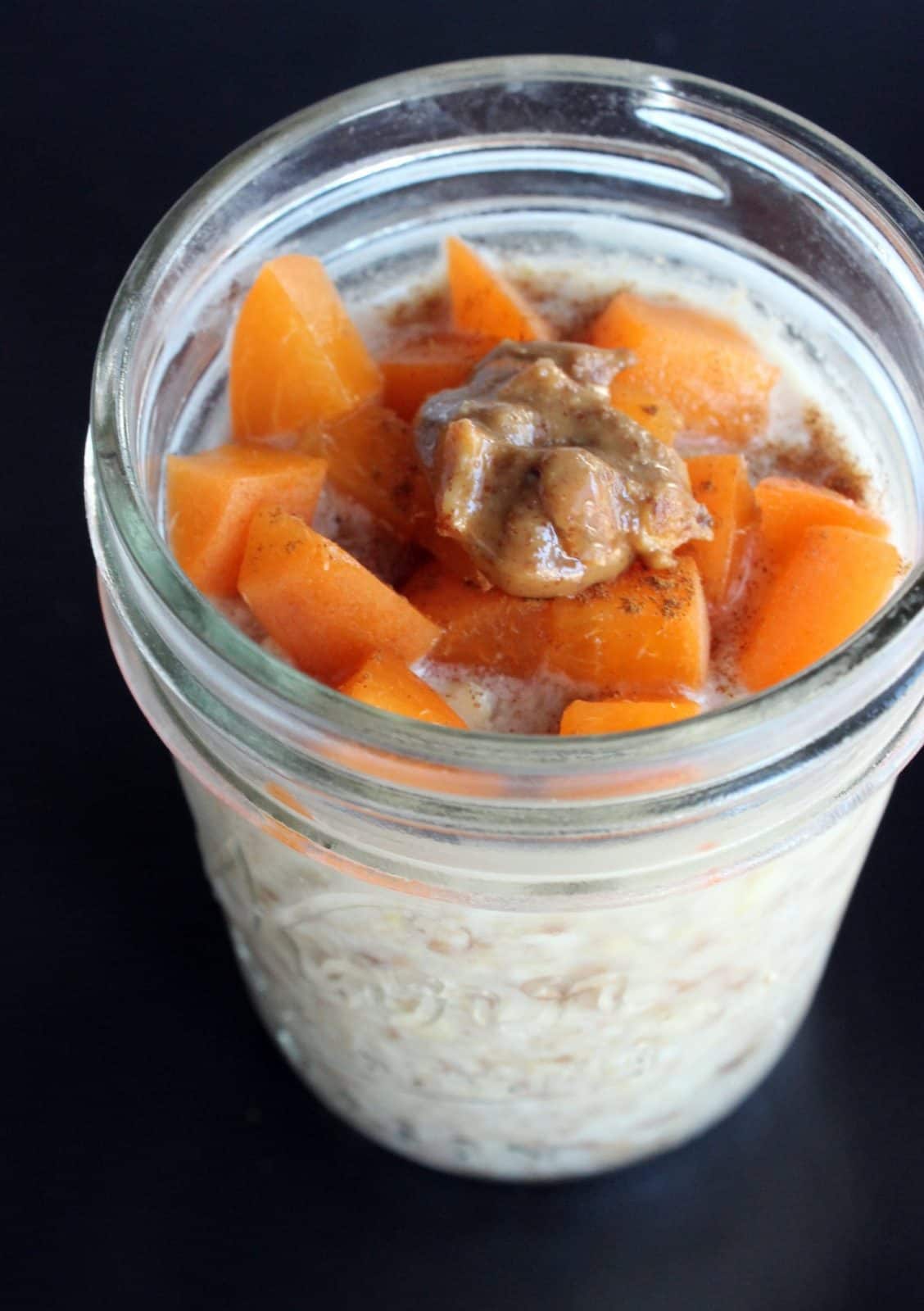 "Creamy and delicious, this breakfast tastes just like dessert. The best part — you can whip it up in one minute, leave it refrigerated overnight, and tah-dah, breakfast is served in the morning. It can easily be made gluten-free by using certified gluten-free oats." – Pop Sugar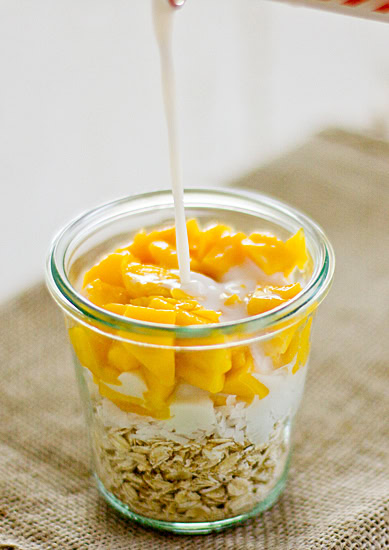 "I find oatmeal to be a little bit heavy, so adding an equal amount of mangoes to the oats was the perfect way to lighten it up. And the best thing about overnight oats is that you do the (minimal) prep work the night before and your oatmeal is done in the morning–you don't even have to heat it up (although you can if you want)!" – Oh My Veggies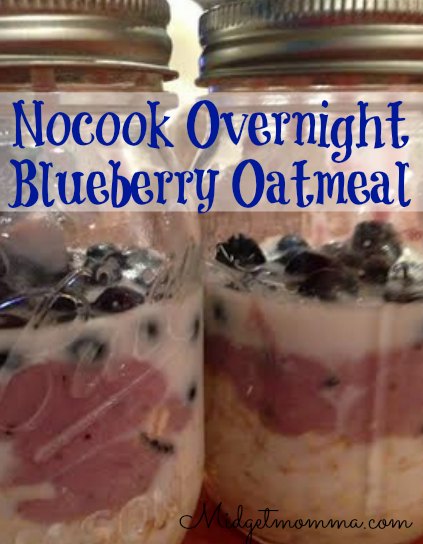 "The other day a friend of mine brought up how she had fallen in love with what she called refrigerator oatmeal and that it was the best thing ever and so with that I had to try it. She said it was super easy to make and so I had to try it, it is made in the refrigerator but its overnight and no cooking required. It is so easy to make and when you try it you are going to be wishing you had tried it sooner." – Midget Momma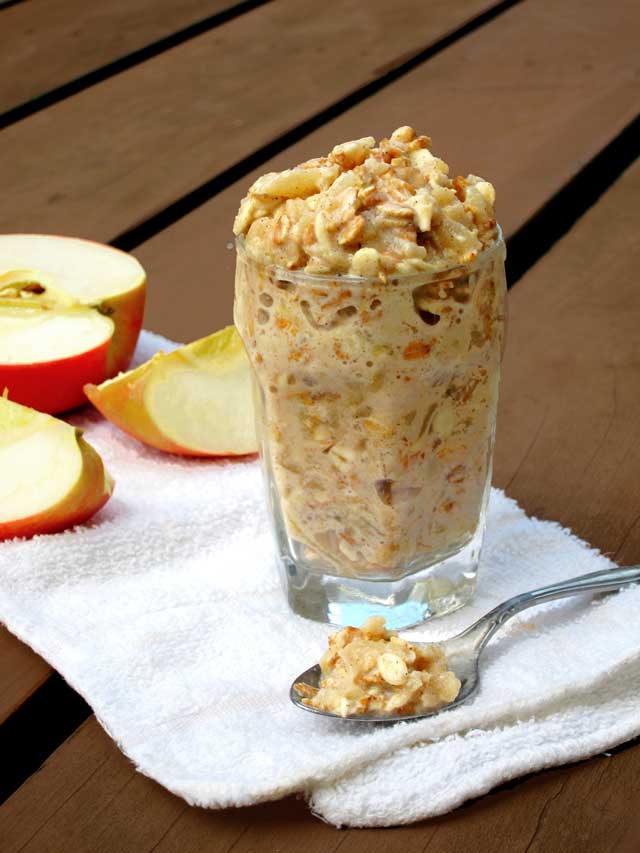 "Overnight oatmeal is a magical creation. It literally prepares itself. You throw the ingredients in a mason jar (or any sealable container), mix them up, and the oats absorb the liquids overnight, making them soft and pudding-like. No cooking necessary! You can eat them cold, but I throw mine in the microwave for a minute and a half because I like the comfort of hot porridge." – Cheap Recipe Blog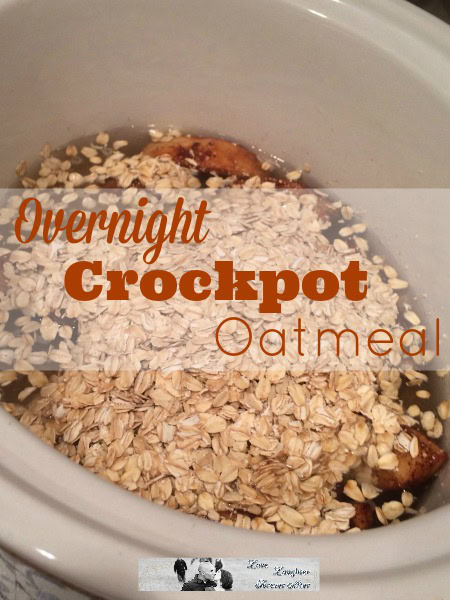 "One of our recent favorite is this delicious but super easy to make Overnight Crockpot Oatmeal Recipe, just put your ingredients in the slow cooker, set the time and you'll wake up with hot breakfast for the whole family." – Love Laughter Forever After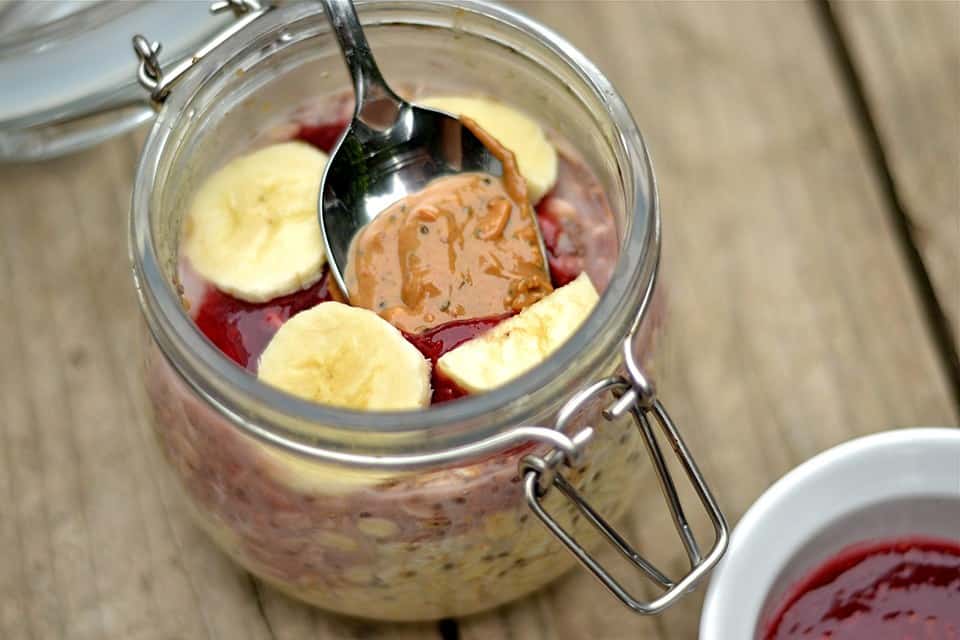 "All you do in this simple recipe, is combine 5 ingredients the night before, and add them to a glass jar or bowl. Wake up the next morning, give it a little stir, and breakfast is served!" – Wholesomelicious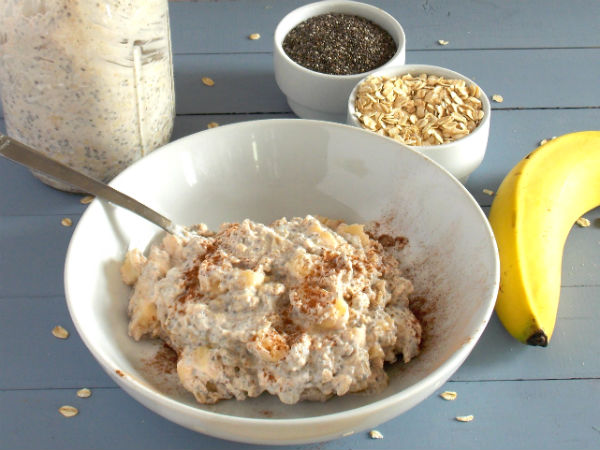 "For us, breakfast can be the most challenging part of clean eating. It's so easy to grab a bagel or sugary cereal in the morning, especially when you're starving. So we are psyched to that this oatmeal was so delicious and so easy." – My Clean Kitchen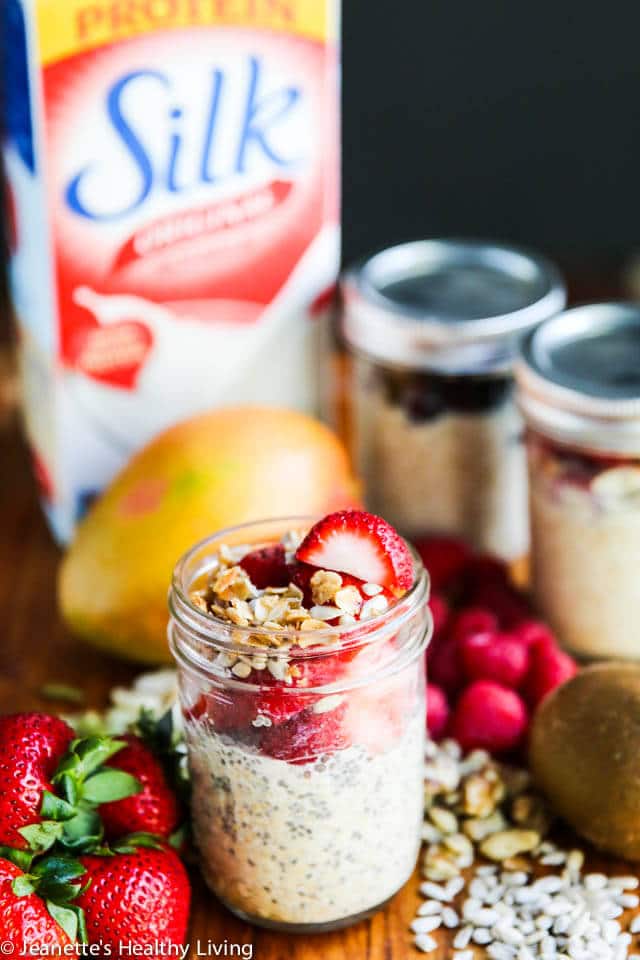 "What I love about overnight oatmeal is that you can make a batch of it at the beginning of the week and have enough to grab-and-go for the entire week. There's no cooking involved. You can even add the fruit ahead of time to save an extra step in the morning." – Jeanette's Healthy Living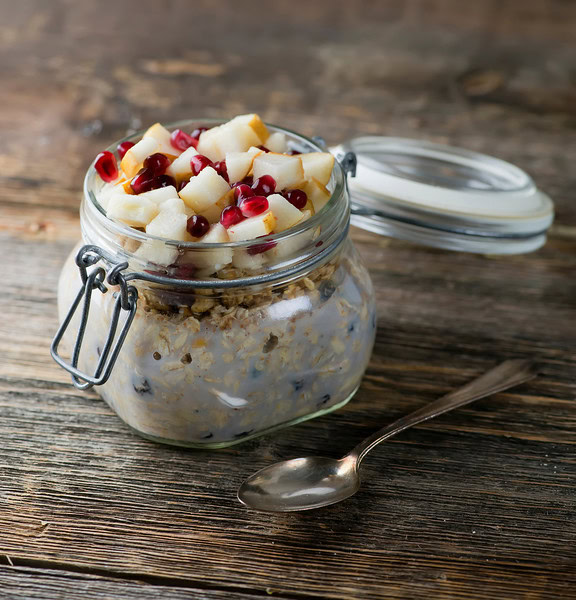 "It's obviously going to be cold if you eat it right out the fridge (which was actually pretty wonderful), or you can let it come to room temperature. If you absolutely NEED to have your oatmeal warm, a minute or two in the microwave will do the trick." – Framed Cooks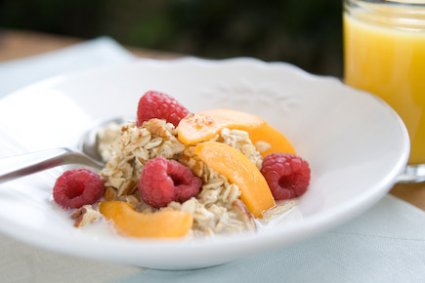 "This affordable, healthy breakfast provides protein, whole grains and fresh fruit to help you start your morning right. Simply mix the ingredients together and refrigerate overnight. Enjoy it cold or warm the next morning." – Whole Foods Market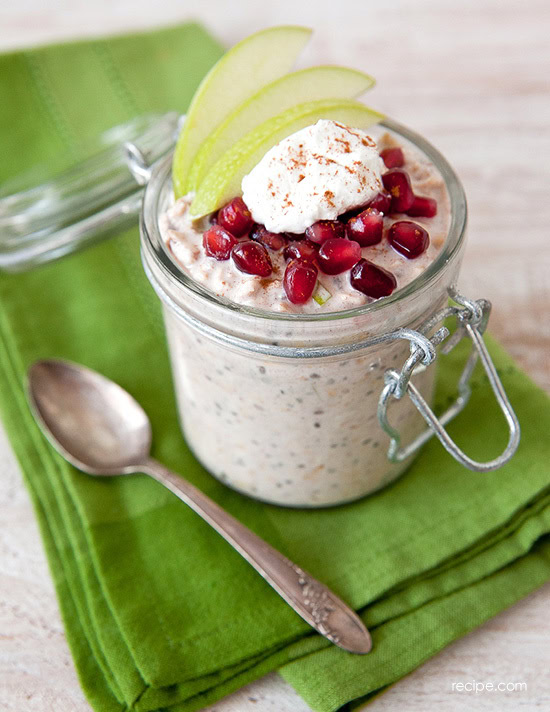 "Fiber-rich and heart healthy oatmeal is a great way to kick off the morning, but it can be a bit time-consuming to prepare. This no-cook version of oatmeal is so simple to prep, you'll soon be as hooked as I am. If you need even more convincing, this entire meal that can be prepared in a canning jar. No mess and no dirty dishes!" – Kristina Vanni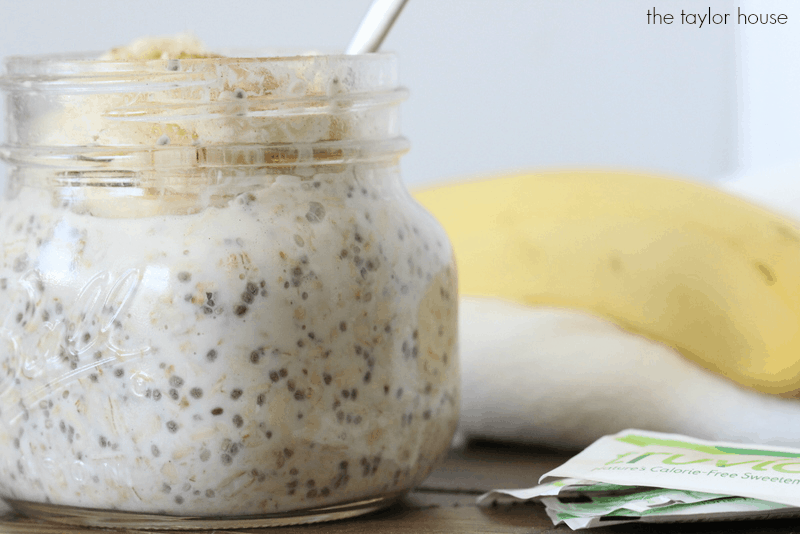 "You can add any fruit that you like to this oatmeal, if you don't love bananas add strawberries or raspberries instead!" – The Taylor House
---
What do you think? Totally amazing right? We won't have any problems getting the kids out of bed to eat breakfast that tastes this good!