This post may contain affiliate links, which means I may receive a commission if you click on a link and purchase something. As an Etsy and Amazon Associate I earn commissions from qualifying purchases.
My daughter can't get enough of pasta salad, she'd eat it for every meal of the day if we let her. But I confess that up until now I have been buying it from the store! So today I thought I'd see if I could find any easy pasta salad recipes for kids and what do you know I ended up with a list of 35 so I thought I'd share with you too!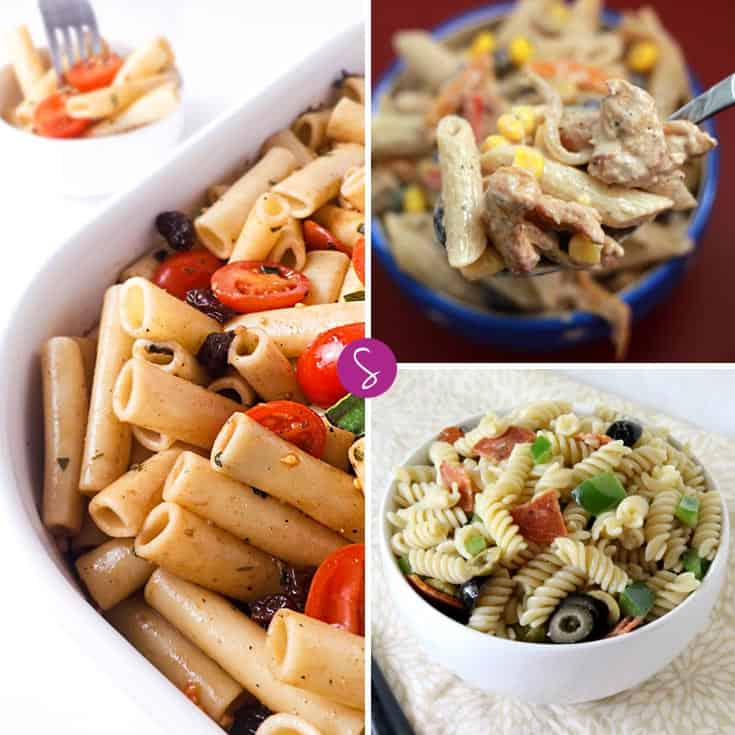 Easy Pasta Salad Recipes for Kids

"When the weather is summer like one of the things I do is stop using my stove for cooking–and yes, we do still eat! I just start using my grill or I cook early in the day when it is cooler. I will often cook food in batches and then put them in my fridge or freezer to pull out later that day or even later that week. We also have simple suppers, like my daughter's favorite Italian Pasta Salad." – NEPA Mom
"I made this salad for a fun little get together my daughter is having for her friends today. Everyone loved it and asked for the recipe." – Flour on My Face
"Summer time is one of my favorite times of the year for throwing together a pasta salad. There are so many delicious and colorful vegetables available at this time of the year. Pasta salads can be made in so many different ways with so many different combinations of pasta, vegetables, dressing and seasonings. They come in very handy when entertaining a crowd or just feeding the family. Zest up your dinner with this Kraft Zesty Italian Garden Pasta Salad." – Flour on My Face
"This summer I can't seem to get enough pasta salad. I serve it as a side or the main course depending on the mood I'm in. This Chili Pasta Salad is a meal in itself though! I was inspired to make this recipe after whipping up a batch of my Pantry Chili a few weeks ago. I wondered what a Chili Pasta Salad would taste like. The answer? Delicious!" – Simply Stacie
"You really can't go wrong with pasta salad. As long as the noodles are cooked, it's pretty much a foolproof recipe to make. It's fast to make, versatile and inexpensive. You can make a delicious pasta salad with canned foods, leftover meat, fresh garden veggies, herbs, spices, dressings, etc. You get the picture. This particular pasta salad that I'm sharing today is made with peas, corn, bacon mixed with garlic, lemon and butter. I love using bow tie pasta because it looks so nice in a bowl!" – Simply Stacie
"This Jalapeno Ranch Pasta Salad has a creamy, homemade ranch dressing with a kick of flavour. It's loaded with veggies and black beans to give it a southwest edge." – Simply Stacie
"Pasta salad is pretty popular around here once Spring and Summer arrive. It's perfect for a family picnic or party and even as a simple evening side. And it's so simple for the kids help make, too. Here's how we made ours more fun for the kids using some Kraft Zesty Italian Anything Dressing and a star cookie cutter…" – B-Inspired Mama
"Buffalo Chicken is a staple at any tailgating party. We've all tried Buffalo Chicken Wings, Buffalo Chicken Dip… but what about Buffalo Style Chicken Pasta Salad??! Break out your favorite hot sauce and let's try a new recipe for the Ultimate Tailgating Party!" – 3 Boys and a Dog
"This weekend we had a BBQ feast over at my parents house. I made steak kebabs and brought some hot dogs for the kids. I also whipped up a batch of Bruschetta Chicken Pasta Salad because nothing says summer quite like pasta salad." – Simply Stacie
"This Greek Pasta Chicken Salad is one of my favorite recipes to make for summer parties. Enjoy!" – Kids Activities Blog
"I made Italian pasta salad and threw some cilantro in there, and it turned out really well. The great thing about pasta salad is that you can throw in the ingredients you have on hand and skip the ones you don't and it still turns out good (except for maybe the pasta. That's kind of key.) And you can serve it up as a main dish, or as a side at a barbeque or something. So flexible and low maintenance, pasta salad." – Peace But Not Quiet
"Cold pasta salads are always my go to dishes for summer potlucks. They also make a great simple lunch or dinner when it's just too hot to cook. There's something about ramen that my kids just love – and I love how quick it is to cook! We had a potluck to go to so I pulled this together – all the kids loved it and it was super fast and easy to make." – Sunny Day Family
"As Mother's Day passes on and spring is in full swing cooking light easy meals is on this mommas agenda. One of my favorite recipes growing up during Spring and Summer days in Puerto Rico was my moms Puerto Rican Style Creamy Pasta Salad. " – ABC Creative Learning
"Today I bring you one of my all time favorite recipes. This is my Favorite Tortellini Pasta Salad Recipe, and it is amazing. This is one of my mom's recipes, and it is one of those recipes that I have a really hard time trying to limit myself on how much is an appropriate serving size. I sample it the entire time I am making it. I pick at it once it is done. I can't get enough once it is served and leftovers don't stick around for long. It is one of those dishes that burns memories in my head. I know we had this for my sister's rehearsal dinner. I know it has become a staple at 4th of July. I can recall specific dinners with this pasta." – Meaningful Mama
"Pasta salad is a great summer side dish, especially for big get-togethers, pot lucks, and your favorite backyard BBQ! Over Memorial Day, we had a fun little party with some friends and I brought this Italian pasta salad. It paired perfectly with our ribs, chips, and fruit!" – Mom Endeavours
"My kids love chicken, fruit, and pasta. Veggies are another story. They are getting pickier when it comes to what kind of veggies they eat. I found that if I add fruit to veggies, they'll eat a lot more of them just to get to the fruit." – True Aim Education
"Are you tired of peanut butter and jelly sandwiches in the hot summer months? Ultimate tuna pasta salad is to the rescue! I love this version because it includes a pasta that's packed full of veggies!" – Pint Sized Treasures
"Summertime is all about BBQ's, cookouts, picnics and easy meals made with delicious ingredients. This Classic Tuna Pasta Salad is one that my grandmother made all the time. Whether it was a potluck or BBQ she was invited to she made this classic dish to rave reviews. She always told me that she used to make the dressing herself but once she found Kraft Coleslaw Dressing she never went back to making it from scratch again. The "new" classic is a family favourite and the perfect side dish for your favourite BBQ." – Family Food and Travel
"This kid friendly pasta salad recipe is pretty simple and it only takes 15 minutes to make, yet it's pretty enough to be served in a party. Like a pool party." – Playtivities
"During the summer we love taking advantage of the warmer weather and we dine al fresco as much as possible. This Asparagus and Artichoke Orzo Pasta Salad is one of my favorite summer recipes. It's the perfect side dish and goes with everything from grilled chicken to sandwiches. I like to serve it in small Mason jars which makes it portable and fun for picnics and family BBQ's." – Giggles Galore
"I know, I know…calling this the best pasta salad recipe ever is a hefty claim. After a few bites though, you'll know that this baby walks the walk, too. I get asked to bring this dish to every family gathering and potluck we're invited to, so I'm guessing that the six dozen or so people that I've shared this recipe with would also agree. The best part about this recipe is that it is super versatile, so you can add or swap out ingredients to your liking." – Happiness is Homemade
"The secret to this Cucumber and Tomato Pasta Salad is beautiful summer vegetables. A great side dish for summer BBQs." – Homemade Interest
"This healthy pasta salad is made with tofu noodles to keep it light and healthy! It's a vegetarian meal that is easy and perfect for spring parties!" – Food Faith and Fitness
"This pesto pasta salad is made with spiralized turnips, asparagus and peas and is tossed with tarragon pesto for a light, healthy and easy Spring meal!" – Food Faith and Fitness
"This Healthy Pasta Salad with Artichokes and Lemon Vinaigrette is quick, easy and filled with creamy, roasted artichokes, bright fresh basil, garlic and Parmesan cheese. It makes great leftovers!" – Food Faith and Fitness
"Today I am going to share with you the perfect summer salad recipe. I cannot tell you enough how absolutely amazing this pasta salad is. If you could bottle up the taste of summer, this would be it folks." – Crystal & Co
"Barbecue season is back and we couldn't be happier for the warm weather and backyard grilling that's going to happen during this wonderful time of year. While having the perfect steak, chicken, brisket, or ribs on the grill or smoker are great, there is always room to spice up meals with a delicious side, like an easy pasta salad." – Moms Confession
"Chicken Bacon Ranch Pasta Salad is a great way to keep your kitchen cool during the hot weather. Pasta, cubes of cooked chicken, chopped bacon, two kinds of cheese and other bits o' deliciousness are combined with ranch dressing and chilled before serving. " – Cooking Mimi
"Sweet & Spice, this pasta salad is everything nice!" – Momma Young at Home
"I have been making this particular recipe for years – probably since college in fact. It is a fabulous recipe because it is so easy to make. You can make a bit batch of it and take it to potlucks and family meals or just have enough for lunch all week long. It is perfect for a quick, one bowl meal and can become vegetarian by simply leaving the chicken out of it. And it is served best cold so you don't even have to heat it up!" – Divas Run for Bling
"You guys are going to love this easy gluten free Italian pasta salad. I didn't used to like Italian pasta dishes, but after making this, I get the feeling that this is the beginning of a beautiful relationship. " – Natural Chow
"For this family gathering, we wanted to bring a side dish along, so we decided to make a Chicken Fajita Pasta Salad. This pasta salad is easy to make and delicious. It's the perfect dish for family gatherings because of it's simplicity. No need to spend hours in the kitchen!" – The Latina Homemaker
"I have been searching for the perfect sour cream cheddar pasta salad recipe for years. My love of sour cream cheddar pasta salad came about the first time I ate some years ago when a friend shared some with me. I fell in love. I love a good pasta salad don't you?" – Flour on My Face
"This week's #SundaySupper is all about Picnic recipes and this Broccoli and Tomato Pasta Salad recipe is one of my very favorite pasta salad recipes, perfect for a picnic or backyard bbq side dish." – Flour on My Face
"Summer is just around the corner and around here that means that we go a little caprese crazy! Today I'm sharing an easy caprese pasta salad recipe that is perfect for family get-togethers, barbecues, cookouts or just a quick dinner to enjoy at home with the family." – Frugality Gal
---
~Clare, currently pinning to Kid Friendly Recipes
Follow our Kid Friendly Recipes board on Pinterest.
---