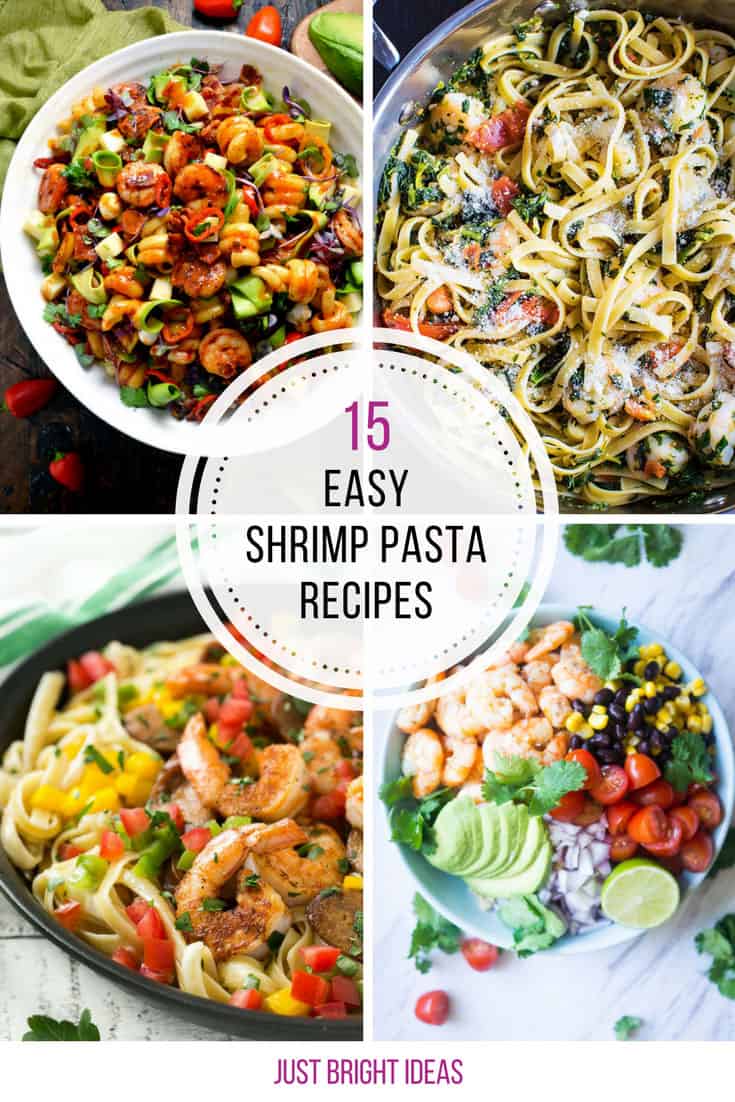 Pin these ideas! Hit the button to save these ideas for later. Don't forget to follow us on Pinterest for more great stuff!
This post may contain affiliate links, which means I may receive a commission if you click on a link and purchase something. As an Etsy and Zazzle Affiliate I earn commissions from qualifying purchases.
&
---
Simple Shrimp Pasta Recipes
If you've ever wanted to try making seafood dishes at home then these simple shrimp pasta recipes are a great place to start.
Somewhere in this list is the recipe your family will declare the best shrimp pasta recipe ever! Just take a look through and decide which one (or two or three) you want to make this summer.

Spicy Shrimp Pasta Recipes
Let's start our collection with some deliciously spicy shrimp pasta recipes.
15. Bang Bang Shrimp Pasta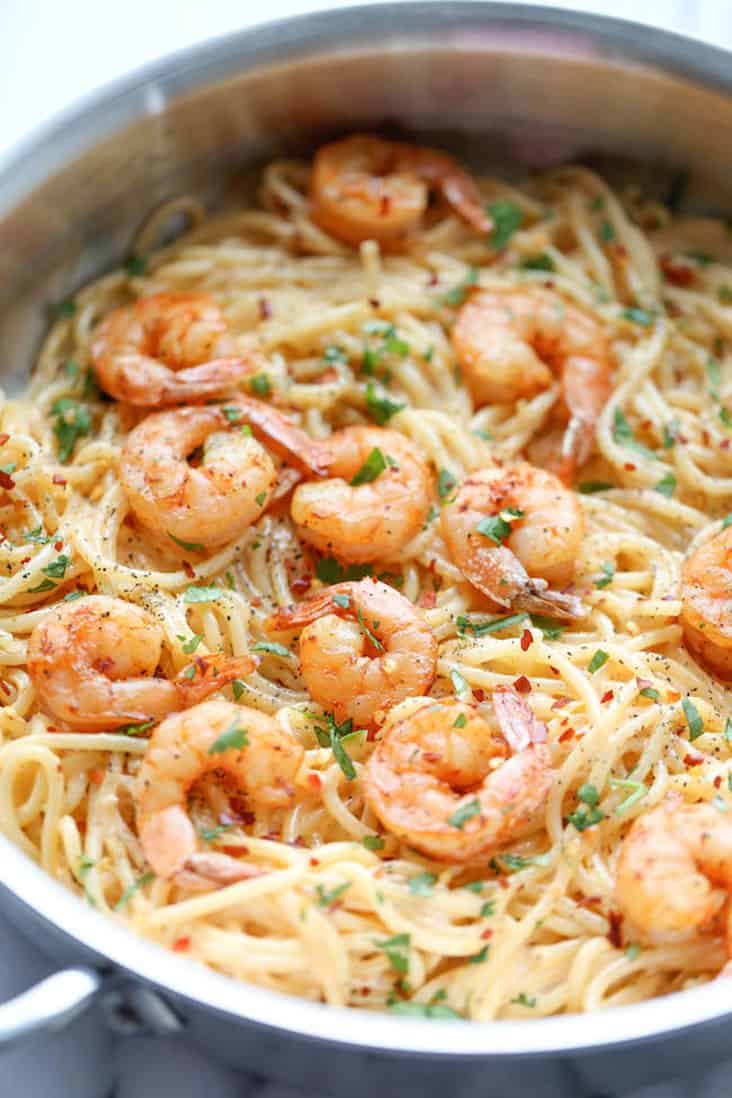 If you are just a little bit obsessed with Bang Bang sauce you need to check out this delicious Bang Bang Shrimp Pasta recipe. It takes less than 30 minutes to prepare and cook so it's the perfect midweek meal!
14. Spicy Shrimp Pasta in Garlic Tomato Cream Sauce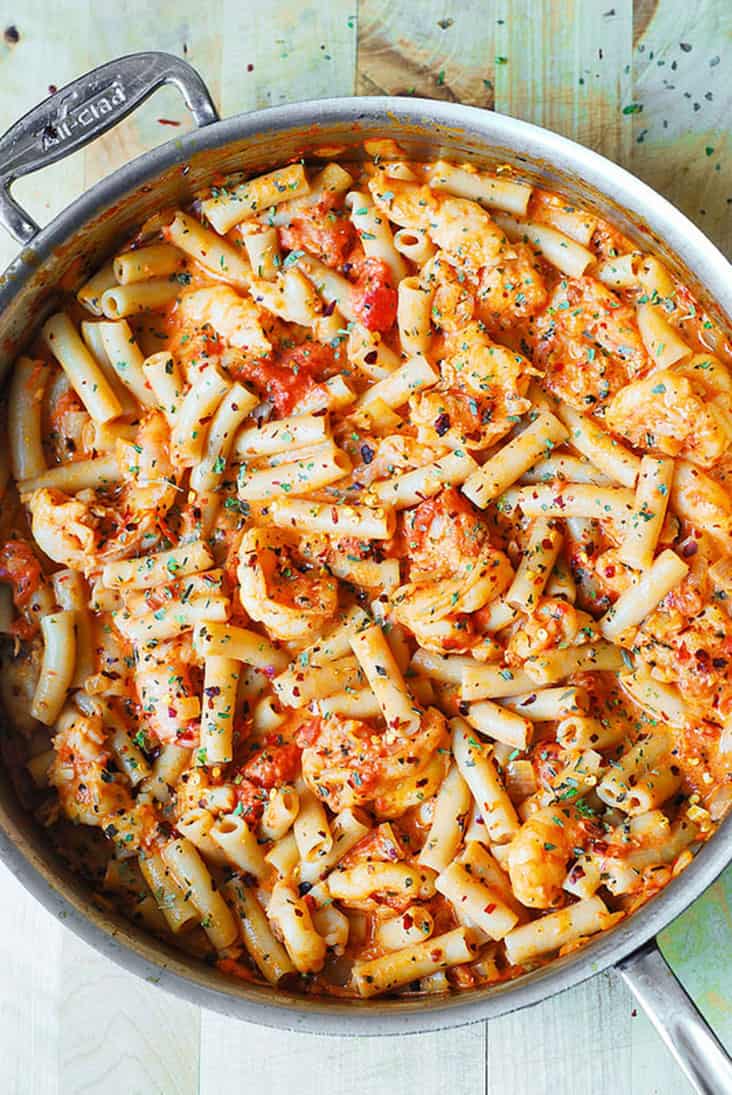 This Spicy Shrimp Pasta in Garlic Tomato Cream Sauce is a fabulous spicy and creamy shrimp combo! If you have a gluten intolerance then you will be pleased to know that this recipe can be made with Tinkyada brown rice penne pasta.
13. New Orleans Barbecue Shrimp Pasta Recipe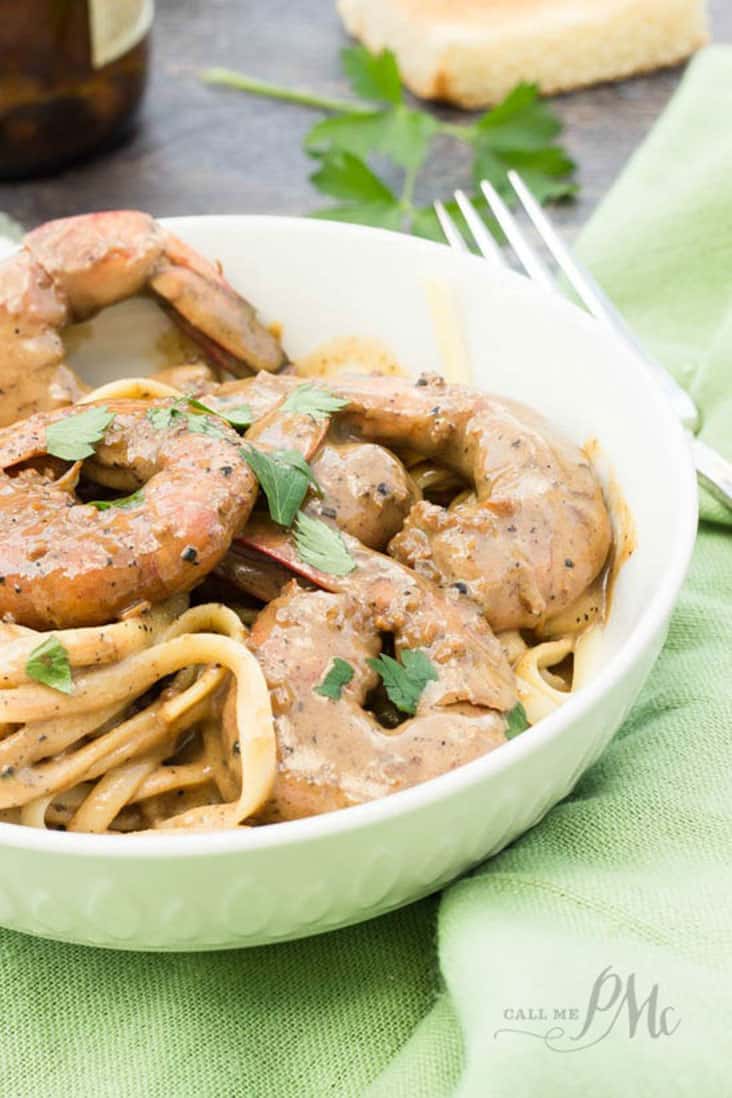 Paula describes her New Orleans Barbecue Shrimp Pasta recipe as "Simple. Full of Flavour. Impressive" which pretty much sums it up! The spice in this recipe comes courtesy of Worcestershire sauce and it's so decadent you won't even want dessert!
Cajun Shrimp Pasta Recipes
If you love the tastes of the south you won't want to miss out on these cajun shrimp pasta recipes!
12. Cajun Jambalaya Pasta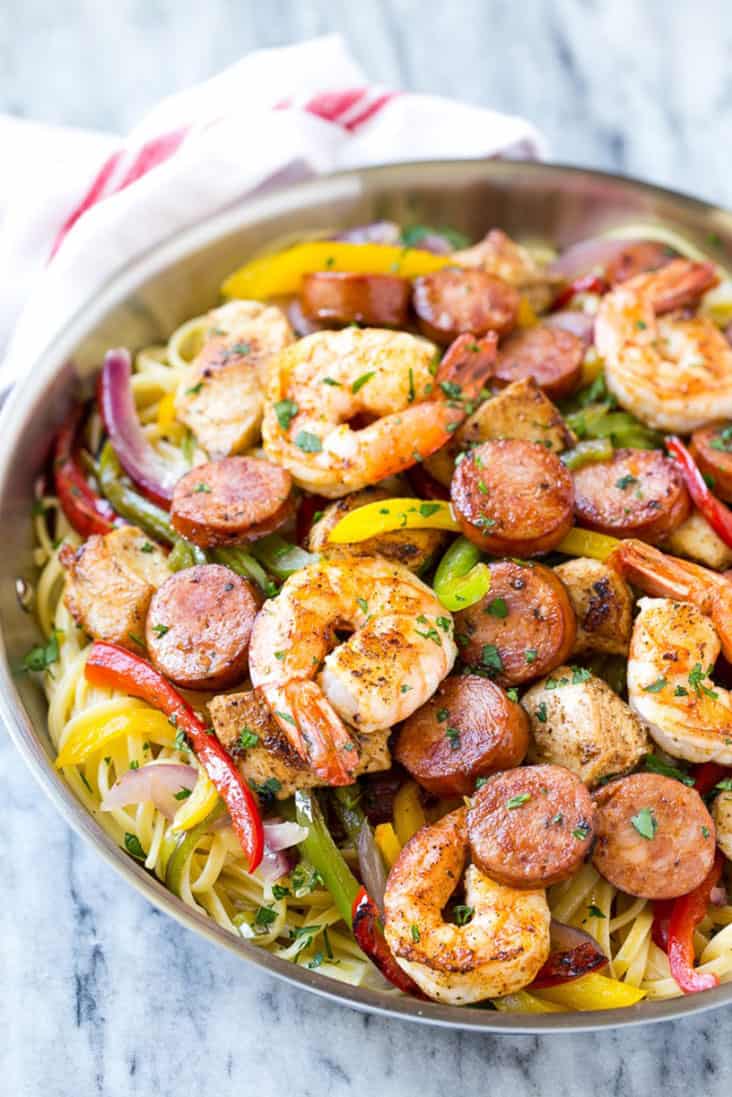 If you do a lot of entertaining during the summer months you are going to love this Cajun Jambalaya Pasta recipe because paired with a white wine it's an easy but elegant meal you can serve to your guests, and it doesn't require you to spend hours in a baking hot kitchen! Hot and sweaty is not a good look when you're entertaining right!
11. Cajun Shrimp Pasta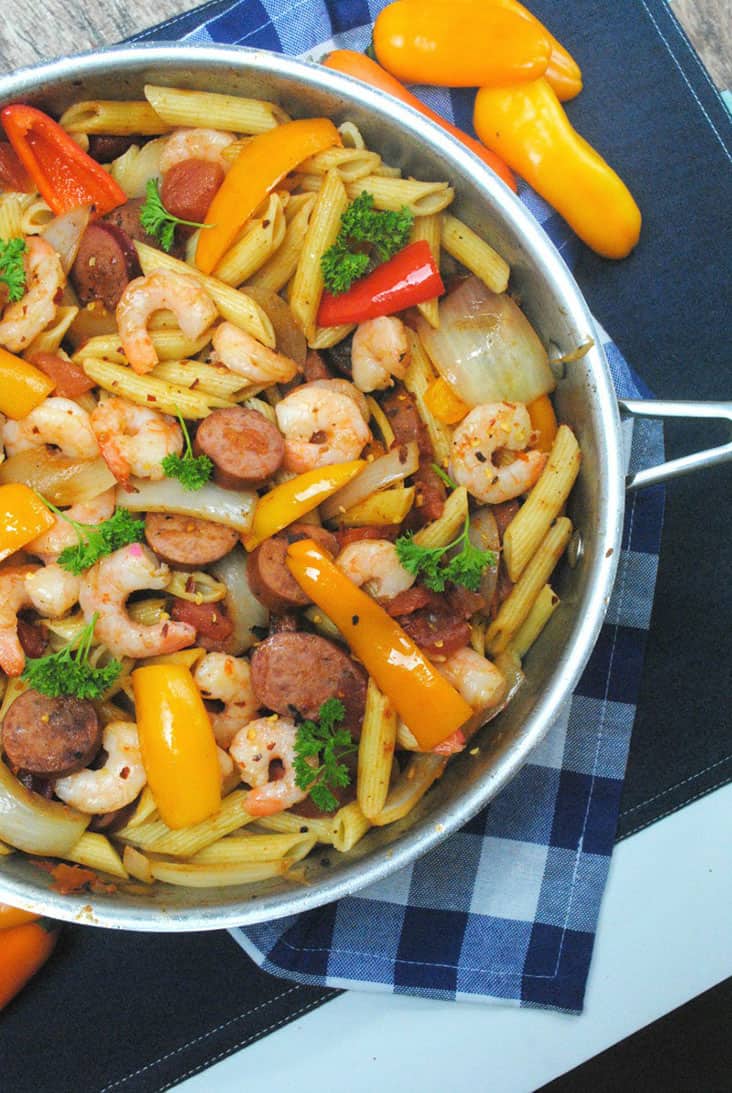 Do you grow your own veggies? If so then don't miss this delicious Cajun Shrimp Pasta that will show all your brightly coloured vegetables off to their best. Of course if you prefer to buy your veggies from the store or the local farmer's market this will still taste yummy!
10. Cajun Shrimp and Sausage Pasta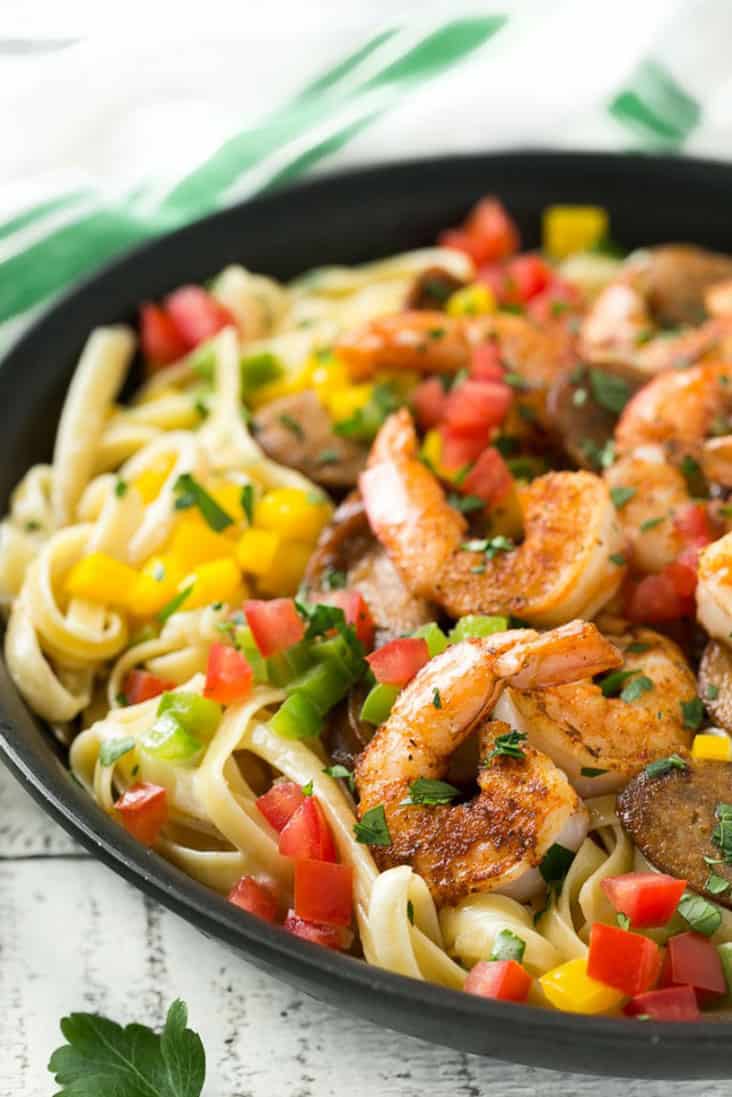 If your kids love sausage and pasta dishes this is the recipe for you to try and expand their horizons a little! This Cajun Shrimp and Sausage Pasta uses smoked turkey kielbasa sausage, but if your family prefers their pasta hot and spicy you can use Andouille instead.