This post may contain affiliate links, which means I may receive a commission if you click on a link and purchase something. As an Etsy and Zazzle Affiliate I earn commissions from qualifying purchases.
These coloful rainbow crochet patterns are easy to follow and the perfect way to bring a splash of colour into your life. They make great gifts too!
I know you're always on the look out for new crochet projects to make so when the team at Etsy got in touch and asked me to tell you about their Favourite Lists feature I knew I was going to have to share my list that's filled with colourful rainbow crochet patterns!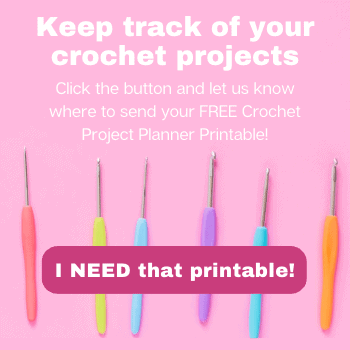 I have a lot of favourites on Etsy, I'm always on the look out for gifts to buy for friends and family, educational projects for the kids and of course craft and crochet projects!
The list feature helps you to group similar things together so they're easier to find. You could make a Christmas list, a list of home decor items for your home if you're decorating, or even a wedding planning list!
We're talking crochet patterns today though so let me show you just a few of the cute rainbow projects that I shared to one of my favourites lists.
Rainbow Crochet Patterns You Can Buy on Etsy
Photo Credit: www.etsy.com
This colourful rainbow pillow pattern was designed by ACraftyConcept and I just love the pompom effect of the bobbles. It would be perfect for a little girl's bedroom, or just to brighten up your sofa!
Photo Credit: www.etsy.com
Awww how cute is this little elephant with his rainbow trunk and ear! I just couldn't pass him by when I saw him. You can buy the pattern from the OneandTwoCompany store on etsy and he would be a perfect gift for a baby shower!
Photo Credit: www.etsy.com
If you have a little girl in your life to crochet for you have to check out this adorable rainbow coloured star jacket designed by WoolyGiraffe.
Photo Credit: www.etsy.com
Hands up if you remember Rainbow Bright from your childhood! This cute tribute doll is so sweet with her rainbow leg warmers and sweater! The pattern was designed by the very talented AmourFouCrochet and its easy enough for beginners to follow.
Photo Credit: www.etsy.com
I love to see the Rainbow Lorikeets when we go to the zoo so I just had to include this fabulous amigurumi pattern designed by CAROcreated. It's a tricky pattern as you might imagine but there are lots of pictures to help you follow along.
Photo Credit: www.etsy.com
This rainbow lines crochet pattern from StoutosStuff is just stunning and would be a really good one to use for your annual temperature blanket!
Photo Credit: www.etsy.com
If you want to use the exact same yarn that the designer did when following a pattern be sure to check out this lambswool crochet blanket kit from SolidMarl. It's a wonderful gift idea too.
Photo Credit: www.etsy.com
I know how much you love unicorn crochet patterns so I had to include this magical little guy from Jodiesyarn. I love the twirly rainbow mane!
Photo Credit: www.etsy.com
If you always decorate your home with Tomte gnomes at Christmas you need to check out this fabulous pattern from PamPinostore. These rainbow gnomes will happily brighten up your home for the rest of the year!
Photo Credit: www.etsy.com
Here's another bobble blanket that I couldn't resist sharing with you from JensWebofYarn. When you open the blanket out it has a rainbow on it and it's just beautiful!
Photo Credit: www.etsy.com
I found so many fabulous rainbow crochet patterns on Etsy that I couldn't possibly share them all here. I have a feeling I'm going to be adding more to my favourites list on Etsy over time so be sure to click over and browse through the other gorgeous patterns I saved to the list!