These fun Thanksgiving activities for preschoolers and toddlers include turkey crafts and sensory bins!
This post may contain affiliate links, which means I may receive a commission if you click on a link and purchase something. As an Etsy and Amazon Associate I earn commissions from qualifying purchases.
Thanksgiving Activities for Preschoolers
It's time to start thinking about Thanksgiving activities for preschoolers. Whether you want turkey crafts or sensory bins we've got a whole ton of ideas for you and your kiddos here today!
We've even got some gross motor activities to help them get their wriggles out and some yummy Thanksgiving treats that are perfect for snack time.
Related Posts:
Thanksgiving Preschool Craft
Crafts are a great way to develop fine motor skills and creativity and at the end of the session your child will have created something they can show to daddy or their grandparents.
In fact I may have gone a little overboard on crafts this week because Thanksgiving is a great time for crafts to be given as gifts, and for crafts to be used in decorating the home and dinner table.
These are some of my favourite preschool Thanksgiving crafts that you might want to try. And of course with a little support these crafts work just as well with toddlers and even babies too!
T is for Turkey Craft Chocolate Bar Wrapper



Here's a turkey craft with a difference, he's a chocolate bar wrapper! (via The Educators' Spin On It)
Turkey Activities for Toddlers Paper Plate Craft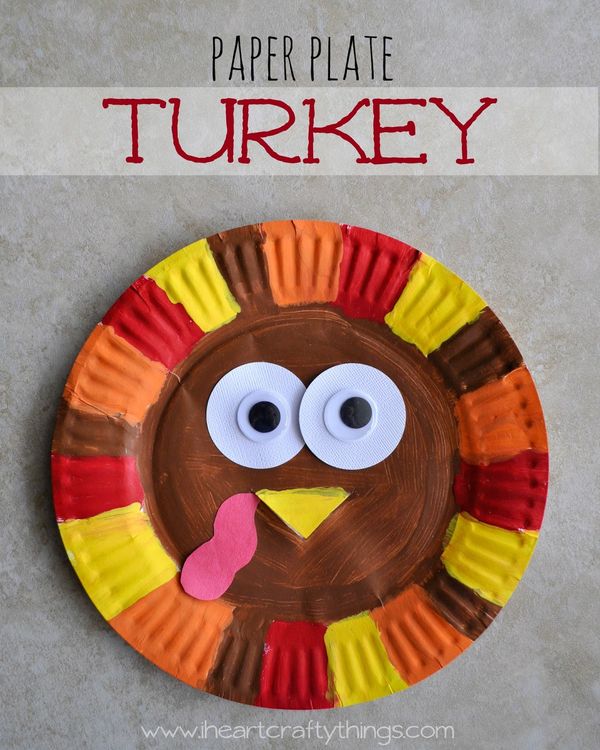 Oh my, is this our first paper plate craft for the week? (via I Heart Crafty Things)
Thanksgiving Crafts for Infants Turkey Handprints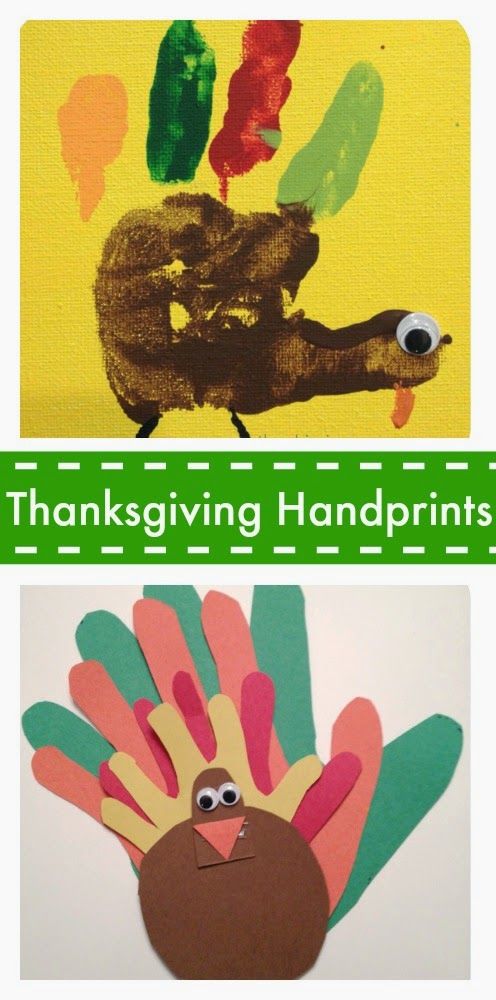 I've been searching high and low for a Thanksgiving handprint craft and I finally found one. This will make the perfect gift for Grandma. (via The Chirping Moms)
Washi Tape Turkey Craft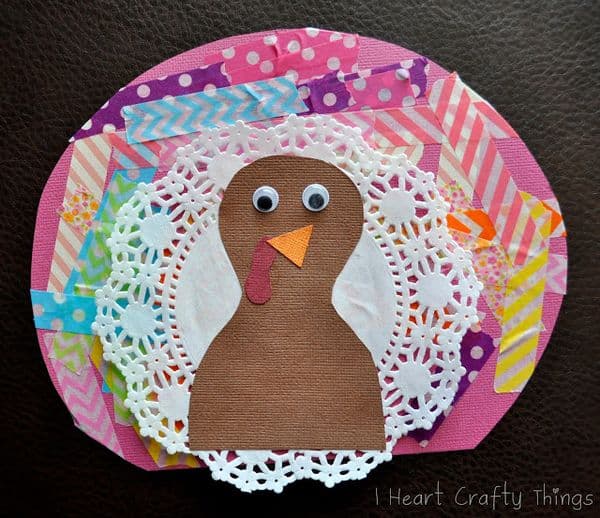 Do you love your children enough to let them play with your washi tape? (via I Heart Crafty Things?)
Thanksgiving Wreath Activity for Preschoolers Handprints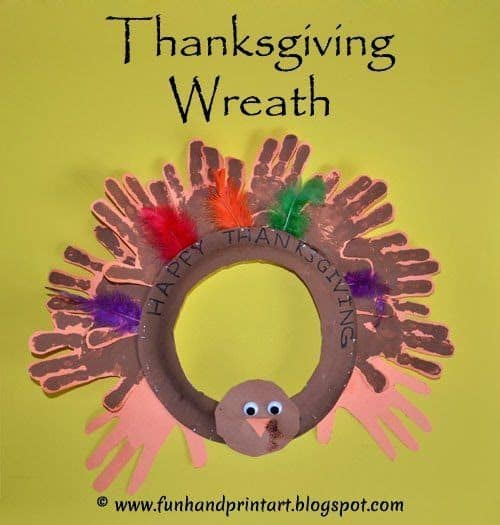 Here's a wonderful way to use those handprints to make a wreath. (via Artsy Momma)
Thanksgiving Preschool Craft Pinecone Turkeys


This turkeys are super cute and you can get in some extra fine motor practice having your little on pole those feathers into the pinecone! (via A Pumpkin and a Princess)
Thanksgiving Crafts for Toddlers Table Runner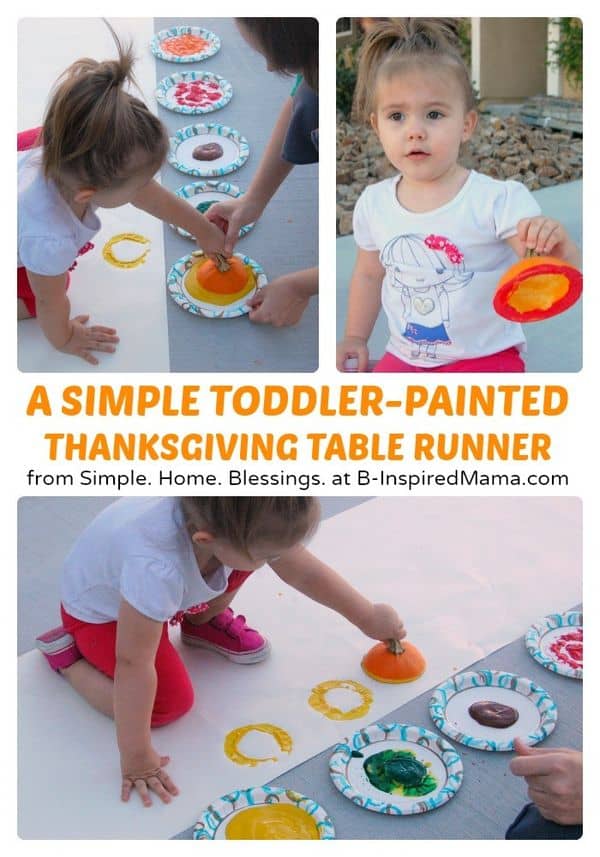 Here's a practical craft that your kiddos will be proud to show off to guests at Thanksgiving dinner. (via B-Inspired Mama)
Turkey Windsocks for Preschoolers to Make


These windsocks are adorable! And the perfect way to recycle some empty tin cans! (via Happiness is Homemade)
Thankful Activities for Preschoolers Handprint Tree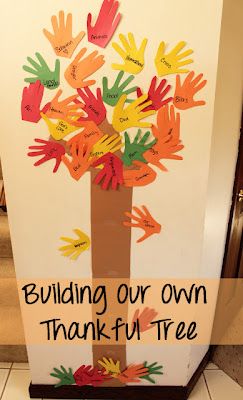 What a brilliant idea to use handprints from all the family to create your very own thankful tree! (via Our Goodwin Journey)
Preschool Thanksgiving Crafts Turkey Puppetss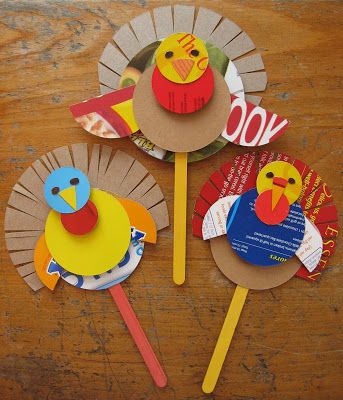 Aww here's some more cute turkeys this time using old cereal boxes! This is one you'll want to prep ahead of time, and you might want to use one of these to make perfect circles without fiddling about with scissors! (via My Plum Pudding.)
Thanksgiving Books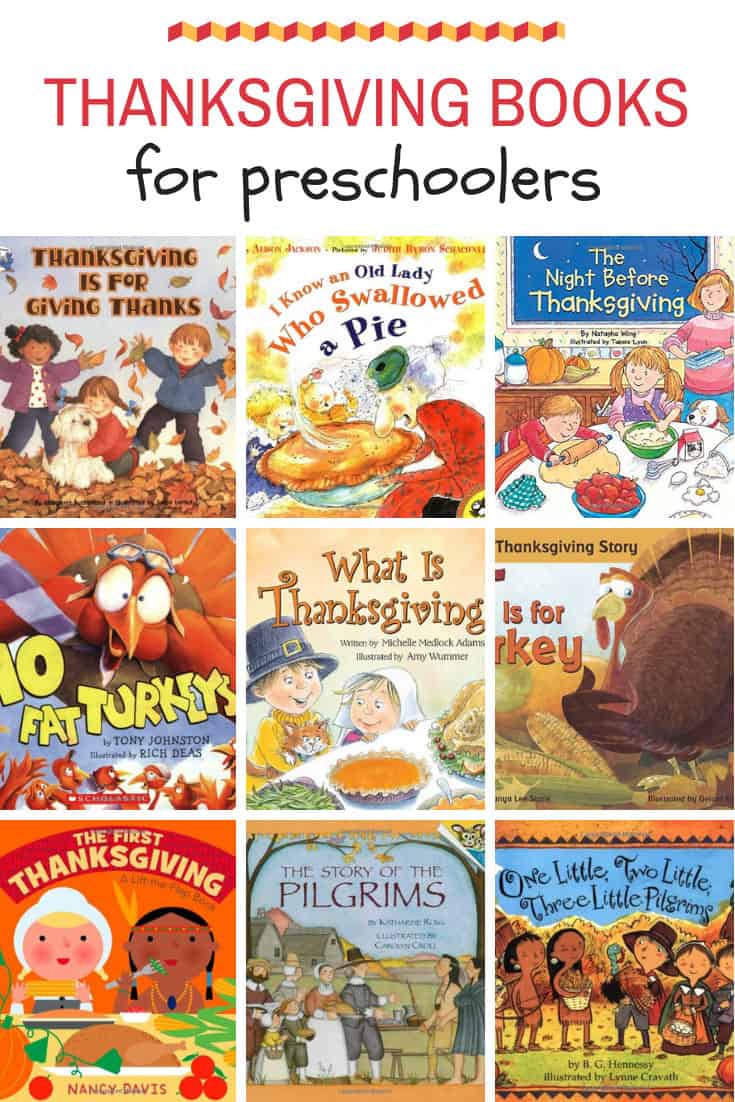 Studies show that a child who reads for enjoyment every day develops a broad vocabulary and general knowledge and should do better at school than those who don't.
Here are some Thanksgiving themed books for you to read together:
Thanksgiving Activities – Fine Motor Skills
Fine motor skills are an important part of your tot's development, because without them they won't be able to write, grasp small objects or fasten zips on their clothing.
Here are some wonderful Thanksgiving activities to help develop those fine motor skills through play:
Thanksgiving Activities – Gross Motor Skills
We must not forget about helping develop the larger muscles needed for gross motor skills and encouraging climbing, running, crawling and jumping.
Here are a couple of wonderful Thanksgiving gross motor activities to get your little one up and moving:
Turkey Scramble – Think musical chairs, but with turkey feet!
Turkey Feather Hunt – Oh wow I love this idea and cannot wait to play it with the kiddos. Hide and seek but with turkey feathers.
Thanksgiving printables
To help develop numeracy and literacy skills you can use one of the many free printable packs that are shared by other mums.
Here are some fabulous Thanksgiving printables:
Thanksgiving Sensory Bins
Sensory tubs are a brilliant way to encourage learning through invitation to play. Little ones can explore their senses as well as practicing pouring and measuring, counting and patterning.
There is also an opportunity for small world play too as they explore and comprehend the world around them.
Here are some brilliant ideas for Thanksgiving sensory bins and small world play:
Thanksgiving Treats
All this learning through play is enough to make anyone hungry, so why not fix one of these tasty Thanksgiving themed snacks to enjoy together:
Related Posts: