Halloween is on the way! Are you ready to start carving pumpkins? This week I've rounded up some easy pumpkin crafts for kids to make, some by themselves and some with a little help from you. We can't wait a glow in the dark pumpkin for the front porch!
And as usual I've thrown in some links to fine and gross motor skills, pumpkin themed printables, books and yummy snacks so you have everything you need for a pumpkin themed Tot School for your toddler or preschooler!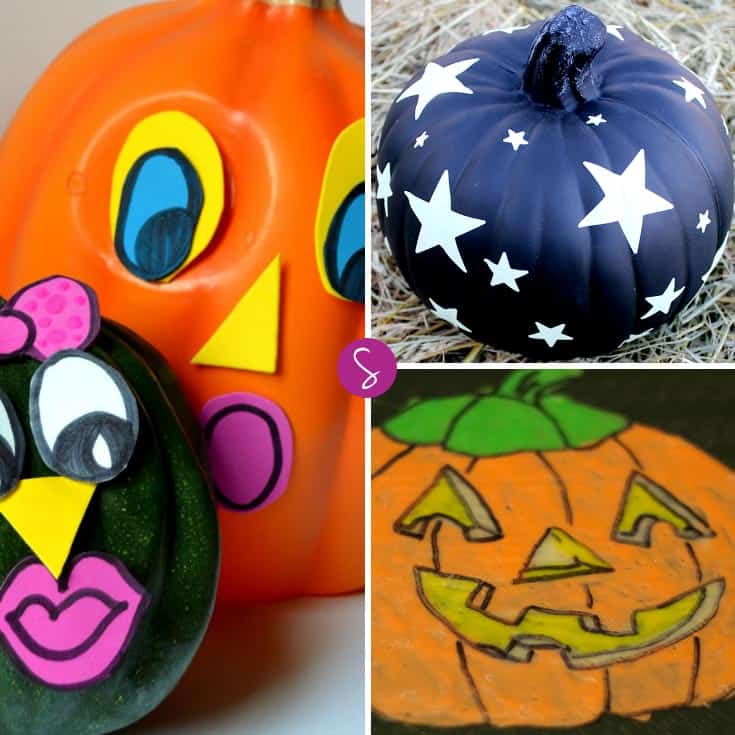 Easy pumpkin crafts for kids to make
Crafts are a great way to develop fine motor skills and creativity and at the end of the session your tot will have created something they can show to daddy or their grandparents. These are some of my favourite pumpkin crafts for toddlers and preschoolers:
Pumpkin fine motor activities
Fine motor skills are an important part of your tot's development, because without them they won't be able to write, grasp small objects or fasten zips on their clothing.
Here are some wonderful pumpkin fine motor activities for them to have fun with:
Pumpkin gross motor activities
We must not forget about helping develop the larger muscles needed for gross motor skills and encouraging climbing, running, crawling and jumping. Here are some wonderful pumpkin gross motor activities to get your little one up and moving.
Pumpkin printables
To help develop numeracy and literacy skills you can use one of the many free printable packs that are shared by other mums. Here are some pumpkin printables:
Pumpkin sensory tubs and small world play
Sensory tubs are a brilliant way to encourage learning through invitation to play. Little ones can explore their senses as well as practicing pouring and measuring, counting and patterning. There is also an opportunity for small world play too as they explore and comprehend the world around them. Here are some brilliant ideas for pumpkin sensory tubs and small world play:
Pumpkin books
Here are some pumpkin themed books for you to read together:
Five Little Pumpkins
The Runaway Pumpkin
Pumpkin Soup
The Biggest Pumpkin Ever
Duck & Goose, Find a Pumpkin
Pumpkin snacks
All this learning is enough to make anyone hungry, so why not fix one of these tasty pumpkin snacks to enjoy together:
If you enjoyed this collection of Easy Pumpkin Crafts for Kids you will not want to miss our
Easy Leaf Crafts for Kids
collection!
~Clare, currently pinning to Art and Craft for Kids – Inspiration
Follow our Art and Craft for Kids – Inspiration board on Pinterest.