DISCLOSURE: Some of the links below are affiliate links. This means that, at zero cost to you, I will earn an affiliate commission if you click through the link and finalize a purchase. All opinions are my own, and I only recommend products that will add value for my readers.
Did you know that 2021 is the Year of the Ox? Check out these Chinese New Year craft ideas for kids of all ages – with ox, dragon and paper lantern crafts!
Chinese New Year Craft Ideas
I'm sure I'm not the only one around here looking forward to 2021 when this year isn't quite over yet.
But yes 2020 has been a doozy for sure so it's no surprise really!
Today I'm actually looking past the calendar new year to the Chinese New Year, which will take place on February 12, 2021.
It will be the Year of the Ox, so I've rounded up some ox themed crafts for your kids to do at home, as well as some fabulous Chinese dragon and paper lantern crafts too!
Craft Ideas for the Year of the Ox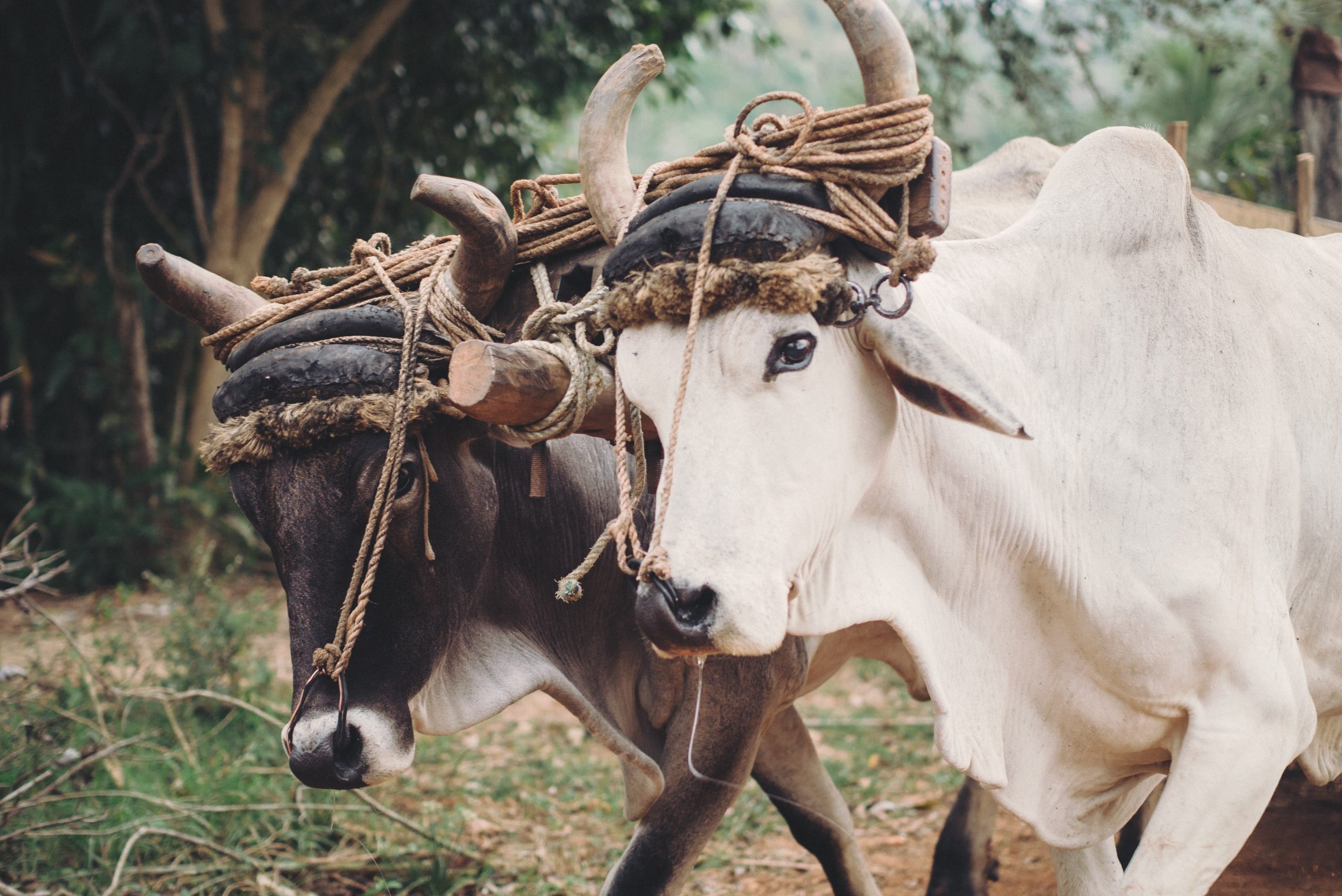 The animal associated with the year 2021 is the Ox, which is the second of the Zodiac animals.
In Chinese culture the ox is a valued animal. People born in the year of the Ox are hard workers, intelligent and reliable and they are never demanding of praise.
I struggled a little finding actual Ox crafts that kids can make, so I have taken a few creative liberties and included crafts of cows, bulls and even a yak!
You can use the photograph of oxen above to help you edit the colors and facial features of the animals accordingly.
Recycled Golf Ball Cow Craft DIY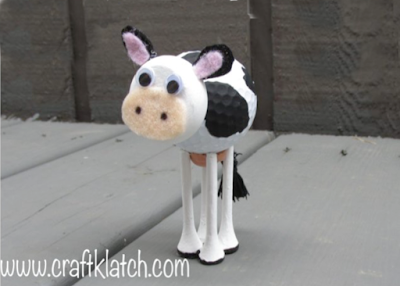 Ok I know this is a cow not an ox, but you could easily rectify that by painting him brown and making his ears a little more ox like.
This is a craft more suited for elementary students but there is a video to show you how to put this little guy together.
Source: Craft Klatch
Boris the Bull
Here's another recycled craft project, this time making good use of those empty toilet paper rolls and a couple of boxes.
Again to make this guy a little more ox-like you'll want to switch up his paint job!
Source: Free Kids Crafts
Paper Bag Cow Craft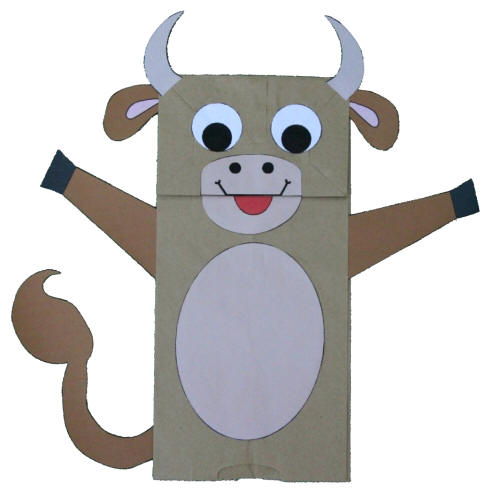 You'll need a paper lunch bag to make this puppet. You can either pick out an ox colored paper bag or use paints to make sure he's the right color.
Click through to check out the directions and print out the free templates. This is a great craft for older children to practice their cutting skills.
For the littles make sure you pre-cut everything so they don't lose interest waiting for you to do it with them.
Source: DLTK
Ox Corner Bookmark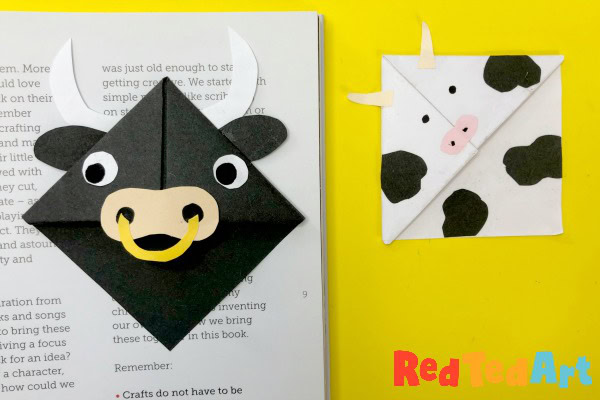 You can always rely on Maggy for inventing a cute bookmark for any theme!
Again you can adapt this craft to be a cow, an ox or even a bull just by switching up colors, nose shapes and of course a nose ring!
Origami crafts can be a bit tricky at first but once your child gets the hang of it they'll be wanting to make an ox bookmark for all their friends!
Source: Red Ted Art
Yak Canvas Craft
This cute little yak combines painting, cutting and collage skills making it a great craft for your elementary aged child.
Younger kids can join in the fun too if you pre cut the pieces for them.
Source: Craft Project Ideas
Cow Origami Envelope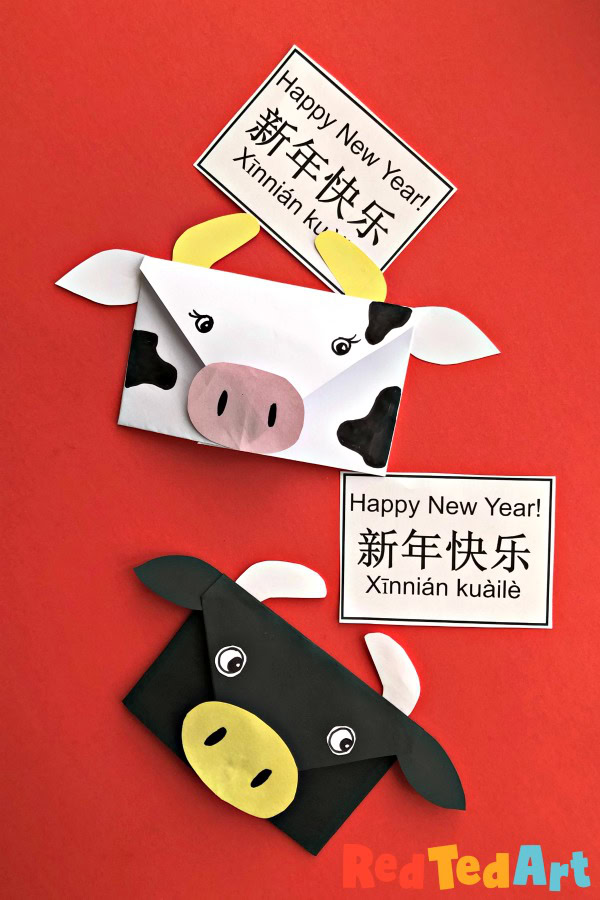 Here's another origami paper craft, this time for making a Happy New Year envelope.
Source: Red Ted Art
Ox with Card Cardboard Craft
Here's an actual ox craft that's make using cardboard, but it's best suited for teens or adults as it's quite fiddly to put together.
Chinese New Year Dragon Crafts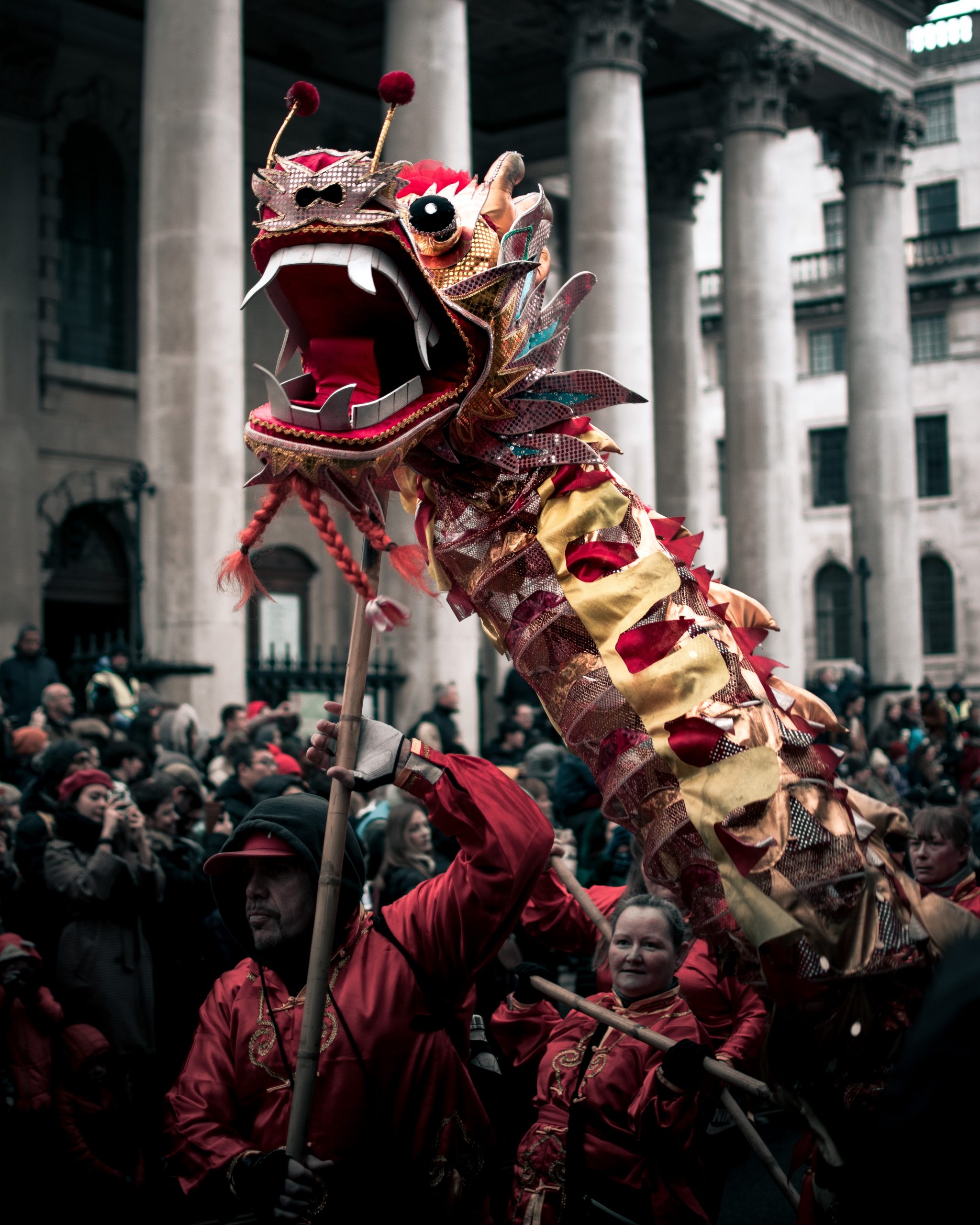 The dragon is a symbol of China and an important part of their culture. Chinese dragons symbolise power, wealth and wisdom and are believed to bring good luck too.
A dragon dance is often performed during the Chinese New Year festival so we've pulled together some fun crafts so your children can make some dragons of their own.
Chinese New Year Dragon Puppet
You'll need some paper plates to make this dragon puppet.
You can use red plates if you want a mess-free craft. Or you can let the kiddos lose with the red paint to make them look dragon like.
This is a great craft for children of all ages to do together.
Source: My Poppet
Chinese New Year Dragon Puppet Craft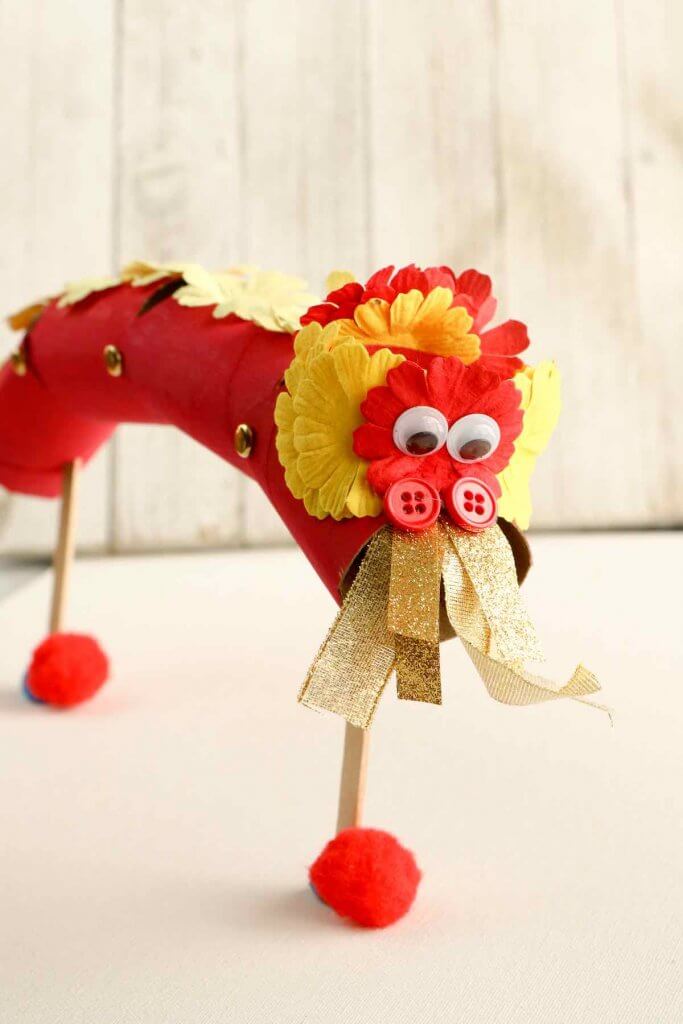 Don't worry if you don't have any paper plates to hand because this dragon puppet uses paper towel rolls instead.
I love the fact that he's breathing fire!
Source: Hawaii Travel with Kids
Chinese Dragon Mask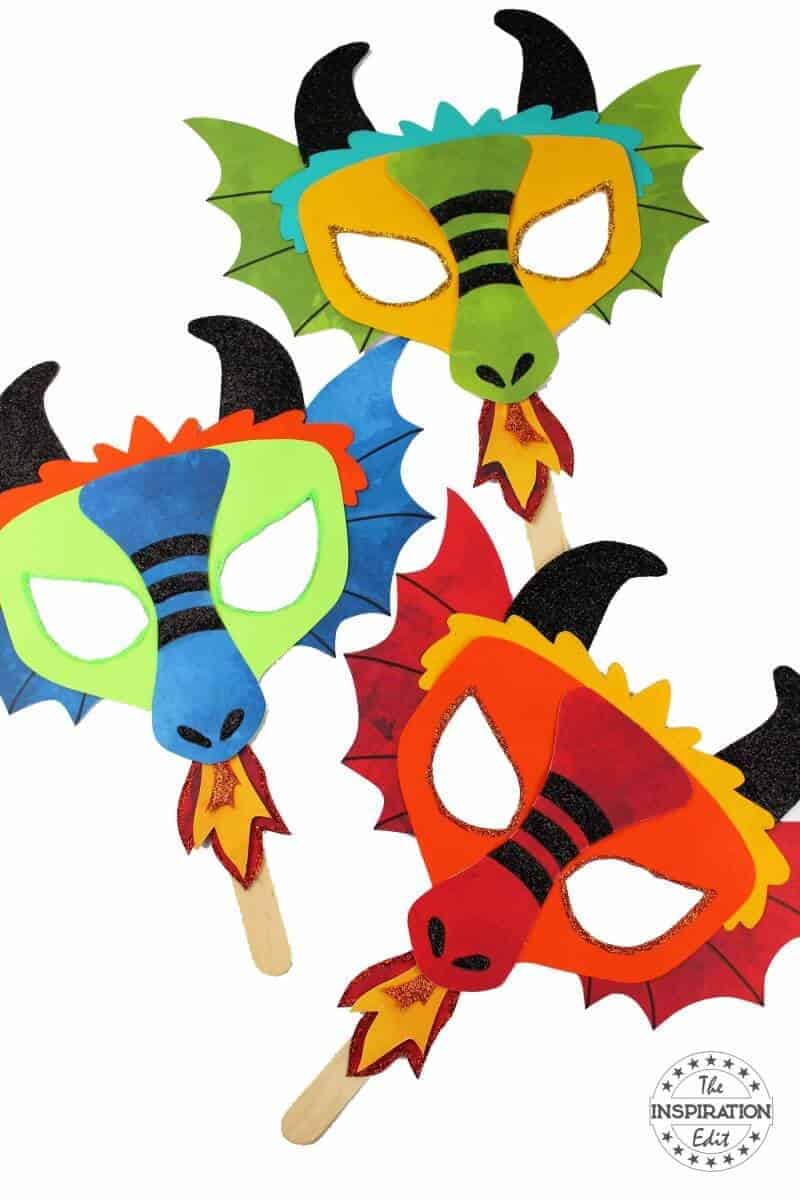 If your child wants to BE a dragon, rather than play with a puppet then check out these fabulous dragon masks!
Your kids can make these using colored paper, or color in their own designs if you only have white paper to hand.
You might also want to consider making them with felt so that they last a long time.
Source: The Inspiration Edit
Cupcake Liner Dragon Craft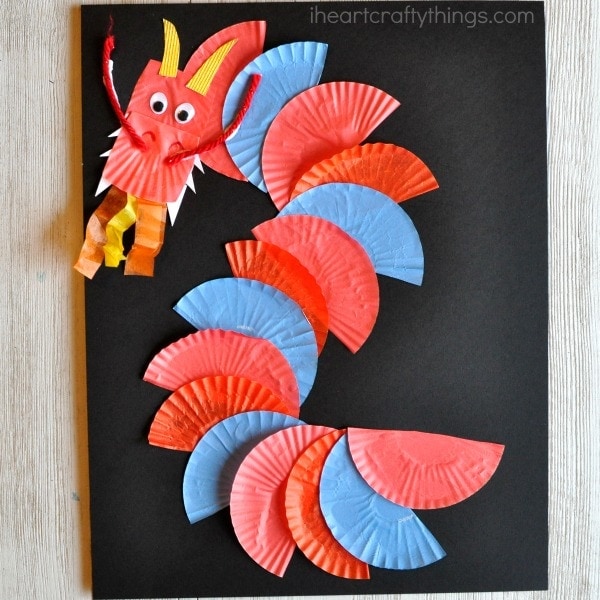 For some fine motor, folding and sticking practice you can't go wrong with this amazing dragon made from cupcake liners!
Source: I Heart Crafty Things
Egg Carton Chinese Dragon Craft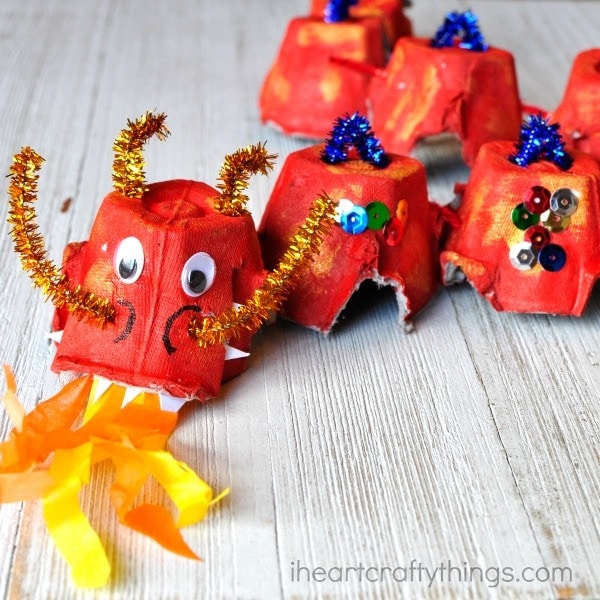 Time to raid the recycling box again for this fun egg carton craft!
I love how this dragon has been blinged up with sequins and glitter all ready for his New Year dance!
Source: I Heart Crafty Things
Tiny Dragon Puppet – Video Tutorial
This craft is for adults, or teens who have some sewing experience, but I had to include it because it is so stinking cute! Your children will have hours playing with this little guy for sure!
Chinese Lantern Craft Ideas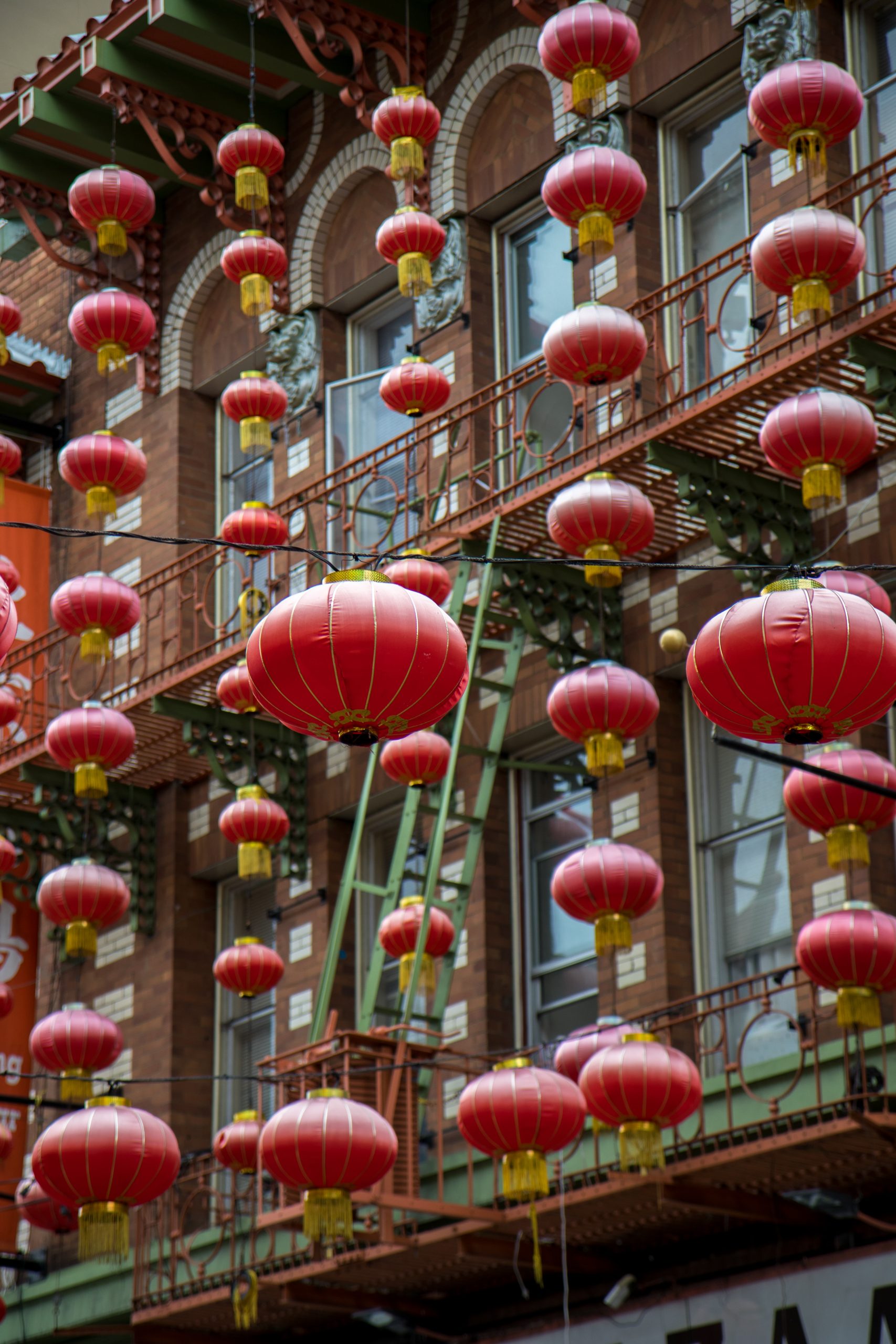 Another symbolic part of the Chinese New Year celebrations are the paper lanterns which symbolize a wish for a bright future.
They are usually red which is the symbol for happiness and are often decorated with gold accents to symbolize wealth.
Here are some simple Chinese lanterns for your children to make and decorate your home for the lunar new year.
Chinese Lantern Craft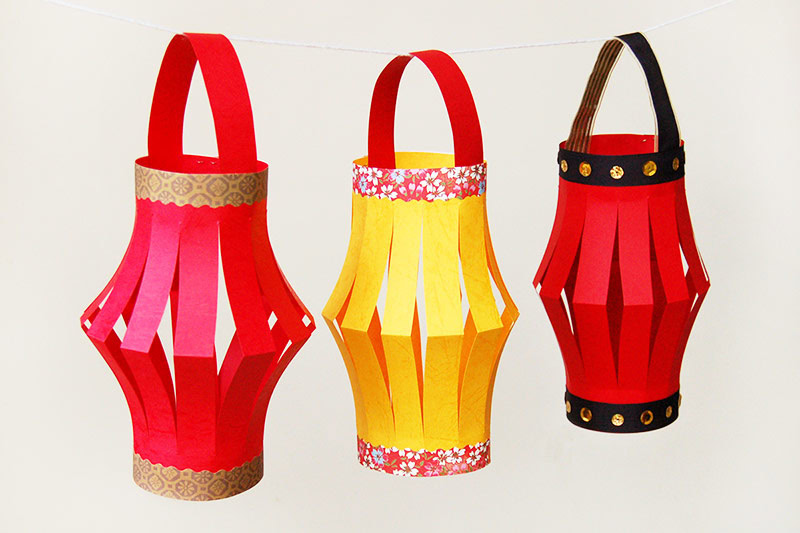 These paper lanterns are a great way for kindergarteners and older children to practice their cutting skills.
If your littles want to get involved have them decorate the paper with paints, stickers or glitter before you cut them out.
Source: First Palette
Chinese Lantern Garland
This craft is actually very similar to the last one but I'm including it to show you there are different ways of decorating the lanterns. And of course you can then string them together to make a garland.
Source: Party Delights
Chinese Lantern Craft – Video Tutorial
If you want to make some of the more rounded paper lanterns take a look at this video tutorial.
Fireworks Paining for Kids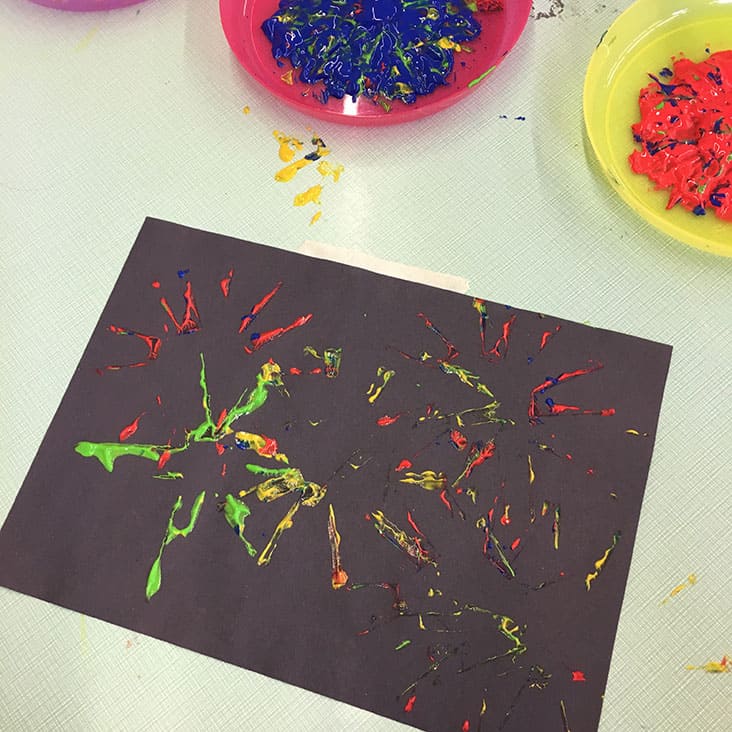 At the stroke of midnight fireworks and fire crackers are set off to scare away the evil spirits and celebrate the new year.
My kiddos did this fun fireworks painting craft when they were little and yours might enjoy it too!
Time to get crafting!
We hope these Chinese New Year craft ideas inspire you to do something to celebrate the Year of the Ox on Friday February 12, 2021!