This post may contain affiliate links, which means I may receive a commission if you click on a link and purchase something. As an Etsy and Zazzle Affiliate I earn commissions from qualifying purchases.
Your flight into Orlando can often be the most expensive part of your Disney World vacation so you'll want to do everything you can to find the cheapest possible tickets. Here are five things you can do to maximise your chances of getting ridiculously cheap flights to Disney World.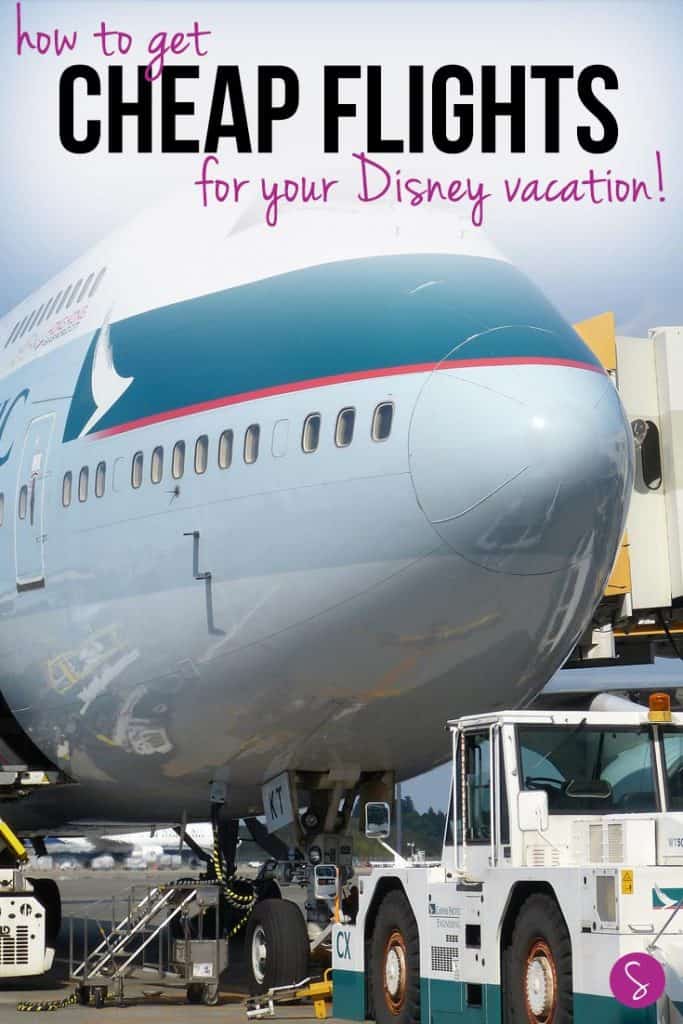 1. Shop around for cheap flights
Ticket prices on airlines used to stay pretty static, but now they can change several times a day as the airlines try to balance filling up their planes by selling cheap seats with making enough money to keep those planes in the sky.
You need to shop around, because different airlines making the same route from your local airport into Orlando will charge a different price for a ticket.
Use an aggregator website like Travelocity.com or Kayak.com to get a quick run down of all the flights that are available and the ticket prices.
You can also use those websites to test what happens to the price if you fly on a different day, or from a different airport. It might be most convenient for you to travel to your local airport, but look at the ones in neighbouring cities and see if the tickets are cheaper. You might find that the difference in price more than covers the cost of the taxi, bus or train fare to get you over to that airport.
When you think you've found the cheapest option check the airline's website to see if they are offering a cheaper ticket than the aggregator sites.
2. Get alerted when the prices change
Did you know that many airlines will send you free alerts to tell you when the price of one of their tickets drops? Visit the airline websites to sign up for the alerts which are usually via email but can also be via Twitter and Facebook. They usually put a deep discount on a handful of seats so if you spot a deal that works for your vacation you'll need to act fast to secure it.
3. Pay attention to the "total cost" of the seat
Airlines are getting a bit sneaky in the way they advertise their fares these days. You might find one airline offering a greater discount than another, only to discover that you have to pay extra to check your luggage, or to receive a meal during the flight.
If you need to travel with checked baggage then take these costs into account when comparing flights.
Of course if you're only going on a short trip you might be able to save money by travelling with just a carry on.
4. Save money by travelling on the "right" day
It's best to research your flight options before you actually go ahead and book your accommodation because sometimes you can save money by travelling on a different day. This could also mean reducing or extending your vacation by a day or so to save money.
Tuesdays, Wednesdays and Saturdays are generally the cheapest days to fly, and if you are not including a Saturday night in your stay the price is likely to rise.
If you're happy to take the red-eye you can often save money due to the inconvenient times of those flights.
5. Buy your tickets at the right time
The airlines can change their prices several times a day so you'll need to try and buy your tickets at the right time to maximise your discounts.
The best deals seem to be available on Tuesdays, Wednesdays and Thursdays, and the best time to book is four to six weeks before you travel.
If you would prefer to book farther in advance then look for an airline that will refund the difference on a ticket if the price falls. Note that this is usually in the form of a voucher that would need to be redeemed against a future flight. You can use a website like Yapta.com to monitor the price of your ticket and alert you if it falls after you have purchased.
~Clare – currently pinning to All Things Disney!.
Click here to follow our All Things Disney! board over on Pinterest.