Nothing beats a crochet garland for adding some color to your home decor. They're easy to work up and look pretty in the nursery or on the mantel!
This post may contain affiliate links, which means I may receive a commission if you click on a link and purchase something. As an Etsy and Amazon Associate I earn commissions from qualifying purchases.
Crochet Garland
When we decorated our home for the Holidays we hung some bunting in the window in my office. But now Christmas is over the window looks sad and bare. So I thought what I need is a crochet garland!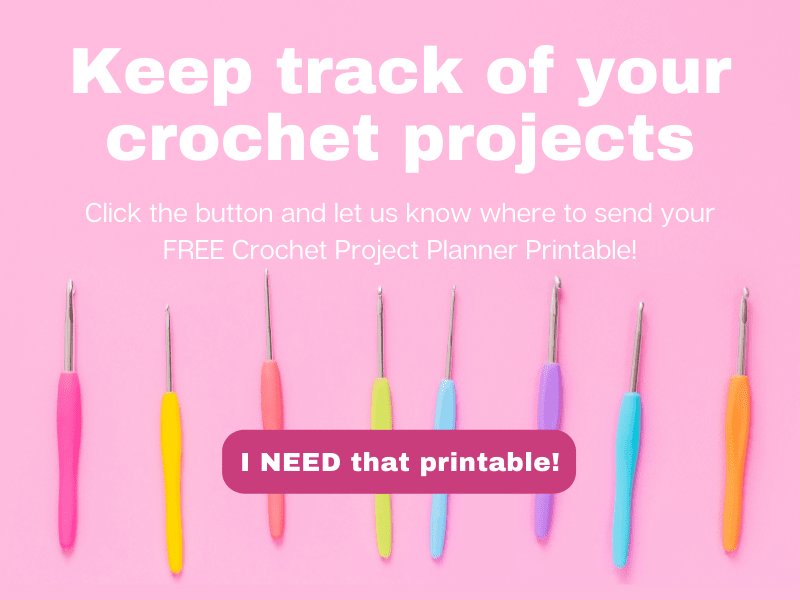 I've picked out some of my favorite patterns and designs and I thought I would share them with you in case your home needs a post-Christmas lift.
Whether you call it bunting, garlands or even a banner they're perfect for stringing over the mantel, or in a baby's nursery or child's room. Heck you don't even have to use these patterns for garlands at all because you can turn them into bookmarks or keychains instead!
1 | Birdhouse Garland Crochet Pattern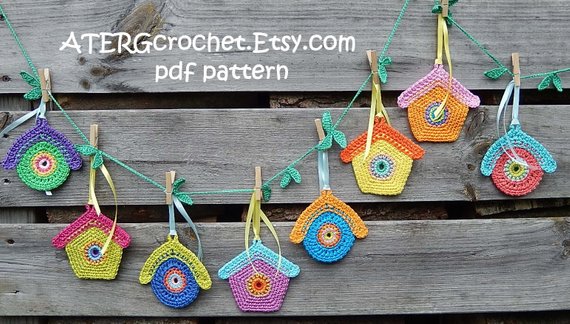 How sweet are
these little birdhouses
all strung up on a vine with little leaves! I love that the houses come in two different shapes so you can mix and match colors as well as between square and circle houses.
2 | Cactus Plant Crochet Bunting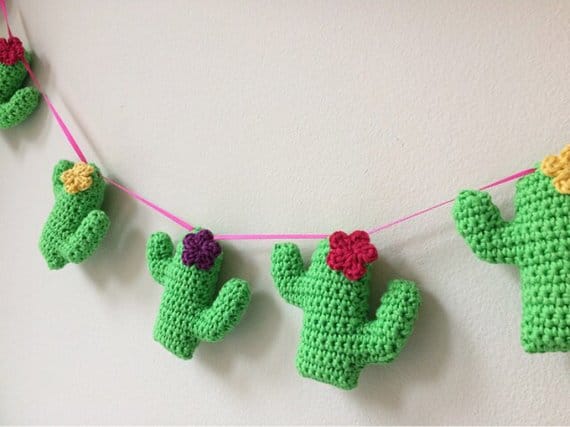 I'm guessing that the cactus craze from last year is going to continue into 2019 so why not give
this pattern a try
. If you love succulents this garland will make you smile every time you look at it! This would also be perfect for making cactus keychains!
3 | Crochet Butterfly Garland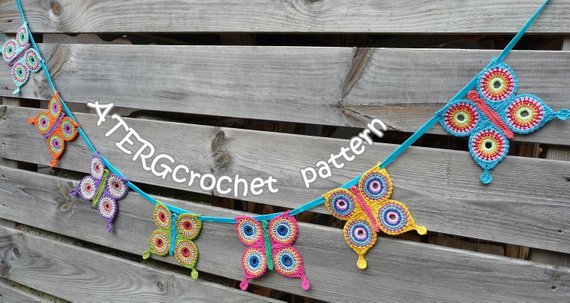 If butterflies are more you style take a look at
this fabulous design
. This is a great
scrap yarn project
because you can work those butterflies up in any color combination your heart (or decor) desires!
4 | Peacock Feather Motif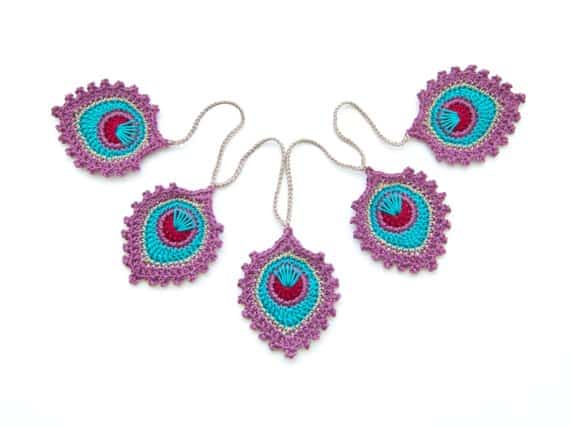 This peacock feather motif
is just beautiful! So delicate and colorful. And so versatile too! String it up to make a garland, or use it as a bookmark, or a keychain. You could even use them as appliques on blankets and pillows or on the front of a greeting card!
5 | Rose Garland Pattern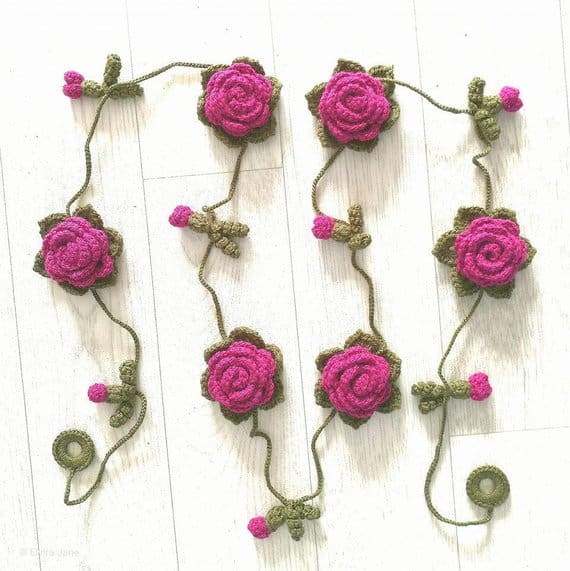 Y'all are going crazy over my collection of
flower crochet patterns
so when I saw
this rose garland decoration
I just knew you would want to see it! It's such a pretty garland it would be the perfect fit for a living room. And the roses are so beautiful you could even turn them into brooches or hair clips. If you make crochet items for sale this pattern would be a very versatile choice for you.
6 | Toadstool Garland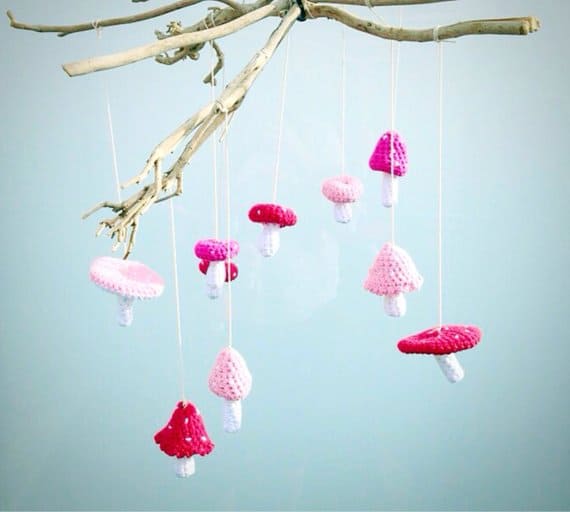 This whimsical toadstool garland
would be a fabulous choice for a baby's nursery. You can string up the toadstools to make bunting, or hang them above the crib mobile style. Just remember whether you are making garlands or mobiles for babies and children they need to be put high up out of reach as the string is a strangulation hazard.
7 | Pretty Hearts Garland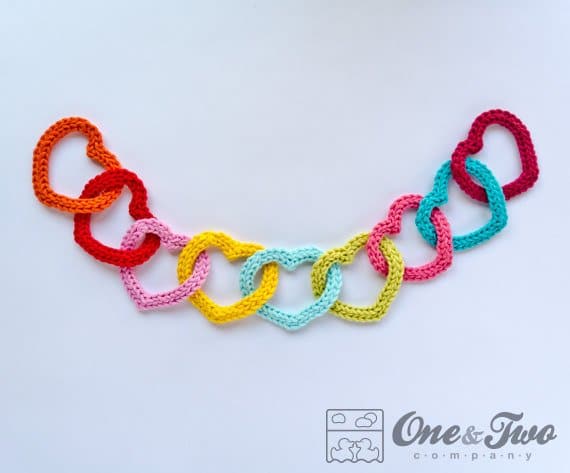 If you love to decorate your home for Valentine's Day you cannot go wrong with
this interlocking heart garland
!
8 | Tropical Pineapple Crochet Bunting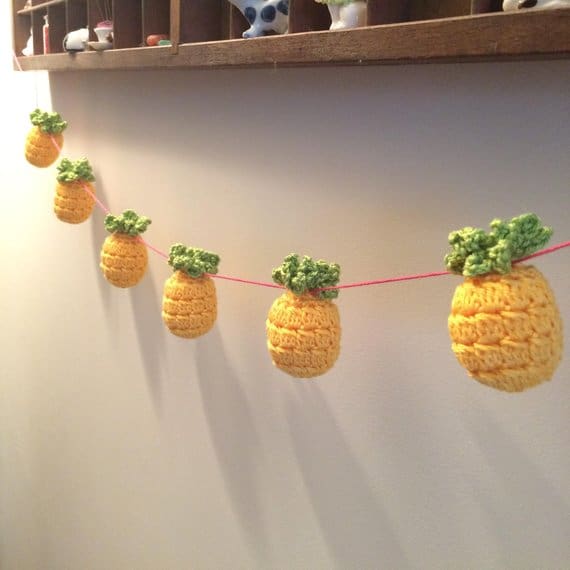 This pineapple bunting
is simply fabulous and just perfect for summer decor! I know we're not there yet but you should definitely save it to your Pinterest board for when the time comes!
9 | Crochet Heart Garland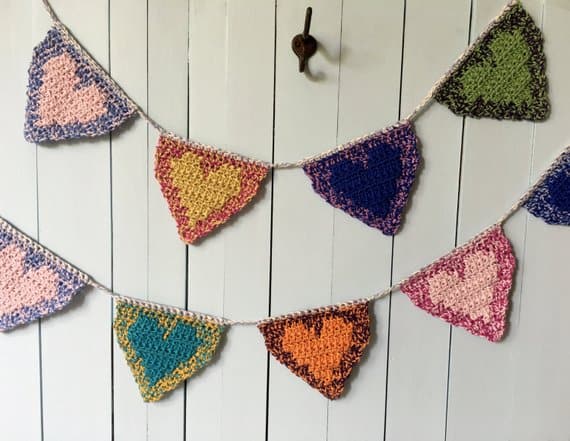 Ooh
here's another heart garland
that would be perfect for Valentine's decor! It's also a great fit for your farmhouse style decor. If you think it looks tricky to work up don't worry because these hearts come together really easily. It's a technique called Reversible Image Crochet which I am eager to try, and as the name suggests the hearts are two sided!
10 | Bee Happy Bunting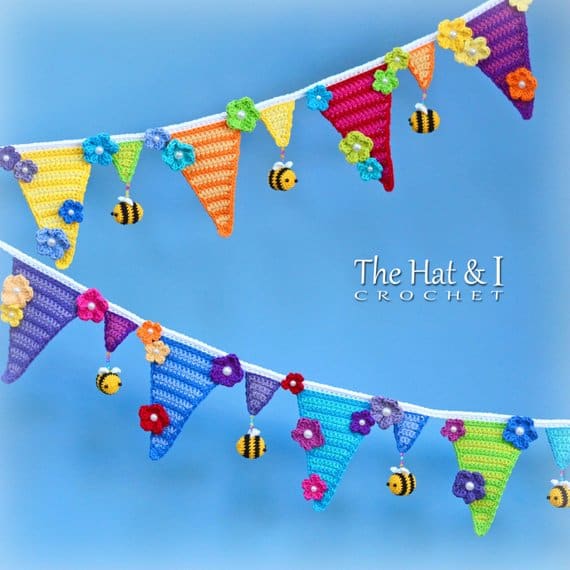 And let's finish things up with
this bumble bee themed garland
which will make you smile every time you look at it! I love the little bunting flags with the flowers and those adorable little bees! I think this is the crochet garland I will choose to hang in my office window!
More Crochet Ideas Here