This post may contain affiliate links, which means I may receive a commission if you click on a link and purchase something. As an Etsy and Zazzle Affiliate I earn commissions from qualifying purchases.
You can never have too many tote bags in your life so today we're sharing some of our favourite crochet patterns for beginner and advanced level projects.
If you've been here before you'll know that I'm a huge fan of Etsy. Whether I'm looking for crochet patterns or gifts for friends and family I love to support other small businesses.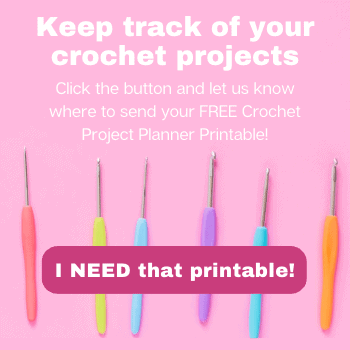 And today small businesses need us to support them now more than ever, which is why Etsy have started their #standwithsmall campaign.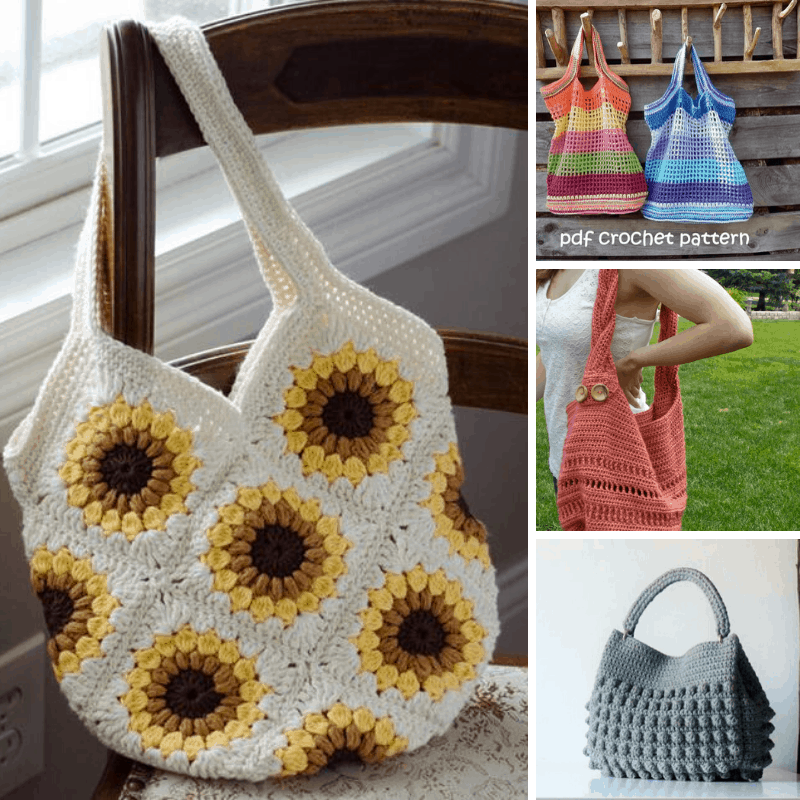 They asked me whether I'd be happy to share some of my favourite Etsy products with you and of course I was happy to oblige!
My family say I have a bag obsession (and sshh they might be right) so today I decided to hop on over to Etsy and feed that obsession a little more by picking out a new tote to crochet!
Whether you need a bag to store your WIP, your library books or for taking to the farmer's market you're sure to find one here to suit your tastes.
Crochet Tote Bag Patterns
Photo Credit: www.etsy.com
Shall we start with this beautiful sunflower granny square tote? I love how the squares have been sewn together in a diamond style creating that interesting V shape at the top.
Photo Credit: www.etsy.com
If you're looking for something a bit plainer you can't go wrong with this lovely pattern that's perfect for beginners. I do love the plain design because it shows off the stitch, but I bet it would work well with self-striping yarn too!
Photo Credit: www.etsy.com
If you're looking for a more challenging pattern suitable for intermediate or advanced crocheters then try this one. The finished bag measures about 16 inches deep by 14 inches wide with a cute braided strap!
Photo Credit: www.etsy.com
Oh how summery is this bag! I love the seashells at the bottom and the ocean waves at the top! This is perfect for the beach this summer for sure. It's a large tote so there's plenty of room for your towels and sunscreen and anything else you need to take along!
Photo Credit: www.etsy.com
Wow I've never seen a tote bag like this one before! I guess you could call it an envelope style with that fabulously oversized button! It's a beginner friendly pattern because it's a simple rectangle folded and sewn into shape.
Photo Credit: www.etsy.com
Here's another easy crochet pattern, this time to make a more traditional looking handbag with an oval bottom making it nice and roomy inside.
Photo Credit: www.etsy.com
This one reminds me of a straw basket, so it's perfect for taking along to the farmer's market on a weekend and filling full of tasty produce!
Photo Credit: www.etsy.com
This market bag is super useful because you can fold it up and put it inside another bag until you need it. You know for those days when you go to the store and buy a little more than you planned to…!
Photo Credit: www.etsy.com
If you enjoyed that hexagon pattern I shared the other day then this would be the perfect tote bag project for you to try! It's got a real summer retro vibe to it and you customise it to suit your tastes by adding tassels or pompoms!
Photo Credit: www.etsy.com
If you're looking for a small tote bag that's super stylish you can't go wrong with this one. It's beginner friendly and the pattern has lots of pictures to guide you through the project.
Photo Credit: www.etsy.com
Oh and here's another granny square bag! This time with sweet daisies and a fun spiral handle. The pattern includes all the instructions you need as well as a crochet chart.