DISCLOSURE: Some of the links below are affiliate links. This means that, at zero cost to you, I will earn an affiliate commission if you click through the link and finalize a purchase. All opinions are my own, and I only recommend products that will add value for my readers.
If you love repurposing old furniture you need to see these dressing table makeovers. These vanity tables are gorgeous!
Vintage Vanity Table Makeovers
If you dream of having somewhere fabulous to sit and make yourself look beautiful you need to see these gorgeous dressing table makeovers.
Most started out as vintage vanity tables that had seen better days, and with a bit of TLC have been turning into a stunning place where you can sit and apply your makeup!
And if you love repurposing old furniture be sure to check out our popular collection of Flea Market Makeovers!
23. Repurpose an old sewing table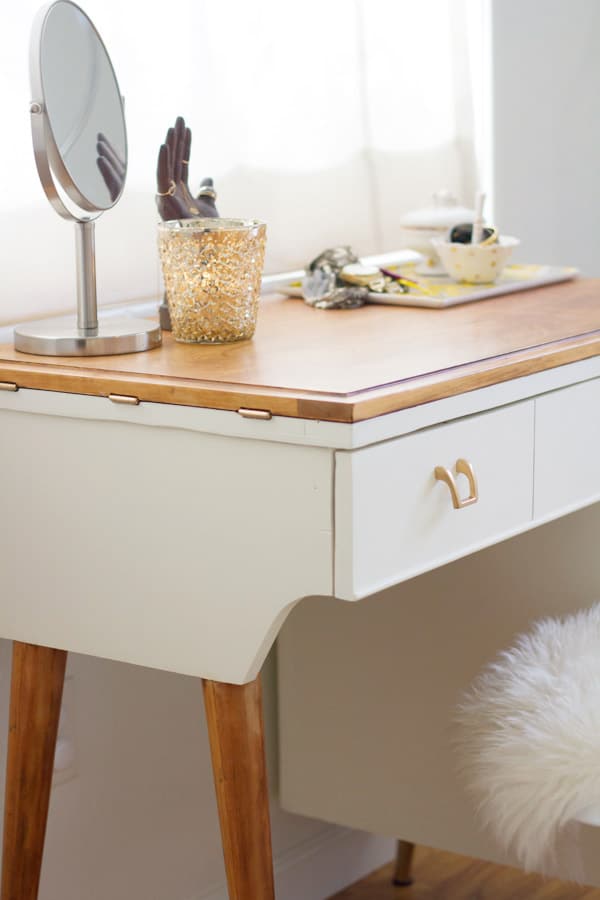 Found it here >> Girl in the Garage
You don't actually need to find a vintage vanity table, because sewing tables can be repurposed and with a bit of TLC and a lick of paint can be transformed into something beautiful and the perfect place to store and apply your makeup.
22. Use stripes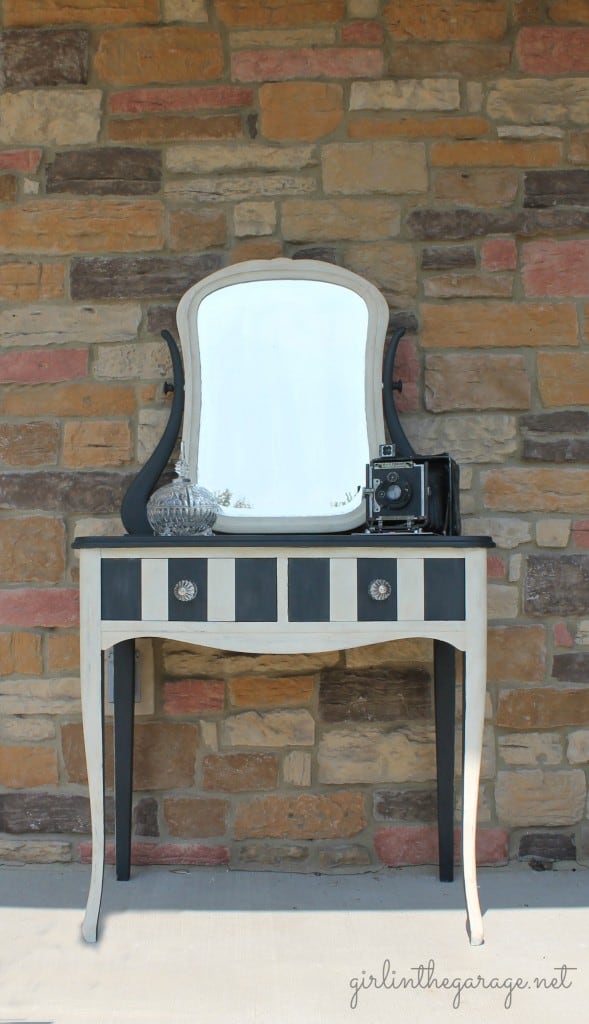 Found it here >> Girl in the Garage
We really weren't sure it would work out but boy does this striped vanity table look amazing!
21. Mix and match your handles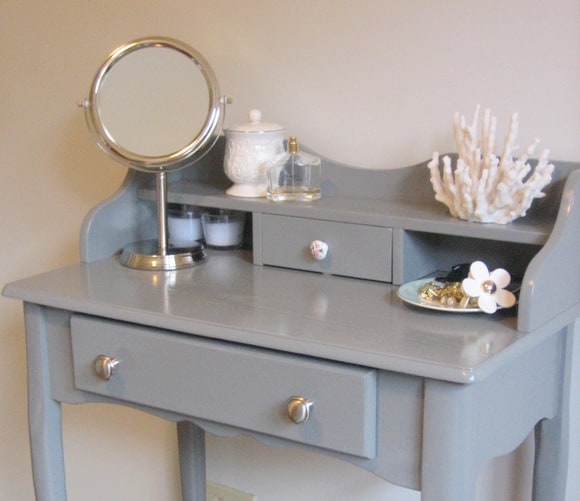 Found it here >> The DIY Playbook
We love the colour of this vintage dressing table but using two different handles for the drawers really adds personality.
20. DIY silver leaf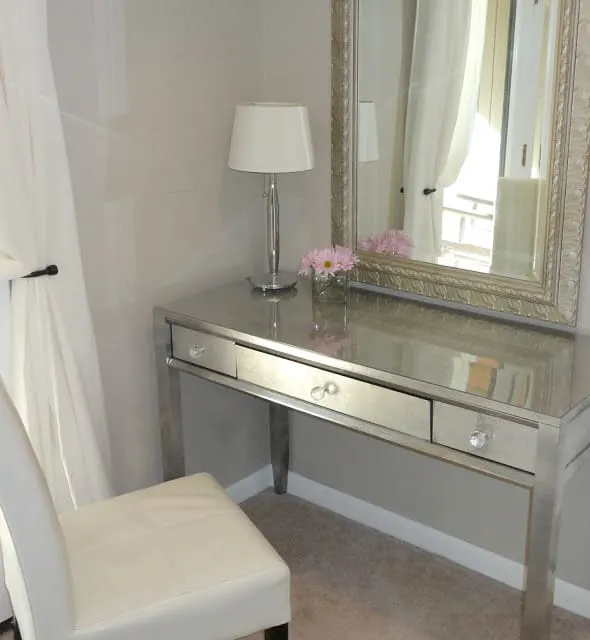 Found it here >> Live Love DIY
For a glamorous makeover to your vintage vanity tables silver spray paint to emulate the look of expensive silver leaf. The end result is stunning.
You can get the spray paint here
19. Decoupage it
18. Repurpose an old lidded desk as a vanity table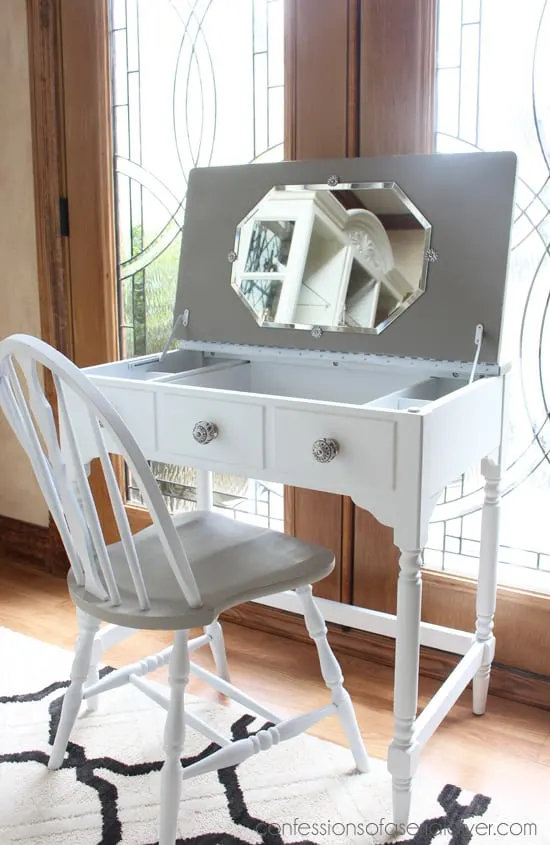 Found it here >> Confessions of a Serial DIYer
If you want to hide all your makeup and beauty accessories away from sight then try repurposing an old lid-top desk into a vanity table. Adding a vintage mirror to the underside of the lid is the key to making this work.
17. Don't be afraid of bright colours
16. Paint your stool a contrasting colour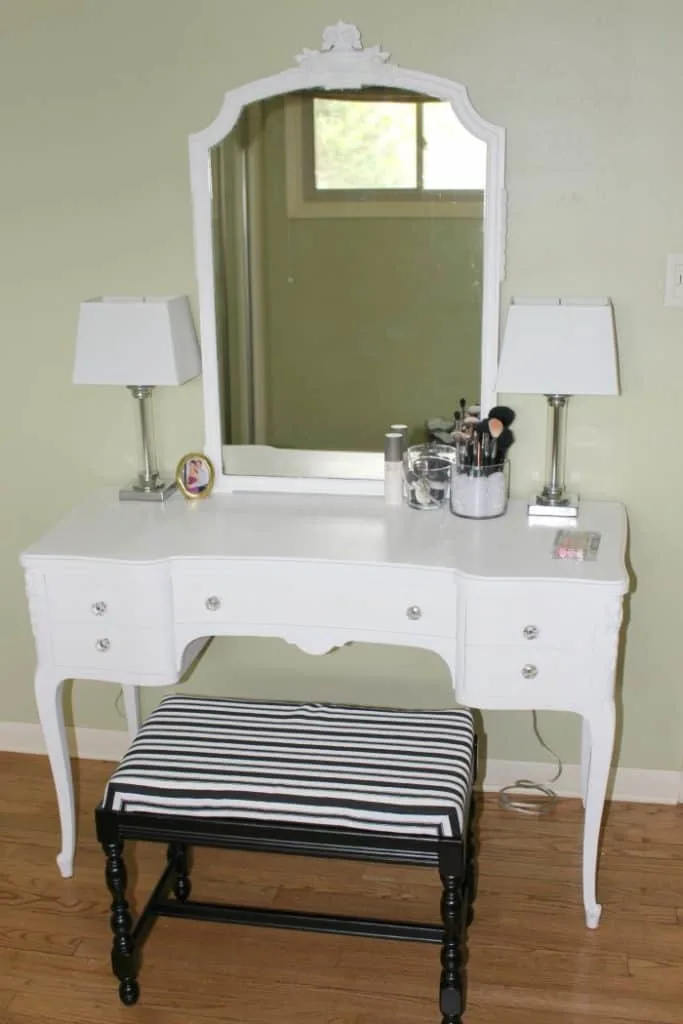 Found it here >> Miss in the Mid West
This 1940's vintage dressing table had already had makeover when Karly picked it up on Craigslist, but it just doesn't do it justice. Don't be afraid to take on someone else's upcycyling mistakes and think about painting your table and stool in contrasting colours because it looks great.
15. Use bright brass as an accent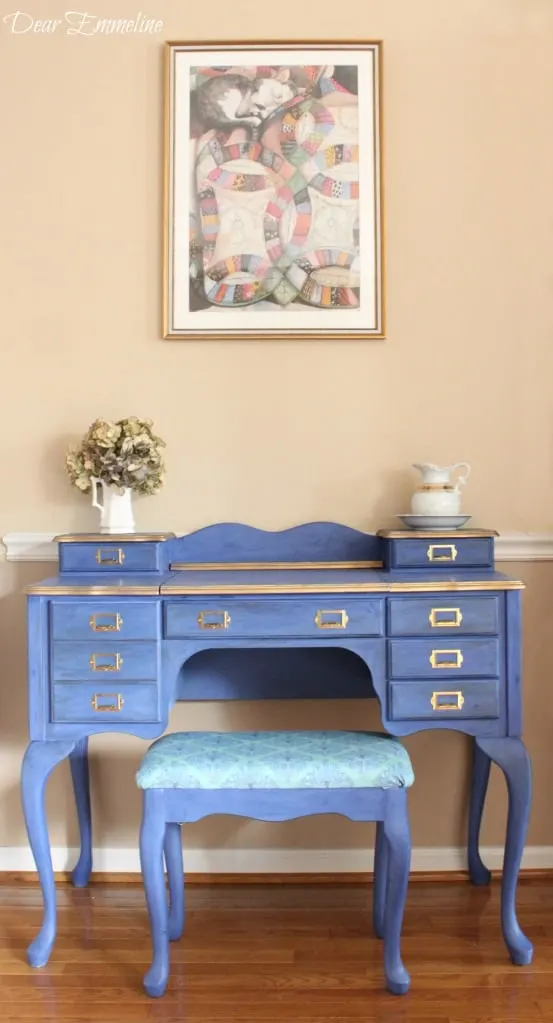 Found it here >> Petal and Ply
If you ever see a piece of furniture this beautiful snap it up quick, we're still stunned that this vintage piece was picked up for just $15! The blue is just beautiful and the brass handles really sets it off.
14. Glam it up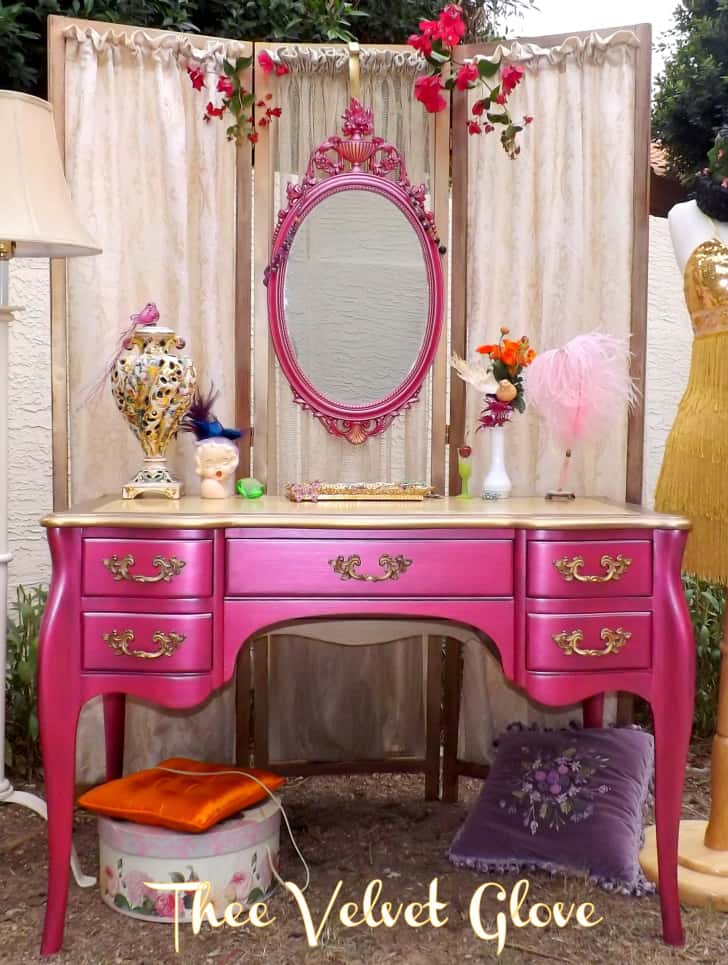 Found it here >> The Velvet Glove
If hot pink is your colour of choice then you will love this makeover!
13. Stencil the top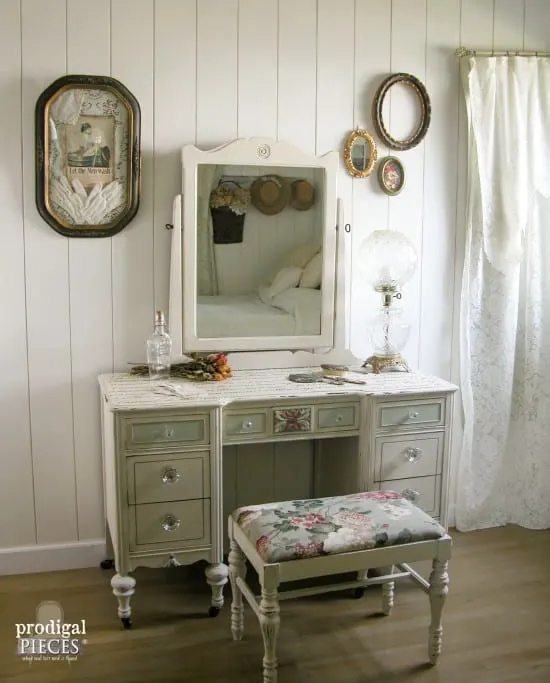 Found it here >> Prodigal Pieces
The stencilling on the top of this vintage vanity table just adds to the classic French feel. It really is stunning.
12. Paint it fun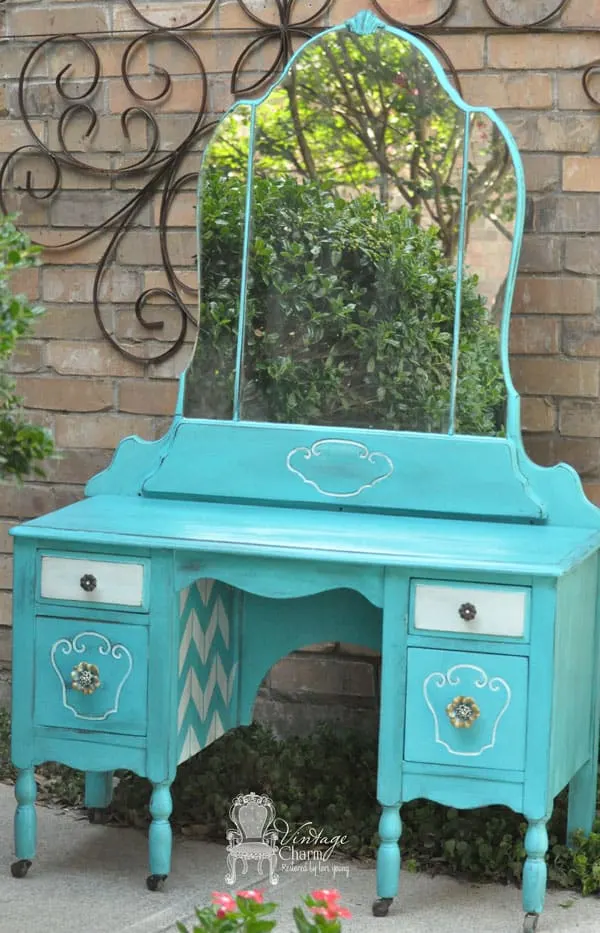 Found it here >> Vintage Charm Restored
We love the colour combination on this dressing table makeover, and the chevrons added to the underside.
11. Be brave with your colour choice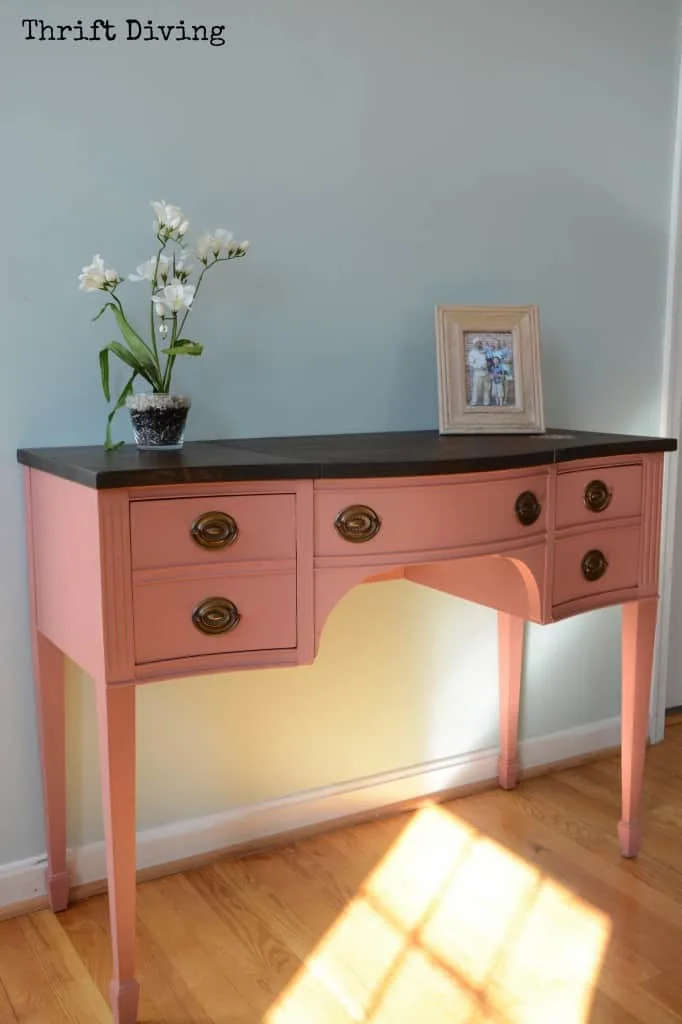 Found it here >> Thrift Diving
This Scandinavian pink chalk paint looks so great on this vintage vanity it looks like it was always that colour.
10. Stay true to the original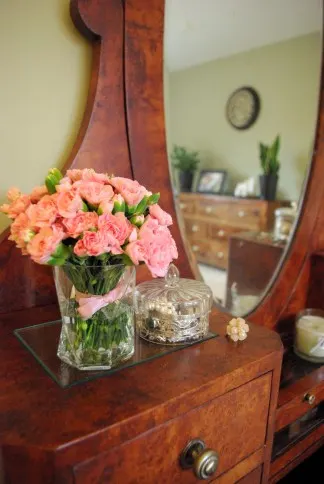 Found it here >> Ingenious Nesting
You don't have to paint a vintage dressing table to breathe new life into it, sometimes all it needs is a bit of TLC and a coat of varnish to create something stunning in your bedroom.
9. Paint it pink
8. Add a splash of colour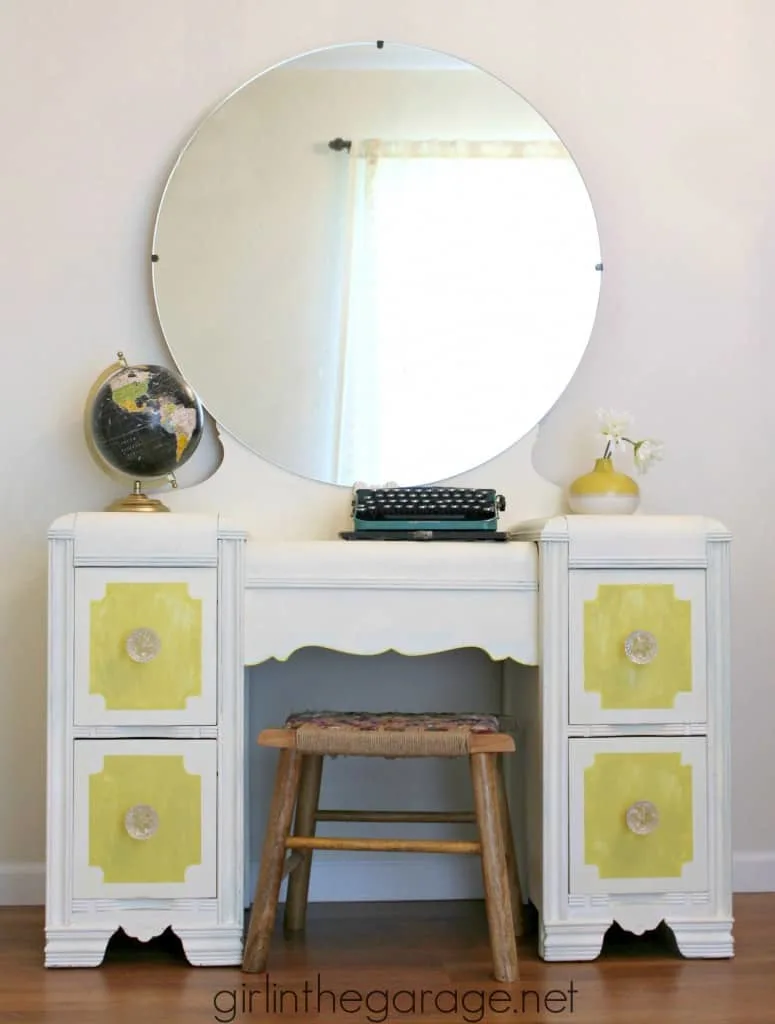 Found it here >> Girl in the Garage
This gorgeous vintage waterfall vanity looks really good with the splash of yellow on the drawers to lift the white.
7. Go two tone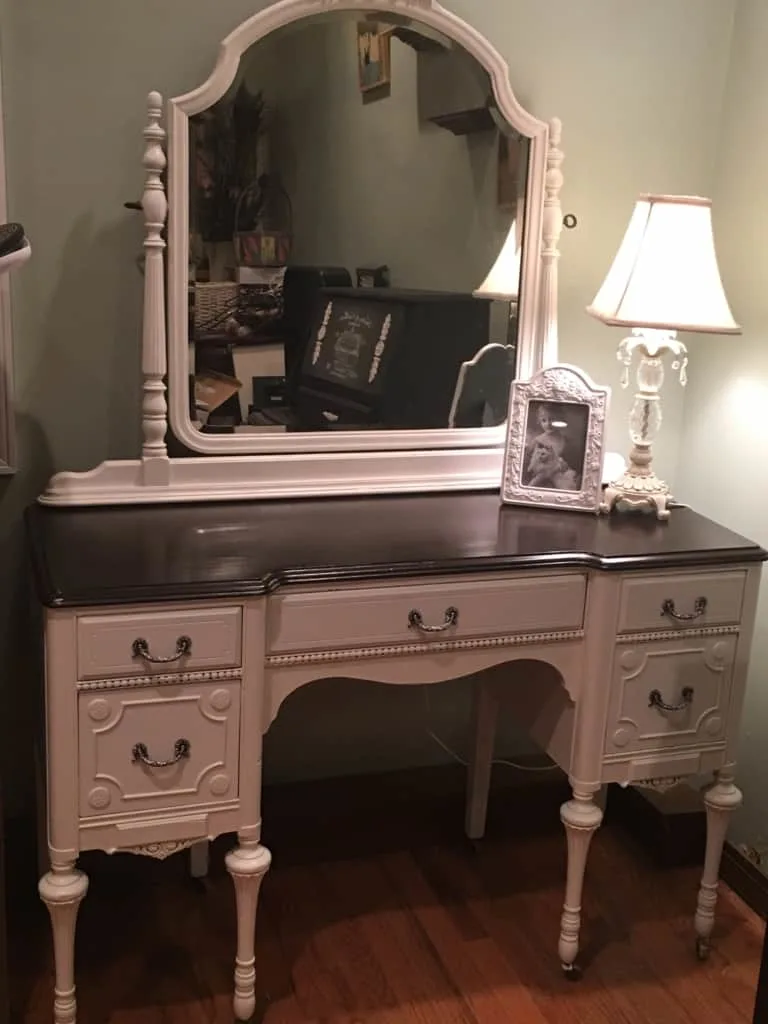 Found it here >> So Very Merry
Try keeping the wooden dresser top but painting the drawers and mirror for a fabulous two tone effect.
6. Add mirror lights
5. Go metallic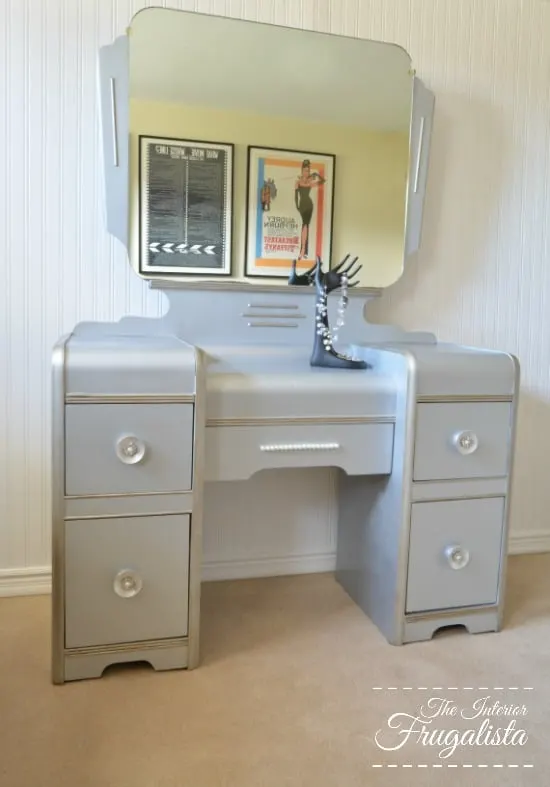 Found it here >> Interior Frugalista
This art deco vanity table looks absolutely fabulous with a sparkling silver makeover, and we love the pearl beaded drawer handle!
4. Upgrade the drawer insides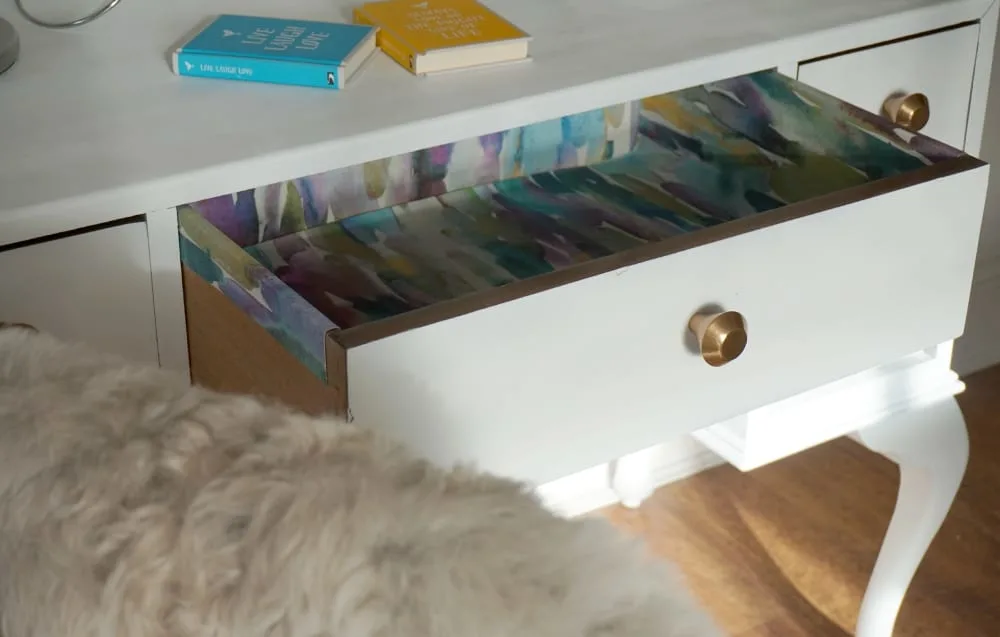 Found it here >> Love Chic Living
Don't forget about inside the drawers while you're making over your dressing table. Use a scented patterned lining paper to brighten them up and make your things smell lovely.
You can get scented lining paper here
3. Use chalk paint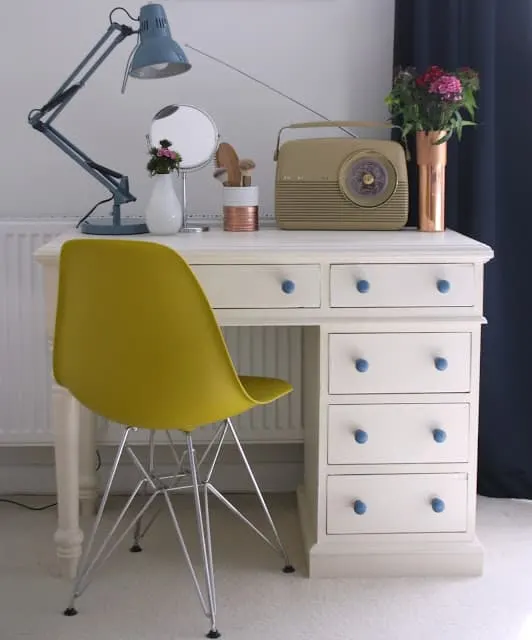 Found it here >> Tales from a Happy House
Use chalk paint to give an eighties knotted pine dressing table a facelift (and yes we're still reeling at the fact that eighties is considered vintage!)
2. Update the drawer knobs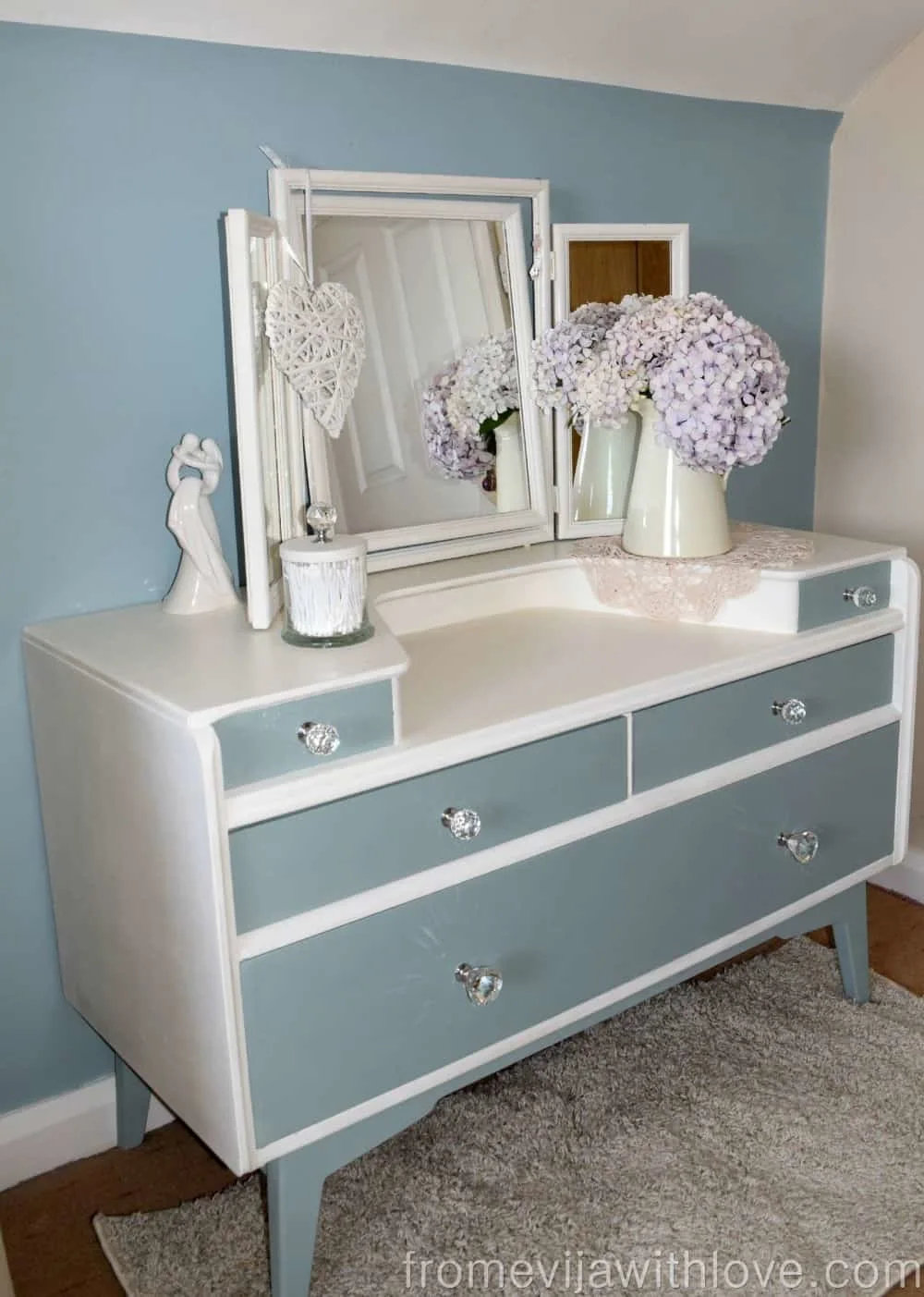 Found it here >> From Evija with Love
Every after a gorgeous paint job the vanity table can still look a little dated, so think about adding some lovely glass knobs like these.
1. Go light and bright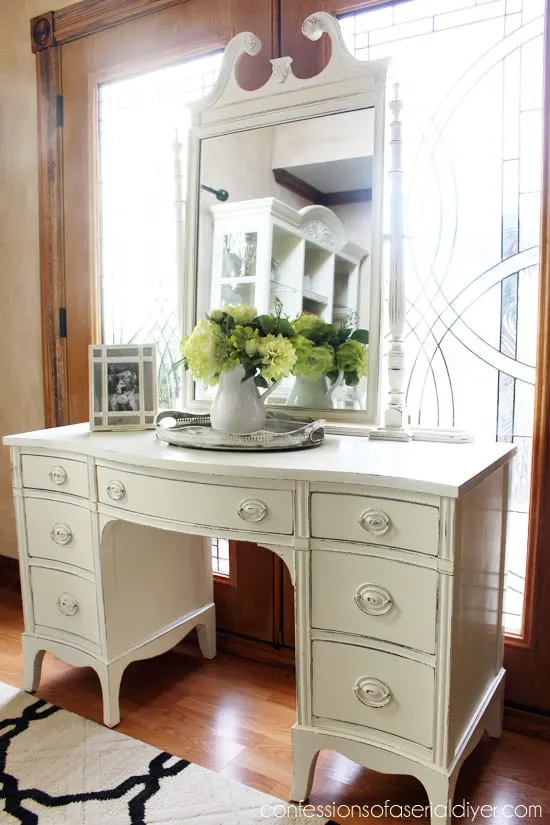 Found it here >> Confessions of a Serial DIYer
Most vintage dressing tables are dark wood but that doesn't mean they need to stay that way. Just be sure to use a couple of coats of shellac before painting because it stops the colour from bleeding through.
You can easily get spray shellac here.
More DIY Ideas Here