This post may contain affiliate links, which means I may receive a commission if you click on a link and purchase something. As an Etsy and Zazzle Affiliate I earn commissions from qualifying purchases.
Lure your family to the table with the these easy ground beef casserole recipes teamed with rice, noodles, or even crescent rolls!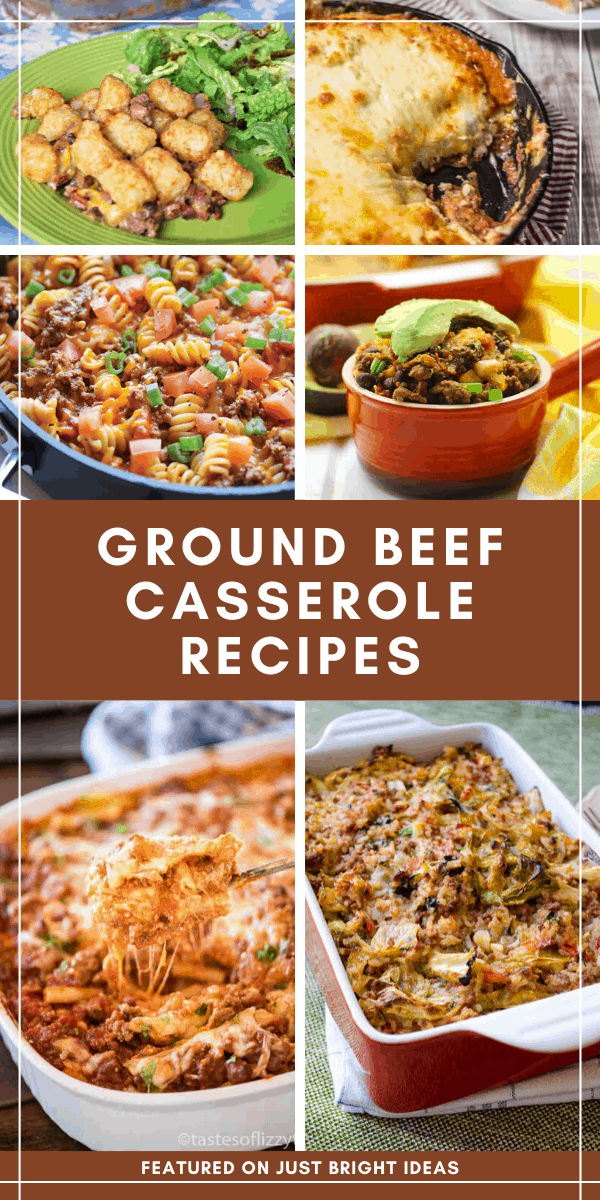 Easy Ground Beef Casserole Recipes
At the end of a long day when you're tired and stressed there's nothing like comfort food to bring the smile back to your face right?
And you don't have to pick up the phone and call for takeout, because there is nothing easier to cook than a casserole. Seriously all you have to do is throw everything into a casserole dish and pop it in the oven!
Casseroles don't have to be boring either. You could eat casserole every night and just by mixing up the ingredients you can create a whole new dish.
Today we're sharing 22 easy ground beef casserole recipes just to prove it to you!
Oh and if you're on a budget you might be tempted to pick up the cheaper, less lean ground beef at the store and just drain off the fat. It's not going to taste as good though, and you won't be doing your heart or cholesterol levels any favours!
Instead you're much better off buying boneless sirloin steaks or London broil and grinding it yourself at home.
You can save yourself time later in the month if you make a larger casserole than you actually need and freeze the leftovers.
22. Ground Beef Tater Tot Casserole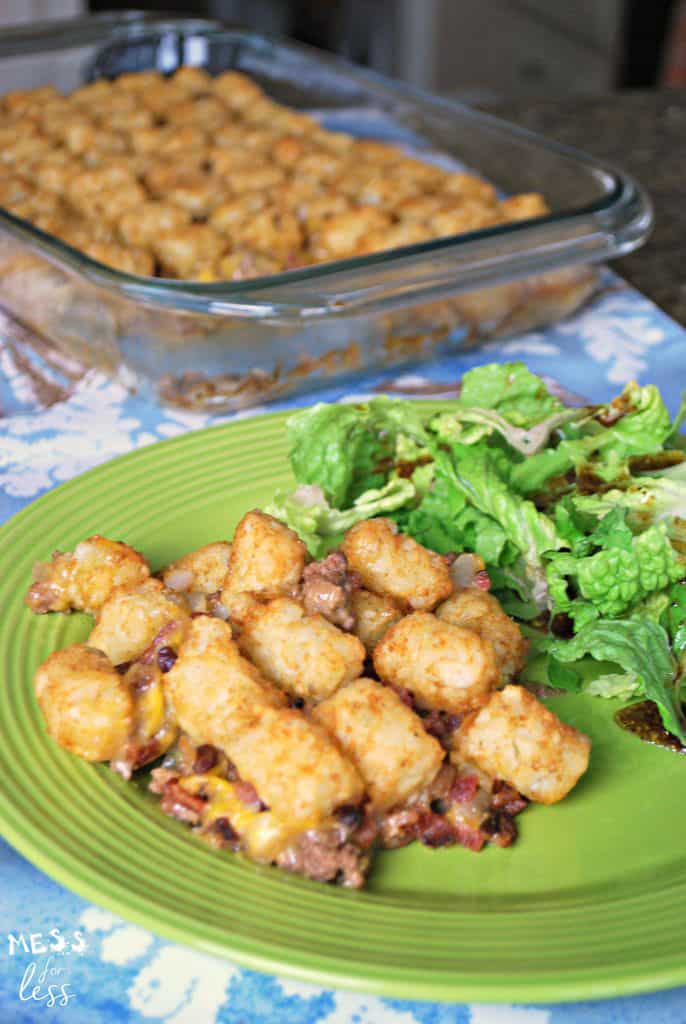 Found it here >> Mess for Less
What's not to love about ground beef paired with tater tots and bacon. It's comfort food at its best!
21. Beef Ricotta Casserole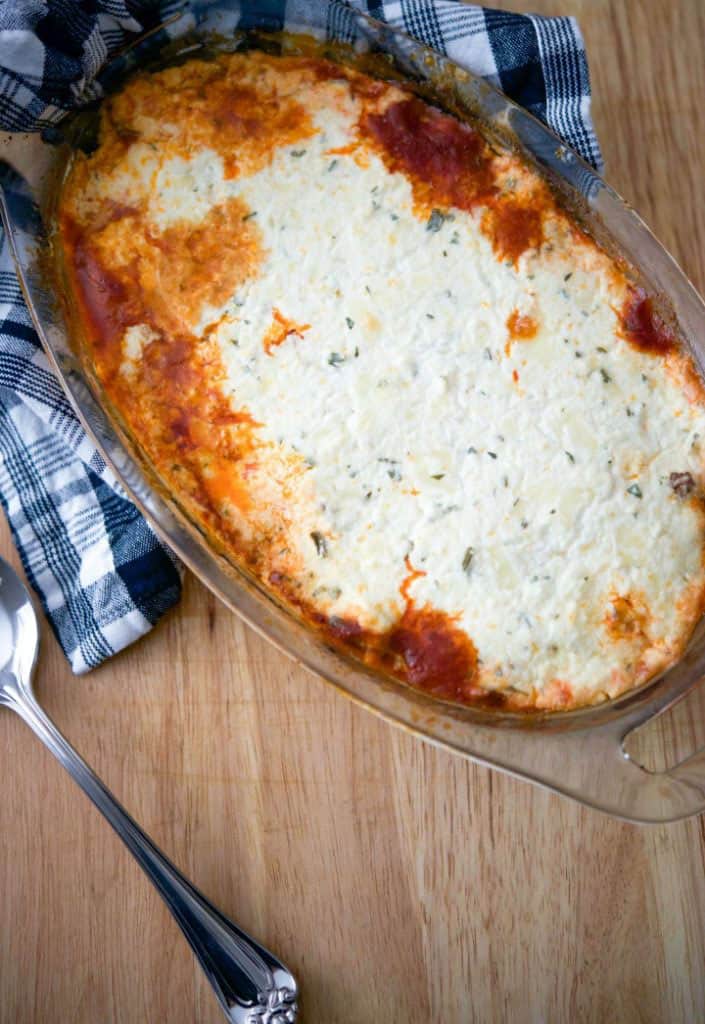 Found it here >> Carrie's Experimental Kitchen
If you love Ricotta cheese this is the ground beef casserole for you. It's super easy to make and with 6 portions it's perfect for large families or for freezing leftovers.
20. Beef And Mashed Potatoes Casserole (Brazilian Escondidinho)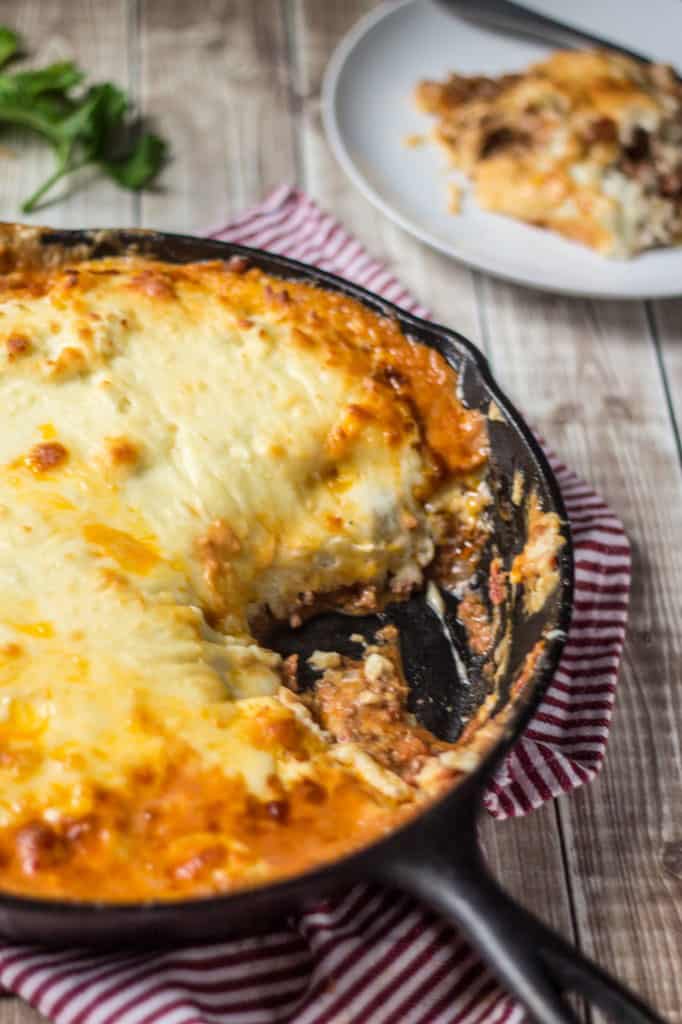 Found it here >> Olivia's Cuisine
It's time to put your cast iron skillet to good use with this delicious Escondidinho!
19. Cheesy BBQ Beef Casserole Recipe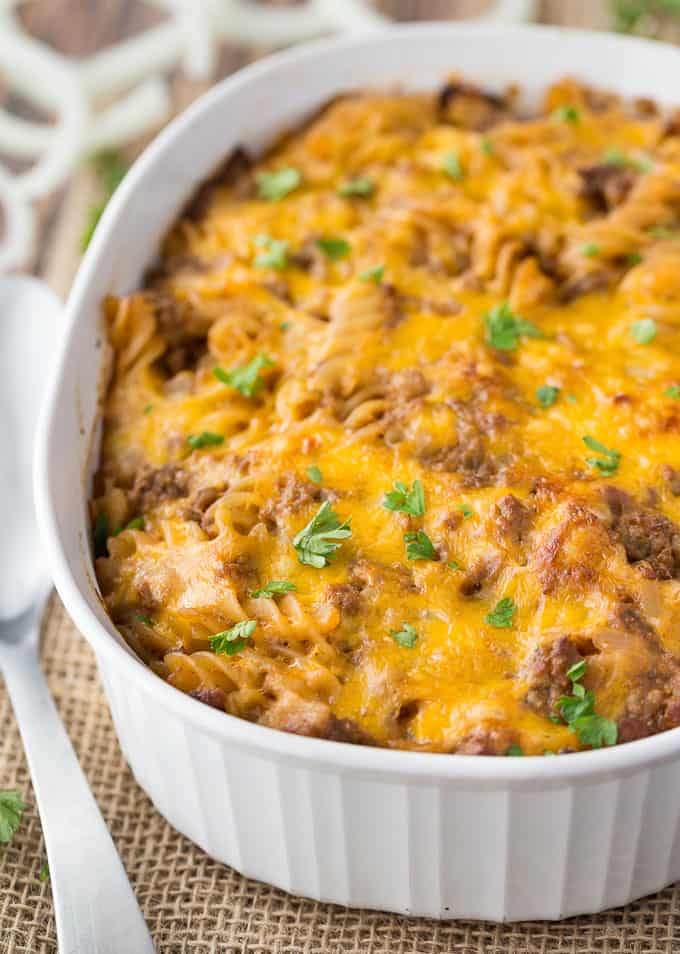 Found it here >> Simply Stacie
This casserole uses pasta noodles and is hearty, satisfying and totally delicious!
18. Mashed Potatoes And Beef Casserole (Pastelón De Papas)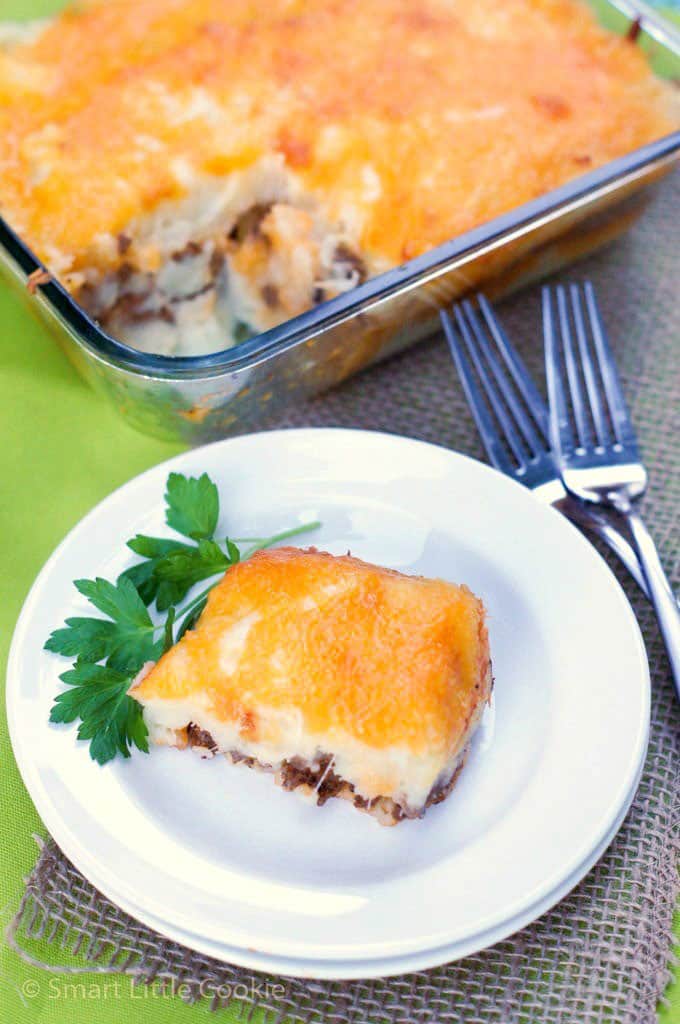 Found it here >> Smart Little Cookie
We love make ahead meals around here and this creamy, cheesy casserole topped with melt-in-the-mouth mashed potatoes is a must add to your meal planning rotation!
17. Easy Baked Ziti Casserole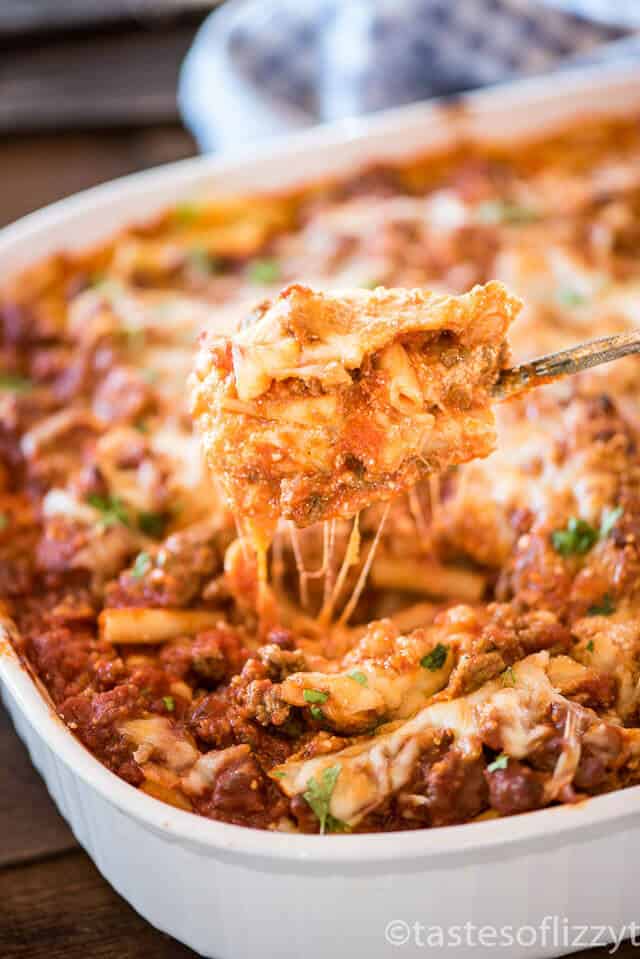 Found it here >> Tastes of Lizzy T
This baked ziti is drooling with cheese and everyone will be asking for seconds, so its lucky that it easily serves 10-12 people. Freeze some of the extra servings for busy weeknights, give some away to a friend with a new baby, or set some aside for lunch boxes!
16. One Pot Taco Casserole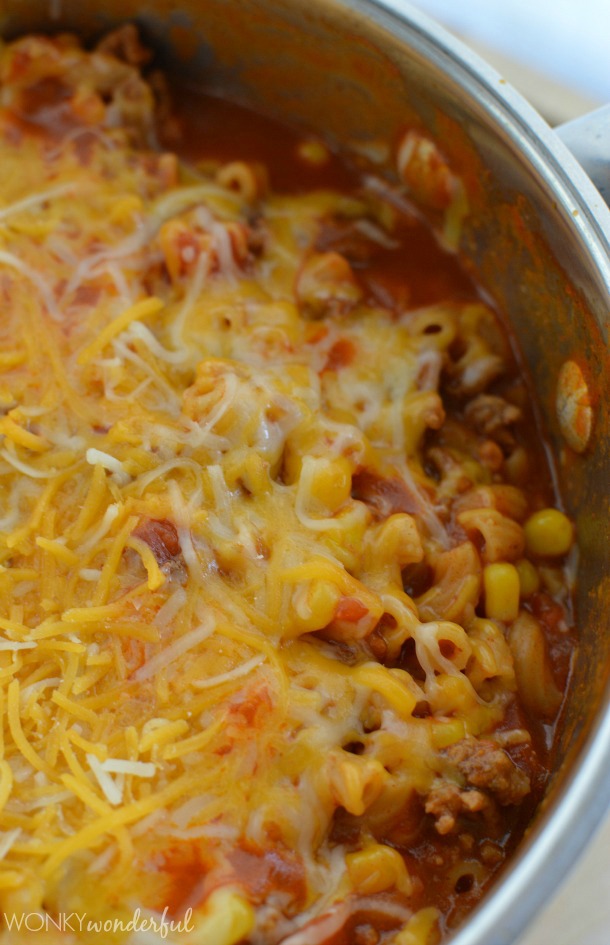 Found it here >> Wonky Wonderful
We love meals that you can cook using just one pot, because who wants to waste time washing up! This one uses lean ground beef and low sodium taco seasoning.
15. Cheesy Crockpot Cowboy Casserole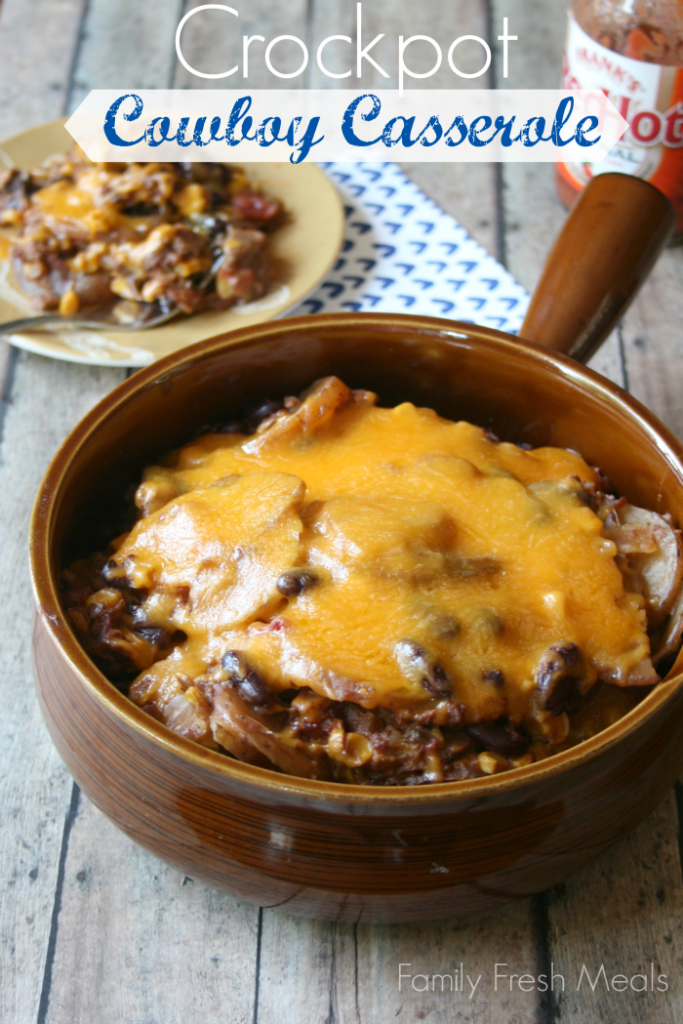 Found it here >> Family Fresh Meals
Oh my this one is loaded with cheese, beef beans and potatoes and cooks in the crockpot.
14. Million Dollar Casserole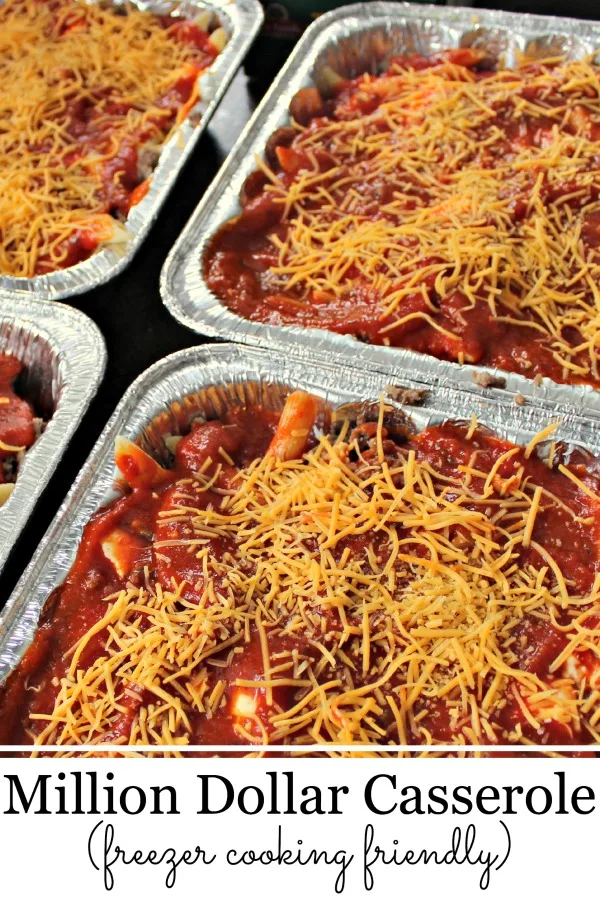 Found it here >> Cleverly Simple
If you love to batch freeze then you need to check out this beef casserole recipe.
13. Cheesy BBQ Beef and Biscuit Casserole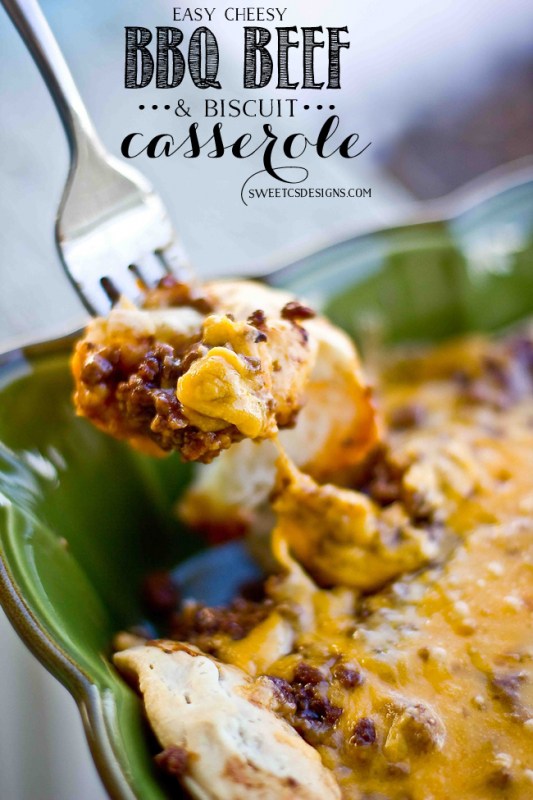 Found it here >> Sweet C's
Oh my… If you love biscuits you need to add this to your meal planning rotation, because the biscuits are baked right into the casserole!
12. Beefy Macaroni And Cheese Casserole Recipe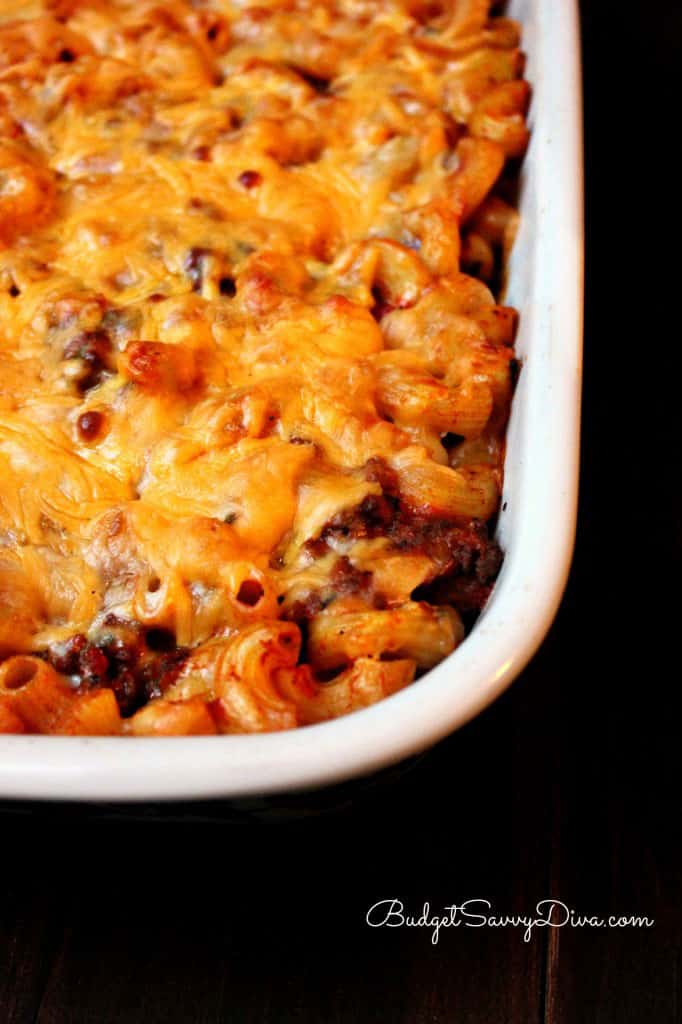 Found it here >> Budget Savvy Diva
If you're watching the pennies than don't miss this tasty recipe, which can serve six for under a dollar a head, as long as no one wants seconds of course.
11. Beef And Bean Enchilada Casserole
Found it here >> Recipe Girl
This is such a great recipe; if your family loves enchiladas then they'll love this, because it's enchiladas in a casserole! You know, because sometimes you just have to mix things up a bit right?
10. Spaghetti Casserole Recipe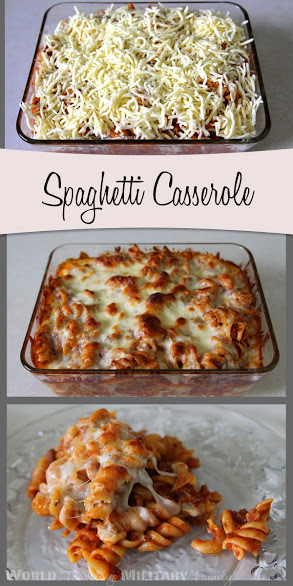 Found it here >> World Travelling Military Family
We love spaghetti casserole, because it's so easy to make and doesn't need a lot of ingredients. If you usually make yours with sausage or chicken it's time to give the ground beef a try following this recipe instead.
9. One Pot Cheeseburger Casserole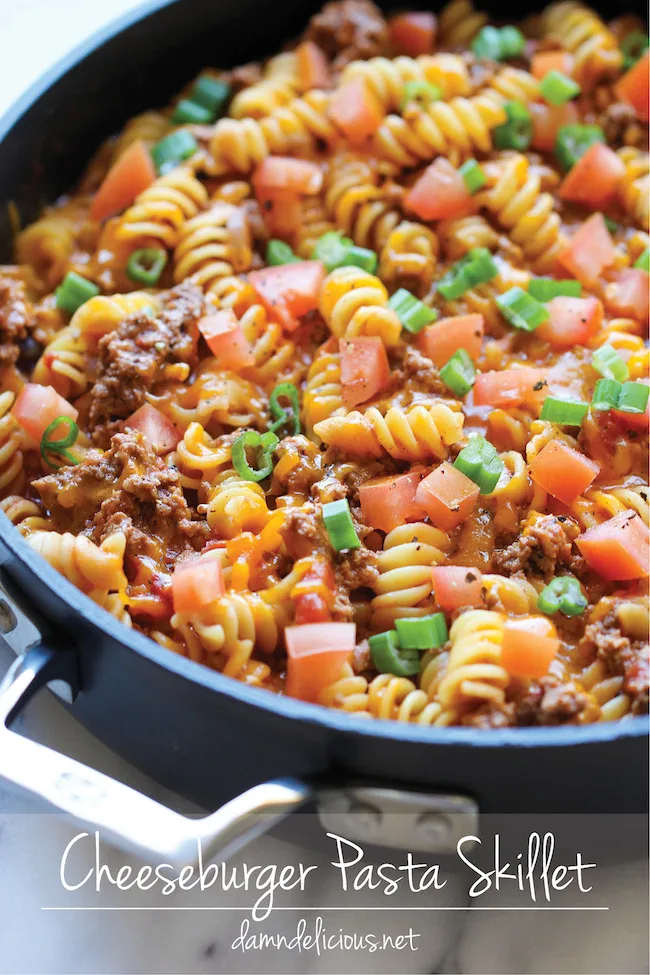 Found it here >> Damn Delicious
Oh my goodness, if you love cheeseburgers you won't want to miss this recipe, and not only can you cook the whole meal in one pan it takes less than 30 minutes! We LOVE those 30 minute dinners!
8. Cheesy Ground Beef and Rice Casserole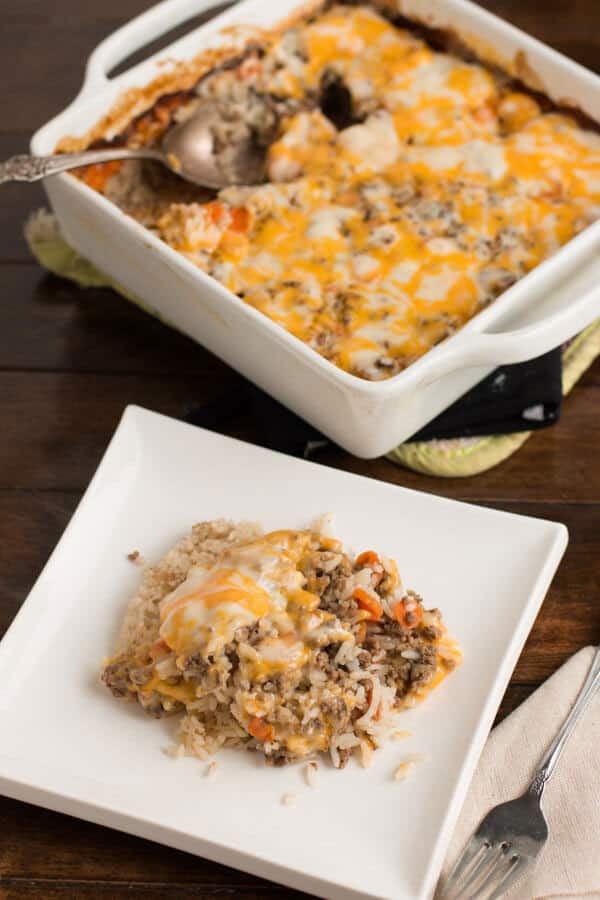 Found it here >> Oh Sweet Basil
Casseroles are great when filled with pasta or potatoes, but for a slight change to the routine why not try this busy day casserole that's made with rice.
7. Skinny Beef Casserole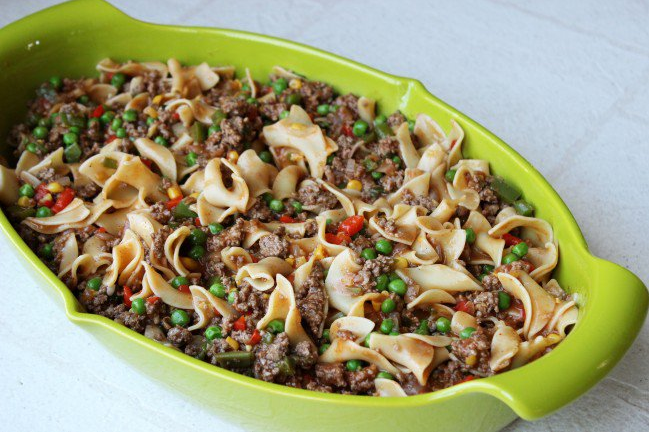 Found it here >> Womanista Wellness
Did we have you at skinny? Wouldn't it be great if eating casserole could make you skinny! This is one tasty healthy dish though, and if you really wanted to be good you could switch out the beef for turkey.
6. "Philly Cheesesteak" Ground Beef Casserole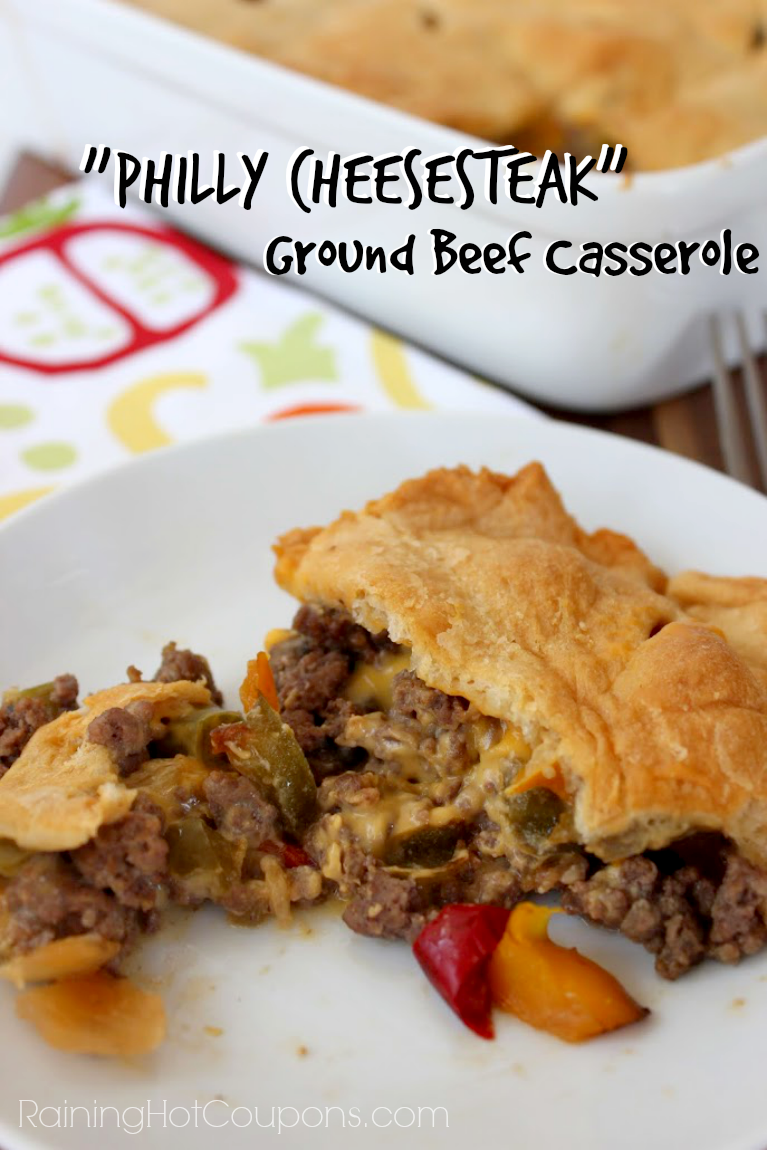 Found it here >> Raining Hot Coupons
Ok so we've had cheeseburger casserole so why not Philly Cheesesteak? We love how this one has a crescent roll baked right on top!
5. Unstuffed Cabbage Casserole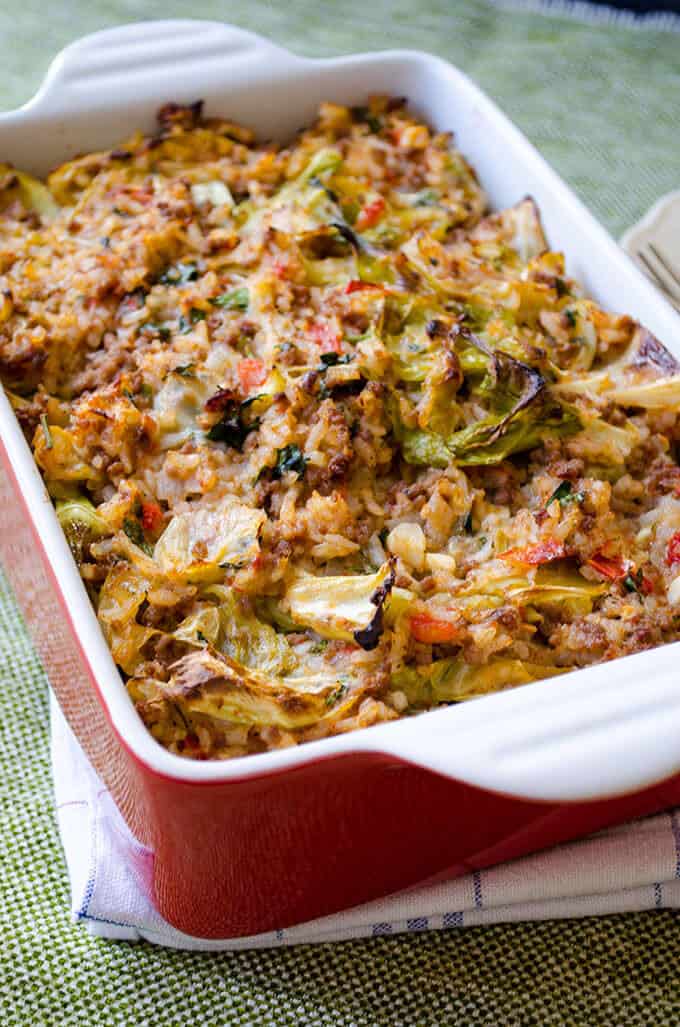 Found it here >> Give Recipe
It's not often that you come across a recipe that calls for cabbage, which is why this one had to make the cut!
4. Taco Cornbread Casserole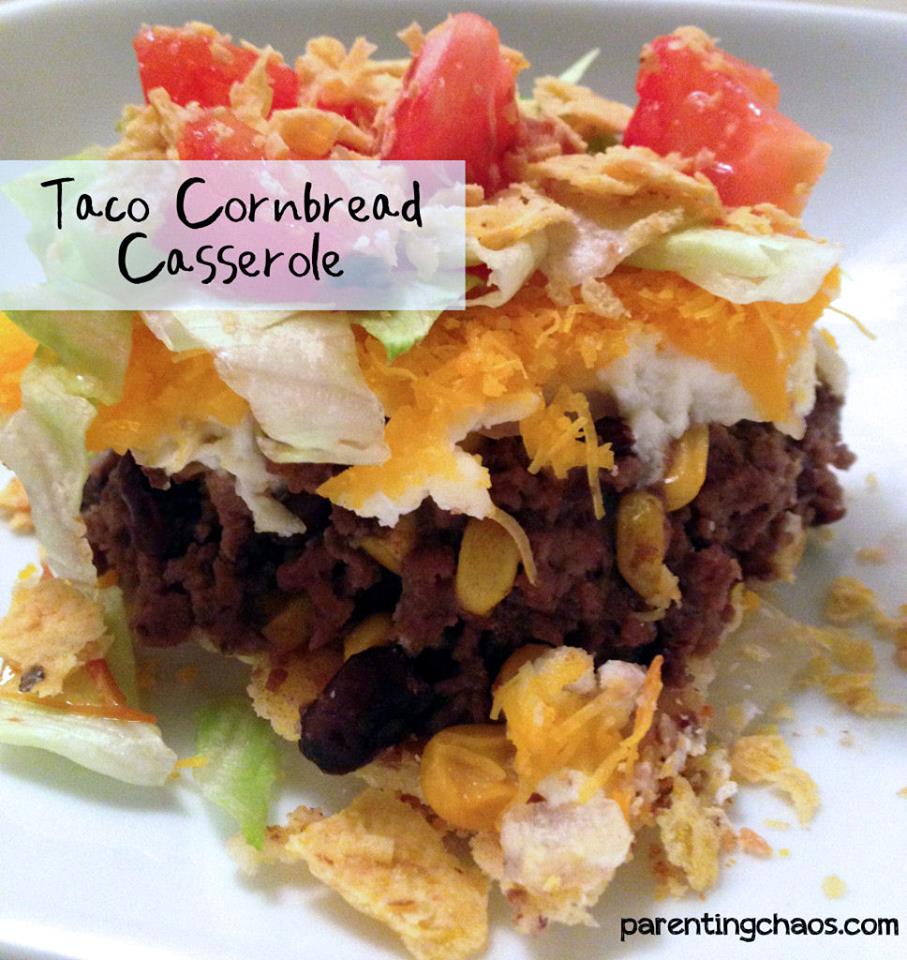 Found it here >> Parenting Chaos
If you're looking for something really filling on a cold winter's evening this might just be the easy beef casserole recipe you've been searching for.
3. Chili Cornbread Casserole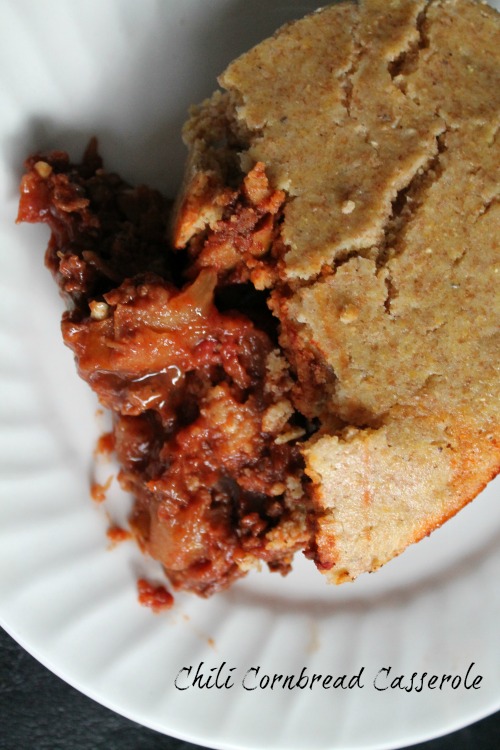 Found it here >> Real: The Kitchen and Beyond
And here's another casserole topped with cornbread! Once you discover one they just keep on coming. We like how this one includes chilli for a change of pace.
2. Quinoa And Kale Taco Casserole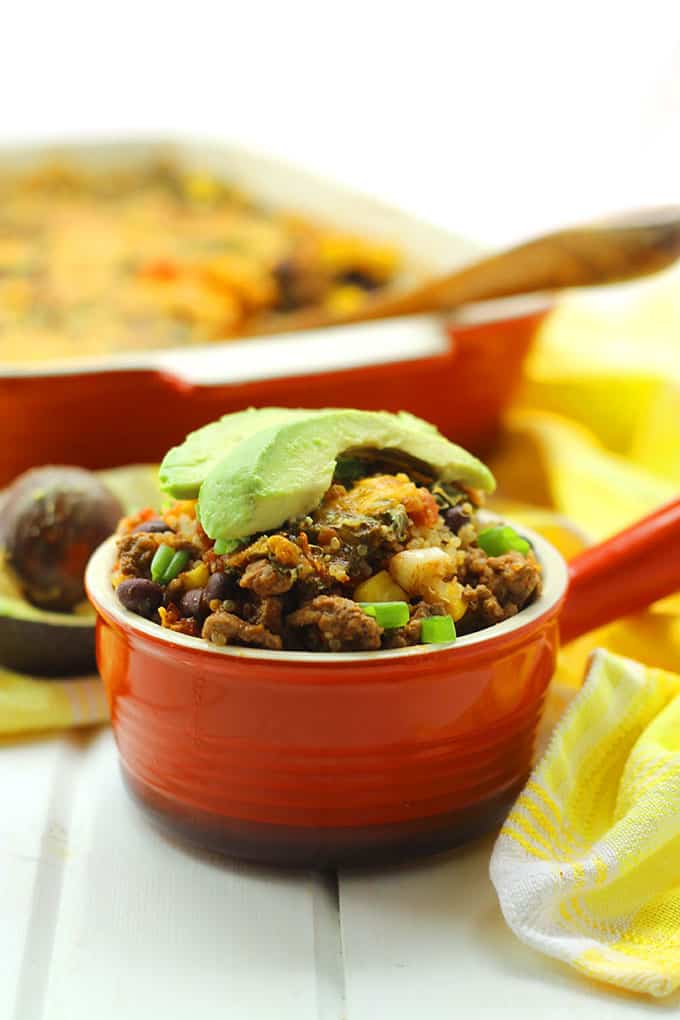 Found it here >> The Healthy Maven
This healthy ground beef casserole is baked with quinoa so its nice and filling and the kale is packed full of nutrients.
1. Shepherd's Pie Casserole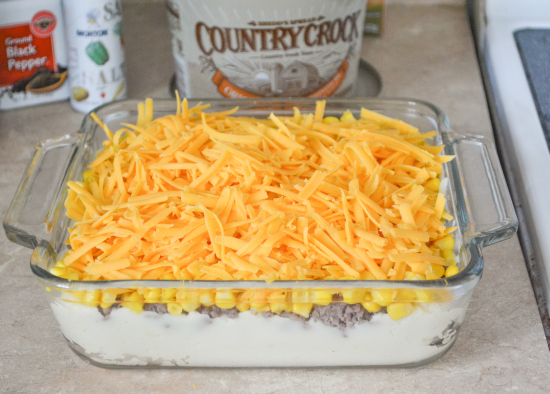 Found it here >> Flour on My Face
And we're going to finish up the list of wonderful easy beef casserole recipes with a good old fashioned shepherd's pie… because when we think casserole we think shepherd's pie!