You are going to love these free fingerless glove crochet patterns (And so will your wrists!) They make wonderful handmade gifts too!
This post may contain affiliate links, which means I may receive a commission if you click on a link and purchase something. As an Etsy and Zazzle Affiliate I earn commissions from qualifying purchases.
Free Fingerless Glove Crochet Patterns
I shared a fabulous collection of mittens the other day and it got me thinking that what I really need right now are some fingerless mittens.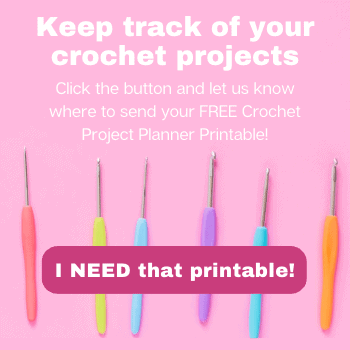 My desk is out in our sun room which in the winter is a little drafty and my right arm gets a chill as I type. And arm warmers would totally fix that problem!
So today I'm sharing some very cute free fingerless glove crochet patterns just in case you need some too!
1 | Stripy Mitts Tutorial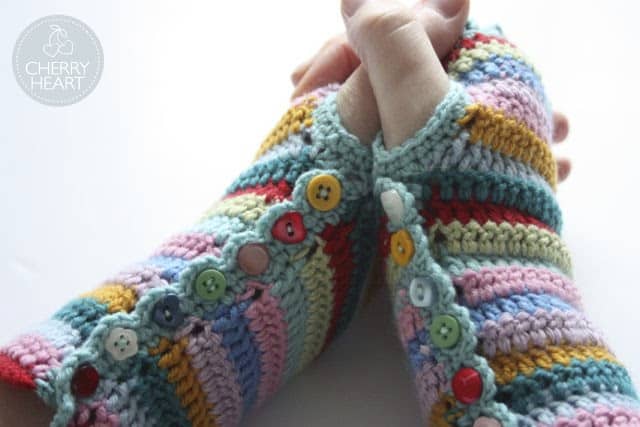 There are so many details to LOVE with these stripy mitts. First of course is the stripes, and I love the color combination! Then there the teeny buttons along the side. Oh my they're adorable!
Stripy Mitts Tutorial by Cherry Heart
2 | Fingerless Glove
This is a level 3 intermediate pattern and I love the lace feel to them. They're such pretty, feminine gloves.
Fingerless Glove by Crejjtion
3 | Winter Fanfare Wrist Warmers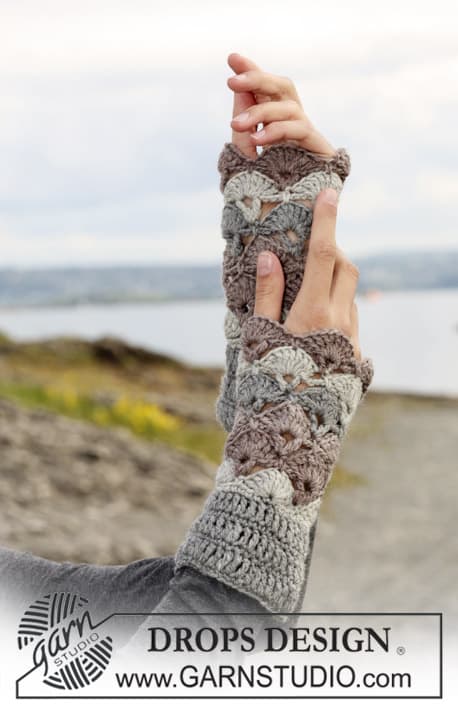 If you'd prefer a multicolor pair of wrist warmers have a look at this pattern which also has a video tutorial you can watch and follow along with.
Winter Fanfare Wrist Warmers by Garn Studio
4 | Crocheted Fingerless Mittens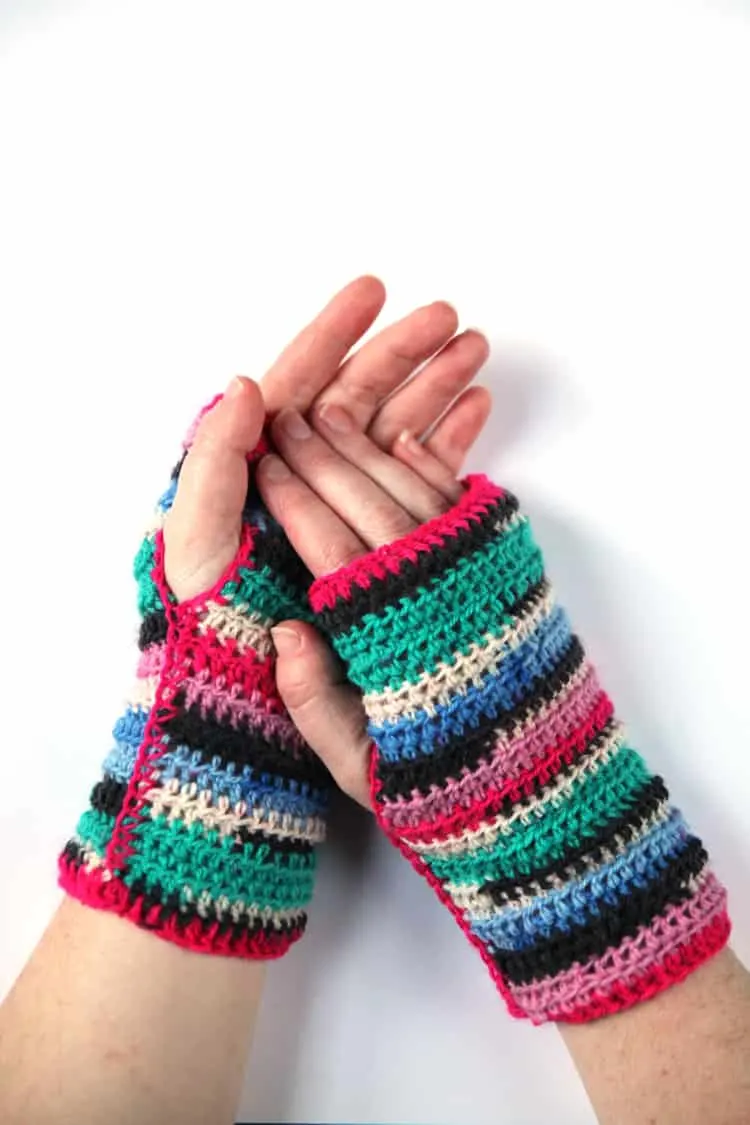 If you love the idea of a stripy pair of mittens but don't want to have to keep switching yarn colors this is the project for you because these mittens are made with self-stiping sock yarn!
Crocheted Fingerless Mittens by Gathering Beauty
5 | Dainty Bow Arm Warmers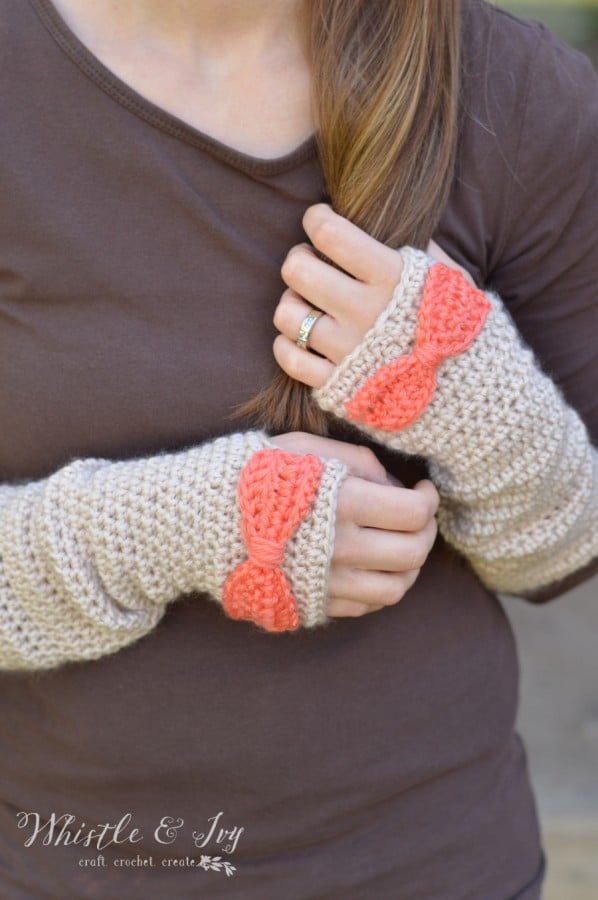 How sweet is that bow on these arm warmers? I really like these because they look warm and snug and they're nice and simple except for that cute bow to give them a lift.
Dainty Bow Arm Warmers by Whistle and Ivy
6 | Fingerless Mitts with Faux Cables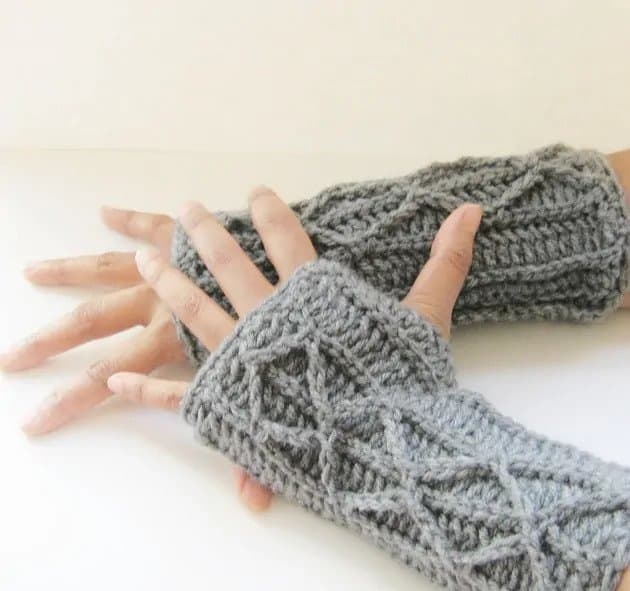 These cute gloves have a faux cable effect on them which is actually made with chain stitches. So not only is this project perfect for beginners they work up really fast too!
Fingerless Mitts with Faux Cables by Crochet Dreamz
7 | Fingerless Mittens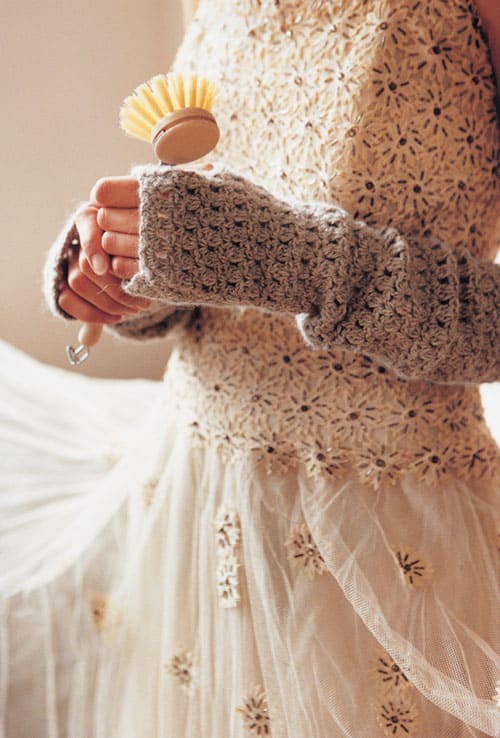 These stylish gloves are worked up in baby alpaca yarn so they're lovely and cosy. This is an intermediate level project designed by Erika Knight.
Fingerless Mittens by Sweet Living
8 | Vintage-Inspired Armwarmers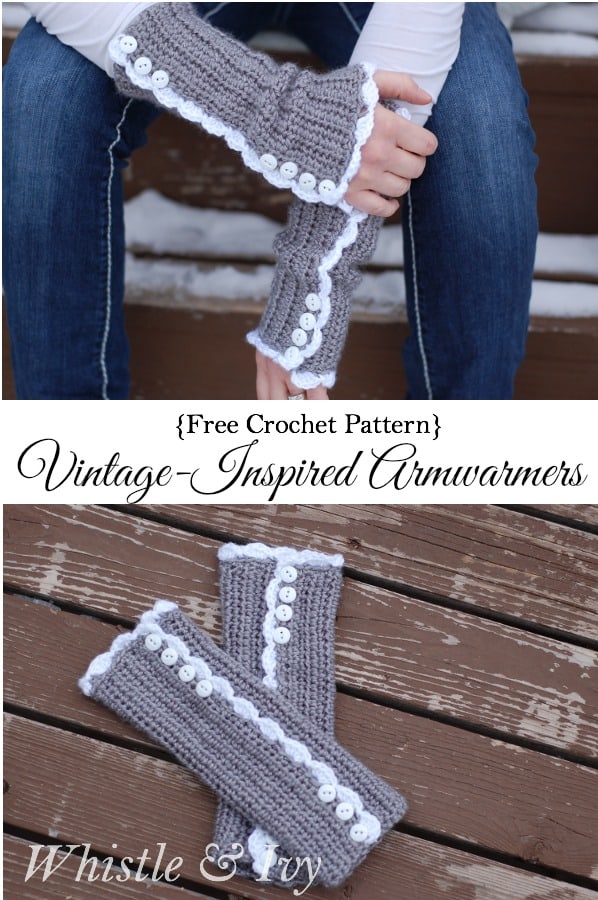 Here's another pattern from Bethany at Whistle and Ivy which I had to share because the vintage style with the white edging and the buttons are just so sweet. It's a nice and simple pattern to follow too!
Vintage-Inspired Armwarmers by Whistle and Ivy
More Winter Crochet Ideas Here