Looking for the perfect boot cuff crochet pattern? From easy to Tunisian, reversible to scallops and lace we've got plenty to choose from!
This post may contain affiliate links, which means I may receive a commission if you click on a link and purchase something. As an Etsy and Zazzle Affiliate I earn commissions from qualifying purchases.
Boot Cuff Crochet Pattern
Boot cuffs are such a super simple way to add a little bit of pop to your winter wardrobe, and they have the added benefit of stopping your boots from rubbing.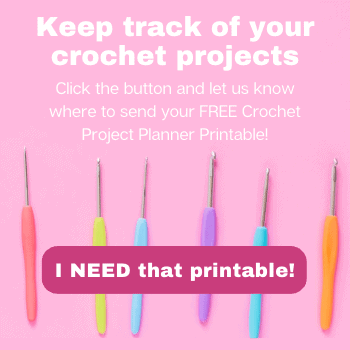 If you're looking for the perfect boot cuff crochet pattern then you're in the right place. I've collected up so many gorgeous patterns including lace and scalloped edges, reversible cuffs and even a couple of Tunisian crochet patterns for you.
As always be sure to scroll all the way to the end so you don't miss any of the great ideas. And don't forget to save your favourites to your crochet board on Pinterest as you go!
Lace and Scalloped Boot Cuff Pattern
Love the scalloped edge on these lace boot cuffs. The pattern comes in three different sizes and hooks together fast. You'll need about 1.5 ounces of Caron Simply Soft Light yarn.
Quick and Easy Tunisian Crochet Boot Cuff Pattern
If you've never tried Tunisian crochet before these boot cuffs would be a good project to start with. The pattern is sized for a 13″ calf but instructions are included to help you size your cuffs to fit you perfectly.
Tunisian Crochet Braided Boot Cuff Pattern
This pattern is best for those of you with beginner/intermediate skills. I love the braided detail on these Tunisian cuffs, and they look so snuggly and warm!
Reversible Boot Cuff Crochet Pattern
Can't decide what sort of boot cuffs you want to wear? How about making this reversible boot cuff crochet pattern then. One side is ribbed and the other is textured, so it's like getting two sets of boot cuffs for the price of one! It's a free pattern too, and very easy to follow.
Cream Bow Boot Cuff Crochet Pattern
Love the cute bow on these cuffs! The pattern is worked in continuous rows and rounds and uses US terminology. The ones in the picture have been worked up in Speckled Oatmeal acrylic yarn, but you can of course choose any colour you like!
Ruffle Boot Cuff Crochet Pattern
For an extra touch why not try these ruffled edge boot cuffs. I like the buttons on this design too.
Boot Cuff Leg Warmer Crochet Pattern
For a totally different look try these leg warmer boot cuffs instead. They're perfect if your boots are looking a little worse for wear!
Brooklyn Boot Cuff Crochet Pattern
These Brooklyn boot cuffs work up in a couple of hours and the tutorial includes photos so it's nice and easy to follow. You can even make a matching pair of fingerless mittens.
Free Boot Cuffs Crochet Pattern Belmont Boot Toppers
These Belmont boot toppers are super popular over on Ravelry and you can see why. They look gorgeous and the versatile design means you can wear them straight, folded or even upside down!
Easy Boot Cuff Crochet Pattern
This easy boot cuff crochet pattern has a fabulous owl detail on the side so they're really unique. It's a free pattern and is a good fit for the intermediate crocheter.
Easy Boot Cuff Crochet Pattern – Heart Detail
Here's another free easy boot cuff pattern, this time with a lovely heart detail on the cuff. making them the perfect cuffs for Valentine's Day!
More Winter Crochet Ideas Here